The Oscar-qualifying 18th HollyShorts Film Fest featured more than 400 short films from around the world, panels, mixers, and awards Aug 11-20 at the Chinese Theatre and other venues in Hollywood.
Awards were presented in more than 30 categories on Aug 20. Top three Oscar-qualifing shorts are: Grand Prix: Hallelujah; Live Action: Mulaqat / Sandstorm; and Animated: Scale. 
HollyShorts founders Theo Dumont, with Hallelujah filmmakers, and founders Daniel Sol and Nicole Castro. Photo: Juan Ramierz.
The festival included 10 days of film screenings, panels with industry experts, and networking mixers at the Chinese Theatre, Hollywood Roosevelt pool, and closing party at the new Godfrey Hollywood.
Film selections played in dozens of genre blocks, with nearly round the clock programming. A typical day had screenings around 10am, 1p, 4p, 7p, 10p, and midnight.
More than 40 percent of this year's selections feature women directors. About 1 in 4 directors are people of color.

HollyShorts filmakers – Class of 2022 gather for annual group photo at Ovation Hollywood. Photo: Michael Bezjian.
Since HollyShorts Film Festival became an Oscar-Qualifying film fest several years ago, several of its alumni have been nominated for Oscars each year – and won – such as the short Skin. The Skin filmmakers presented two awards at this year's awards.
AWARDS
The HollyShorts Film Fest Awards were held August 20 at the Chinese Theatres in Hollywood.
OSCAR®-qualifying Grand Prix Best Short: "HALLELUJAH" by Victor Gabriel
*The Grand Prix Best Short Award Winner will be qualified for Oscars® 2023 and receive a $15,000 camera package from Panavision, a sales deal from Eroin Films, and a management meeting with Alta Global Media.
OSCAR®-qualifying Best Live Action: "MULAQAT / SANDSTORM" bySeemab Gul
OSCAR®-qualifying Best Animation: "SCALE"by Joseph Pierce
Best Director: "SIDERAL", Carlos Segundo
Best Action: "KICKSTART MY HEART", Kelsey Bollig
Best Comedy: "ALL I EVER WANTED", Erin Lau
Best Costume Design: "SAUERDOGS"Carmen Granule:
Best Drama: "LIKE THE ONES I USED TO KNOW", Annie St.-Pierre
Best Documentary:"MINK!", Ben Proudfoot
Best Editing: "THE MACHINE", Rowan McKay
Best Female Screenplay Presented by BeCine: "LAST SHIP EAST"Eris Qian
Best Horror: "MOSHARI": Nuhash Humayun
Best International: "THE VOICE ACTRESS", Anan J. Takayama
Latinx Award Presented by Viacom International Studios: "HUELLA", Gabriela Ortega
Best LGBTQIA+: "NORTH STAR", P.J. Palmer starring Colman Domingo
Best Midnight Madness: "HOMESICK", Will Seefried
SAGindie Winner: "MY JEROME"Adjani Salmon
Best Music Video: "CONSENSUAL" by Jeff Hilliard and Joey Danger
Best Producer: "HALLELUJAH", Duran Jones
Best Podcast: "Earth Eclipsed", Nicholas Prufer
Hawk Films Screenplay Award: "MINA FINDS HER EDGE!", Robin Rose Singer
*This Award will receive a $20,000 production package from Hawk Films UK and the finished film will screen at HollyShorts 2023.
Best Screenplay Award Presented By Seattle Film Summit: "AN OLD FRIEND", Dan Martin
*The winner will get a Seattle Film Summit & 88th Street/HollyShorts grant of $25,000 and the finished film will screen at HollyShorts 2023, as well as a Fest Formula consultation
Best Sci-Fi: "WALTZ OF THE ANGELS", Braden Barton
Script Compass Screenplay Award: "IN THE GARDEN OF TULIPS", Ava Lalezarzadeh
Kodak Best Shot on Film: "NORTH POLE", Marija Apceyska
Kodak Shot on Film Super 8MM: "DEERWOODS DEATHTRAP", James P. Gannon
Kodak Shot on Film Honorable Mention: "NOT THE 80s", Marleen Valien
Social Impact Award Presented By The Camera Division: "STRANGER AT THE GATE", Joshua Seftel
Best Student Film: "THE VISIT", Ebele Tate
Best Thriller: "WILD BITCH", Rebekka Johnson and Kate Nash
Best TV: "A QUESTION OF SERVICE", Erin Brown Thomas, Best TV Screenplay
Best TV Screenplay: "FORSYTH COUNTY", James Sasser
*The winner will get an option from 88th Street Productions
Best VFX Presented By Orbital Virtual Studios, "BLACK DRAGON (Rồng đen)", Alexander Thompson
Best Web Series: "KURA", Vince McMillan
Women in Film Award: "APART, TOGETHER", Olivia Hang Zhou
ZEISS Achievement in Cinematography Award: "CENSOR OF DREAMS", Khalib Mohtaseb
ZEISS Presents: HollyShorts Film Festival Achievement in Filmmaking and Cinematography, Nancy Schreiber
Digital LA founder hosted the awards with co-host actress Shannon Spangler.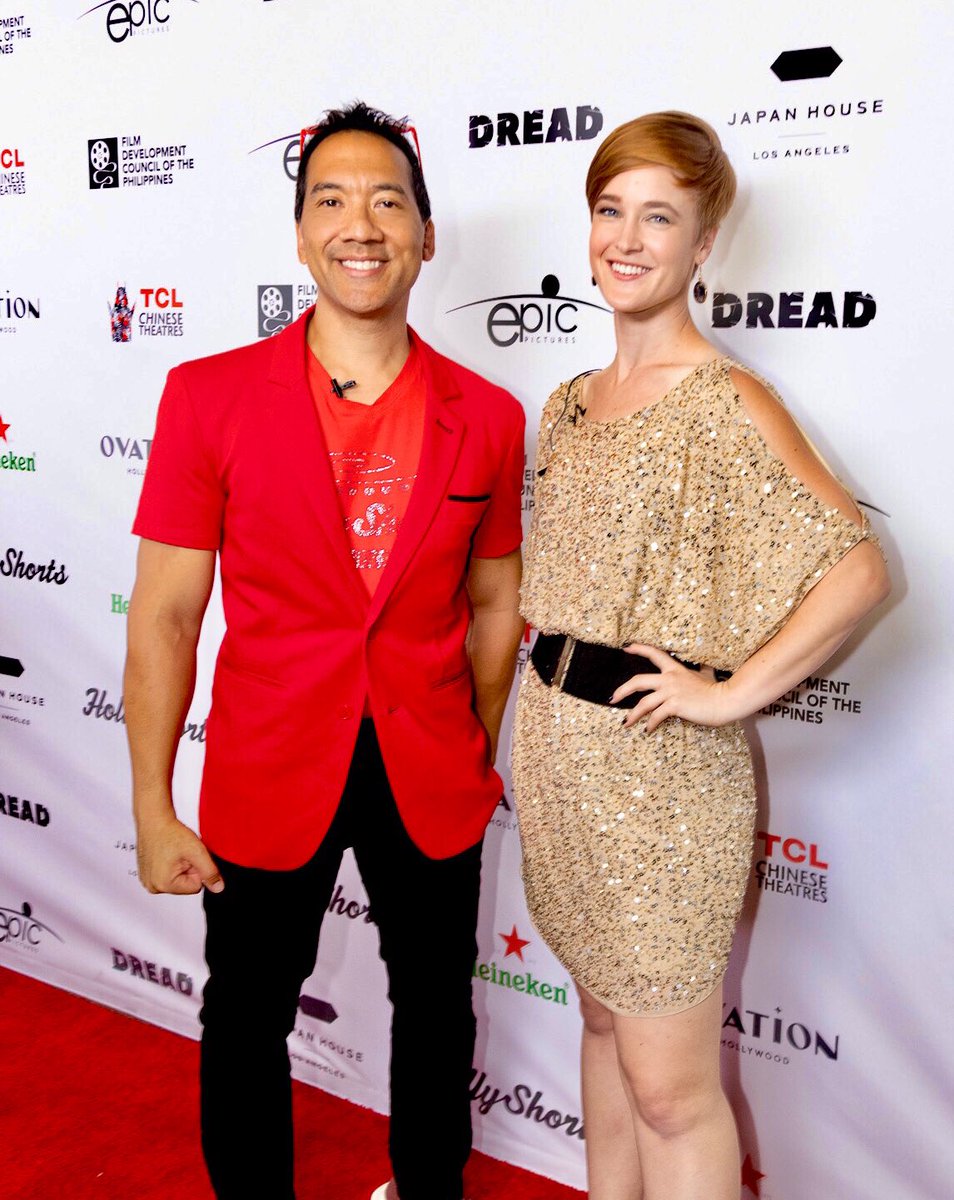 OPENING NIGHT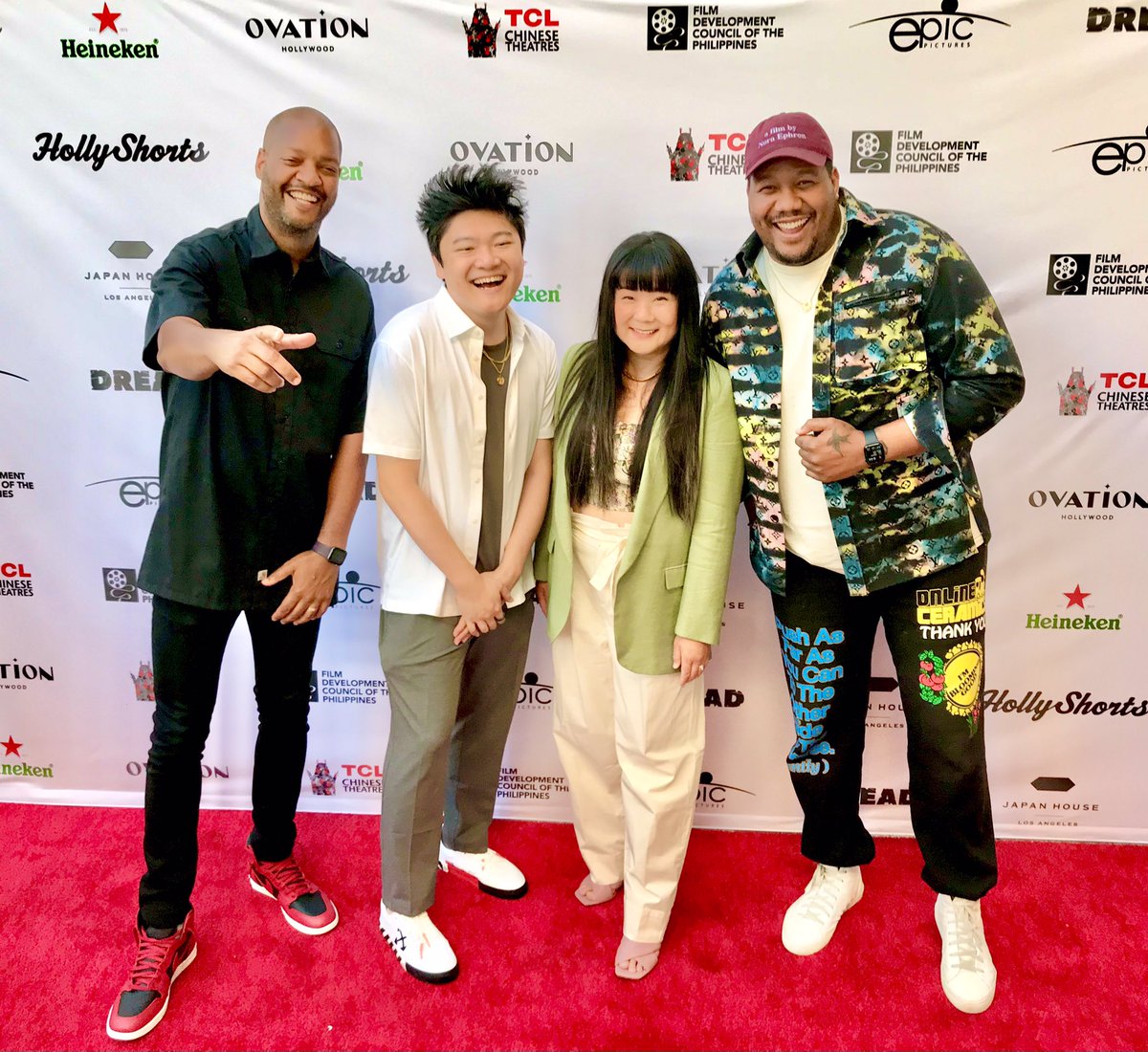 On Opening Night, filmmakers and talent arrived on the red carpet, moved from the Chinese 6 lobby to the Dolby Theatre awards walk, same location as the Oscars red carpet. Travon Free and Samir Herandez, filmmakers of 38 at the Garden arrived on the carpet.
HollyShorts' alum BG Lightfoot's Queen of Basketball, which won an Oscar.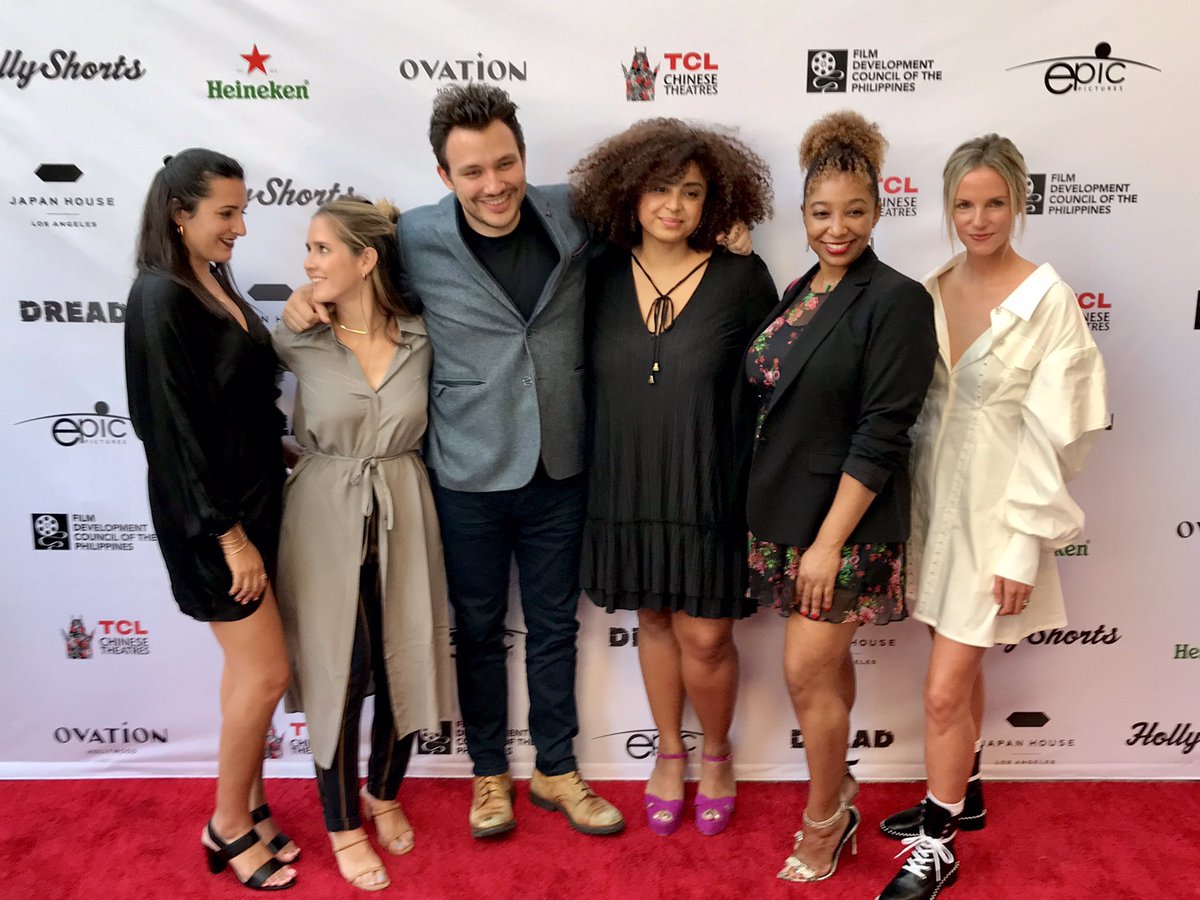 In-person screenings are at the Chinese Theatre 6. Selected films are also available for a limited time via the Bitpix online platform. so you can watch from anywhere in the world. Get tix http://hollyshorts.com
SCREENINGS
HollyShorts features several screening blocks each day organized by genre, typically at 10a, 2p, 5p, 7p, 10p, and sometimes at midnight. Here are just a few.
LGBTQIA block featured a mix of comedies and dramas. Boomerang, Starfuckers, Work, Too Rough – …Tofu – Fk Em Right Back, Coming Out w the Help of a Time Machine, Foreign Uncle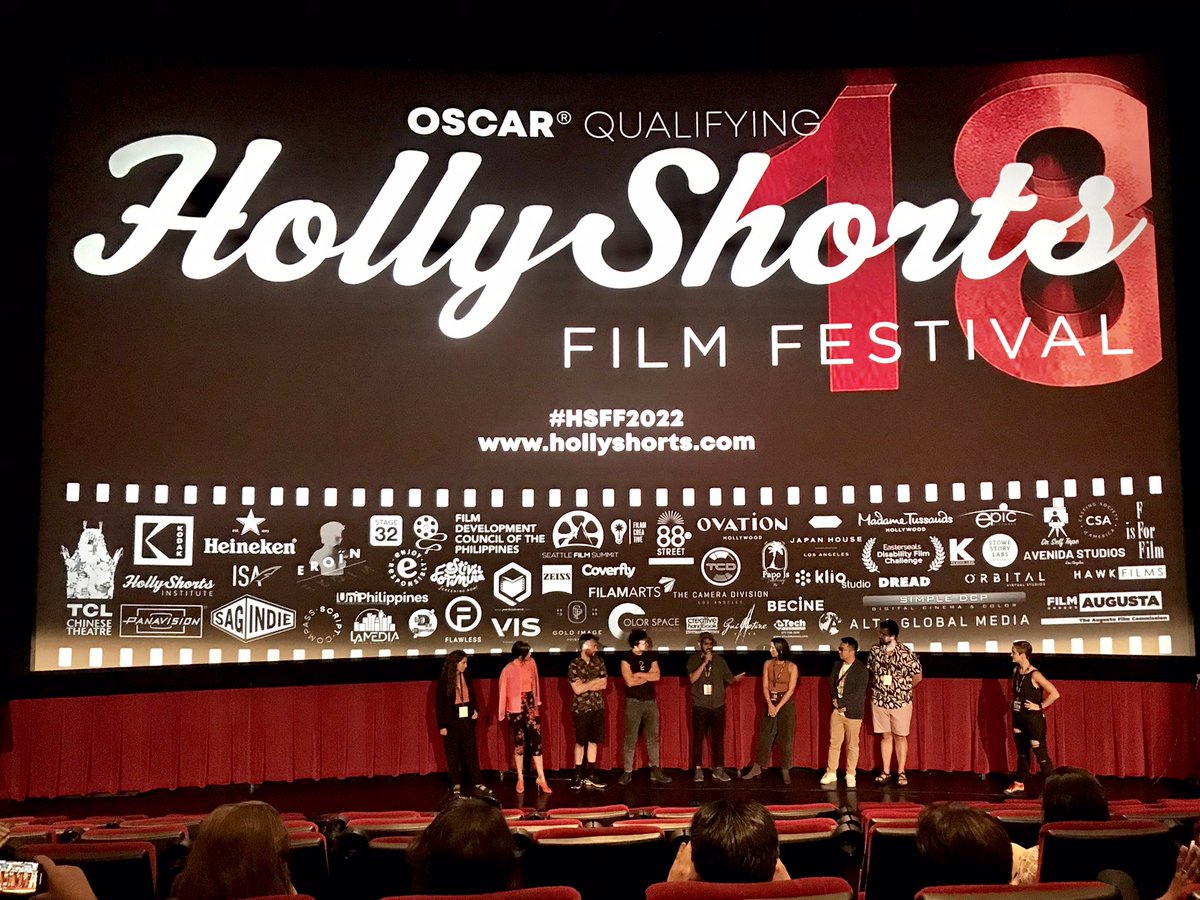 Sci-Fi films included new ways of looking at the world via sci-fi lens, including some thriller and comedy.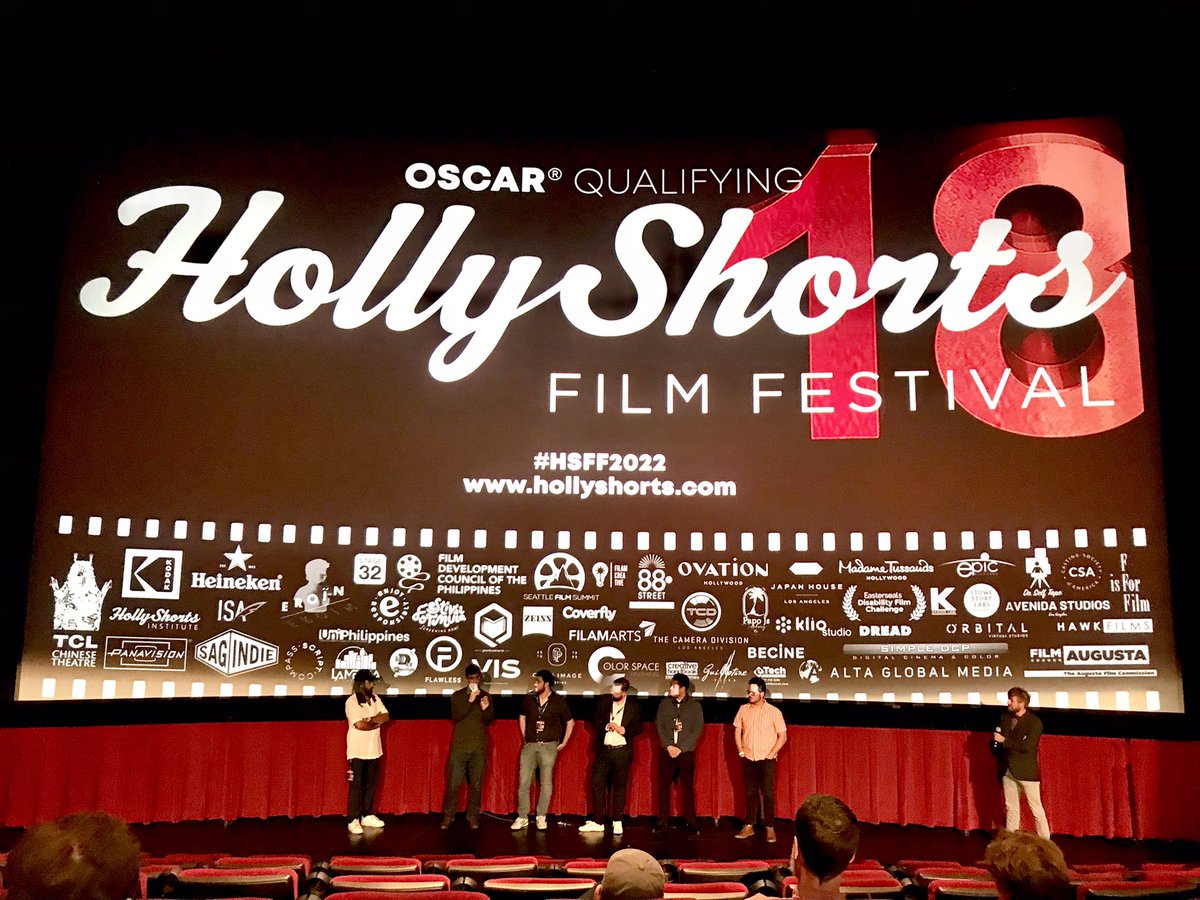 PANELS
Several filmmakers and industry panels feature experts sharing knowledge, Q&As and reception at Japan House on the fifth floor of Hollywood and Highland. Highlights:
Casting Authentically presented by the Disability Film Challenge. Panelists discussed what actors, filmmakers, and agents should do to increase diversity. A panelist described how diversity, inclusion and belonging differ: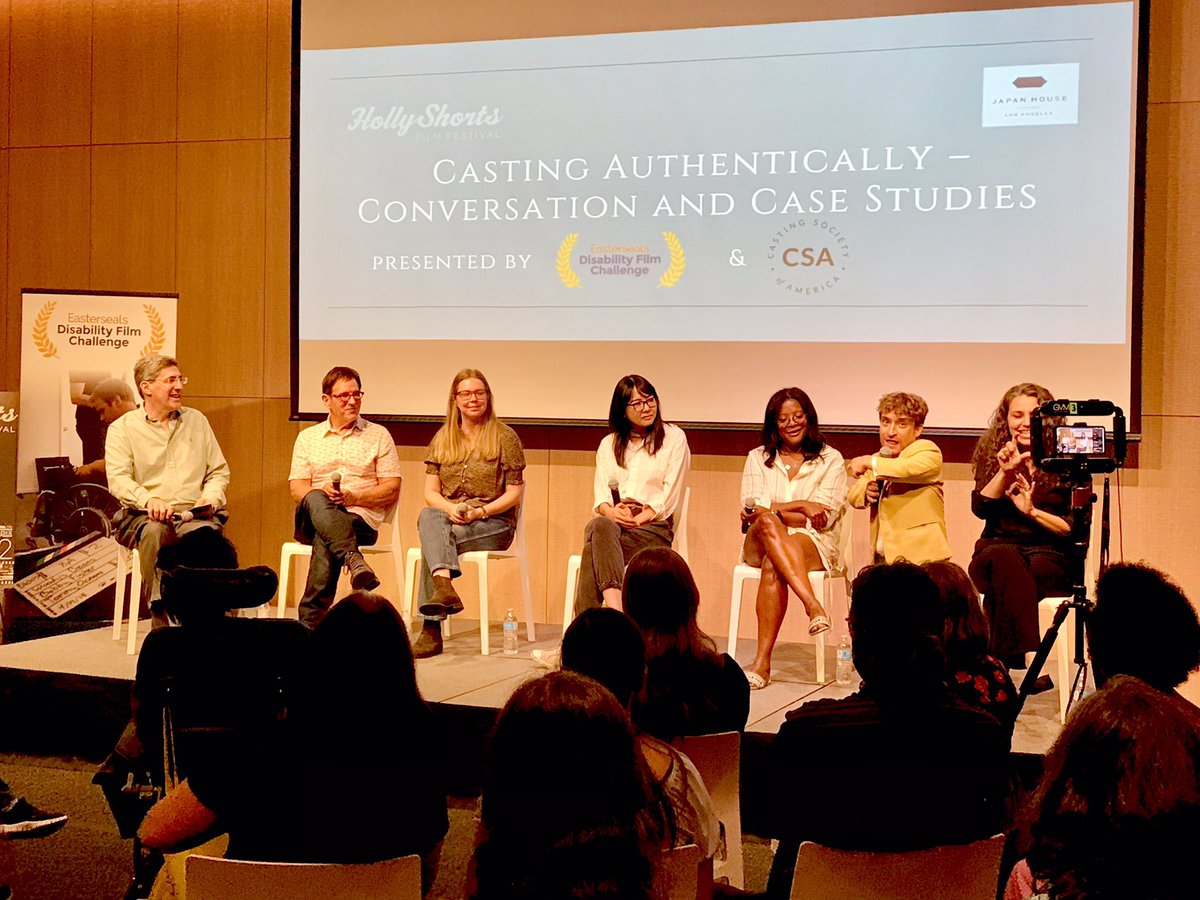 Diversity is inviting someone to the party Inclusion is asking them to help plan the party Belonging is introducing them to people and make sure they are seen, said Jenny Jue of Downtown Casting.
Self Tapes have increased during pandemic (rather than in-person auditions) Self Tape Tips:IIf instructions say no makeup: don't do makeup. Casting wants to see you as you. Don't complain about long instructions: casting is telling you what you need to do to book the role. Get a reader via friend, Zoom, or WeAudition.
Agents and Managers Get a manager first, usually agents find you based on your quality work. Agents typically take 10%; if they add PR / packaging/ etc. can be 15%. Query letter: put logline, laurels at top. Timing & trends key. Some agents 'Hip-pocket' people who they are informally helping develop, make referrals and intros, but aren't at level of official contracted client. But agent believes they will be, so helps them get to that level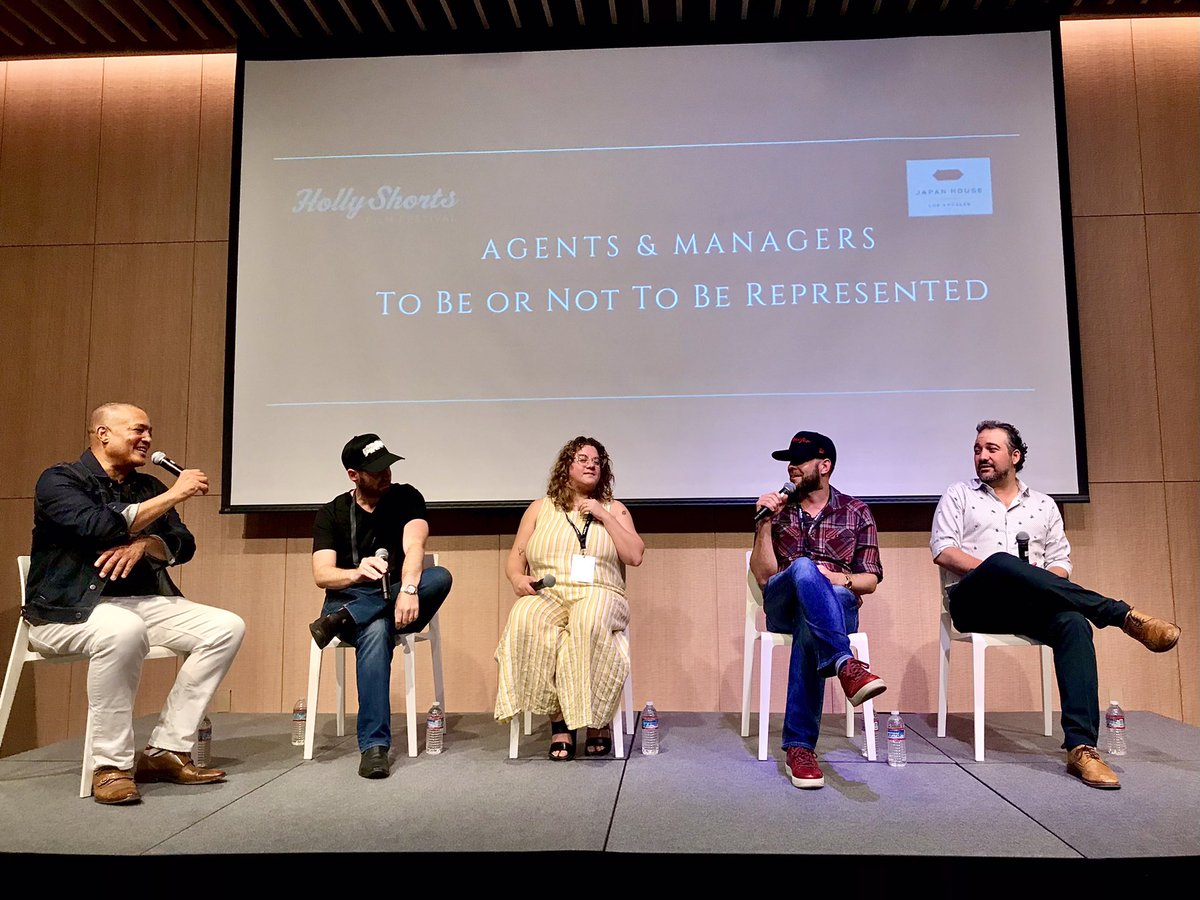 More details at hollyshorts.com