We are excited to announce the launch of the Immersive Arts District, which celebrates and highlights immersive companies around the Arts District in the downtown LA area. Immersive Arts companies have grown in the area, attracted by large warehouse spaces and parking lots to create venues for immersive entertainment, like Two Bit Circus and Wisdome.LA.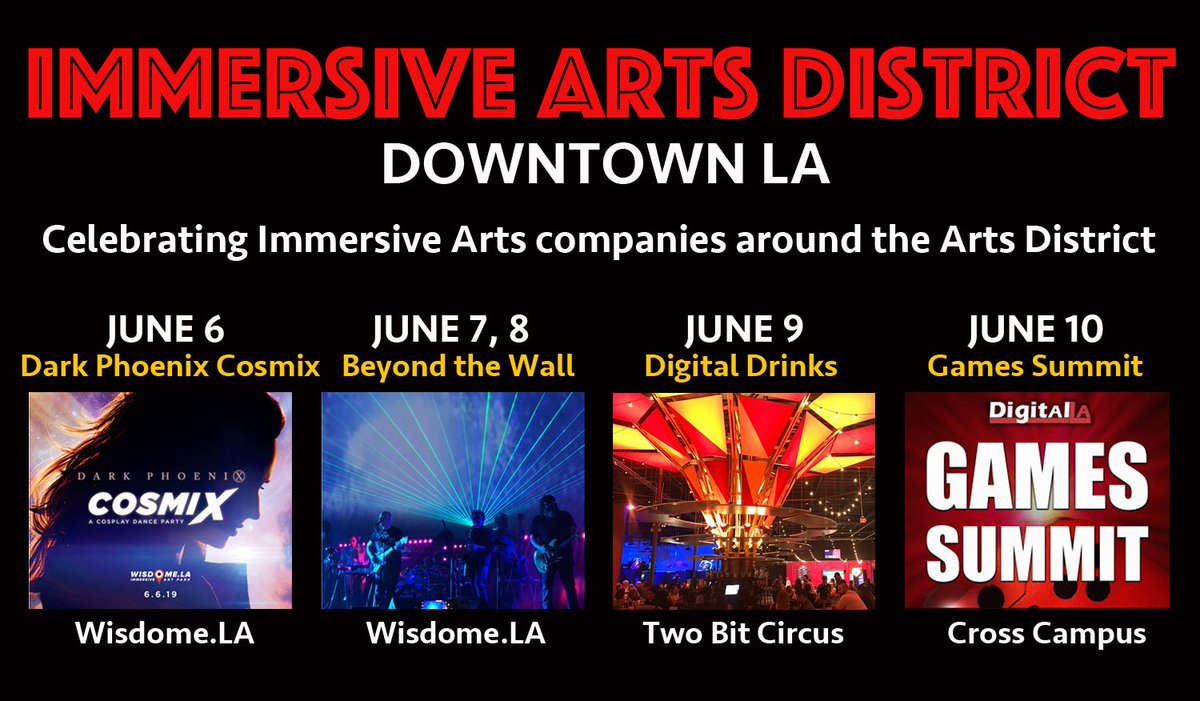 We celebrate the naming of the Immersive Arts District (nicknamed IAD) with Immersive Arts District weekend June 6-10, with events at various venues so you can explore the IAD. Get tickets to each event on your own separately.
Thursday June 6: Dark Phoenix: Cosmix. Wear X-men cosplay and costumes for free admission to this dance party in a dome to celebrate the opening of Fox's X-men Dark Phoenix film that opens the same day with Thursday pre-screening. FREE RSVP if you wear X-men theme costumes.
Friday June 7: Beyond the Wall: Pink Floyd. Get 10% off with discount code DigitalLA when you register. 
Saturday June 8: Beyond the Wall: Pink Floyd. Get 10% off with discount code DigitalLASaturday when you register. 
Sunday June 9: Digital LA – Digital Drinks at Two Bit Circus. Play games and network with others from LA and visitors in town for E3. FREE RSVP. 
Monday June 10: Digital LA – Games Summit. Panels on VR, Music for Games and more with industry experts. REGISTER. 
Immersive Arts District Directory
Two Bit Circus opened up last fall with arcade games, VR games, a robot bar and a food stand. See our article covering its opening last fa.
Wisdome.LA also recently opened, featuring five domes with immersive 360 regular shows like Samskara and visiting shows like Beyond the Wall with Pink Floyd. Wisdome plans to be there for a few years.

Pop-Ups

We Rise is a 10-day pop-up experience
Alita Battle Angel experience was a pop-up experience that put teams of players in the world of Alita to solve tasks to get points, to help promote the movie.