Jam City mobile game company opened an early voting official polling center for Los Angeles County on November 2, 2020, the day before Tuesday Election Day Nov 3.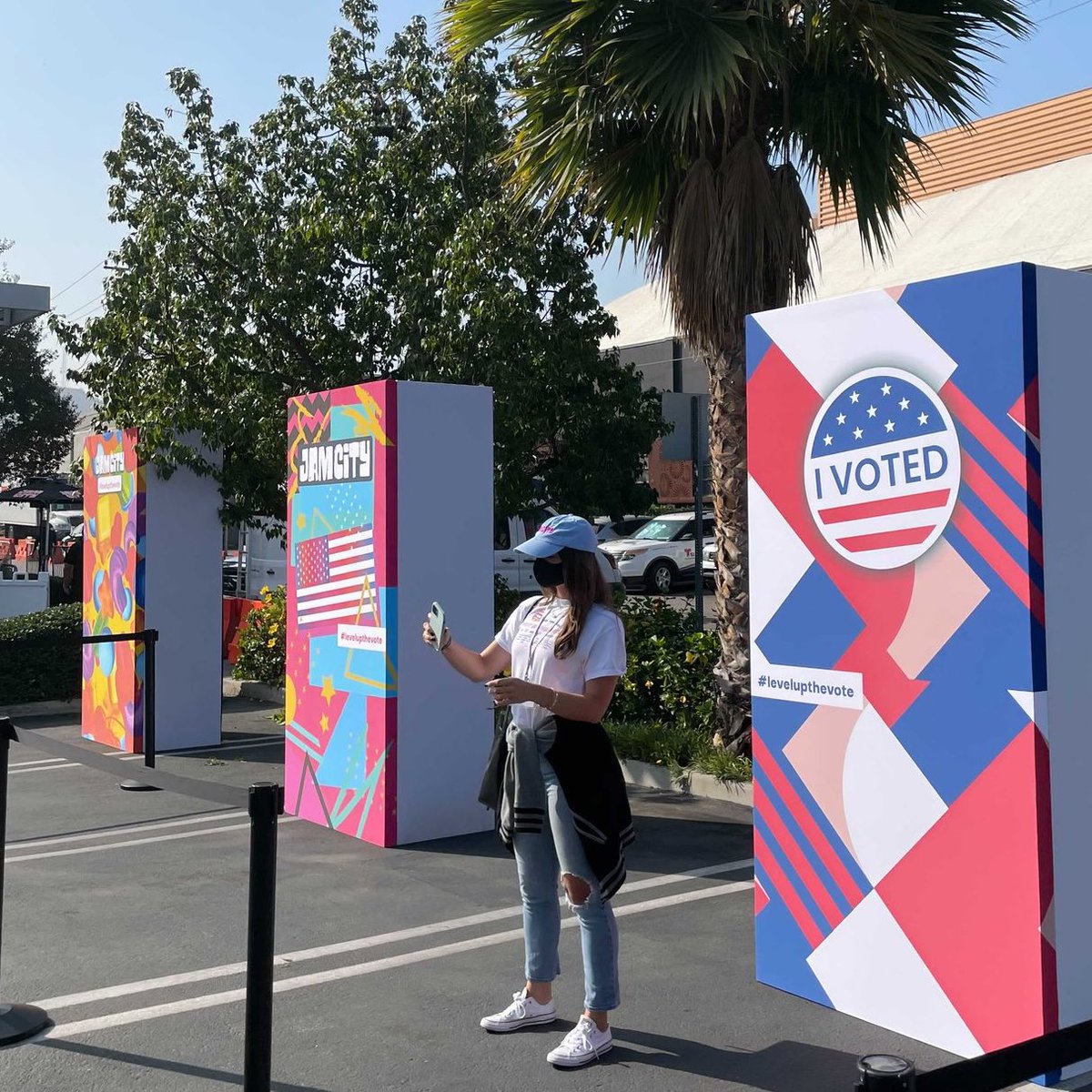 Voters could park for free, register, take photos at selfie stations, get latte art, and a free Jam City tote bag with a chocolate chip cookie, muffin, and Jam City coozie.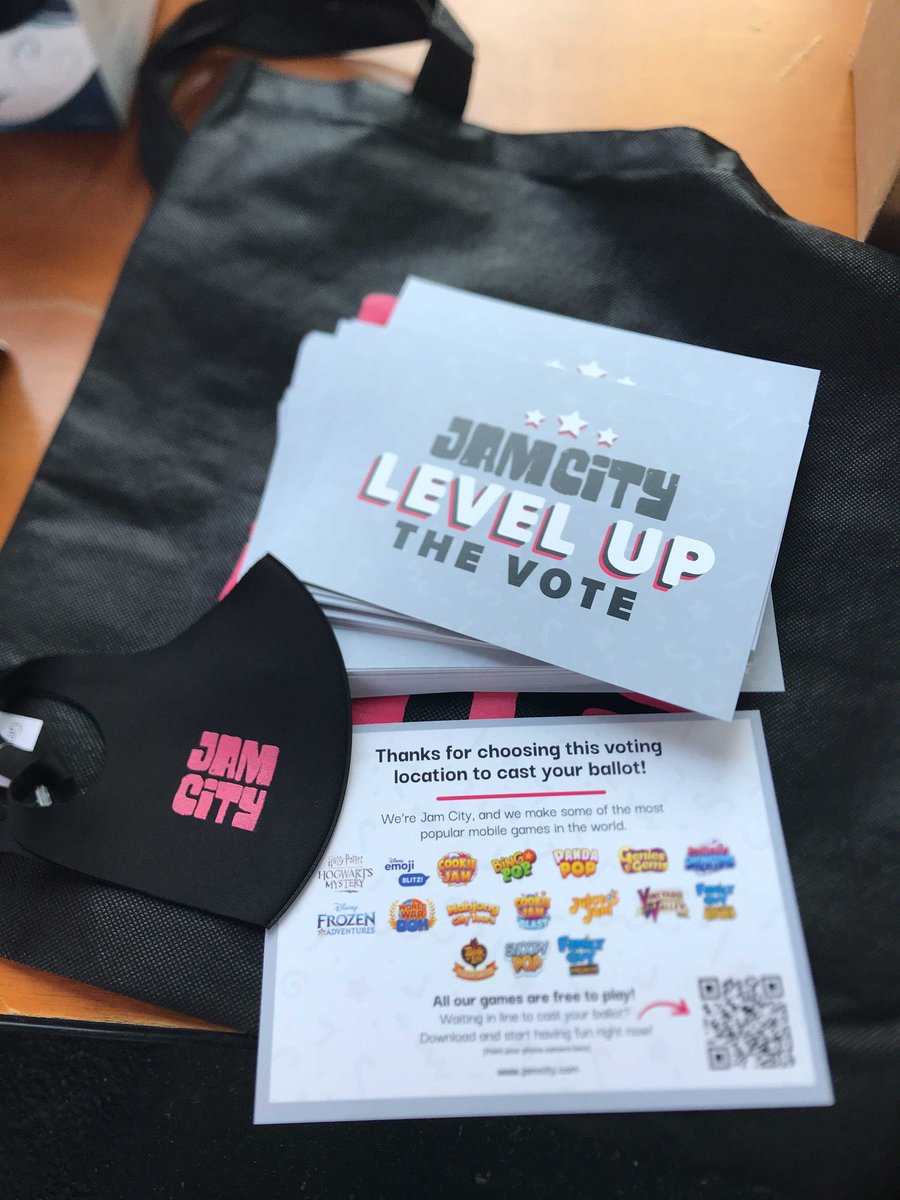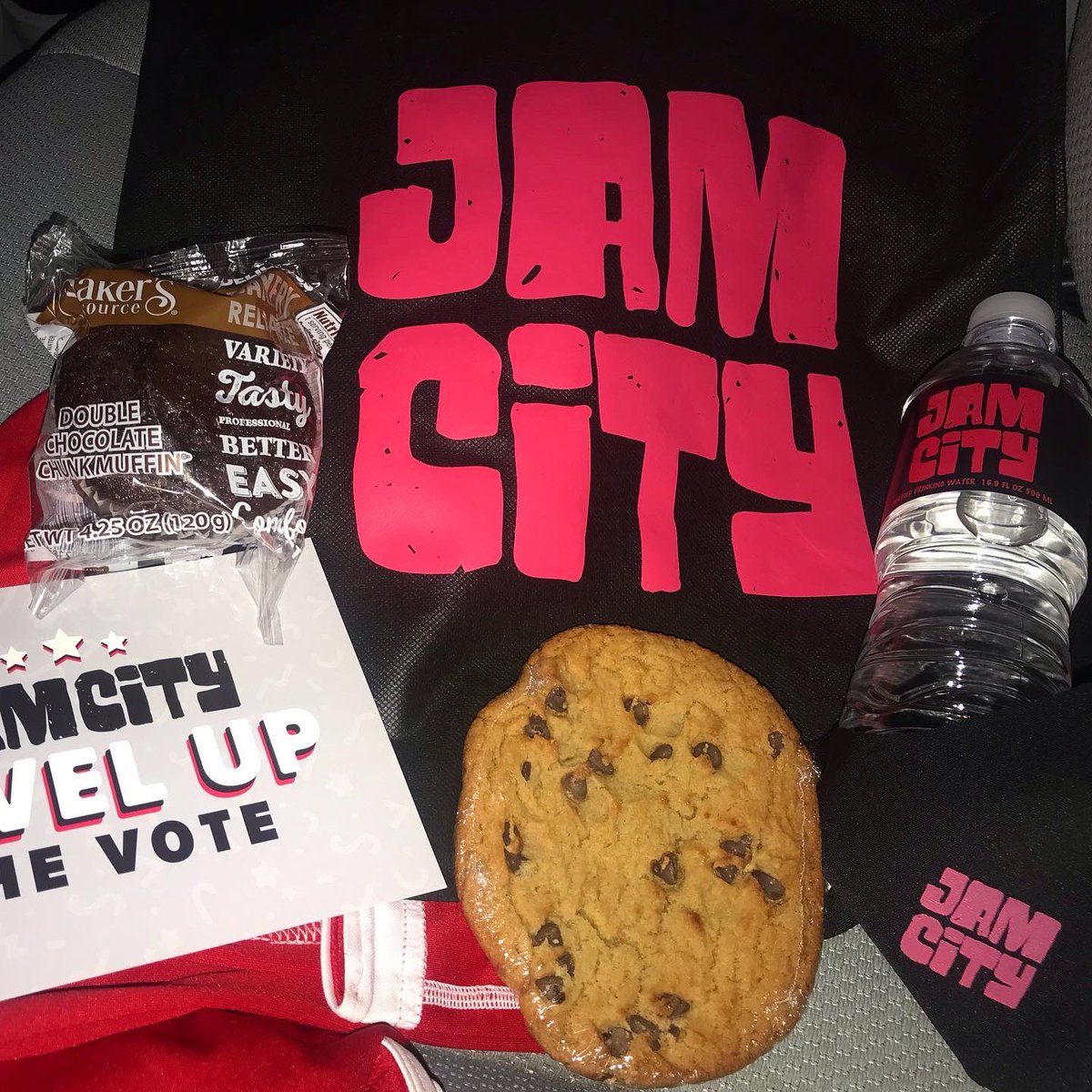 Voters dropped off ballots or voted at secure voting stations in an outdoor, socially distanced setup in from 10 am – 7p on Monday, November 2, 2020 at the Jam City HQ parking lot at 3562 Eastham Dr, Culver City, CA.
Josh Yguado, President and co-founder of Jam City, described why Jam City is opening up a polling center in our Facebook livestream the Monday before the election.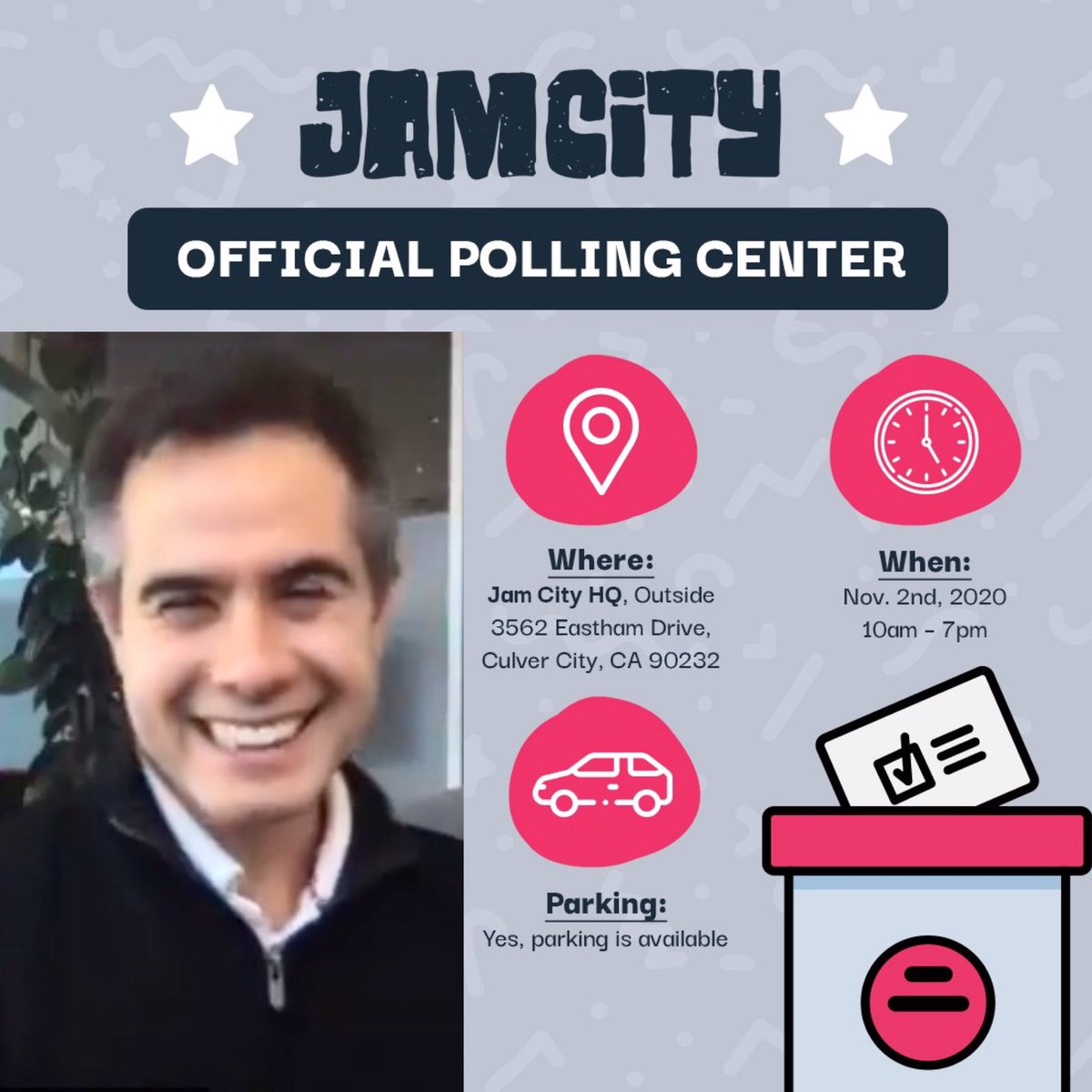 "We have a social bottom line at Jam City too," Yguado said. "We are members of a community. We feel like we have a responsibilty to use our resources and influence to do good. We want to try to do our part to reduce the race and age gap in voting. We want to make voting easy and accessible to absolutely everyone in the community."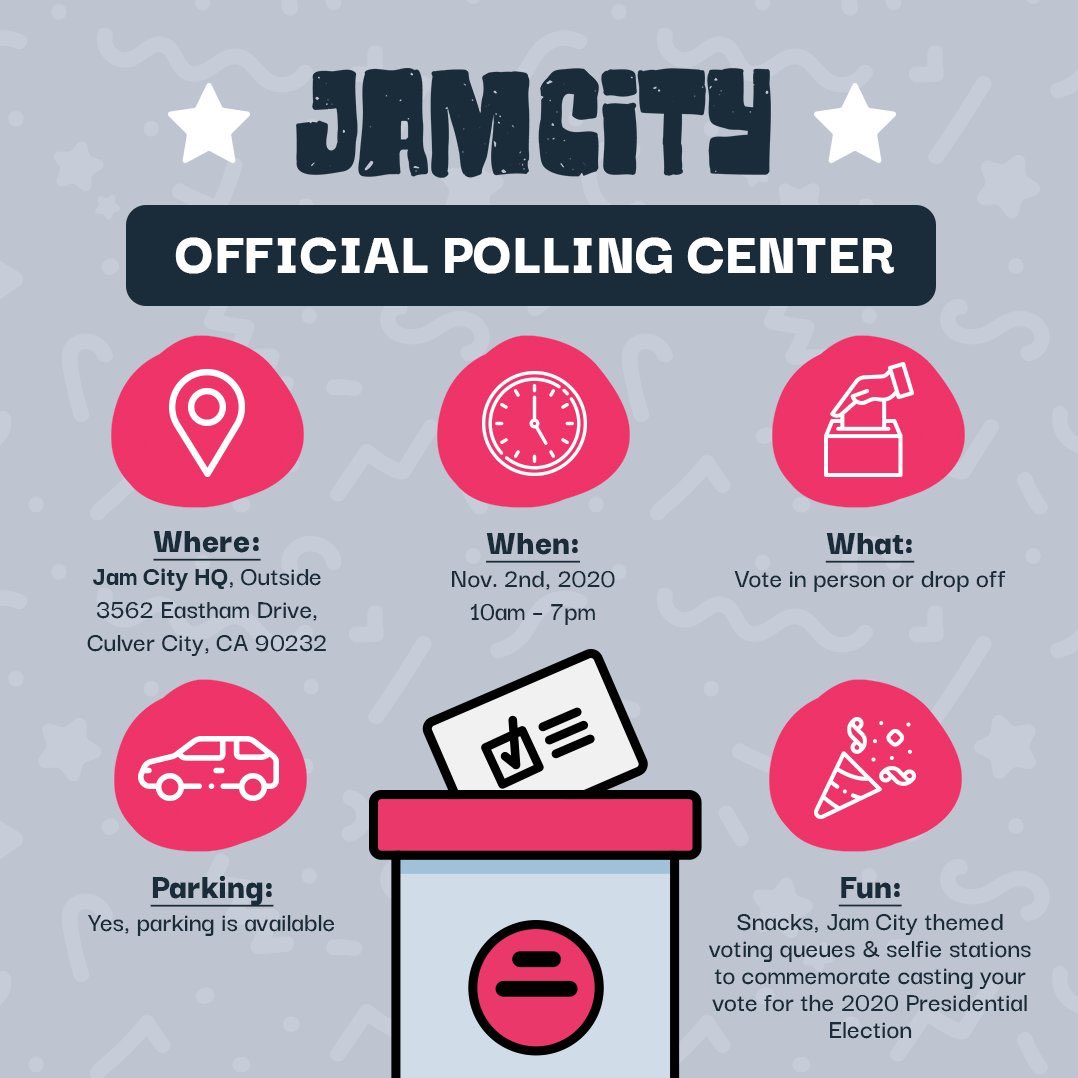 Jam City applied with LA County to receive approval to open up an official polling center. LA County officials will staff the event with their official polling stations and drop boxes.
Yguado said that the Jam City's HQ location will help service the local community by offering voting during the work day. With easy access to public transportation and hundreds of nearby essential businesses, including hospitals and medical facilities, government service providers, retailers, and others.
Jam City has 700 employees worldwide, and has been seeing increased game downloads and usage during pandemic. Its popular games include Harry Potter: Hogwarts Mystery, Panda Pop, Cookie Jam, and more.
Watch our Facebook livestream with Josh.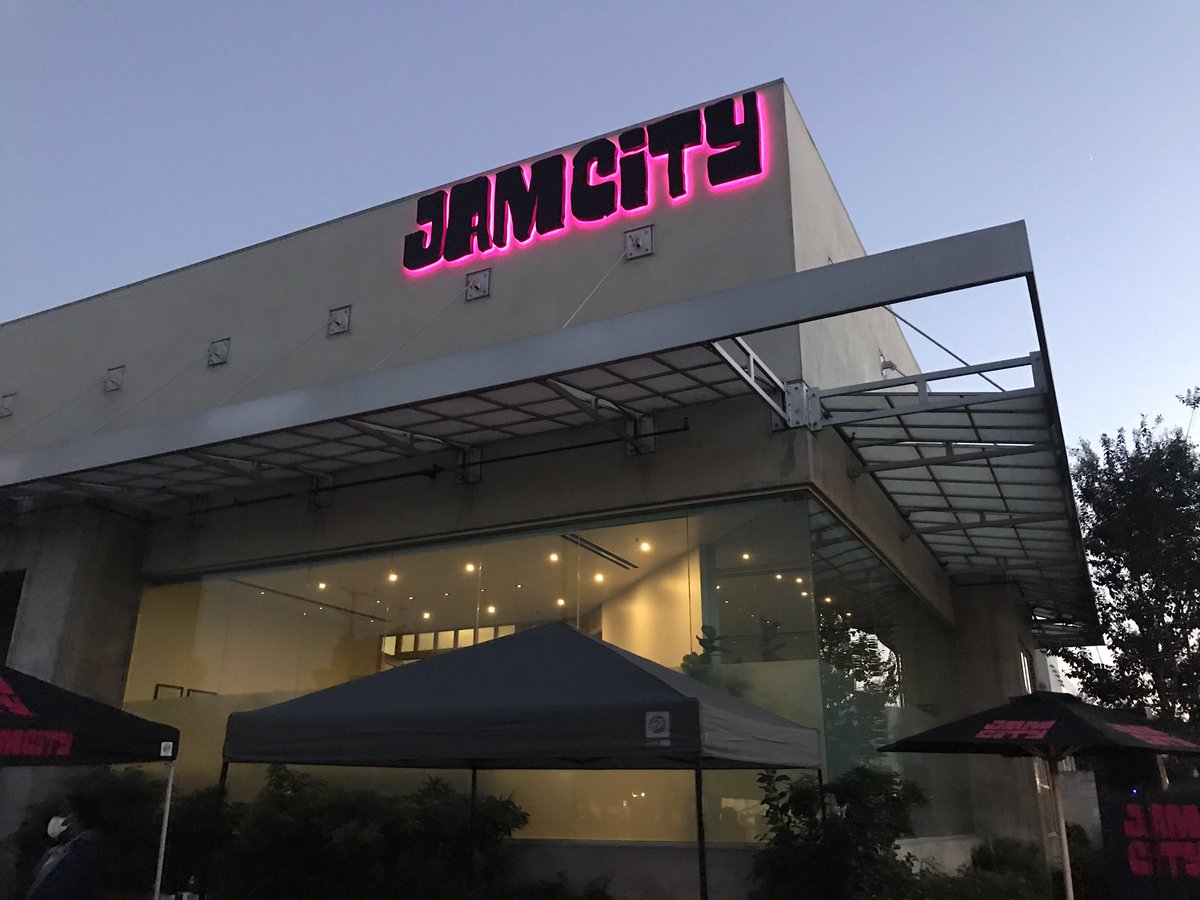 In addition to its voting center, Jam City other voting initiatives include #LevelUptheVote, which rallies its gaming community of millions of players to drive voter registration and participation in the U.S. 2020 November elections.
Jam City has partnered with When We All Vote to help drive voter registration and election participation during National Voter Registration Week of Action September 20-27.
Jam City also created in-game activations across many of its most popular mobile gaming titles the weeks before the election.
"Jam City is first and foremost a community of people, and we believe that civic engagement and a contribution to our democracy is our social responsibility," said CEO Chris DeWolfe in a press statement. "We encourage our millions of players to participate by registering to vote via Jam City's award-winning mobile games, and we're grateful to be selected by the County of Los Angeles as an official mobile polling center where we will host a COVID-safe, fun polling and election event."
Video: https://youtu.be/9T00IVaqyDk
About Jam City
Jam City is an award-winning mobile entertainment studio providing unique and deeply engaging games that appeal to a broad global audience. Led by CEO Chris DeWolfe, former MySpace co-founder and CEO, and COO Josh Yguado, former 20th Century Fox executive, Jam City is the creative powerhouse behind some of the highest-grossing and most enduring mobile games. Jam City's global franchise Cookie Jam has generated more than half a billion dollars, and Panda Pop has more than 140 million downloads to date. The company also is the go-to studio for Hollywood, having developed immersive, narrative-rich mobile games around iconic entertainment brands. The company's popular RPG game Harry Potter: Hogwarts Mystery was the #1 game in more than 40 countries at its launch in April 2018. Jam City has nine studios located in Los Angeles (HQ), Berlin, Buenos Aires, Bogotá, Burbank, Cedar Falls, San Diego, San Francisco, and Toronto.
About When We All Vote
When We All Vote is a national, nonpartisan nonprofit that brings together citizens, institutions, brands, and organizations to increase participation in every election. The organization is committed to closing the race and age voting gap and empowering all eligible voters to cast their ballot by harnessing grassroots energy, establishing strategic partnerships, and implementing digital organizing strategies, with the ultimate goal of changing the culture around voting.
In the leadup to the 2018 Midterm Elections, When We All Vote organized over 2,500 local voter registration events across the country, engaged 200 million Americans online about the significance of voting, and texted nearly four million voters the resources to register and get out to vote.
In 2020, When We All Vote is helping to lead in voter education, registration and volunteer engagement. In response to COVID-19, When We All Vote is leading the fight for fair and safe elections by supporting the expansion of access to vote-by-mail, early in-person voting and online voter registration so every American can make their voices heard on Election Day.