PLAYA VISTA – Make sure your product is what consumers want before you start development, and do frequent sprints with stakeholder and customers to incorporate feedback, said speakers at our Digital LA – LA Dev Shops panel at CTRL Collective in Playa Vista.
Speakers from Citrusbyte, Slate Studio, Philosophie, Kluge, and Weez Labs gave their advice on how best to work with developers, based on their experience with large enterprise companies and Silicon Beach startups.
We discussed the interplay of product features, cross-platform use, launch, design, budget, scale. Also: how to avoid scope creep, streamline communication on a project, and keys to successful launch and ongoing maintenancce.
This handy chart summarizes the LA Dev Shops on our panel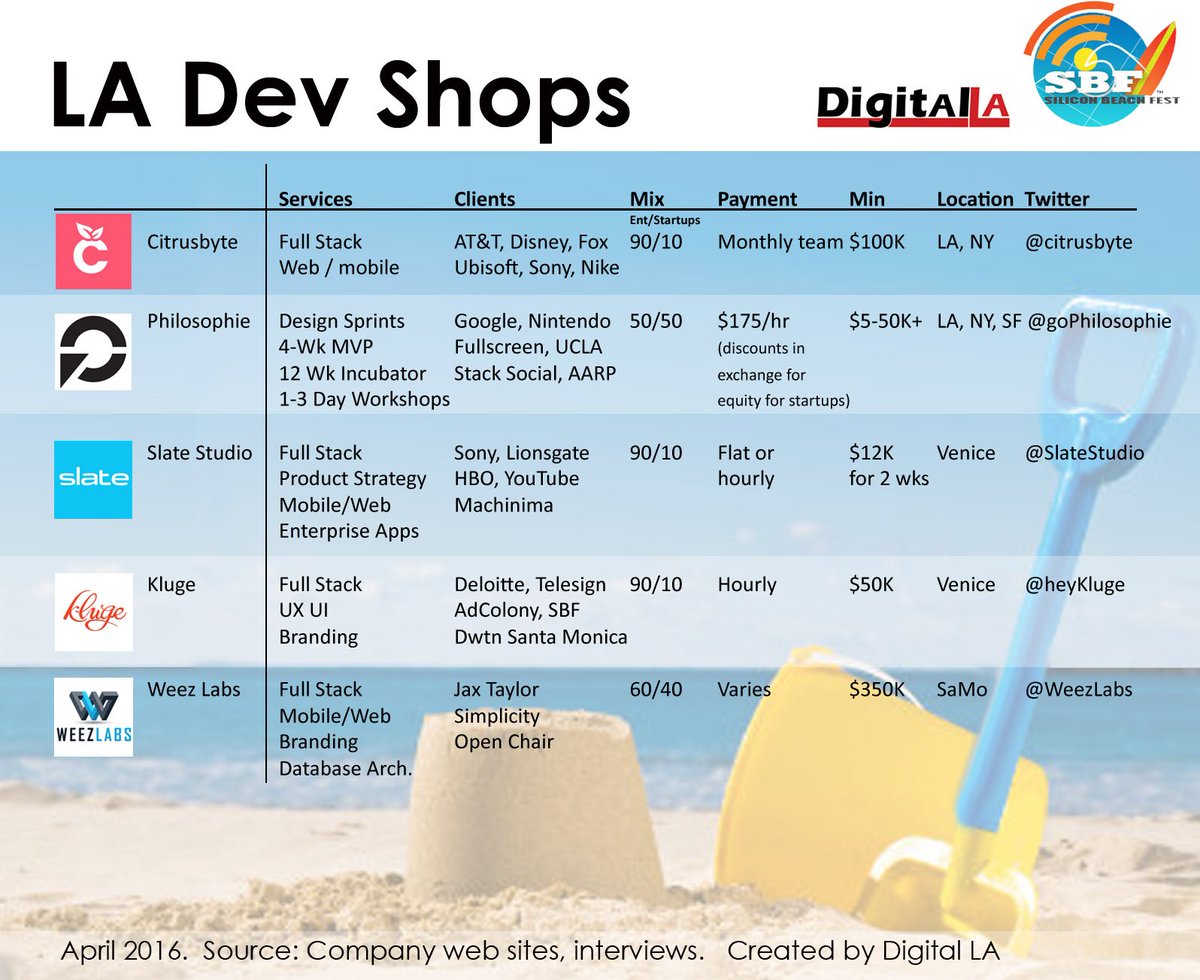 Thanks to our Speakers
Adonya Ourshalimian, Citrusbyte, Client Partner. Citrusbyte is a digital innovation company based in Los Angele that designs, develops and delivers software-based solutions to complex problems for Fortune 500 and startup customers including many of the world's leading brands: AT&T, Disney, Fox, Ubisoft, Sony, Apple, Nielsen, Goldman Sachs, and Nike. @citrusbyte
Ethan Grey, Slate Studio, Chief Strategy Officer. Slate Studio is a product design & development firm based in Los Angeles that builds mission-critical digital experiences for the world's leading technology and media companies. Areas of expertise include Over-The-Top (OTT), SVOD, mobile apps, web apps and enterprise systems integration. Clients include Sony, Lionsgate, HBO, YouTube, Machinima, App Annie, Tribeca Enterprises, Oracle, and venture-backed startups. @slatestudio
Krishen Kotecha, Philosophie, Lead Product Strategist. Krishen leads teams to build effective, successful products that solve user problems. He also wisn new business and recruits talented product people. His projects include: Google, Nintendo, Fullscreen, Planned Parenthood, StackSocial, Yapstone, UCLA, David Kind, AARP, and Obvious Ventures, StayingSharp.org (AARP), Fliper.com, TheMozi.com, Giblib.com, Docen (Kobe Inc). @gophilosophie
Arturo Perez, Kluge Interactive, Founder. Kluge offer branding, user experience, design and content strategy for startups, medium and large companeis. Clients include Deloitte, AdColony, Telesign, Downtown Santa Monica, Activision's Call of Duty Endowment and the Department of Cultural Affairs. Kluge also designed the Digital LA web site, and the Silicon Beach Fest website, graphics, banners and branding since 2013. @HeyKluge
Sam Strasser, Weez Labs, COO, Co-Founder. WeezLabs, Inc. is a global company which develops and delivers cutting edge websites, mobile apps, and databases. It recently opened its headquarters in LA. @weezlabs