LA tech and entertainment companies supported LA Pride, which returned to Hollywood with a Parade and street fair on Sunday June 12, and concert in a downtown park on June 11.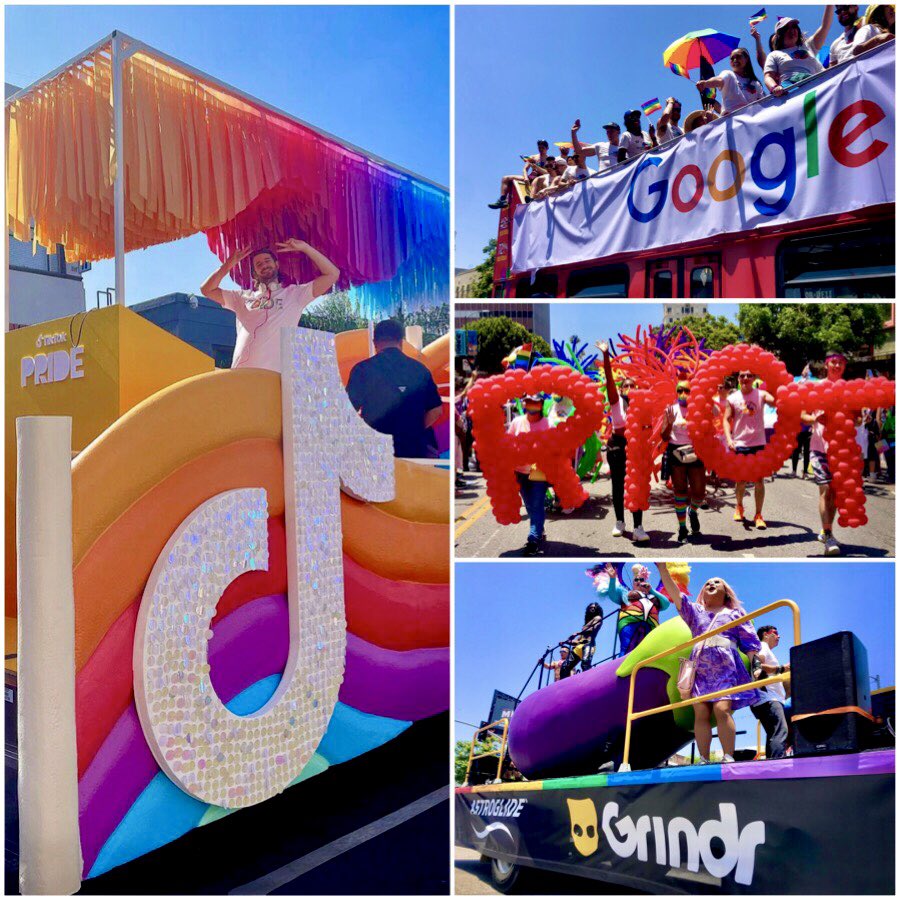 More than a dozen entertainment tech companies participated with parade entries, including movie, TV, and streaming studios, and LA tech companies, to show support for their LGBTQ+ employees and the local community.
Tiktok was the presenting sponsor of LA Pride, the first time a tech company has been the lead sponsor. Tiktok US HQ offices are in Culver City. Tiktok promoted its support of the LGBTQ community offline via signage, its Parade float, and photobooths at events. Several TikTok influencers hosted Tiktok lifestreams and coverage at events. Artist Alex Chapman posted a photo of himself on the Tiktok float on his IG @alexchpman; he did a song Horsey featuring Kim Petras (photo in collage above).
STUDIOS
Amazon's float represented its merger with MGM. The Glamazon LGBTQ group float spelled the letters GLAMAZON in Hollywood sign font letters with dancing employees.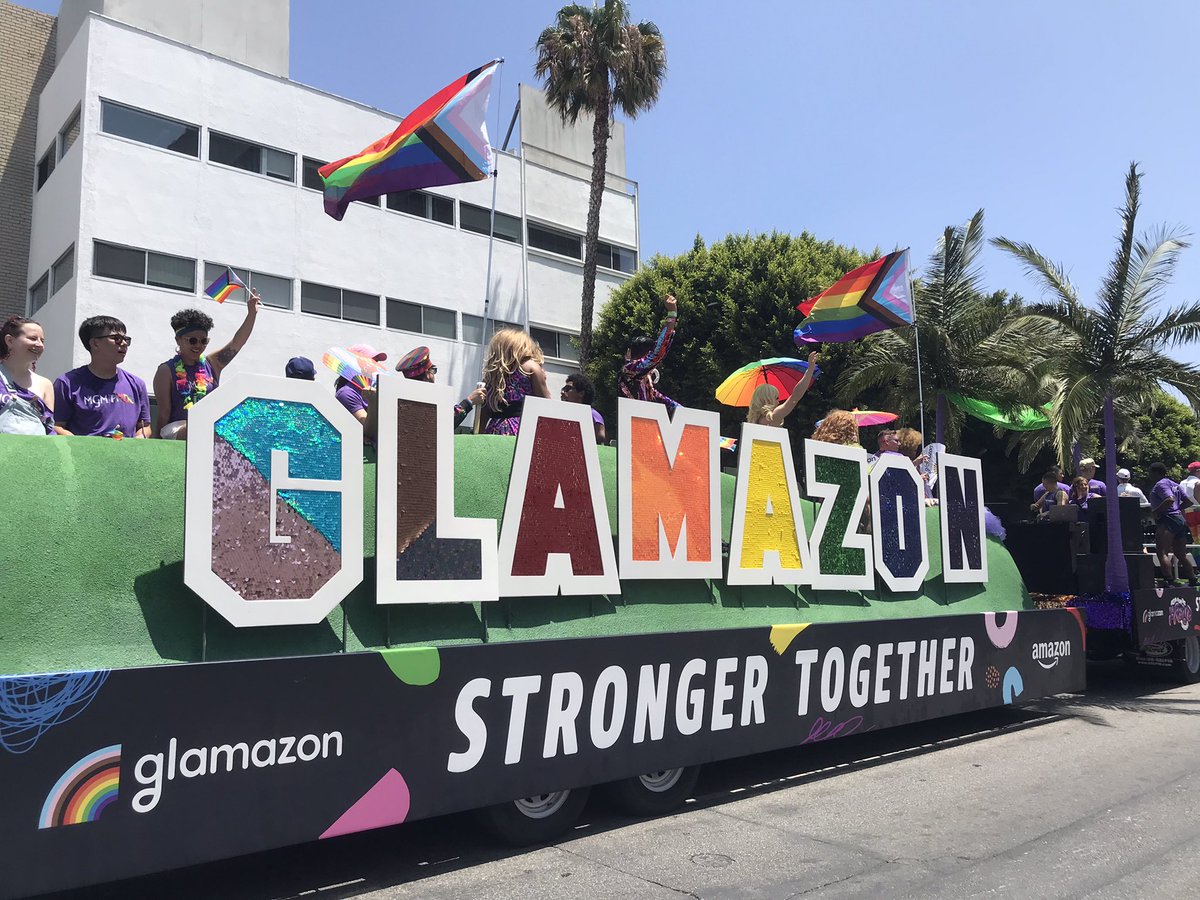 MGM's Roar LGBTQ group had a smaller float in front of the Glamazon float, and many employees walking with purple shirts with the MGM Roar logo.
Sony featured staff carrying a banner.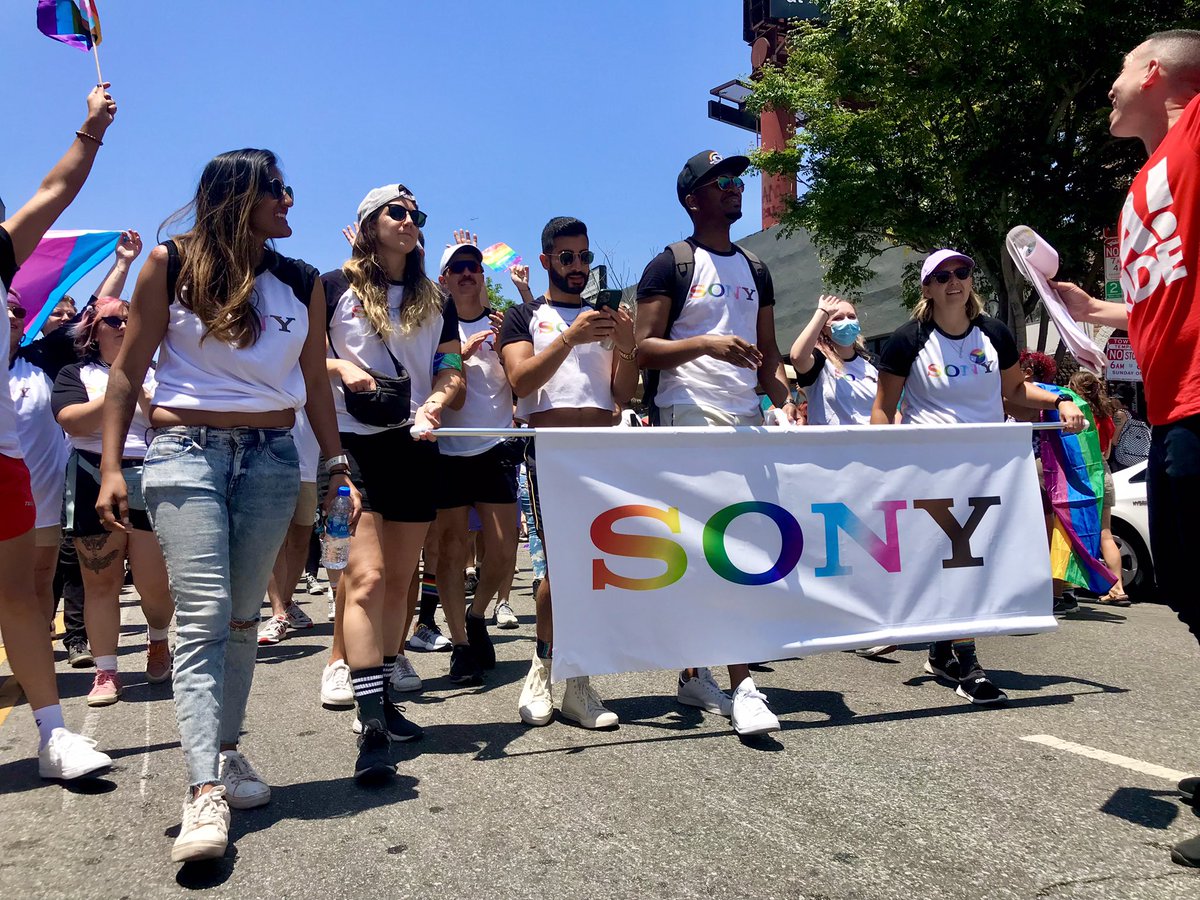 Lionsgate entry featured a Lionsgate Pride banner.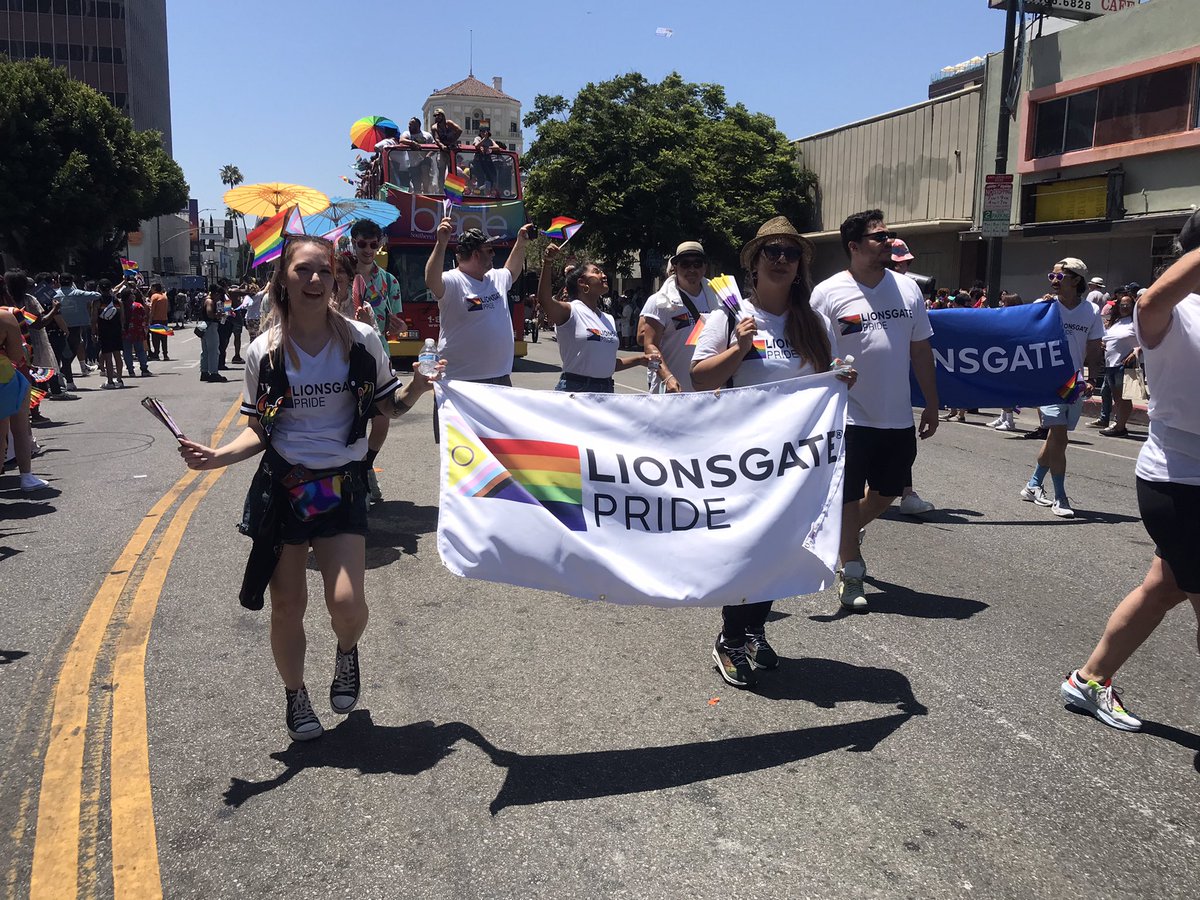 NBCUniversal entry featured several dozen people.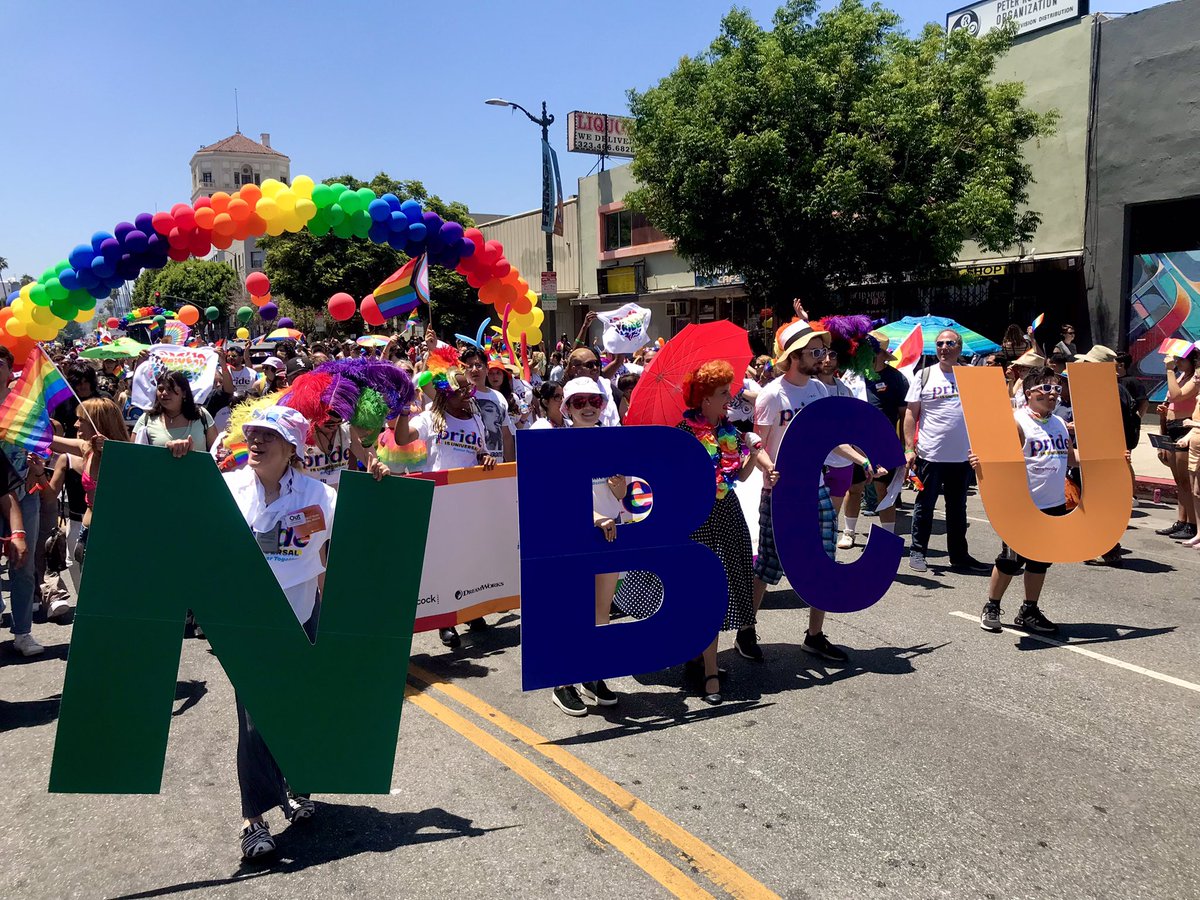 Disney entry cast distributed Mickey Mouse stickers.
LA TECH COMPANIES
Tiktok was the presenting sponsor. Its colorful float featuring TikTok influencers led the parade. Photo ABC7.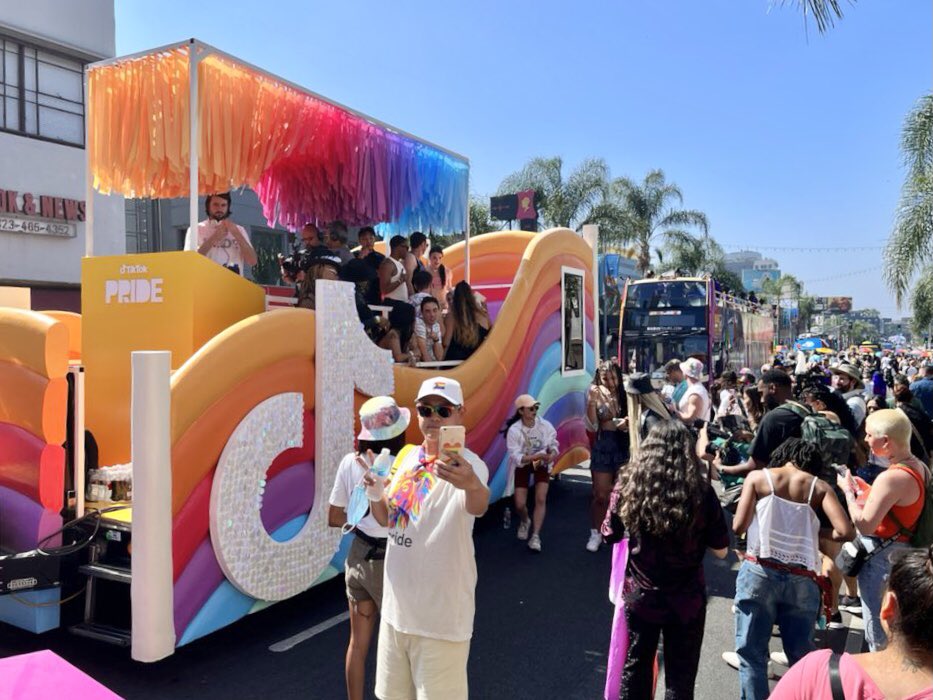 Google / YouTube decorated a double-decker sightseeing bus with Google branded banner. Google has offices in Venice and Beverly Hills.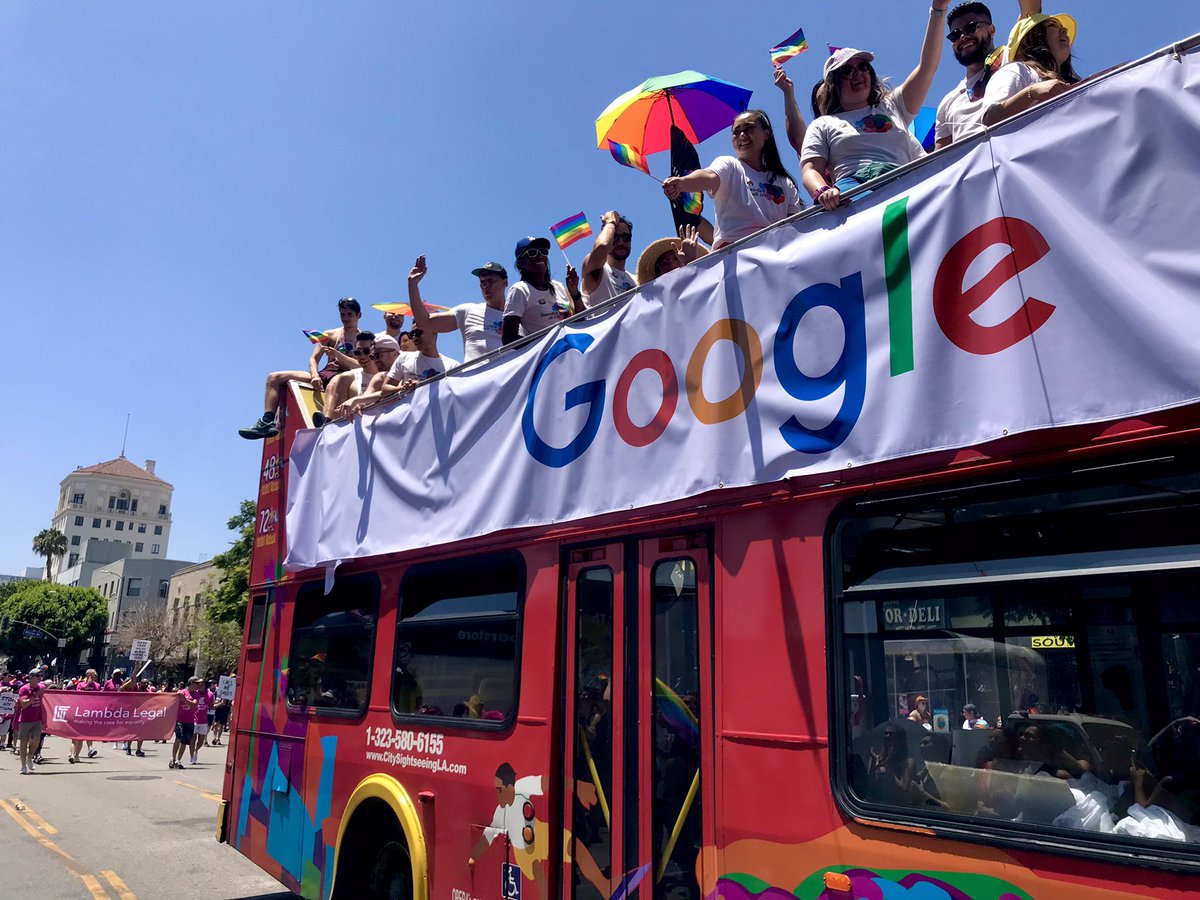 Riot Games had one of the largest entries of the Parade, with what seemed like more than a hundred employees and friends walking to support. Riot's entry was book ended by RIOT spelled out in balloons. Riot Games, based in Santa Monica, makes the popular League of Legends multiplayer online game. It also created the award-winning ground-breaking Arcane animated series on Netflix, partnering with a French animation studio.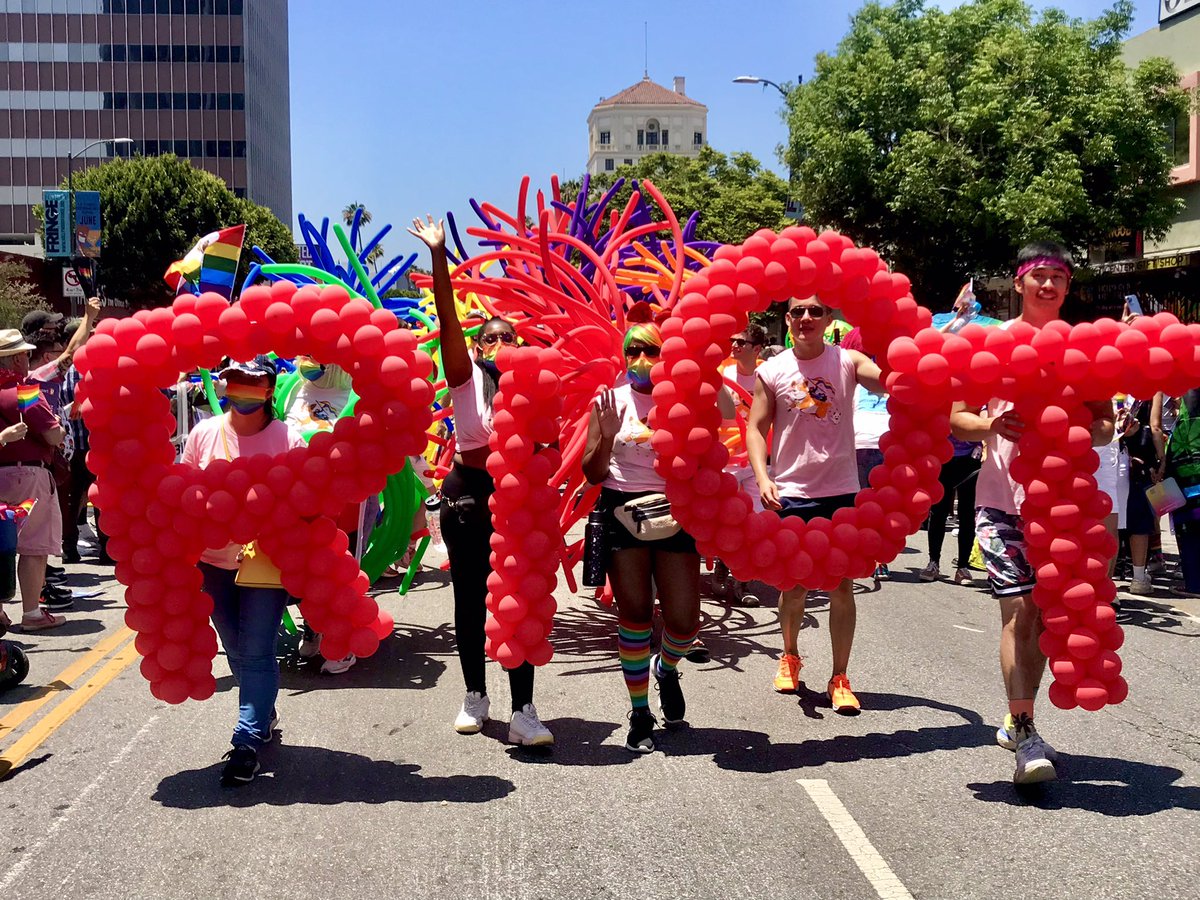 Grindr float was a large truck decorated with some of the most popular emojis used in its messaging: a huge eggplant in the bed of the truck, a peach hood ornament, and the spalsh emoji painted on the doors of the truck. A drag queen rode on the top of the truck. Float attendants handed out Astroglide lube packets to (adult) parade-viewers.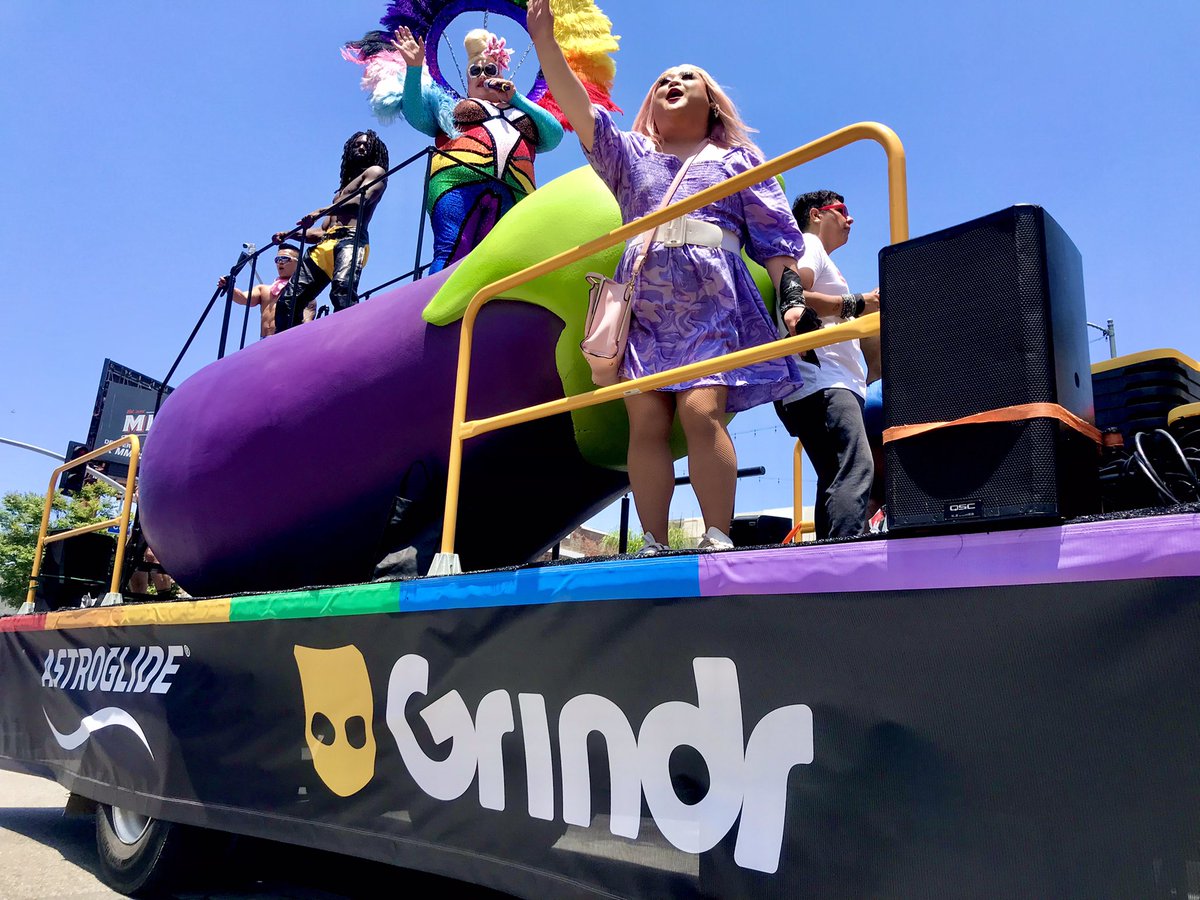 Grindr is one of the most popular gay dating apps. Grindr has sponsored previous Digital LA events such as Silicon Beach Fest, and its founder Joel Simkhi has spoken at our Digital LA events. Grindr has new owners at its HQ at the Pacific Design Center.
GumGum featured a few dozen people with a "Love Your Pride" purple banner. GumGum  is a contextual intelligence company that uses AI to scan the full content of a page to help deliver more targeted ads with higher engagement.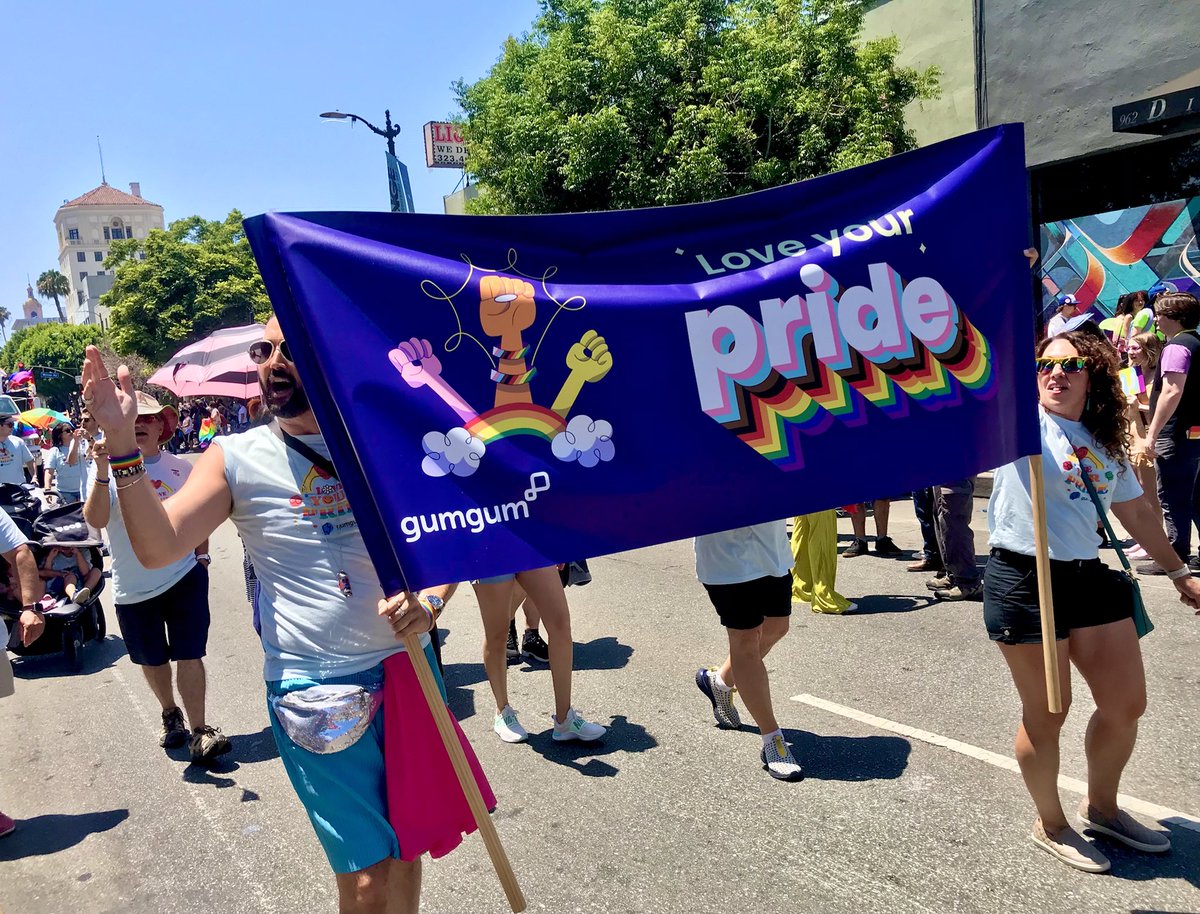 LegalZoom.com's entry featured about a dozen people in black shirts with Legal Zoom in rainbow colors holding a banner and waving LGBTQ+ flags. LegalZoom's entry demonstrates you don't need dozens of people and a huge float to participate in the LA Pride Parade. What's important is just being there to show support for your LGBTQ+ employees and the broader community.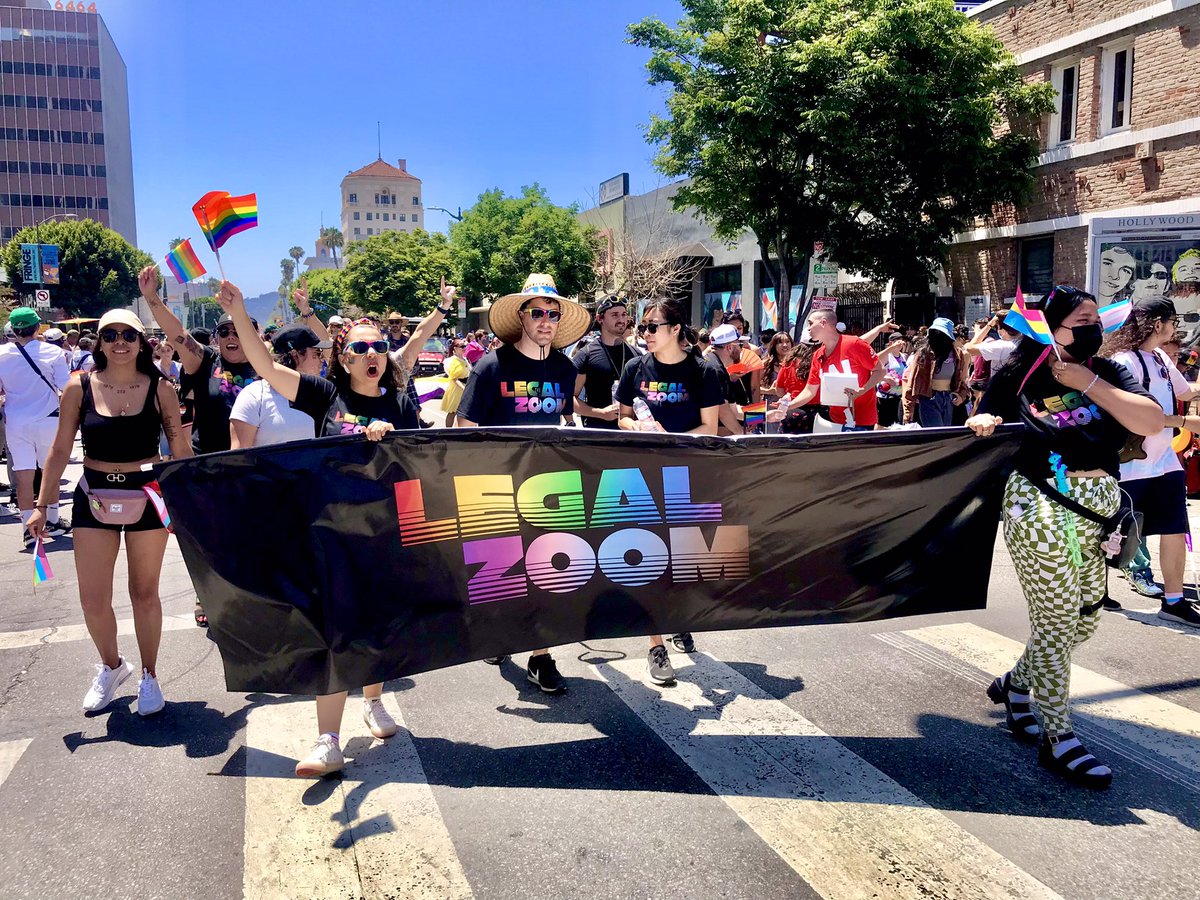 LegalZoom's online low-cost legal self-help software has helped thousands of small businesses and startups with forming their businesses, registering their copyrights, and more. LegalZoom is based in Glendale.
OTHER ORGANIZATIONS
Black Lives Matters LA featured a large entry. BLM LA helped organize a large BLM march from Hollywood to West Hollywood during June 2020.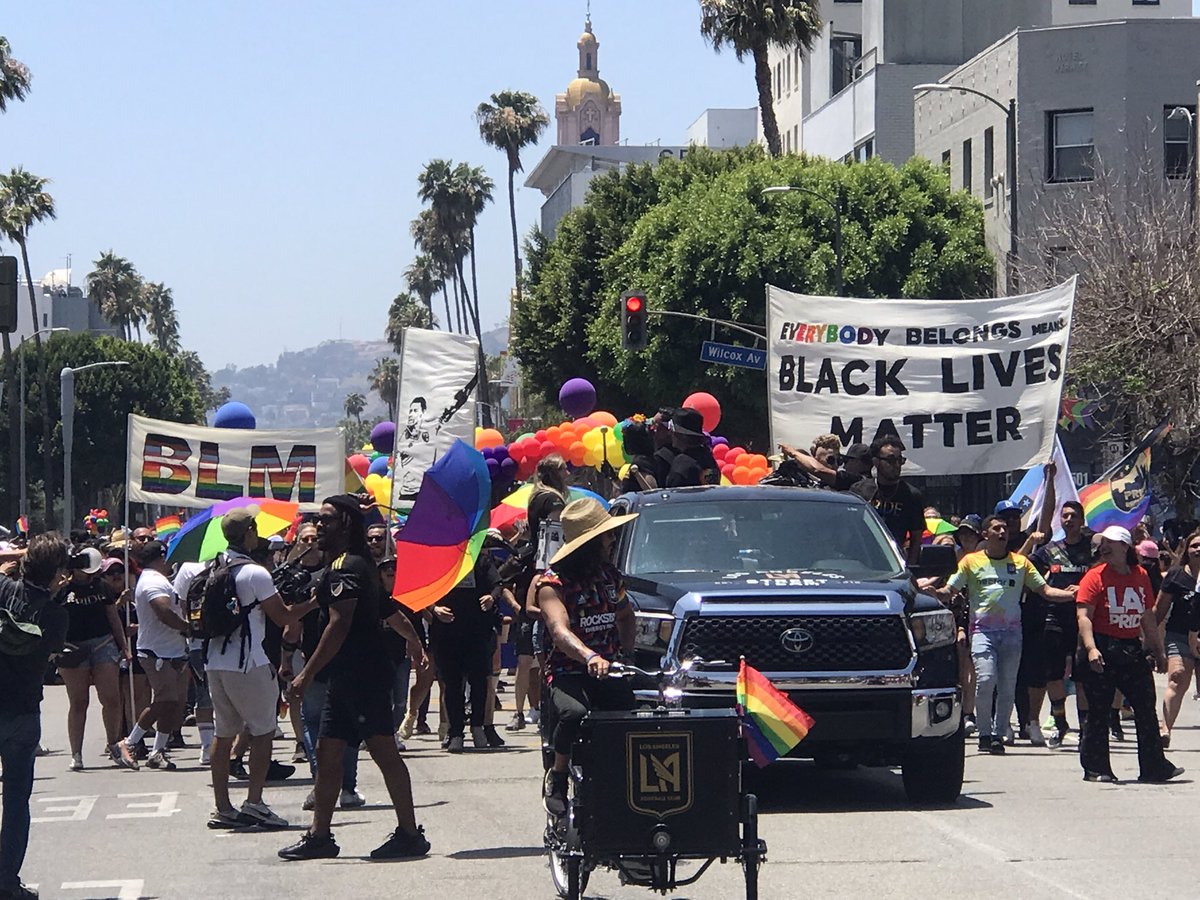 The Academy of Motion Pictures Art and Sciences brought a life-size Oscar to Hollywood Blvd, dressed in a rainbow feather boa. Photo: @theAcademy on Twitter.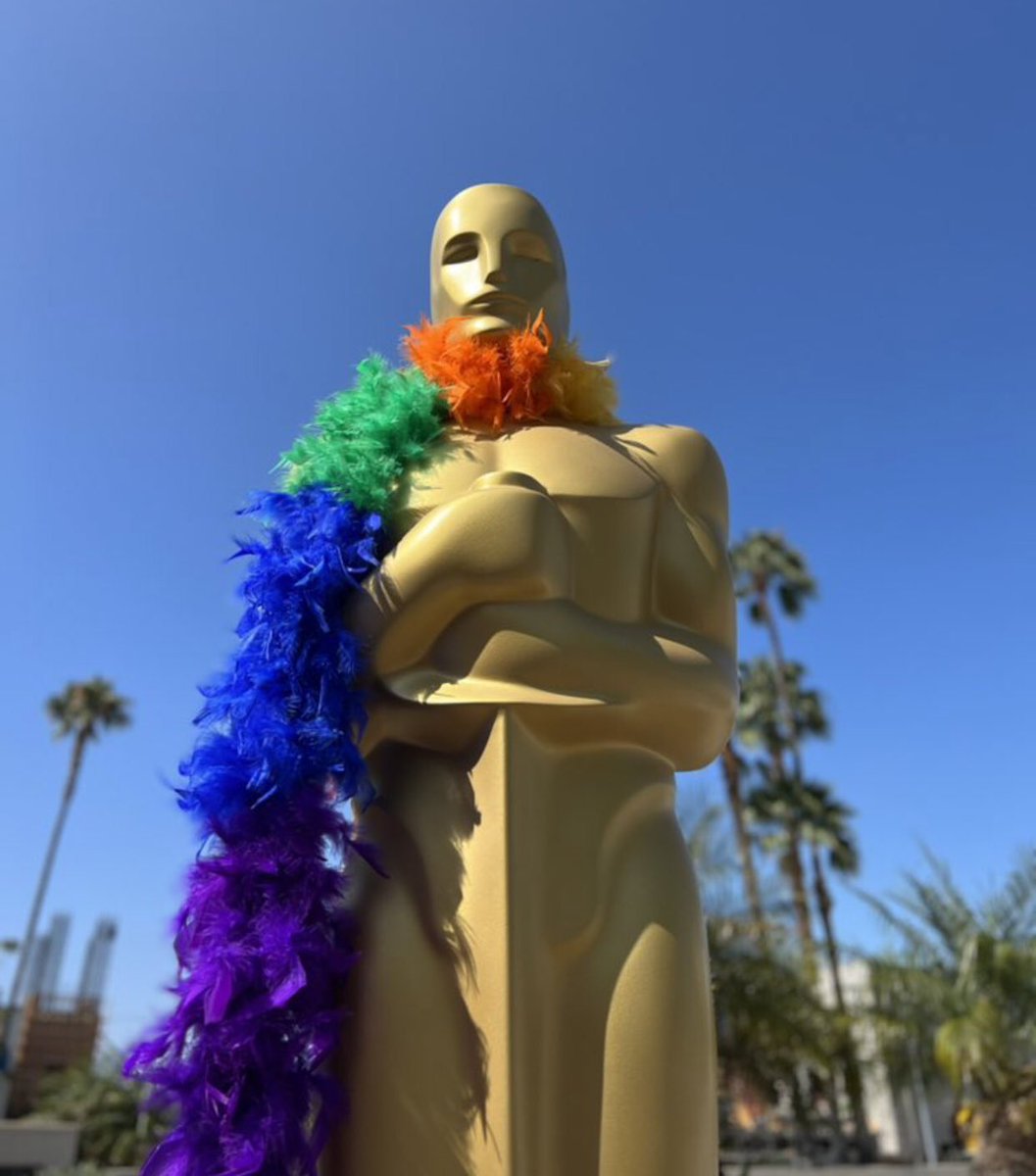 Delta airlines' entry featured DELTA letters in balloons. Parade attendants distributed hundreds of Delta in-flight cookies to excited parade-viweres.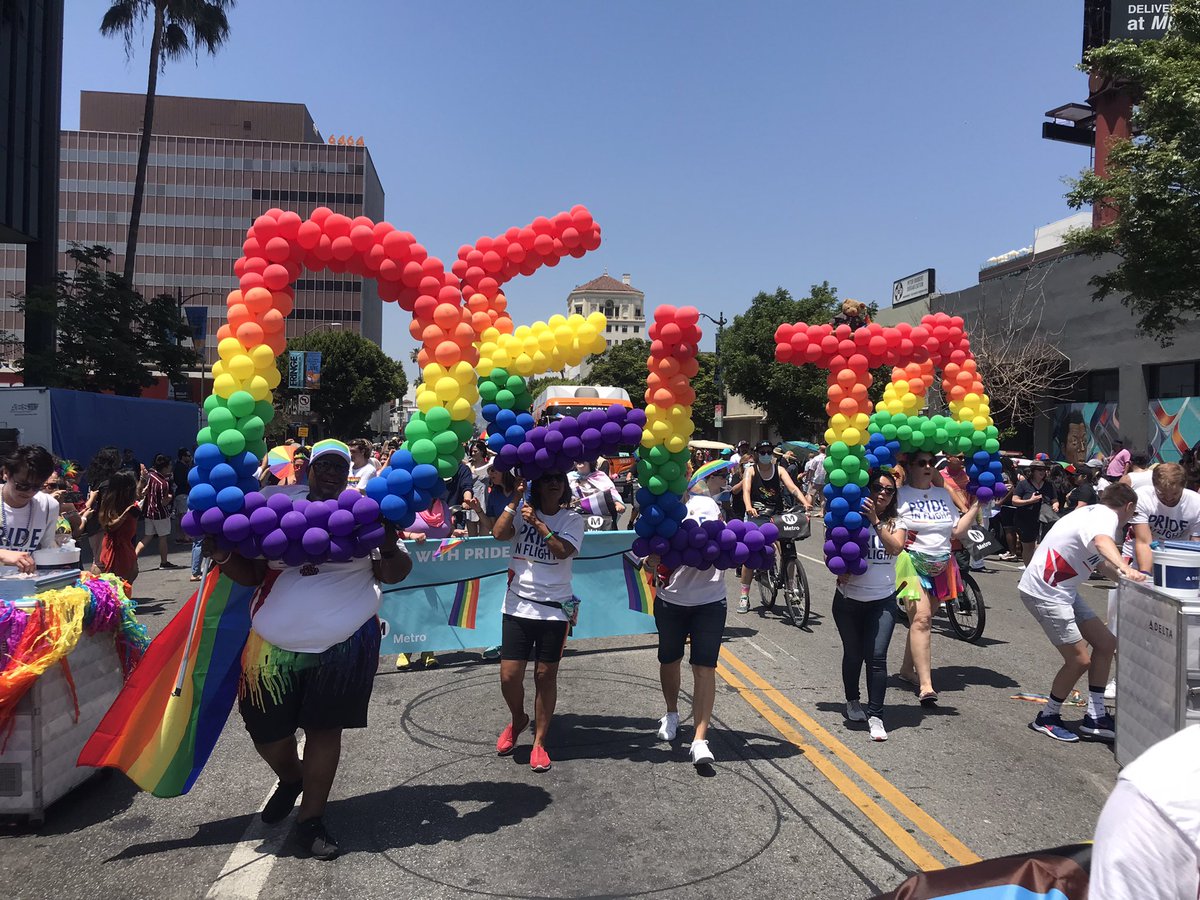 Macy's entry featured banners.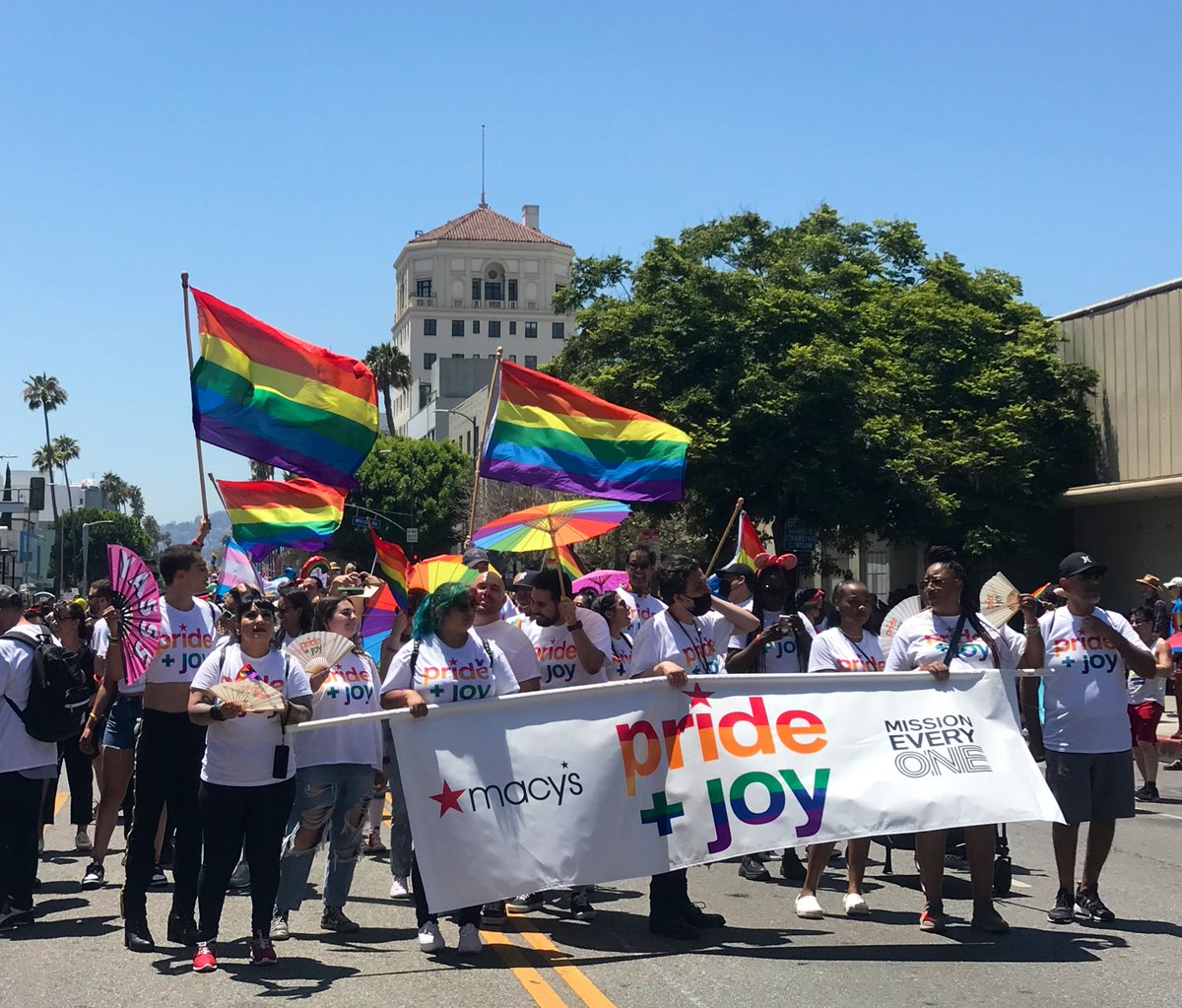 UPS entry featured of course a UPS truck, and banner which read 'UPSers Walking with Pride.' UPS offers e-commerce companies fulfillment solutions.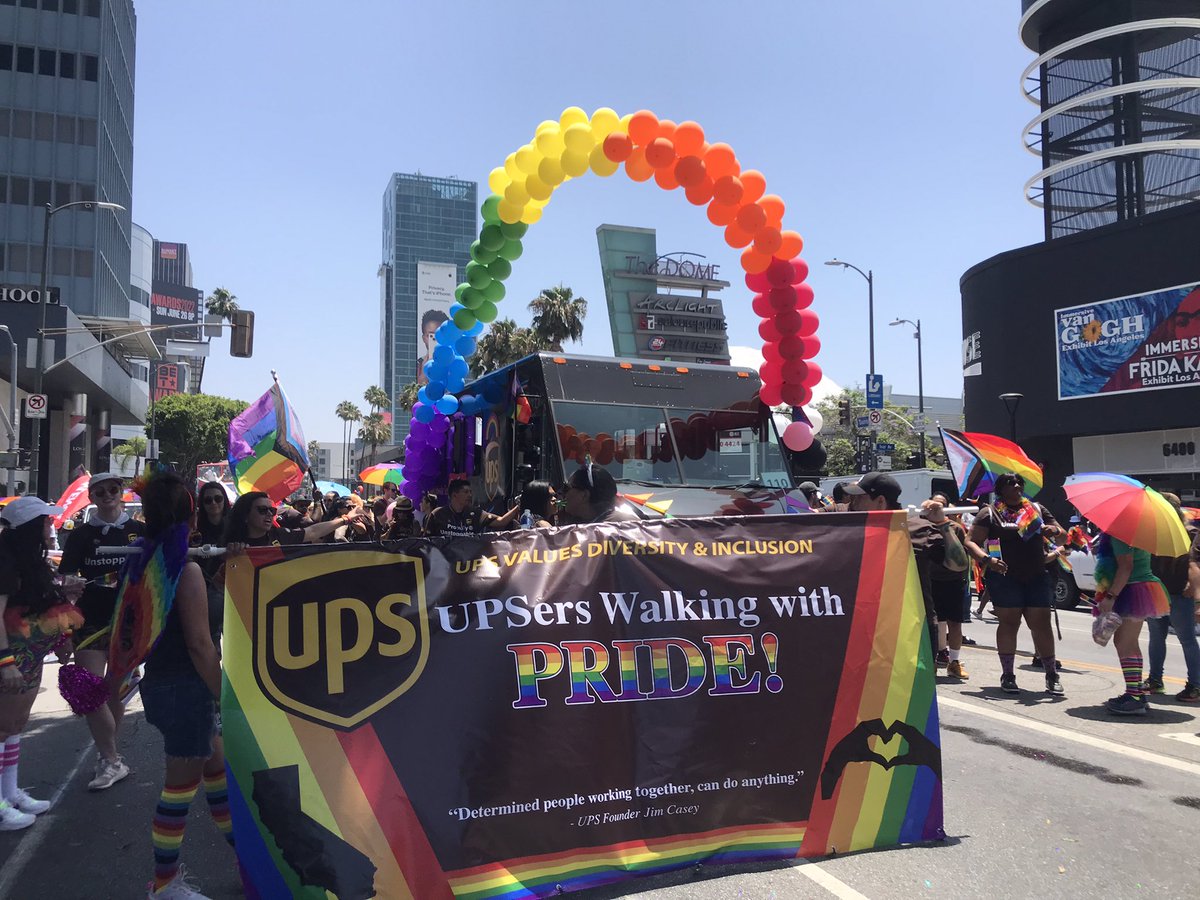 LA Pride – Pride Village
After the Parade, many parade-viewers and float participants went to Pride Village, organized by LA Pride with Hollywood Pride, TikTok, Hulu Love Victor and more.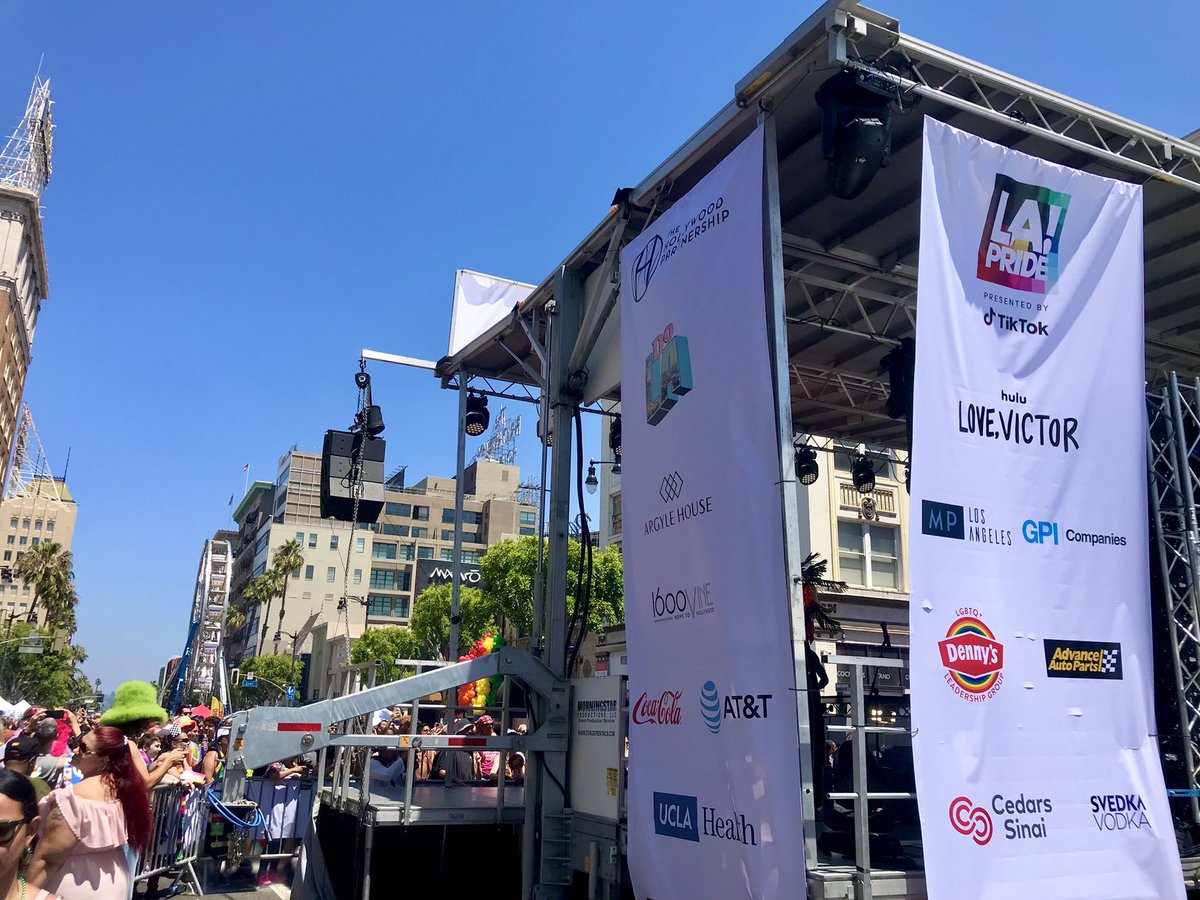 This street fair featured two performance stages, lounge, food trucks, and Hulu's Love Victor branded ferris wheel taking over three blocks of Hollywood Blvd from Cahuenga to Vine.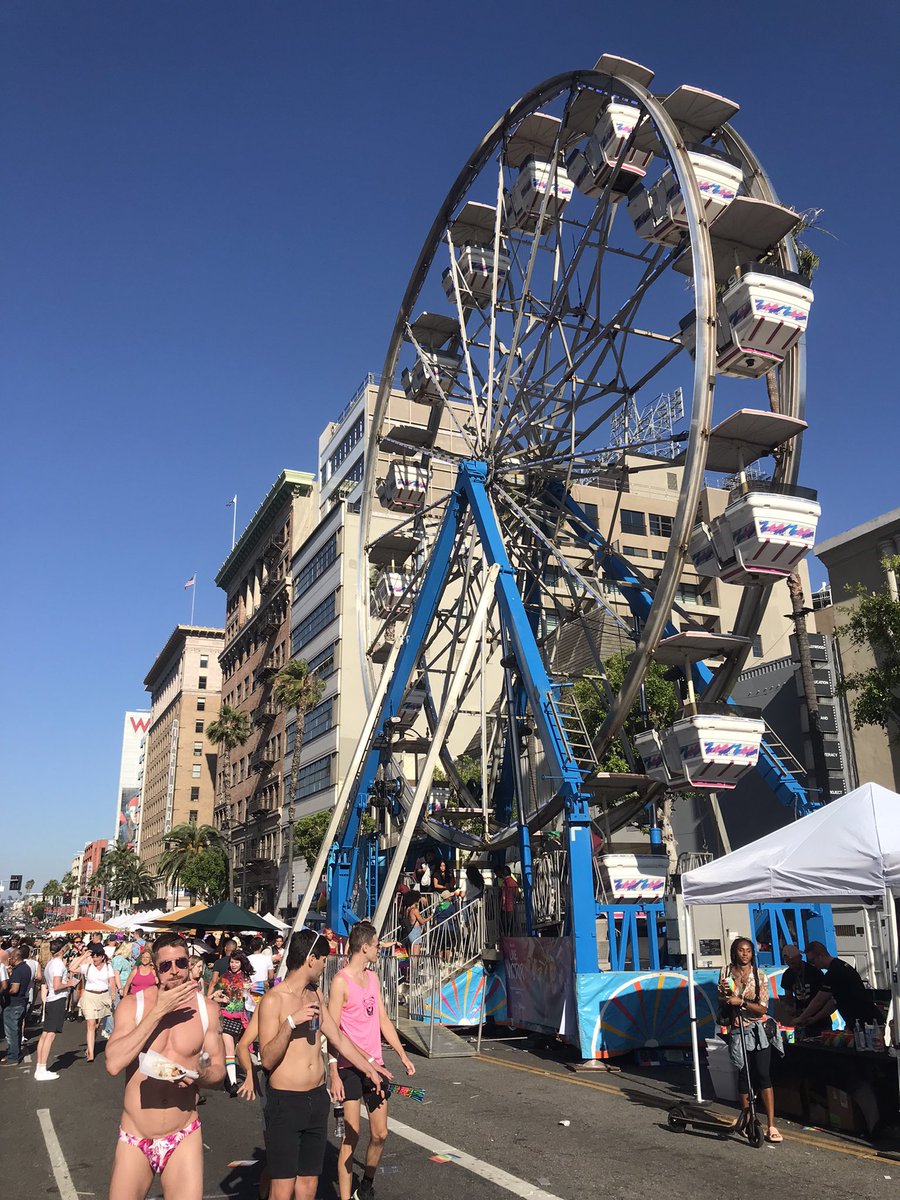 Diverse DJs and bands performed on the main Hollywood Pride stage on Hollywood Blvd. near Cahuenga.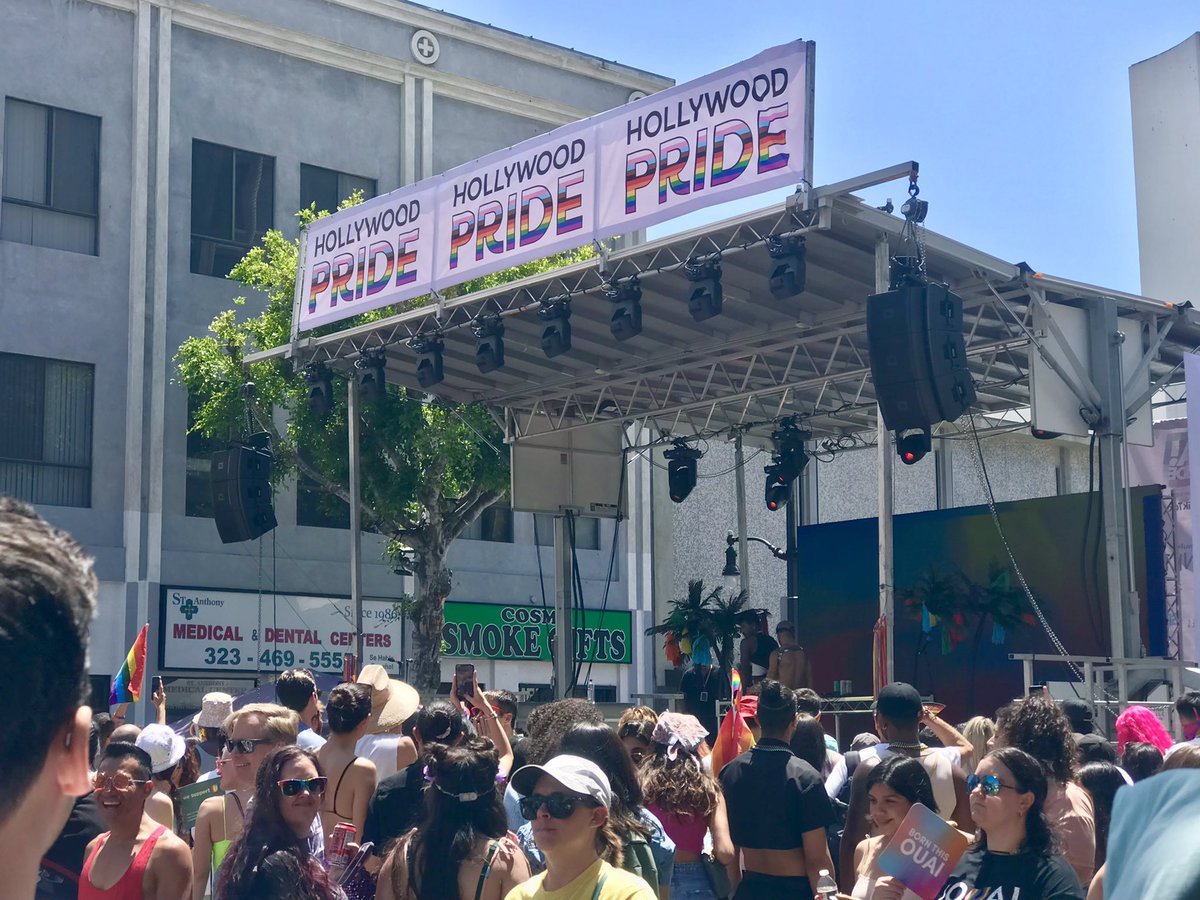 Drag queens, musicians and other artists performed on the smaller stage.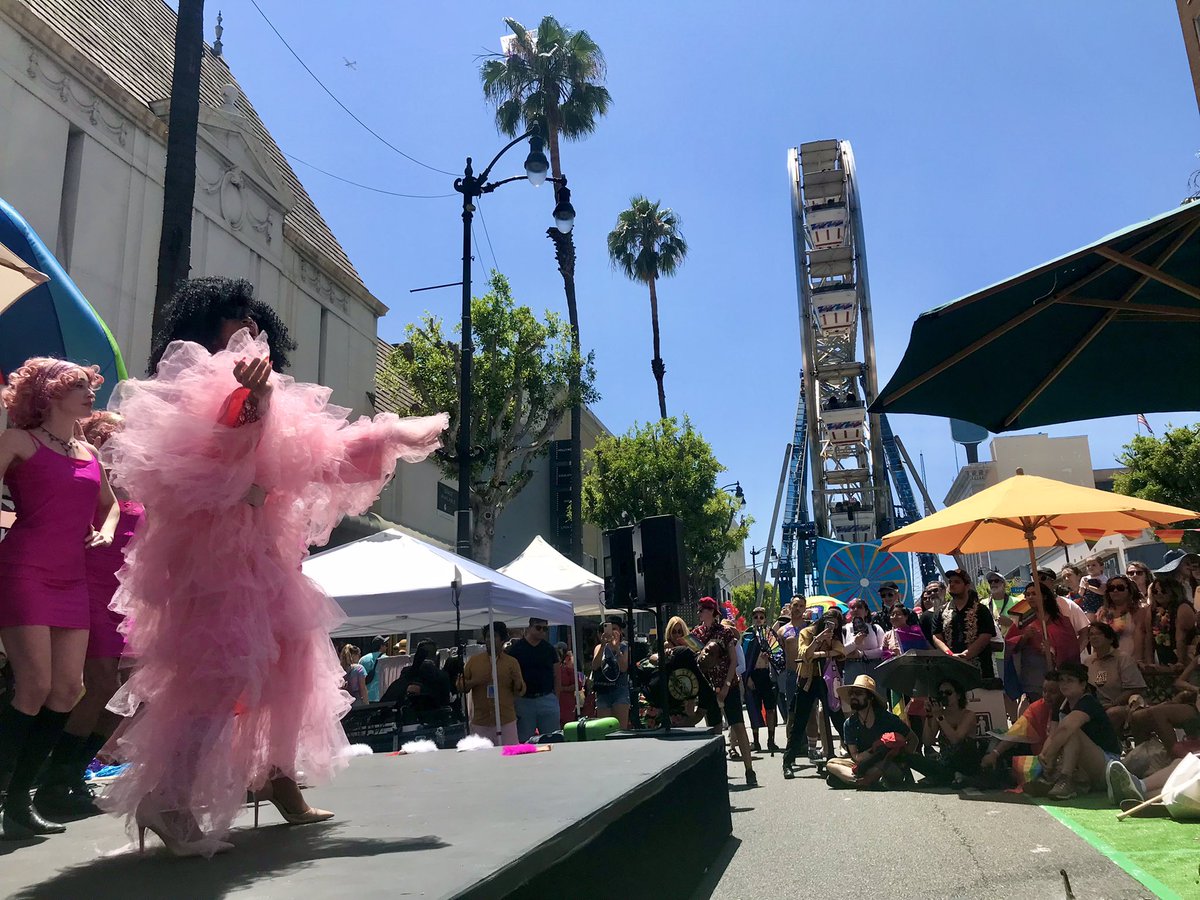 Attendees danced in the streets in the hot afternoon sun all day, and into the evening til event close 10p.
Attendees found it refreshing to dance wearing their Pride colors and clothing in the middle of Hollywood Blvd, where that freedom of expression is not as common in Hollywood as it is in West Hollywood.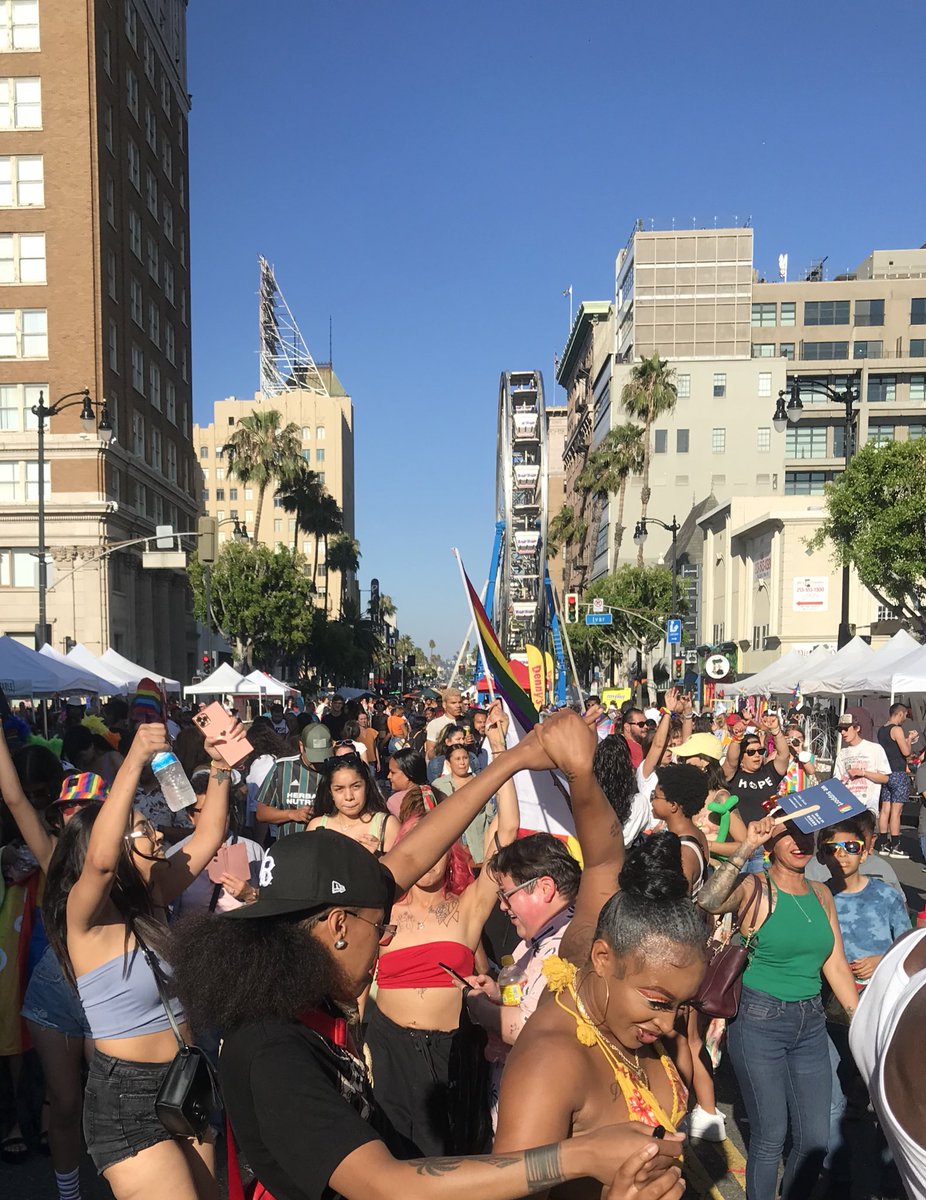 LA Pride in the Park
On Saturday, LA Pride held its Pride in the Park, with dozens of bands and artists performing at LA State Historic Park near downtown LA. Christina Aguilera headlined the night, with some interesting accessories.
For the complete list of LA Pride events, visit LApride.org
After zero Pride events in LA last year due to Covid shutdown, LA Pride was the second big Pride event, after WeHo Pride last weekend; see our article. In addition, there are Pride events in Santa Monica, Venice this month. Long Beach Pride is in July, and DTLA Proud is in the fall.