Several LA tech companies have pledged support for the fight for racial equality and justice and the Black Lives Matters movement beyond/after posting black squares on BlackoutTuesday on their Instagram.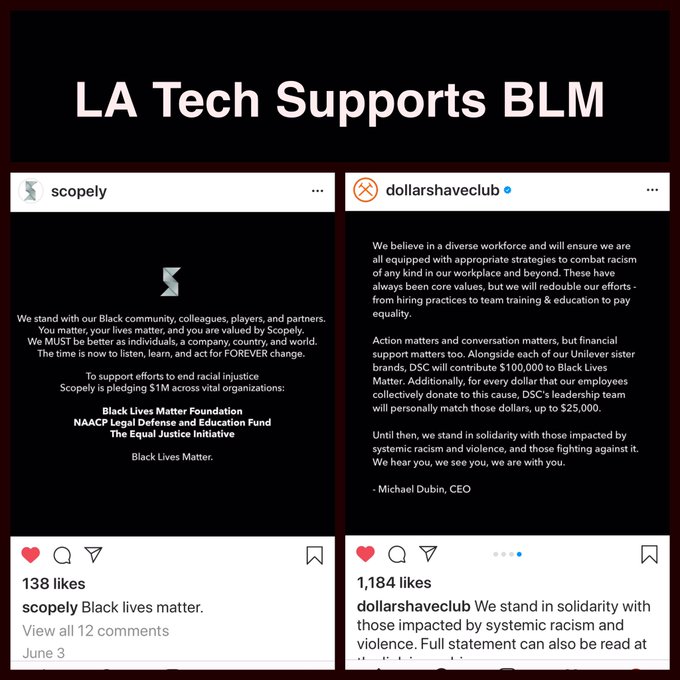 We looked at several LA companies Instagram accounts to see how they show support.
LA Tech
– Scopely: 1 MILLION. Scopely mobile games company has pledged $1M to the Black Lives Matter Foundation, the NAACP Legal Defense and Education Fund, and the Equal Justice Initiative.
– TechStyle Fashion Group: $150,000 to the NAACP Legal Defense Fund, ACLU and Black Lives Matter, plus will match employee donations up to $50,000. TechStyle includes Fabletics, JustFab, Shoedazle, and FabKids.
– Dollar Shave Club: $100,000 to Black Lives Matter, plus with every $1 that employees donate matched by DSC's leadership team, up to $25,000. The subscription based razor and other shaving supplies company was acquired by Unilever.
– MeUndies: $50,000 to Black Lives Matter. MeUndies is a subscription based underwear, socks, and other accessories company with its flagship store at Westfield Century City.
– The Bouqs: $20,000 to Campaign Zero, an organization devoted to ending police brutality. The Bouqs is a subscription-based flower company.
LA Movie Studios
– Disney / Hulu: $5M to various organizations, including $2M to NAACP
– Paramount: $5M to NAACP Legal Defense Fund and other organizations
– Universal Pictures: $100M multiyear plan including donations to organizations (amounts and organizations not listed), internal diversity programs, recruitment, and education.
– Posted black squares and/or statements: Warner Brothers, Sony Pictures
Thank you for your leadership and your support!
If you've heard of others to add to the list, please message info@digitalla.net with BLM as subject and a link to the Instagram posts with the donation statement.
Did Not Post Anything:
Activision/Blizzard has not posted anything on its Instagram accounts.
Other cities have also contributed:
San Francisco / Bay Area Tech Companies
– Facebook/Instagram: $10M to "various efforts"
– Uber: $1M to the Center for Policing Equity and the Equal Justice Initiative
– AirBnB: $500,000 to Black Lives Matter and NAACP
– Ubisoft: $100,000 to Black Lives Matter and NAACP
Surprisingly, Google, Adobe, Yelp, EA have not posted anything directly on their Instagram.
Seattle Tech
– Amazon: $10M to ACLU, NAACP and more than a dozen other organizations
Microsoft posted a black square and statement, but surprisingly has not listed any amounts on its Instagram.