Creators shared how they make LGBTQ content and share on social media, at our annual Pride panel.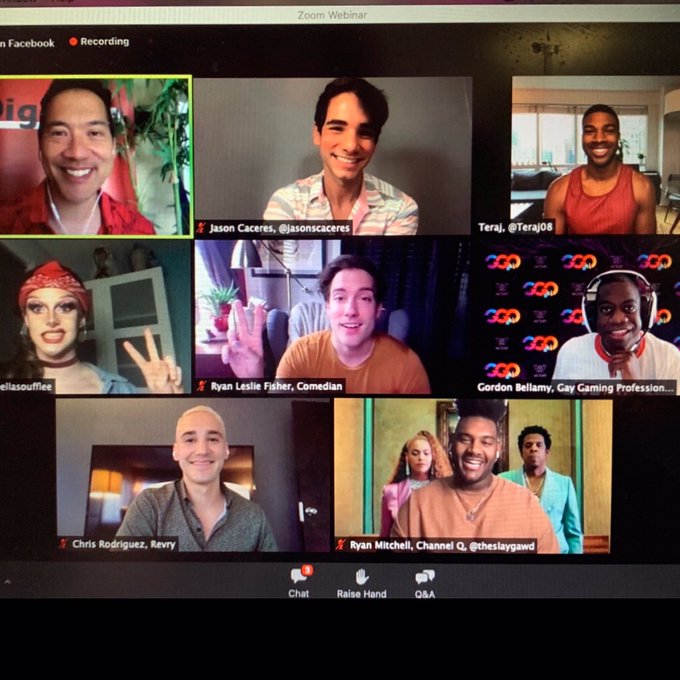 You can watch the video on our Facebook page.
Thanks to our amazing speakers.
SPEAKERS
Christopher J Rodriguez, ESQ, Revry Co-Founder (Gay, CIS, Latinx). A producer and entertainment attorney with a background in reality television and digital media, Christopher received his bachelor degree in Political Science from UCLA in 2007. Having represented web television content creators and produced festival-featured digital media productions, Christopher bring his wealth of knowledge in the digital space to Revry as a co-founder and the Chief Business Officer.
Get 30 free days of Revry Premium with code FREE30 at http://revry.tv
Ryan Mitchell aka @TheSlayGawd, Channel Q co-host. Ryan has consulted for Billboard & The Hollywood Reporter, hosted PRIDE night for the LA Clippers at the Staples center all while giving a platform to many rising talents & celebrities with his daily show Let's Go There w/ Shira & Ryan on the first nationally syndicated FM / Talk radio station, Channel Q. Ryan has always made it his priority to use his talents to create positive, humor-filled conversations that speak truth to the communities that he's apart of and truly loves.
Jason Caceres @jasonscaceres is a Cuban American actor who has landed supporting roles on America's Most Wanted and Sex Sent Me to the ER; as well as roles in shorts, such as The Restoration, Truth or Dare, and To: Mi Amor. He often attends various influencer events around Los Angeles, sharing his experiences and candid viewpoints with his followers on Instagram, TikTok and Twitter.
Teraj @teraj08 is a singer, music producer, songwriter, and model living in New York City. He also is host of Gay Travel Today. He shared his music writing and production and travel experiences with his nearly 44K followers on Instagram, and other social media.
Gordon Bellamy, Gay Gaming Professinoals; and USC Games, Visitng Scholar. Bellamy is head of the Gay Gaming Professionals, which organizes online and offline networking events for video game developers, industry, and fans at GDC, E3, and more. GGP is hosting a 3-day virtual Pride dance party. He has played key business and product leadership roles at Tencent, Electronic Arts, as a designer on Madden NFL Football, and MTV. He served as Executive Director of both the game industry's trade organization, the Academy of Interactive Arts and Sciences and the International Game Developers Association. He holds a BA in Engineering from Harvard College.
Ryan Fisher @ryanlesliefisher is a queer Canadian actor/ comedian based out of LA, seen on tv in The Mentalist and American Horror Story, best know for his hit LGBT sketch comedy series Enemies of Dorothy debuted at Outfest and available on HereTV.
Ella Soufflee @EllaSoufflee is a teenage drag queen in London known for TikTok and Instagram videos with amazing before-and-after makeup and hair transformations.
Moderator: Kevin Winston, Digital LA, CEO/Founder. Has been organizing an annual panel featuring LGBTQ digital leaders for the past several years during June Pride Month.
Thanks to our promotional partner Cross Campus, a coworking space with sevearl locations in Santa Monica, Beverly Hills, Downtown LA and more. Cross Campus offers virutal co-working at this time, and its members can attend select Digital LA events for free in June. Details http://crosscamp.us