Influencers described how they started on social, work with brands, engage and inspire fans on our Digital LA
– LGBTQ Influencers Panel at WeWork PDC. It was our annual pre LA-Pride event.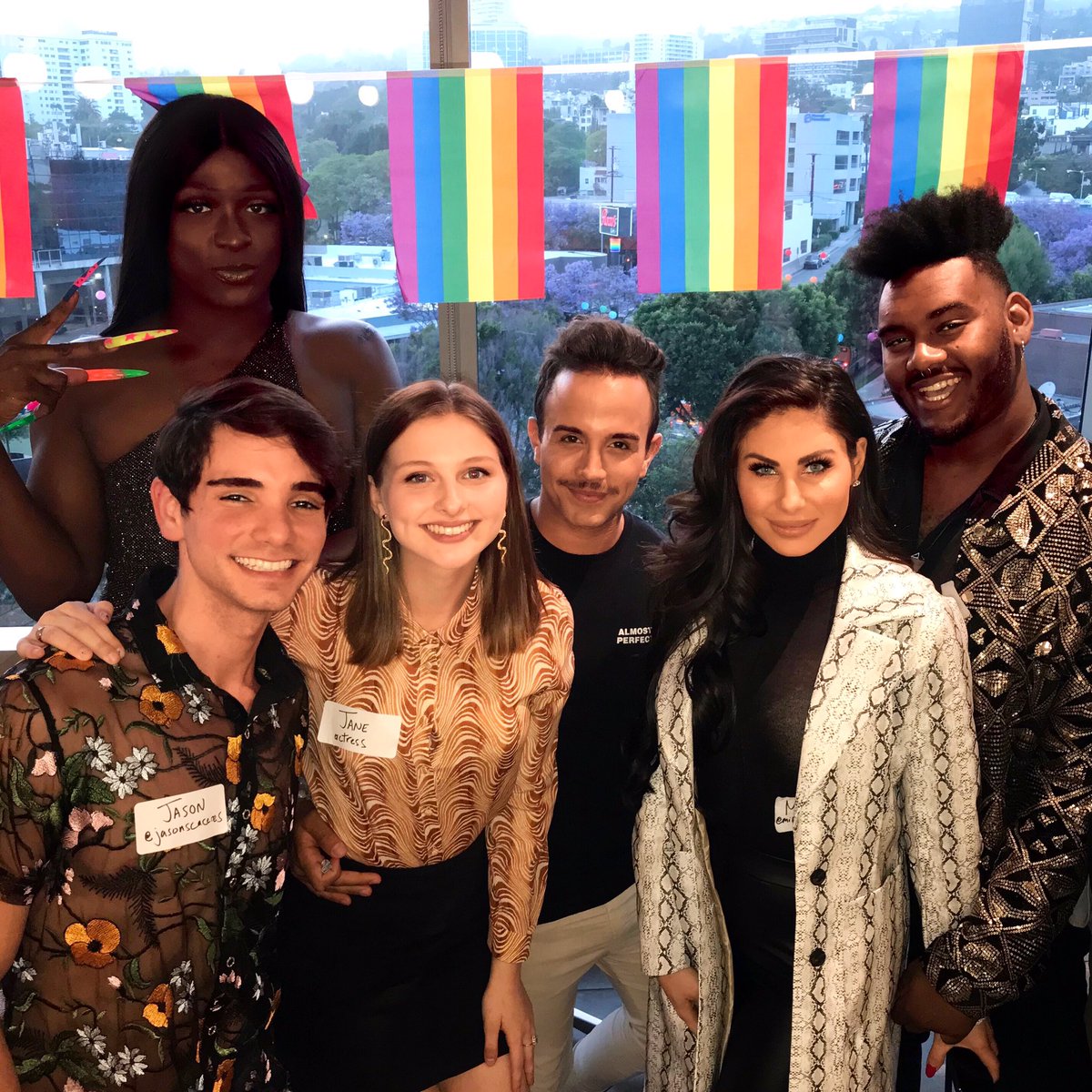 TIPS
Don't be afraid to reach out to brands you like, and see if they want to work with you. Chances are they will!
Know your worth. If you have significant and engagement, and paid appropriately by finding out what others with similar audience are making.
LGBTQ is no longer a niche.  Advertisers are realizing that, and want to work with influencers who reach LGBTQ audiences, said Damon Pelliccione, co-founder of Revry a "Netflix for LGBT content." He said LGBTQ audiences are as significant a demographic as an ethnic demographic, with high purchasing power and social influencers.
Several speakers told stories about how fans have reached out to them and told them that just following their lives on social media living their authentic selves has inspired them to come out, or Iive their authentic selves too.
Actor Jason Caceres, who has been dating his fiancé for 7 years, said that fans often comment to him via instagram or in person at events, saying they've been inspired by watching their relationship grow from friends to loving relationship, and soon marriage.
Actress Jane Widdop was initially hesitant about coming out online to avoid potential criticism or impact on her acting career. But she eventually did come out online, and has been overwhelmed at the support and love from her fans and community. She added that her coming out has inspired others to do so as well.
Speakers described how they can drive engagement cross platform, but it's no guarantee.
Channel Q host and singer Mikalah Gordon said she can promote her singing performances in Vegas by asking fans to tag three friends in an Instagram post for a chance to win tickets.
She and fellow Channel Q host Ryan Mitchell said that they also can let their radio fans know about events to encourage attendance. For example, Ryan promoted the fact he was on Channel Q's pride float and appeared at the Channel Q dance stage at LA Pride.
On Mekahel, who just moved to LA from Israel, was an actor who started to post shirtless photos on Instagram, and developed a following. He decided to create an underwear company with his friends, and has leveraged his following to buy his underwear via promotions.
Thanks to our amazing speakers!
SPEAKERS: 
– Ryan Mitchell aka @TheSlayGawd is the sassy gay best friend that has no filter, but will never steer you wrong. While trying to balance his work, crazy family drama and (nonexistent) dating life, Ryan has always made it his priority to use his platform to create positive, and humorous conversations, that speak truth to the communities that he's a part of and truly loves. He is co-host of the Channel Q radio show "Let's Go There w/ Shira & Ryan, Mon-Fri: 4PM-7PM."
– Mikalah Gordon debuted as the youngest top 12 contestant on season 4 of American Idol, where audiences fell in love with her powerful voice and unique stage presence. She may have lost to Carrie Underwood, but her run on Idol did open a lot of doors, including TV roles and a recording deal with Interscope Records. Mikalah claims her real talent now is managing to wake up for work at the same time she used to go to bed! When she isn't in the recording studio, auditioning for TV roles, or co-hosting The Morning Beat on CHANNEL Q, you can catch her performing every weekend at the Cosmopolitan in Las Vegas. @mikalahgordon on Instagram
– Jason Caceres is an actor who has appeared on Criminal Minds (CBS), Insatiable (Netflix), Kidding (Showtime). He appears at several red carpet screenings, premieres and events in LA. @jasonscaceres on Instagram and Twitter.
– Jane Widdop, Actress. Jane is SAG Actress. Her recent credit includes a recurring role on Amazon Prime TV Show The Kicks as Lily Padgett. She also stars on ABC Educational TV Show Making Moves as Kit. Her other Guest starring roles are on Speechless, Fresh Off the Boat, and 2 Broke Girls. She stars in Lost Girls: Angie's Story (post-production) where she plays the lead character Angie . Jane is a member of the LGBTQ Community and is very passionate about making a change. @officialjanewiddop on Instagram.
– On Mekahel, influencer who started his own underwear brand with his boyfriend. With more than 700,000 Instagram followesr, On has created a show that will be streamed on REVRY. @iamonmekhel on Instagram.
– Kandie. Drag Persona Kandie is a rapper who is proudly part of the LGBTQ community. She is part of the MTV hit comedy show WILD N OUT hosted by Nick Cannon, and stars on VH1 hit TV show "Love and Hip Hop." With over 488k followers on Instagram, she became a viral sensation with her rap / comedy videos throughout the internet. @itsyaboikandie.
– Damian Pelliccione, REVRY, cofounder. Damian co-founded Revry, a "Netflix for LGBTQ" content, which curates and streams content featuring LGBTQ audiences. He founded it realizing the major streaming platforms don't have much contnet for LGBTG audienes. @damianmedia @revry on Instagram.