You can befriend aliens and fly to other planets at the new Men in Black: First Assignment VR experience that opens at Dreamscape Immersive at Westfield Century City today October 1.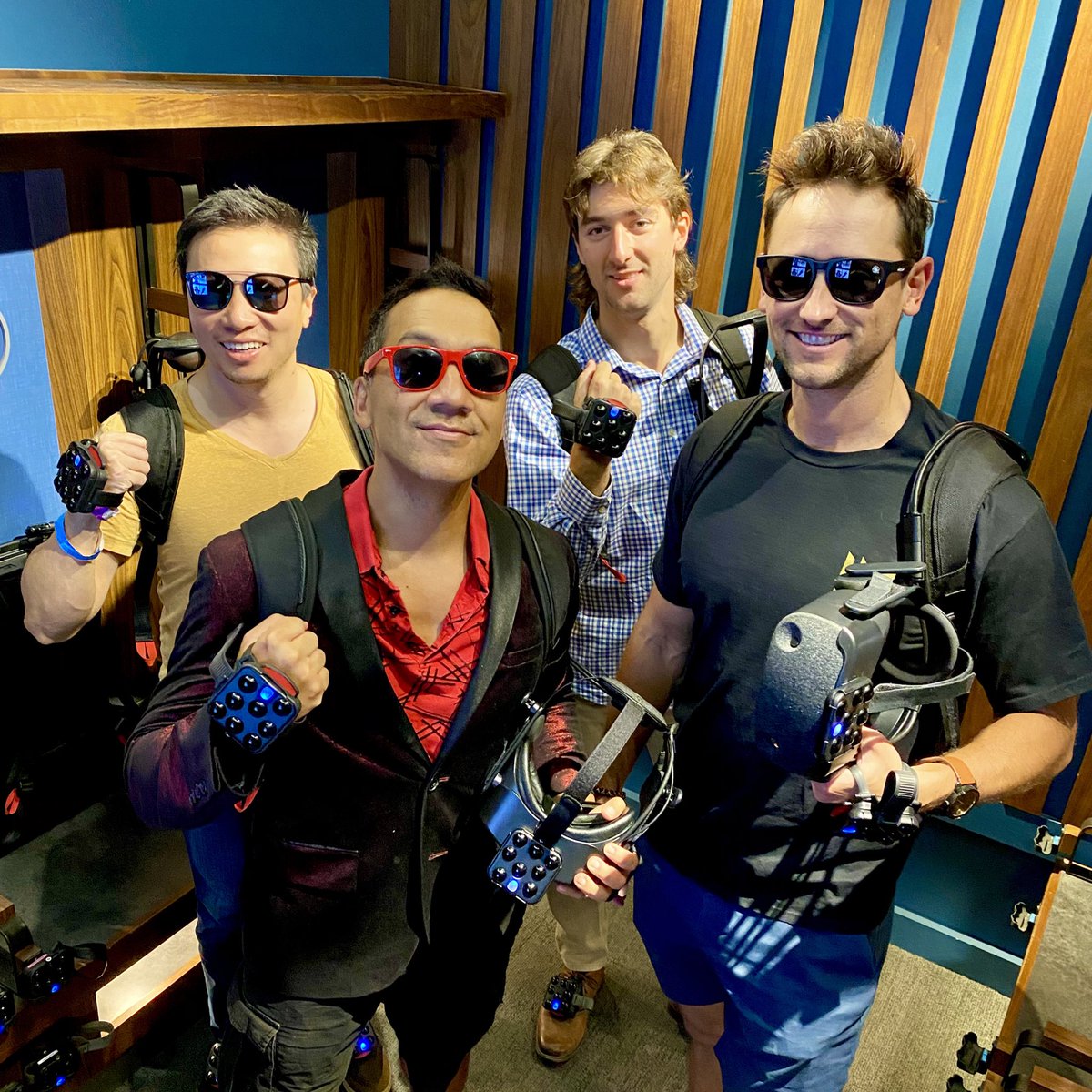 In MIB: First assignment, your group of up to six elite agents suits up and swaps sunglasses for a VR headset, and steps into a heart-pumping, alien adventure. You fly on intergalactic hover bikes, accompanying an alien family holding the key to intergalactic peace to several planets, while avoiding evil Octopoid attackers.
"Almost 25 years after the Men in Black first saved the planet from destruction, it's incredibly exciting to welcome a new class of elite government agents to continue the story at Dreamscape," said Walter Parkes, co-founder and CEO of Dreamscape and executive producer of the MIB film franchise. "This experience fully immerses fans in an iconic cinematic world — making them the star of their own intergalactic adventure."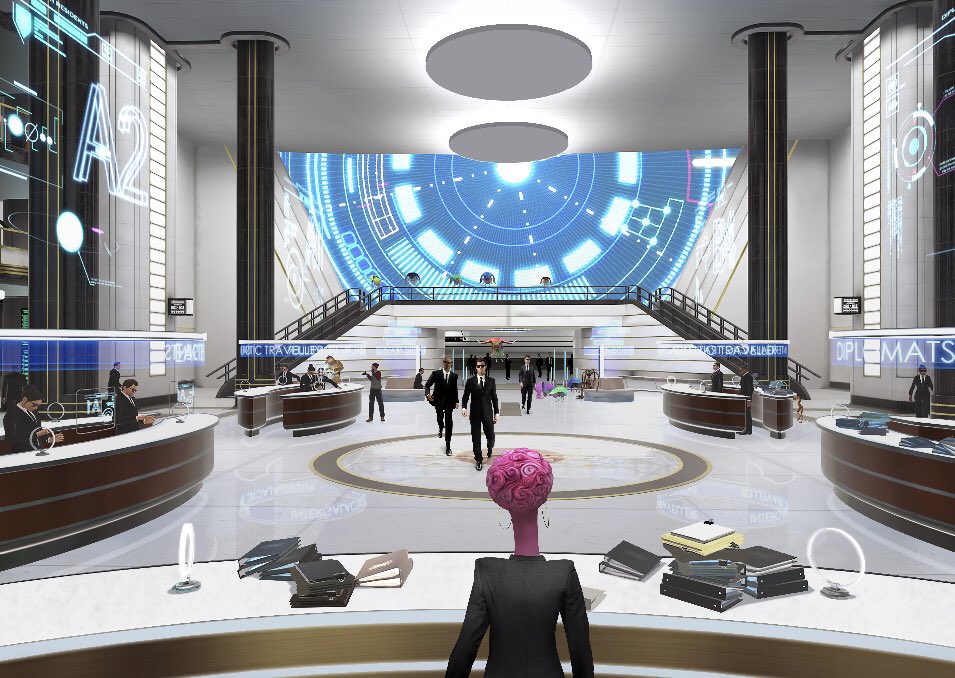 "Location-based VR is an important part of Sony Pictures Virtual Reality's strategy to grow our brands and expand them to new audiences," said Jake Zim, Senior Vice President, Virtual Reality, Sony Pictures Entertainment. "Working with Dreamscape provides us with the unique opportunity to transport people into the immersive world of Men In Black and bring the magic of the franchise to longtime fans and new audiences alike."
This Dreamscape VR – Sony Pictures VR experience is Dreamscape's second branded IP experience after its DreamWorks How to Train Your Dragons: Flight Academy which opened in 2019.
Dreamscape reopened its pandemic-closed location at Westfield Century City in May 2021, with new health and safety protocols. Masks are required when you enter. Your group of up to six will be just you; no adding other parties.
Tickets are now available for purchase on dreamscapeimmersive.com.
Our Digital LA influencer crew attended the press preview to check it out. Our attendees enjoyed the flying pods, and the energy pulse buttons on the pods. Many liked the feeling of flying over the landscape, and the ability to move left and right.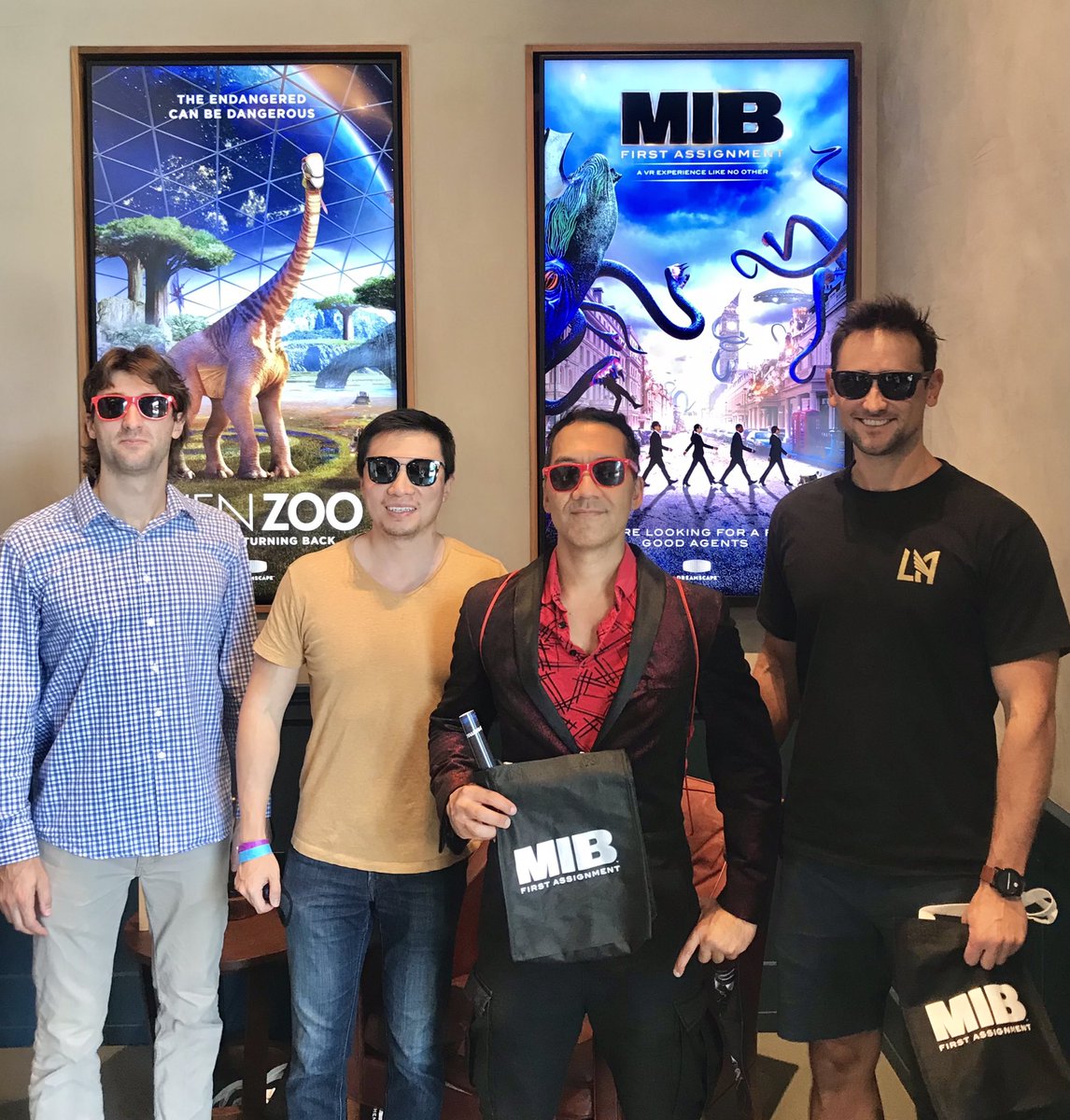 WALKTHROUGH
Your group of up to six starts by filling our the registration and waiver, and selecting your Men in Black character avatar. There are several diverse male, female, and non-binary avatars to choose from. Your actual height will be displayed in the game.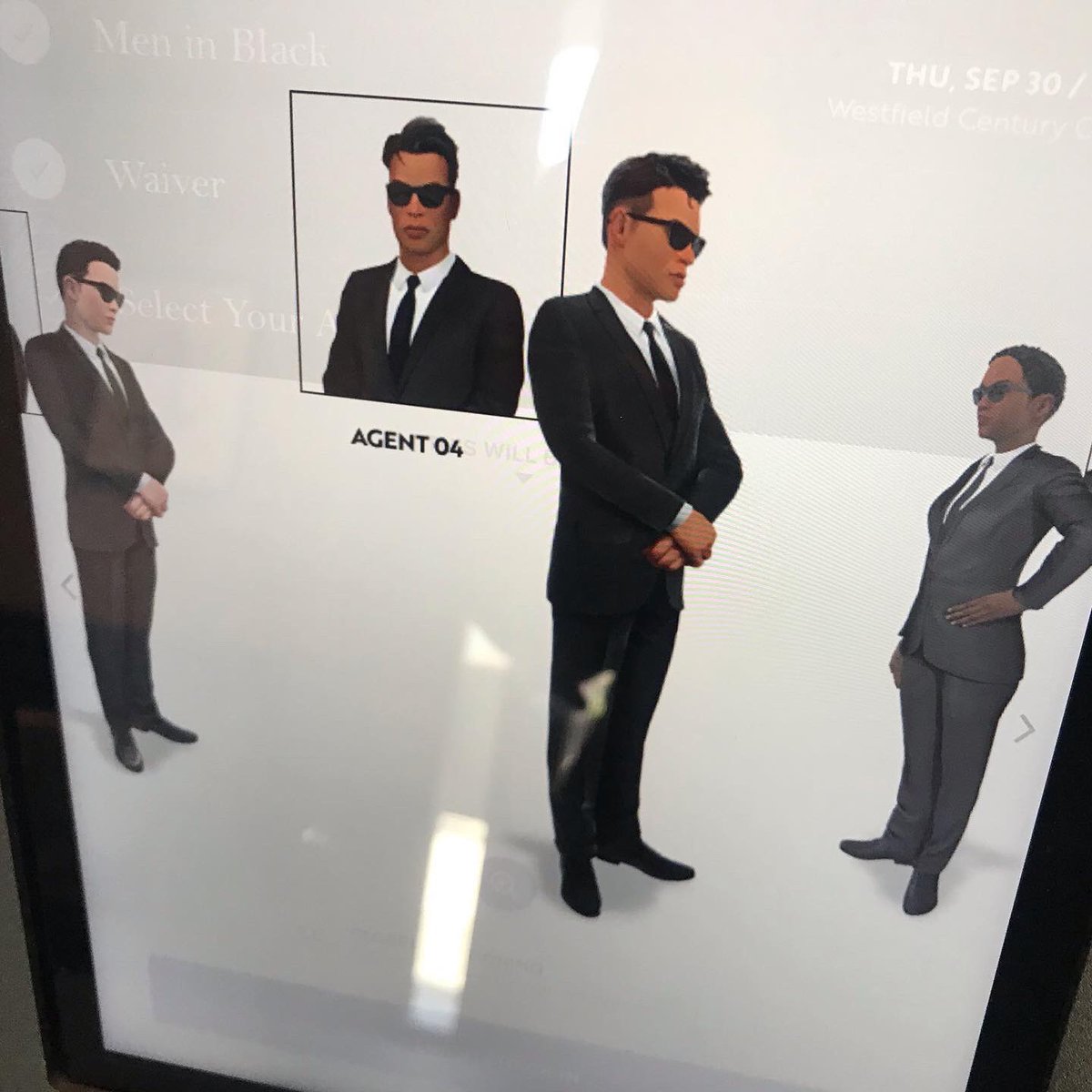 Then your group goes to the waiting lobby, decorated like a departure lounge, complete with snacks, clothing, and other merchandise. A host then announces your boarding group time and takes your team to the debriefing room to suit up.
In the debriefing room, an agent will give instructions on how to put on your backpack, VR goggles and hand and foot trackers. Then your team walks into the VR room, a large room with a railing where the VR experience happens.
You put on the goggles to step into the Men in Black world. You start by getting on a New York subway, which takes you into the secret Men in Black HQ. It's fun to look around and see all the aliens and fellow agents walking around, just like in the MIB films.
There, you get your mission instructions: to accompany a royal alien family with the key to intergalactic peace to another planet. Your group steps onto virtual hover bikes, each with an alien passenger, and fly through worm holes and space portals to other planets. You can fly left and right, and at one point, press a button to shoot a pulse energy beam several times. We won't tell too much more not to give it away!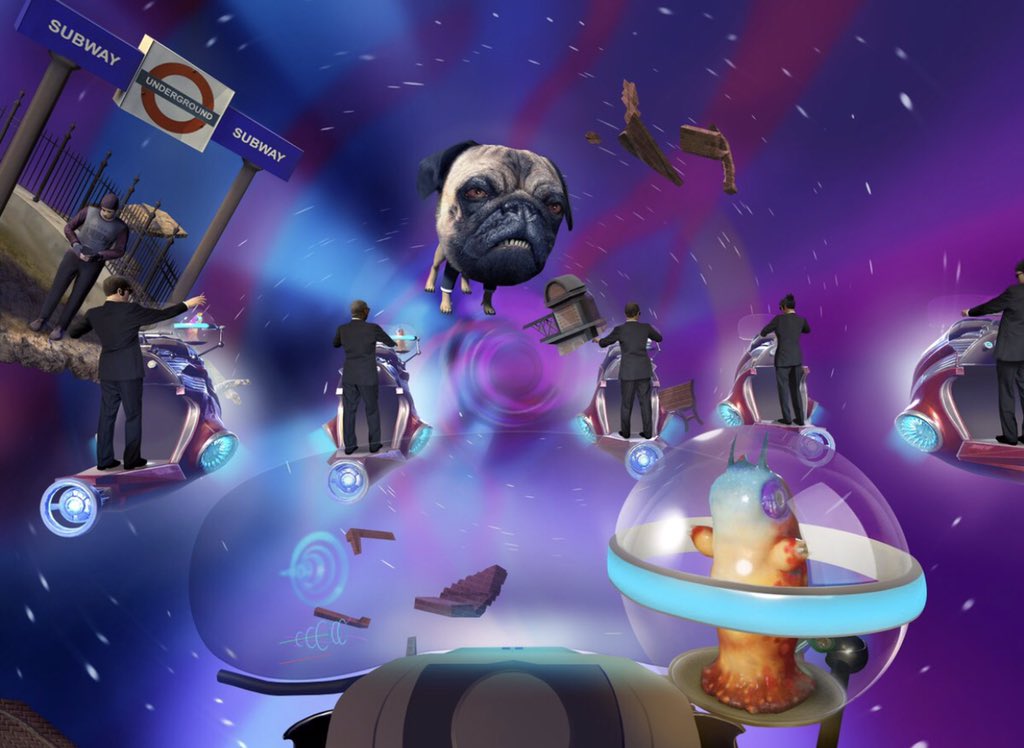 It's fun to fly through the space portals, shoot the energy pulse beams, and visit other planets and galaxies.
Like most of the Dreamscape games, this is NOT a first person shooter VR game with points. Unlike the Men in Black ride at Universal Studios Orlando, you do NOT shoot aliens. Dreamscape believes in family friendly VR with positive vibes and messaging, so no shooting other creatures. Example: In its other alien VR experience, Alien Zoo, you marvel at the wonders of aliens in a zoo, or dodge a scary-looking one, but don't shoot.
Our attendees received Men in Black gift bags, including Dreamscape sunglasses, temporary tattoos, postcard, and poster. Thanks Dreamscape!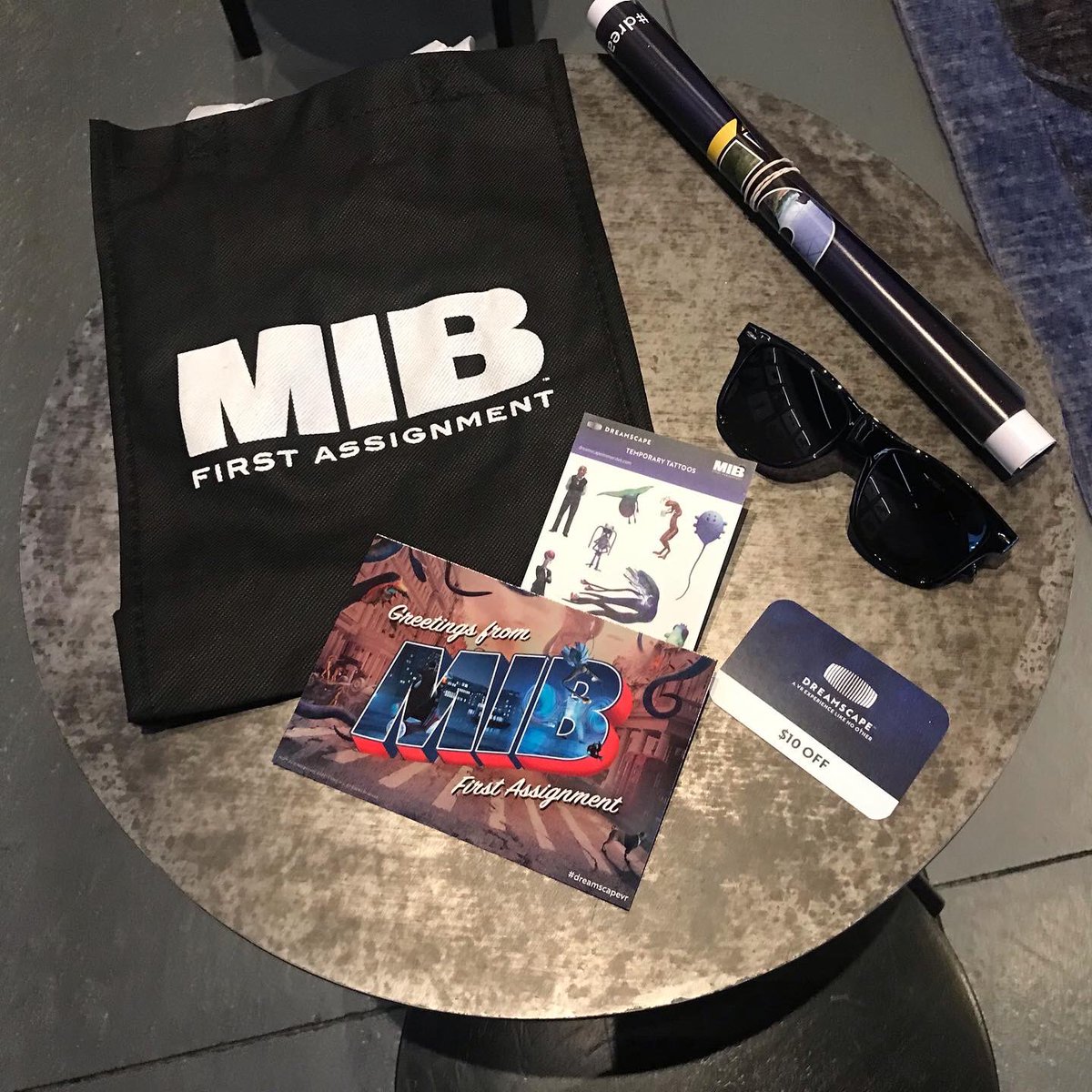 Men in Black replaces the Blu underwater whale experience, which Dreamscape opened with in 2018. Blu, concepted by LA based VR company, may eventually return after Men in Black opens.
In addition to the new MIB: First Assignment experience, you can also try Dreamscape's other VR experiences include: Alien Zoo; leap into a daring adventure to find the cursed treasure in Curse of the Lost Pearl: A Magic Projector Adventure; or ride atop flying dragons in DreamWorks Dragons: Flight Academy.
Get schedule and tickets at dreamscapeimmersive.com and follow @VisitDreamscape