ANAHEIM – The new Guardians of the Galaxy: Mission Breakout ride opened at Disney California Adventure, with thousands of Terrans flocking to ride it over Memorial Day Weekend.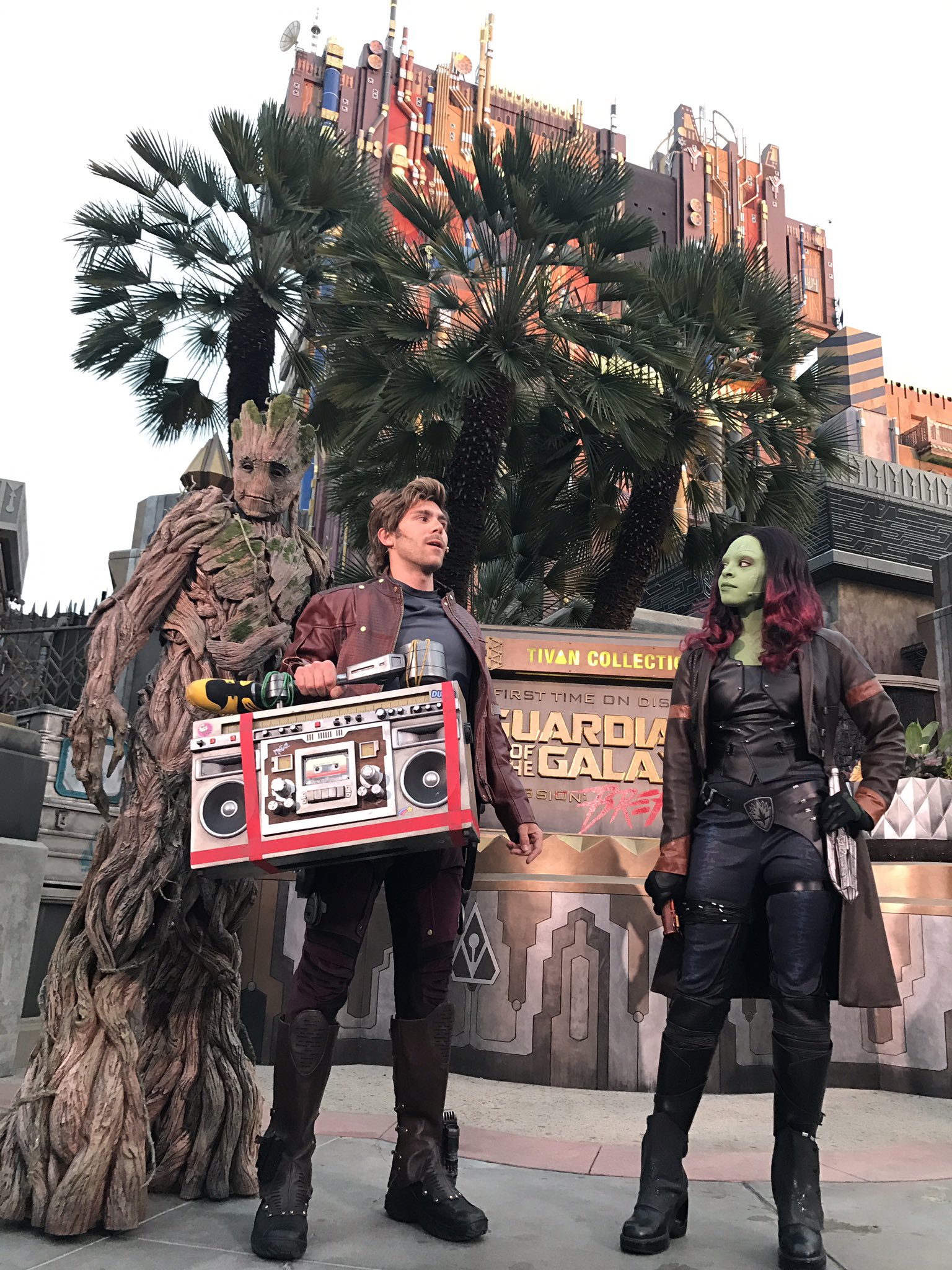 We attended the Galactic Premiere Party on May 26, the day before the ride opened to the public with long lines up to five-hours long. The party included a panel with the Marvel and Disney Imagineers who helped create the ride, with lots of fascinating insights you'll love, included below.
Guardians fans: You will REALLY REALLY love the ride. And youll love it too, even if you haven't watched Guardians  ("What? How is that even possible?" to quote Rocket from Guardians Vol. 2).
Here are 8 things you'll love about the new Mission Breakout ride:
1. It's pure Guardians: James Gunn helped. The Mission Breakout ride totally captures the humor, irreverence, interpersonal dynamics and infectious FUN from the movies. Director James Gunn worked with Marvel and Disney Imagineering to help create the ride, from the story to the trademark Guardians witty banter dialogue. The Marvel and Disney Imagineers described the making of the attraction at a panel at the Galactic Premiere Party (photo below). Watch the full hour long panel in Bionic Buzz video.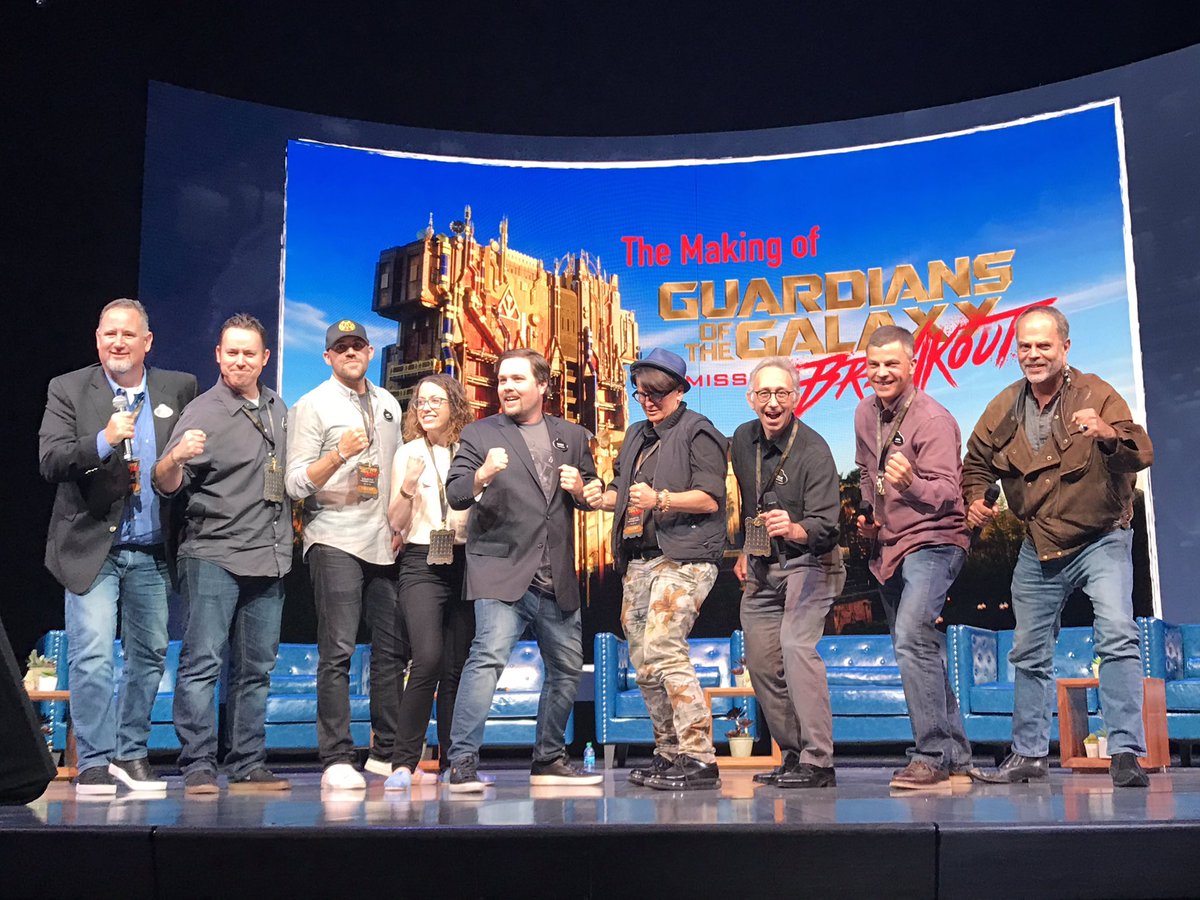 2. Story Involves You. In Mission Breakout, Peter has led the Guardians on a tour of the Collector's prized artifacts housed in the Tivan Collection building. But they have somehow been captured, and put into those Collector cages from the first film. You arrive as guests on a VIP tour of his artifacts, and see that the captured Guardians are a featured highlight of the tour. While you're on the tour, you see that Rocket has escaped (exactly how is described in the Mission: Breakout comic book that was distributed at the Galactic Premire Party). Rocket asks for your help to try to rescue the Guardians by putting your hands in the air to get clearance for the bioscanners, to allow him access to blow up the main power generator. Cutting power releases the Guardians from their electrified cages, and also releases his other creatures for all sorts of fun mayhem. Mantis shows up with a ship to fly the Guardians away, probably to something good, something bad, a little bit of both.
Designers used VR pre-vis to digitally walk around the ride before it was build, said speakers at the "Making Of" panel.
3. Collector's artifacts aka lots of Easter Eggs and details referencing Marvel films to look for while you are in line in the main hall, Collector's office, pipes room, and ride exit:
Main Hall contains cages with:
– Ultron prototype suit, with blinking eyes. Listen: it randomly spews lines from the Avengers film>
– Cosmo the dog, animatronic, who looks at you in his cage with dog play toys
– Cocoon of Unknown Origin (Adam Warlock's?)
– Nova Corps uniform
– Eye of Agamatto (from Doctor Strange).There are dozens more artifacts to spot. Ride creators on the panel said to look for more artifacts to rotate in over time.
Collector's Office. The left office features the funky chair prison aka Crimson Bans of Cyttorak from Doctor Strange. In both offices, you'll see Star-Lord's Walkman
Pipes area (right before you enter the ride) includes
– Olorian chow (those rat creatures Star-Lord likes to kick)
– Collection of eyeballs
– Yeti from Disneyland's Matterhorn ride
Ride exit: as you're jamming to the music from the sound track notice:
– Tivan Collection's employee of the month wall
There are also audio Easter Eggs. While you are waiting in line to get in the building, you can hear the audio clips the Collector has curated from around the Galaxy.
4. Drops are So Fun. While Mission Breakout has the same drop mechanics as Tower of Terror, there are six different sequences of visuals + song. Yes, there is a big drop, and yes the doors open to see Disneyland during each of them, but we're not telling you when! The ride seems longer than Tower of Terror as well.
5. Perfect Songs Pump You Up. The six songs are familiar and timed well with the ride to pump you up. As you leave the ride, songs from the Guardians soundtracks play to keep you in that Guardians mood up thru the gift shop. At the "making of" Guardians ride panel at the Galactic Premiere, the ride engineers said they selected six songs from hundreds of songs for the ride. The six songs are upbeat with good energy. "I Want You Back" is the only song from the Guardians soundtracks. The complete list of six songs, artists, year, and accompany video are as follows:
– I Want You Back – The Jackson 5 (1969)
– Hit Me With Your Best Shot – Pat Benatar (1980)
– Give Up The Funk – Parliament (1975). Star-Lord kick an Olorian, and then is attacked by several
– Free Ride – The Edgar Winter Group (1973)
– Burning Love – Elvis Presley (1972). Drax is captured by a tentacle, then punches out a blue monster
– Born to Be Wild – Steppenwolf (1968)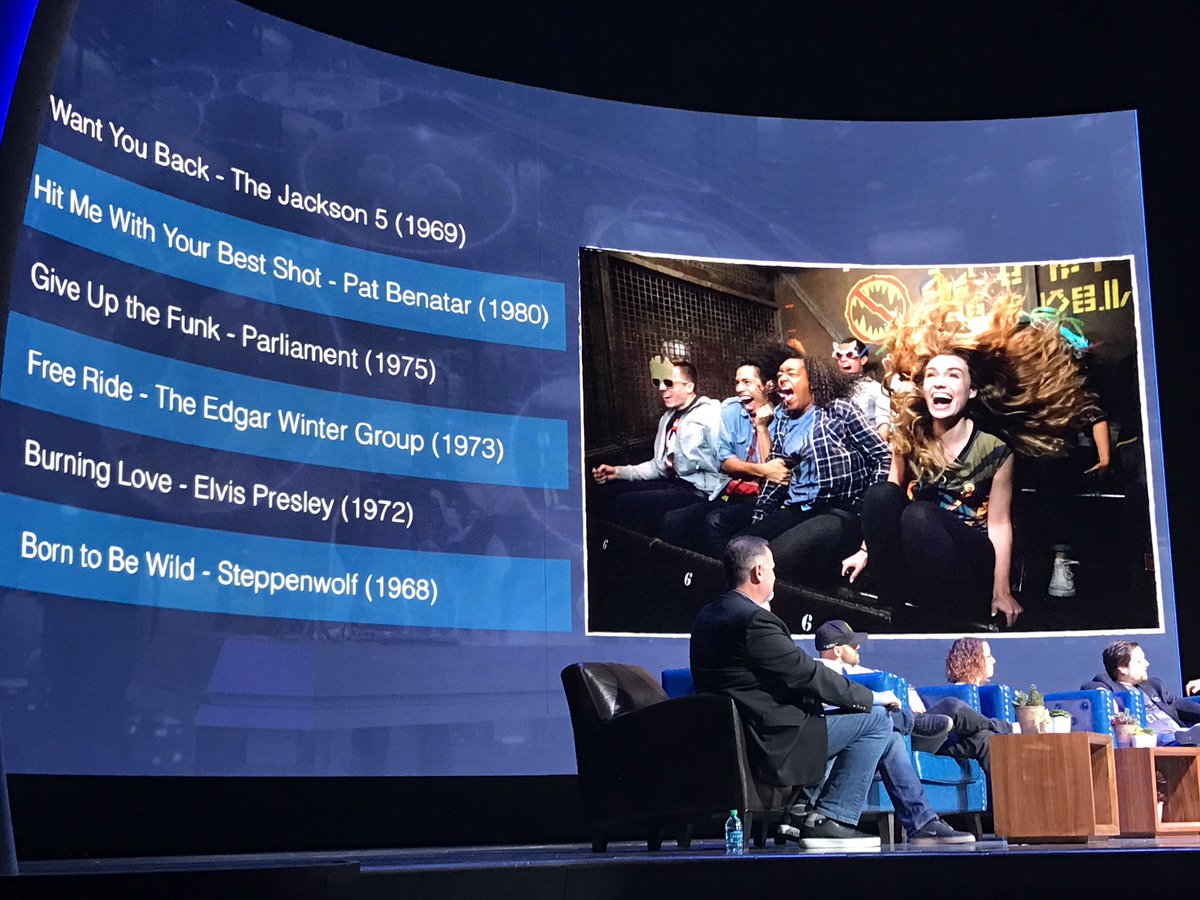 6. New Guardians merch! The gift shop, aka Collectors Warehouse, has lots of new Guardians merchandise including T-shirts, action figures, comic books, pins and more. Our faves: The plush Baby Groot which is the perfect size for sitting on your shoulder. There is also exclusive Mission: Breakout merchandise available only here.
7. It's Better Than Tower of Terror. Yeah, we're gonna say it. Because it's true. Guardians has a better story, better in-line attractions, better soundtrack, and better merch than Tower of Terror. Most important, it's more fun. Tower of Terror had an ominous sense of dread based on a decades-old black & white TV show that has little to do with any Disney values. Guardians is based on Disney-owned Marvel title with themes of family, diversity (none of the main characters are even 100% human), and anyone can make a difference by working together. Bemoaning Tower of Terror die-hard fans can still go to the one at Hollywood Studios in Disney World Florida. Or find consult in the fact that since guests are Terrans in this ride, you could nickname it the Tower of Terrans 🙂  Also if you look closely at the artifacts, you'll spot a bellhop's hat, a bookmark, and a painting from the Hollywood Tower Hotel.
8. It's Just the Start. James Gunn has said on social media that while Mission Breakout is based heavily on the world of the MCU, it is not canon. For example, in Guardians 3, they would never mention being trapped by the Collector because it hasn't happened in the MCU. Instead, it is part of a new Marvel Theme Park Universe.  For example there is something in Mission: Breakout that relates to the Iron Man ride at Hong Kong Disneyland. At the "Making of" panel, speakers said there will be more Marvel theme tie-ins coming to parks in the future. If the excellence of Mission Breakout is any indication we can't wait for what that can be!
9. What's Behind It? And in fact, there is even some indication of what's coming in the future. Behind the Mission Breakout tower at the opening party, we noticed two guys in orange hazmat suits entering a tented area. We tried to go check it out, but these two security guards in black uniforms with the Avengers logo said we could not go back there. See photo below by our friends at Bionic Buzz.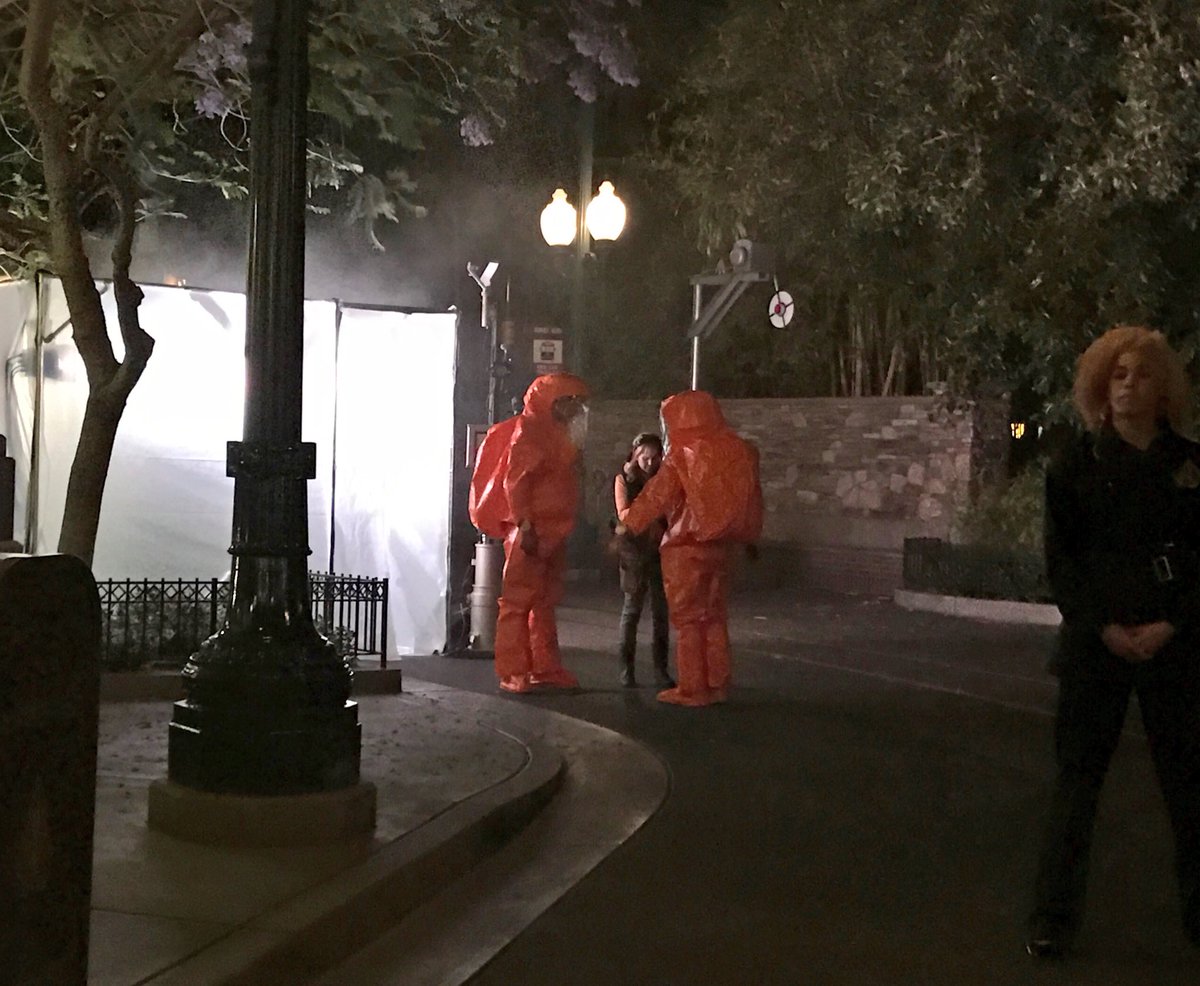 A black jeep with an Avengers logo was also parked behind a building. It looked like the same black Avengers jeeps that Black Widow and Hawkeye were taking photos by. What is going on? Does this preview Thor: Ragnarok or another Marvel themed attraction? Now we're even more excited.
10. Awesome Opening Party. We attended the Mission: Breakout pre-opening at part of the Galactic Premiere Party.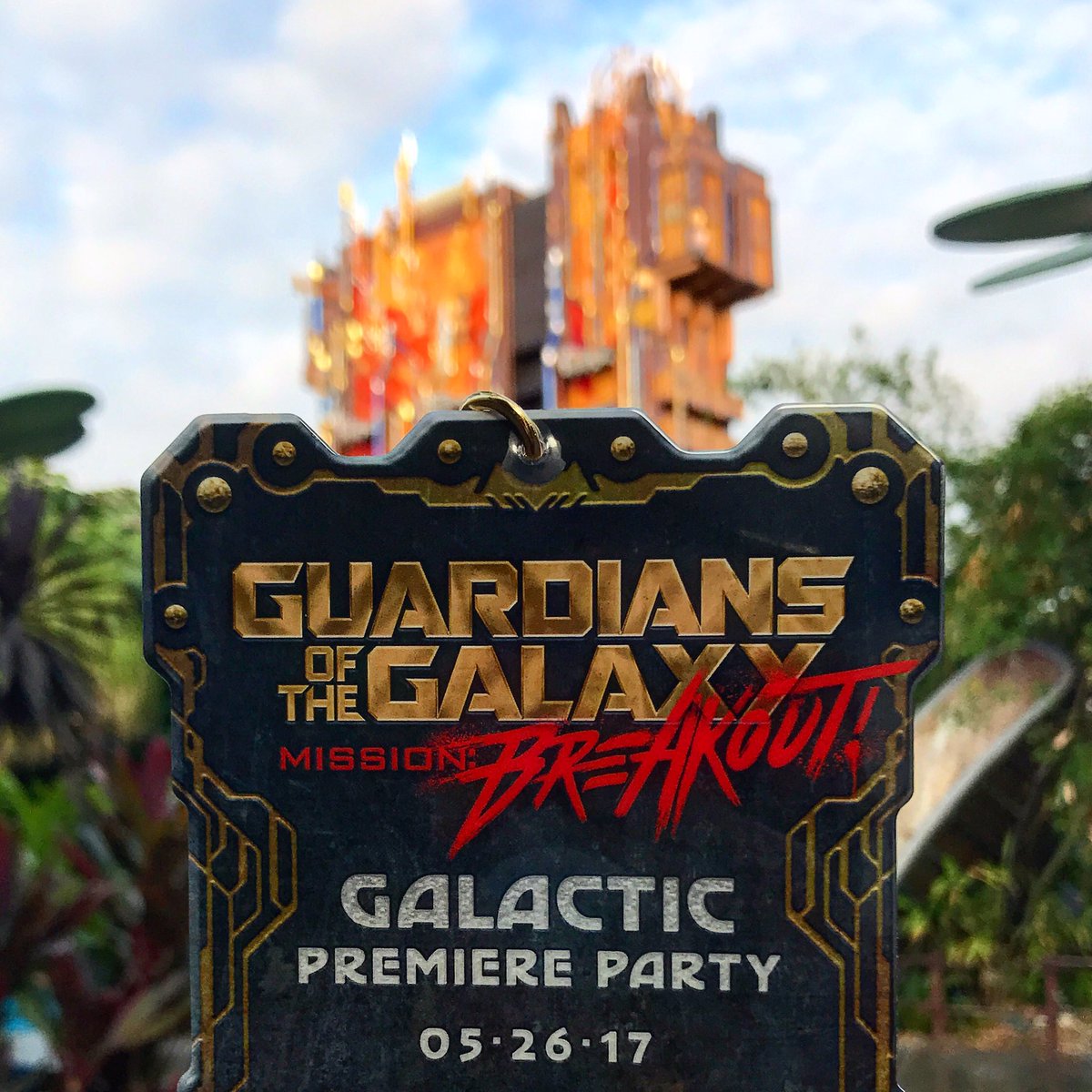 The party included a DJ playing songs from the Guardians sound tracks, dance circles and greetings with Star-Lord, Gamora, and Groot, and several interactive exhibits. Not sure which of these will be in the part on an ongoing basis.
The Party also kicked off the Summer of Heroes, including "heroic encounters" (photo opps) wth Captain American, Black Widow, Hawkeye, and Spider-Man. You can also take a "What Hero Are You" personality quiz where you answer several questions to tell you what hero you are most like, and then you get a sticker of that hero.