Experts from Digital Domain, VFX startups and artists discussed modeling and volcap pros and cons at our Digital LA – Virtual Humans: Modeling v Volumetric Capture panel at Phase Two in Culver City.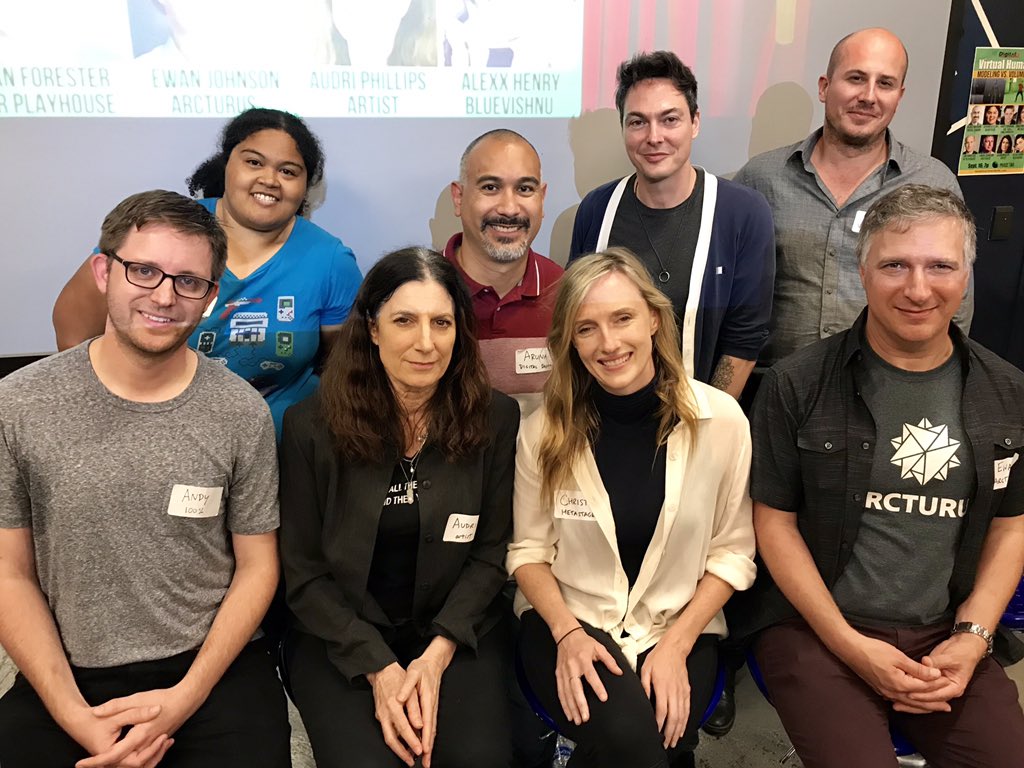 Speakers discussed two things you need to know about using modeling vs volumetric capture in this Facebook live video.
Modeling vs VolCap Guidelines
First ask: What is this for? How much detail, realism, and movement do you need?
In general, volumetric capture is cheaper. Just hire a mocap actor and record the movements. It's often more expensive to model, rig and animate a character, and it will take a lot of work and time to animate realistic human movements, if that's your goal.
Modeling can be used if the final character can be more stylized, tooned, animated character or avatar-like than realistic. Modeling is also useful if you want to create a character that will can be used repeatedly.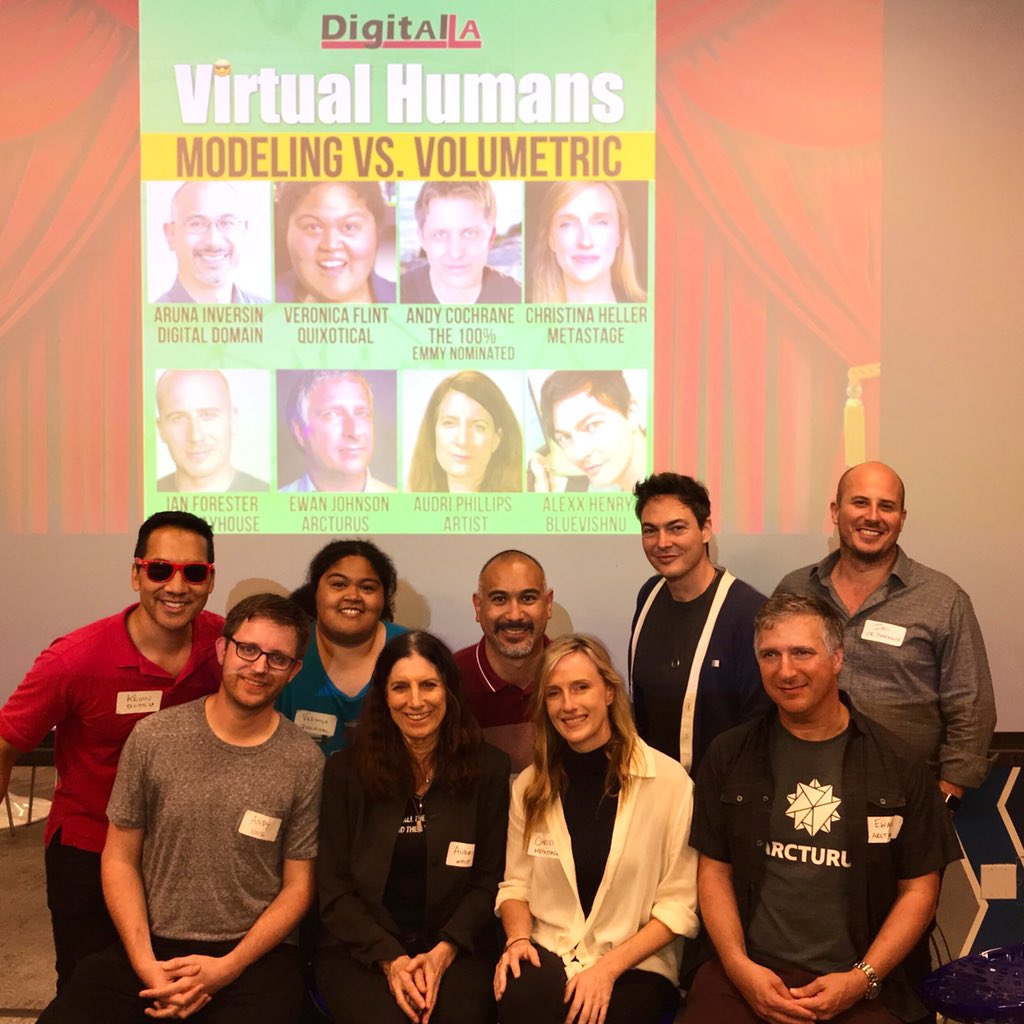 Christina Heller, CEO of Metastage volcap studio, said that they will soon be releasing a library of volcap characters doing different repeated motions on loop, like walking, listening, talking, etc. which can be used as background characters in a scene. She said her team made sure to volcap actors with diversity of gender, ethnicity, and age. She is evaluating other activities to add, and price point.
Alexx Henry of BlueVishnu presented a touching presentation documenting his very personal work in volumetric capture. He said that he decided to volumetric capture himself to help with his weight loss and keep himself accountable with digital body scan checkups. He also did a project to digital scan in his wife in 2017. When she unexpectedly passed due to cancer, he hosted a VR experience where friends and family were invited to interact with her digital version, often with tears, which was emotionally healing.
Thanks PhaseTwo coworking space for hosting.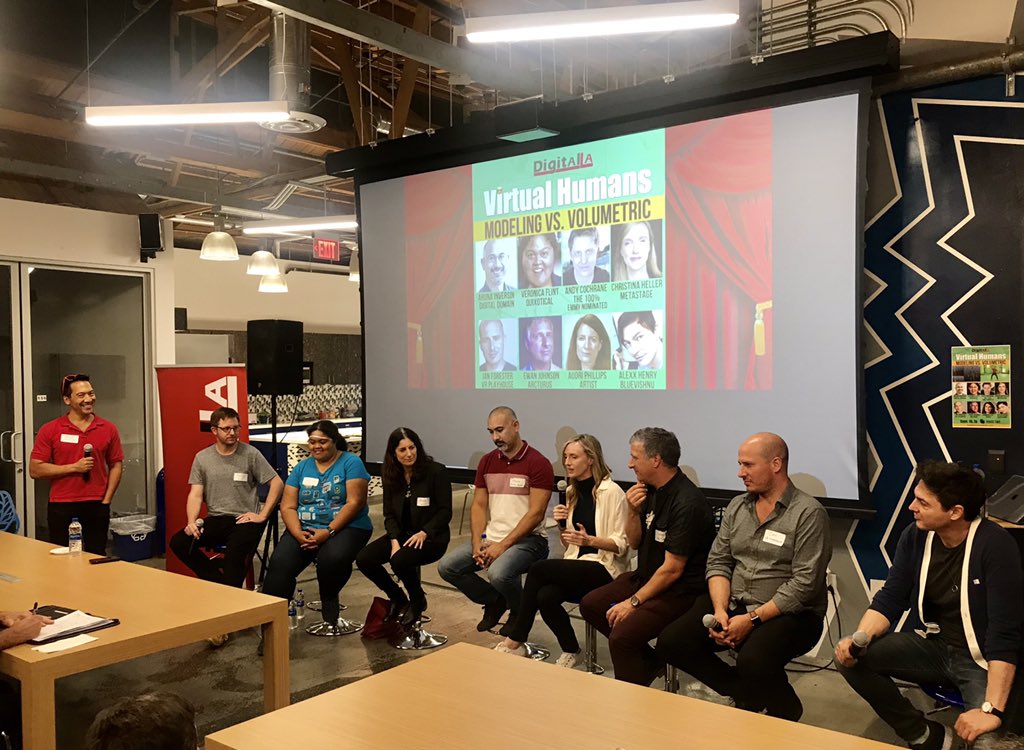 Thanks to our amazing speakers!
SPEAKERS
– Aruna Inversin, Digital Domain, Creative Director & VFX Supervisor / Real-time / Experiential / Live / VR / AR. Aruna is on-set VFX Supervisor for short-form projects such as commercials (2D and stereo 360), live event and stage broadcasts, and location based experiences. He publicly evangelizes creative and technical solutions with respect to VR, AR and real-time production.
– Andy Cochrane, AV Club; The 100%, Emmy nominated, VR Awards Finalist interactive experience using volumetric capture. Andy Cochrane is a Director and Content Creator working in interactive and immersive mediums such as virtual and augmented reality, installations, live events, and mobile & web apps.
– Christina Heller, Metastage, CEO. Metastage allows viewers to place a human performance into real (AR) or virtual (VR) environments using 106 cameras and the Microsoft Mixed Reality Capture software to create beautiful 3D captures at very small file sizes. Prior to leading Metastage, Christina was the Co-Founder and CEO of VR Playhouse, an immersive content company based out of Los Angeles. She is a recipient of the Advanced Imaging Society's 2018 Distinguished Leadership in Technology Award, the California Women's Leadership "Women to Watch" Award and was named in the Huffington Post as one of 5 women changing the virtual reality scene by Craig Newmark. She is proud to have contributed to over 80 immersive projects. Speaker at Comic-Con, SXSW, NAB, IBC, Sundance, NEXT conference (Seoul), IVRPA (Tokyo), GDC, AFI, Hardwired NYC, VRDC, TieCon, Digital Hollywood, Northside Innovation Festival, SVVR, SoHo House, Digital Hollywood, VR Fest, Digital LA
– Alexx Henry, BlueVishnu, CEO. Alexx is an award-winning director, 3D avatar evangelist, and designer of the xxArray™ 3D capture system. Recognized by The Huffington Post as "fearless in his vision," Henry has been working with technology to capture everyday people in 3D, and to build a world where people are using personalized 3D avatars to make their lives better. His awards include: Cannes Cyber Gold Lion, Horizon Interactive Best in Class three years running, and a Unity 3D Best in Class for the interactive 3D digital magazine, Art and Skin.
– Veronica Flint, Quixotical. Veronica got her start in the immersive field working with Nonny de la Peña as a VR Technical Director for motion capture on projects for Emblematic Group. She has been working in the XR industry for several years in interactive games, virtual and augmented reality projects. Some have have been showcased at a variety of top festivals including Sundance and Tribeca. She recently showcased her immersive reality experience project "The Chimerical Era" at Infinity Film Festival, which won the award from the XR Alliance competition. She also worked on projects from AMD, Oculus, Google, and IMAX
– Ewan Johnson, Arcturus, Chief Product & Creative Officer. Arcturus is a technology studio that developed HoloSuite, the only capture-agnostic post production platform for volumetric video, and related production services. Recent work includes Hulu's "Light as a Feather" VidCon activation on Magic Leap and Madonna's volumetric holograms at the 2019 Billboard Music Awards, the first ever live broadcast of a volumetric performance. Earlier work includes adapting the Way of Kings novel to a VR experience and numerous live action and CG virtual reality experiences including projects for Google, the Denver Broncos, and NBC Universal and Bjork. Before founding Arcturus, Ewan worked in the animation industry from 1994 to 2015 with industry giants Pixar and Dreamworks, contributing to digital staging and cinematography on multiple award winning and iconic movies including Toy Story, Monsters, Inc., and Madagascar.
– Ian Forester, VR Playhouse, CEO and Co-Founder. VR Playhouse isan xR creative studio and production company based in Los Angeles. VR Playhouse uses emerging technology and custom pipelines to deliver the next generation of immersive content for entertainment, gaming, and enterprise. They have earned top honors at SXSW, Sundance, and Cannes, and a client list including 9 of Fortune's top 100 companies.
– Audri Phillips, Artist, has worked for a number of studios in a variety of roles, ranging from art direction to color, lighting, and effects. Some of the studios are Robert Abeles, Electronic Arts, Sony Pictures, Digital Domain, and Prologue Films. DreamWorks Animation has been her home for the past two years. Never one to give up on dreams, Audri continues to produce and show her personal work, which ranges from painting to digital video and wall projections. Watch Audri's sample video.
– Kevin Winston, Digital LA, CEO