Happy Fabulous 40th Birthday He-Man! He-Man and the Masters of the Universe celebrates its 40th anniversary today.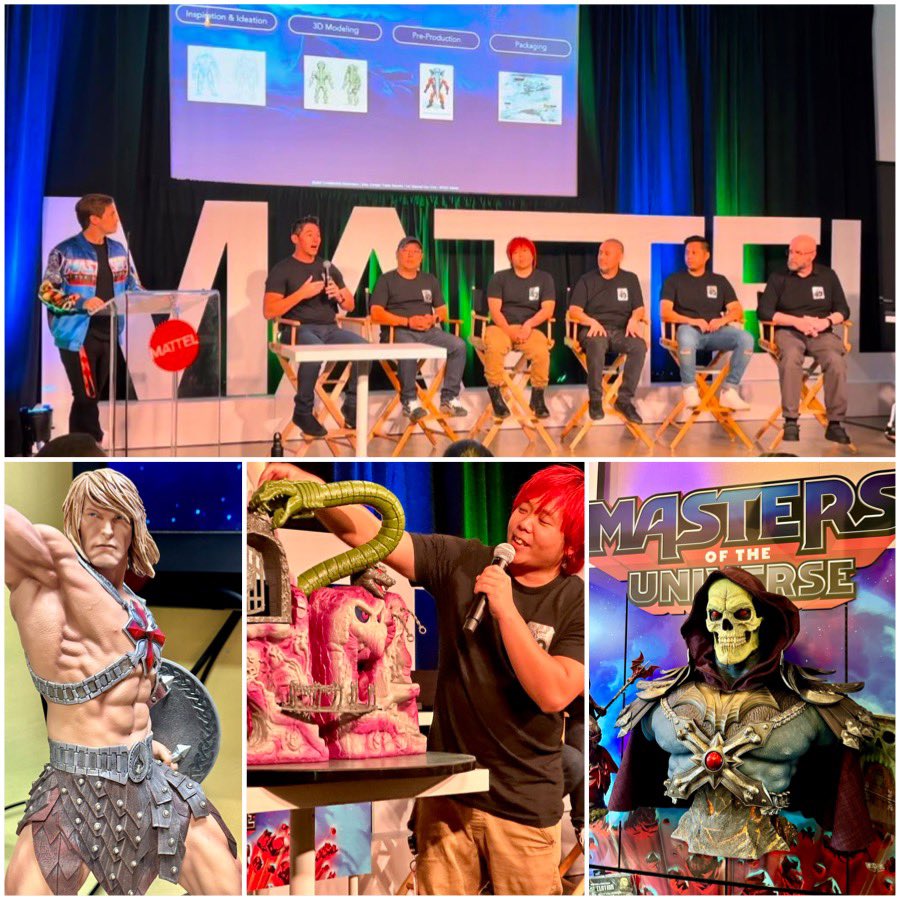 Fabulous secrets were revealed to celebrate the day, when Mattel invited press, influencers and superfans to get an exclusive behind the scenes tour of its Mattel HQ in El Segundo.
Attendees visited the 3D body scanning and 3D printing labs and merch museum, met toy designers who previewed upcoming toys and collectibles, did voice-over work, and saw vintage collectibles in the Eternia Room museum.
We luckily attended! Our highlights, emphasizing tech tool used to create action-figures and other merch.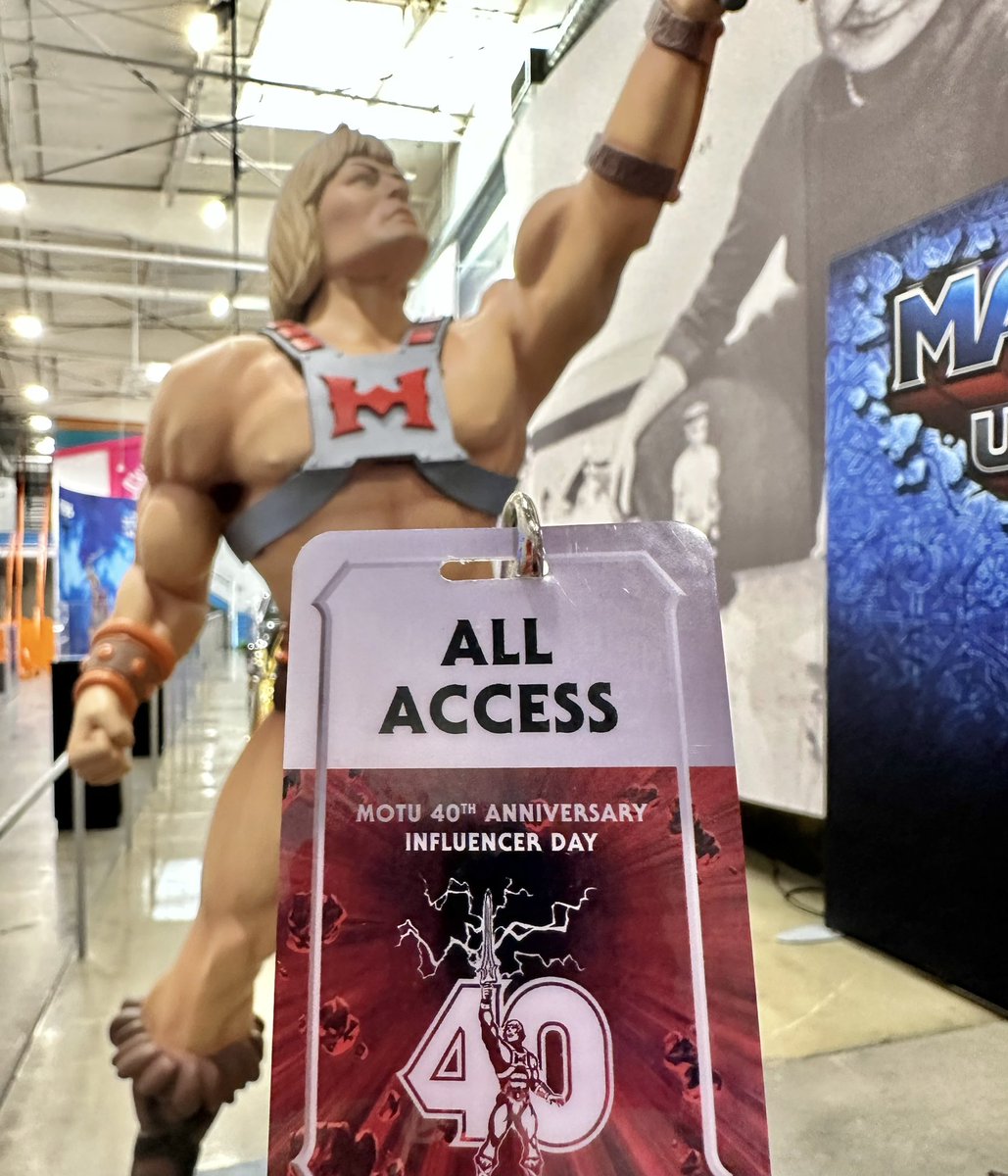 3D Scan Center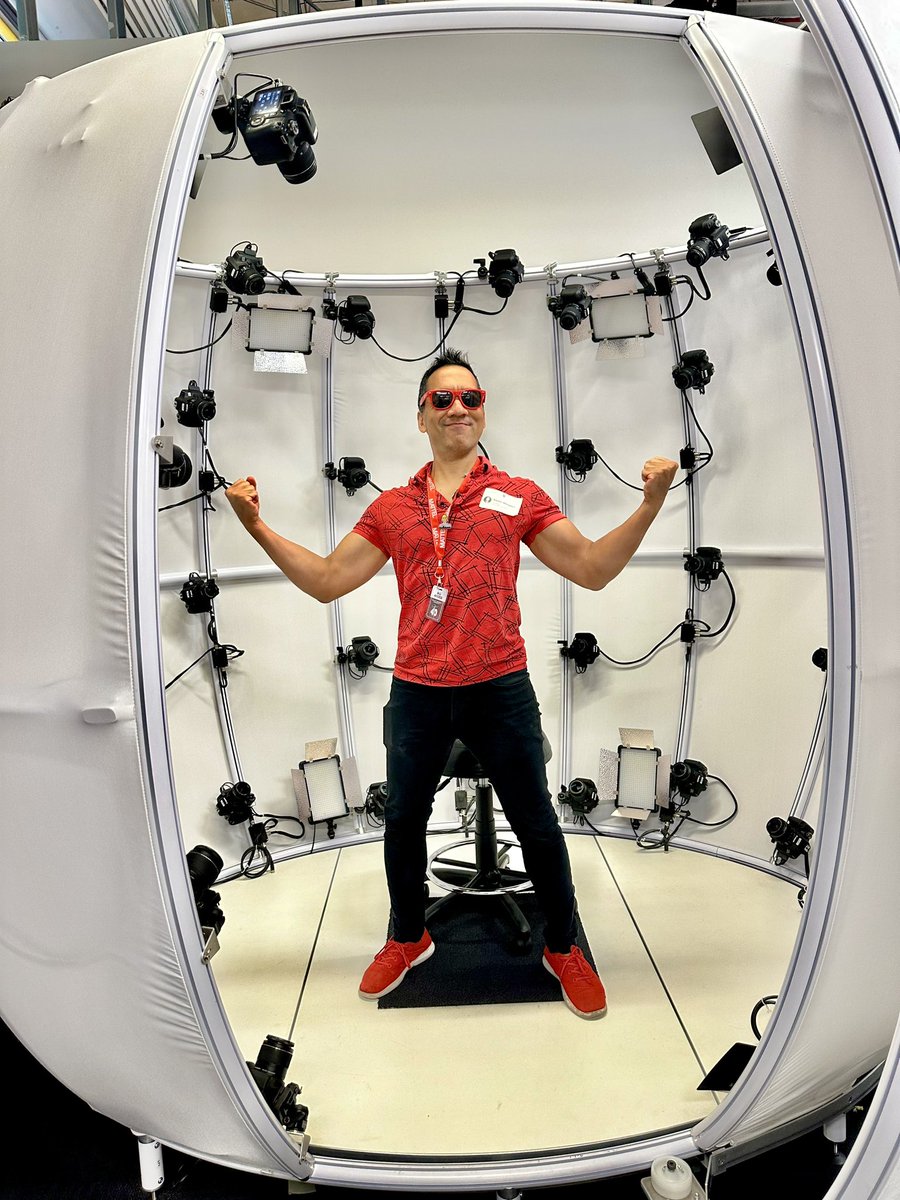 The tour began with a visit to the 3D printing lab. We visited the scanning room, where a 3D Copy Systems body scanner is used to take 360 photos of an actor or model, which are used to 3D print figures. So a famous actor playing a He-Man character in live action could jump in, and get body scanned for a realistic 3D printed action figure.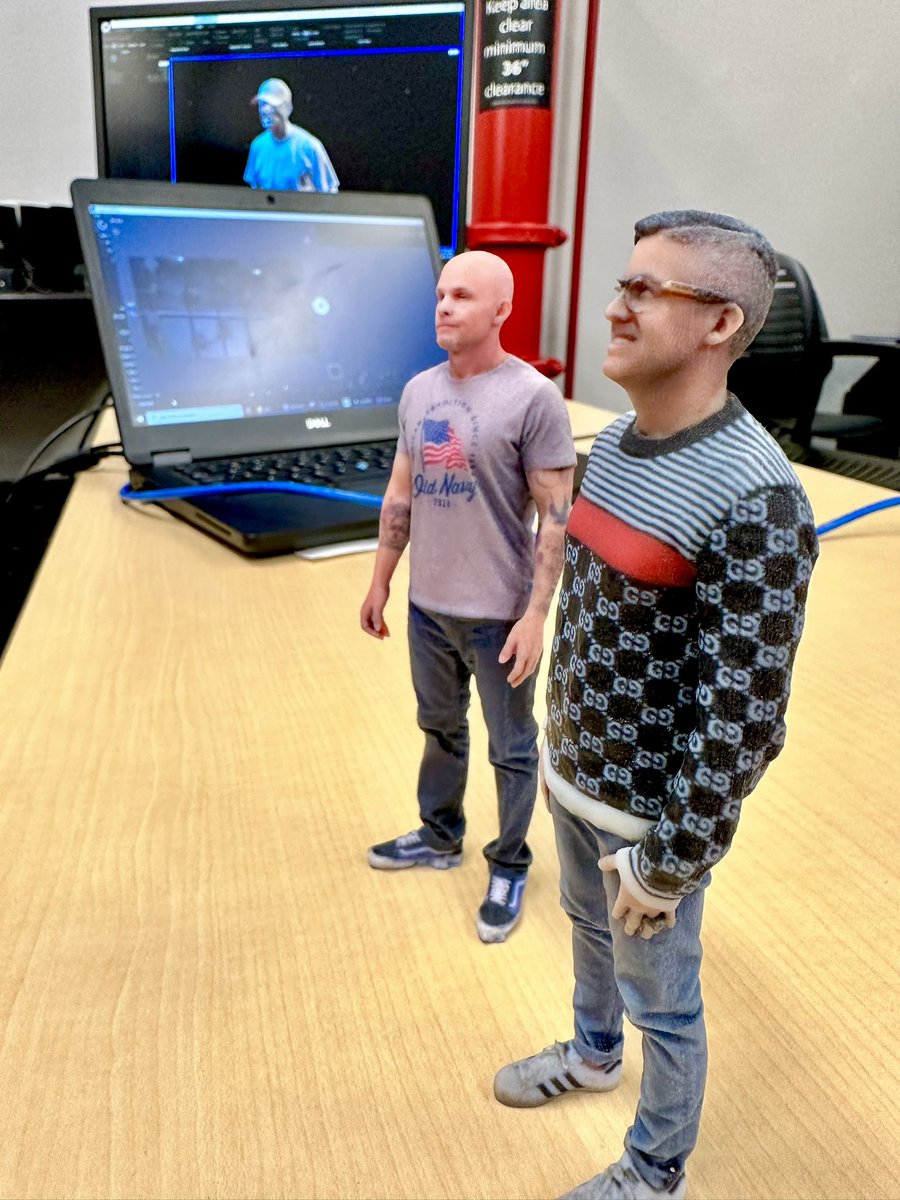 This body scanner was purchased right before pandemic, which prevented inviting actors to come in for body scans. However the team hopes to use it again soon. In the meanwhile, the 3D printing team has been scanning themselves for practice.
Model Shop: 3D Printing Lab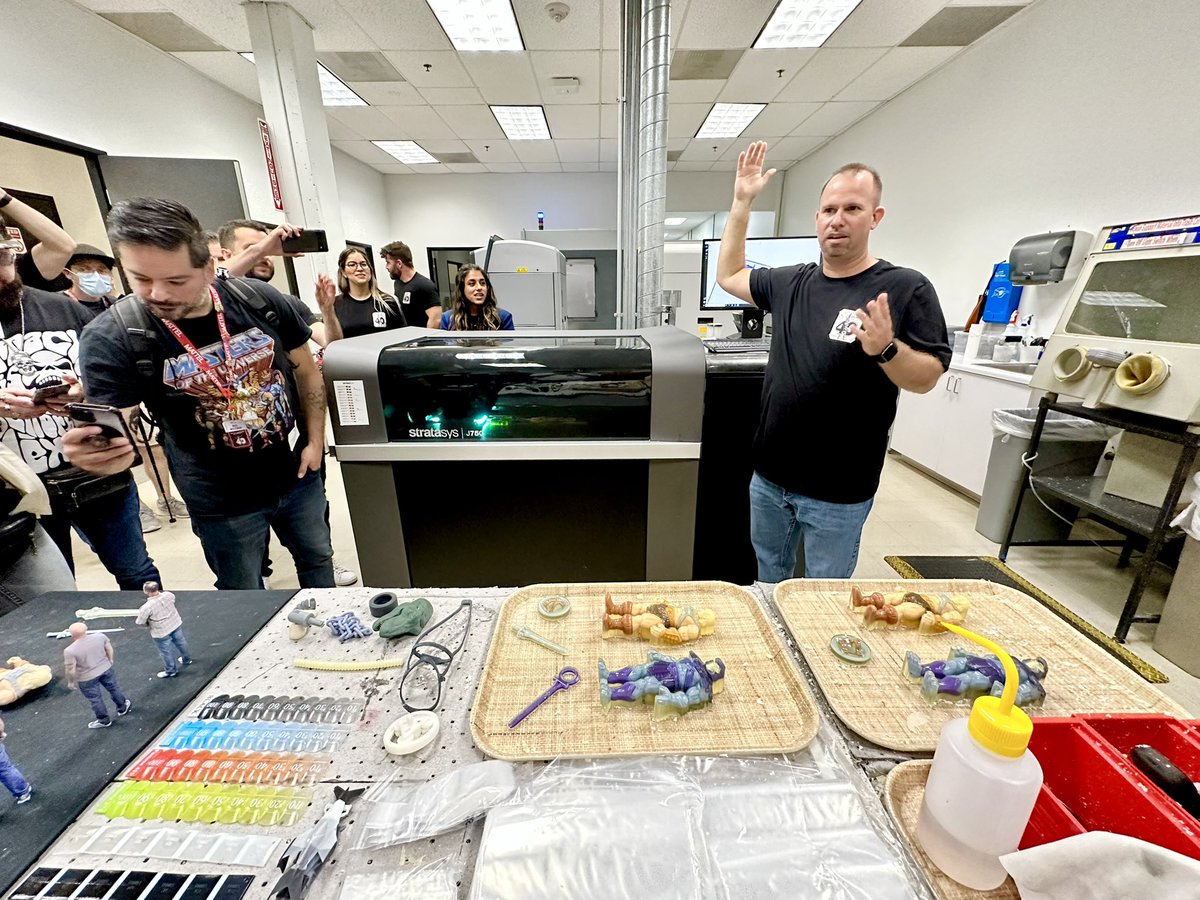 After the scanning room, we visited the Model Shop. 3D data from scans or designers is sent to the 3D printers in the 3D printing lab. Robert Coleman J, Master Modelmaker said the Model Shop has three types of 3D printers: Polyjet, Stereo Lithography, and Fuse deposition. Each printer has its unique use, materials, time and costs. These He-Man and Skeleton figures can take 3-5 hours to print on one printer, and several hours on a more detailed printer.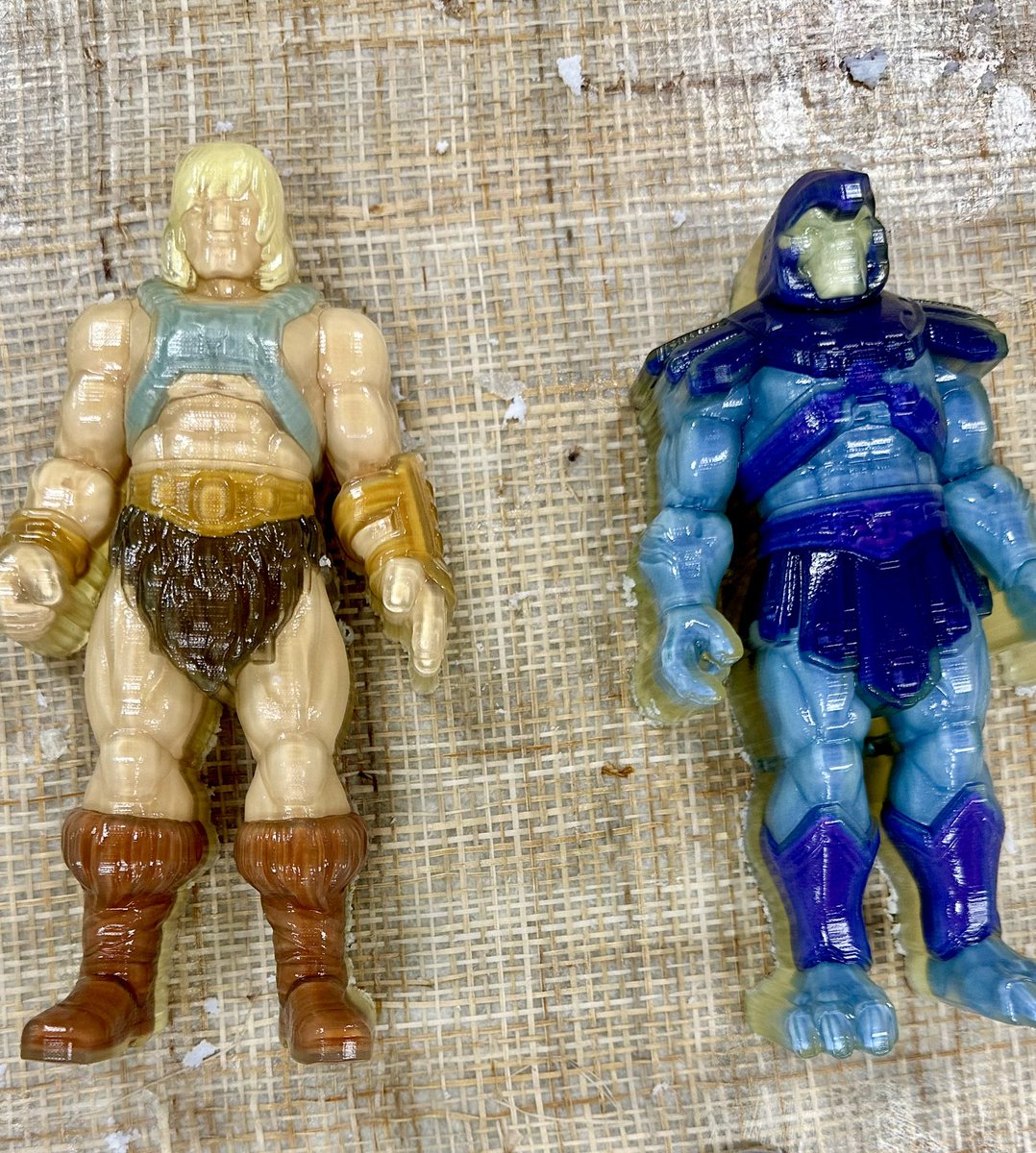 Designers look at the 3D printed models, and make fine-tuning adjustments. Once the design team approves a model, a mold is made for mass production with much faster machines. And voila, your favorite action figures appear at the store or online.
The 3D printing lab had several tables of practice 3D print models including vehicles, figures, accessories, and the Mattel logo.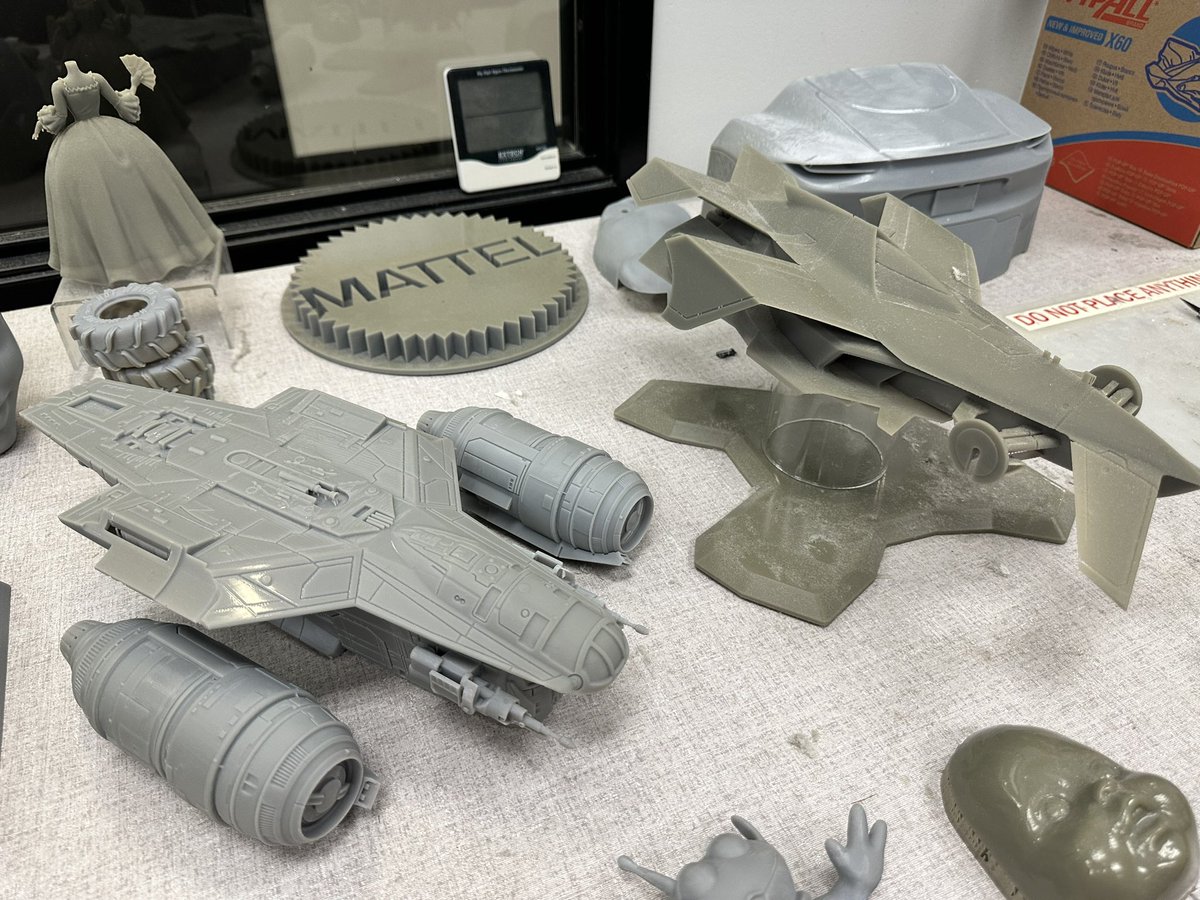 Voice Sound Studio
In the voice and sound lab, actors record voices used in animation, that are then synced to the animation and played back. On the press tour, a few attendees recorded He-Man and Skeletor dialogue that was played back with animation. It's fun to see your favorite characters with your voice!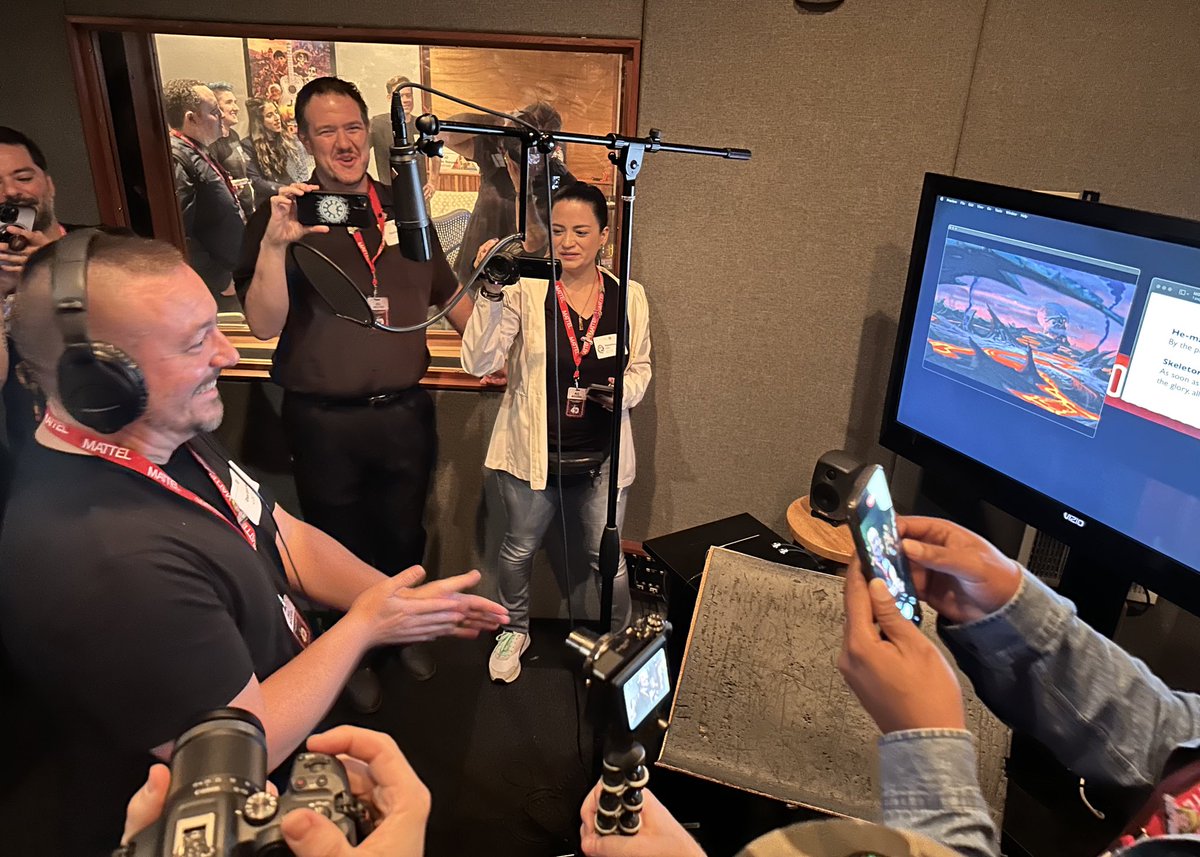 Masterverse and more
Mattel executives are exploring more digital extensions for the MOTU, which don't exist yet, but could. There could be:
Online games could include console and mobile games with MOTU Twitch streamers and tournaments.
Masterverse: fans can create avatars to explore MOTU-themed 3D virtual metaverse
NFT digital collectibles could including artist drawings, box art, design art, 3D models, and more.
QR codes on toy packages could link to online stores or the Masterverse.
More Tour Highlights
Design Panel. Mattel designers described the process of designing action figures and toys, from ideation to 3D modeling, pre-production and packaging. Mattel designers included Damon Nee –Senior Director, Product Design; Terence Higuchi –Key Lead Product Designer; Sam Pak –Senior Product Designer; Steve Redinger –Key Staff Product Designer; Roy Juarez –Key Lead Packaging Designer, and LawrencePukhrambam–Senior Packaging Engineering. Moderator: Josh Graham –Brand Manager, Masters of the Universe.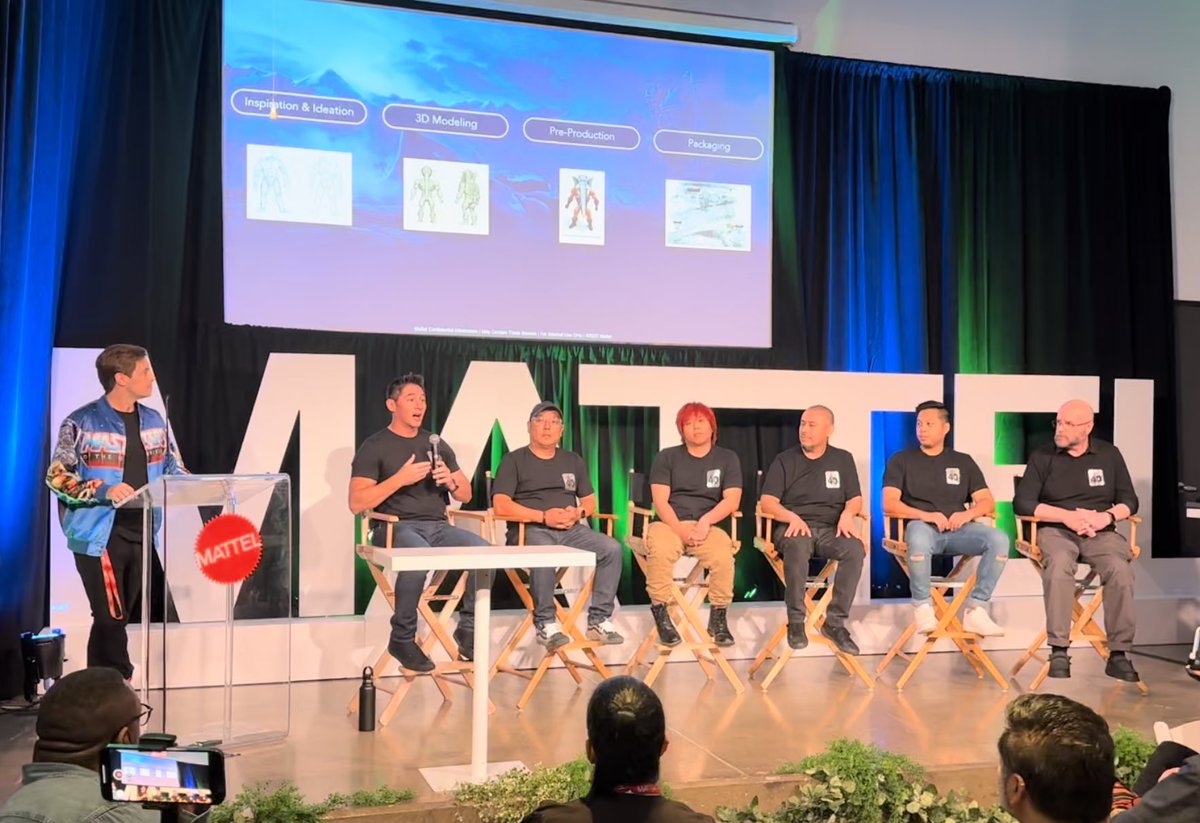 As a case study, designers who worked on the Snout Spout figure described the process designing him. The designers thought it'd be cool to have the elephant-like character actually squirt water from his trunk. They adapted  a functional design idea from another Mattel water-squirting character. And then they modified Snout Spout's backpack, making it larger to hold more water, and making his hose longer to allow more range of motion.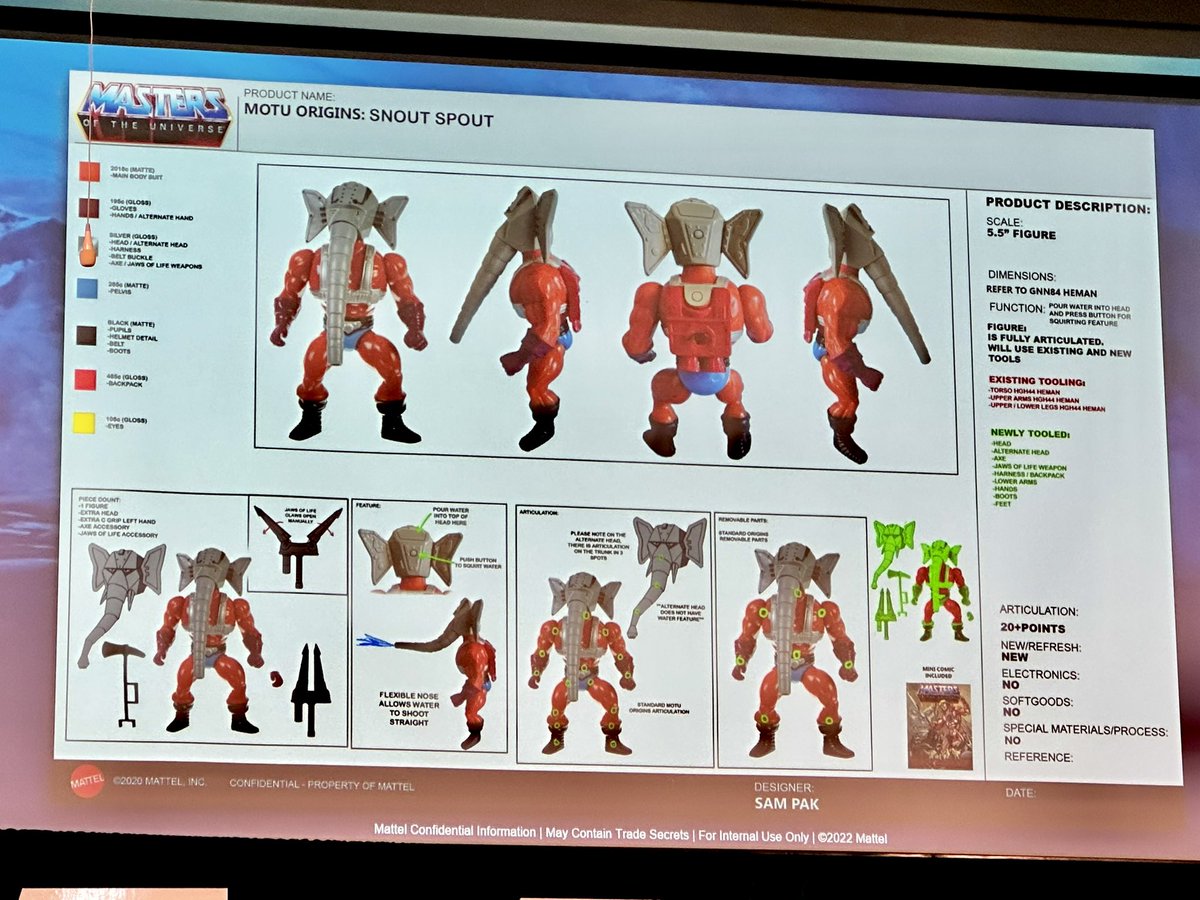 Another designer showed making modifications for the release of the new Snake Mountain playset. The voice-changer, which was popular in the 80s, has been replaced by more story-telling play elements, including trap door, acid pit, and jail cell.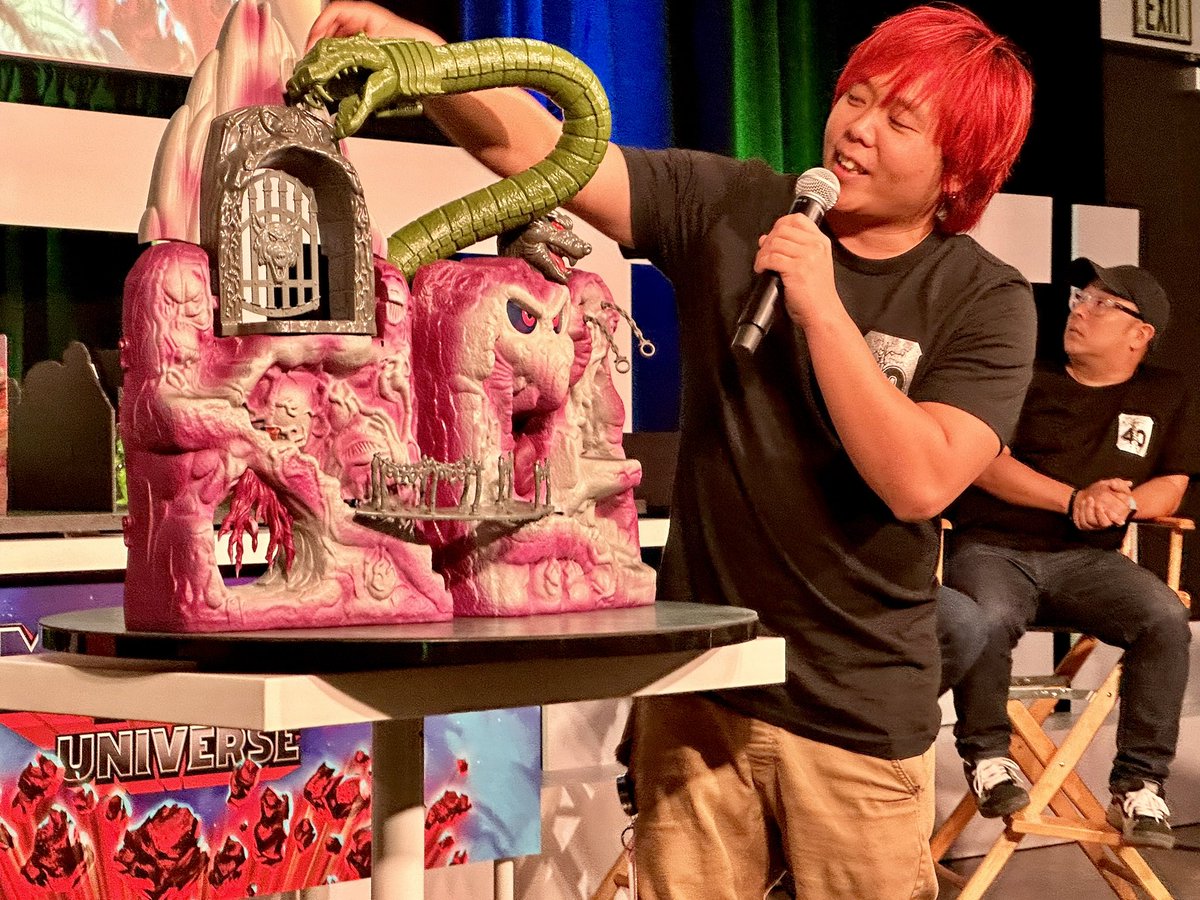 Eternia Room
Orko greets you to the Eternia Room, off the main lobby.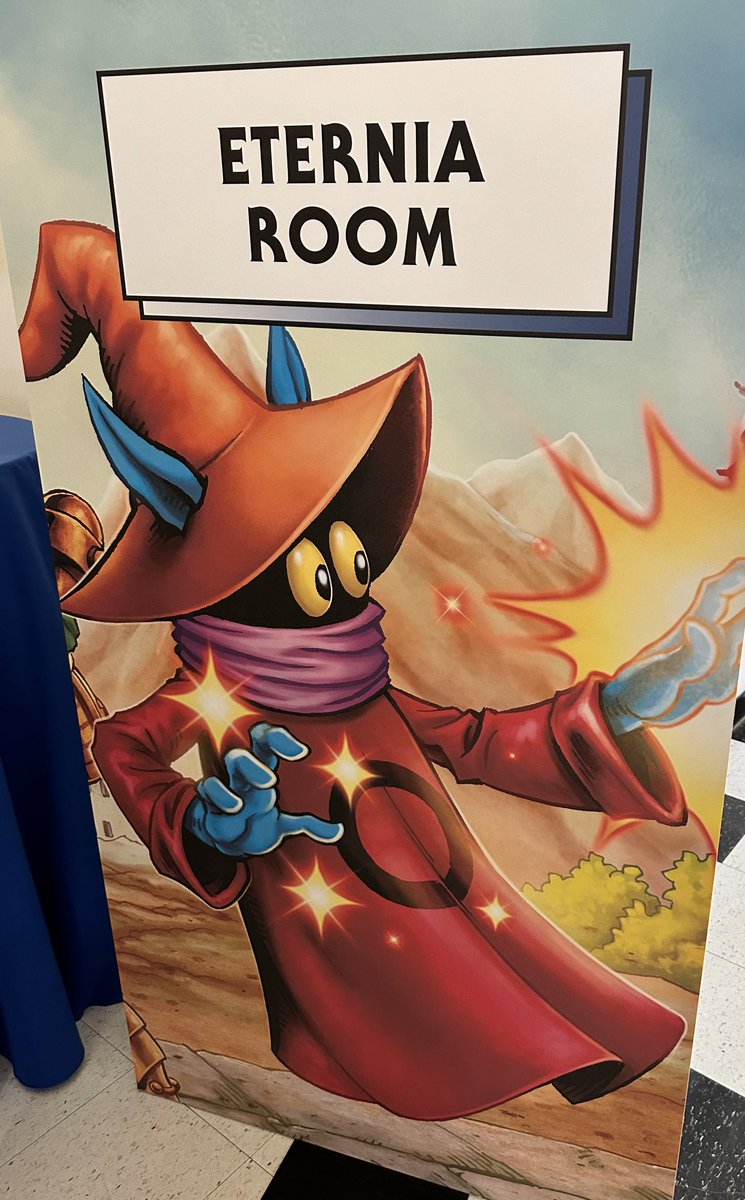 The Eternia Room is like a museum of vintage He-Man collectibles including action figures, books, games, and more.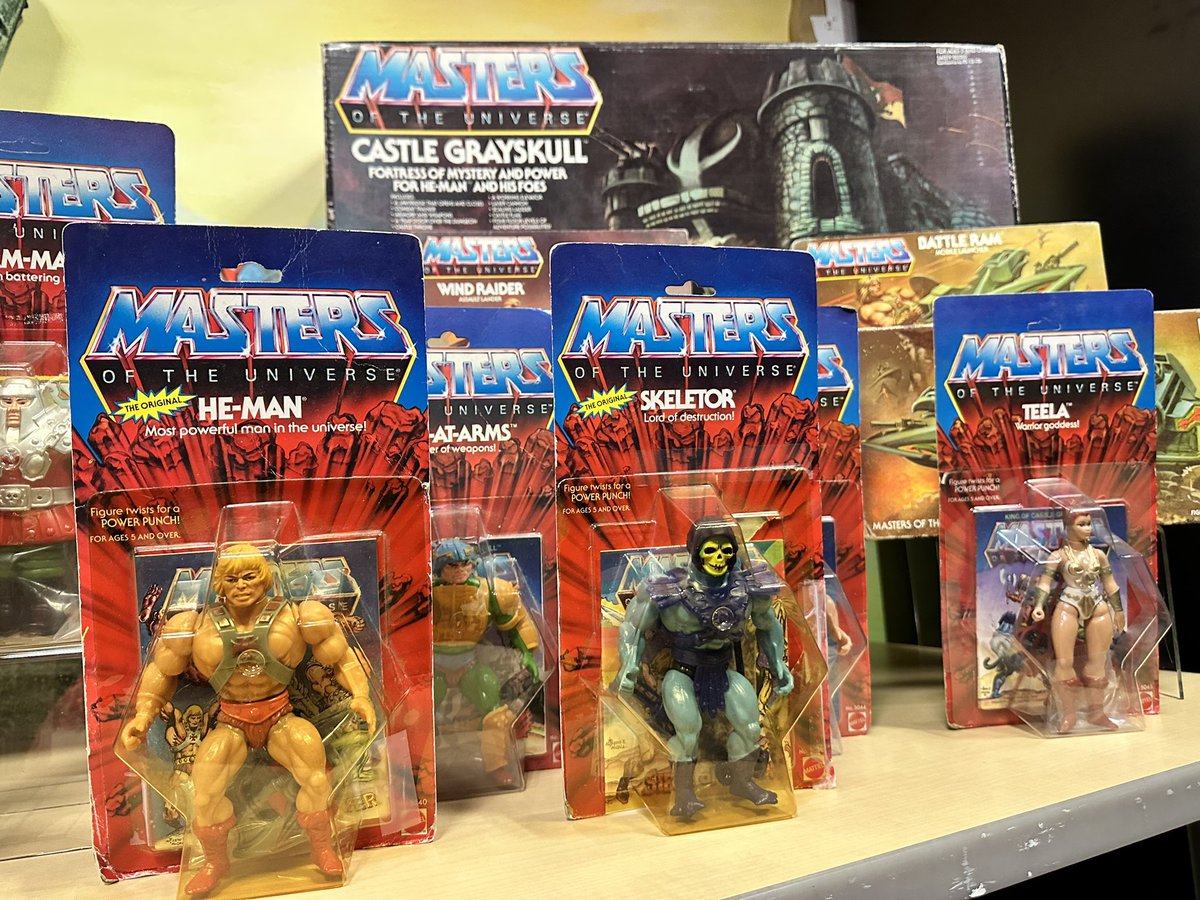 Lunch
Attendees enjoyed a He-Man MOTU themed lunch on an outdoor patio, with a birthday party theme with colorful balloons and tablecloths,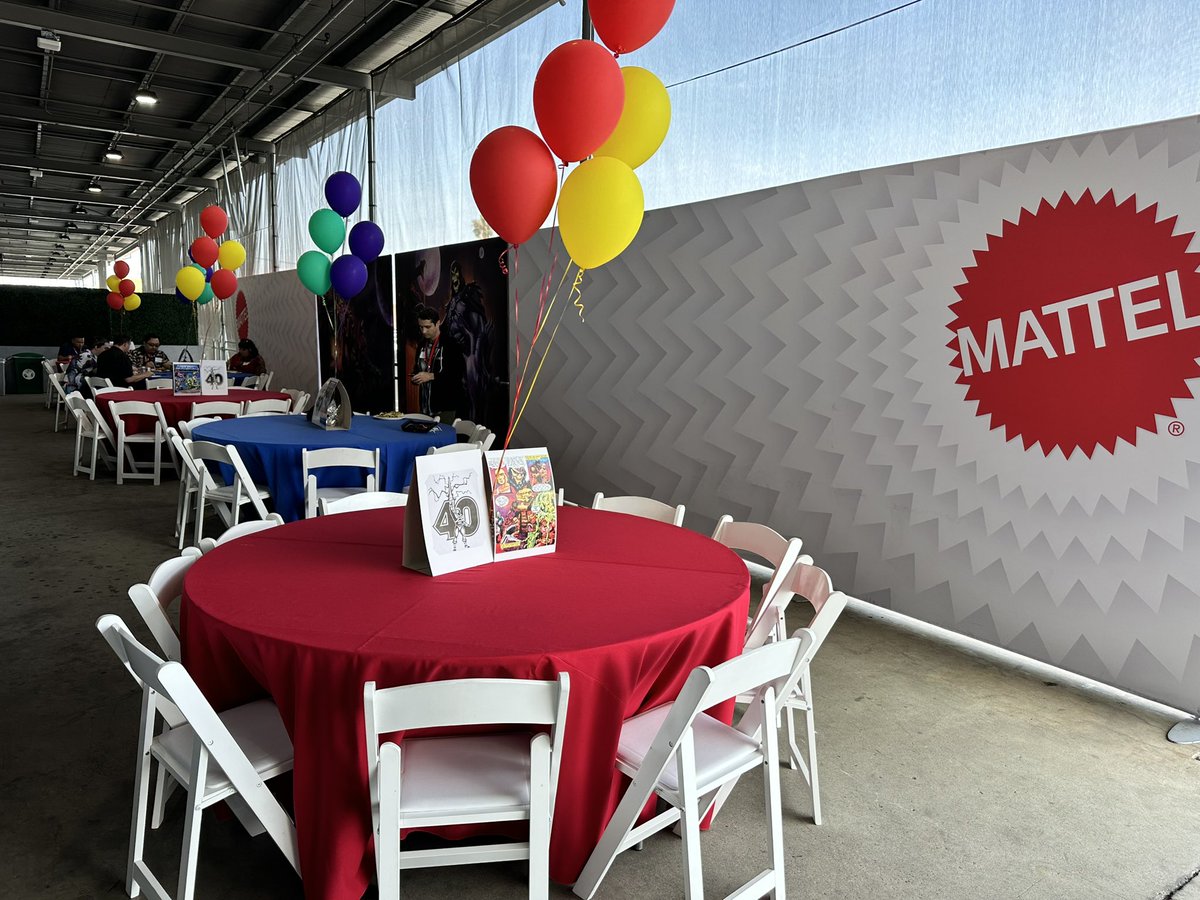 complete with a MOTU themed menu,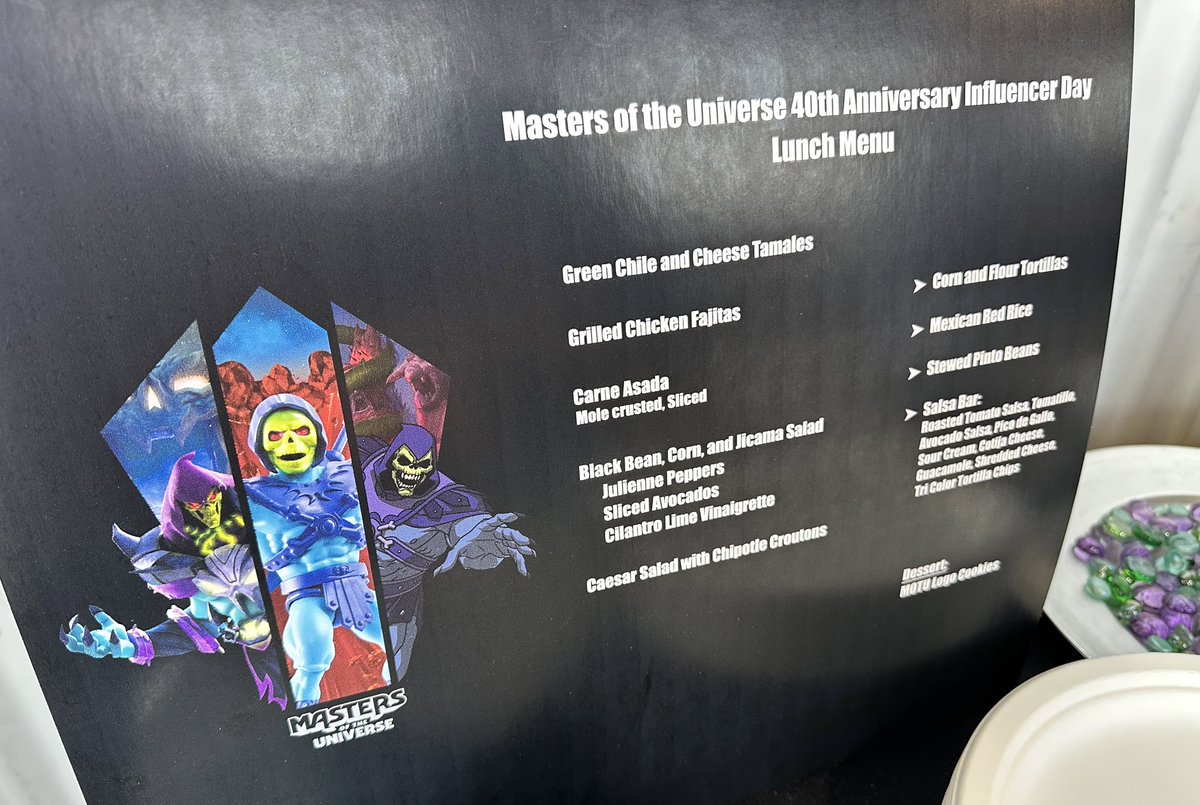 and a MOTU cookie,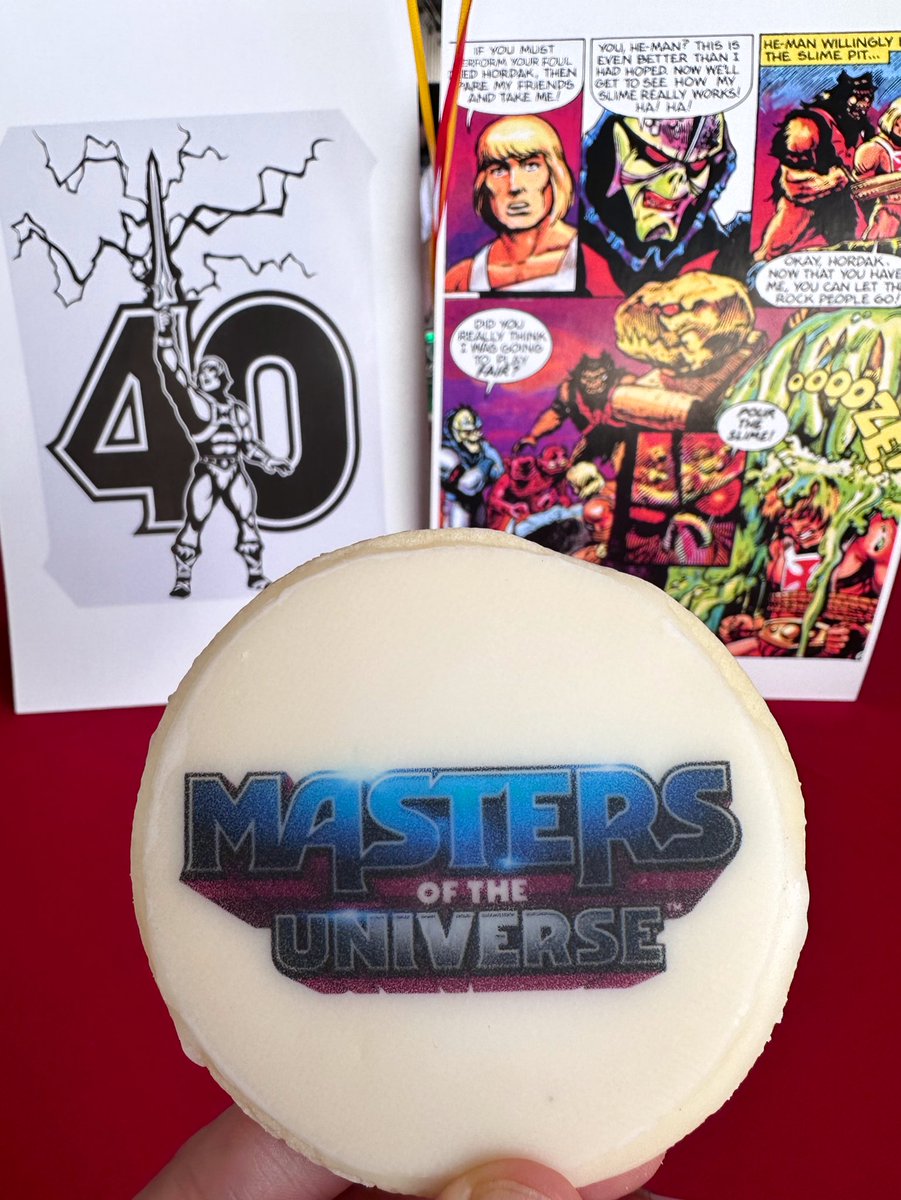 which Hardak is trying to eat!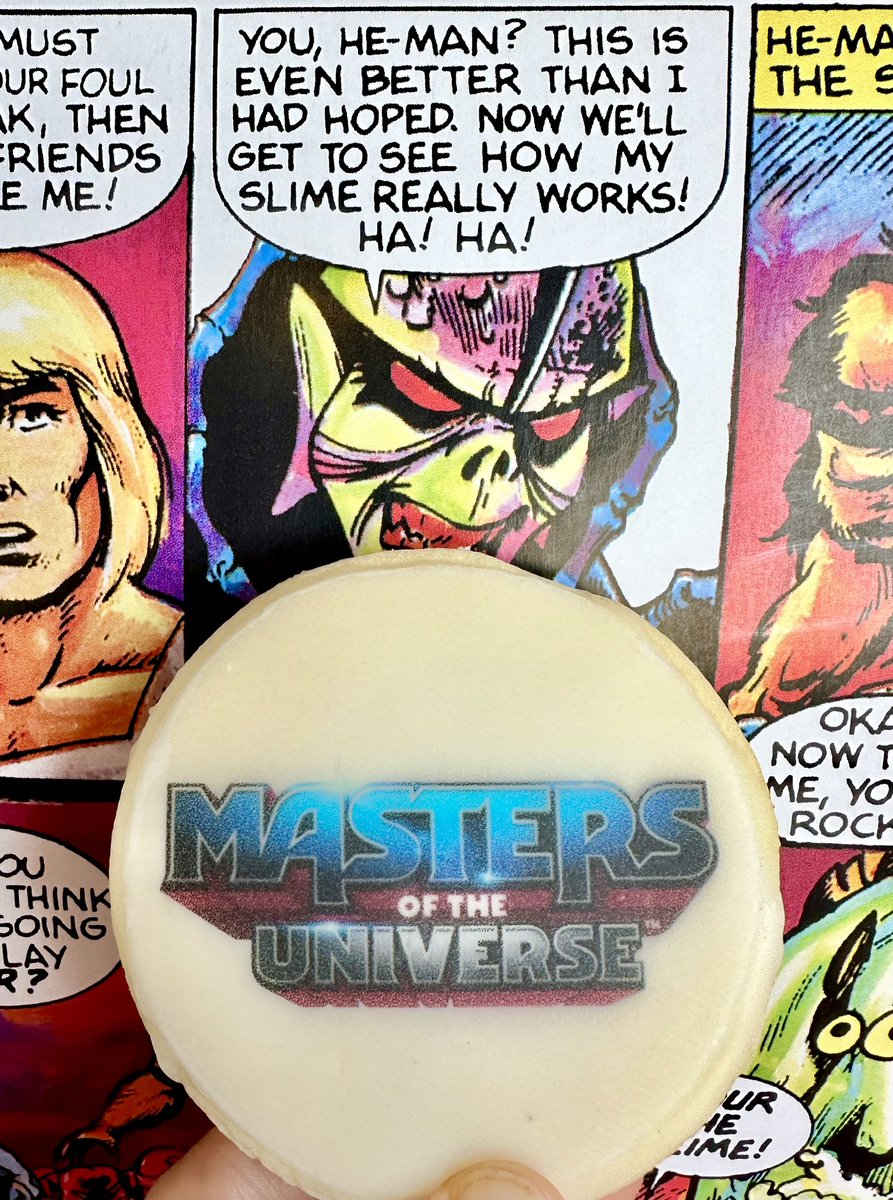 Even the restroom signs were themed – notice they are thankfully gender-inclusive!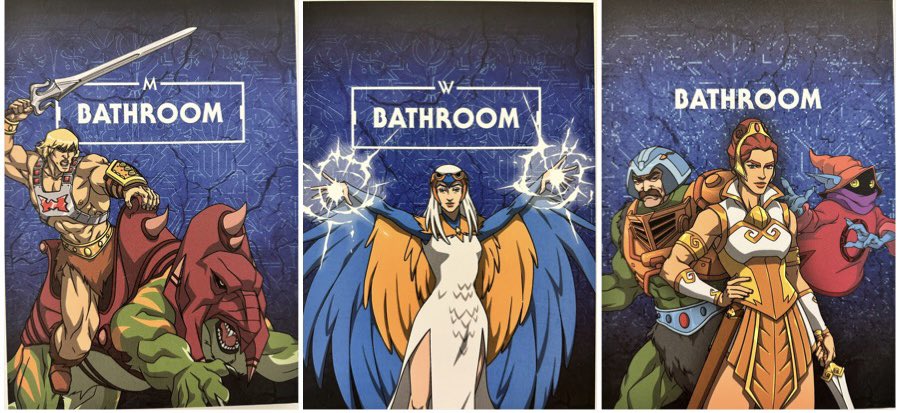 Signage
Speaking of signage, all the MOTU branded signage and photo opps were amazing! Pure joy!
Check-in set the mood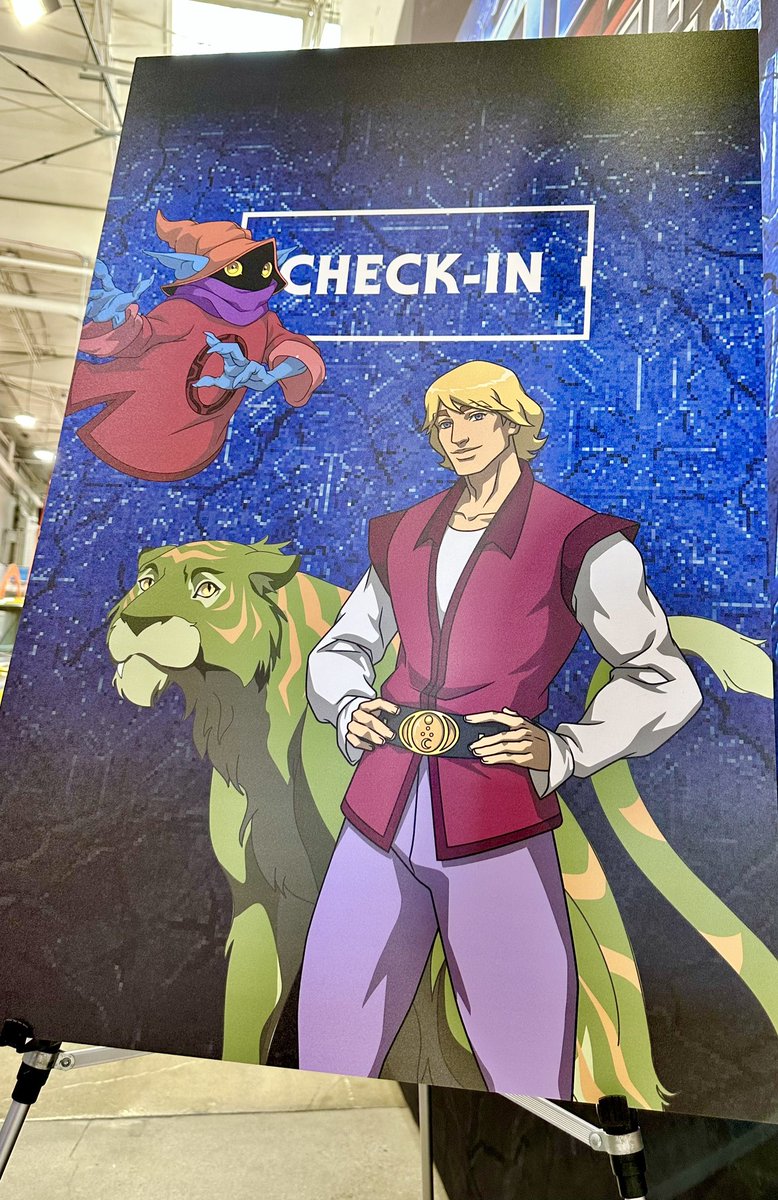 A huge poster in the lobby is great for single or large group photos.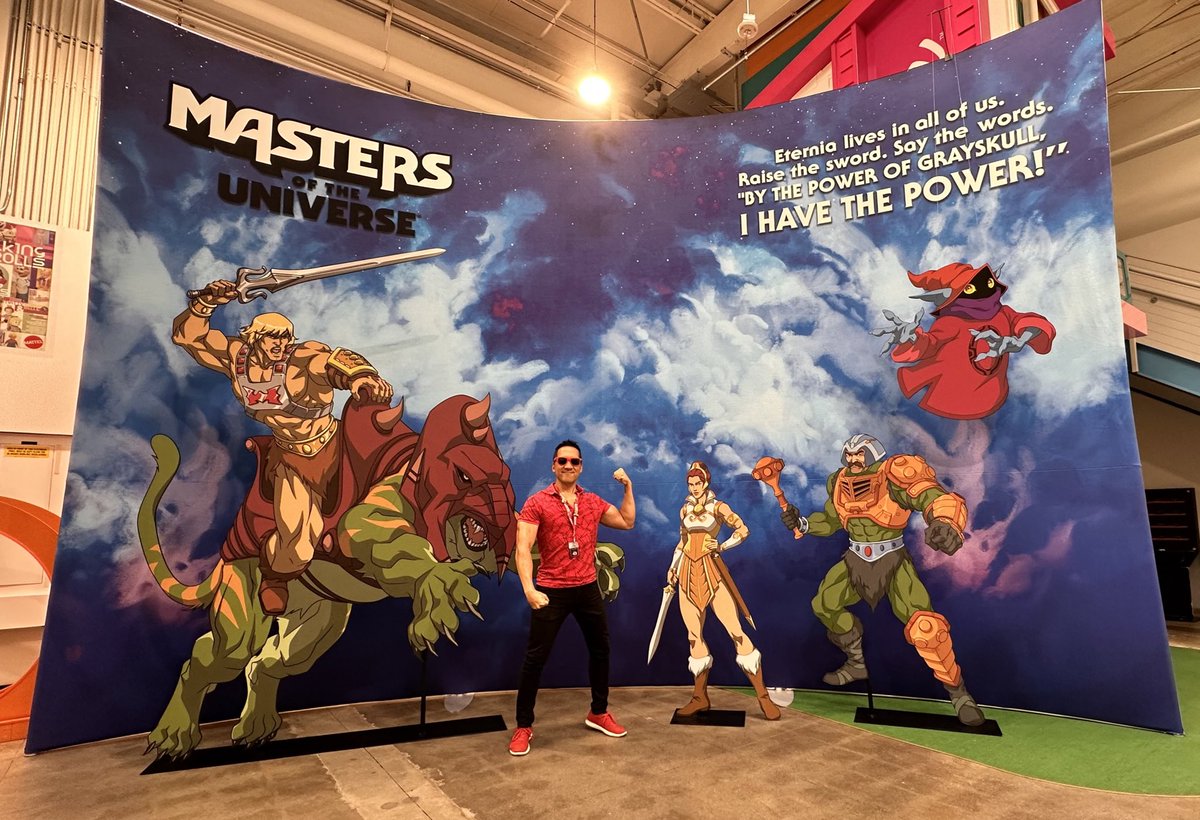 The presentation slide show greeted attendees.