Ms. Marvel charms audiences and critics in the debut episode one of her six-episode Ms. Marvel series released June 8 on Disney+.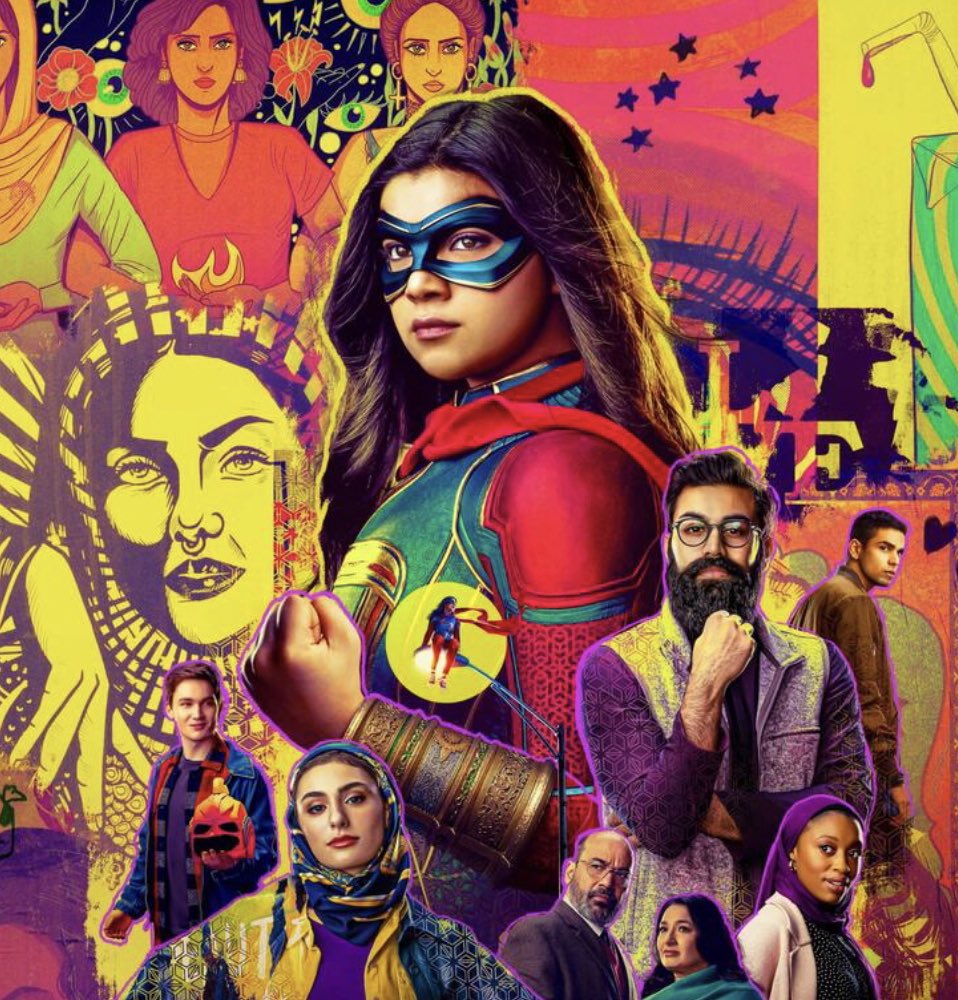 The newest and youngest superhero to join the Marvel Cinematic Universe, Ms. Marvel aka Kamala Kahn, is also the biggest fan of superheroes – both in the show, and the actress Iman Vellani who plays her, making casting a perfect fit, as usual for the MCU.
Iman Vellani is clearly the breakout star, praised for her charming, authentic performance. You immediately want to root for her in her quest to go to AvengersCon in the first episode.
Synopsis
In the coming-of-age comedy, Kamala Khan is a superhero fangirl who happens to be a Muslim Pakistani-American, who is learning to balance her modern day interests with her family's culture and traditions. In the first episode, Kamala is just finishing her latest Sloth Baby Productions video praising Captain Marvel's victories in the Avengers: Endgame battle. At high school the next day, she tells her best friend tech-tinkerer Bruno she wants to go the first AvengersCon celebrating Earth's mightiest heroes. But her parents refuse to let her go because they fear too much haram at night at that "Avengers Party."
Frustrated, she and Bruno make a plans to attend anyway – dressed as her fave Captain Marvel of course. To complete her costume, she goes to the attic to look for personal accessories, and grabs an old bangle from a box sent by her grandmother. That night, she jumps out her window, meets Bruno, and attends AvengersCon. When she goes on stage to enter the Captain Marvel cosplay competition, the stage blinding lights and crowd photos trigger her grandma's bangle to light up, giving her cosmic powers. A hero is born!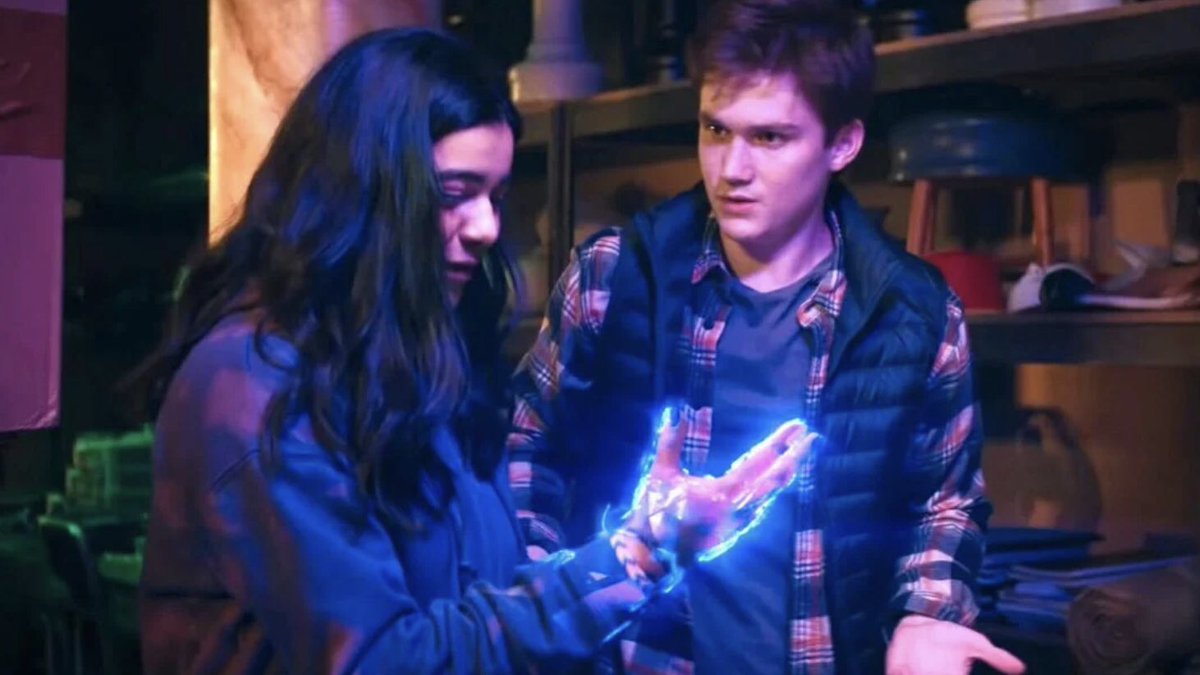 Review
Plot: The first episode is well plotted like a self-contained movie, introducing the characters, family dynamics, Kamala's personality, friends, and wants and desires: Go to AvengerCon. Many Disney+ and other streaming shows spend more time setting up the stage in the first episode, saving plot resolutions and power reveals for later in the series, after episode three or four. Part of the reason the first episode is so satisfying, is Kamala gets want she wants: AvengerCon – and her powers. And it's not just glowing bangle or hands; she gets to use her powers with agency to save her rival Chloe, like she does in the comics. It's a good lesson for other streaming series to deliver a self-contained story in the first episode, to help satisfy fans talking online for a week until the second episode.
Acting: Iman's Kamala is a charge warm gem on screen, as Iman herself is in real life. She plays a nerdy quirky high school fangirl, without sarcasm, snark or dweeb stereotypes that are often seen in other high school shows. Her protective parents are excellent as well, saying many things that Asian-American parents say to their daughters, but also showing support and warmth by offering to dress up as the Hulk to accompany her to AvengerCon.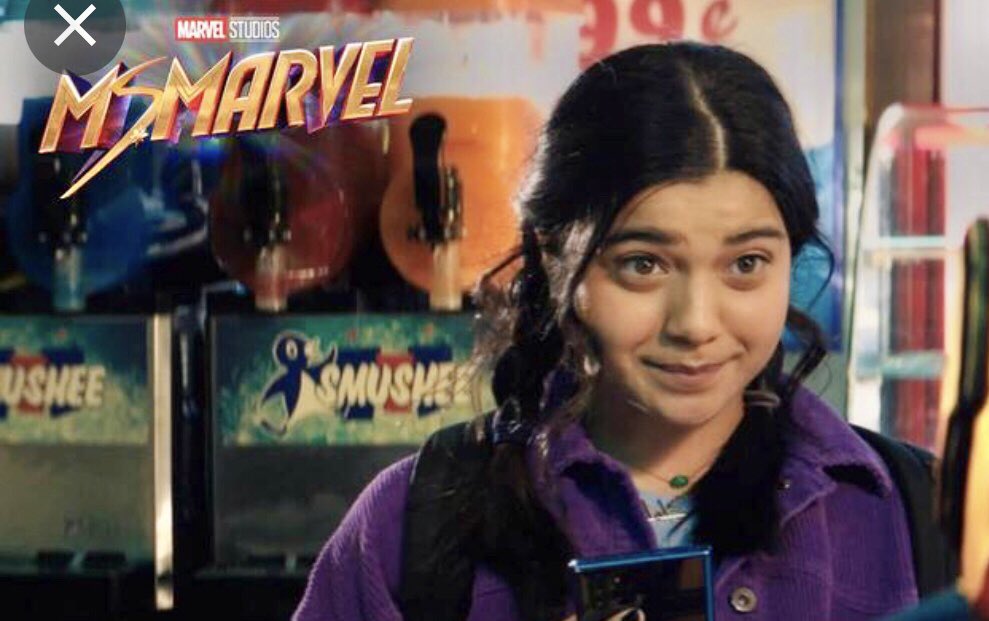 Actor Matt Lintz plays an excellent supportive best friend Bruno. When Kamala says "Let's be honest. It's not really the brown girls from New Jersey who save the world," he responds: "Sure they do. You're Kamala Khan. You wanna save the world? Then you're gonna save the world." He also programs an Alexa-style home security device to understand Urdu, much to Kamala's Dad's delight: it's magic!
Kamala's parents also do an excellent job being supportive and loving parents – a rarity in the MCU which has many orphans and single-parents. They are protective, but also open to compromise when they offer to chaperon Kamal in the Hulk and little Hulk suits.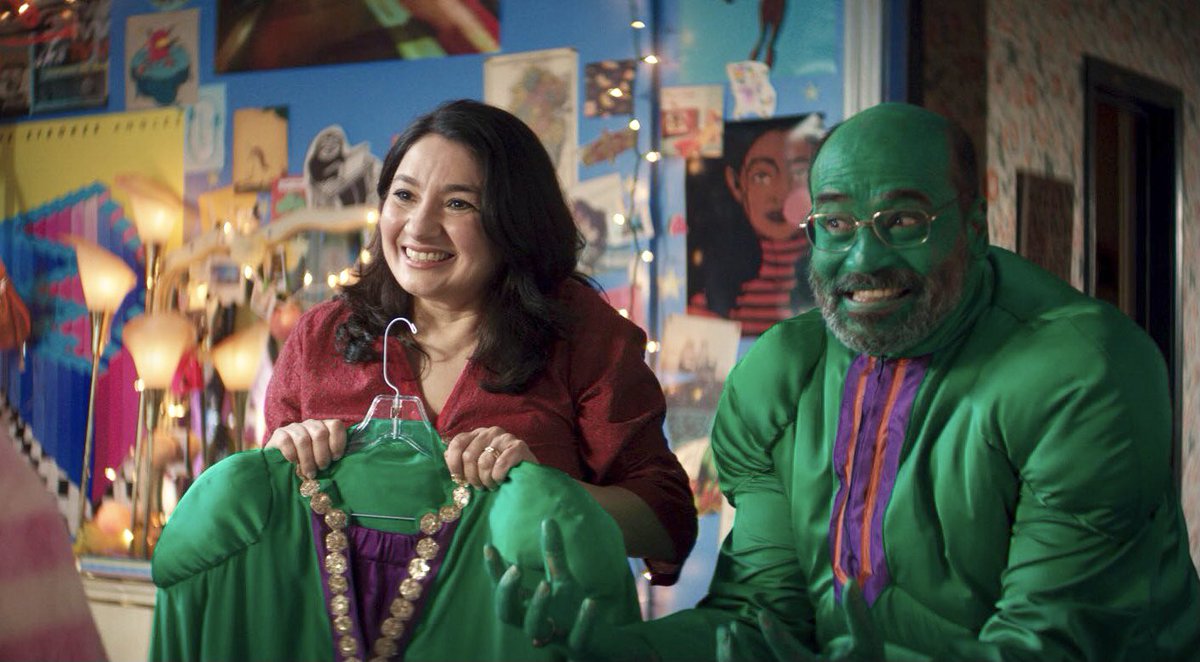 Desi Culture. Southeast Asian viewers have been social media praising the show for accurately depicting desi family dynamics. Many have said they finally feel seen on screen, from the way the family looks, to their family interactions, to the Urdu language sprinkled throughout, such as 'bismillah' and 'chill' (let's go).
Animation Style. Fans also love the little animations and camera work that visually represent Kamala's fantasy imagination of the world around her. The directors said they were trying to figure out how to represent this from the comics, and got inspiration from watching Spider-Man: Into the Spider-Verse. They decide to try to replicate that fast pace overlay-animation vibe in live action – and it works very well. Especially creative is a scene where Kamala and Bruno are texting. Instead of showing a phone screen or text-bubble pop-ups on the side of the screen, their texts become part of the background of the scene, from crosswalk signs to practical neon lights.
Music: The Weeknd's popular Blinding Light song plays during the Marvel logo intro, replacing the regular Marvel fanfare. It's an energetic way to start the episode, and the song itself was a trending song with a trending TikTok dance in 2020 –  perfect to help the younger teen target audience relate to the show. The score also includes hints of other superhero themes, like Captain Marvel and other heroes when they are referenced.
Overall the first episode is fun, establishes the characters, Kamala's powers, and sets up mystery to be solved: what is the source of the bangle power, and who are the legions of silhouettes she sees when her powers first manifest? Perfect episode 10 of 10 stars.
About Iman Vellani
In interviews, Iman had said and shown she is a total comics fangirl. She started reading mainstream Marvel comics like Iron Man, and then noticed someone who looked like her: Ms. Marvel on the shelves. She became an instant fan, buying back issues, and dressing up like Ms. Marvel.
Getting Cast: While Iman has volunteered for the TIFF film festival in Toronto, she has no acting IMDb credits. Her family isn't in entertainment and she had no agent or manager. Her aunt saw a casting call in a WhatsApp group, and sent  it to her. Iman sent in a self tape, got a call from Marvel two days later, and a week after that, flew to LA for auditions and meetings with MCU casting director Sarah Finn and MCU head Kevin Feige. Later, Iman found out she got the job on her last day of high school.