Nichelle Nichols, known for her pioneering role as Lt. Uhura on the original Star Trek, was honored with a memorial flower ceremony at her Walk of Fame star on Monday August 1. Most attendees transported there thanks to Uhura's specialty: Communications, aka social media, via the Star Trek fan-run LA Away Team Facebook group, showing the power of fan Facebook groups to mobilize for action.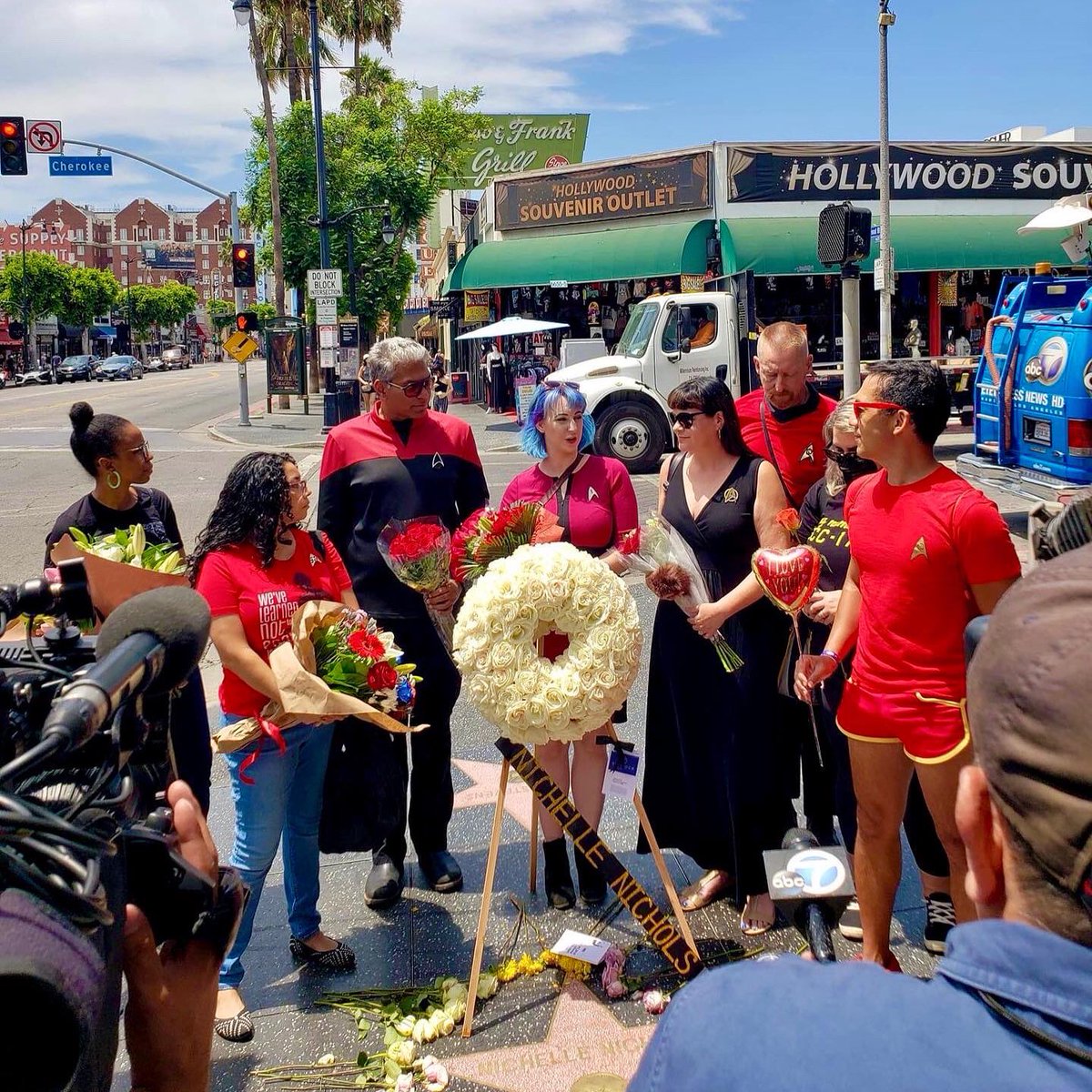 It was announced that Nichelle Nichols passed away due to natural causes at her home on July 30. She was 89.
The flower ceremony event was covered by local and international news crews.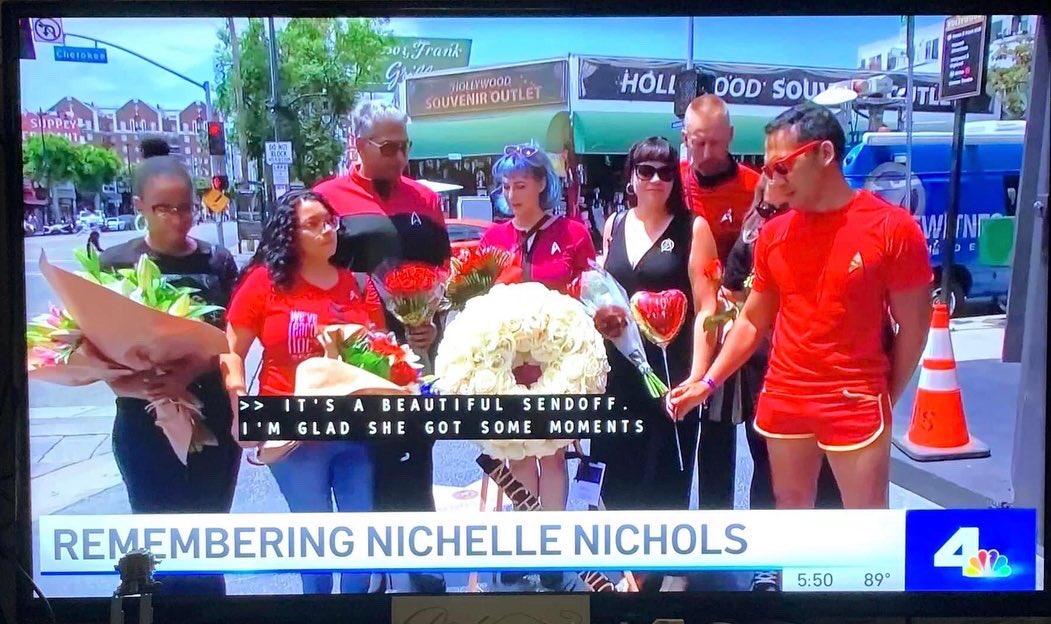 The LA Away Team Facebook group, with more than 700 members on board, is the local LA chapter of the worldwide Away Team Facebook group. Helmed by captain admins Yez, Shiri, and others, the LA chapter typically hosts meet ups at SoCal space and pop culture events and conventions like WonderCon. For example, several gathered at Yuri's Night space celebration at the California Science Center in the spring (see our Yuri's Night article). And more than a dozen members were invited to attend the Fandom party at the Hard Rock during San Diego Comic-Con a few weeks before (see our SDCC article).
When news of Nichelle's death was released on Sunday July 31, LA Away Team members instantly posted links to news articles about it, sharing their condolences, stories and photos with Nichelle and conventions.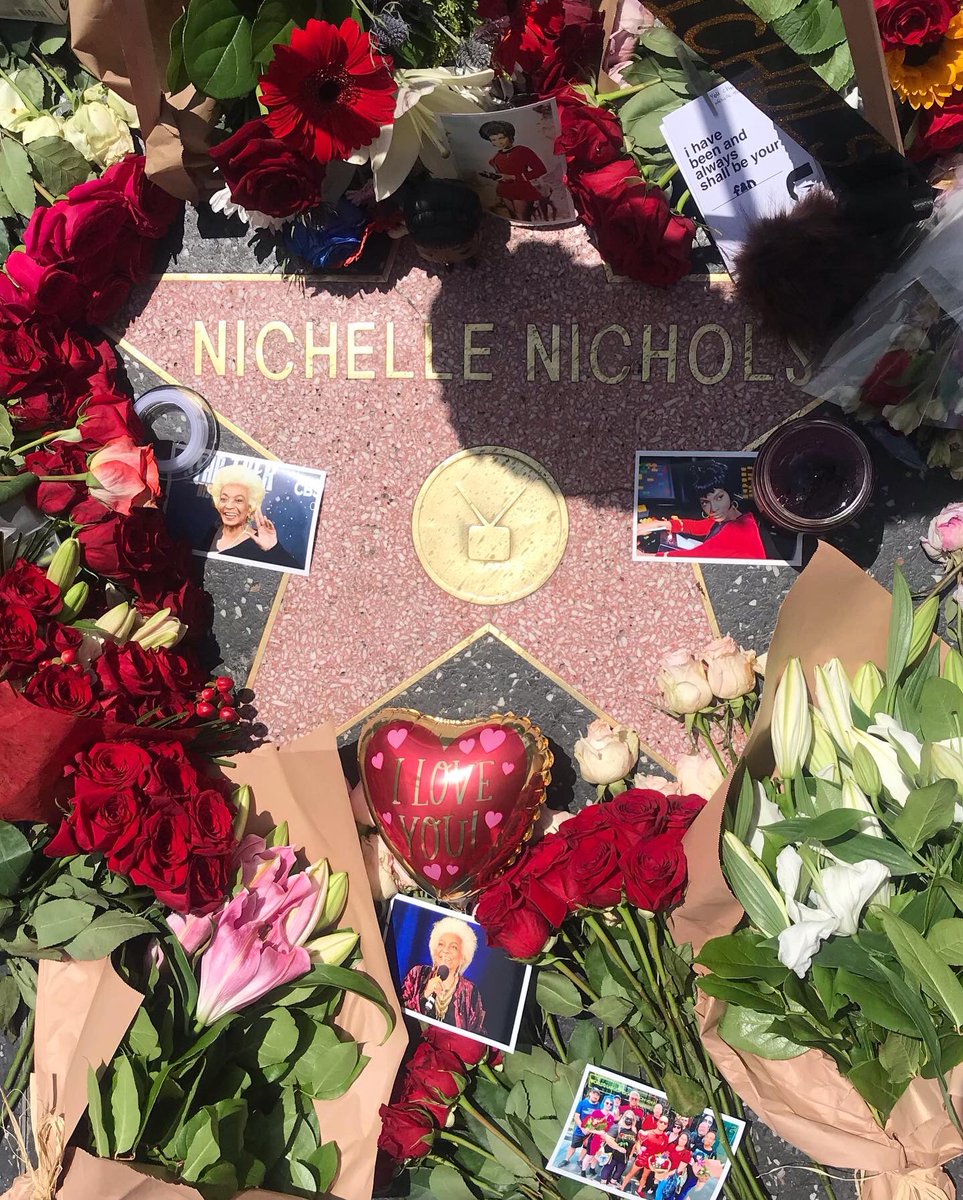 Then, new member and Digital LA founder Kevin Winston posted a screenshot he had seen posted by the Hollywood Walk of Fame Twitter, announcing that Nichelle Nichols' flower ceremony would be held the next day, Mon Aug 1, 1p. Winston encouraged fellow group members to attend, bringing flowers and memorabilia.
LA Away Team members did, beaming there in force with cosplay, photos of Nichelle, her Uhura Funko Pop, and even a tribble in honor of her tribble episode.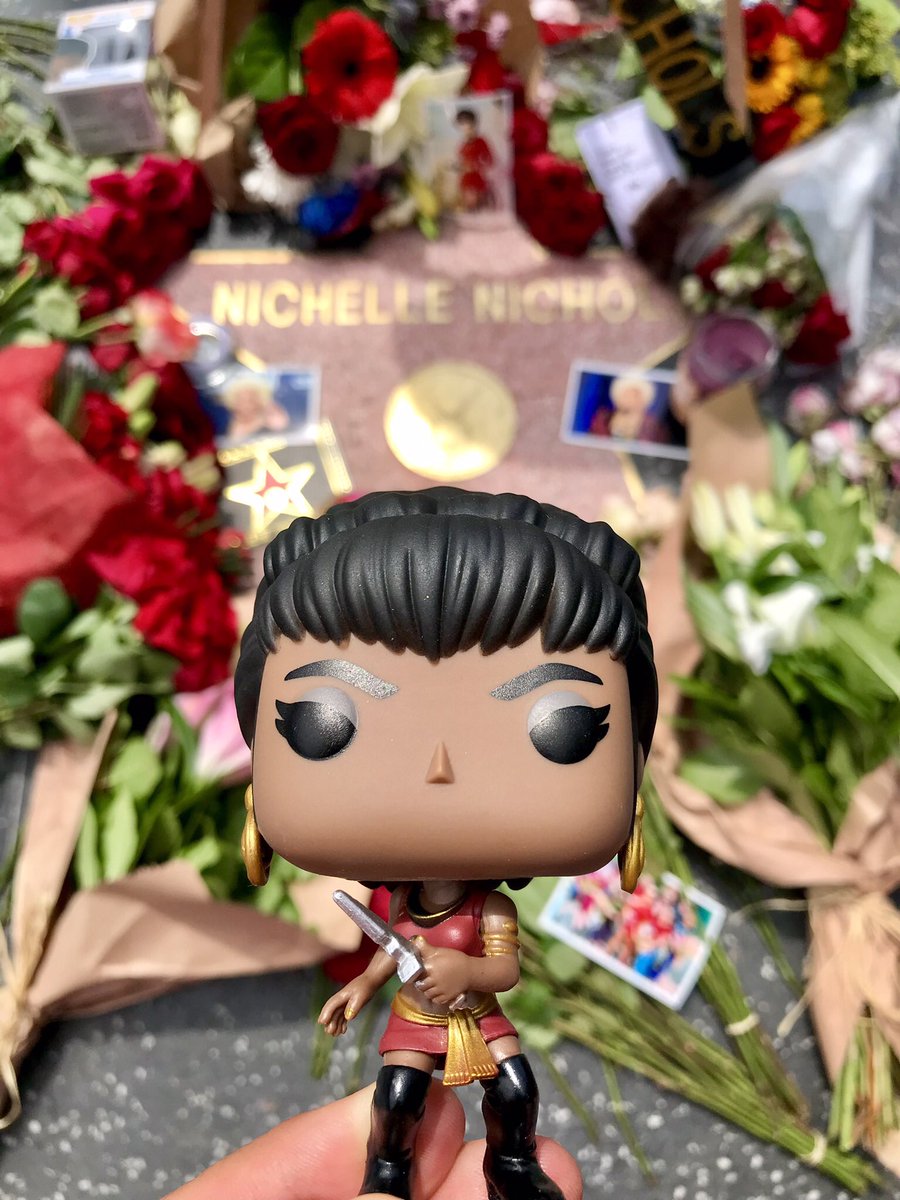 Several attendees gave stories of how Nichelle impacted them whether on screen as Uhura, her activism afterwards, or personal stories from their interactions with her at conventions or knowing her. Then attendees observed a moment of silence, and concluded with giving Spock's Live Long and Prosper salute. Winston impromptu MC'd the ceremony.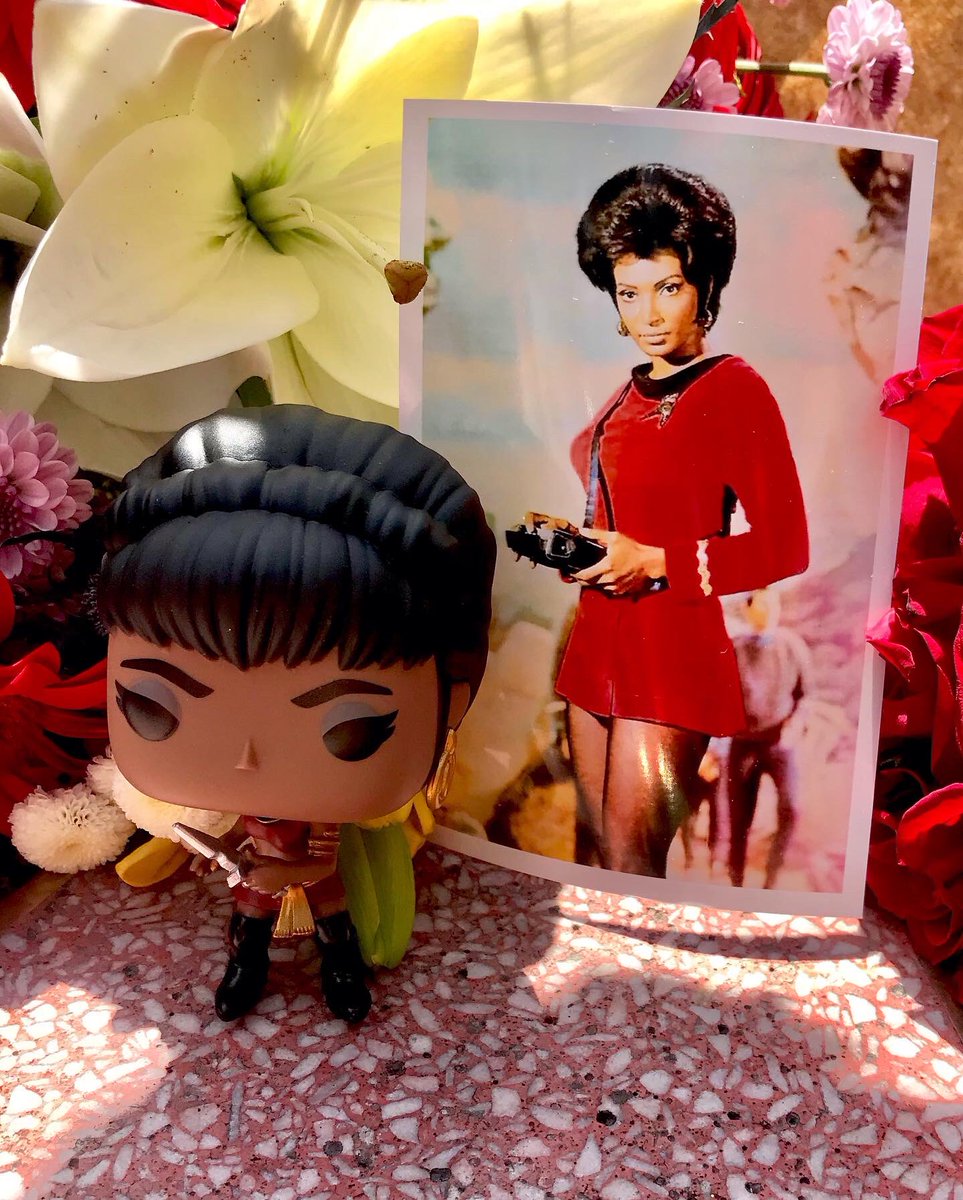 LA Away Team admins Yez Ze Masc and Shiri Mandava attended. Yez answered media questions, speaking about the Nichols' cultural impact.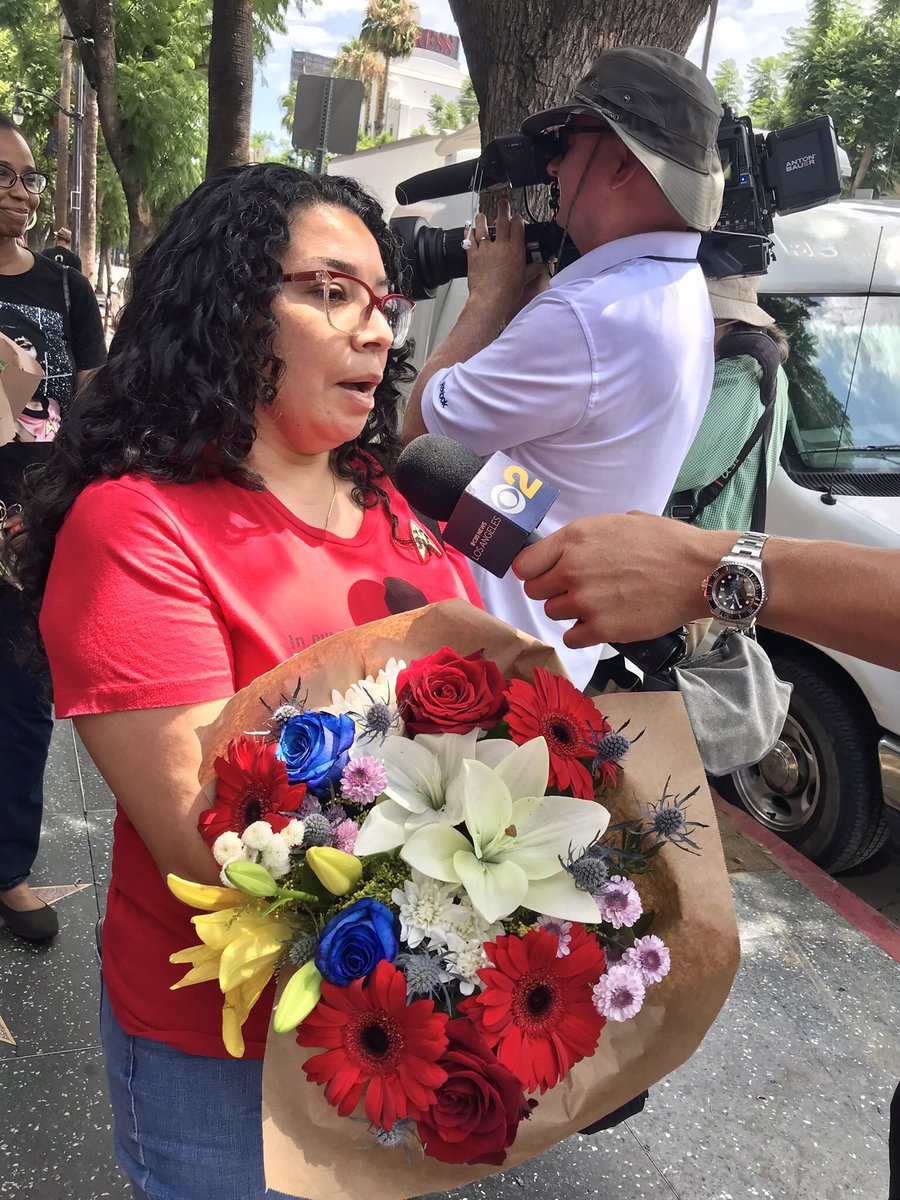 Local news crews ABC, NBC and media covered the event, recognizing such a legendary icon. The @NichellNicholsOfficial Instagram posted several photos of the ceremony.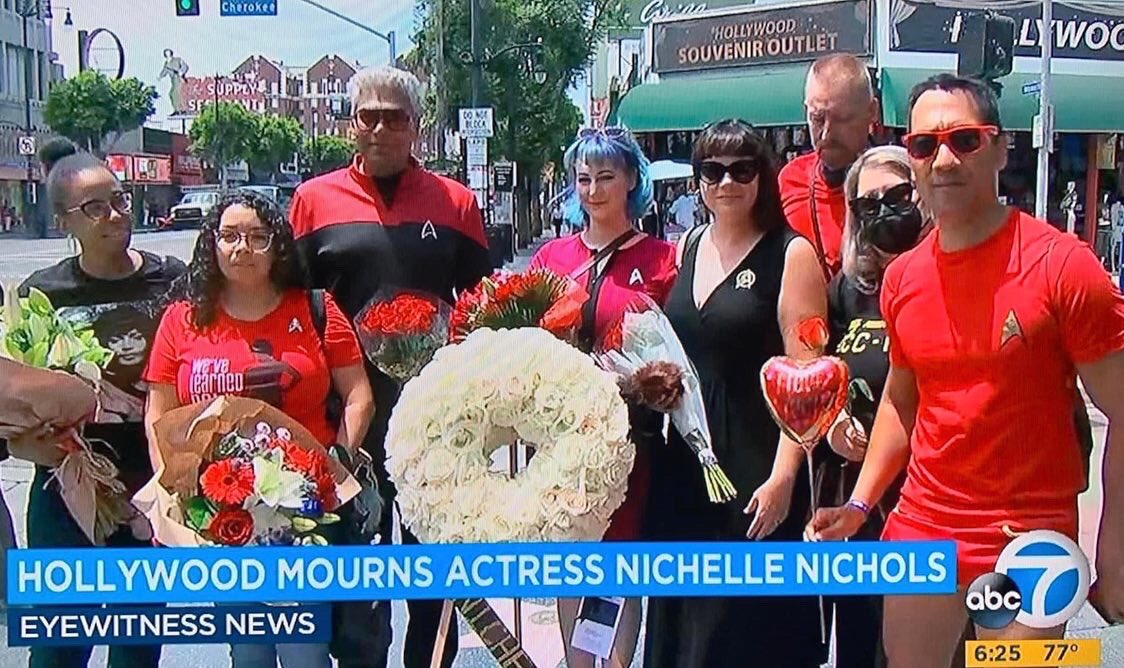 Facebook pop culture  fan groups, created and run by fans, have exploded in membership and engagement during the past two years, as fans seek other fans to talk about the show, analyze new content, debate fan theories, hold online events, and in this case, rally to support an iconic legend.