New York Comic Con returned in-person with a surprise Ghostbusters Afterlife screening, Star Trek events, anime, vendor booths, and of course lots of cosplay on October 7-10 and the Jacob Javits Convention Center in New York City.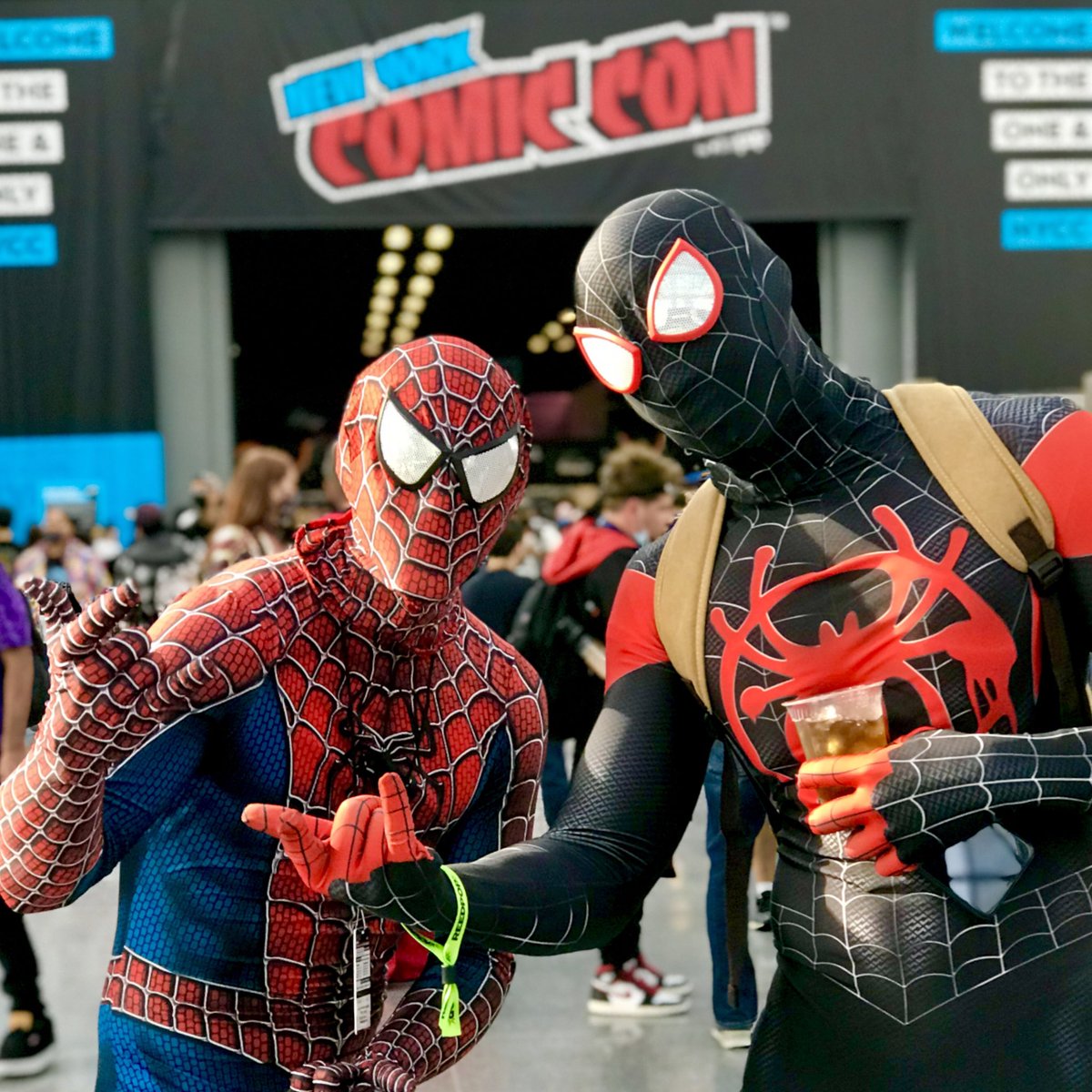 More than 150,000 people attended this year's 2021 show, reflecting a reduced capacity from the 260,000 fans who attended the 2019 show, said organizer ReedPop. The 2020 show was skipped due to covid.
Smaller crowds resulted in some benefits, several attendees commented on Twitter and the official NYCC Facebook group. There were fewer sold out shows, and shorter lines for registration, entry gates, panels, and food court vendors. And easier to walk around the convention hall and show floor without getting whacked by wings or other cosplay accessories. Attendees had to show vax-proof to attend, and wear masks indoors. Several panels were held virtually.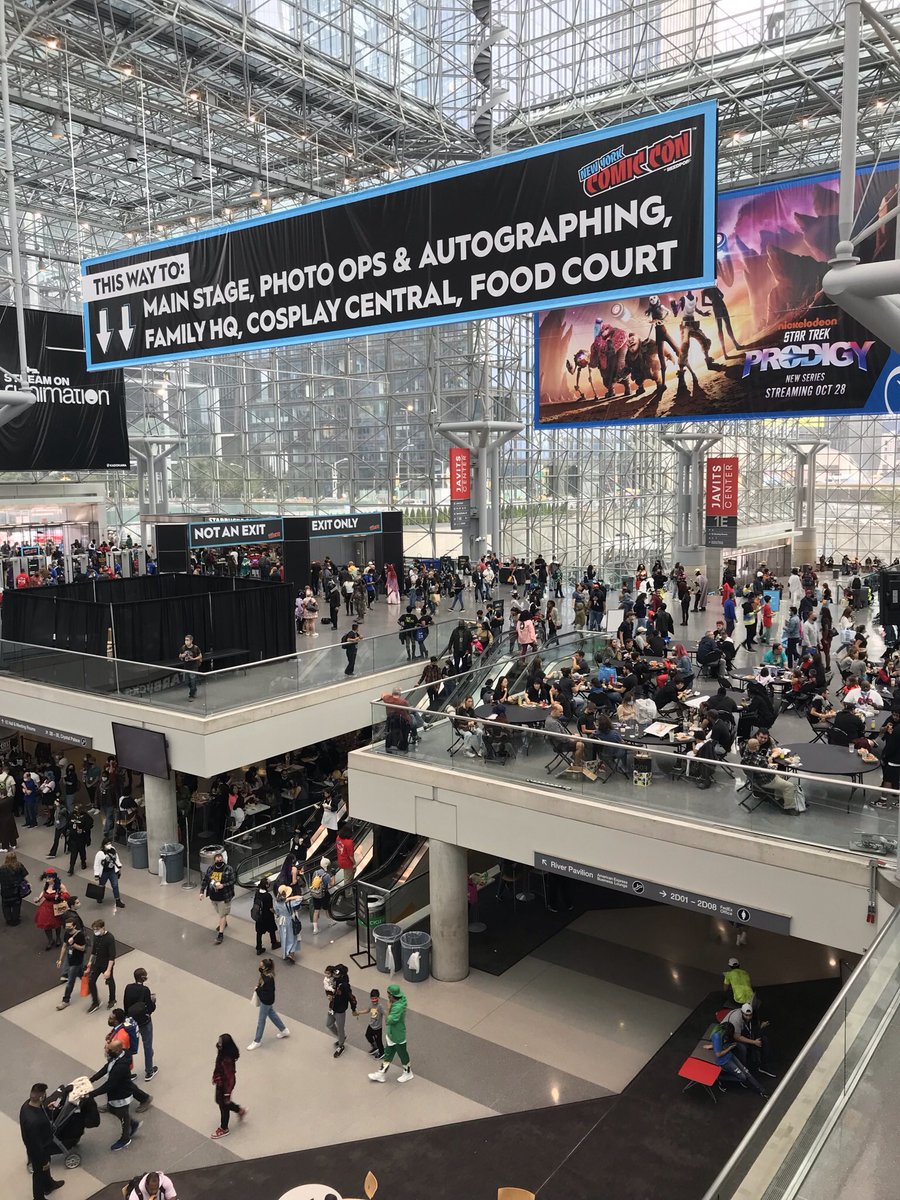 HIGHLIGHTS
Ghostbusters: Afterlife premiered on Friday night. The director of the first Ghostbusters film Ivan Reitman appeared on stage with his son, the director of Ghostbusters: Afterlife to briefly discuss the film. Then as Ghostbusters is set in NY, which is almost like a character in the film, they invited lucky audience members to watch a surprise advance screening for NYCC audiences only – even before many of the cast had seen the film. Ghostbusters fans, many who attended the panel in full Ghostbusters cosplay and shirts, said they loved it for its action and humor, and more than does the original justice.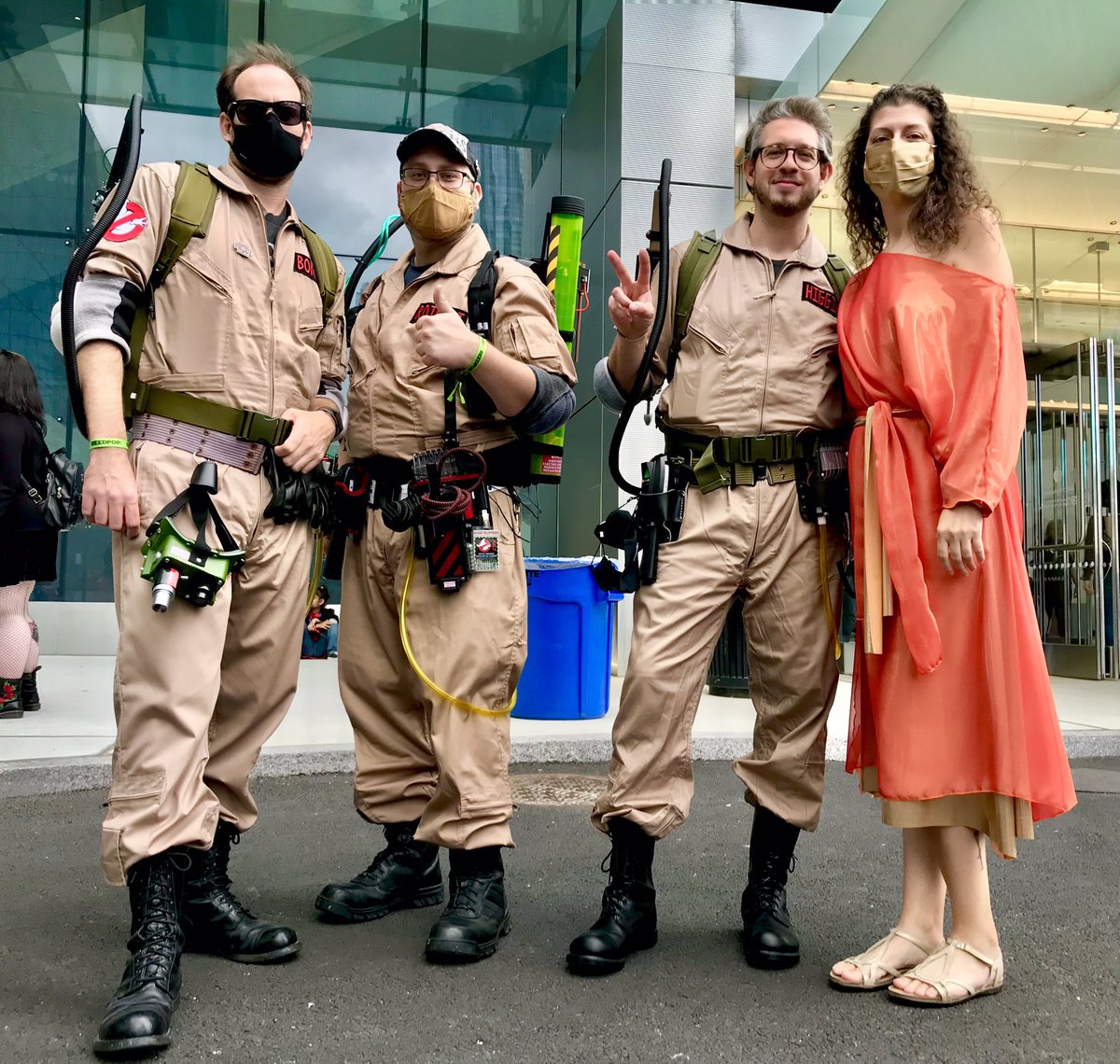 William Shatner took the stage on Thursday to hang out with fans, and talk about his upcoming space walk. It's very appropriate and symbolic for Shatner, best known as Star Trek's Captain Kirk, to go on a civilian space walk. At 90 years old, he's the oldest person to boldly go where few have gone before. On the NYCC stage, he said he was a little nervous with space jitters before his jaunt on the Blue Onion less than a week later on October 13.
Afterwards, he said that his short 10 minutes in space "moved me to tears" and changed him profoundly. "I was overwhelmed with the experience." He said breaking breaking through the thin onion layer of the Earth's atmosphere at 5Gs, and thrust into  the darkness of space represnting death, he looked down to see the blue orb of Earth representing life, making him further realize the importance of protecting our fragile planet Earth and environment.
Star Trek Prodigy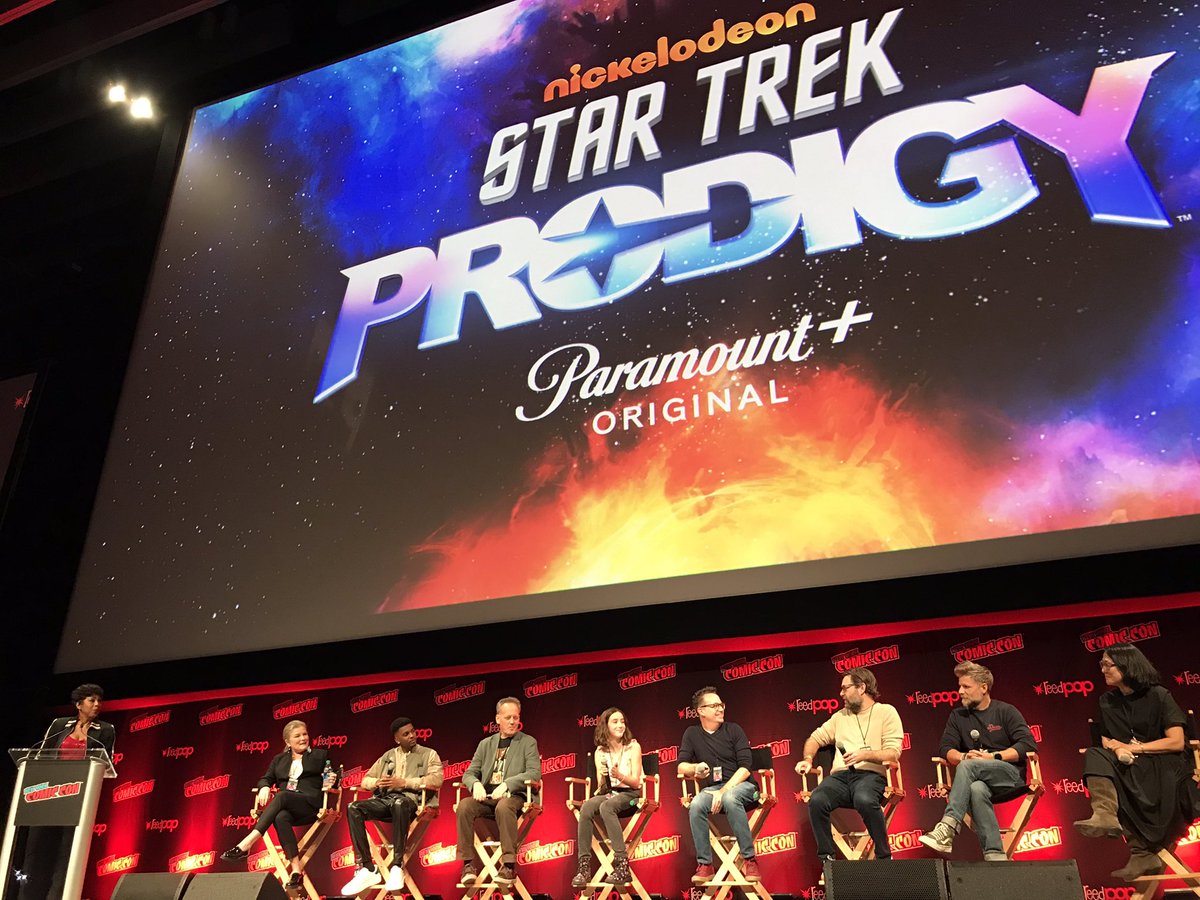 Another Star Trek captain, Kate Mulgrew who played the first woman Captain Janeway on Star Trek Voyager, joined the cast on stage at Paramount+ Star Trek: Prodigy premiere and panel on the Empire Stage. she voices Captain Janeway on the show. Fans got to watch the first episode of the upcoming animated Star Trek: Prodigy, which releases October 28 exclusively on Paramount+. The premiere features alien teen Dal (Brett Grey) escaping a mining planet, befriending a rocky Rok-Tahk (Rylee Alazraqui), a purple ditto-like blob (Dee Baker), discovering a starship with a hologram Captain Janeway (Kate Mulgrew) to guide them.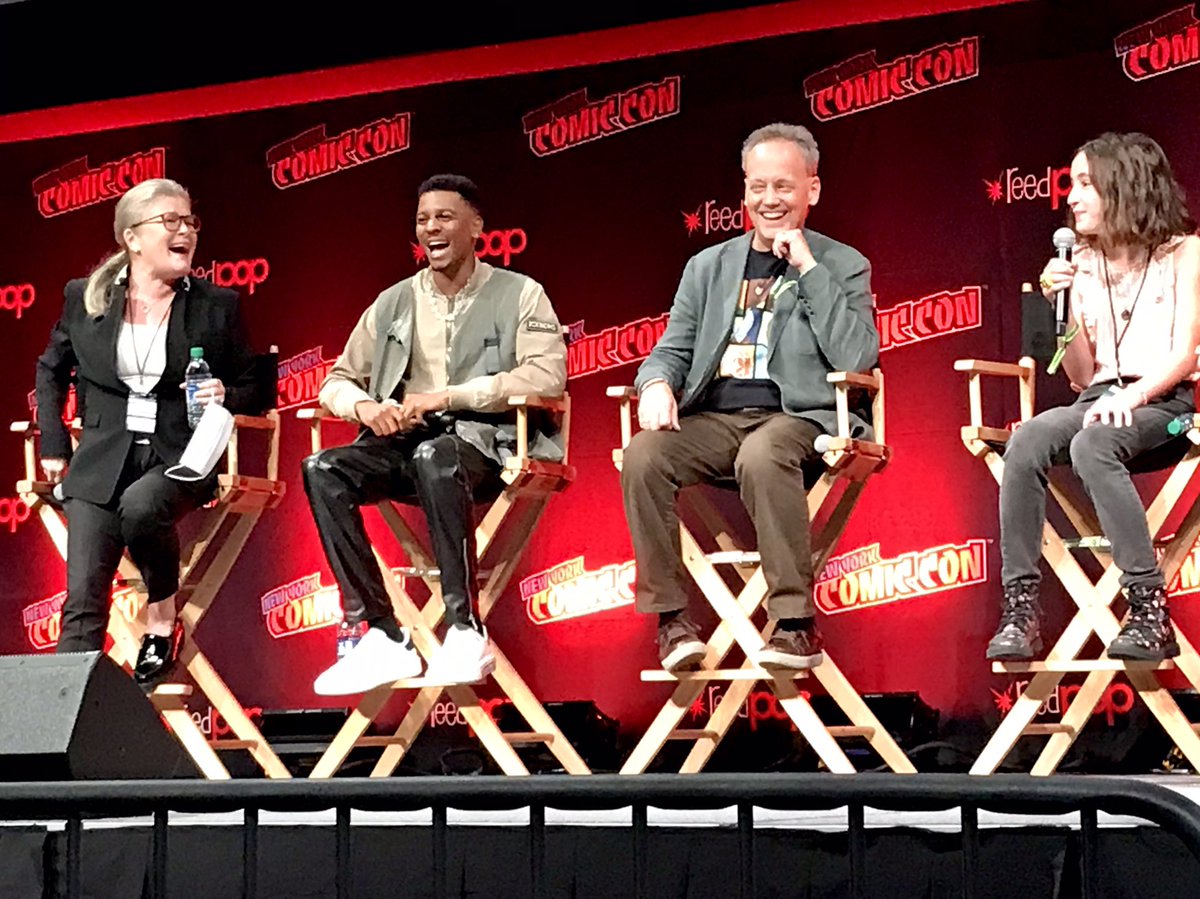 At the panel, the show creators said they wanted to create a Star Trek series for kids and new audiences not familiar with all the Star Trek lore and history to enjoy. Kate Mulgrew said she was thrilled to be a part of the show to reach both kids and adult fans and help them explore the world of Star Trek.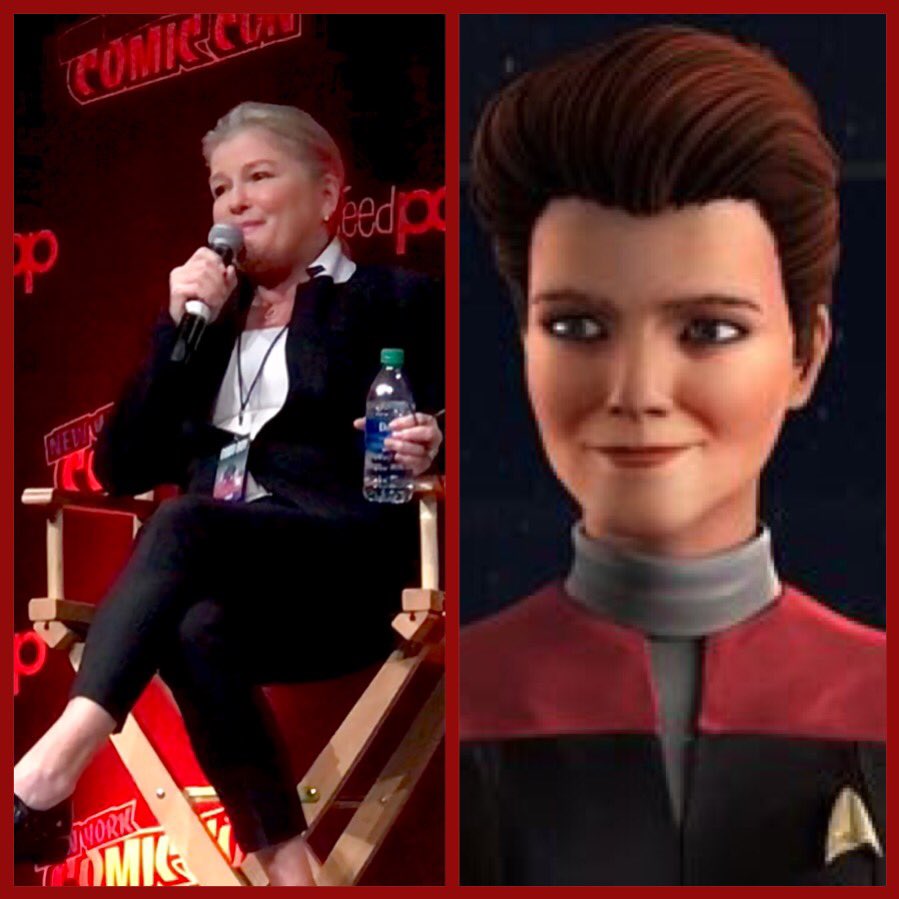 Star Trek: Prodigy was featured at the Paramount+ booth at an entrance to the show floor, where attendees could sit in the captains chair, to be digitally interested into a photo with the animated cast.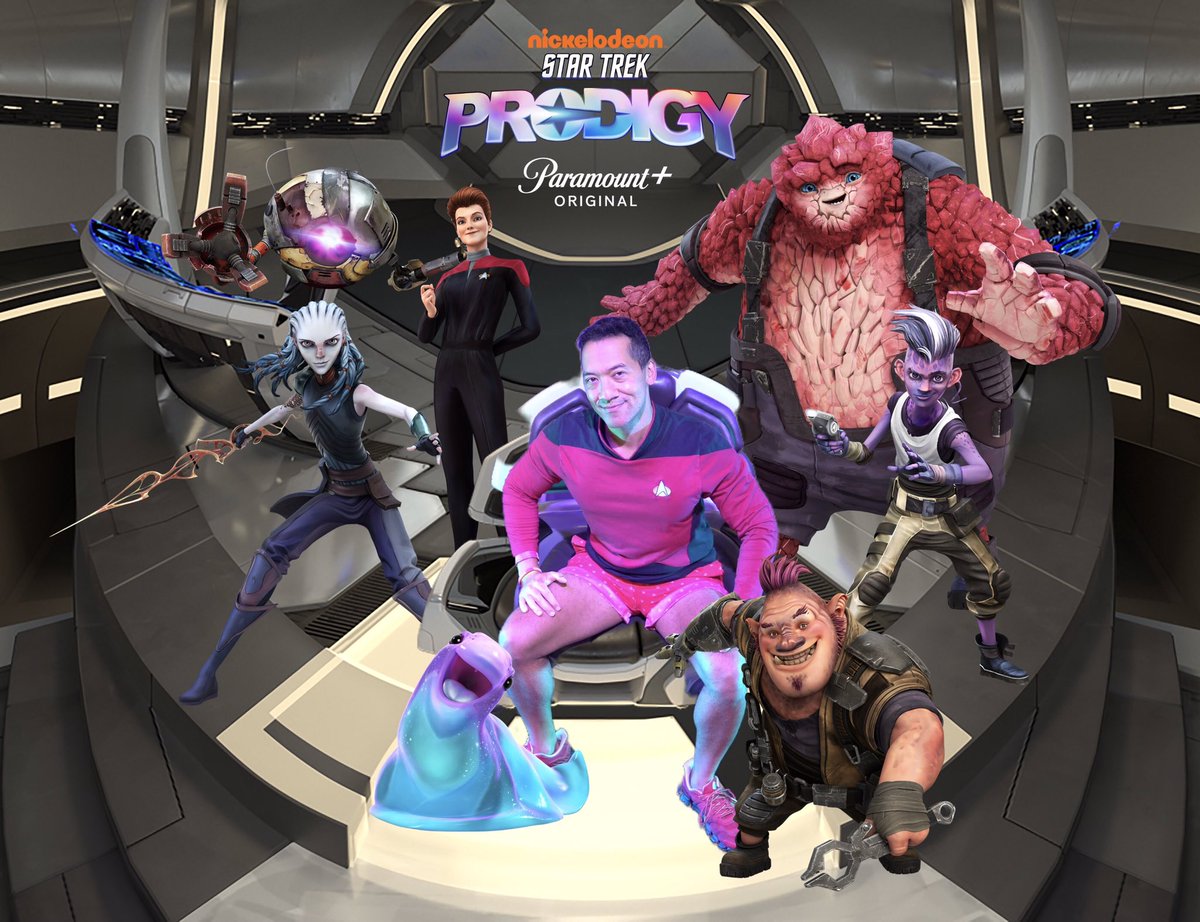 Fans could also use their arms to play three gesture-controlled space-themed video games.
Demon Slayer: Mugen Train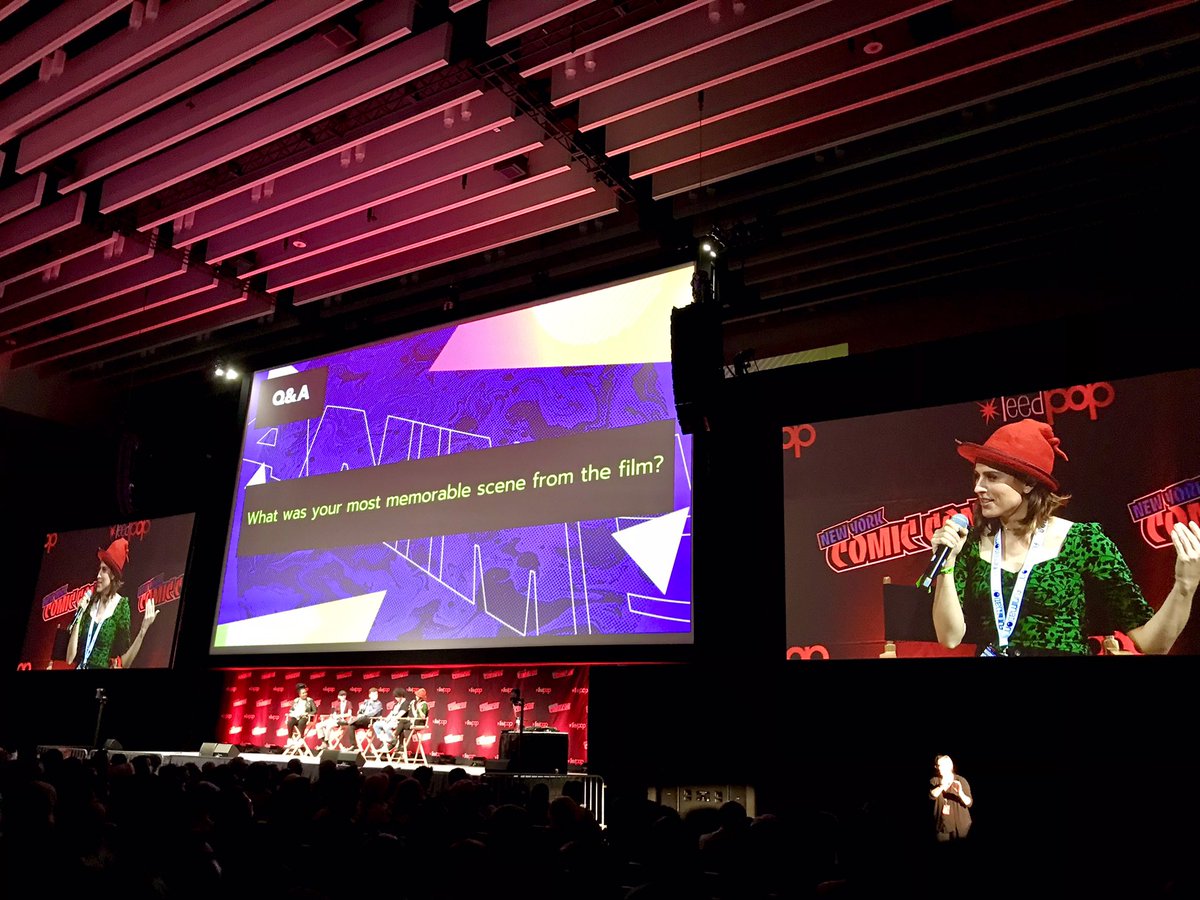 The cast of Demon Slayer: Mugen Train discussed the film and incredible fan support on the Empire Stage. The movie which was released in theaters in 2020 streams online on Funimation on October 10.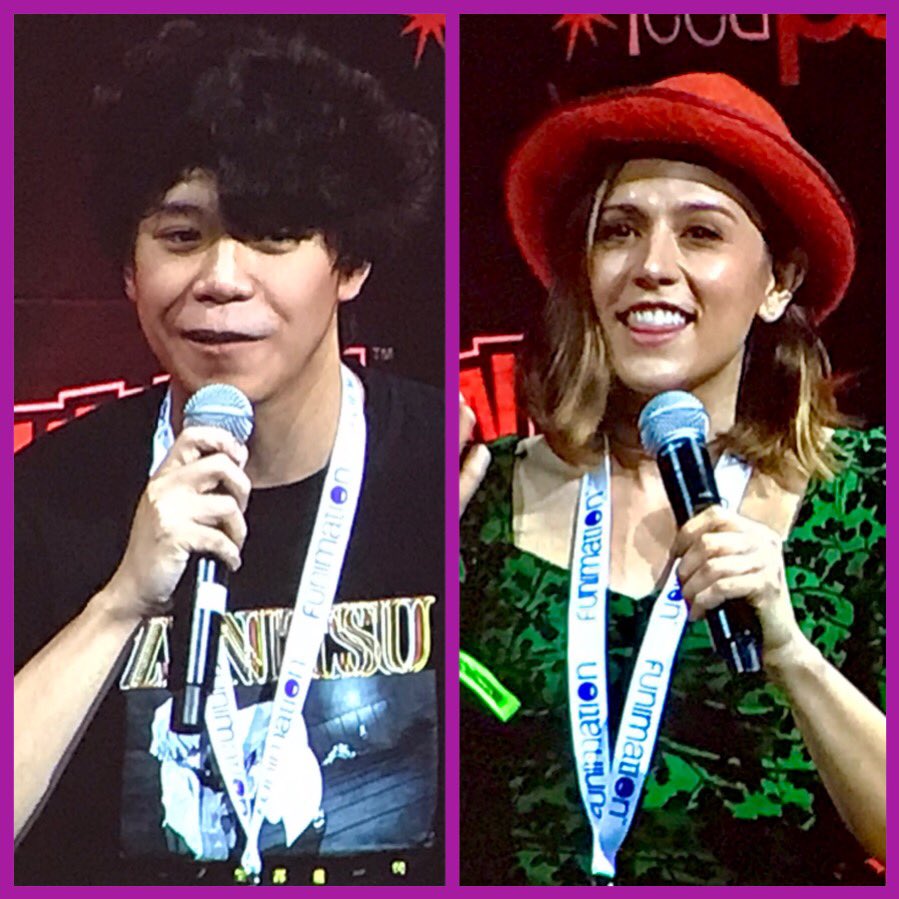 HARVEY AWARDS
The Harvey Awards recognizing excellence in comics, and were held entirely virtually. The 2021 Harvey Awards honored five Hall of Fame recipients: legendary manga artist Rumiko Takahashi (Urusei Yatsura, Inuyasha), renowned horror illustrator Bernie Wrightson(Swamp Thing), painter and cover artist Jeffrey Catherine Jones, award-winning comic book artist Barry Windsor-Smith (Conan the Barbarian, Weapon X), and Michael Kaluta (The Shadow, Starstruck).
PANELS
Fans attended dozens of panels every day in 16 tracks, from Film/TV, Anime, and more to Broadway and Wrestling.
Chris Claremont. X-Men legend writer Chris Claremont, known for writing the X-Men's favorite storylines and characters, answered fan questions at a panel. He said that Storm has always been strong, from her scrappy street-thief youth, to goddess of weather, to powerless punk Storm team leader. He was also asked what film adaptation of his stories was the worst. He responded: "Well, there's X3" and Age of Apocalypse: "If at first you don't succeed, you can F it up again.'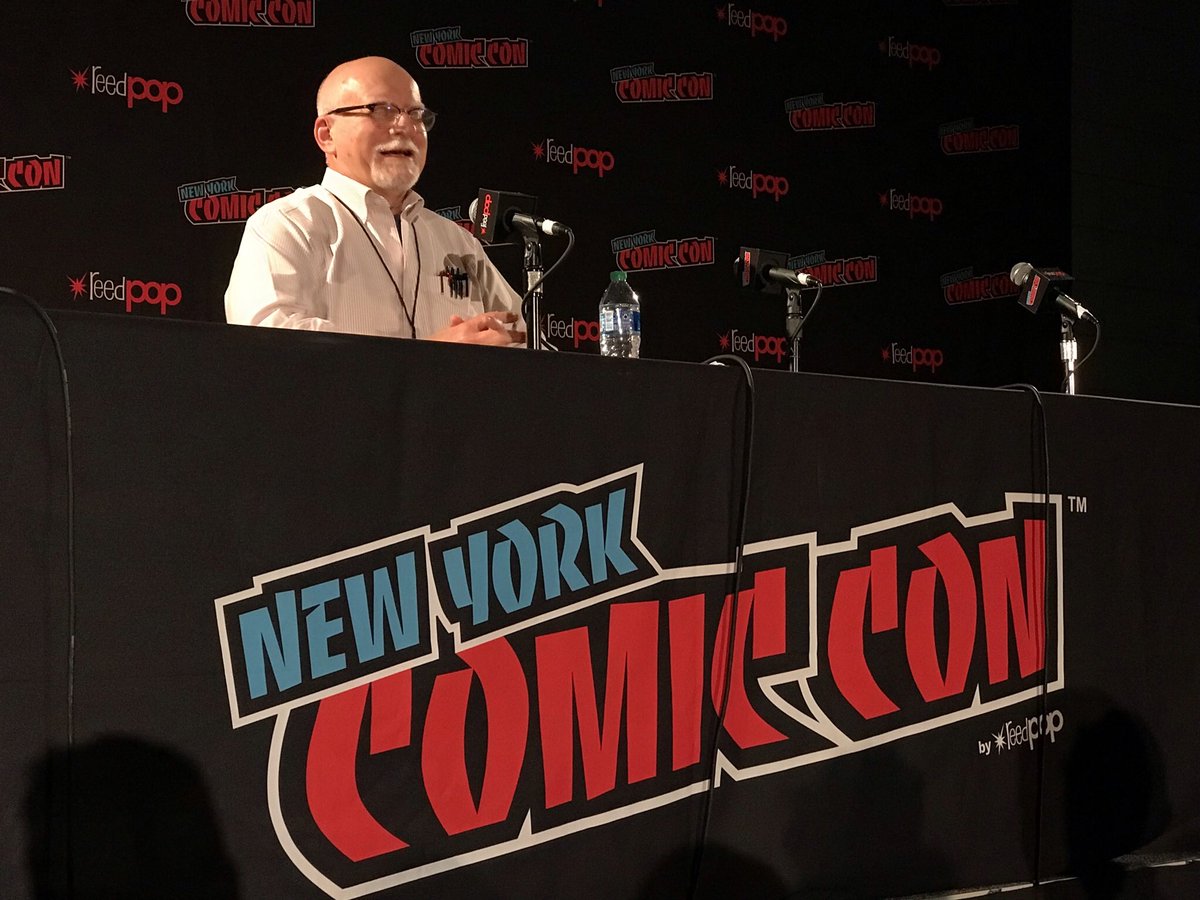 Comics and Hollywood: What Creators Need to Know. Publishers and experts discussed what comics creators need to know to advance in Hollywood. Tips include: communicate your idea clearly, good elevator pitch – Content is biz: be on time, professional. Be persistent and Network said Fred Pierce of Valiant Comics. Be honest and direct said Lee Kramer of After Shock Comix.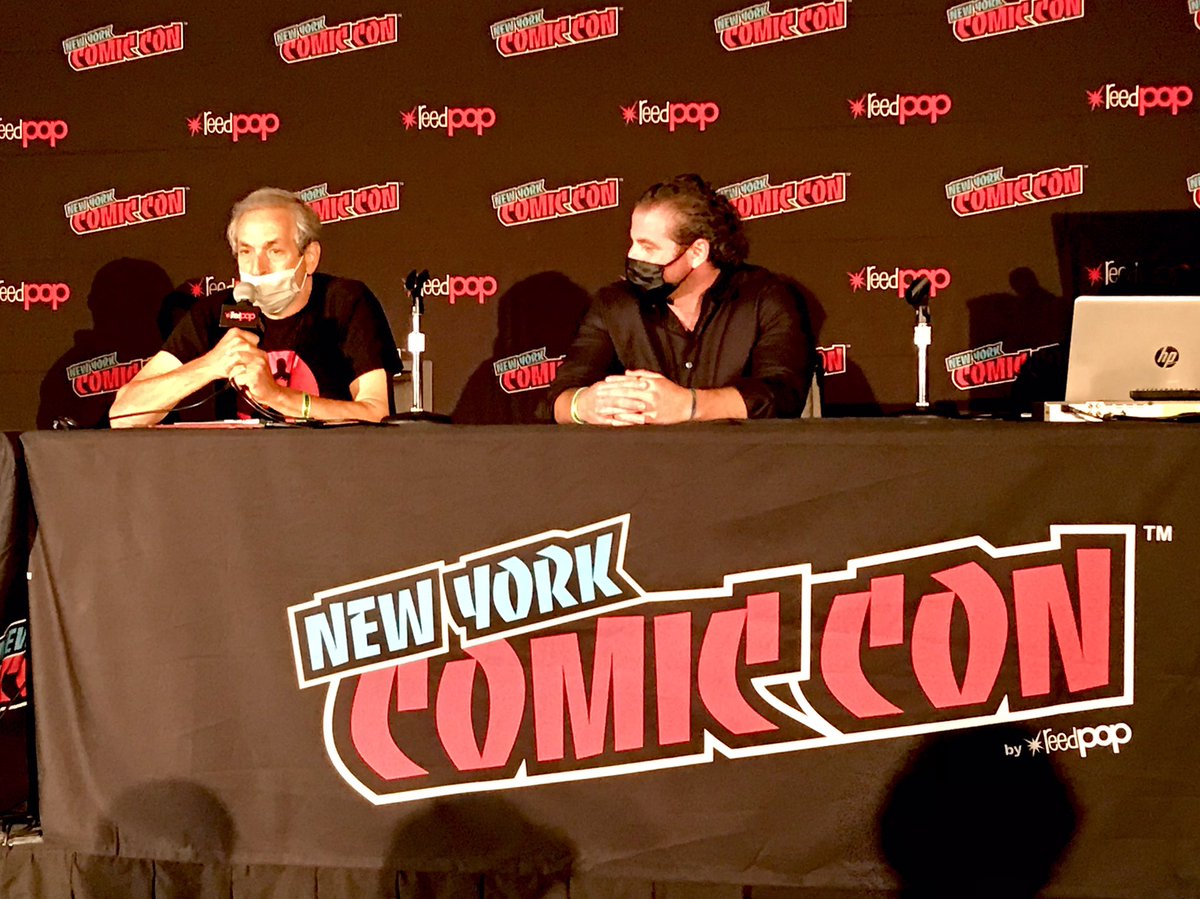 Cosplay Panel: Several cosplayers gave fans tips on how to get started and advance in their cosplay. Just get started with a character you resonate with. For foam/ armor: get a 3D printer to make your own costume / accessories. Find others online via IG, FB groups, Tiktok and connect w community Amazing attendee cosplay!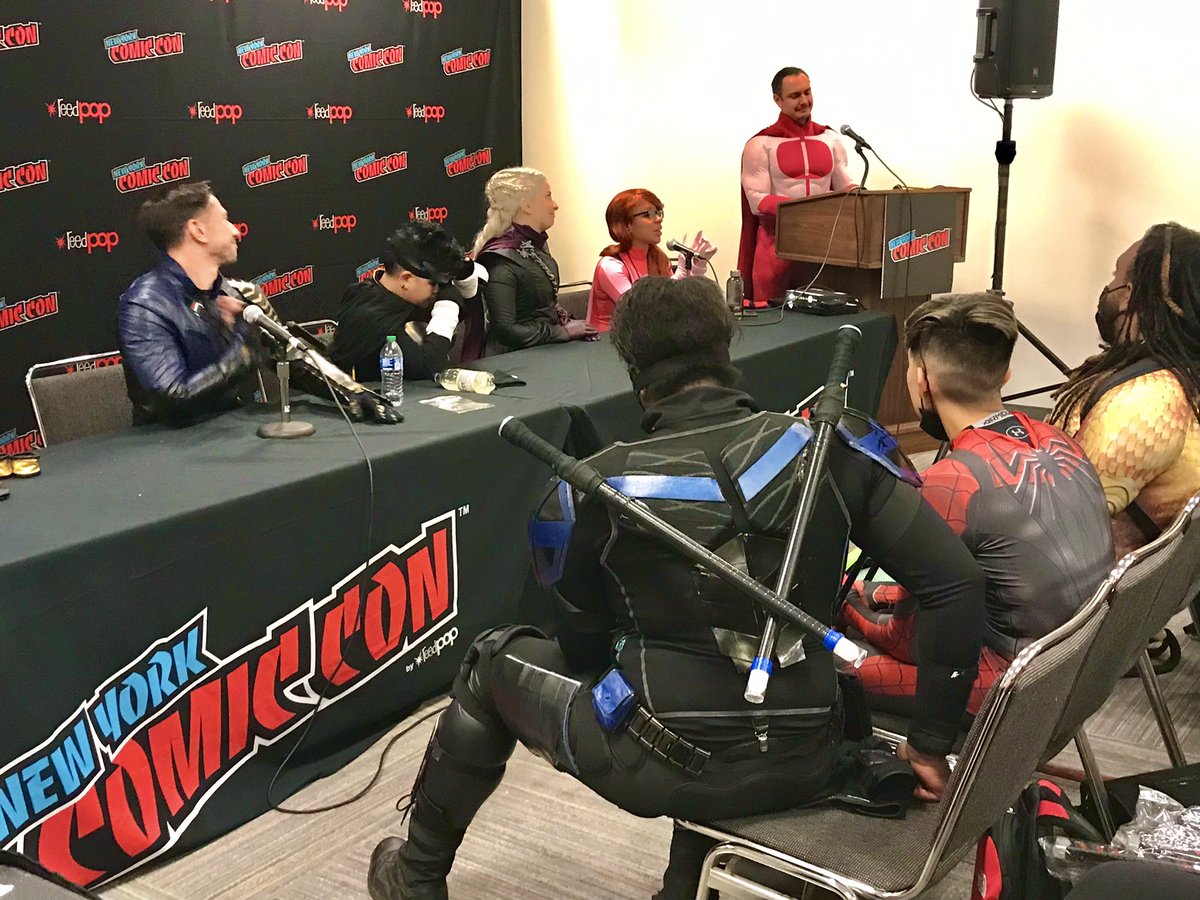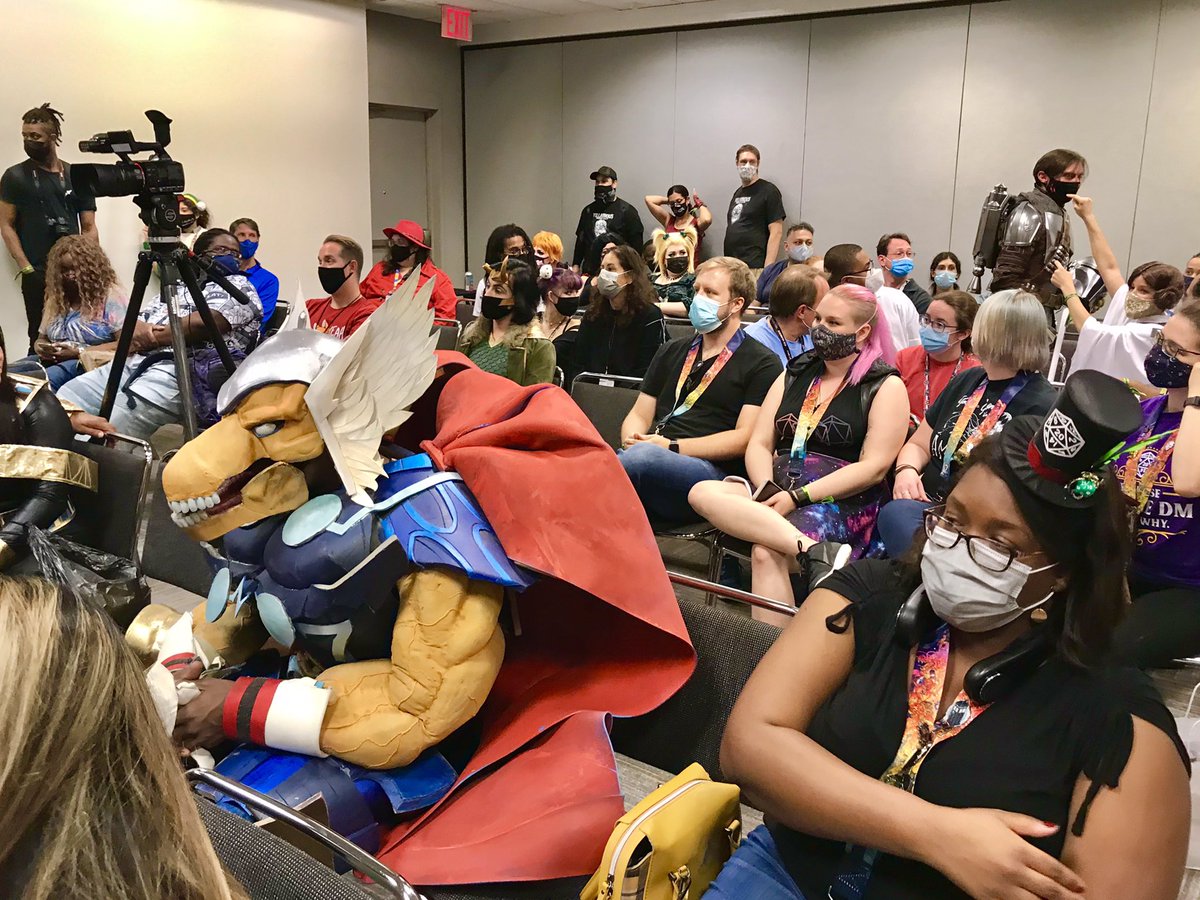 DC Community Meetup
We rallied a group photo of panelists and attendees in DC cosplay.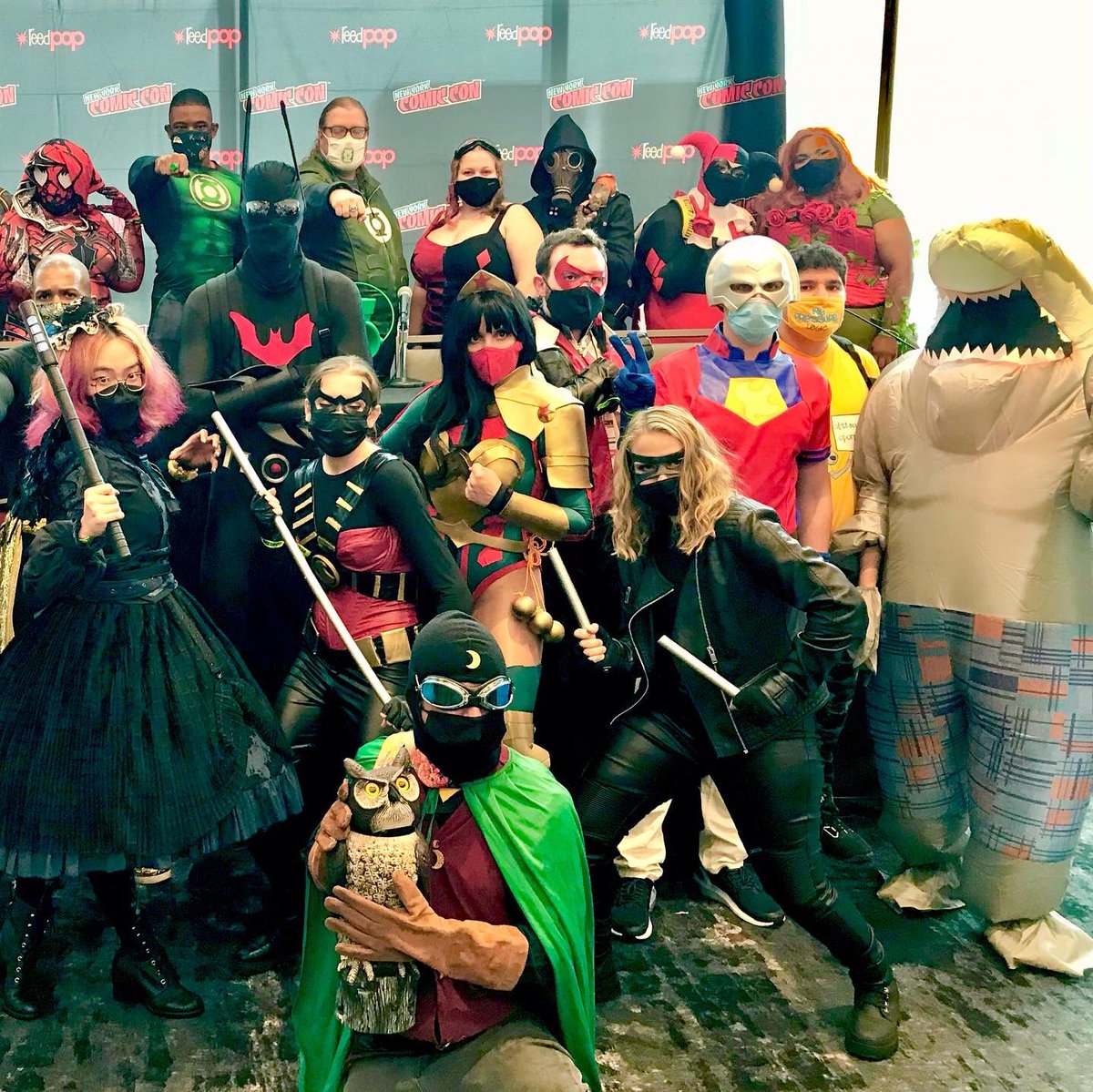 Cosplay
Spider-Man is a perennial favorite at New York Comic Con, home of Spidey.
Loki variants were very popular on the show floor.
At the Marvel community meet up, we organized an Avengers Assemble style setup in the style of the 90s-era character posters with dozens of heroes.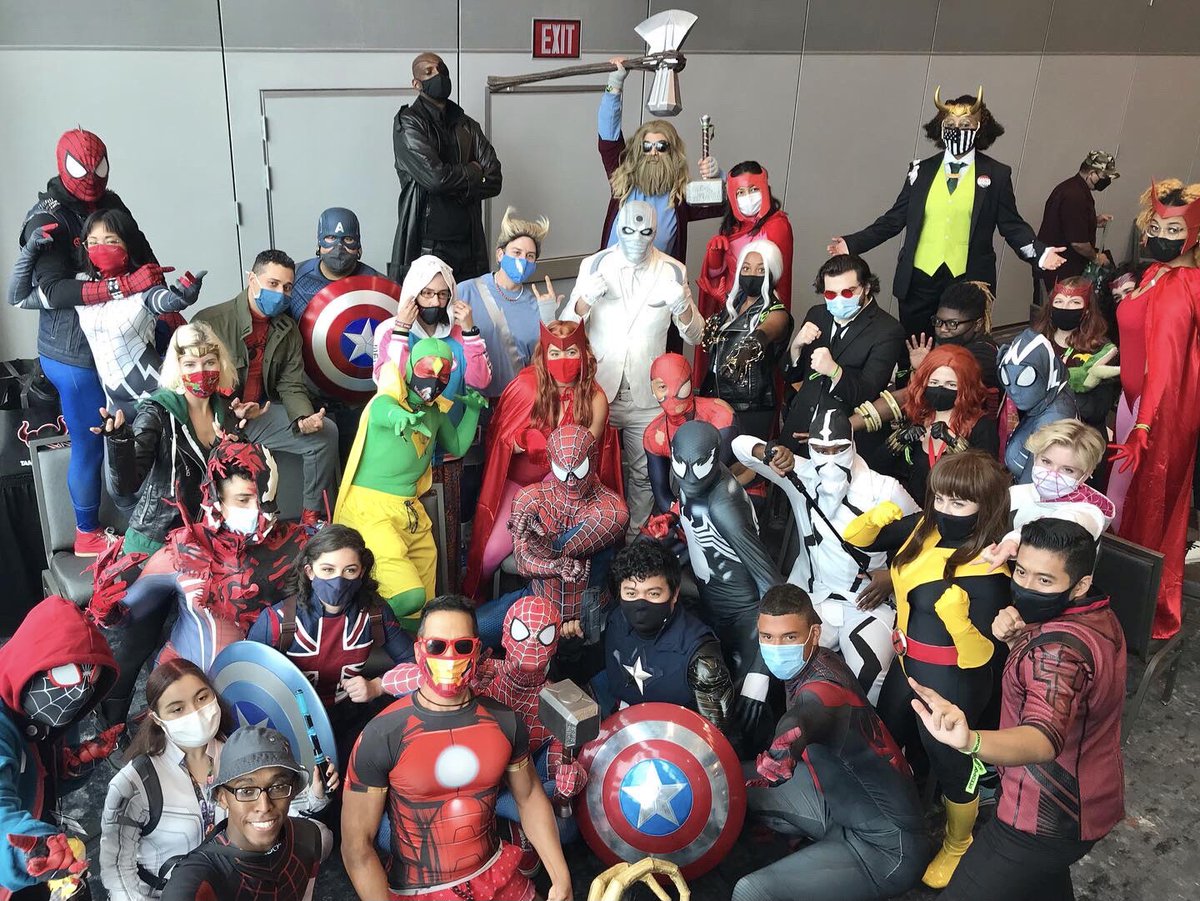 Bishop spotted shirtless. It's a lewk he should keep in the comics!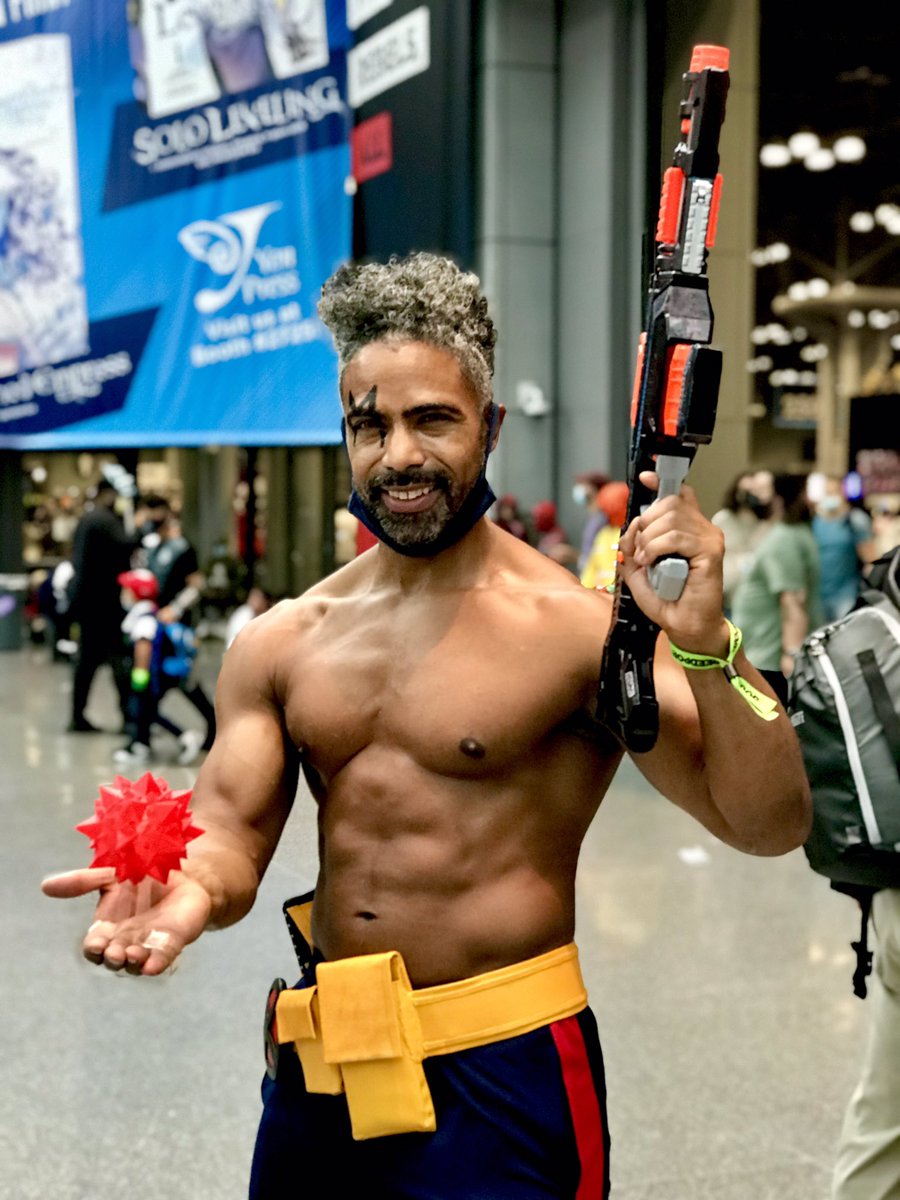 Ghost Rider spotted blazing around Artist Alley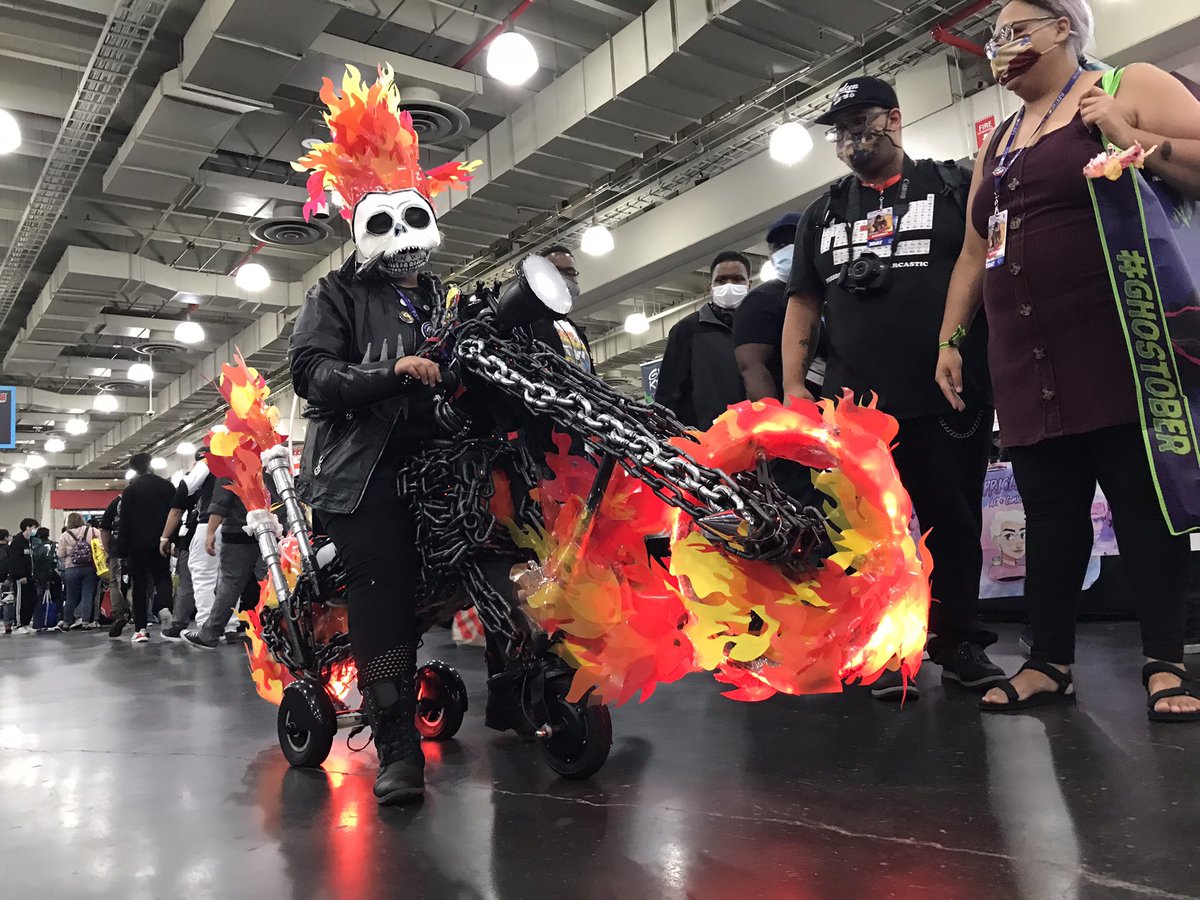 Fantastic Four and WandaVision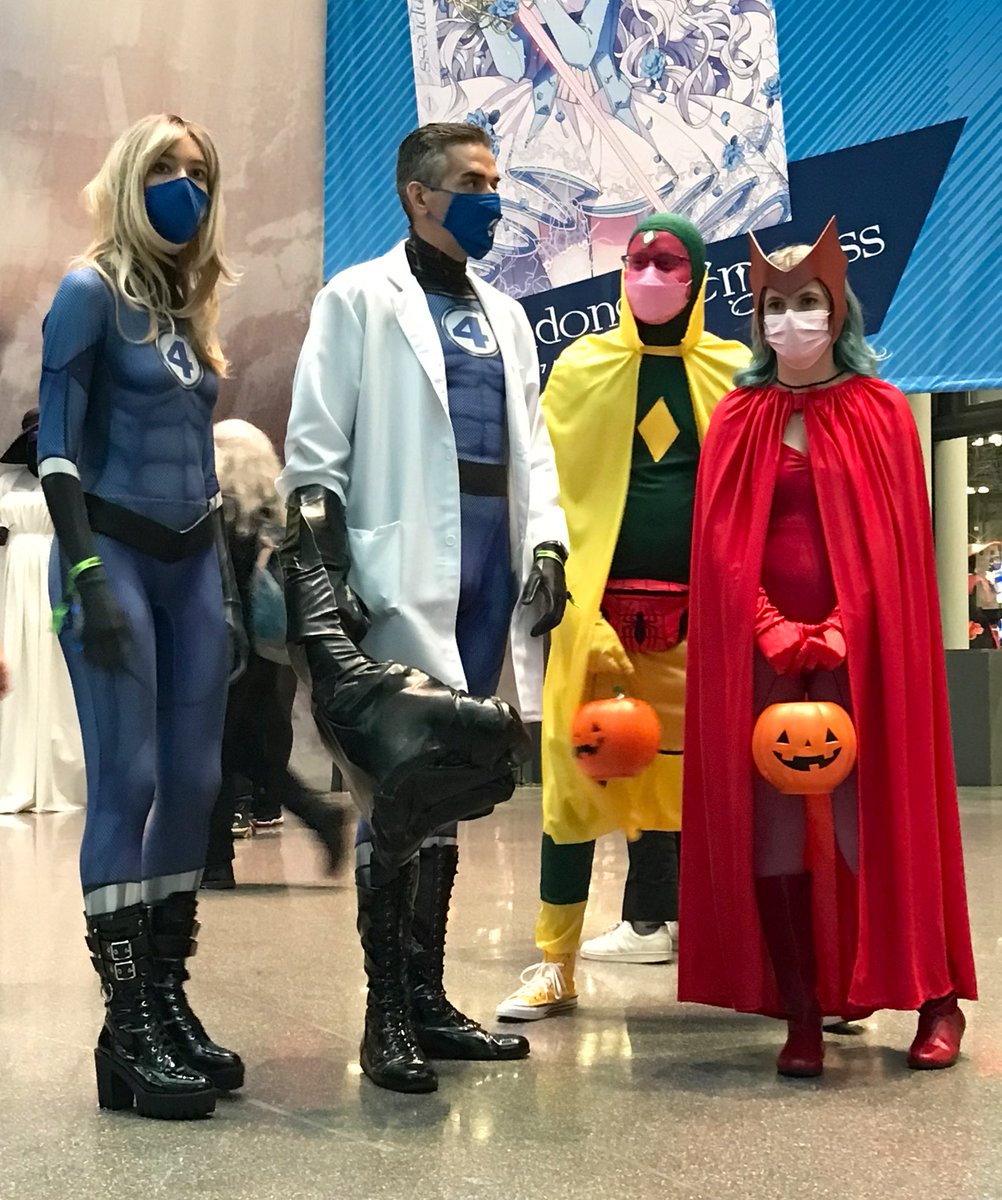 Dark Knight Cyberpunk?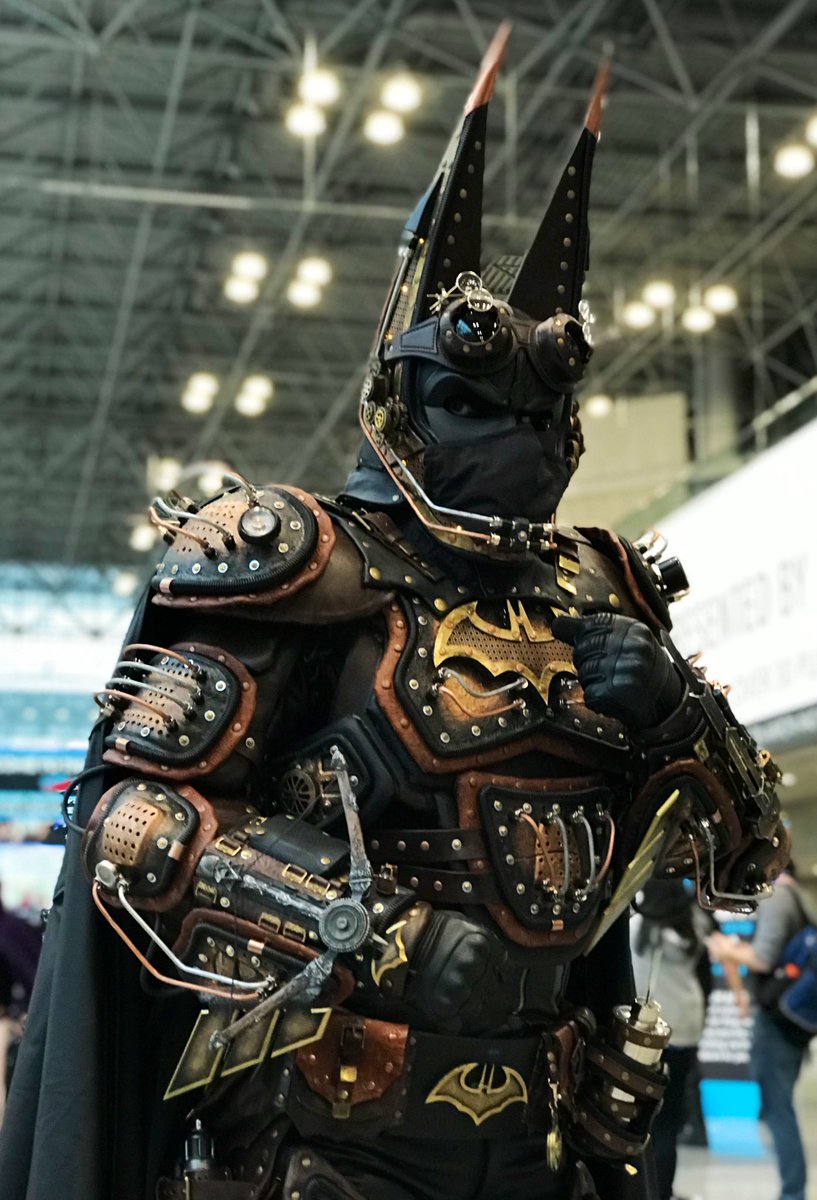 Psylocke and Kid Magneto (Magneta? Magenta? Magnetette?)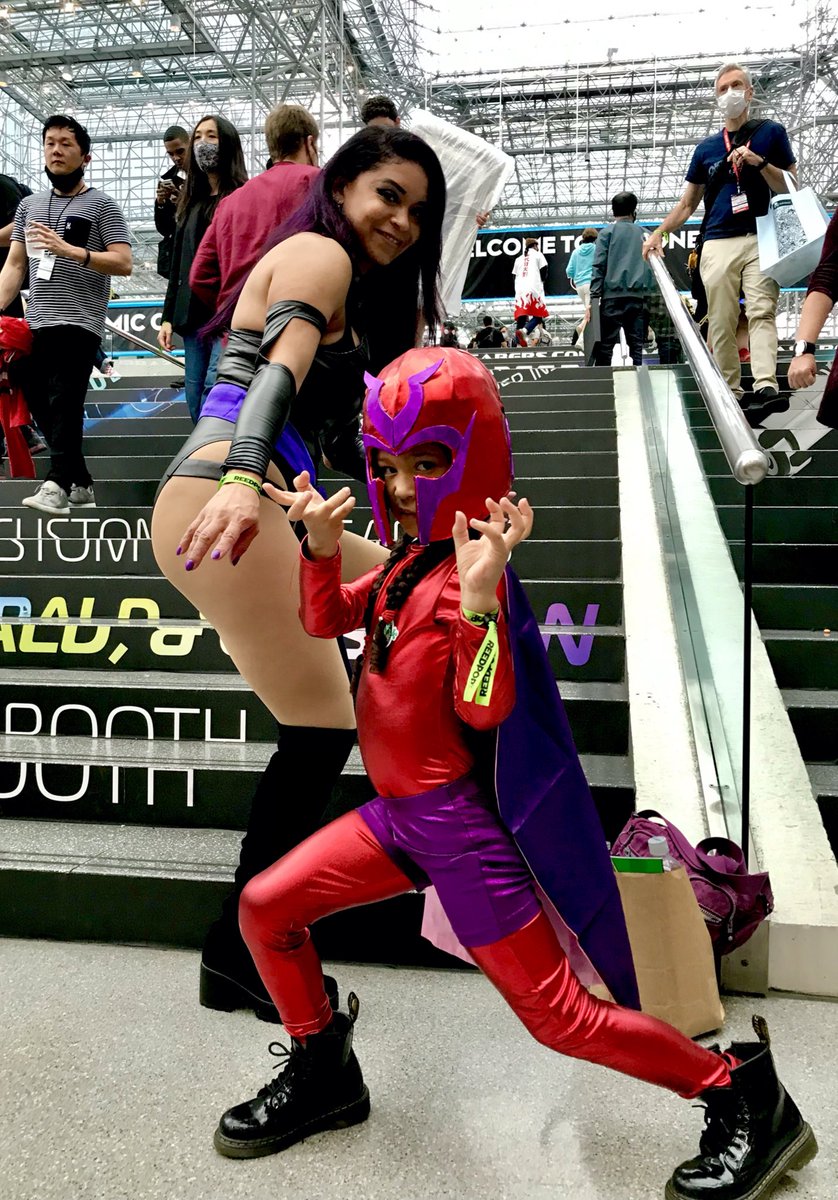 Show Floor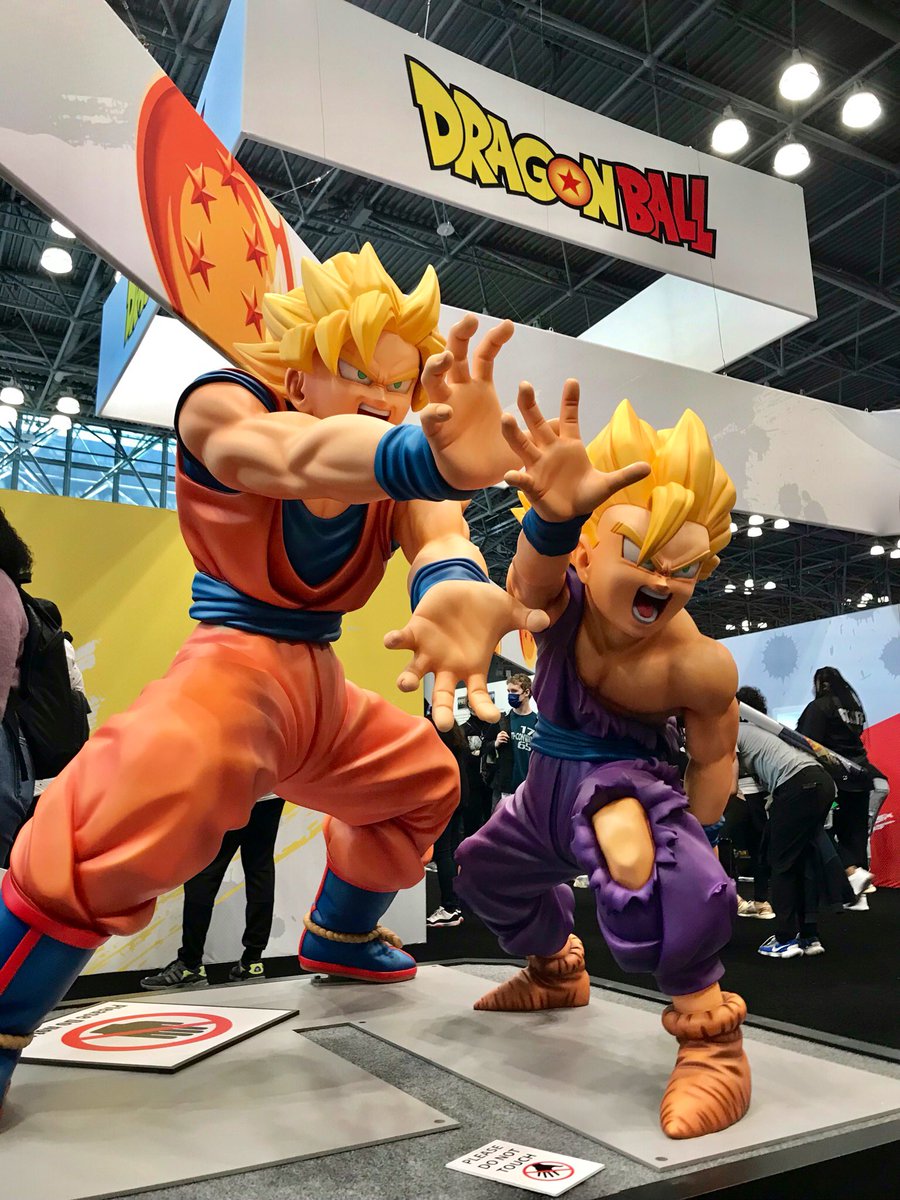 The exhibit floor featured large Dragonball Z booths, Funimation's three booths, Paramount+, Topps, Ebay, and more, as well as dozens of indie clothing, toy, and accessories vendors and comic book retailers. Noticeably absent: Marvel, DC and Funko booths.
Artist Alley
Artist Alley featured dozens of artists doing singings, selling their artwork, commissioned artwork, caricatures, and photos.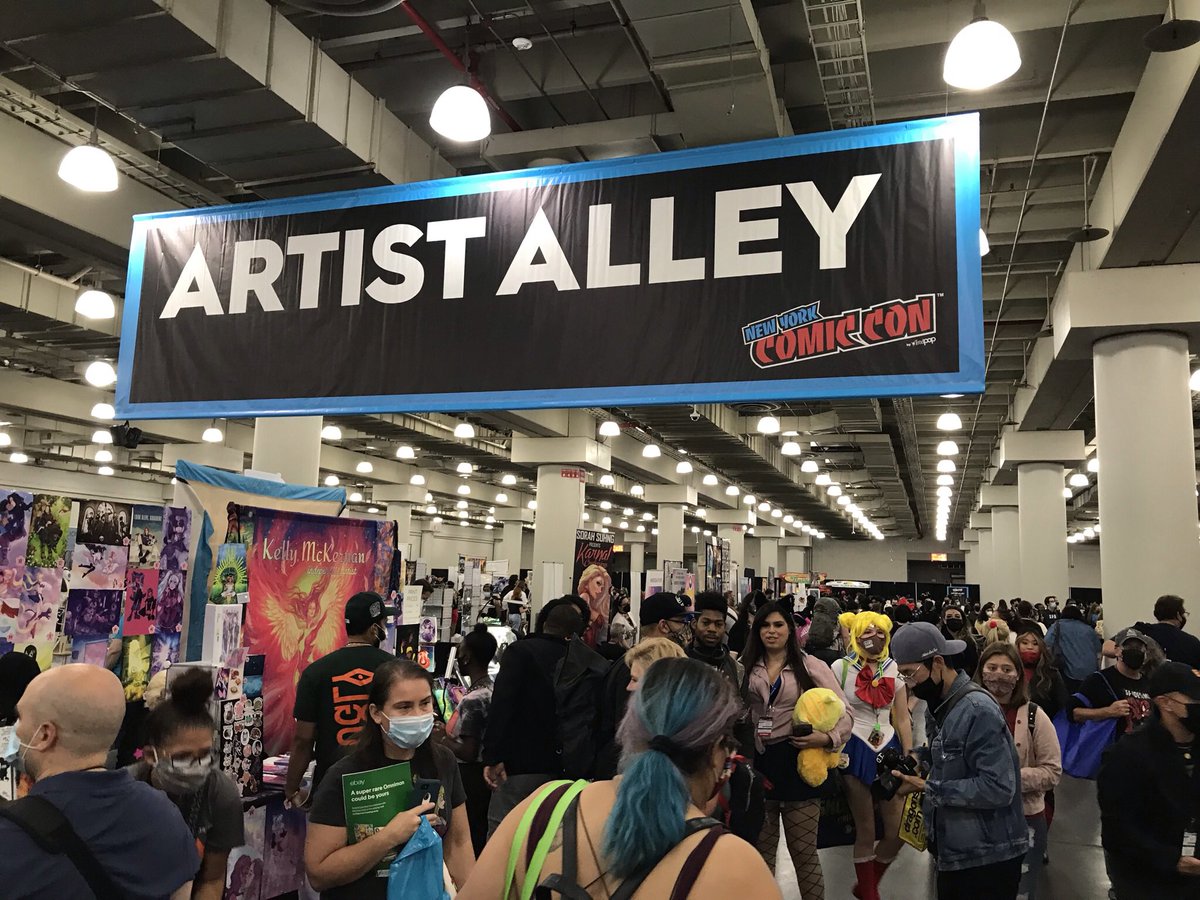 After the NYCC show floor closed on Sunday, several fans commented that they really enjoyed, missed – and needed – NYCC after skipping last year. Many said they were already feeling NYCC withdrawal just hours after the show ended, missing the convivial feeling enjoying their fave pop culture, and dressing up as their fave characters.
The next NYCC will be October 2022.