New York Comic Con returns to in-person this year with panels, talent, cosplay and more Oct 7-10 with programming virtually and in-person at the Javitz Center in New York City.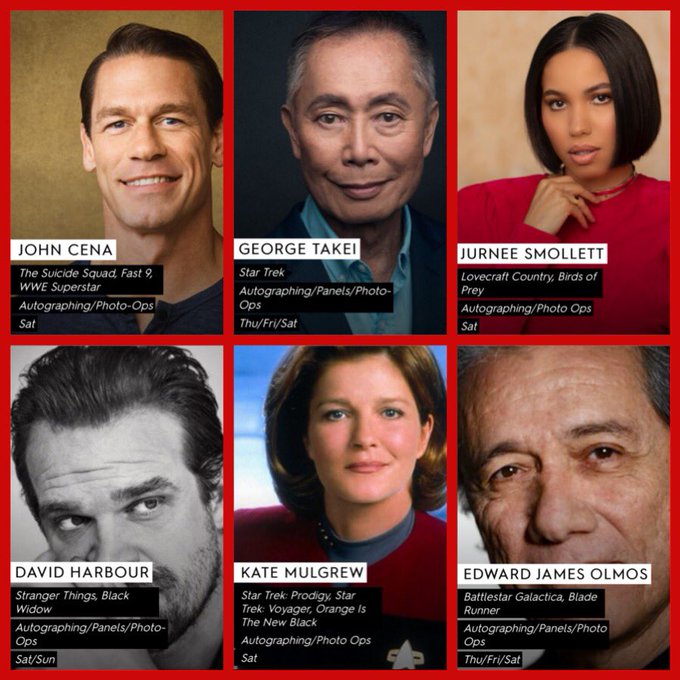 Featured guests include actors in recent superhero blockbuster films, as well as industry legends. Talent includes: John Cena (Suicide Squad), George Takei (Star Trek), William Shatner (Star Trek), David Harbor (Stranger Things, Black Widow), Edward James Oleos (Battlestar Galactica), Jurnee Smollett (Lovecraft Country), Hayden Christensen (Star Wars) and Kate Mulgrew (Star Trek Voyager).
Comic writers and creators include: Chris Claremont (X-Men), Amy Chu (Red Sonja, Poison Ivy), and Rob Liefeld (creator of Deadpool, Cable).
Panels are organized into 16 tracks, including Movies/TV, Anime, Comics, Cosplay, Podcasting, Kids and Family, and more. The particularly NY related Broadway track features Broadway talent, and also panels on Broadway musicals to film, like Hamilton and Dear Evan Hansen. The Diversity and Inclusion track features panels on representation of Women, LGBTQ+, Black and Latinx characters and creators and more, The Wrestling track features panels and demos with elite wrestlers.
Many panels will also be available online via the NYCC site.
Attendees can download the app to plan their schedule, buy merch, watch online panels, and more.
Digital LA is excited to cover NYCC  in person for the first time. Look for our founder Kevin Winston in the red superhero shirt!. Also attend our Digital LA – NYC mixer, RSVP here.
Tickets are still available at the NYCC site.