The cast and crew of the popular The New Adventures of Peter and Wendy digital series reunited via zoom on Saturday May 9 to celebrate the show's sixth anniversary.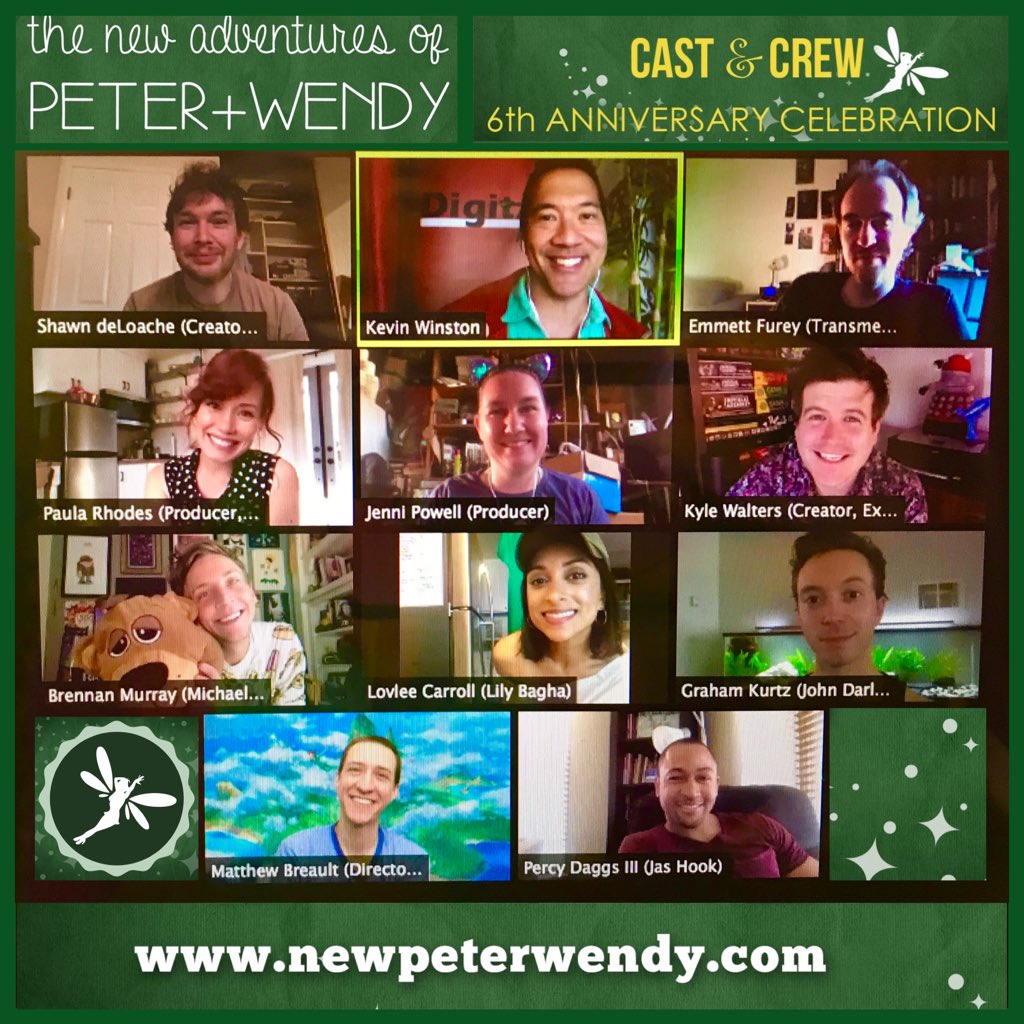 Fans of the show, known as Neverlandians, watched the zoom Livestream from Los Angeles to Texas to New York, Canada and New Zealand. You can watch the 2-hour reunion
special
on YouTube. Digital LA founder Kevin Winston moderated.
Peter and Wendy is a re-envisioning of Peter and Wendy in today's modern world. Peter is a boy who doesn't want to grow up, and wants to stay in his Neverland home town. Wendy is a vlogger and friend who gets a job in the big city. The series released six years ago on YouTube. It won several awards including IAWTV and The Geekie Awards, as well as a Streamys nomination.

ORIGIN STORY
Creators Kyle Walters (Peter) and Shawn deLoache (producer) described how they had the idea for the show, and met to discuss it. Kyle said "Peter," and Shawn said "Pan," and the series was born. The first
episode
 released 6 years ago to the day on May 9, 2014. It just crossed 100,000 views, thanks to the reunion.
CASTING
Kyle and Shawn described casting with producer Jenni Powell. Actress Paula Rhodes (Wendy) and Percy Dags III (Hook) described how they decided to just "go for it" in their auditions, which the producers confirmed help them get the roles. Paula said that in her audition, she climbed on a couch for an intimate scene. Percy said that when he auditioned in a scene where Hook takes off his shirt, he decided to strip his shirt too, showing his rippling chest and abs. Actors Note: go for it in auditions, it's not 'too much', but shows your commitment to the role, and stands out.
FAVORITES
The cast and creators also described their favorite scenes over the show's three seasons. Paula's Wendy and Lovlee's Lily bonded. Graham Kurtz (John Darling) liked his scenes showing his relationship with Smee (Satya Bhabha). Brennan (Michael) said he connected with several actors as an emotional heart of the show.
The cast shared how they loved working with director Matthew Beault, saying he was very collaborative.
Moderator Kevin spontaneously asked evyerone to get any souvenirs from the show they could find around the house, since everyone was at home. Kyle already had a Dalek in the background. Brennan jumped on to screen in a onesie.
Fans said they enjoyed transmedia producer Emmett Furey's character Twitter accounts. Emmett tweeted in-character content to engage fan between episodes. Emmett is now working at Niantic, makers of Ingress and Pokemon Go Mobile games.
IN PANdemic
The cast and crew also described what they are doing in quarantine. Kyle, Paula, and Percy are spending quality time with their babies and kids (their own) while also working on upcoming projects. Graham Kurtz has been aqua-scaping his big aquarium.
Brennan Muray (Michael Darling) has been putting together Lego sets and showed his FRIENDS Lego set, complete with Lego Joey, Rachel etc and accessories. That led to the question: If there were a Peter and Wendy Lego set, what would your character's accessories be? Wendy would have her laptop and notebook. Lovlee Carroll's Lily #BossGirl would definitely have her own Malibu Mansion, helicopter and limousine Lego set.
The cast also speculated what their characters would be doing now today in Pandemic. Constantly-cleaning John would feel vindicated. Who who would be on TikTok? Michael Darling for sure, and John just because Michael was on it. In the Zoom chat, fans speculated that Tinkerbell's fairy dust would cure coronavirus, so she'd be flying around saving the world.
PANFAM
Several fan attendees joined the zoom video to ask their questions including the role playing game. Several attendees in chat said they rewatched some or all of the past three seasons in quarantine to get ready for the reunion.
WHAT'S NEXT
Cast and crew also described their upcoming projects and gave shout outs to their social media to follow them for more updates.
TWITTER
Follow cast and crew on Twitter!
@theKyleWalters @paula_rhodes @PD3Official @LovleeCarroll @JenniPowell @emmettfurey @BrenOnTheWylo @NewPeterWendy @grahamkurtz @ShawnIsWrite @staytline
You can watch the 2-hour reunion special on YouTube.