Speakers from Yelp LA, restauranteurs, and tech platforms described how they have adapted to pandemic at our Digital LA – Restaurant Tech: Adapting To Pandemic panel via Zoom on Sep 18.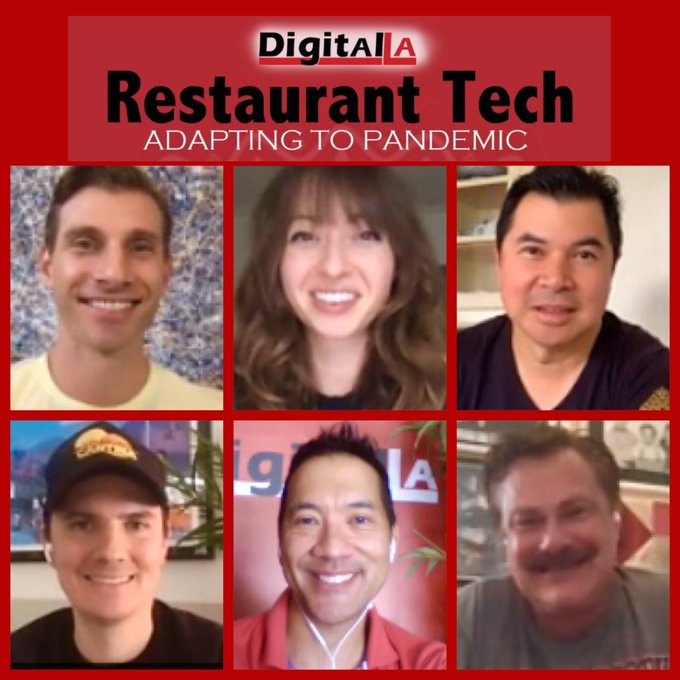 Speakers described how they reacted to the shut down in March, adapted in the summer, and current operations since July 1 with takeout and outdoor dining OK, indoor prohibited.
Megan Raneger, Yelp LA, Community Manager manages Yelp's marketing, social media, events, and community relations in Los Angeles. She engages, grows, and retains Yelp's largest community of users and business owners. She manages Yelp LA's social media channels (Instagram, Twitter, Facebook) and a weekly newsletter with a subscribership of over 600k. She said Yelp LA has added new product features to find dining options (indoor/outdoor, takeout, etc.) and Black and brown owned businesses. Yelp LA has also brought its Yelp Elite users with lot of review program online with virtual discussions.
John Sungkamee, Emporium Thai, Founder/ Owner was set to celebrate his family restaurant's 20th anniversary, on the same day that restaurants had to close in March. John has adapted, ramping up takeout, partnering with DoorDash for a $5 coupon, and inviting influencers and press to see his new outdoor patio and Dine LA menus. John has Received 2020 Best of SoCal Readers' Choice Awards for Best Internationally Inspired Restaurant by LA Travel Magazine.
Josh Kopel is formerly owner of the 2019 Michelin rated Preux & Proper in downtown Los Angeles, until he had to close it due to covid. He has pivoted, creating FLO Hospitality, a new virtual reservation system that leverages tech to bring better customer service. He also started FULL COMP, a podcast featuring leaders in hospitality. Season 2 upcoming guests include Sam Nazarian and Seth Godin.
JC Reifenberg, Scum & Villainy, Owner, has kept its geeky fans engaged by hosting online livestream versions of their famous May the Fourth party and Harry Potter Birthday parties, WWE classic matches, themed trivia, weekly streamed karaoke, and brought filmmaker Kevin Smith's Fatman Beyond podcast.
Dave Arthurs, Fishbowl, Chief Product Officer, said that the Fishbowl restaurant marketing SaaS platform has ramped up helping restaurants making the transition from 100% in-person dining to nearly 100% pickup and delivery.
See the video for more!