BEVERLY HILLS – The Academy's SciTech awards recognized 11 scientific and technical achievements including animation, compositing, cameras, and more that have made major contributions to filmmaking at the Beverly Wilshire in Beverly Hills on Feb 10.
Sir Patrick Stewart hosted the awards. As Stewart has played Captain Picard in Star Trek: The Next Generation television show, and Professor X in X-Men movie franchise, he is a fan favorite especially amongst the techie attendees.
While he plays scientific characters, Patrick Stewart reminded attendees he's an actor, especially useful before reading the awards descriptions, which are known for technical jargon.
"I wouldn't know the difference between a warp core breach and a space time continuum if they were in bed with me," he joked.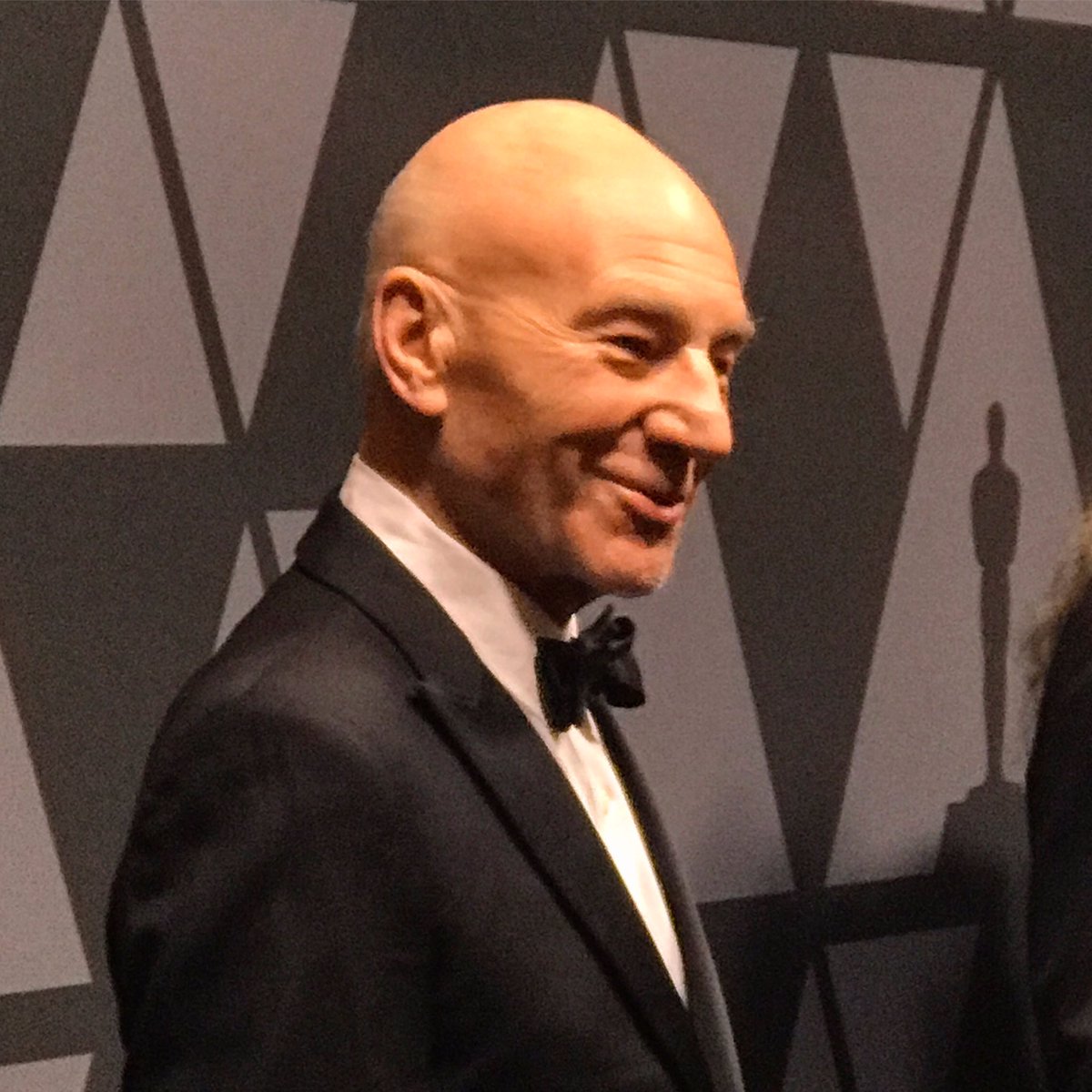 This year's awardees featured two women. In the past, there have been one or none amongst the winning teams.
"For any young woman," dreaming of a career in tech, said winner Rachel Marie Rose of BlockParty, "I am proof that you can."
Congrats to this year's winners:
BlockParty lets character riggers build a character with digital blocks (elbow, spine, hand). It's contributed to at least one VFX Oscar winner every year. This year, films using BlockParty included Thor: Ragnarok, War of the Planet of the Apes, and Star Wars: The Last Jedi.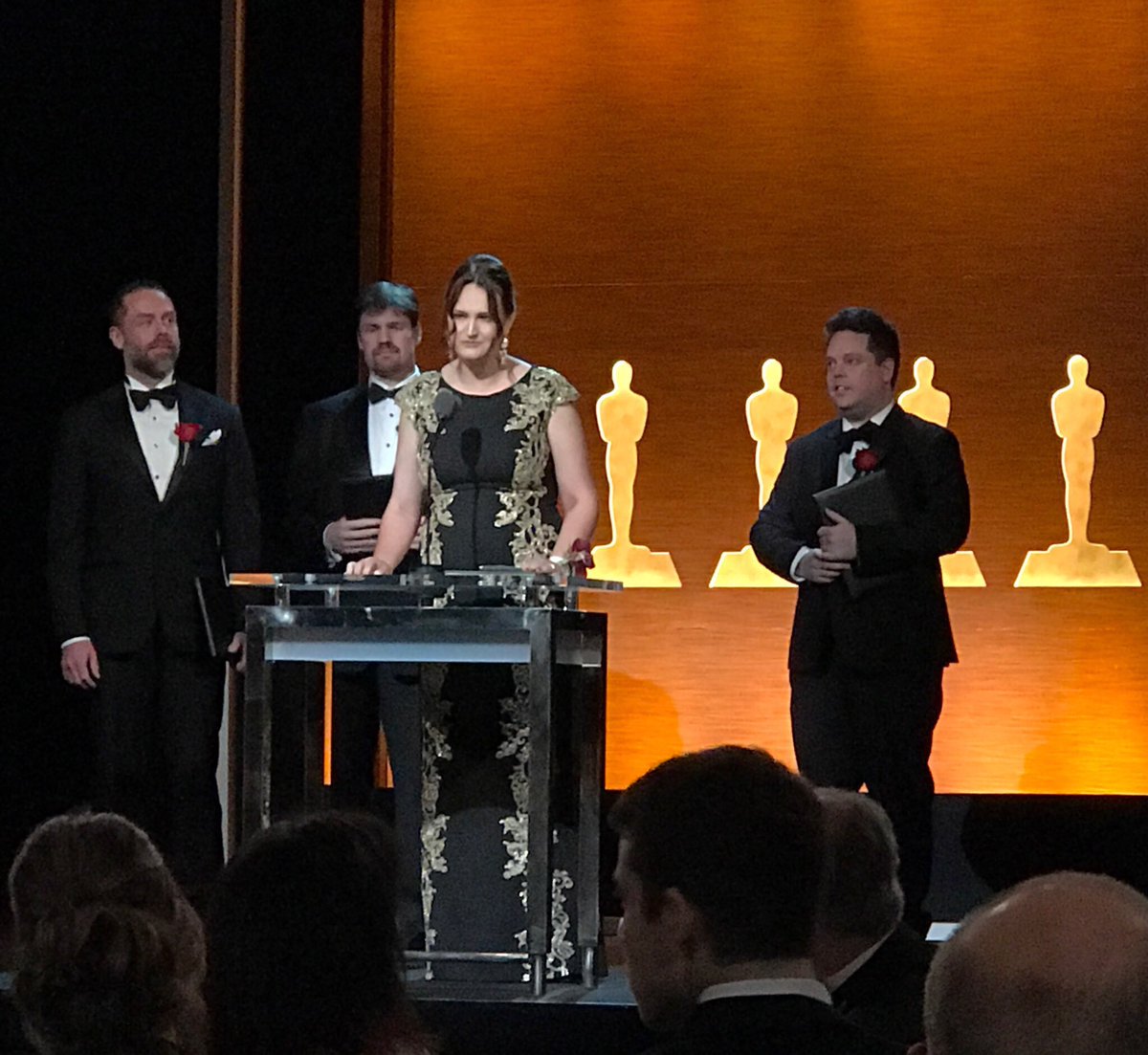 Premo animation software lets animators create fluid animations easily, so they can focus on the story not the tech. By Dreamworks and Intel.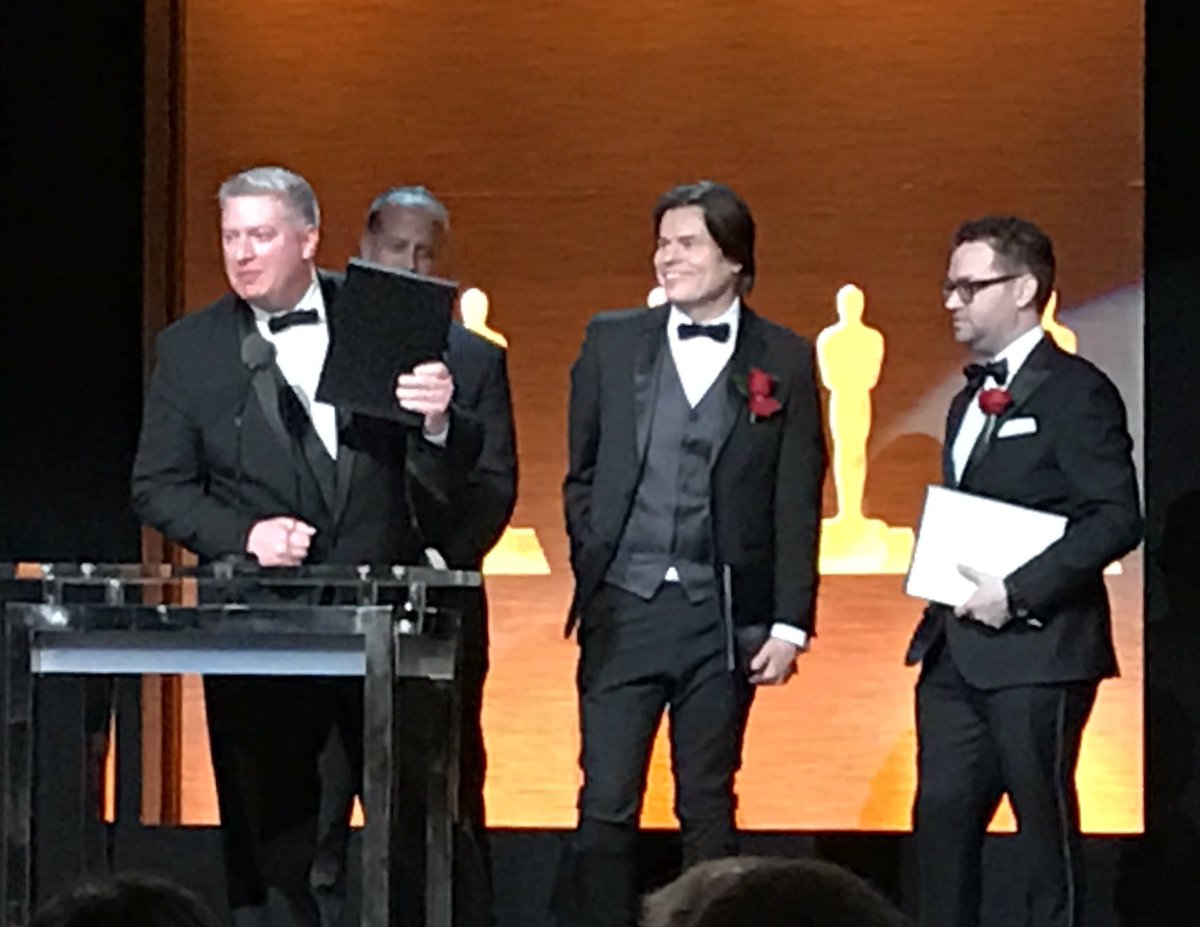 Premo was first used in How to Train Your Dragon 2. It has been used in many films since, including this year's nominated film Boss Baby.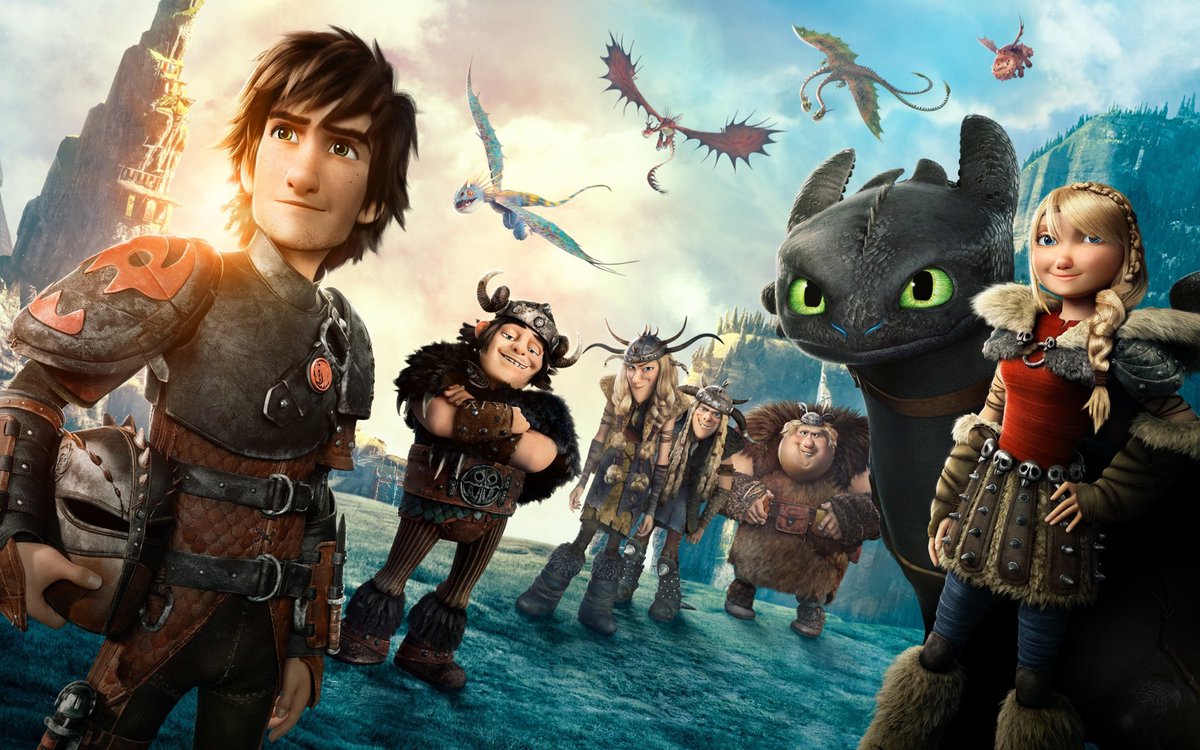 Presto helps animators create fluid character animations.
First used on Brave, Presto has been used in all Pixar films including Inside Out and Oscar-nominated Coco.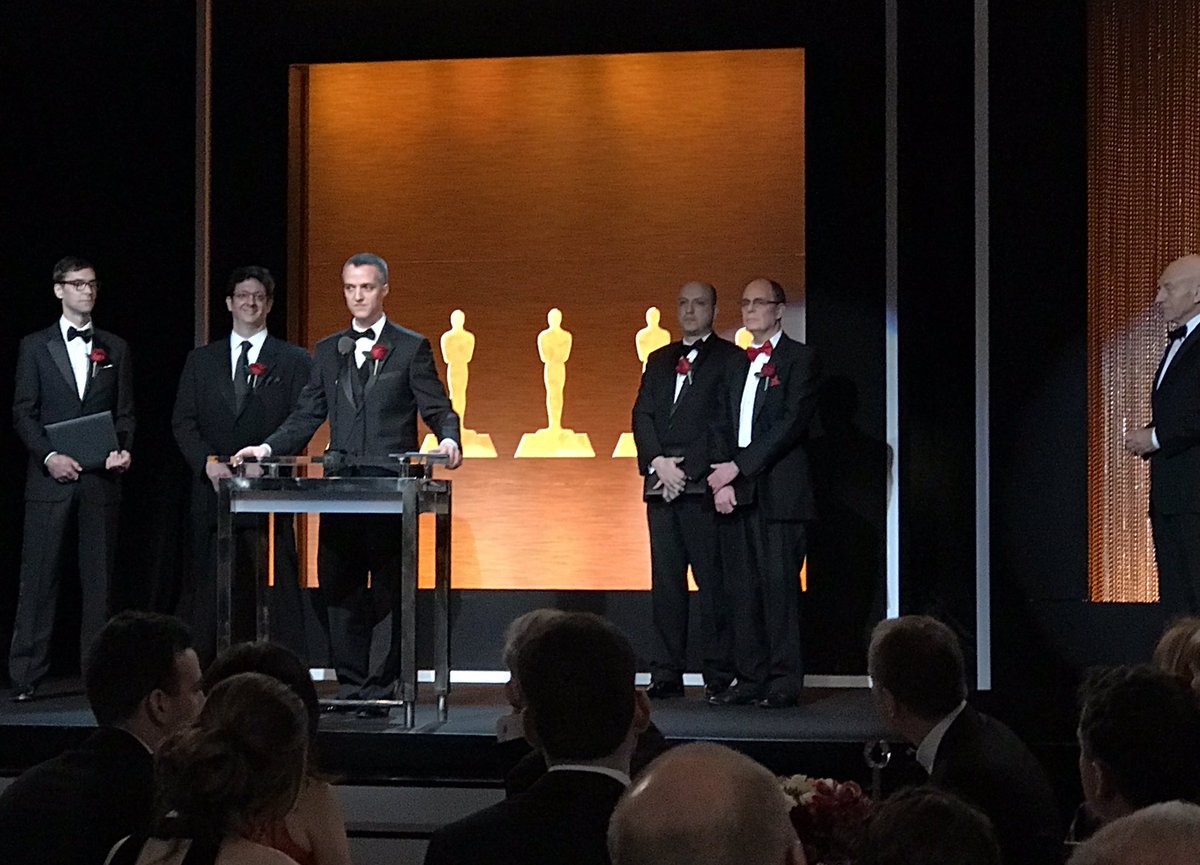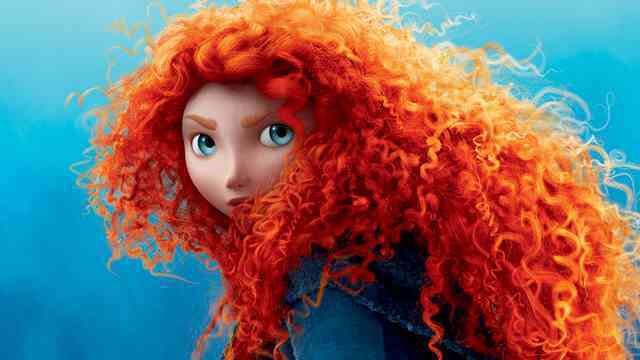 Rhythm and Hues Construction Kit rigging let riggers create editable deformable rigs with shape preserving surface relaxation.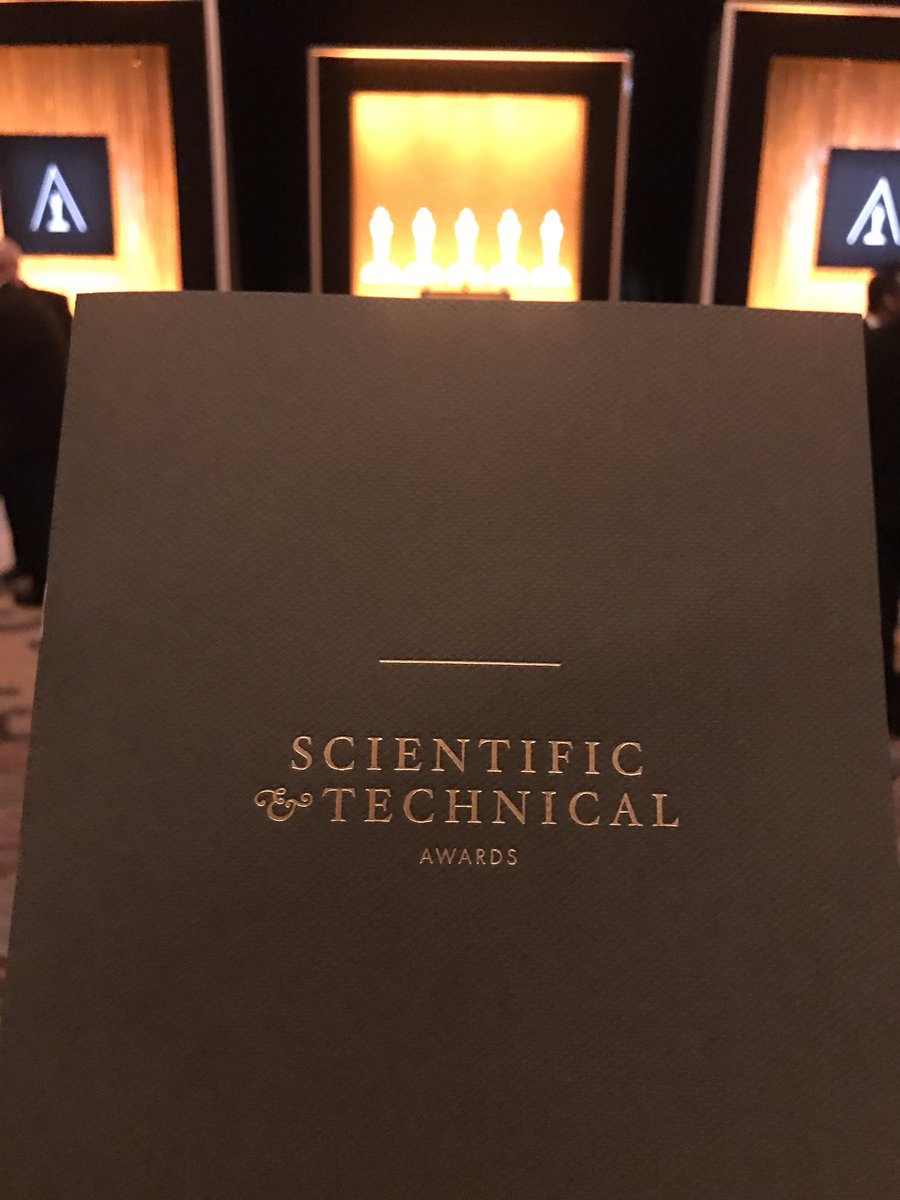 Shotover K1 aerial camera system lets cinematographer and helicopter pilot both work together to get aerial shots including straight down. Its 6-gimbal system with carbon casing reduces jitter vibrations from the helicopter.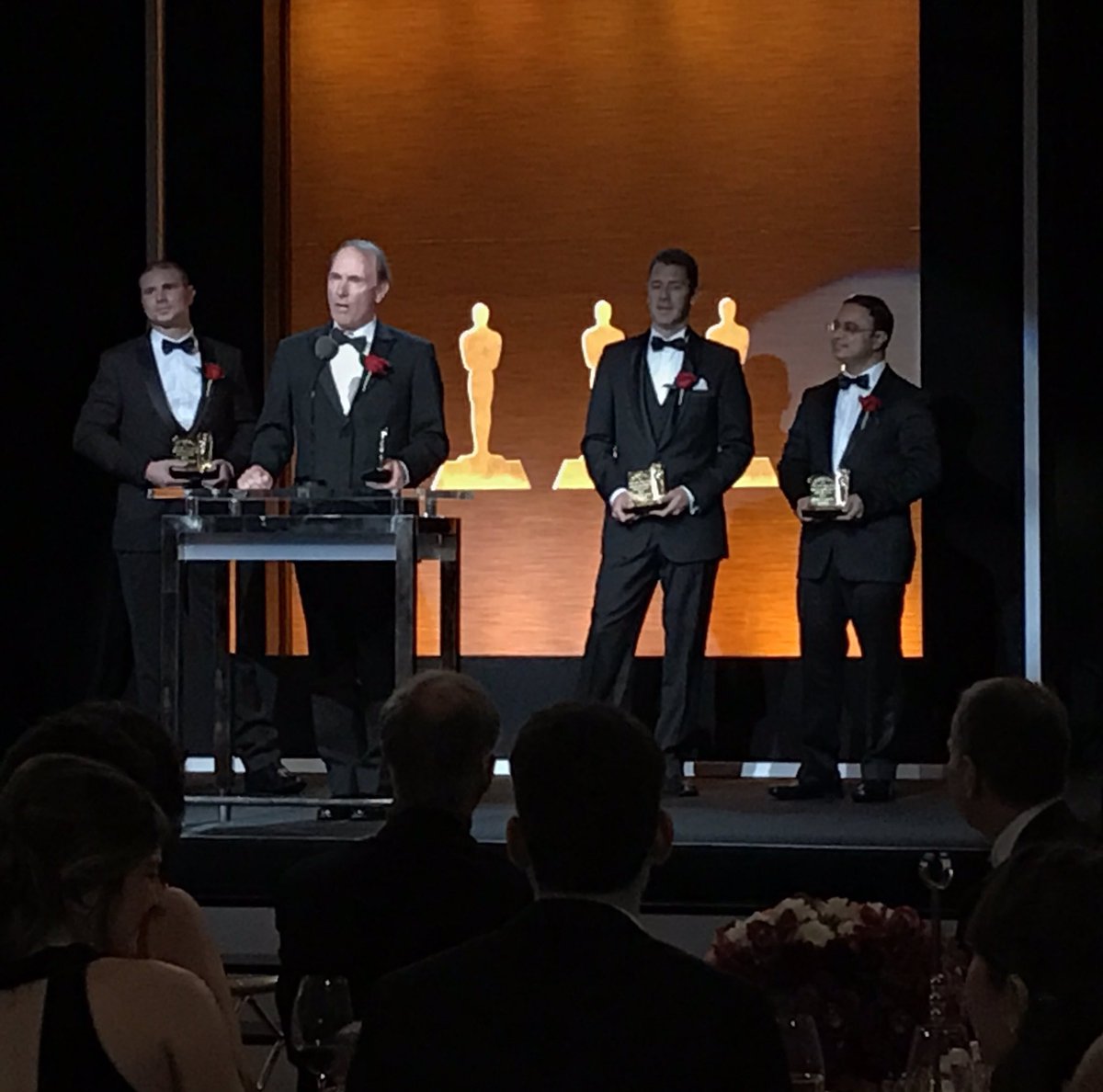 The Shotover was used in Dunkirk and Revenant.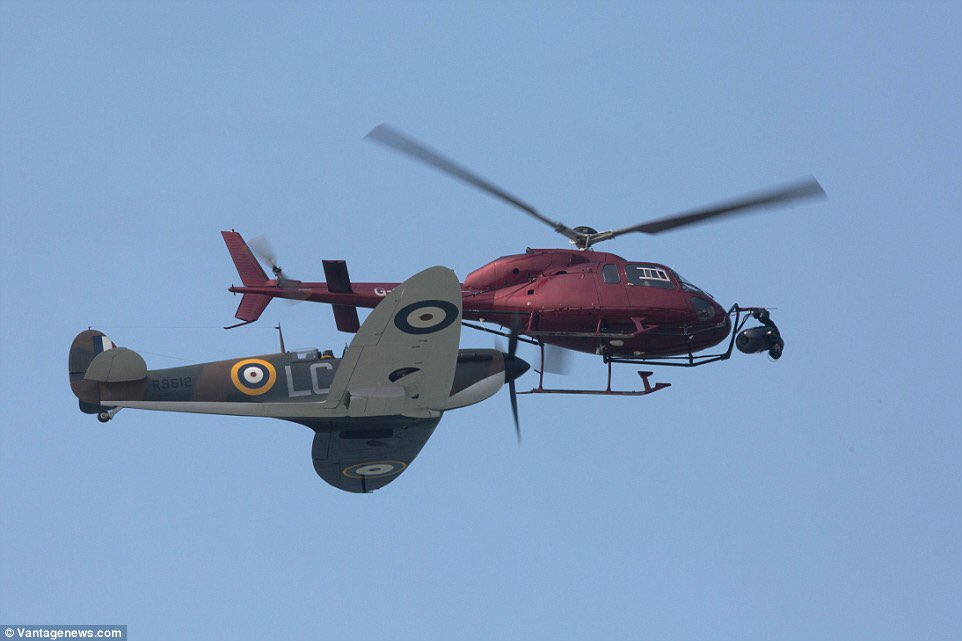 Hydrascope underwater telescopic crane camera can be submerged all day for underwater or stormy shots. It has been used in La La Land, Harry Potter and dozens of other films where there is an underwater shot. Director Ava gave a shout out on Twitter to the Hygroscope, seeing it on set in Wrinkle in Time. Leonard Chapman accepted the award.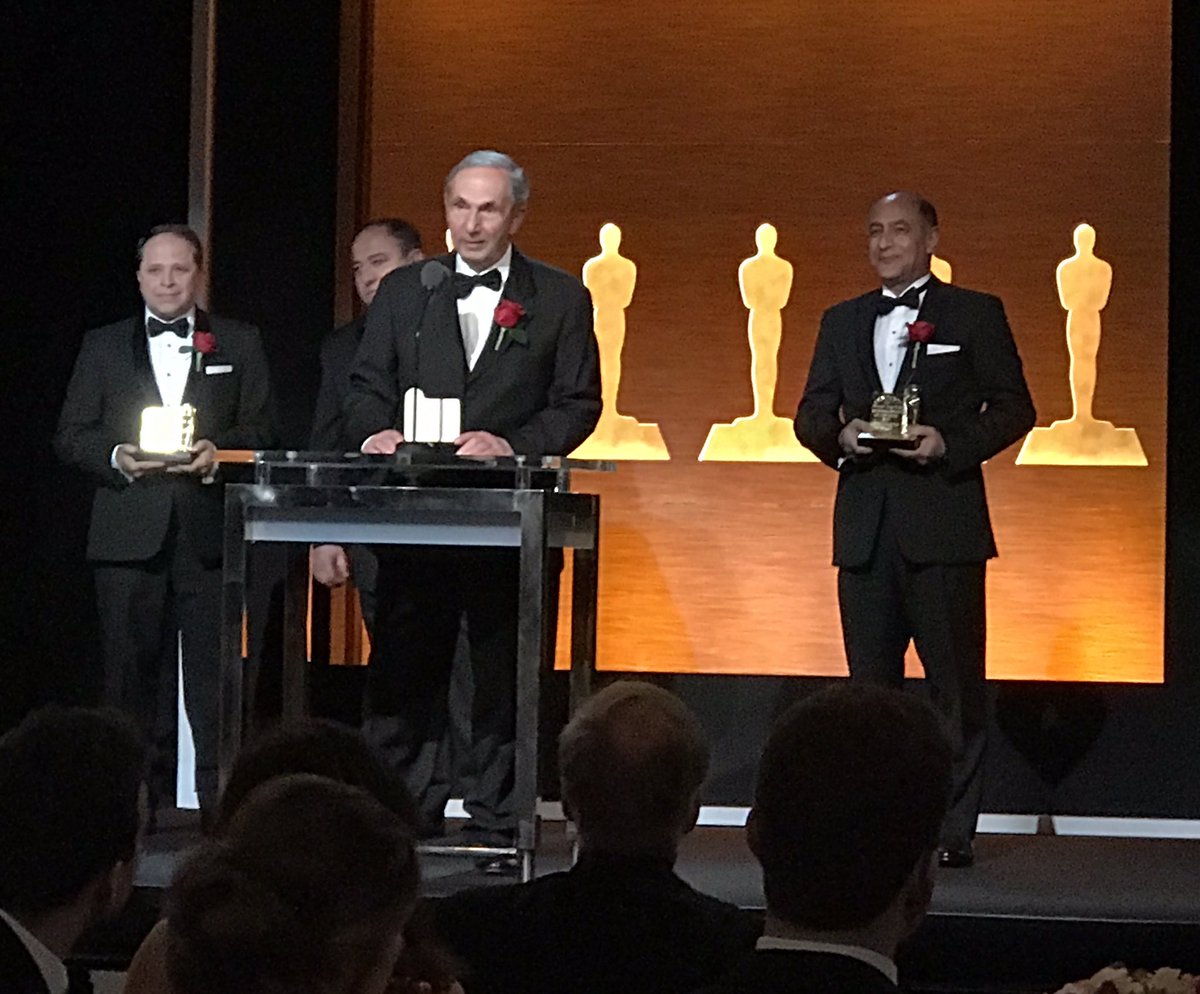 Nuke won two related awards to the Digital Domain team which originated it, and Foundry which expanded it. The compositing system is used in nearly all Oscar VFX winners and nominee films like Star Wars, Marvel, films and more etc. Nuke is an expanded commercial product of The Foundry VFX company.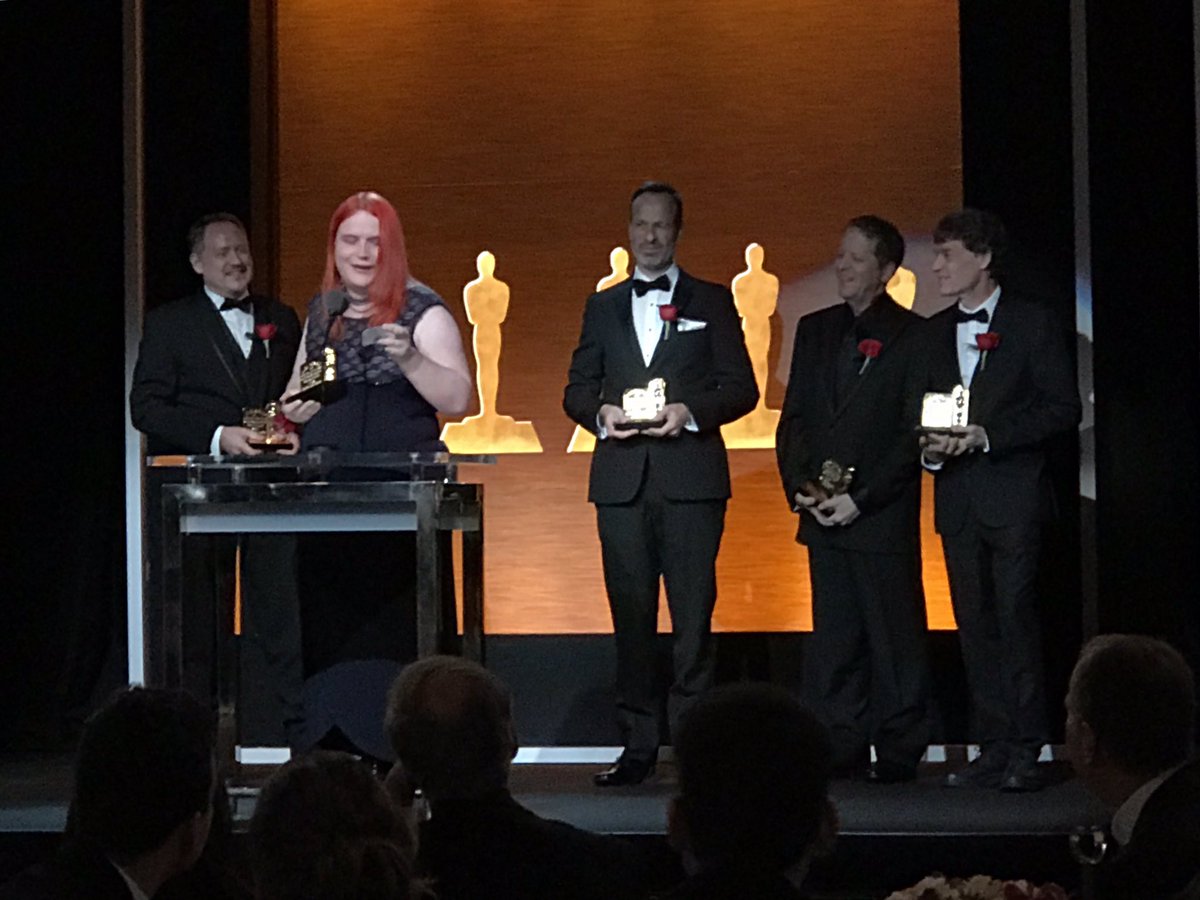 Houdini creeators won two awards
Houdini by Side Effects won an Academy plaque. Houdini is used throughout the VFX as a standard Industry in more than 600 films.
"To us, the superheroes have always been the visual effects artists," said Jeff Lait on the Houdini team.
Mark Elendt and Side Effects win the esteemed Academy Award of Merit for Houdini. Mark read a poem in his acceptance speech.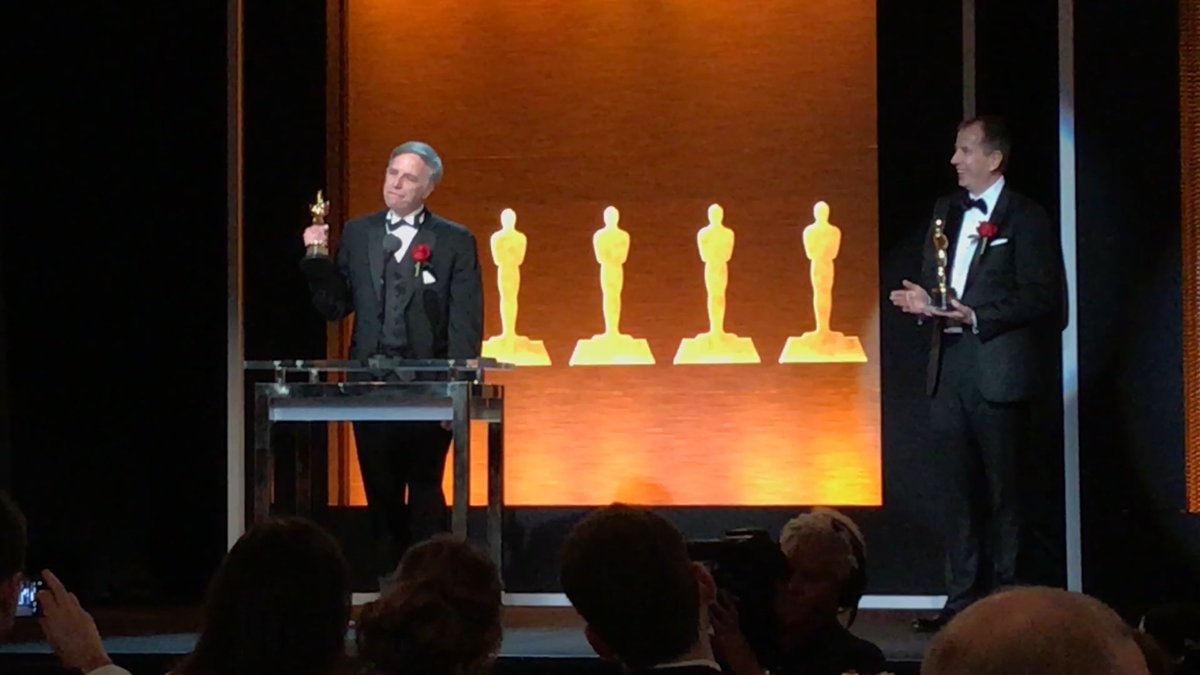 Jonathan Erland won the Gordon E Sawyer Award for long-standing contributions to tech and film. He created film processing techniques and founded the Visual Effects Society. Erland gave an impassioned acceptance speech, reminding us that art needs science to help fully realize its craft.
"If we don't get the science first, there ain't going to be no art," he quoted.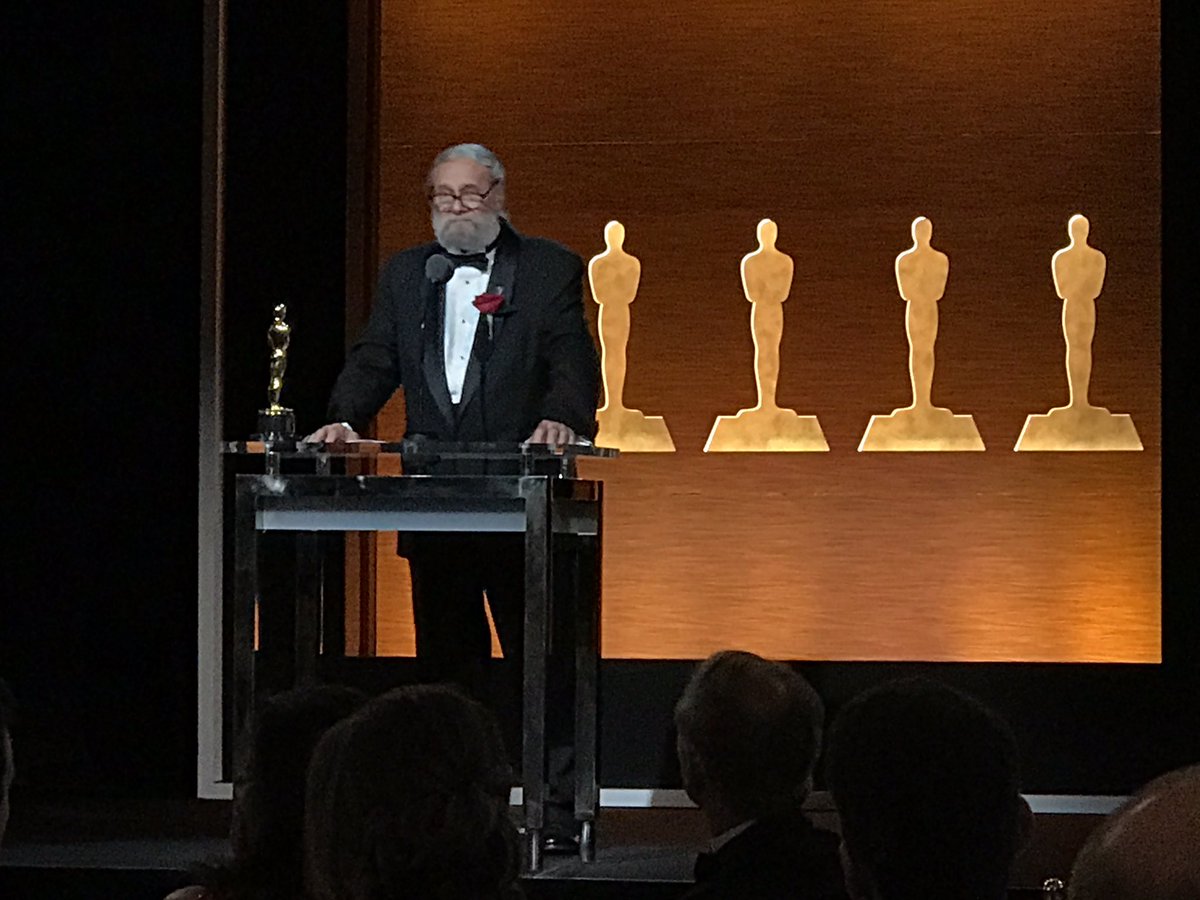 "In cinema, art and science are bonded together and are as such enlightening," Erland said. "The ultimate goal and purpose of art is enlightenment. Enlightenment is not a commodity."
He added: "Let cinema itself be the agent of change in our society."