Experts in small business, education, games and VR/AR shared strategies for shifting more of your work online via tech tools at our first virtual panel Digtal LA – Shift to Live Online via Zoom on March 18.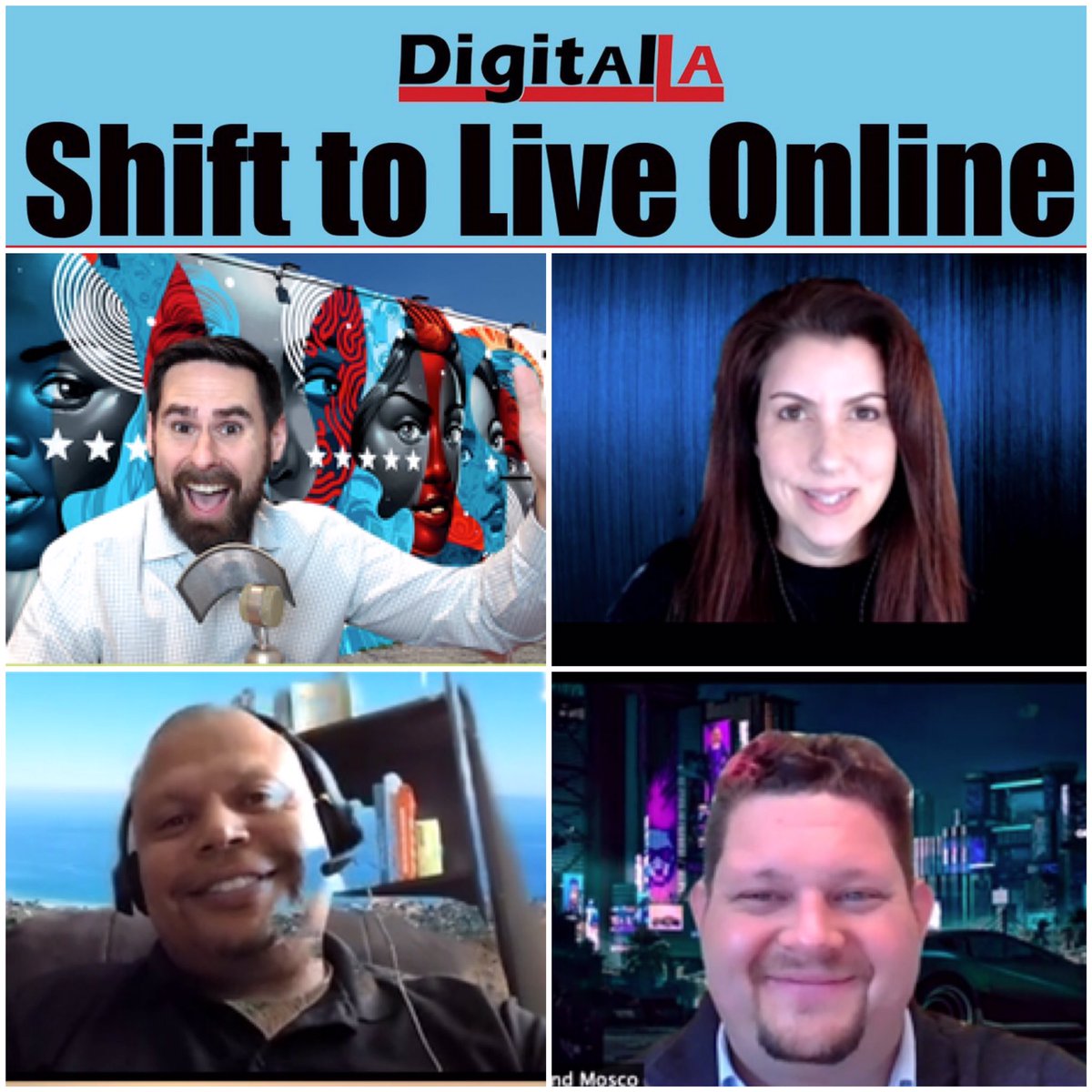 With the coronavirus affecting many industries, startups, businesses and creative artists are trying to figure out how to move their business online using video, live, and more.
SMALL BUSINESS
Small businesses can do more of their meetings with Zoom and Slack, said Robert Brill of Brill Media.co.
Zoom is good for 3-100+ to meet in a private live video chat room. Attendees can talk in real time, type in a text chat area, and share web links or images and document. The Zoom room creator can designate certain speakers to be featured, with other attendees muted. The creator can also create breakout groups randomly or by designating certain attendees who can talk in sub rooms. Zoom is free for up to 40 minutes and 100 attendees. Zoom is $15-$20 a month for advance and business packages allowing unlimited time, and more attendees.
Slack is good for ongoing project management and follow up for teams of 3 to a few dozen people. It's more text based. It's easy to spinoff sub slack channels for subgroup discussion. Slack is better at project management once a project is started and everyone's on the same page. Also, don't put too much text in Slack because it can get buried. If a complication arises, it's better to discuss in Zoom or via a phone call.
Texting is good for 1 on 1 or 1 to several people for urgent needs. A project manager may text other project manners, but probably not the whole team.
EDUCATION
Many schools have had some form of distance online learning, said Duane Cofield, and adjunct lecturer at the UC San Bernarino. Duane has recorded some of his lectures to create a library of about 40 of his classes, which extension students can watch online at their own pace. Plus he also does some live classes, that are recorded so other students can see.
Duane uses Blackboard, an online education platform, as well as Canvas.
GAMES / MUSIC
Music artists and gamers can use Twitch to reach live audiences, said Karen Allen who consults with Twitch influences. Music artists and gamers can go on of 3-4 your sessions. They may play music or games for part of the time, and hang out talking to fans. Artists can make money via a tip jar integration, where fans will tip artists who play a certain song, or play a song they request. It's key for artists to actively engage with fans on the live steam: Talk to them, call out their user names, ask for their opinion, remember them from stream to stream.
AR/VR
Virtual Reality and augmented reality is another where cutting edge companies are moving online for live connection, for education, entertainment, and sports, said Ray Mosco of Hypersnse.  Applications include live virtual avatars, livesteaming VR events, and more.