Star Wars highly anticipated Galaxy's Edge opened on May 31, 2019. The new "Star Wars land" is Disneyland's largest park expansion for any Disney theme park worldwide.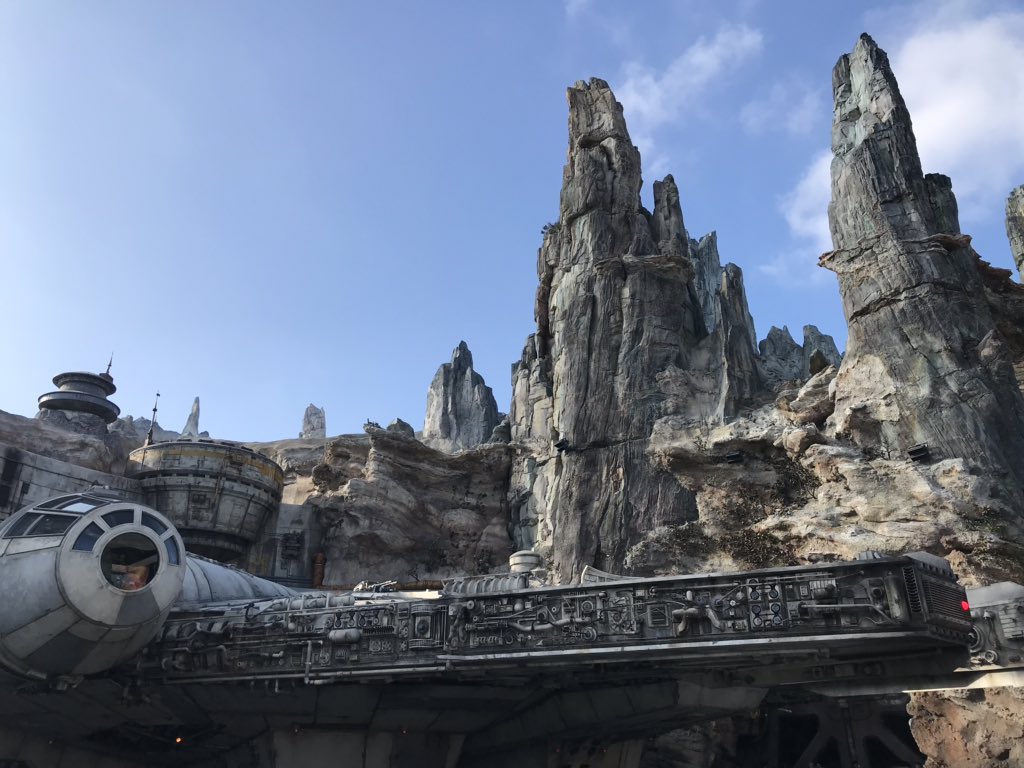 We attended Opening Day May 31 and were very impressed with the immersive feeling at the park. Seeing the life-size Millennium Falcon framed with the black spires will make you kid-giddy and just may cry tears of joy. The buildings, restaurants, and shops feel very Star Wars, distressed with scuff marks and laster blasts from battles past. The cast members, aka Black Spire Outpost residents greet off-worlders visitors. Talk to them, and they have each invented their own backstory. The food and beverages even taste and look otherworldly.
Play Disney App. In addition to all the visual, audial and taste stimulation, you can engage digitally with the app. Download the Play Disney app, and select the Millennium Falcon icon from the map, which becomes active when you visit Galaxy's Edge. The Galaxy's Edge part of the app lets you create a profile, and then scan various objects through out the park to  hack into them, turning them more Resistance (blue) or First Order (red). You also get credits for completing missions, and can advance in rank. It's a fun way to add an optional game in the park, which you can easily do in line for the other attractions. Note: The app takes a lot of battery as it's checkin for what's around you. So only do if you're above 80% or have a battery pack charger with you, or you may find your phone low <20% at key photo opo moments!
More tips if you're visiting during the reservation period May 31- June 23:
Know the Story: Black Spire Outpost is on the Galaxy's Edge. The First Order has it on lockdown but there are Resistance forces underfoot. Don't ask for or brandish a lightsaber too obviously or it will attract Stormtrooper attention. You may see Kylo Ren and Stormtroopers in the First Order section, but don't ask them for photos here. They busy.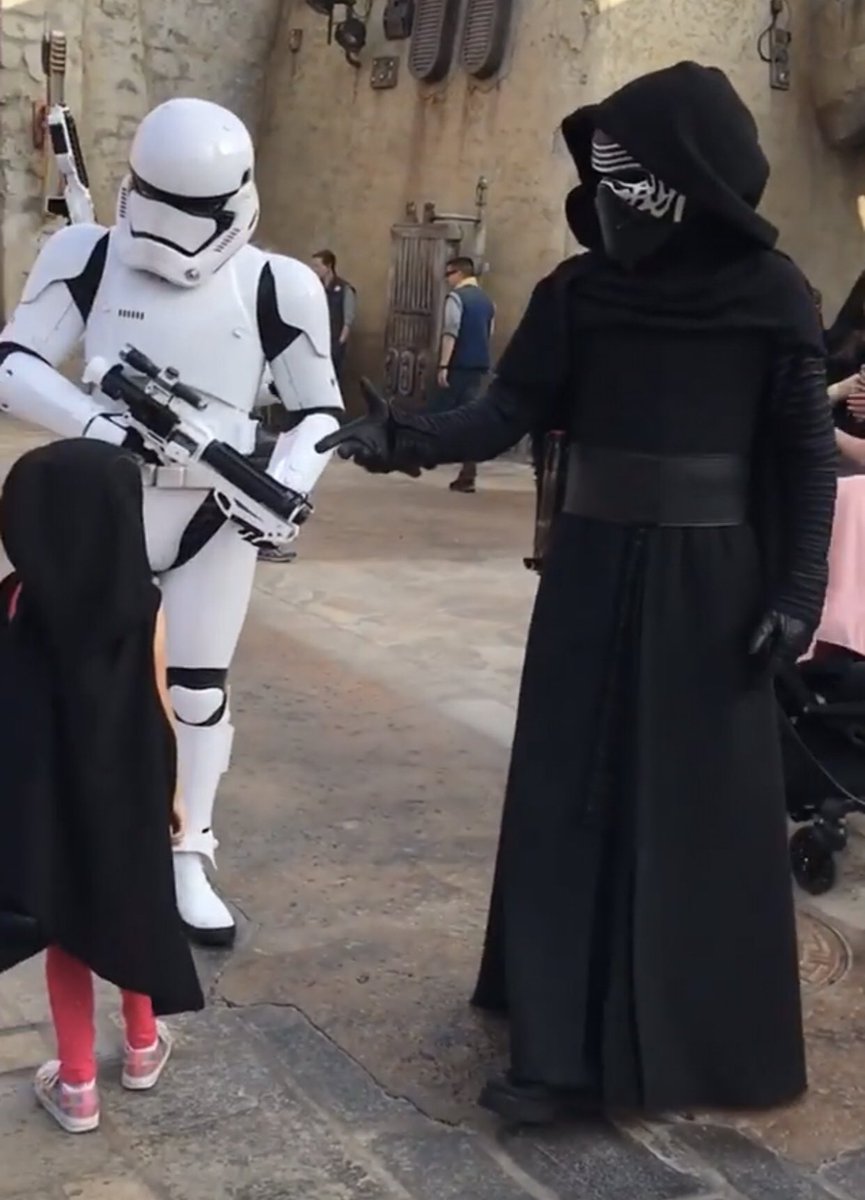 Get Prepared.  If you have a reservation, pick up your colored timed wristband at Launch Bay, where you will be told which of the three entrances your group can enter.  The 3 entrances are Thunder Mountain (Droid Depot), Adventureland/Fantasyland border (First Order side) and the really far away Critter Country/Hungry Bear Restaurant (woodsy Resistance side!). Arrive at your assigned entrance about 15 minutes before your entry time so you're not at the back of the pack.
Entering: As soon as the reservation time opens, everybody sprints to the Falcon ride, so if you aren't at the front of the pack from the droid or first order entrance, there's instantly a wait of 60 to 90 minutes. Instead, just causally explore the shops or get in line for the Cantina, which always has a line at least 30 min. Or get a lightsaber build or droid build rez.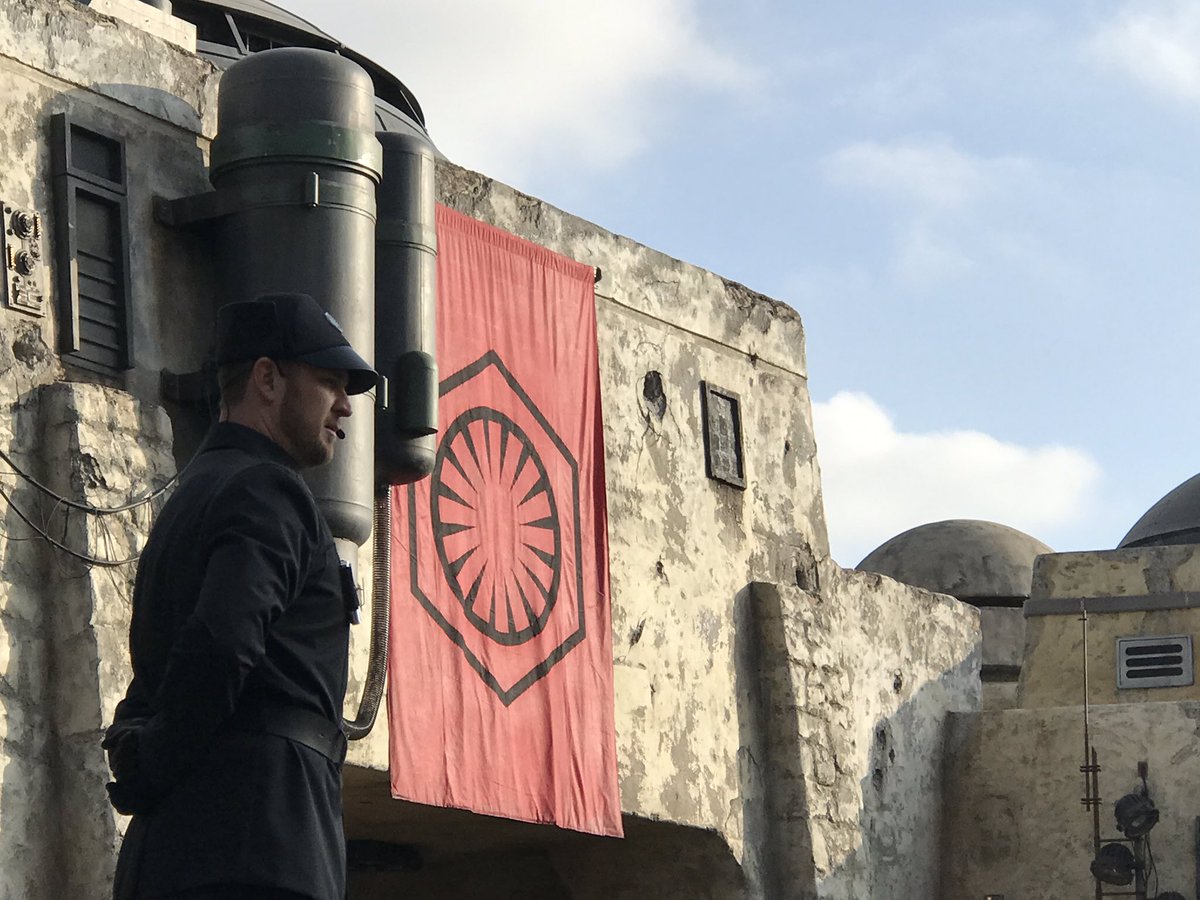 Millennium Falcon is the centerpiece and it's easy to get a pic in front of it from anywhere in the plaza. Plus Disney photogs can take pics, and added the Black Spire photo border on Opening Day. The Falcon ride is fun! Hondo has hired your flight crew to smuggle some coaxial pods in the Falcon. You join a flight crew of 6 people: 2 pilots (left pilot steers left and right, Right Pilot steers up and down and the hyperspace lever), 2 gunners can shoot manual or automatic, 2 engineers who shoot cables to get the coaxial pods. It's a fun 6 min game in the cockpit of the Falcon. Try to be a Pilot or gunner, most fun. You can switch assignments with others in your crew. Falcon has a single rider line which was only 5 min during reservations. Wait times are 60-90 min at the beginning of a rez time block, but drop to 10-15 min in the third an fourth hour.
Characters: If you're lucky, you'll see Kylo Ren and Stormtroopers walking around in the First Order area by Kylo's Command Cruiser. Rey and Chewie have been spotted in the Resistance area.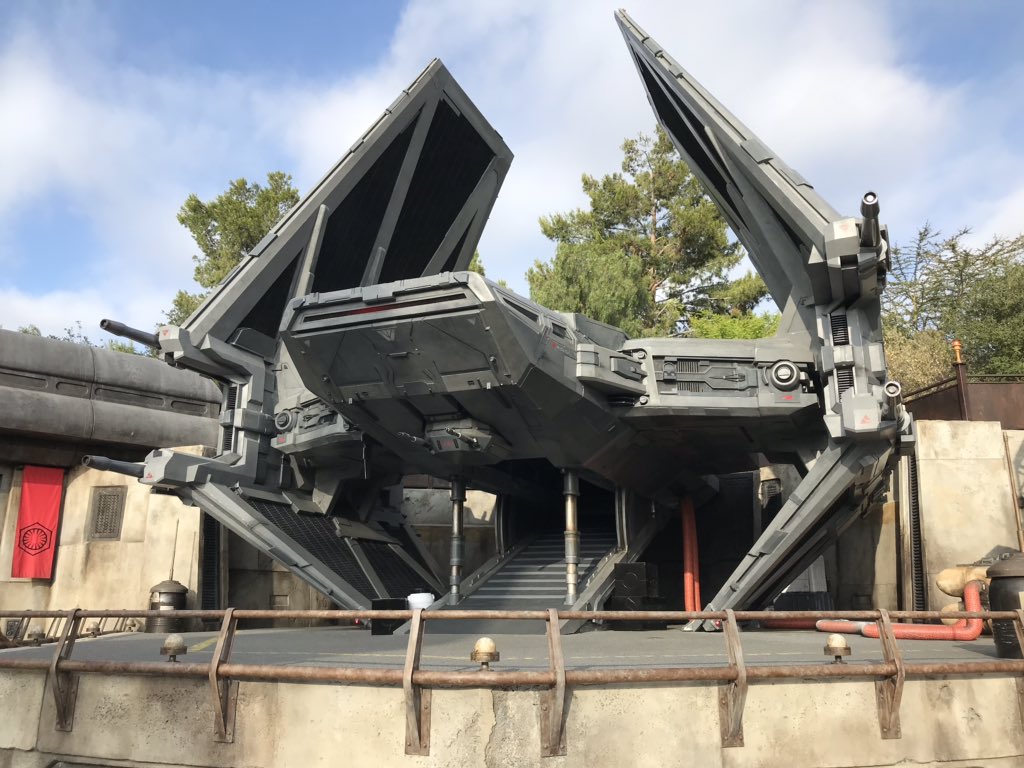 Savi's lightsabers: Build a custom lightsaber for $200. Find the shop, and get a reservation time to come back and build your saber. Note: Savi's lightsaber shop is undercover as a spare parts shop, so ask local Battuans where Savi's workshop for spare parts is. And while it's perfectly OK to take pics with your custom saber at the Falcon, if you do it in the First Order area, you may attract unwanted Stormtrooper attention.
Droid Build. Build a custom droid for $99. You also have to find and sign up for this. It's very cool to put together your own droid from parts on a conveyer belt. Really feel ownership!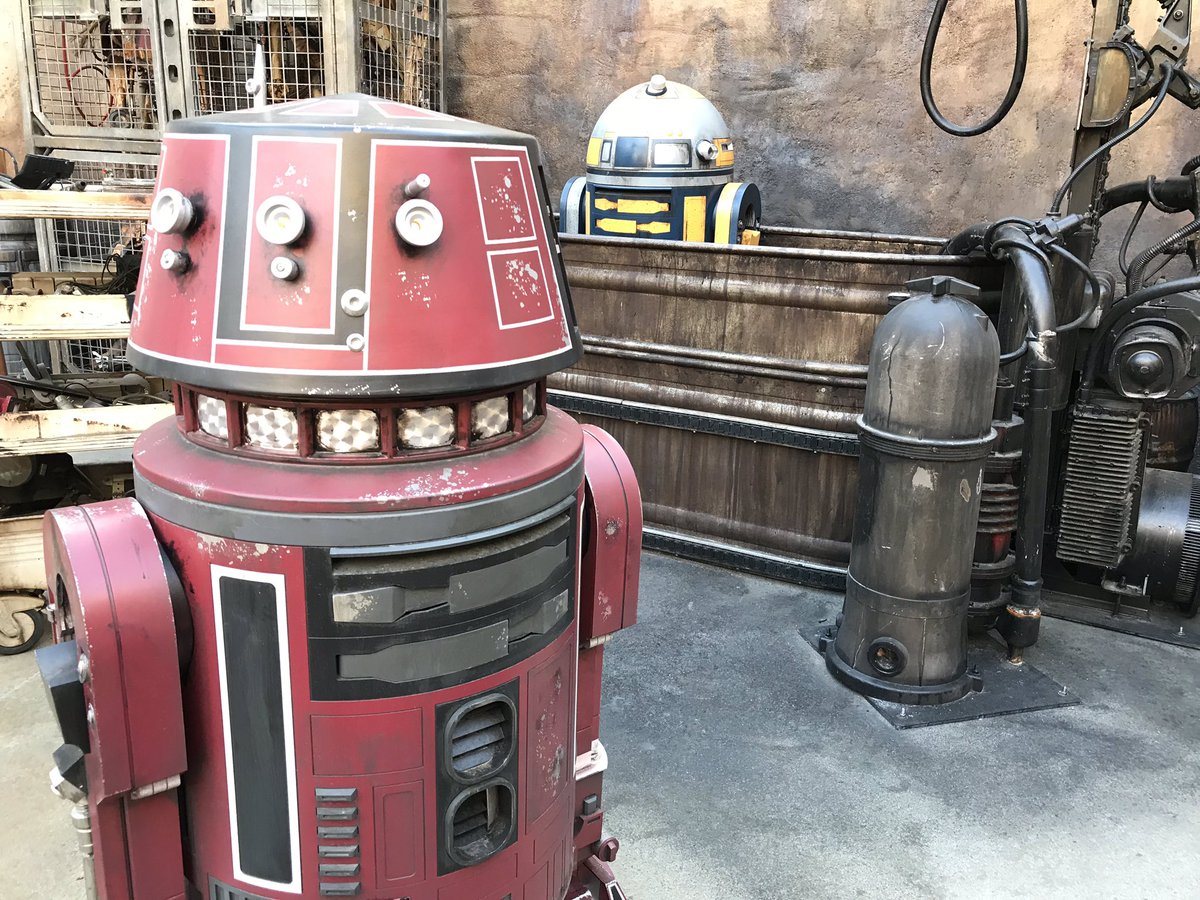 Food: 3 main places to eat. Docking Bay 7 has entrees and kids meals in a cool themed flight bay with sitdown seating. Rontos Roasters sells hot dogs and jerky roasted by a Droid (no seating). Oga's Cantina has alcoholic drinks, and a few bar snacks. There was a line the entire time so I didn't even get in! You can also get popcorn at Kat Saka's Kettle in the marketplace. It looks like white, caramel and red mixed popcorn, and tastes kinda like kettle corn. Blue and Green Milk taste like pina coladas with coconut milk, soy milk, and other juices mixed in so the flavor tastes like an otherworldly fruit-smoothie.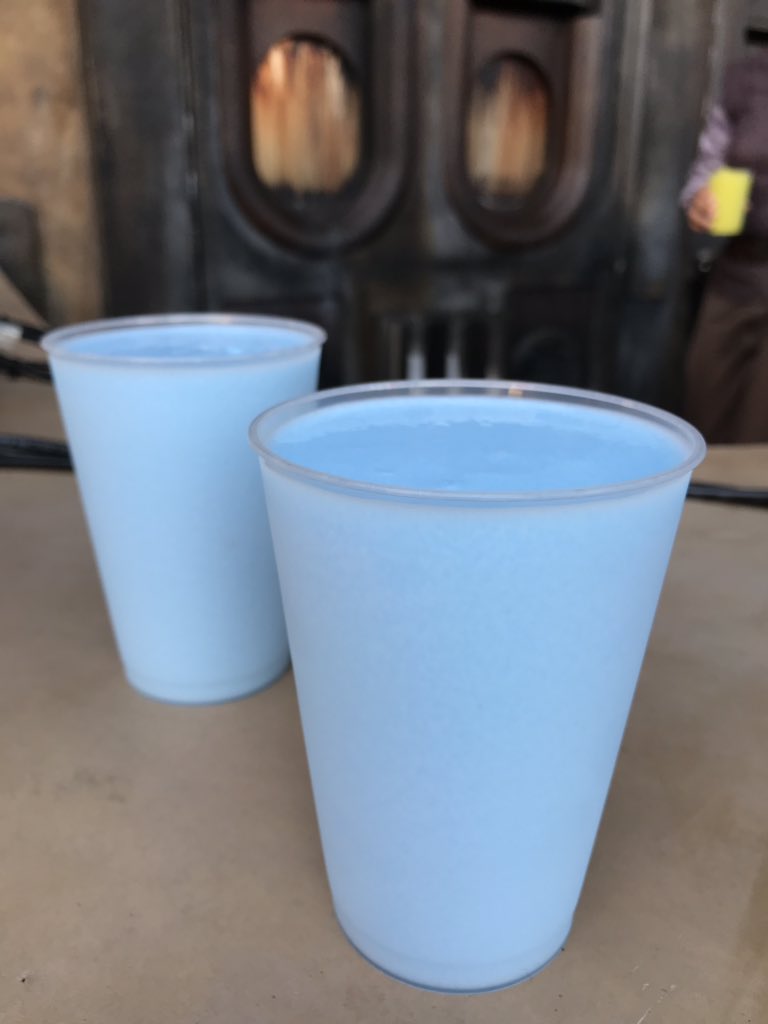 Thermal detonator shaped Coke, Diet Coke, Sprite, and special Dasani water containers are instant collectibles.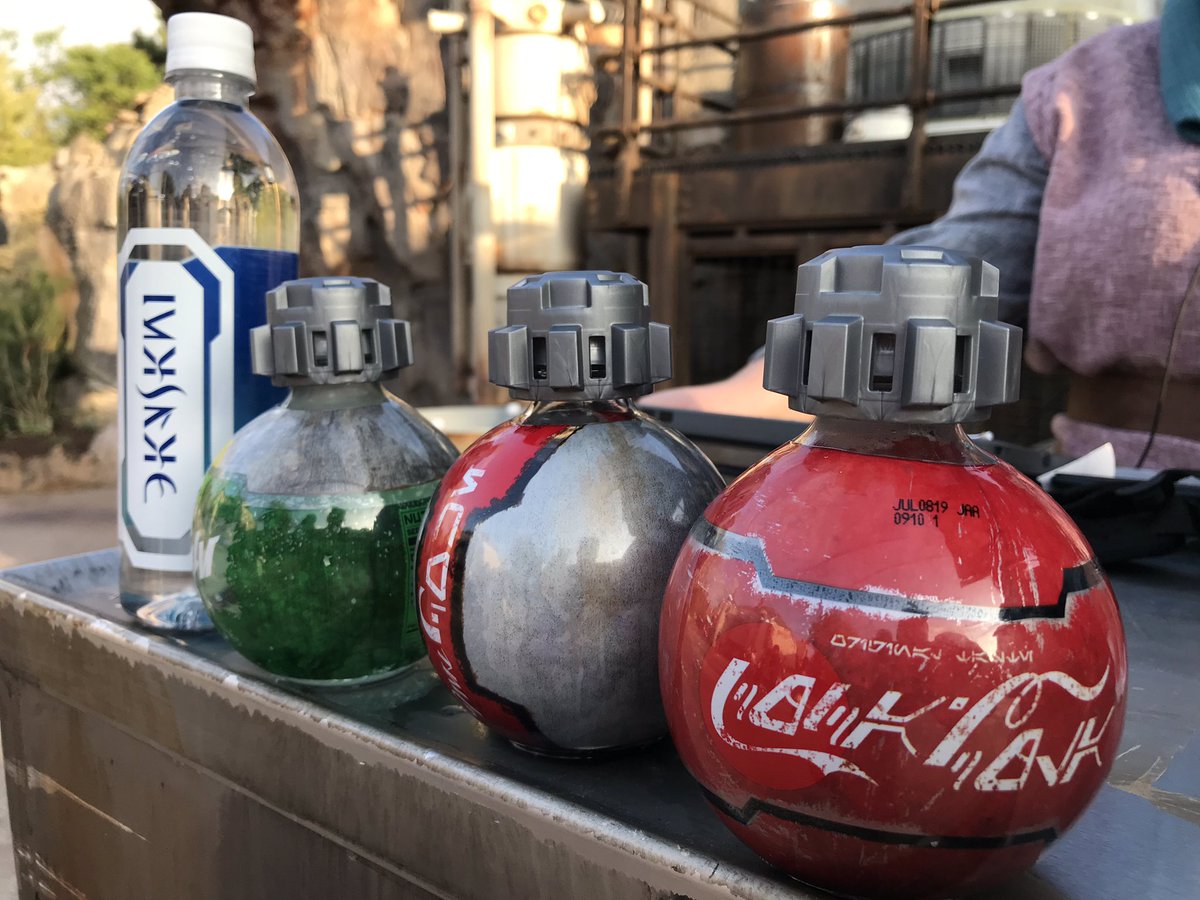 Lingo: Learn the expressions of Black Spire Outpost which the Battuan cast members use to help immerse you in the world: Bright Suns = Good day / Hello. Rising moons = Good Evening. Til the Spire = Til We Meet Again/ See you later, Good Run = Good Luck. Sun trips = Birthday. Instead of asking if you get an Annual Pass Discount, ask Do Pass Credentials work here?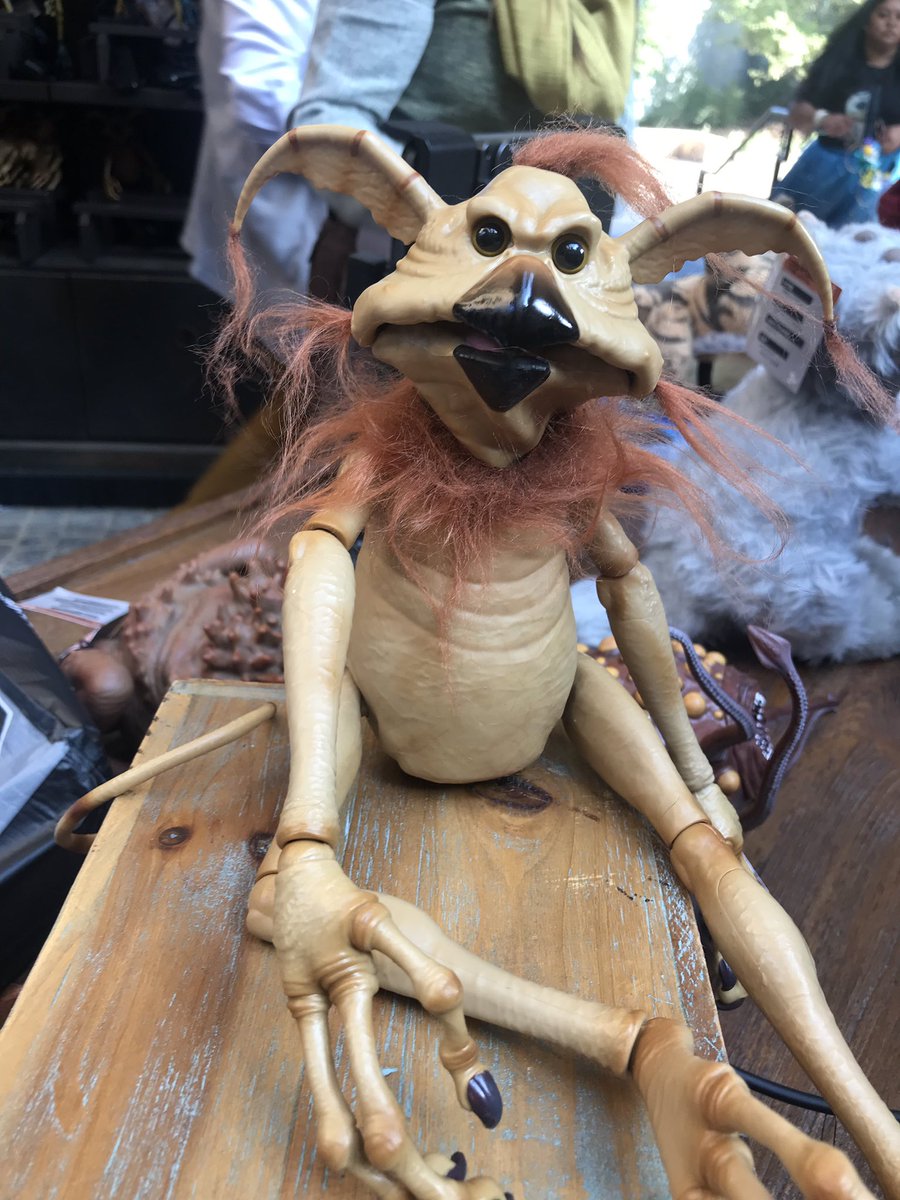 Merch: So much new merch! Lots in the marketplace like Salacious Crumb characters. And pricey collectibles in the Antiquities store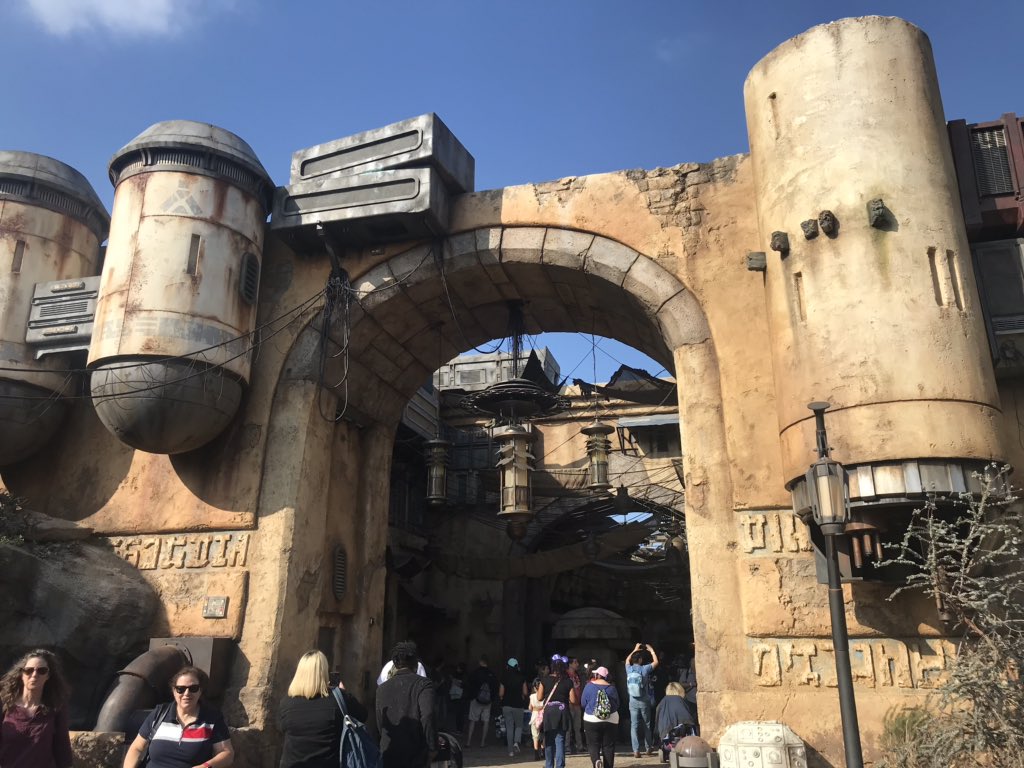 Reservation Times: The reservation systems has extremely effective at making Star Wars land not too crowded opening weekend. Each of the five 4-hour time slots has advantages:
– 8a-12p First reservation time is good because no one else is in the park when you enter, so it's a bit easier to do the attractions or take pics without many people around. Note that it may be cloudy in the mornings, and the marine layer should burn off by afternoon. Also the shops are fully stocked if you are into buying march. But you have to wake up early to make it there on time.
– 11a-3p: OK time. Don't have to wake up as early. More like to be sunny in the afternoon.
– 2p-6p: OK time. Don't have to wake up as early. More like to be sunny in the afternoon.
– 5-9pm: Only time sot were you can take day, sunset and evening scenery pics. The Falcon looks awesome lit up at night, as do the blue spires. The rest of the park looks great at night, feels totally different. Kylo Ren's Command Cruiser also looks impressive.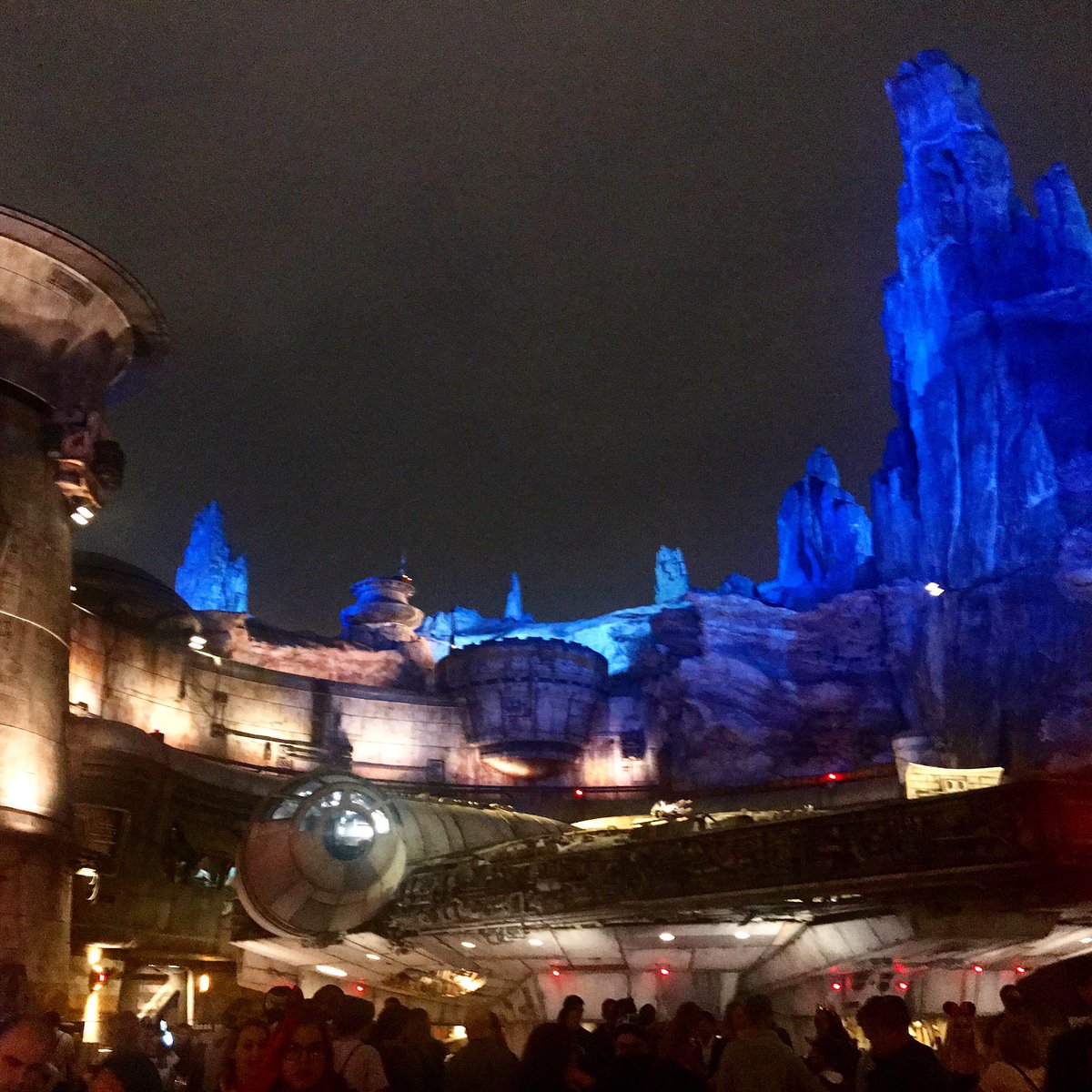 – 8p-12p is good to see the 9:30p fireworks over the Falcon and spires that make it feel you're in the fireworks celebration montage at the end of ROTJedi. Also, it looks great at nite.
If your wristband time slot has expired, you will not be allowed to do the rides or enter shops, etc.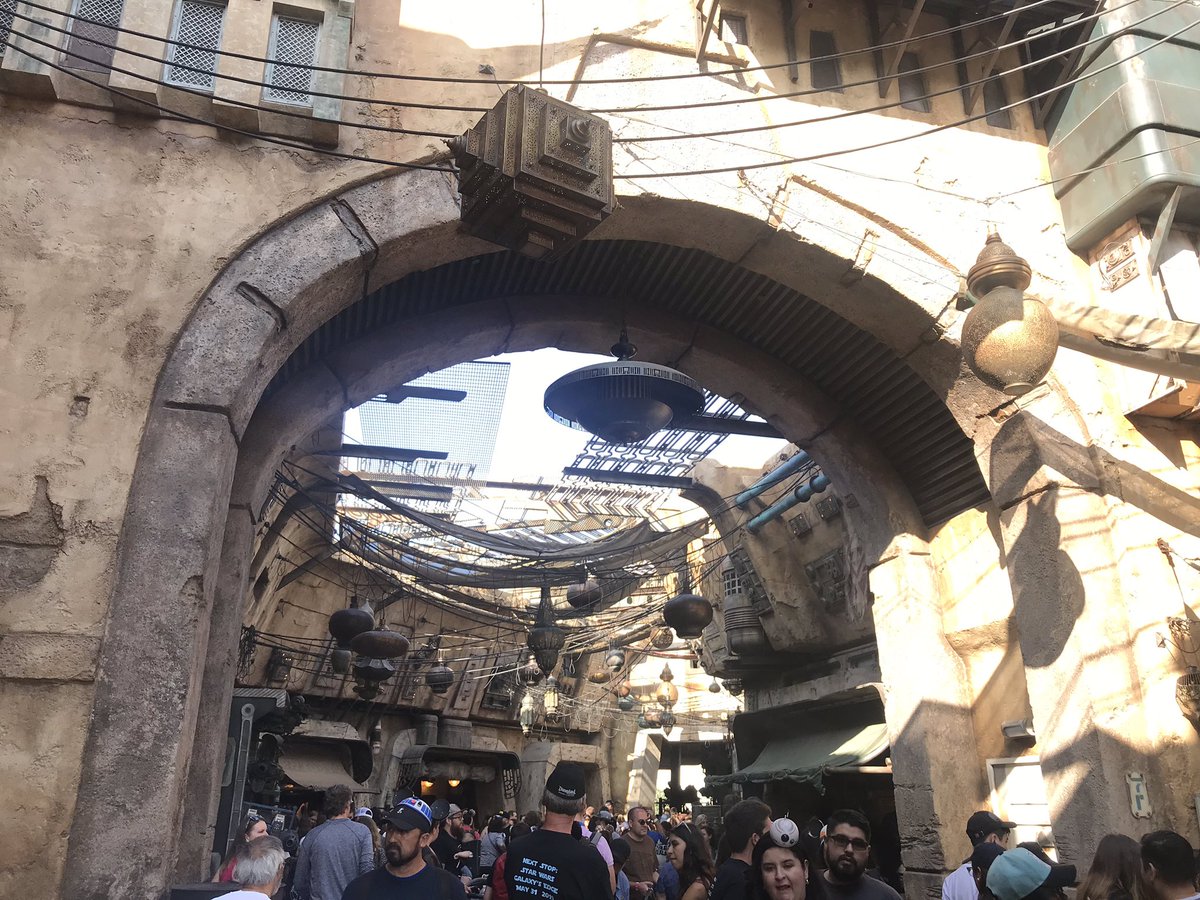 Leaving: When you sadly must leave Batuu, and stumble back into Frontierland or Critter Country, you will feel this "oh, gee, I'm back on Earth in Disneyland feeling." Yes Batuu is so good at an immersive experience, you really feel like you were on a planet far far away.
Note: After reservations period is over, expect massive crowds June 24 on, and waits of 2-3 hours or more for the Falcon.