Speakers from Marvel Studios and Fox discussed the impact of digital on their craft at our Digital LA – Superheroes Go Digital panel at CTRL Collective Playa Vista. Our tenth annual panel highlights superheroes and digital on Monday in LA before San Diego Comic-Con.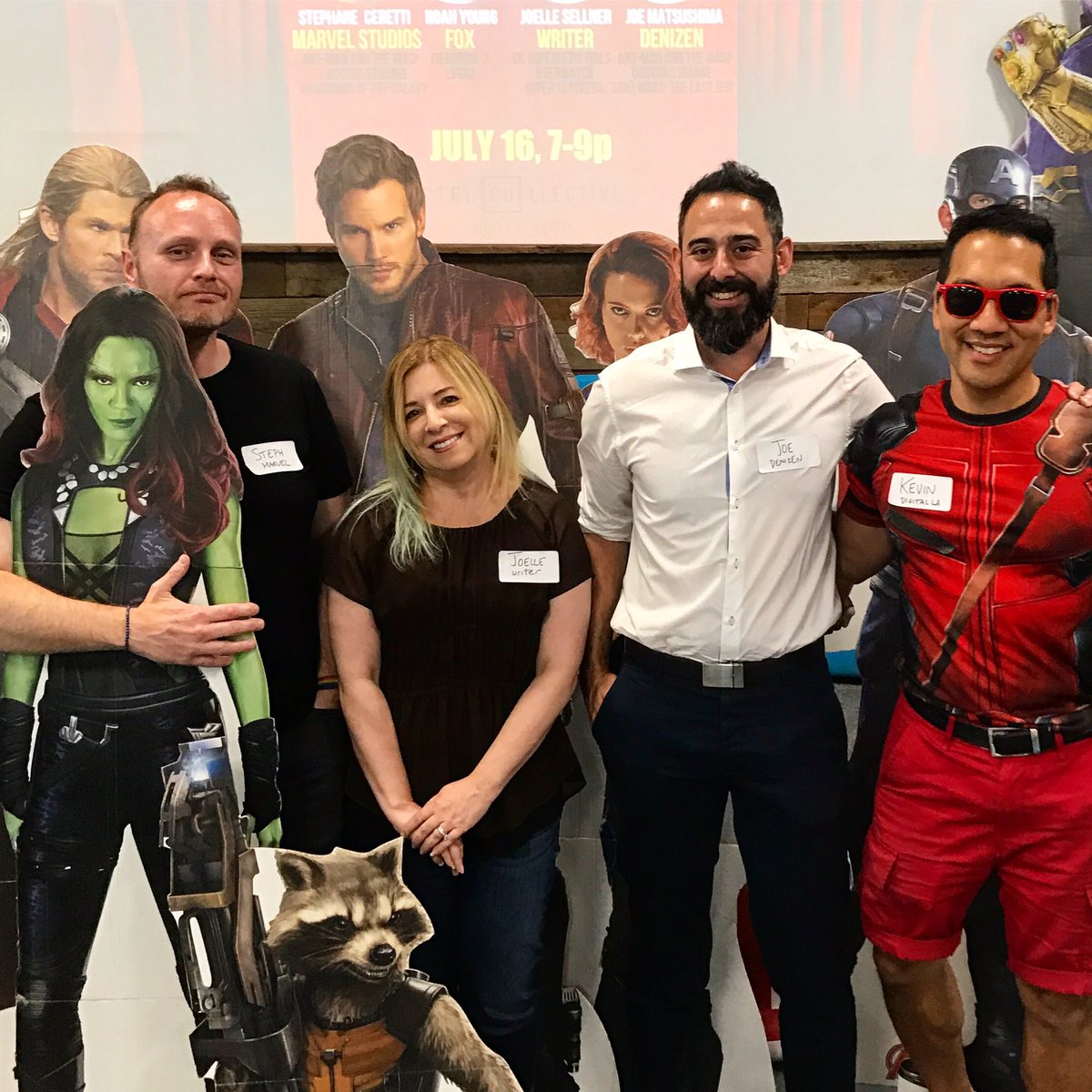 Speakers included two-time Oscar nominee Marvel VFX Supervisor Stephane Ceretti, Noah Young, VP Digital Marketing at Fox Studios, Joelle Sellner, writer of DC Superhero Girls digital series and the Overwatch digital series, and Joe Matsushima, co-foudner of Denizen marketing agency.
Speakers described how digital innovation impacts their work in our Facebook Live video.
HIGHLIGHTS
Stephane Ceretti, Marvel VFX Supervisor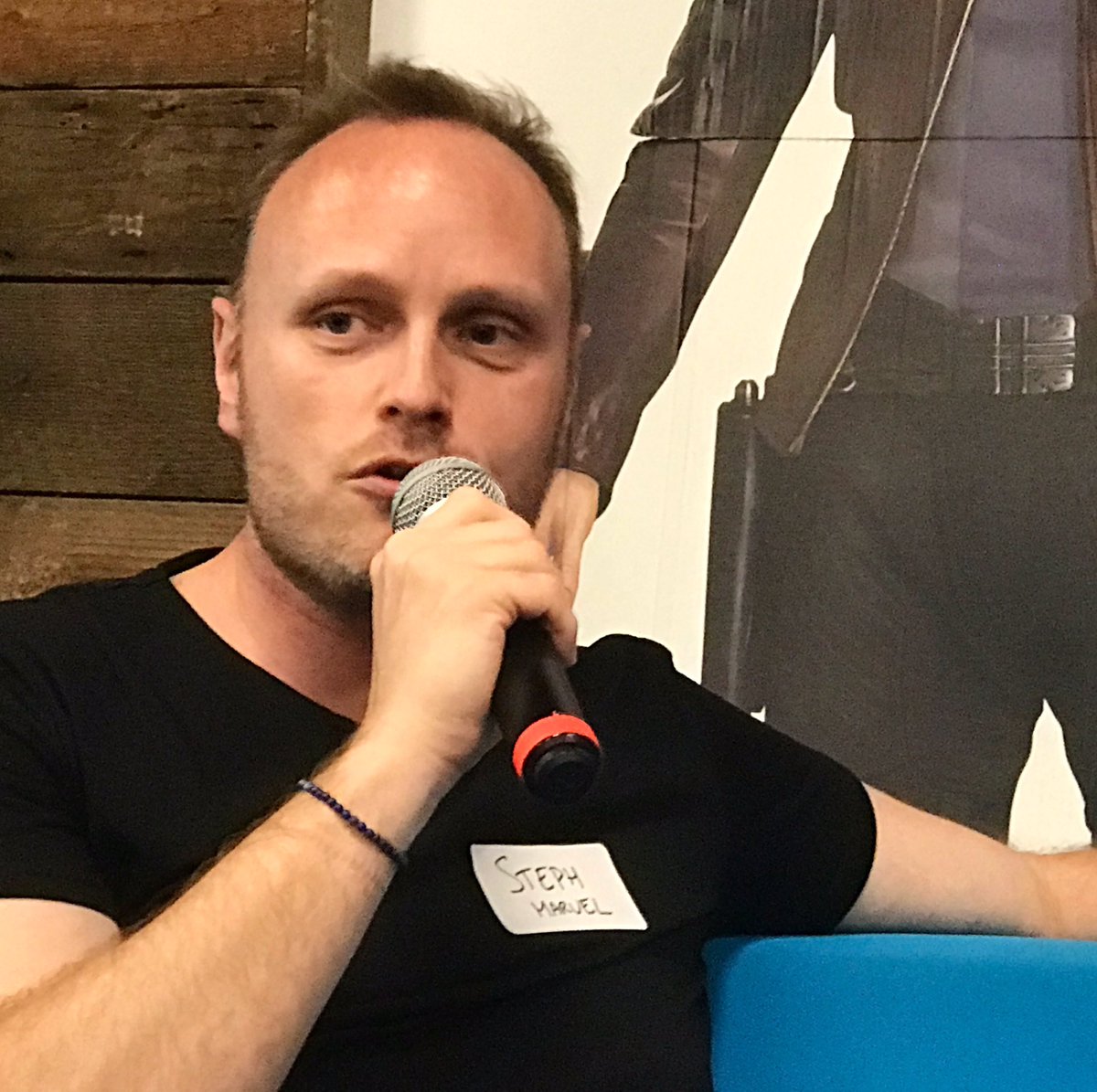 As Marvel VFX Supervisor, Stephane works with directors to determine which shots should be VFX, and then supervises the work among Marvel's in-house VFX team and often more than a dozen VFX companies from LA to London and around the world.
His work encompasses the VFX look of characters such as Rocket and Groot on the Guardians of the Galaxy, for which he was nominated for an Oscar in Visual Effects. He also works with concert artist and VFX companies on environments like the Dark Dimension in Doctor Strange, for which he was nominated for his second Oscar in VFX.
For Ant-Man and the Wasp, he also worked on the vibrating organic environment of the Quantum Realm, as well as the shrinking and growing sizes of the Ant-Man, Wasp and other characters in the film.
He also worked on the San Francisco chase scenes. About 75% of the San Francisco chase scenes were actually shot in downtown Atlanta, because it's expensive to shoot in downtown San Francisco. The background of the scenes shot in downtown Atlanta  was digitally enhance or replaced, adding San Francisco trees, hills, street signs, and glimpses of the water between buildings.
Stephane emphasized that Marvel works with VFX companies on the most cutting edge technology, as long as it helps tell the story. If it's cool tech, but doesn't help with storytelling, then don't do it, he said.
At the end of the panel, Stephane showed the Ant-Man and the Wasp trailer with and without visual effects, so you can see the impact of what VFX teams do, from adding digital characters, explosions and tomato splashes, to removing stunt wires.
Noah Young, Fox VP Digital Marketing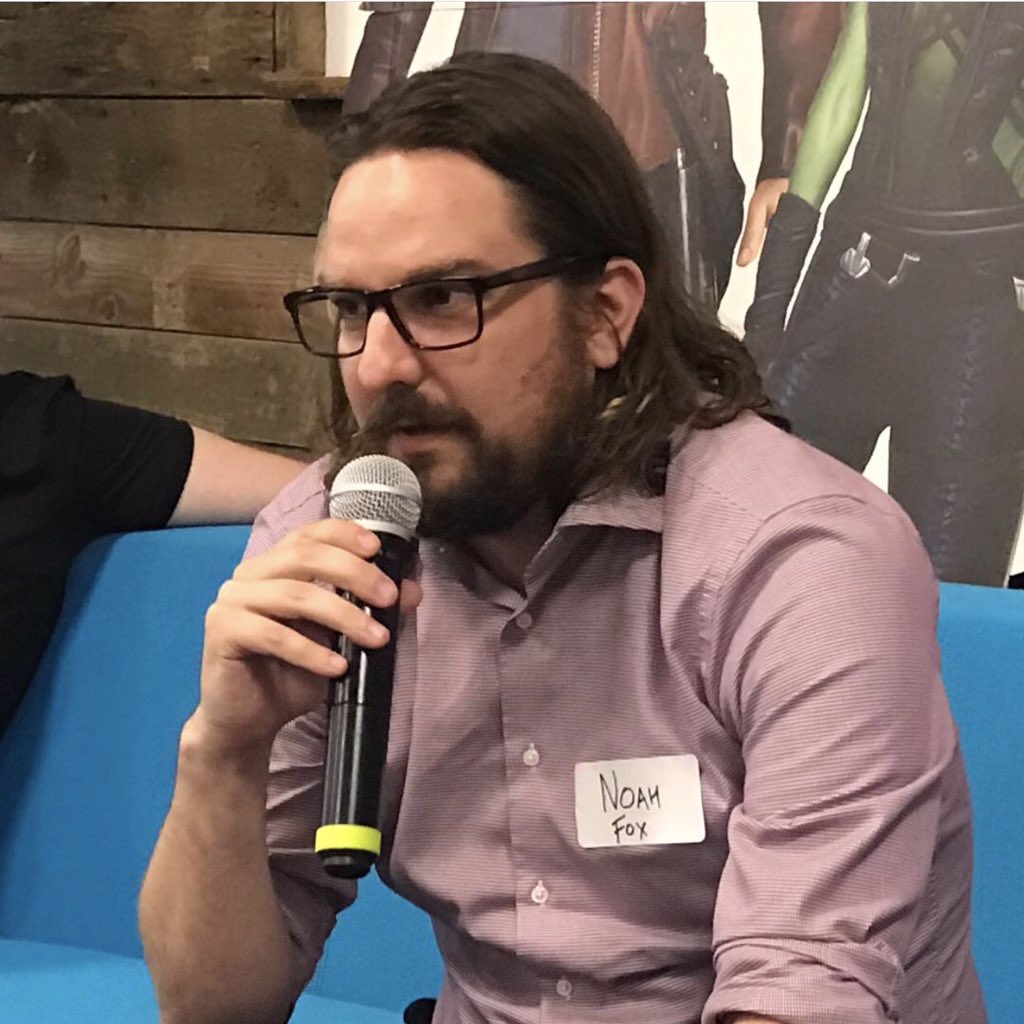 Noah described working on superhero campaigns including Deadpool, Deadpool 2 and Logan.
He said that Ryan Reynolds is terrific to work with, because he basically embodies Deadpool character and film, and IS Deadpool's voice. The Fox digital marketing team worked closely with Ryan on several campaign elements, from tweeting news about the film, to reviewing promotional campaigns, videos and more.
Deadpool 2 campaign elements included working with Celine Deon to create a Deadpool music video, that went viral because it was completely different brands. The hilarious Ashes video features Celine Deon singing seriously, while Deadpool dances and twirls elegantly on stage. Ashes is on the Deadpool soundtrack. Plus, both Celine and Ryan Reynolds are Canadian.
Noah said that his digital team works closely with film directors and actors as the film is being shot, to create digital marketing nuggets that perform well with diehard fans online scouring for any info about the movies.
Noah said that he is currently working on Alita: Battle Angel campaign, including a Comic-Con activations with LA startup Loot Crate.
Joelle Sellner, Writer, DC Superhero Girls, Overwatch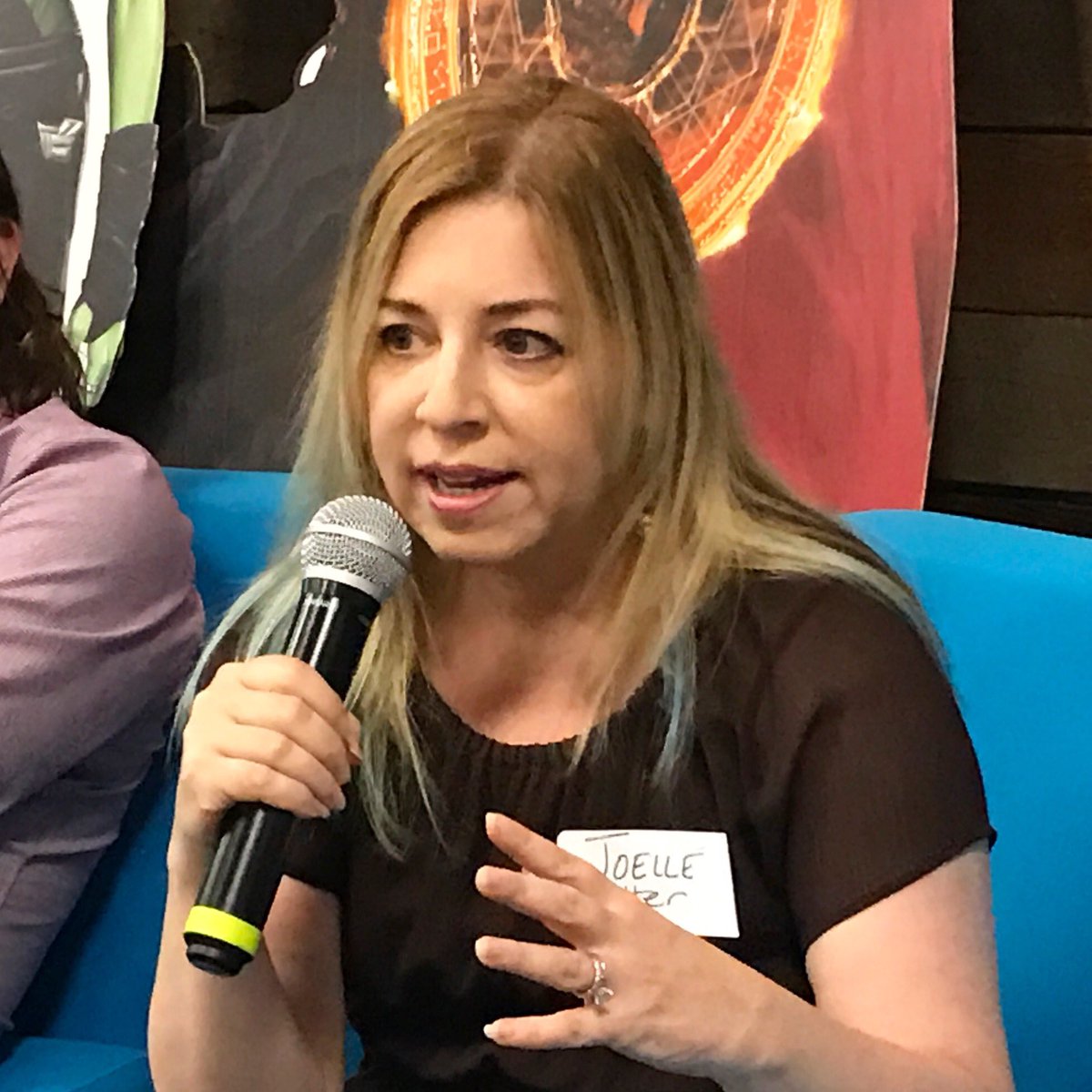 Joelle is writer on digital series including LEGO DC Superhero Girls, and Overwatch. When working on existing IP with known characters, she watches as much of the previous episodes or seasons as she can, so she learns the characters voice, and what they've already done. She then works with the producers and directors on developing new ideas. For example she wrote the Wonder Waitress episode about Wonder Woman becoming a waitress at a restaurant. Of course, a villain attacks.
Joelle said that one her favorite digital innovations for her as a writer, is voice-to-text. She said that she's a moderate typist, so being able to dictate dialogue for a story she is writing helps it flow. She can dictate several pages in a day.
Joe Matsushima, Denizen, Co-Founder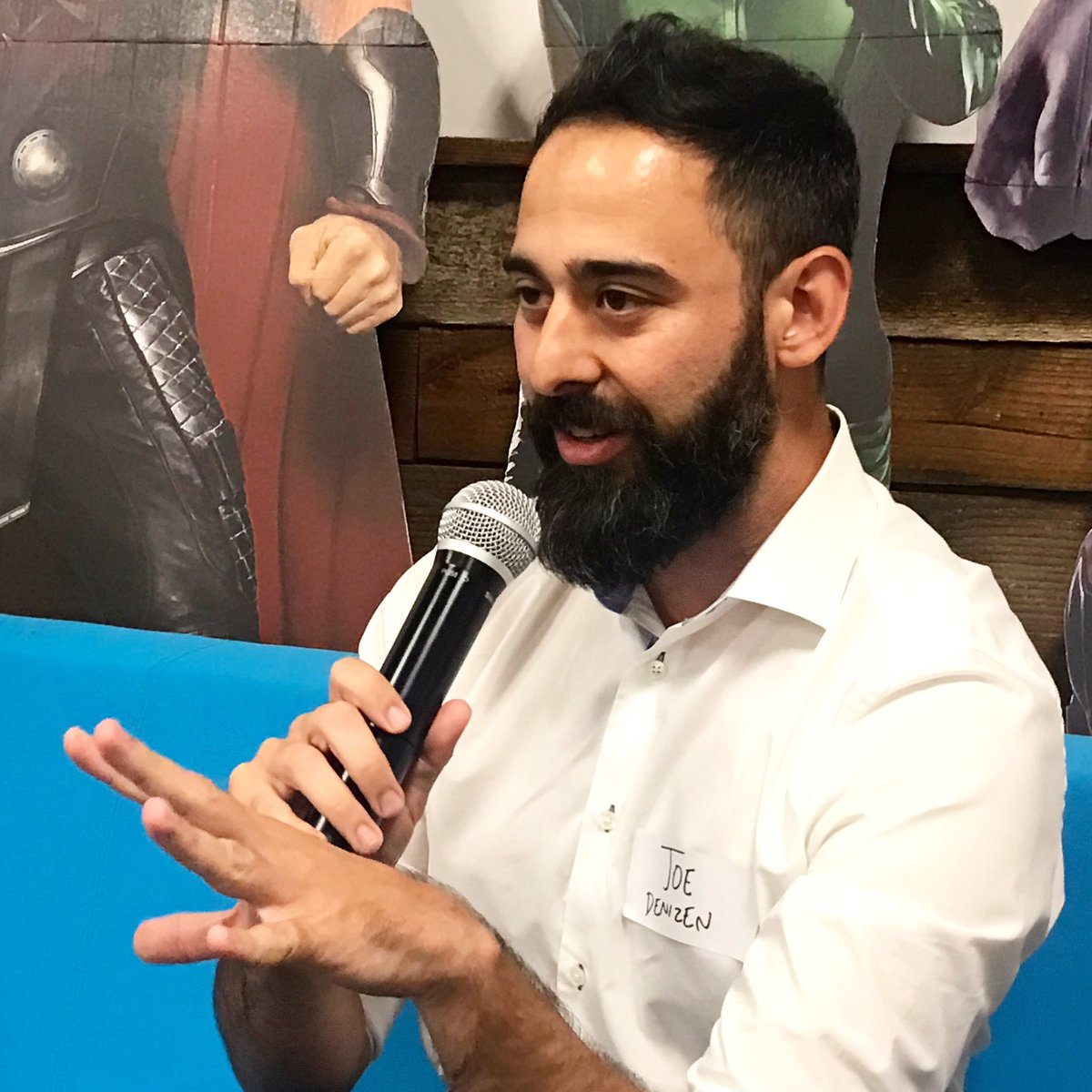 Joe said that Denizen works with movie studios to create both online and offline campaigns that usually have some sort of social or viral component.
He said the key is to concept something relatively low-tech, but relatable and socially sharable.
He worked on Pirates of the Caribbean, saying that as they were leaving the pitch meeting with Disney marketing, his team said: One more idea: What if we had Johnny Depp make a surprise appearance at Jack on the Pirates of the Caribbean ride at Disneyland. Disney liked it, and many approvals and meetings later, it happened. Johnny Depp surprise people as Jack on the ride. People on the ride quickly figured out it was him, and were transfixed on their phones recording it. A team of more than a dozen videographers hidden throughout the ride recorded Depp and the fans reactions on that Friday, and released a video the next Monday that went viral, with more than 7.5M views.
Denizen also worked on Ant-Man and the Wasp, creating a forced perspective growing / shrinking room that lets people appear to grow or shrink by walking to one side of the room or the other. The room appeared at the Ant-Man and the Wasp press junket, where the cast, press and social media influencers all had fun walking from one end of the room to the other. Again: relatively simple, low tech, but easy for anyone to do and share with their friends. See Paul Rudd and the rest of the cast grow/shrink in the Instagram story.