Star Wars Celebration returned triumphantly in force with Star Wars cast and filmmakers, trailer and poster releases, the Mandalorian Experience, and thousands of lightsaber-wielding cosplaying fans, happy to back in person, May 26-29 at the Anaheim Convention Center.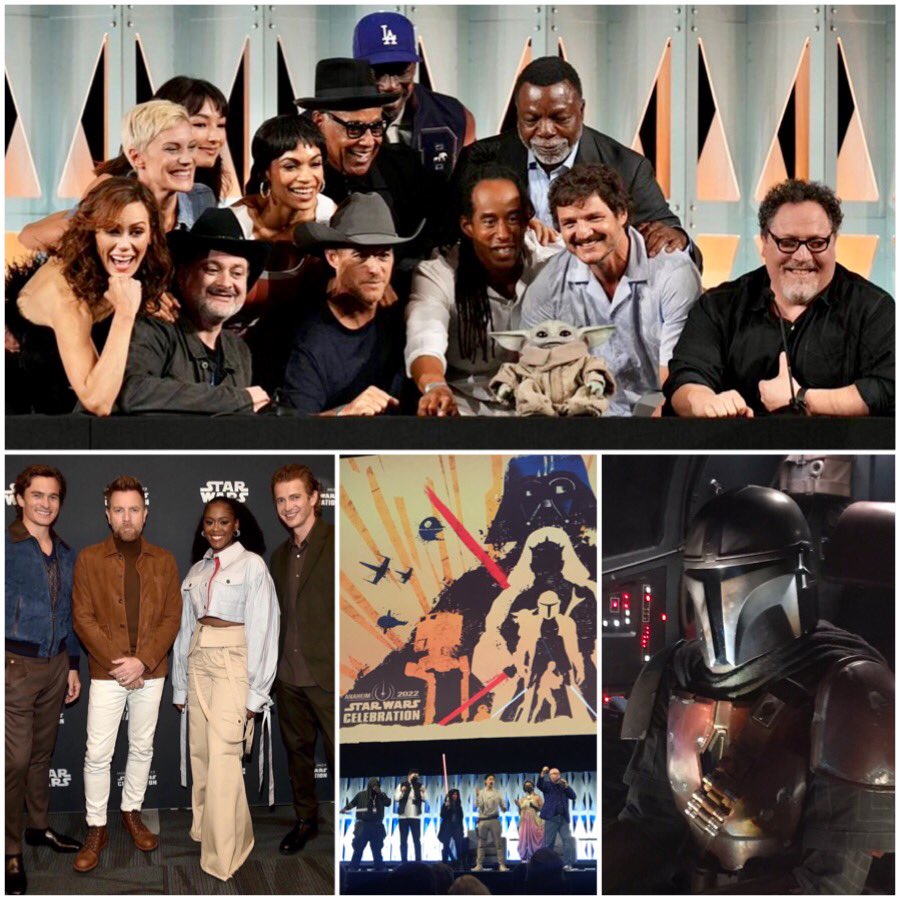 Over the past few years, new Star Wars content and fandom has been driven not by movies, but by Disney+ streaming shows, thanks to supreme team Filoni-Favreau's popular shows including the Mandalorian, Book of Boba Fett, and Bad Batch. Panels with cast and creators for these shows were packed, as were panels for previews of highly anticipated upcoming shows Ahsoka and Andor.
Mandalorian Experience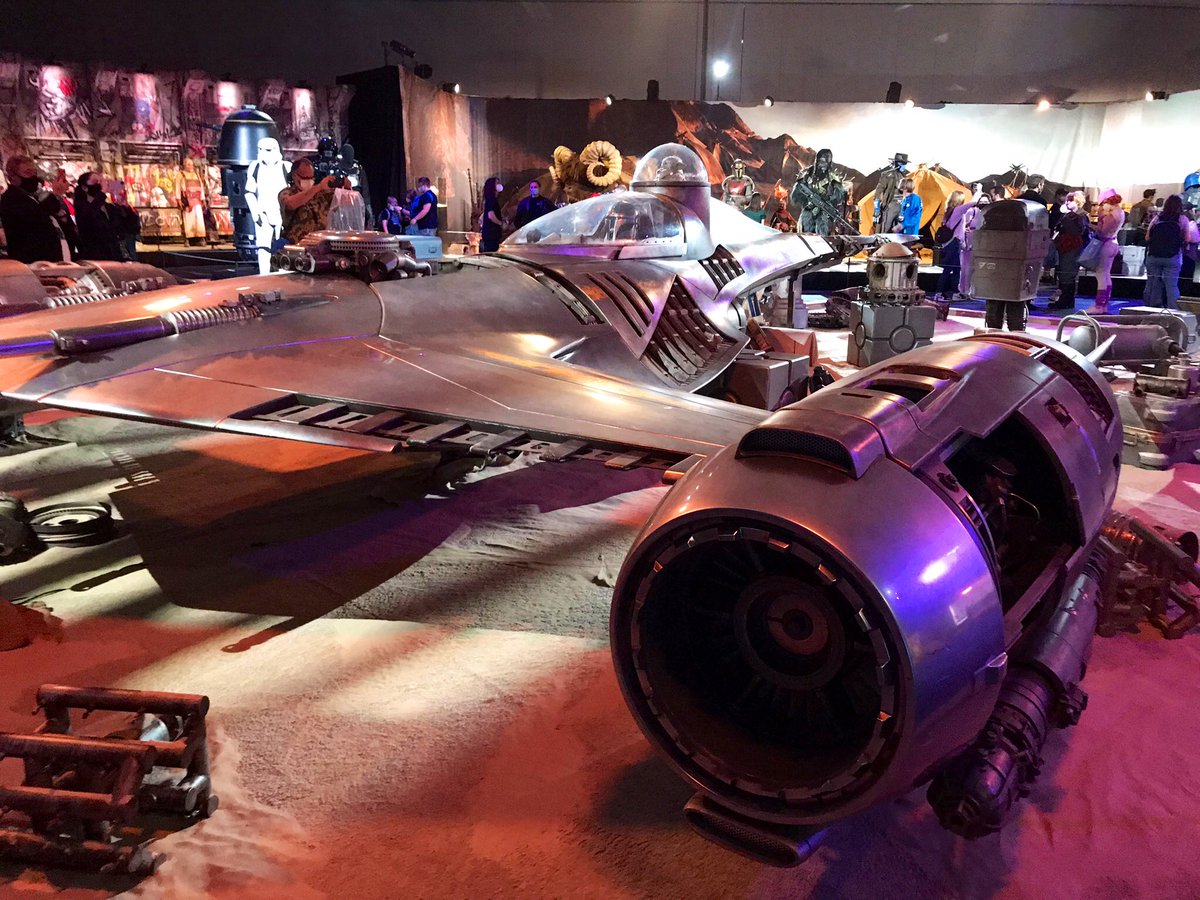 The Mandalorian Experience was a highlight of this year's celebration. The surprise exhibit featured hundreds of props, costumes, and set pieces actually used in production of Mandalorian and Book of Boba Fett, in the basement of the Anaheim Convention Center North. It's one of the best Star Wars exhibits ever as far as number of props, costumes, and set designs.
Jon Favreau announced the experience at the Lucasfilm opening day panel, saying that the exhibit was a heartfelt thank you to the fans for signing up for Disney+ to watch the Mandalorian, during pandemic when Disney parks and movies were shut down. He set it up, joking saying they wished they could invite fans to the production warehouses in Manhattan Beach to thank them. But instead, they decide to bring the pros and costumes to the convention hall, with much fan cheering. Attendees could register for an appointment time via the SWC app, or standby in line.
Vehicles. The centerpiece for the main exhibit hall was a life size Mandolorian's silver Starfighter ship. Mando was in the cockpit, with a smiling, waving animatronic gurgling Grogu in the droid pod – the Grogu actually used in filming.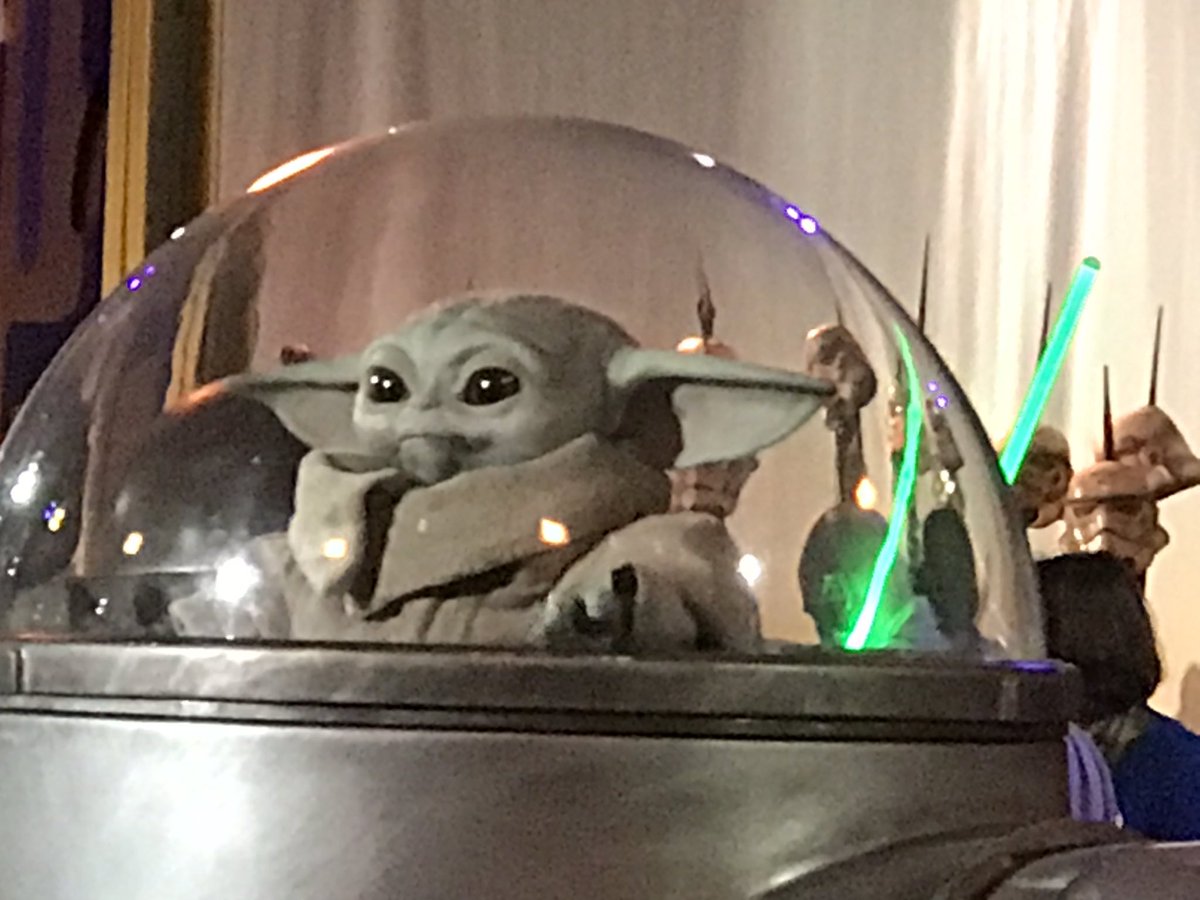 Other vehicles included life size Razor Crest ship cockpit with Mando steering.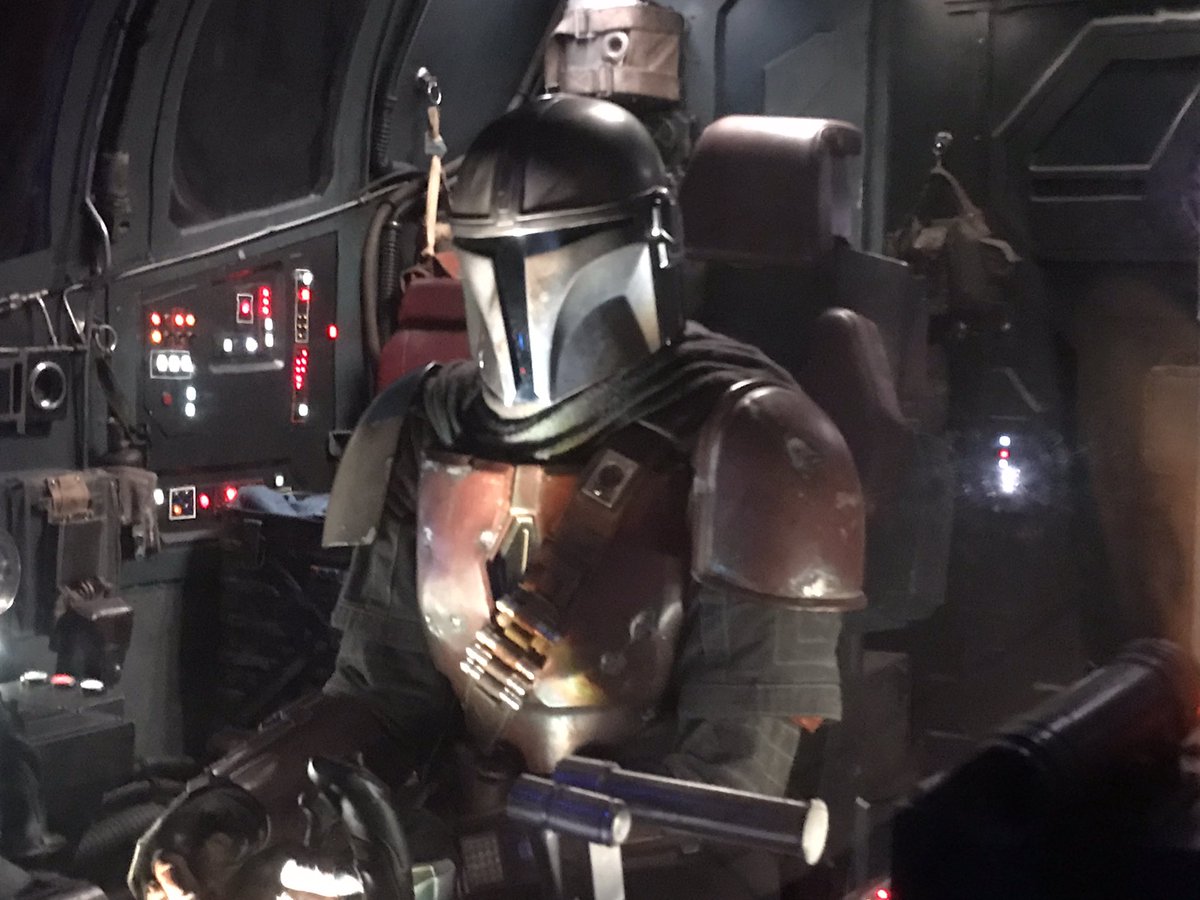 And several models of ships used in production, including a sneak preview new crescent moon shaped ship that will be in an upcoming episode.
Costumes: The exhibit featured costumes for the Mandalorian Din, Ahsoka, Boba Fett, Fennec, Tusken Raiders, Jawas, and dozens more supporting and background characters. Cad Bane is just as scary in real life!
Props included Grogu's cute beskar mail shirt and lightsaber, dozens of weapons, and other set objects.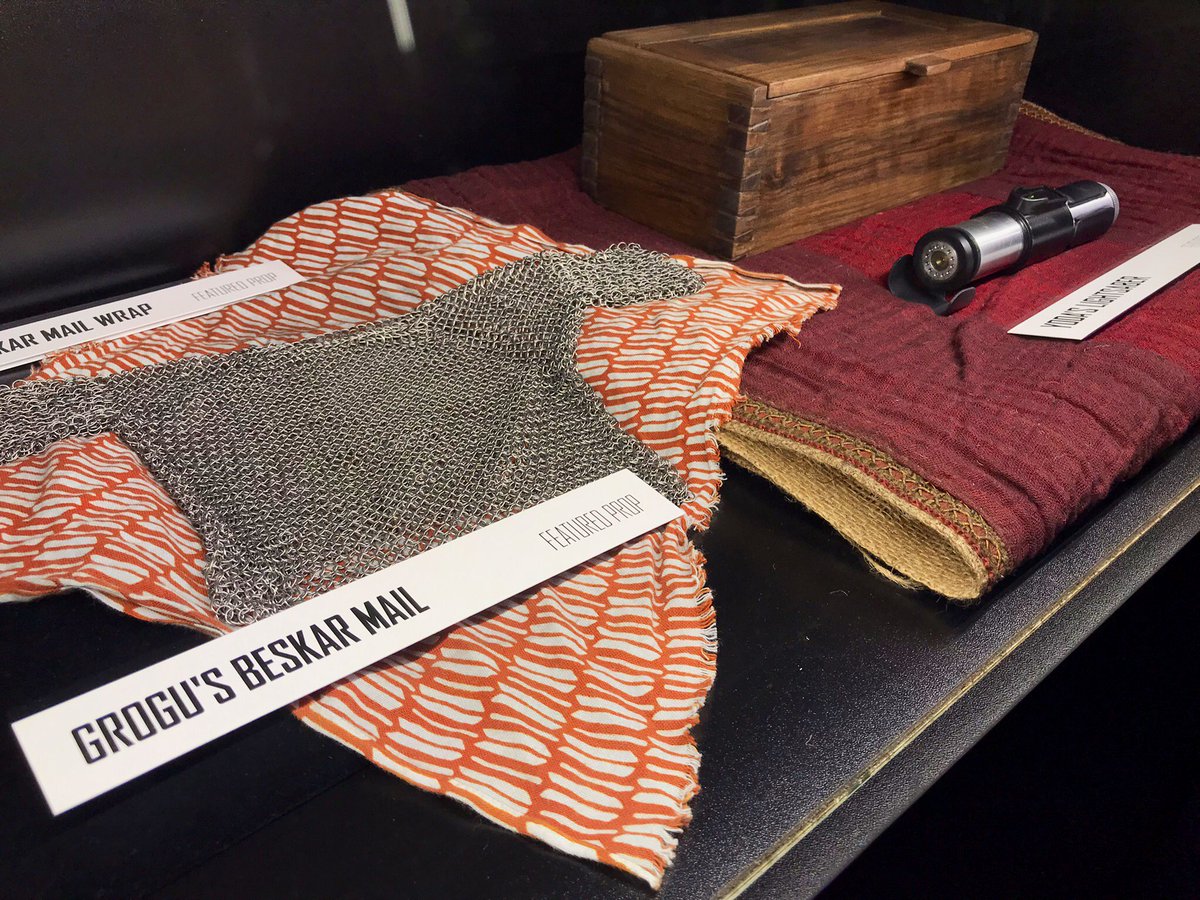 Sets included a Tusken Raider camp complete with moving Bantha and jawas, and Jabba's throne with Boba Fett and Fennec costumes.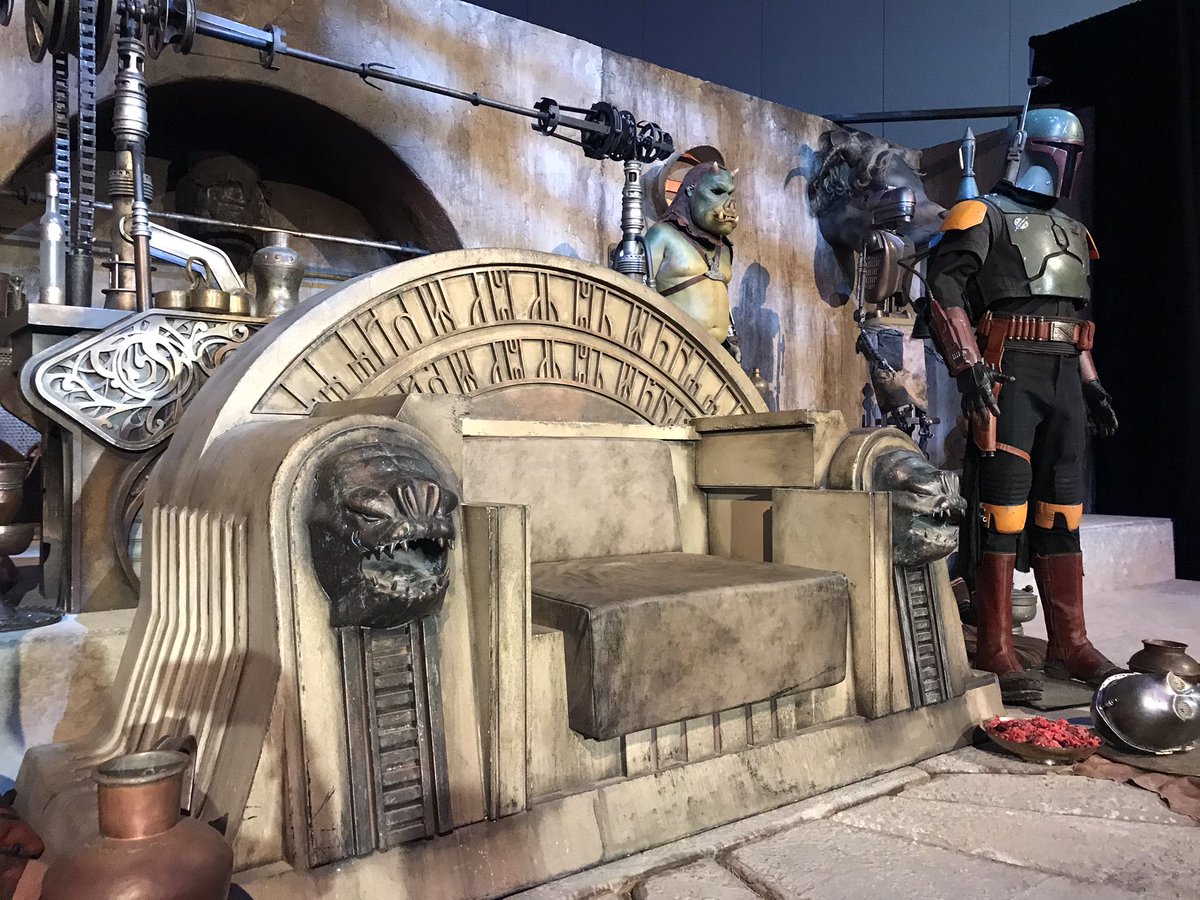 Models included the rancor cave.
PANELS
Lucasfilm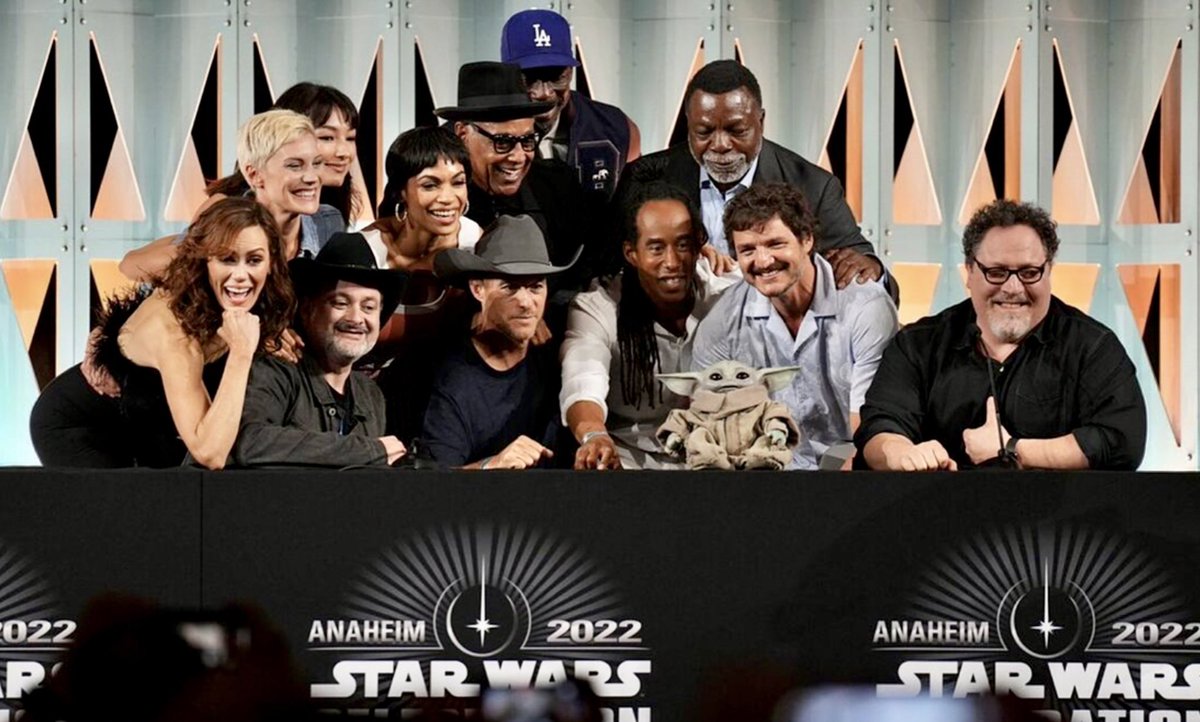 At the main Lucasfilm panel on opening day Thursday, Dave Filoni, Jon Favreau, Kathleen Kennedy provided an overview of Star Wars projects. The panel started with Ewan McGregor and Hayden Christiansen coming on stage to thunderous applause. Ewan: "Hello There." Hayden: "We are back!" Then Kathleen Kennedy joined them to talk about the Obi-Wan Kenobi series, with Ingram Moses and other cast joining on stage.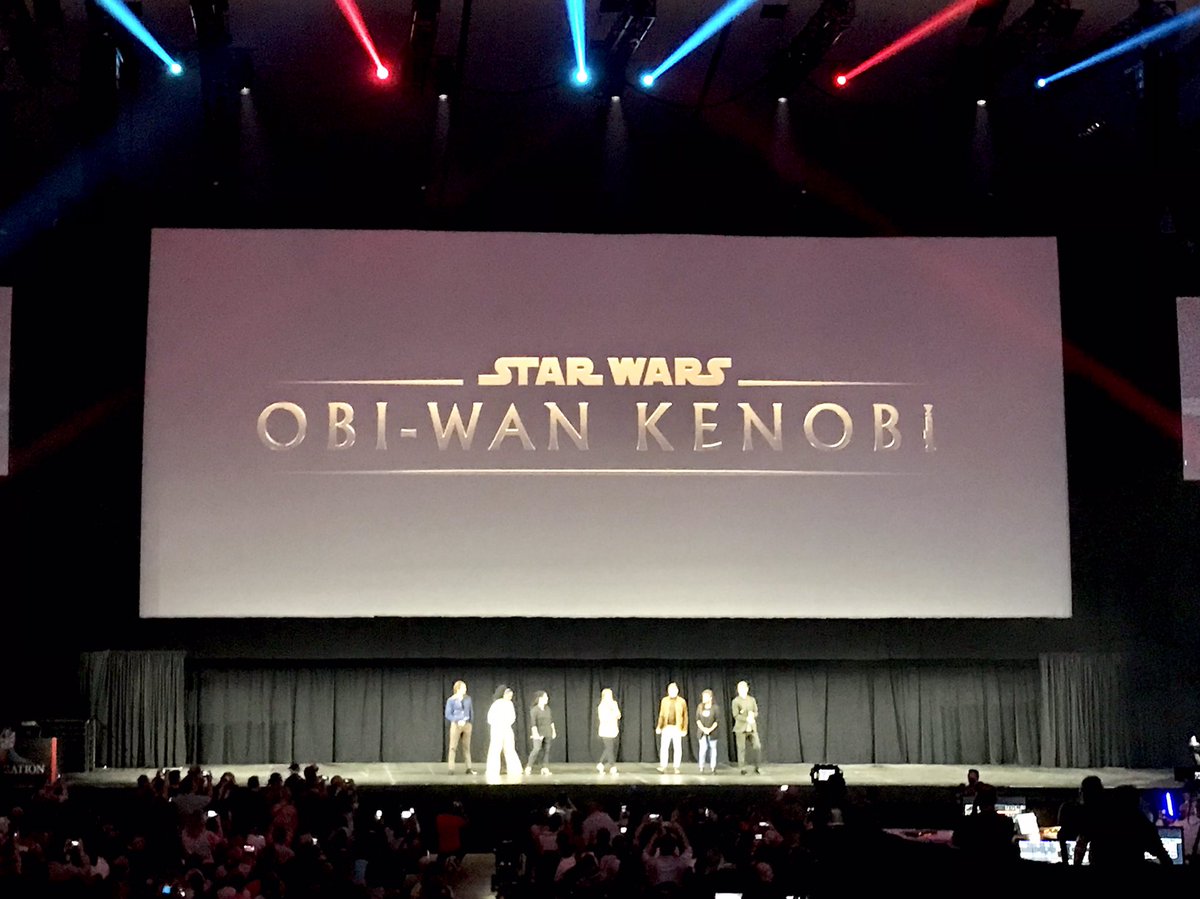 At this panel, it was announced that arena attendees would be able to attend the Obi-Wan Kenobi premiere screening of the first two episodes that same evening!
Next, Diego Luna came on stage to share details about his series Andor.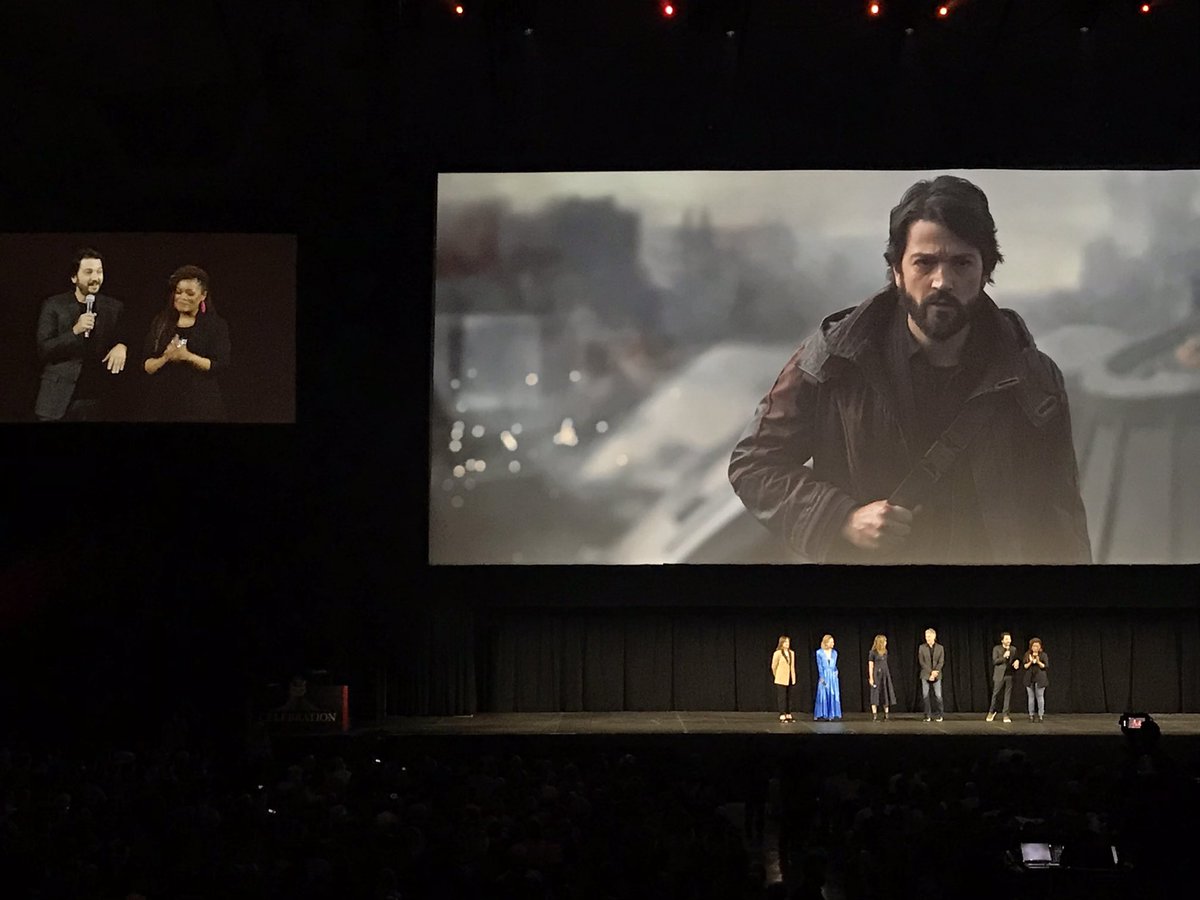 He said Andor tells the story of how his character Cassian Andor eventually decides to help the Rebellion before Rogue One. He said the Andor series is about the people and what they can choose to do to stand up and fight for what the believe in. "It's such a gift to come back to this role," said Genevieve O'Reilly, who returns as Mon Mothma. An Andor poster was released for attendees, and a new trailer dropped.
Mandalorian and Book of Boba Fett: Behind the Scenes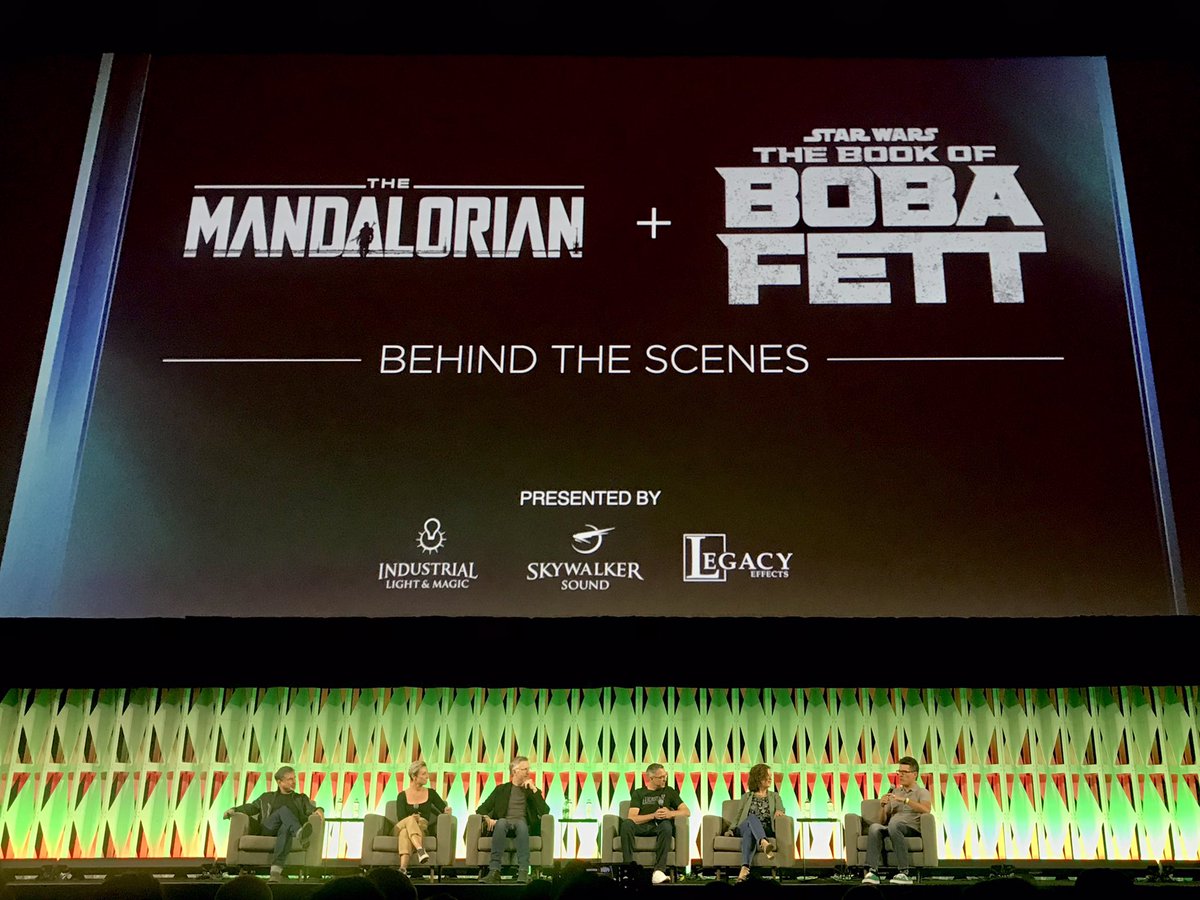 Speakers from ILM, Skywalker Sound, and Legacy Effects described working on the practical and digital VFX to bring the Star Wars wold to life on Mandalorian and Book of Boba Fett. They said the movie-quality VFX you see on Disney+ are possible because Jon Favreau leveraged his virtual production experience from Lion King and Jungle Book to work with VFX teams from pre-vis to using the Volume for actual filming.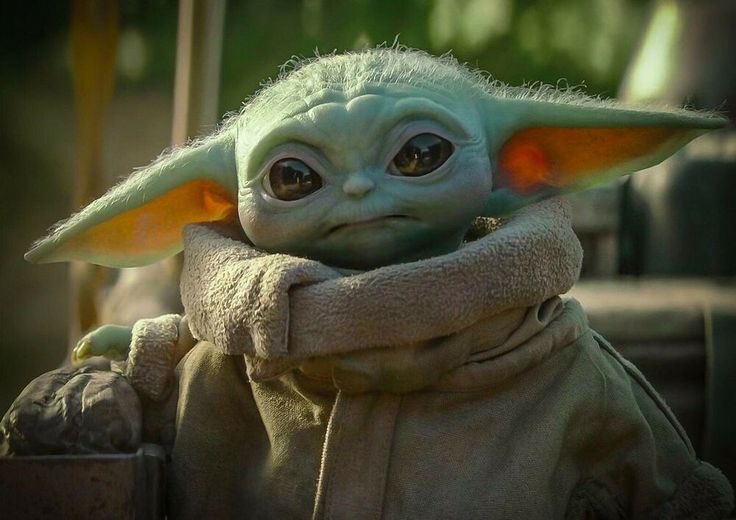 Grogu was initially going to be digital, but like Yoda, the team decided to make the puppet in real life – Grogu is a practical effect, made of fleshy translucent silicone. Gorge's voice and gurgles are a combination of human sounds and kinkajou animal sounds. The puppet Grogue is so adorable and realistic, that when George Lucas, Rosario Dawson and others visits the set, their initial reaction is to cradle Grogu like a baby, even tho it's a prop.
Bad Batch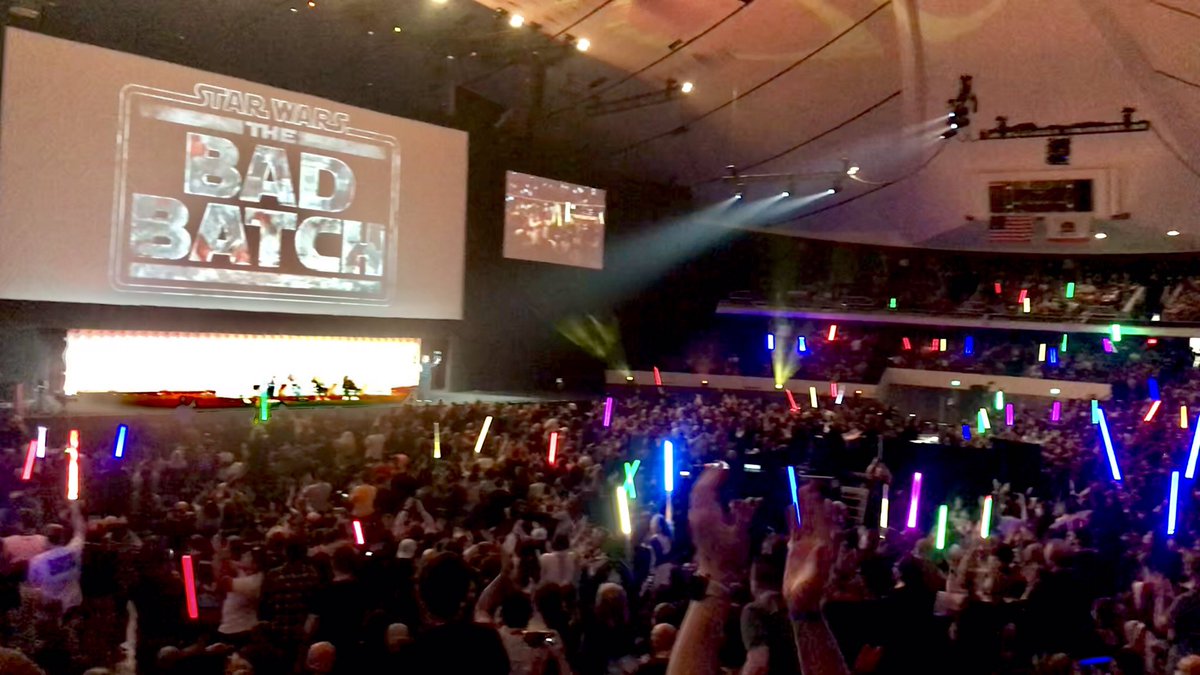 Actress Michelle Ang (Omega) and Dee Baker (the Batch aka everyone else) read a scene from Season 1. Fans also cheered and waved their lightsabers wildly for a retro poster (available for attendees), and new character looks and trailer for Season 2, releasing fall 2022 Disney+
Tales of the Jedi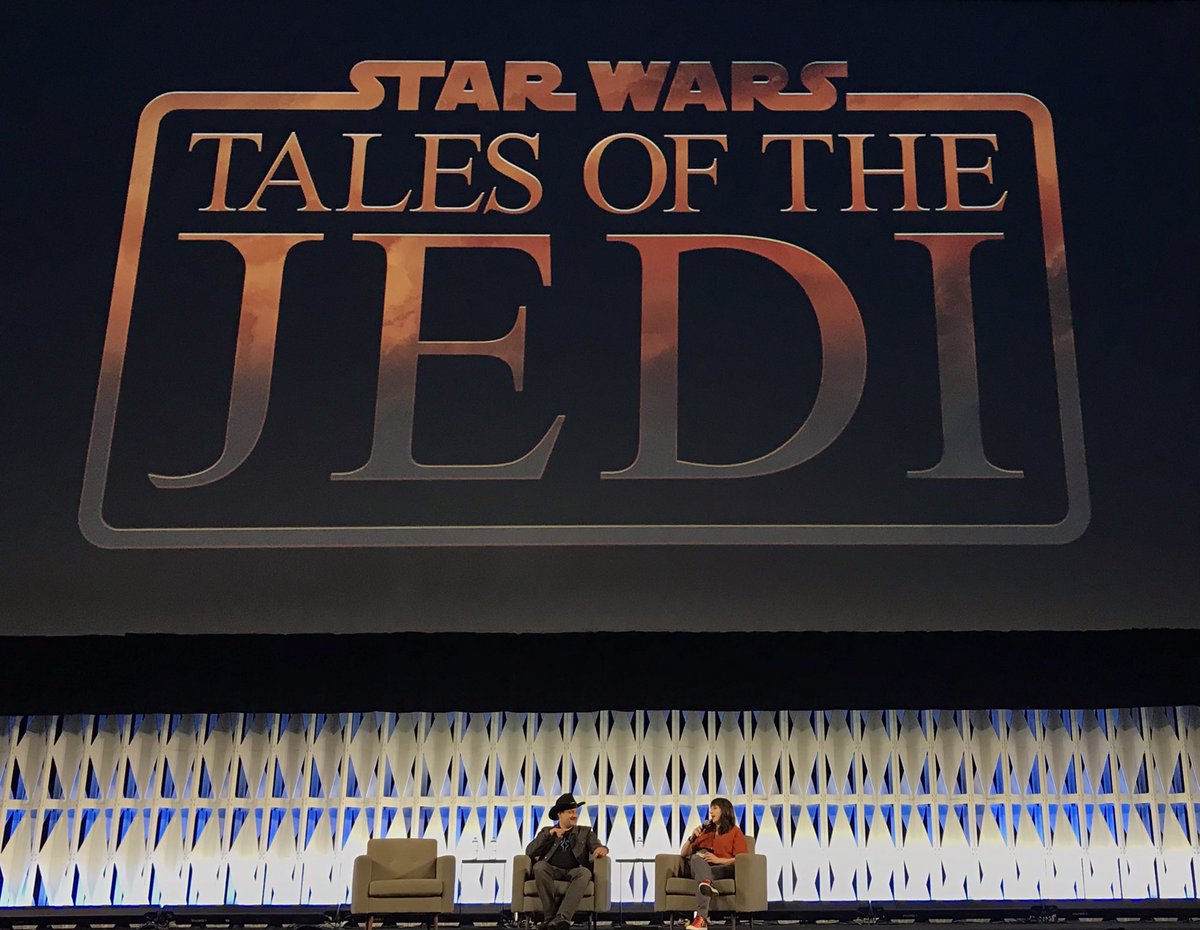 Dave Filoni described Tales of the Jedi, a new animated series he's writing, releasing fall 2022. He said that he wrote some short stories about Ahsoka and other characters while on plane rides or down time for fun. He eventually had the idea to turn these short stories into an animated series using today's animation tools, an upgrade from his stories in Clone Wars animation. The stories will feature Ahsoka and younger Qui-Gon, voiced by his son.
With much fan cheering, Filoni showed the entire Ahsoka short, which tells the story of the birth of Ahsoaka, and an adventure where Ahsoka's mom takes her into the forest, where they encounter a tiger-like beast.
Doug Chiang and Lucasfilm Art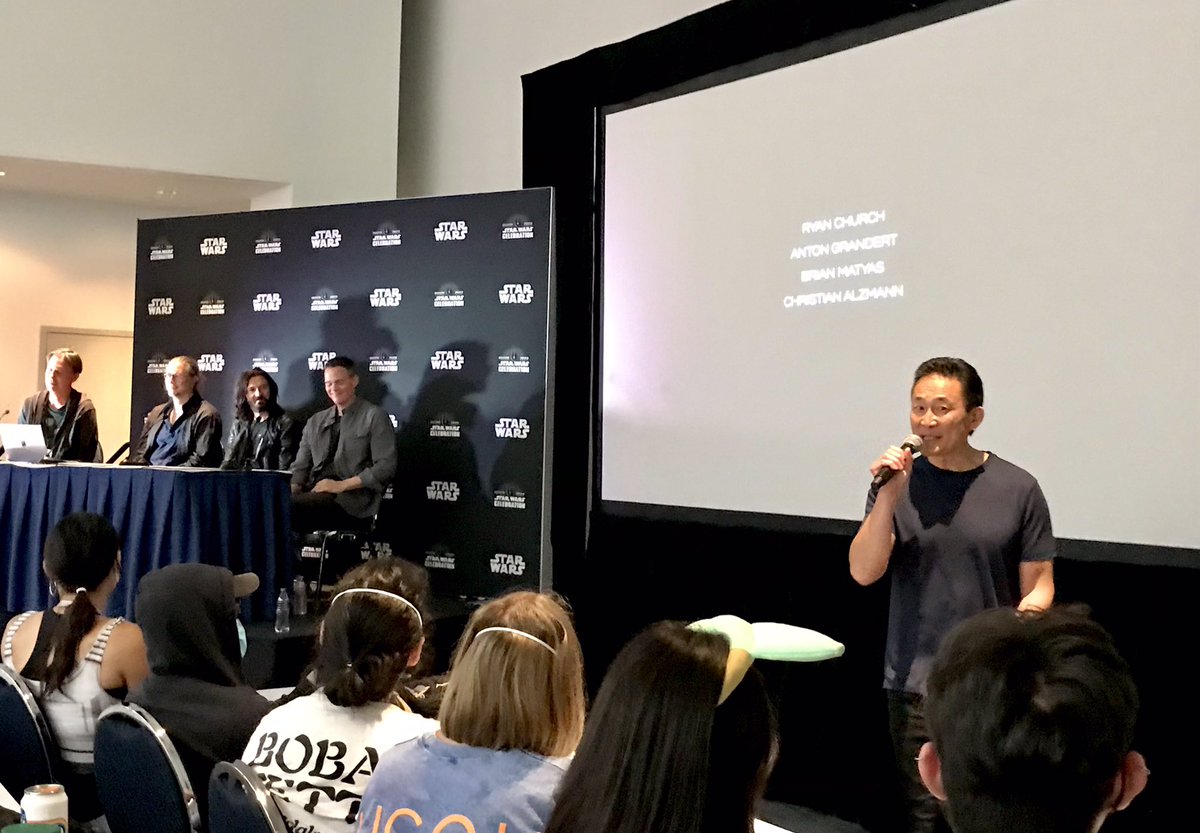 Doug Chiang led and moderated a panel with four Lucasfilm art designers who've been busily working on the sets, costumes, and looks of the Mandalorian, Book of Boba Fett and other Star Wars shows. The artists described their career paths leading to their dream job working on Star Wars, and gave tips to aspiring artists.
Ryan Church is an acrylic painter who learned digital art for fast artwork.
Anton Grandert illustrated energetic action-art for video games and then applied these skills for Star Wars.
Brian Martas is a costume designer who said Star Wars costumes have simple strokes and shapes to make iconic designs. If it's too orante and detailed, it probably won't look like it's from the world of Star Wars.
Christian Salzmann designed cute Star Wars characters: BB8, Grogu, andemotional beats.
STORE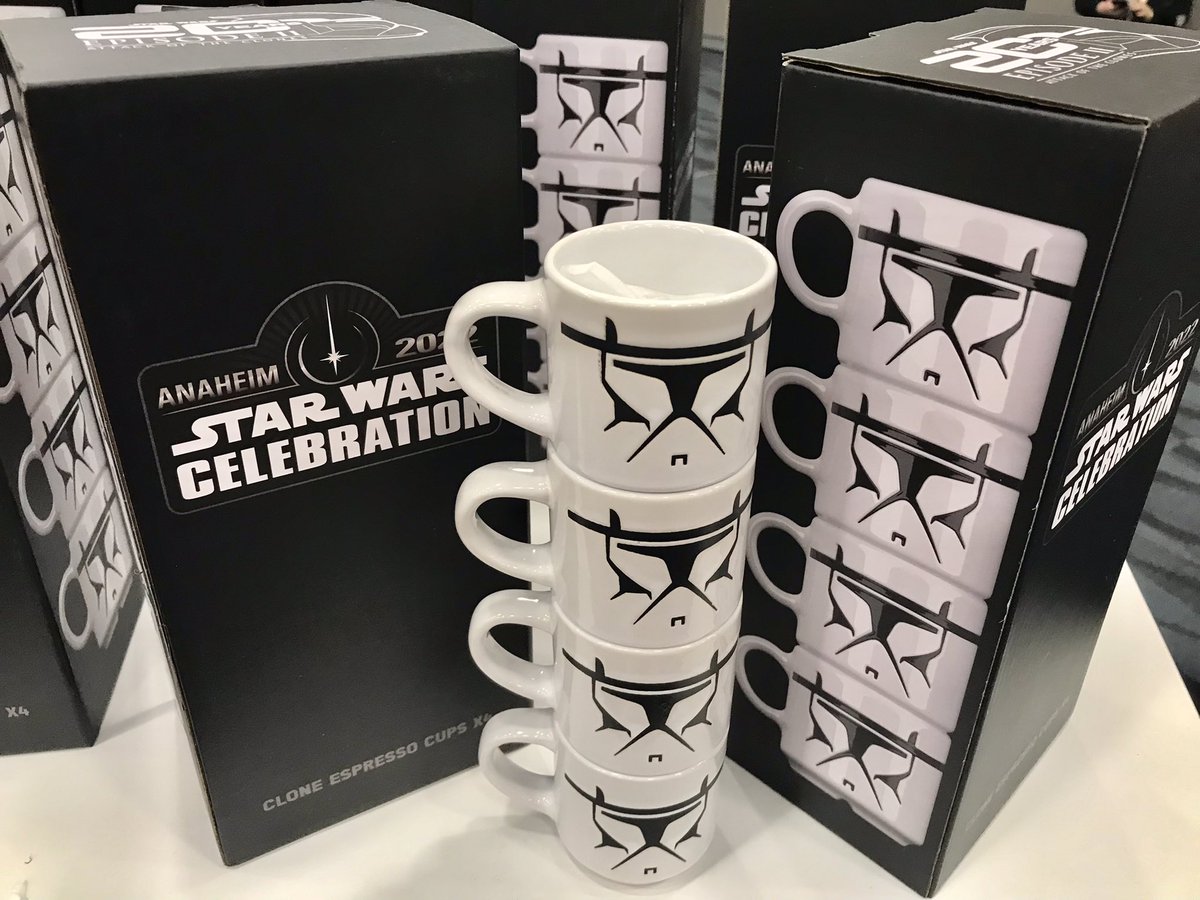 The Star Wars Celebration store features dozens of exclusive items including shirts, mugs, toys, and more. There was a long line for custom print SWC shirts (you pick design).