At our second Accessibility Tech panel, experts described how to ensure your Zooms, livestreams, digital content, and live events can use close captions, ASL, and audio descriptions to be more accessible to more audiences, at our panel via Zoom on May 18, 2021.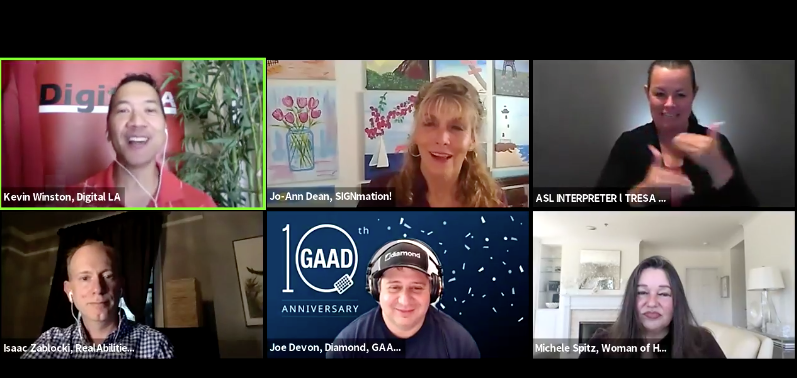 The panel was held in celebration of the 10th annual Global Accessibility Awareness Day today May 20, which increases awareness of tech developers, designers, and anyone using tech to ensure their work is more accessible to people with visual, hearing or other impairments. GAAD was founded by Joe Devon, founder of Diamond web services and a longtime leader in the LA tech community.
The panel was conducted in Zoom with closed captioning and two ASL interpreters, and livestreamed to our Digital LA Facebook page. Watch.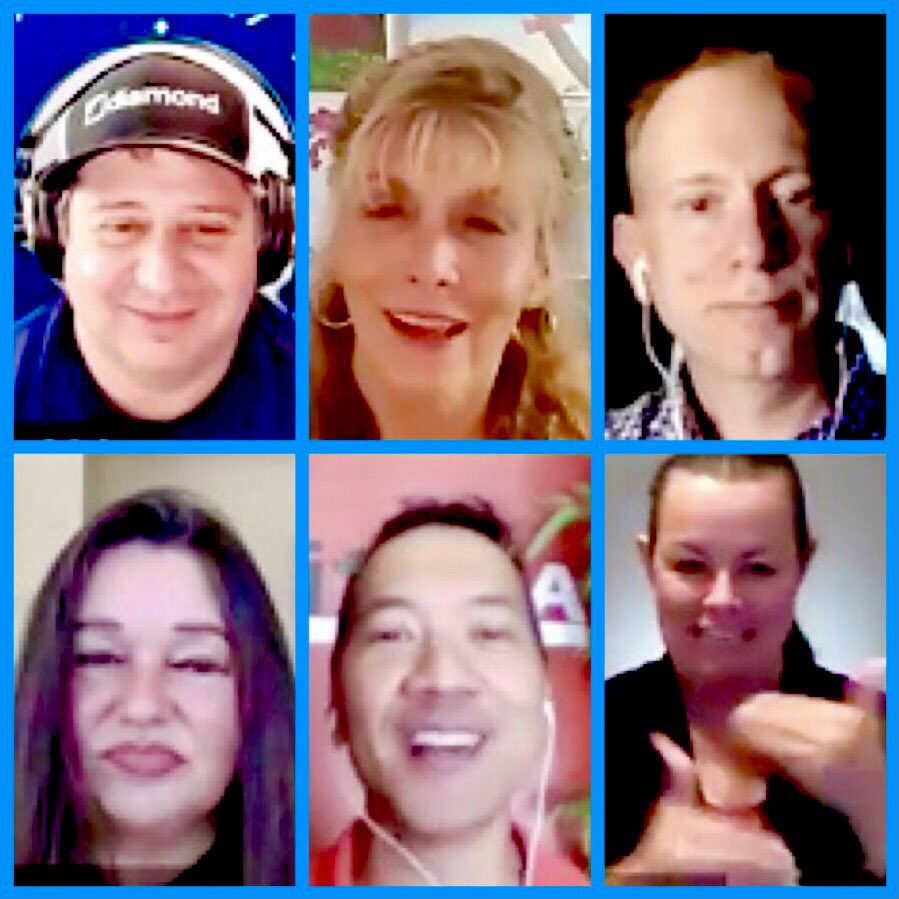 Definitions
Closed Captioning adds words people are saying usually at the bottom of the screen
ASL adds a sign language interpreter
Audio Descriptions is a narration of action that's happening that a blind person can't see. The Oscars added audio descriptions for the first time this year. Audio descriptions are being increasingly used for awards shows, concerts, museums, and other events, said Michele Spitz of Woman of Her Word, who has done dozens of audio descriptions for clients. It's important for visually impaired people know what's going on beyond dialogue, sounds and music.
Zoom panels and Livestream Events
Add Closed Captioning to your Zoom panels by turning it on in your Zoom settings. It can be automatic or you can hire a live Closed Captioner to ensure fewer errors. Facebook Live also has a closed captioning feature.
Hire an ASL interpreter to do sign language for your Zooms and livestream events. Ensure your ASL interpreter window is big enough on screen for people to see hand motions well.
You can wait to add CC or ASL interpreters upon request. Or to be truly inclusive, offer it regularly so it's not an additional request or ask.
Closed captions and ASL interpreters can cost a few hundred per hour and up, depending on whether its live or pre-recorded content, length of time, etc.
Films and Pre-Recorded Video Content 
Think about how your film or content is going to be accessible from the beginning, not an afterthought at the end. Include a line item budget for captions, etc at the beginning, said Isaac Zablocki of the RealAbilities Film Festival, the largest festival of its kind, based in New York.
Ensure closed captions are visible, with readable font, contrast on the screen etc. Some films even incorporate captions into the story telling with artistic placement on the screen in various colors to match elements of the film.
Especially if your film is about blind or deaf people, definitely hire some to work as writers, directors, producers, actors, and below the line cinematographers, etc. Large and small subtle decisions are made from the writers room to on set shooting every day, that are better informed with the intended audience involved in the decision making.
Ensure your filming set and production is accessible: notice stairs, ramps and elevators, width of hallways, signage, bathroom accessibility, etc.
Live Events
Hire ASL interpreters for live events. Make sure they are able to be seen, and are well lit.
Hire interpreters for your theater, music and performance events. Jo-Ann Dean of SIGNmation works to ensure ASL interpreters are at live Broadway performances so all audiences can enjoy the film.
Ensure your physical event and space (play theatre, movie theater, conference room) is accessible via signage, space, physical access, ASL interpreters, etc.
Find out more about Global Accessibility Awareness Day, resources, and events on its site.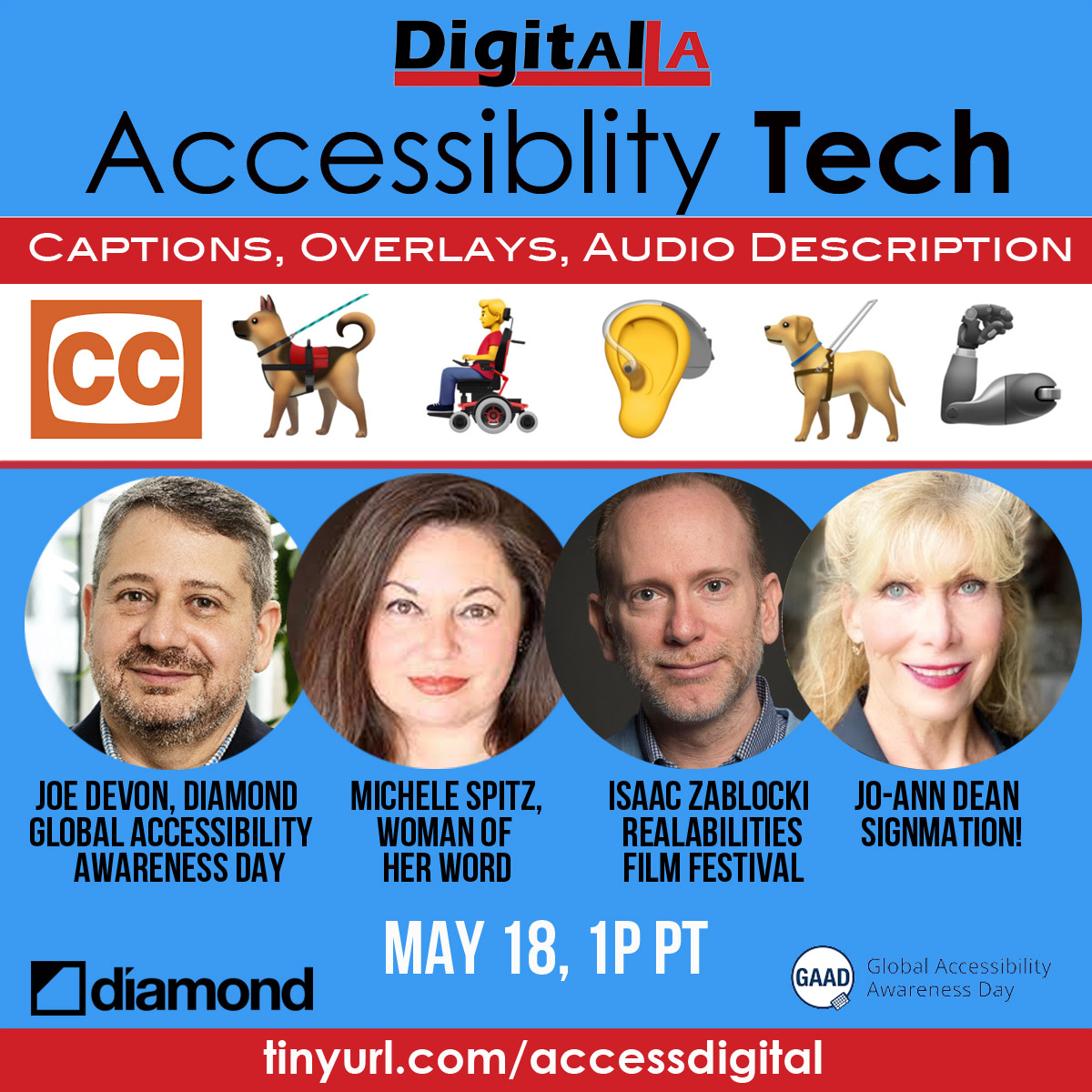 Thanks to our SPEAKERS:
Joe Devon – Diamond, GAAD. Joe is co-founded Diamond web development firm and wrote a blog post that inspired Global Accessibility Awareness Day, to increase awareness of tech accessibility.
Michele Spitz, Woman of Her Word. Michele produces and narrates audio description media accessibility assets for blind or vision impaired audiences. Her prerecorded secondary audio track serves as a visual description of key elements, essentially painting a picture with words in movie theaters via headsets, TV broadcast, streaming, VOD, SVOD, DVD, Blu-ray, and mobile apps. Over the past 7+ years, she has narrated over 80 projects.
Isaac Zablocki is the Director of Film Programs at the Marlene Meyerson JCC Manhattan, including the ReelAbilities Film Festival – the largest disability film festival in the world, the Israel Film Center including the acclaimed Other Israel Film Fest. He attended Columbia University and went on to work at a major arthouse film studio.
Jo-Ann Dean is a Creative Producer and CEO SIGNmation L.L.C. and Broadway SIGNs! live and virtual productions. She is the Producer and Cofounder of ASL Cabaret in Los Angeles and launched Broadway SIGNs! Off Broadway at The Triad Theatre in NYC. Broadway SIGNs!