At Techsters Music's demo day, music startups were the rockstars for their innovations in content, licensing, VR, AR, AI, and virtual influencers.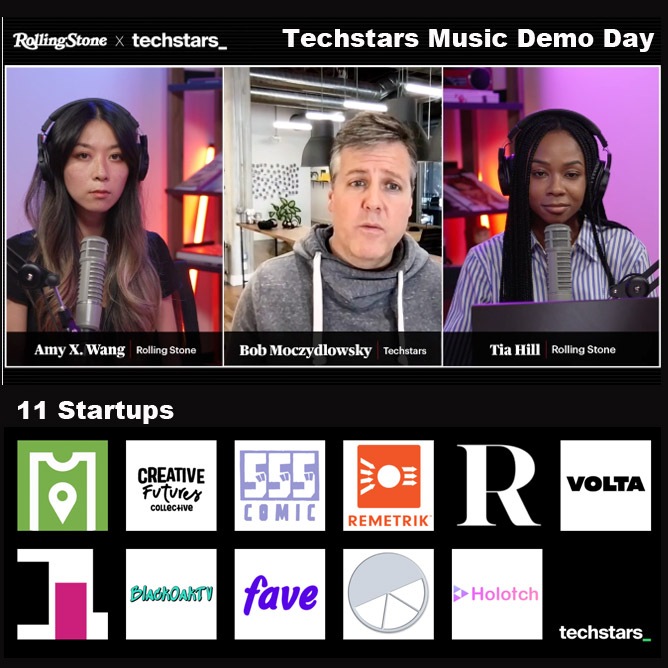 Techstars Music held its fifth demo day – and second virtual demo day –  via livestream exclusively on Rolling Stones' Twitch channel on May 18, 2021.
Techstar Music's managing director Bob Moczydlowsky hosted the two-hour virtual demo day with Rolling Stone senior editor Amy X. Wang and Rolling Stone Twitch host Tia Hill. All eleven startup founders described their companies in short video clips, intermixed with Techstars Music mentors and partners.
Watch the stream, available for a limited time.
Techstars Music accelerator is based in LA, and held its most recent demo day at Neuehouse in Hollywood in 2019.
Techstars portfolio companies represent a commitment to diversity, with many founders and audiences served by startups being BIPOC and underrepresented communities. In fact, Techstars Music announced 50 percent half of its founders going forward would be from underrepresented diverse backgrounds.
Meet the 11 companies:
555 Comic creates virtual characters to tell stories on social media (like the tweet above).
BlackOakTV is a subscription on-demand video service that focuses on content from Black developers. Currently costs $4.99 per month with apps available on most major platforms.
Creative Futures Collective is a networking / mentoring program that connects underrepresented leaders with jobs and paid internships.
Fave social platform lets artists' super fans compete in tasks and challenges to earn exclusive artists' rewards.
HappsNow is a fully white labeled ticketing platform that lets artists and venues have more control over the ticket buying experience and customer data.
Holotch lets artists record and livestream volumetric 3D videos so you can see the artist performing in your living room via augmented reality holograms.
Music Tech Works directory lets you find out who owns the rights to a song, and purchase a license to use it in your film, ad, or other project.
Rare platform lets you invest in stocks of sneakers.
Remetrik software platform streamlines music fee bookkeeping and accounting.
Volta Audio platform lets artists build immersive, evolving VR experiences.
Westcott Multimedia automated advertising platform searches for events related to a music catalog (such as an artist's birthday or a song playing in the background of a viral video) and around which marketing campaigns are created.