Diversity, digital tickets, virtual stadiums, mobile apps, and blockchain were some of the key topics at the Ticketmaster Summit, held June 25-26 at the InterContinental Hotel in Downtown LA.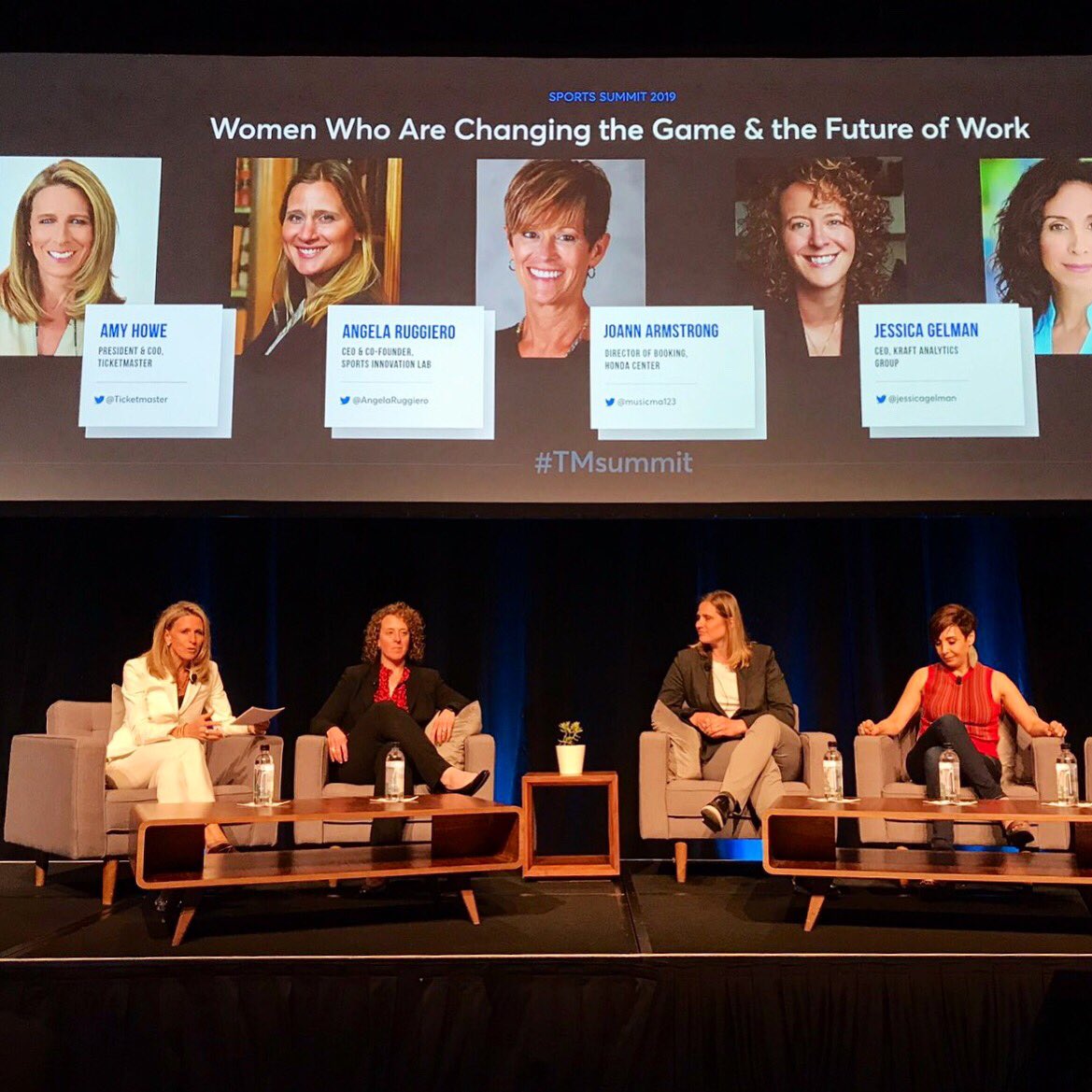 The annual Ticketmaster Summit conference includes panels, workshops, mixers, and product demos featuring ticketing services offered by Ticketmaster and its partners.
HIGHLIGHTS
Digital Tickets Innovations
Ticketmaster is continuing to innovate in digital tickets to reduce fraud and increase fan experience, said Justin Burleigh, Ticketmaster Chief Product Officer.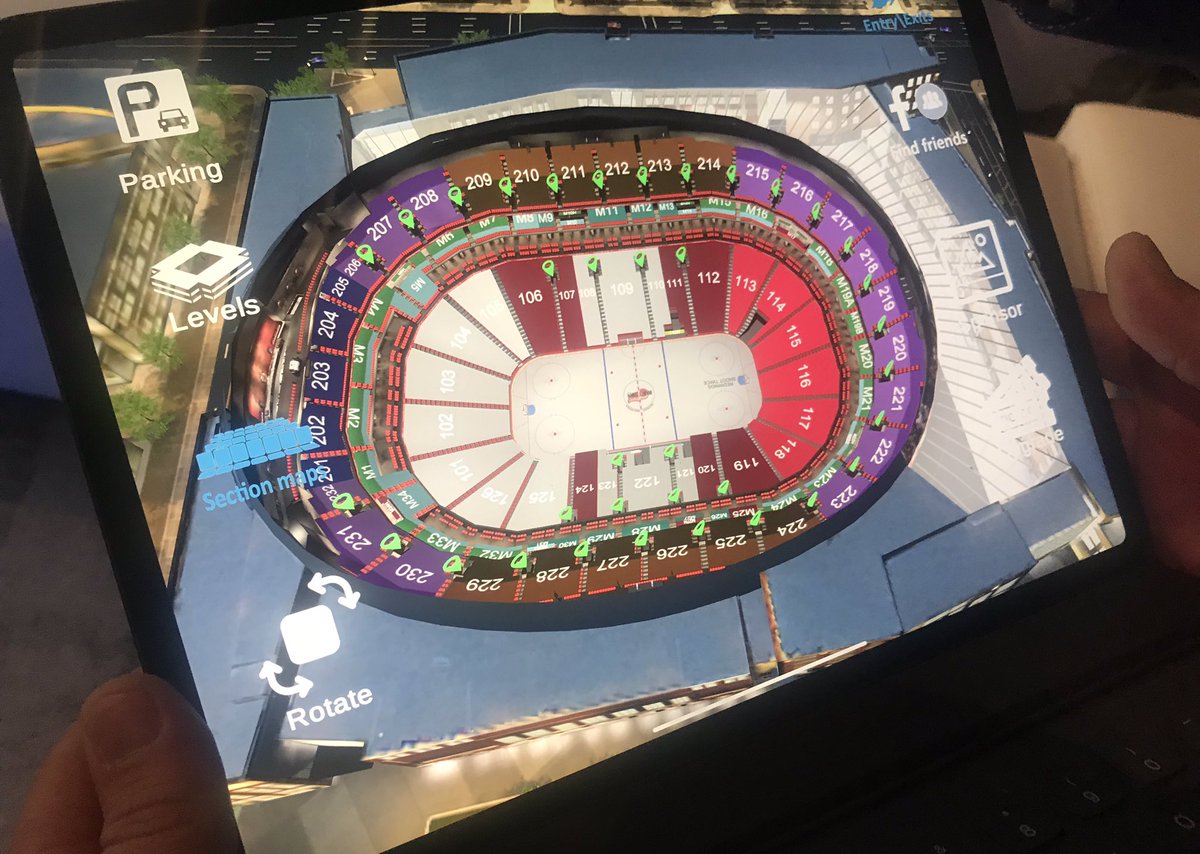 He said that Ticketmaster's digital ticket services, under the umbrella Presence, are use in 700 venues, representing 75 percent of the market.
Presence digital ticketing allows access control and fan engagement. Ticketmaster's digital tickets started with QR codes. But due to potential fraud (screenshots of QR codes that are used up and not valid), it recently added SafeTix.
SafeTix includes two types of tickets. The NFC wallet is like Apple pay, for phones that have it. A second option is a new dynamic rotating barcode that prints a new bar code every 10 seconds. This prevents screenshots of codes that aren't active. Burleigh estimated that static QR code tickets will be phased out over the next year or so.
Ticketmaster is developing optional blockchain support layers to power SafeTix, which will be available in the future.
Burleigh also said that Ticketmaster has digitally scanned 300 venues to create virtual venues that will let fans see what where there seats air, whether they are selecting seats for single games or a season. The virtual venue app will eventually let you see the best route from your seat to concessions or the restrooms, or recommend the best lot to park in and entrance into the stadium.
"We're becoming a tech company with tickets, not a tickets company with tech," Burleigh said, commenting on the several digital ticketing and AR initiatives.
Women who are Changing the Game panel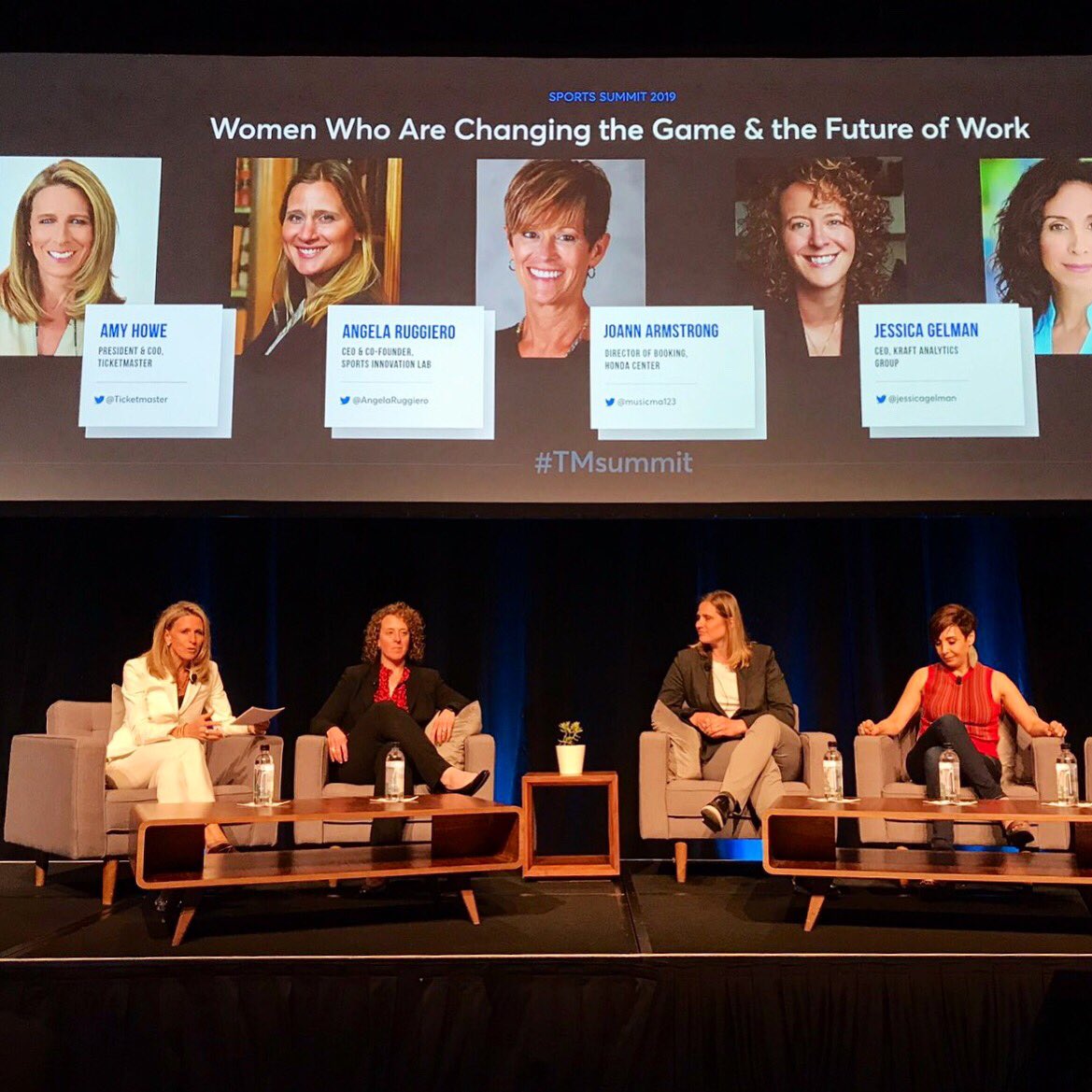 In the sports and ticketing industry that often skews male, the "Women who are Changing the Game" panel focused on how to increase women and ethnic diversity.
Ticketmaster President and COO Amy Howe moderated the all-women panel featuring women in the sports tech industry, including tech CEOs, former Olympic athletes, and executive coaches.
Howe asked the speakers why diversity is important in ticketing, and action steps they recommend to increase diversity. Speakers said that ticket purchasers are increasingly women and non-white audiences, so it makes sense to have diverse executive teams to develop products and marketing campaigns to meet these audiences.
"I'm congnizant of the challenges and try to provide the right forums," said Jessica Gelman, CEO of Kraft Analytics Group and co-founder of the MIT Sloan Sports Analytics Conference. She said its important for women to mentor and help each other. She said she helps support women by giving real time feedback. For example, when one of her female executives deferred to her male co-worker to give a presentation when they had done equal work, Gelman said she took her aside, and said she needs to start feeling comfortable giving presentations, and that she should give the presentation, which she did very well.
Gelman also said she sets aside time to ask the women on her teams what their aspirations are, because they may not feel as comfortable as raising their hands to express themselves. She also suggested joining or start networking groups or mentorship programs. She said she met fellow panelist Angela at a Harvard mentoring program.
Angela Ruggiero is a four-time Olympian in hockey, CEO of Sports Innovation Lab, and on the US Olympics Committee. She said that when she was growing up, she wanted to play hockey, but there was only a men's hockey team. Her Dad told her that if she worked really hard to be the best hockey player, the boys would have to take her. So she did just that, and made the team. She later went on to complete in the Olympics four times, including a gold and silver medal.
"Diversity is having a seat. Inclusion is having a voice," said Ruggiero. She quoted a Harvard Business review study showing that your recruiting and hiring process should source candidates that are diverse, with equal numbers of male and female candidates for a role.
__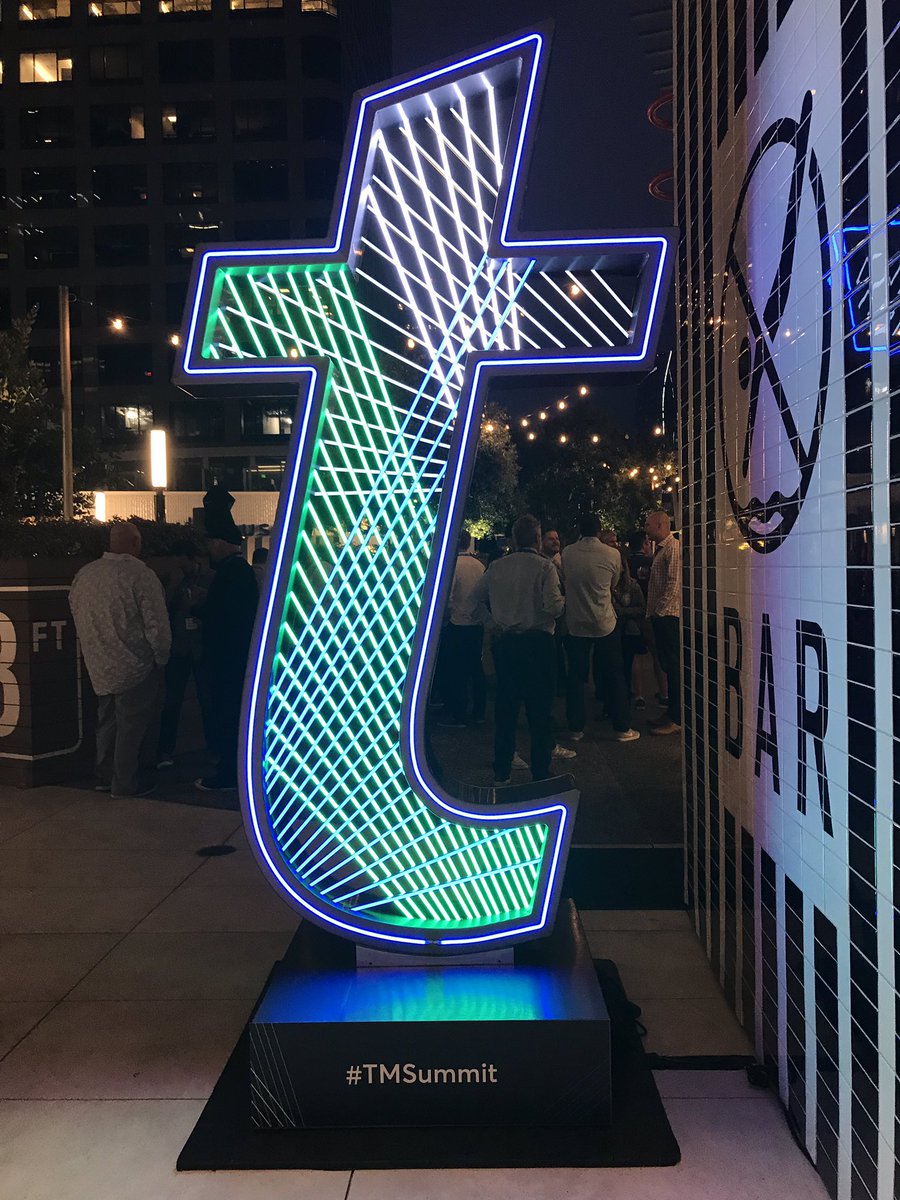 Mobile Innovators: Shaping the Future of Fan Engagement and the In-Venue Experience
The Mobile Innovators panel featured three sports leagues and stadiums who described how their mobile apps helped improve their fan experience and engagement.
LA Football Club's Christian Lau, VP of IT, said that the LAFC decided early on that they were going to embrace digital and cutting edge technology for its new stadium, to best serve LA's young tech-friendly Instagram-happy demographic.
"The plan was always mobile only, not mobile first," he said. "Our customer journey will live on their mobile device."
He said LAFC partnered with several mobile app vendors, including AI for customer Service, and Satisfy for its chatbot.
The Banc of California Stadium also has a cutting edge network of WiFi access points so there are few 'dead spots', allowing people to use their Ticketmaster app for tickets, or post on social media. The Stadium is equipped with extremely fast server time to host esports competitions. It hosted the Fortnite ProAm competition last year during E3, and also hosted Fortnite competitions this year. 
In the future, LAFC it will offer additive experiences including parking, AR experiences in-stadium, and some sort of fantasy sports betting. 
The Minnesota Vikings added a concierge chatbot, similar to a hotel chatbot, which text-greets you, and answers questions about concessions, merch, restrooms, and more. 
The Milwaukee Team app features a Coors Light Beer Button. Fans sitting in their seat can use Apple Pay to have a Coors or Miller Light beer delivered to their seat with an average delivery time  of 4 minutes. The partner was Appetize, a startup alum of the LA Dodgers Accelerator. 
__
Blockchain for Ticketing
Ticketmaster is developing blockchain platforms for ticketing, anticipating future demand, said Sandy Khaund, VP of Blockchain Products at Ticketmaster. 
He said that blockchain-powered ticketing should be seemless, scalable, and smarter than existing ticketing platforms.
Blockchain ticketing offers three main advantages over existing platforms, Khaund said. 
Control. Event organizers, from sports teams to concerts, can change attributes of a ticket in real time.
Fraud Resistance: on the Ticketmaster closed blockchain system, you can easily track chain of custody, transfer of tickets from one person to another. It's fraud resistant.
Data. Blockchain transactions will provide a wealth of data about customer behavior
Khaund said that to date, he has worked on one major Universe blockchain project in his past 8 months working at Ticketmaster. His team is working on building out Ticketmaster's blockchain product offerings to work with and enhance other Ticketmaster products like SafeTix. It will be available as a future payment feature option.
Prior to working at Ticketmaster, Khaund was founder of San Francisco based Upgraded, a blockchain ticketing startup, which was acquired by Ticketmaster last year.