Toys use digital from 3D development to influencer unboxing videos, said speakers with experience at Mattel, Hasbro and Jakks on our Digital LA – Toys panel at Toy-Zilla toy store.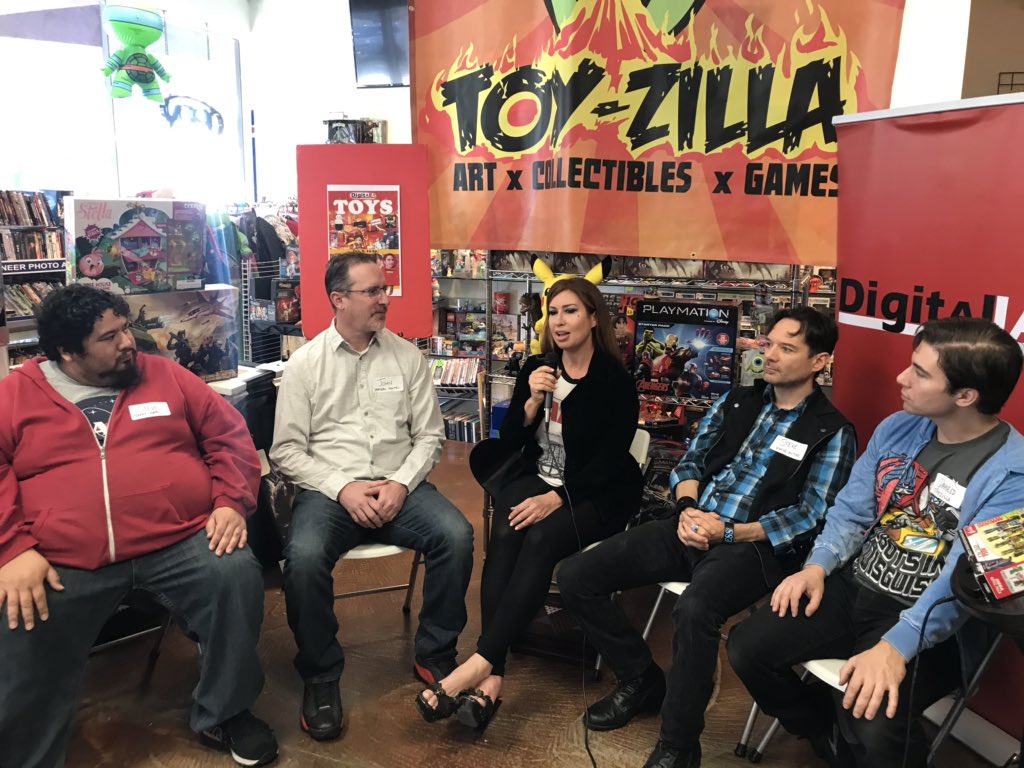 The panel was our first Digital LA panel in a toy store, just in time for the holiday season. Several of the panelists picked out toys they had worked on, to have on display as we conducted the panel.
Speakers said that toy development to social media marketing shares much in common with film and TV development. Both toys, film, and TV shows depend upon a pitch, need to reach a target market, take a few years to create, and use digital, social media, and influencer marketing for promotion.
Speakers described the top toys and toy trends they're looking forward to this holiday season in our Facebook live video.
HIGHLIGHTS
Development
Whether you have an idea for a toy in a large company or on your own, your toy can use digital tools to create 3D renderings to pitch concept, get buy-in, an make changes and tweaks before creating a physical product. You can also use 3D printing to print your toy.
Toys can be grouped into three categories, said John Violette, who has worked at Mattel and Hasbro.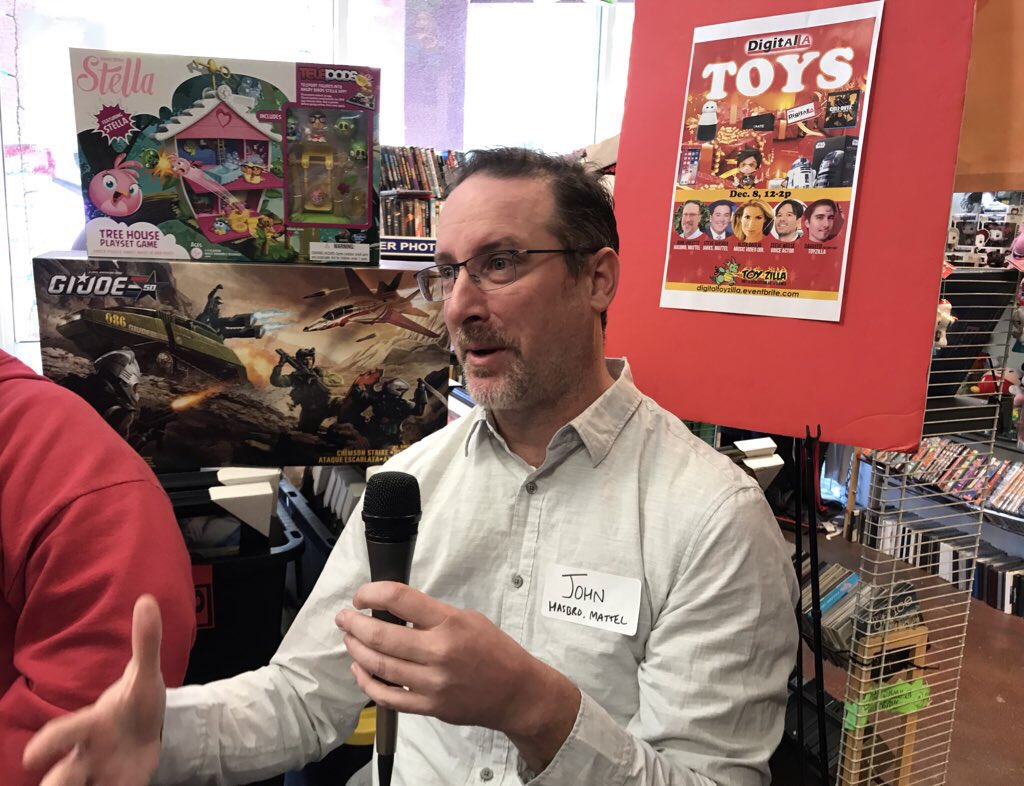 – Play Experience: Toy itself is fun to play with good game play.
– Branded: Toy ties into movie or TV show. John worked on several branded toys at Mattel and Hasbro, including Star Wars, Power Rangers, GI Joe, and Hot Wheels.
– Surprise: fidget spinner. Surprise fad toys can become instant popular.
John did concept art drawings for many toys, and has recently left Mattel, looking to apply his character, vehicle design and storyboarding skills to video games or animation.
Hollywood movie studios and TV shows have long been doing branded toys.
Social Media and Influencers
Nowadays, social media influencers are starting to create toys also for their passionate fans. Some also do unboxing videos with huge views, said Steve Guerro who worked at Jakks and Mattel.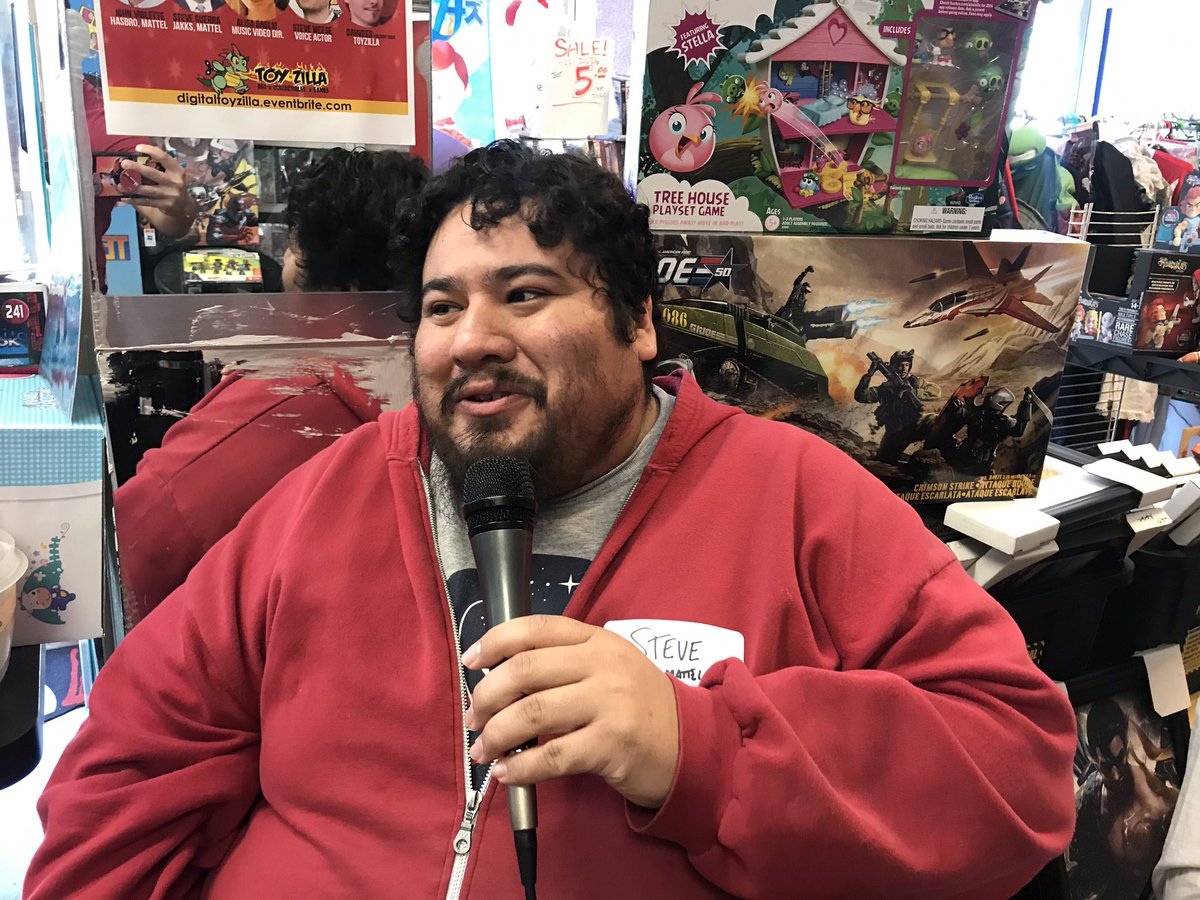 Bands are getting into developing toys, from bobbleheads, action figures, Pop Funko, to extend their brand, said Alisa Daglio. She described how she has filmed music videos for bands, who are also getting into toys for their fans.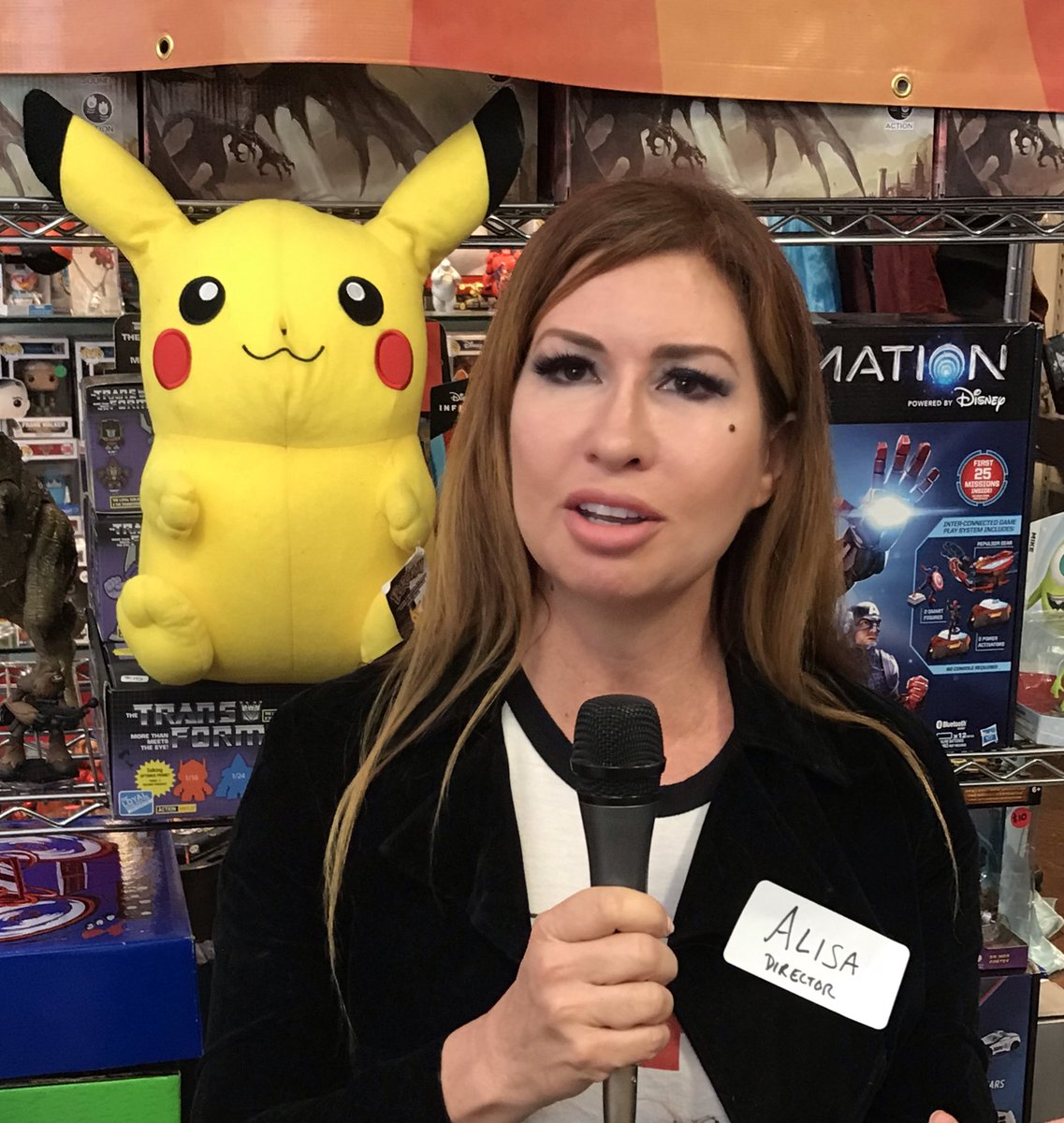 Alisa added that toys that are exclusive, limited edition or availability or signed help increase toy demand, buzz, excitement and ultimately sales.
Toy stores are also using digital tools to reach their fans.
"A toy store lets you reach 1% of the people who may be interested in toys," said Dahveed Kolodny-Nagy, co-founder of Toy-Zilla, which uses social media to promote. An avid toy collector, Dahveed opened his Toy-Zilla store to sell (and store) his extensive collection of toys, and also to create a community for toy fans by hosting events, like our panel.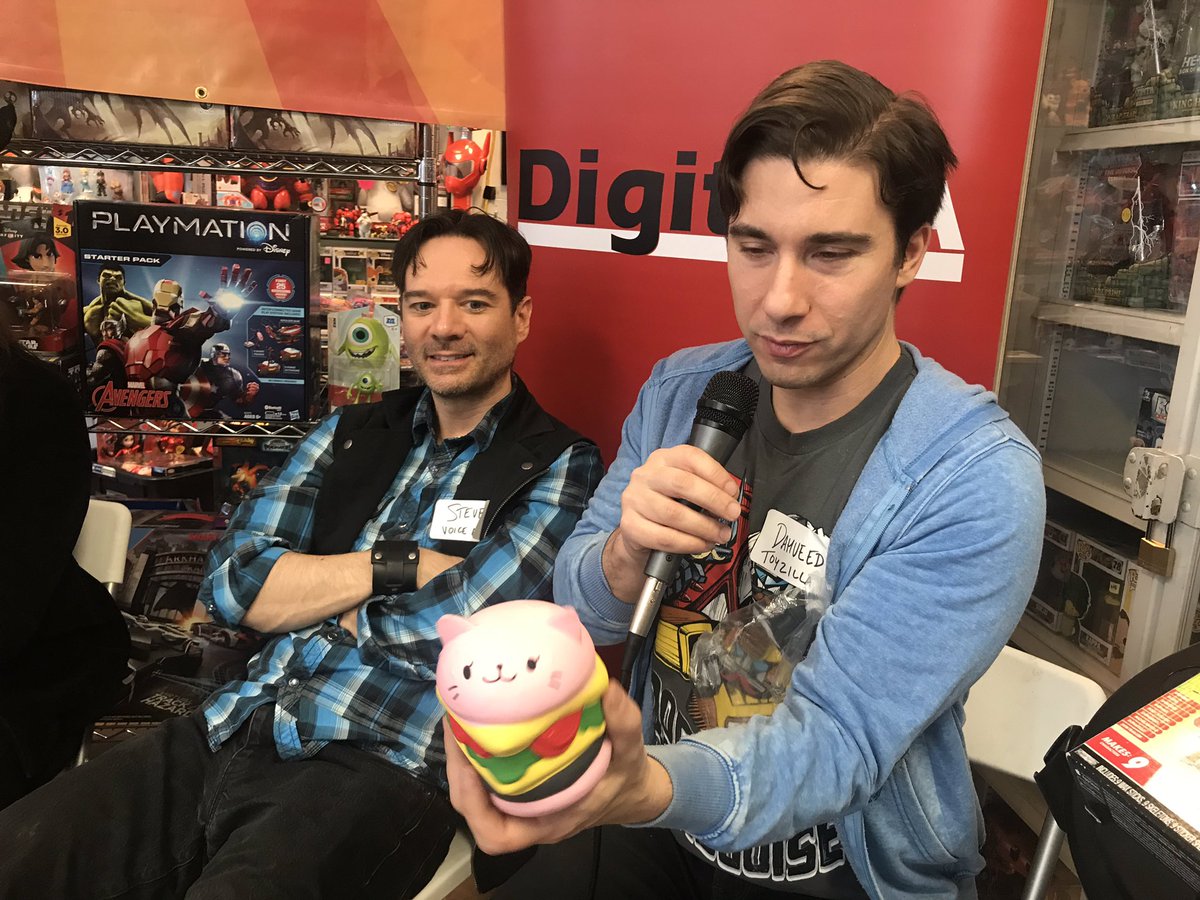 Toy-Zilla uses social media to promote its new toys and events, Dahveed said. For example, Toy-Zilla can post a new toy that comes in in the morning, and people will come in and buy it so it sells out late that day.
Toy-Zilla also uses Facebook live to create a show every Wednesday, interviewing someone in the entertainment industry to talk about toys. In the beginning, the show focused just on new toys on sale, with lackluster engagement. When the show format switched to talking about toys with lighter sales and promotion emphasis, engagement and viewers increased.
What's Hot?
LOL Surprise toys are toys that you unwrap slowly, and as you unwrap, you release accessories, which help tell the story of the character.
Shopkins tiny collectable toys, manufactured by Moose Toys. Based on grocery store items, each plastic figure has a r face and unique name. They also have special finishes like translucent, glitter, or squishy
Squishy slow-rising toys are in: tactile, colorful, scented appeal to other senses. They are also accessible: at <$5, easy to add to your shopping basket. Squish Dee-Lish creates squishy toys that combine animals with a fruit, that are scented with that fruit.
Squishy toys are cute and fun, and easy to show and share at the playground, said Jessica, who works at Squish Dee-Lish. Next evolution: big 10-inch big squishes by Squish Dee-Lish.
Toys that help you tell a story are hot, said voice actor Steve Weese. He did voice work for Stick Bot toy action figures, that come with a downloadable app to help kids learn stop-motion animation and create and share their own short films.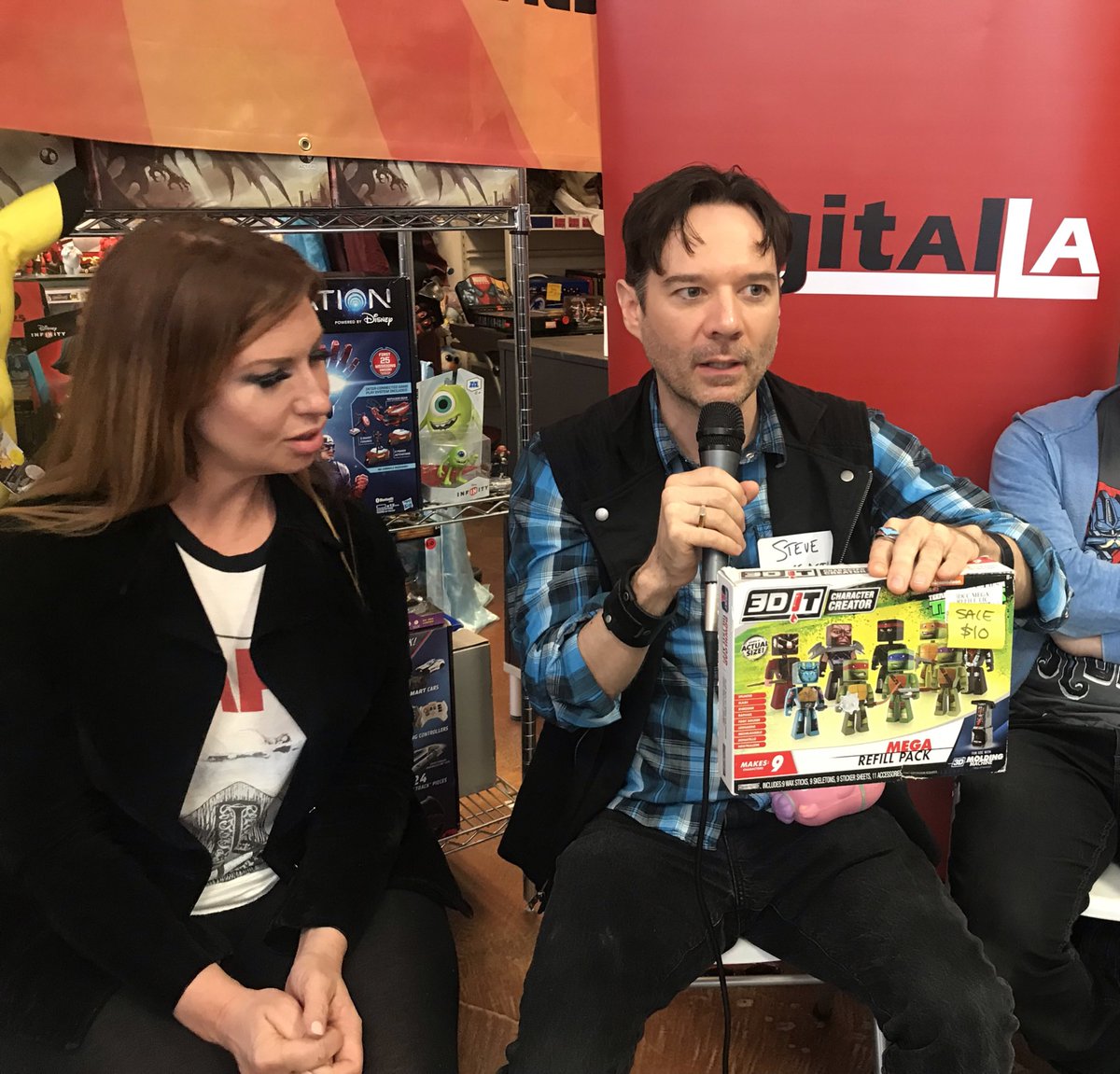 What's Not?
App-controlled toys like Sphero's BB-8 were very popular two years ago. However, app controlled toys and other digital integrated toys have slowed in popularity because they are often pricey, difficult or timely to set up, and often cost $100-200. Parents like inexpensive toys under $20.
Thanks Toy-Zilla for hosting us at your toy store in Alhambra. Toy-Zilla is open every day through the holidays, with lots of toys, shirts, games, costumes, and more for toy fans. Toy-Zilla also lets you trade in your toys for store credit so you can get some new stuff.
Thanks to our speakers!
– John Violette, Creative Director (Hasbro, Mattel). At Hasbro, he developed developed Star Wars Micro Machines for The Force Awakens, defined core Power Rangers toy line assets, led GI Joe film concept art, and developed Micronauts animated series. At Mattel, he developed designs across 40 Hot Wheels car lines.
– Steve Guerra, Senior Designer (Jakks Pacific, Mattel). At Jakks Pacific, he worked on WWE and licensing products with Disney, Marvel, Surfs, and more. At Mattel, he worked on Disney and Batman storyboarding and product testing.
– Alisa Daglio, Film and Music Video Director
– Stephen Weese, Filmmaker and Voice Actor in films, animation and video games
– Dahveed Kolodny-Nagy, ToyZilla. Co-founder of ToyZilla toy store, which uses social media to promote its store events and activities including a weekly livestream show.