PASADNEA – U2 rocked the Pasadena Rose Bowl on its third U.S. stop of its Joshua Tree world tour.
Here are 5 things we loved about the show which packed the Rose Bowl on a hot summer night.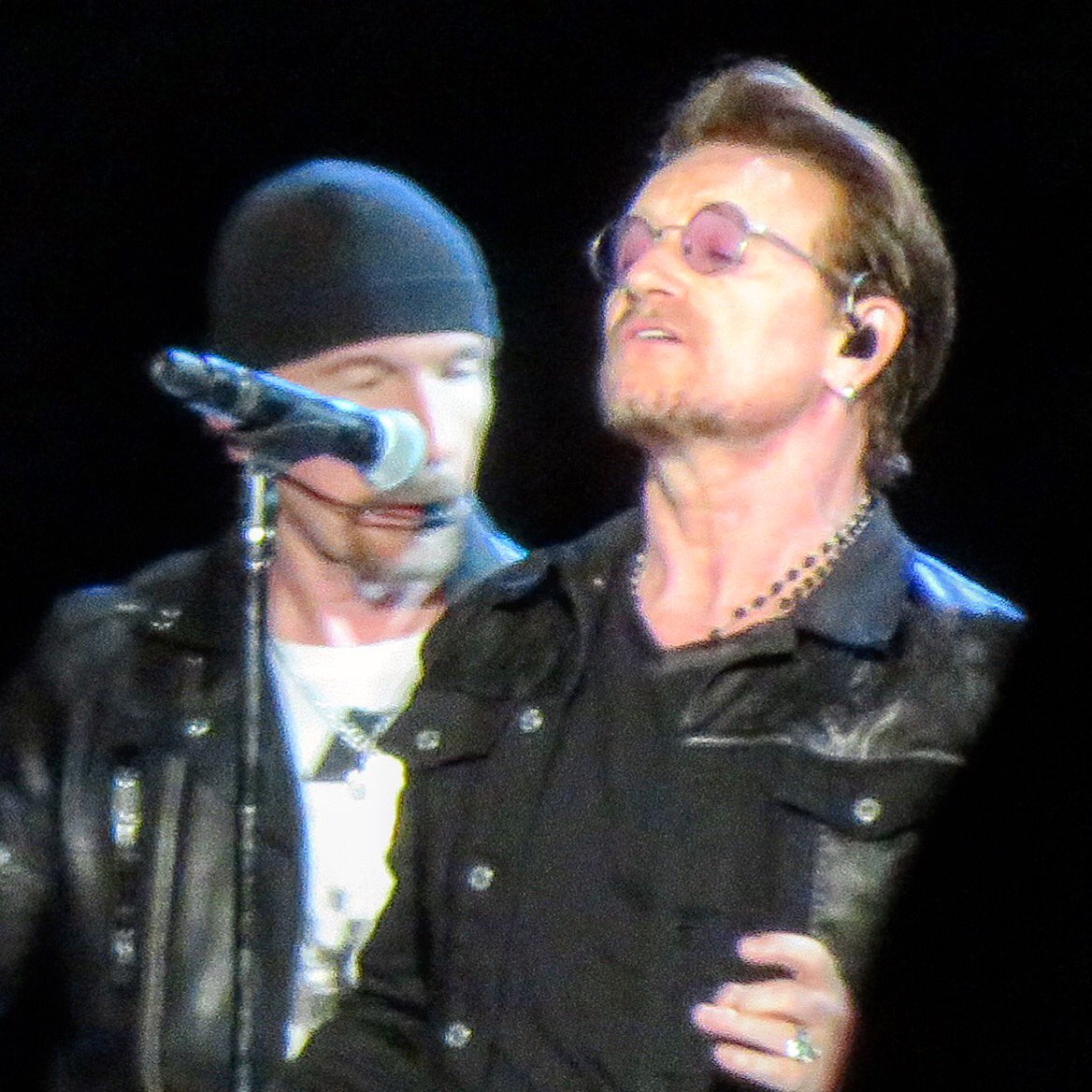 1. THAT FREAKIN' 8K VIDEO WALL!!! From a digital viewpoint, that huge 8K video wall is the star of the show. The huge continuos video wall stretched the length of the Rose Bowl end zone, at least 5 stories high, with dazzling vivid 8K detail.
The video screen showed stunning scenes of driving on the desert road to Joshua Tree, trees, mountain landscapes, music video footage, and visualizer images mixed in with live video of the band playing. Kudos to U2's tech team and creative visual team for putting this together. Anyone know who did it or the dimensions of that screen? Tweet us @DigitalLA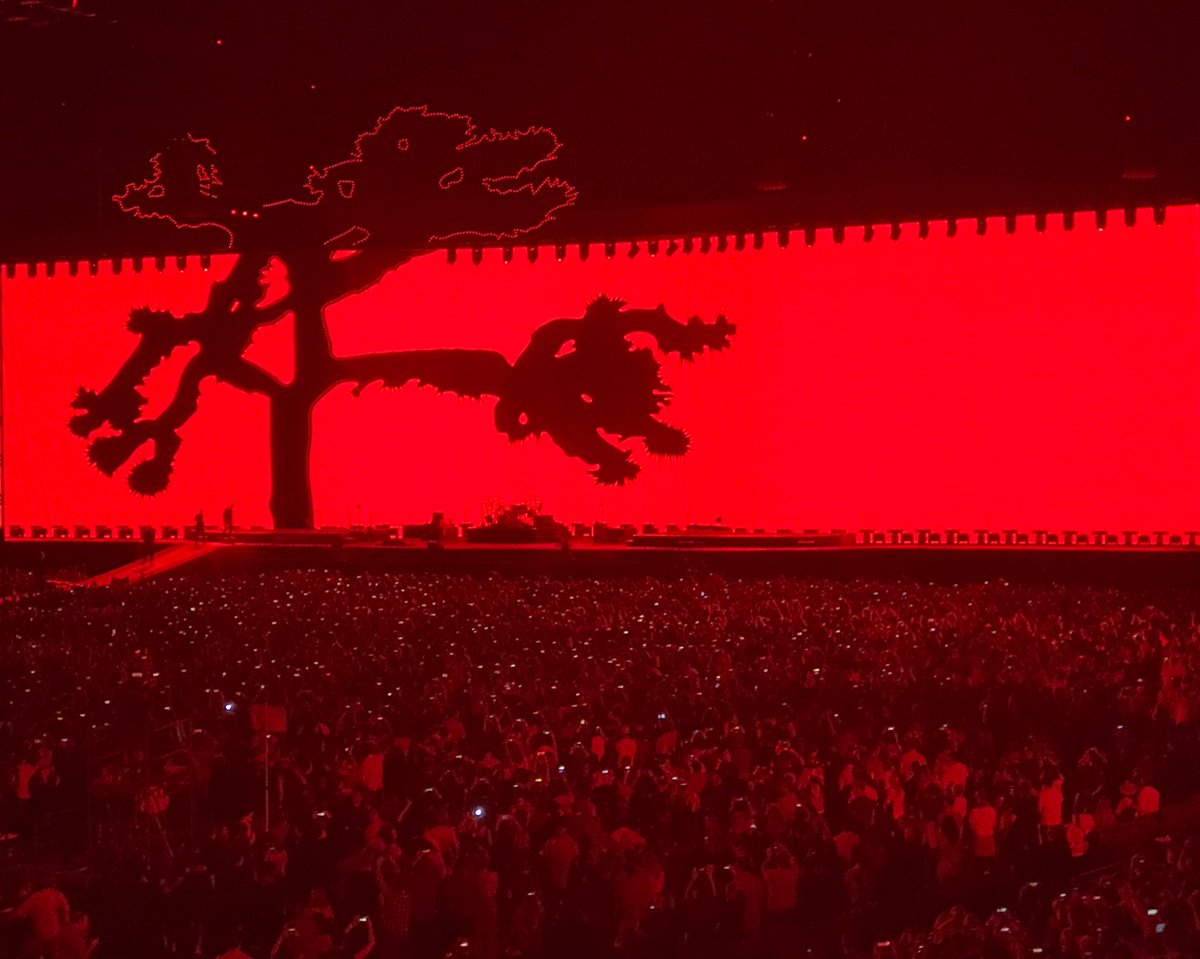 WE NEED A SCREEN LIKE THIS IN LA! How cool would it be if the we had a venue with a permanent screen like this in LA. The two side screens at the Hollywood Bowl seem so small now. A wide screen high-def venue could be used for concerts, orchestras, and screen movie premieres. Speaking of which, we need video walls for movie premiere step-n-repeats on Hollywood Blvd or at the Beverly Hilton during award season. Permanent or semi-permanent digital step-n-repeat video walls would be so much easier to just change the graphics digitally, rather than renting stands and setting up vinyl banners. You could even project moving video graphics on a digital step-n-repeat wall. Can someone work on developing this!!??
OK, back to the U2 show.
2. Song Selection. U2 has so many songs you love, and they pretty much play all of your favorites during the 2-hour show. You'll be standing in your seats for several songs you recognize in the first 45 minutes, then there are some newer songs in the middle. Some popular songs close out the show among the FIVE encore songs. Ever since Guardians of the Galaxy Vol 2's five end credit scenes, it seems five end-of-show goodies are in this summer.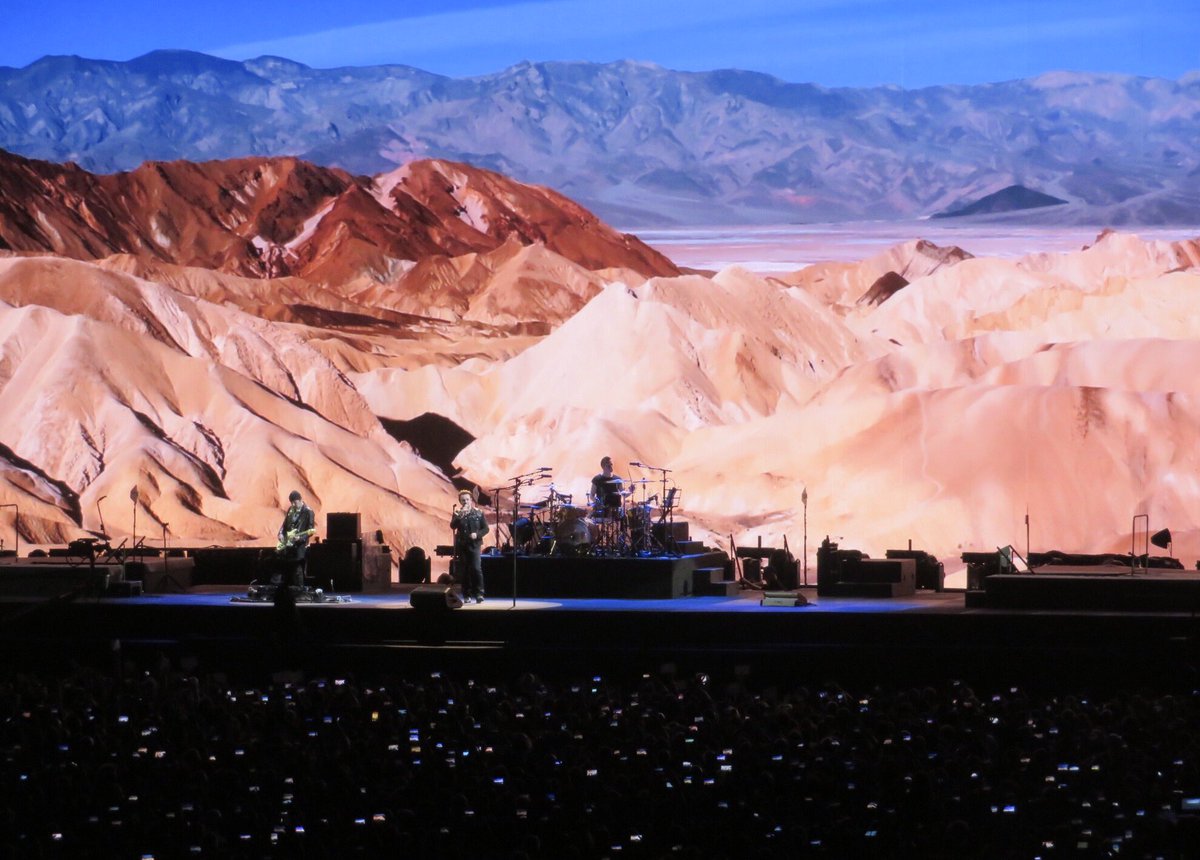 3. Music with a Message. Many of Bono's songs tie into a social message shown on the video wall.
"Baby Light My Way" is a tribute to women. Before performing the song, Bono acknowledged the women in his crew, in the audience, across the world, and women who are struggling around the world. The video wall showed neon pop art portraits of famous women leaders, from US history to the present. Massive cheers in the Rose Bowl when images of Michelle Obama, Hillary Clinton, and Ellen Degeneres appeared on the video wall. The song concluded with a "Women of the World Unite" banner shown the width of the wide video wall.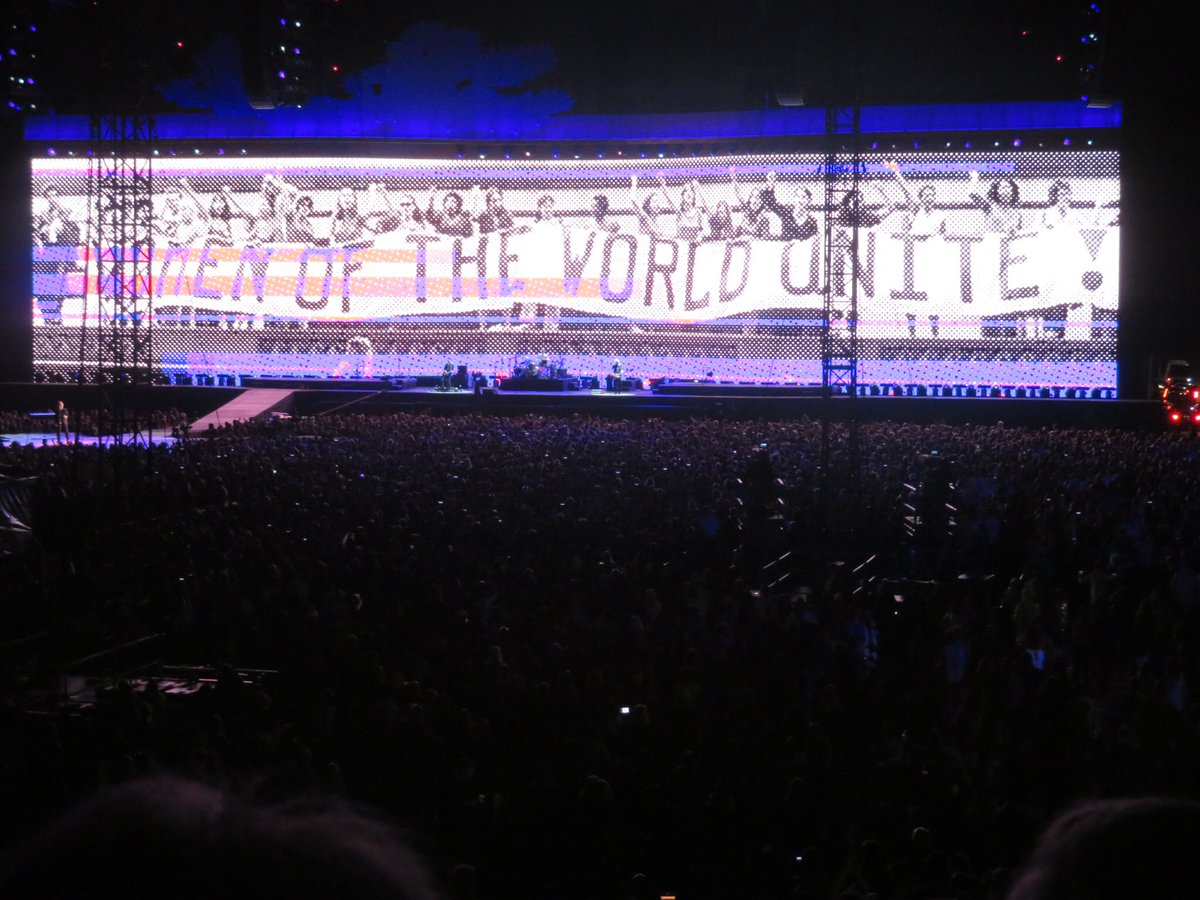 For "One", the video wall showed images of American flags, adding new meaning beyond love song. The song can also be an anthem to the country getting along as One with lyrics like "We're one, but we're not the same." "One life. with each other. Sisters. Brothers. We got to carry each other. One."
Bono called upon the audience to get organized and resist between songs.
"It's social movements that change history," Bono said "Nothing scares the shite out of politicians more than people who are organized."
He said politicians should fear the people, not the other way around. Don't agonize, organize.
Another song showed a Syrian refugee camp in Jordan through the eyes of a young teen Syrian girl.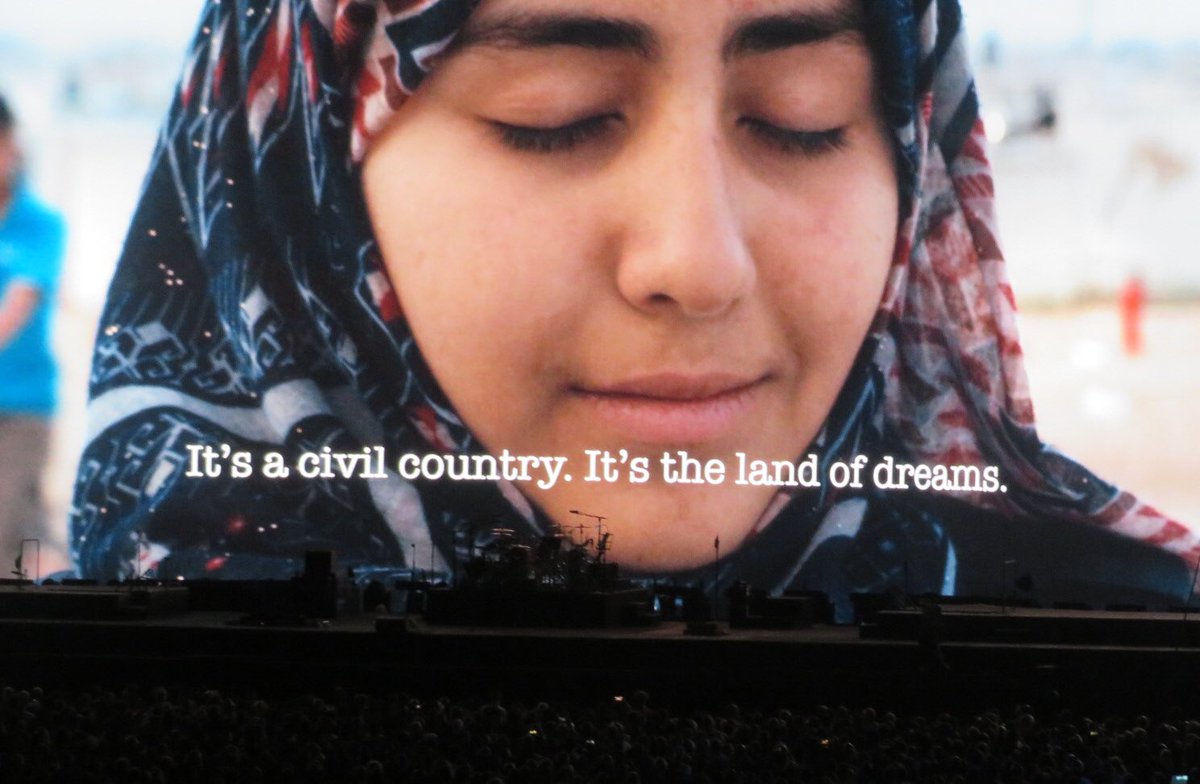 4. Outdoor Concerts Kick off Summer. It was hot, more than 85 degrees in Pasadena this weekend. And it was still 77 degrees at night, according to Snapchat temperature filter. Attendees arrived in T-shirt, shorts, and flip-flops, and it never got cold even at 10pm.
It was amazing being outdoors in the finally-warm at night weather, jamming to favorite U2 songs with thousands of other in the stadium.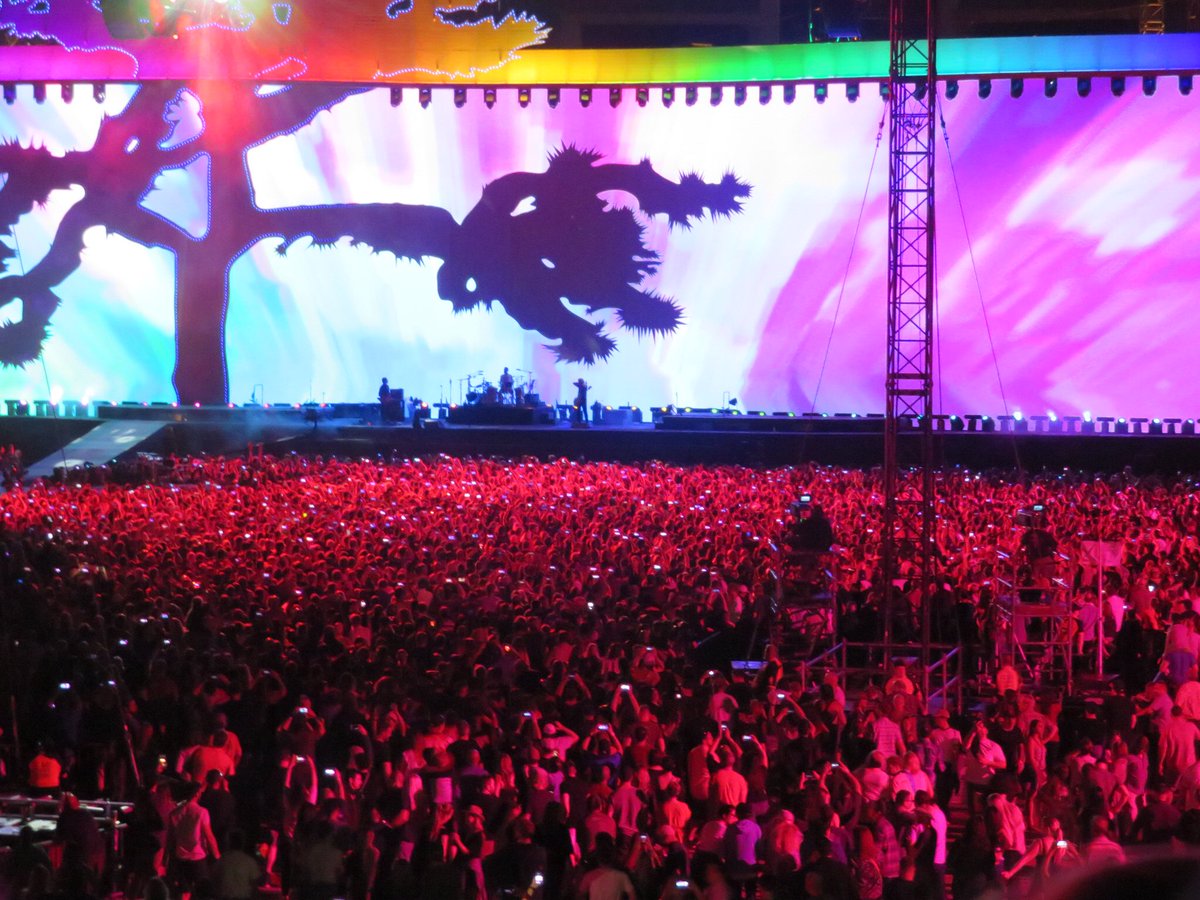 5. Crowd and Rose Bowl was great, attracting young to old, everyone jamming to their favorite tunes, from dancing in the stadium to "Elevation", to waving phone flashlights in the air for "With Or Without You", to passing a flag banner around (banner wave?).
After Coachella, the experience of being able to drive 30 min to hear music at a venue with REAL PAVEMENT, no dust clouds nor bandanas, real bathrooms, and outlets to charge your phone, and phone service to post photos and even Facebook live, was not taken for granted. Summer is here!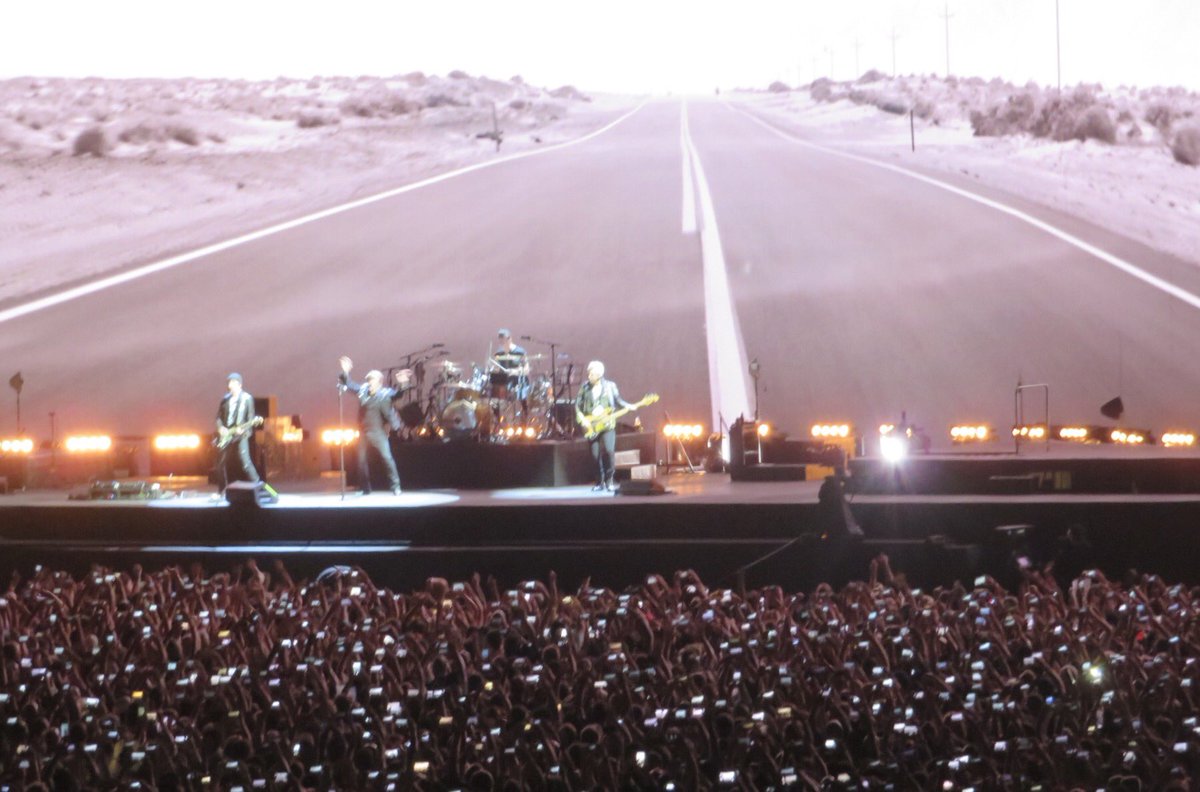 The show plays the Pasadena Rose Bowl on May 20 and 21, and tours the US thru July 1, then heads to Europe July 8 thru August 1.
And seriously Bono, at the end of the tour, if you're not doing anything with your video wall, we will gladly put it to use in LA!