Creators, fans, and industry executives returned to VidCon, with a focus on short videos, this year June 22-25 at Anaheim Convention Center. More than 50,000 attendees enjoyed panels, show floor, activations, musical concerts, Paramount+ screenings, creator lounges and parties.
TikTok, Instagram Reels, and YouTube Shorts dominated the signage, panels, activations, and parties, reflecting the TikTok-drive surge in short video during pandemic.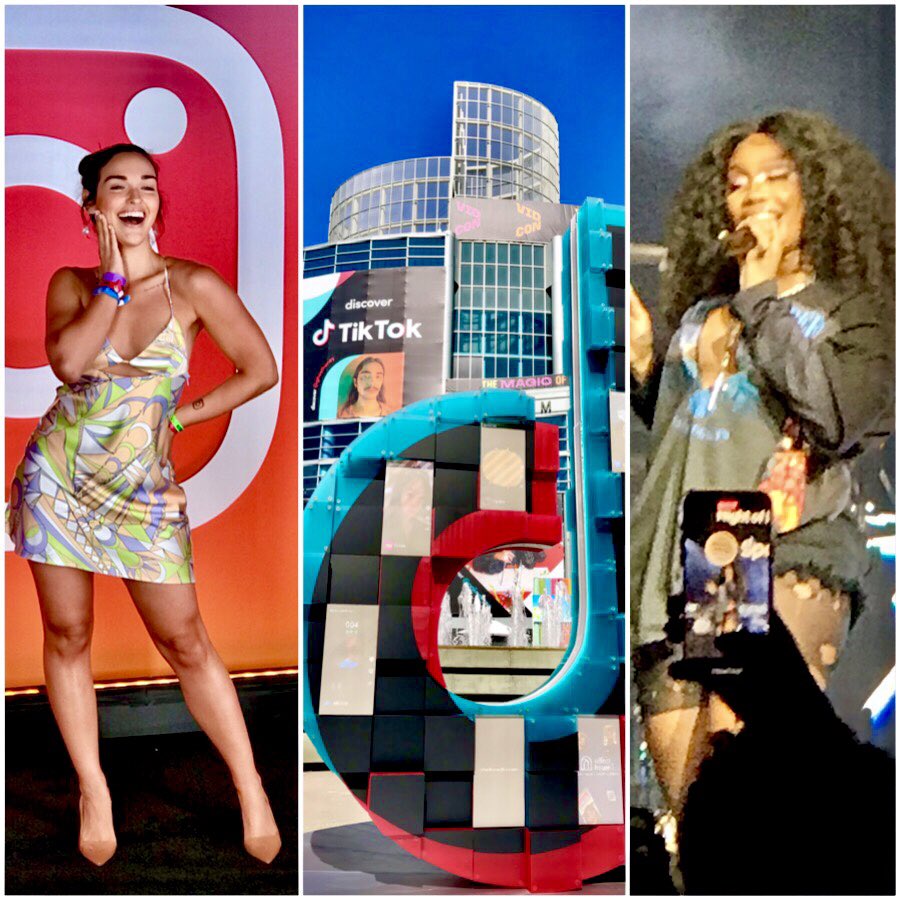 Creator talent included Mr. Beast, who is currently the #1 creator right now. His stunt videos went viral during pandemic, amassing a huge online audience across multiple social media platforms. He was recently featured on the cover of Rolling Stone magazine. Mr. Beast spoke at a standing-room only panel on the YouTube algorithm. Fans could get his merch at the Mr. Beast tower at the YouTube Shorts Drive-Thur activation.
Other creator speakers included: VidCon founder Hank Green, Top TikToker Charli D'Amelio, Alex Wassabi, Ali Spagnolia, Derek Hough (Dancing with the Stars), Kevin Lieber (Vsauce2), Felicia Day, and dozens more.
Industry speakers included: Jim Louderback (VidCon), Chris Williams (Pocketwatch), Chris Gabe Gordon (Reach Agency). Evan Britton, founder of Santa Monica-based Famous Birthdays (like IMDB for creators), spoke on two panels.
Dozens of artists sang and dance on the nightly stages. At Pride Night on Thursday, LGBTQ creators including singer Rebecca Black and lip-syncing drag queens performed. Sze and other musicians performed in the Arena at the Saturday Night of Music presented by Spotify, right before Twix Prom.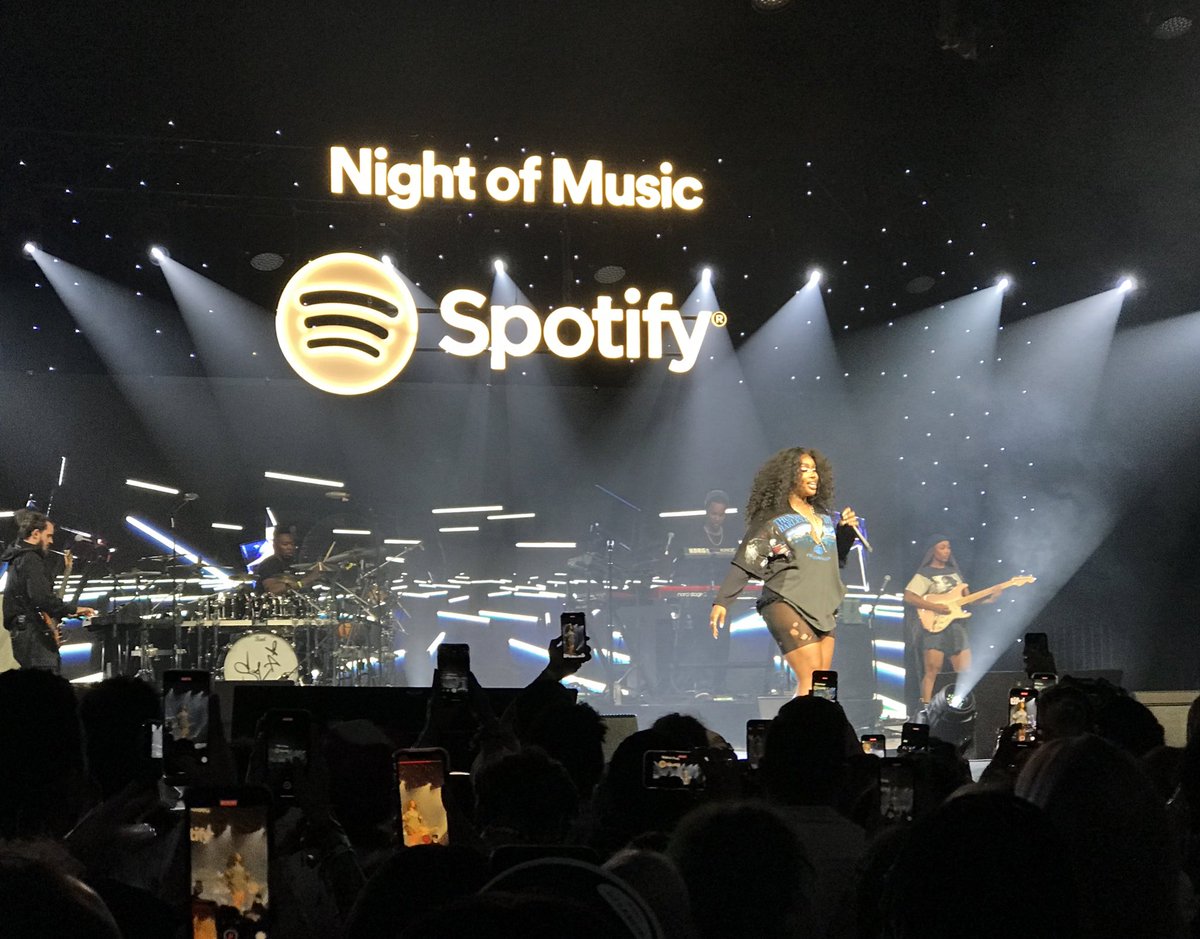 At the Hyatt 'creator hotel' which required special creator wristband access, creators visited a dozen lounges including the Meta lounge and pool deck, TikTok Creator Lounge, and lounges by YouTube, Amazon Prime Video, Jellysmack, Discord, BooHoo, and several more.
VidCon after-parties primarily for creators and industry returned in full force with headliner artists. Lotta performed at Instagram's #VidConReels party on Thursday. Chainsmokers performed at Amazon Prime Video's party at the House of Blues Anaheim upstairs on the same night. DJs performed at Spotify's party at Disney California Adventure's Pixar Pier on Saturday night.
Shift to Short Video
This year's emphasis on short social videos is a seismic shift from the last VidCon in 2019, where TikTok was just starting to take off. TikTok was the new novelty, with a packed panel, and even more packed TikTok creator party at a bowling alley. Three years later, post pandemic, TikTok has rapidly evolved from teen dancing to mainstream short funny content. Tiktok was the main presenting sponsor with a full takeover of the from the Anaheim Convention Center. TikTok hosted a stage on the Community show floor featuring dozens ofTikTok creates. And TikTok creator lounge at the Hyatt, and a TikTok House Party for creators on Thursday,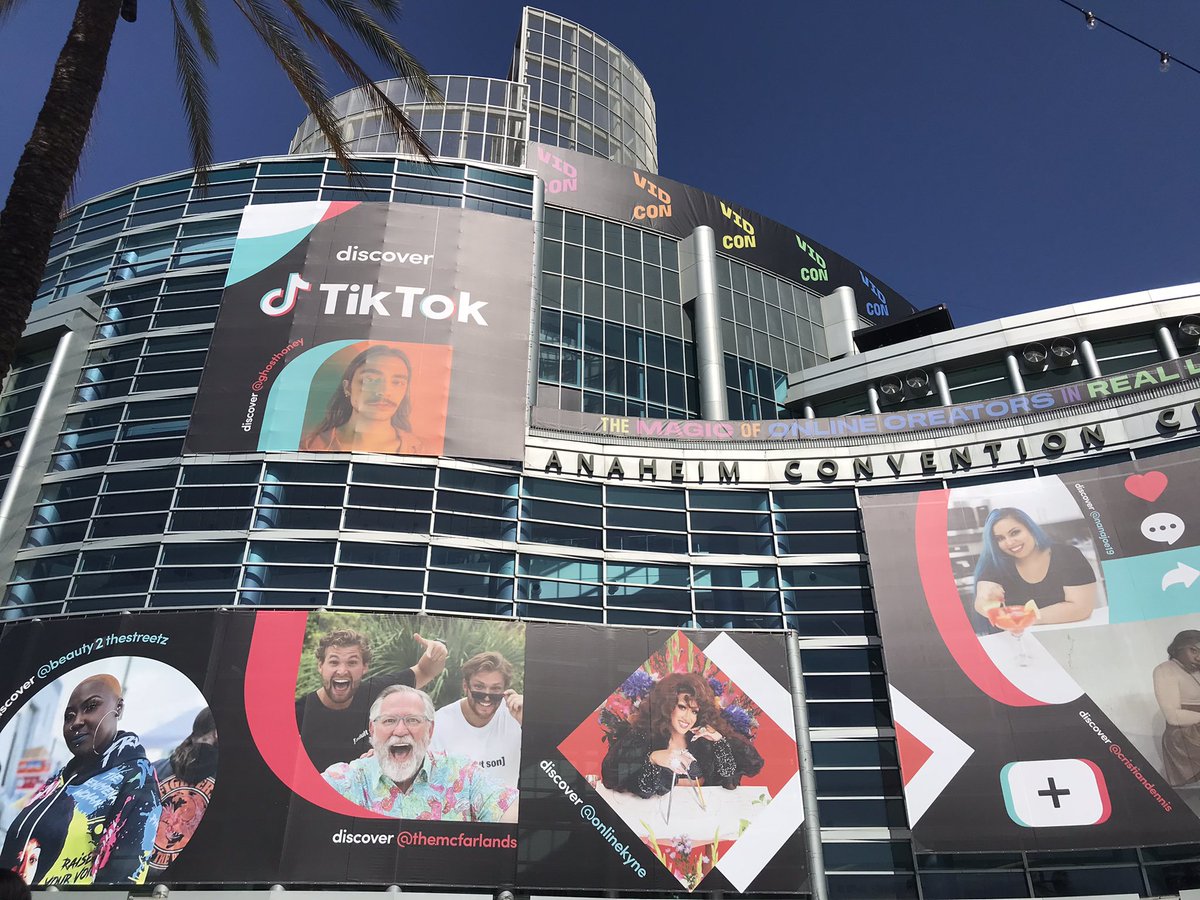 TikTok's increased popularity, short content, and better discoverability has led Instagram to develop Reels, and YouTube to launch YouTube shorts to try to compete and catch up. At VidCon, Instagram hosted several panels, a Reels lounge, and a #VidConReels party. YouTube Shorts hosted a large drive-thru activation where attendees could try snacks themed to 18 YouTube Shorts creators, and get merch from popular Mr. Beast.
Other Trends: Increased focus on Diversity: Creators of Color, LGBTQ+ and more throughout the panel programming, reflecting increased focus on these important issues nationally over the past two years. Also: Creators is the main term used now, not Influencers which was 2017-2018. Creators have said they're not trying to influencer anyone, they're just creating content around their passions.
PANELS
Intros and Industry Kickoff. MCs Josh Cohen and Laura Schlepper introduced the Industry track on Thursday. Then VidCon creator Hank Green and Pam Kaufman of Paramount Consumer Products spoke on a Q&A panel moderated by Jim Louderback on various trends. NFTs: Pam said she was excited for NFT collectibles which Paramount has already released for Star Trek, Top Gun, and even Nickelodeon like Spongebob and Rugrats. Hank Green was more skeptical on NFTs because at the end of the day you don't own something tangible. Instead, Hank prefers socks: He said he's sold about 1million of his branded socks.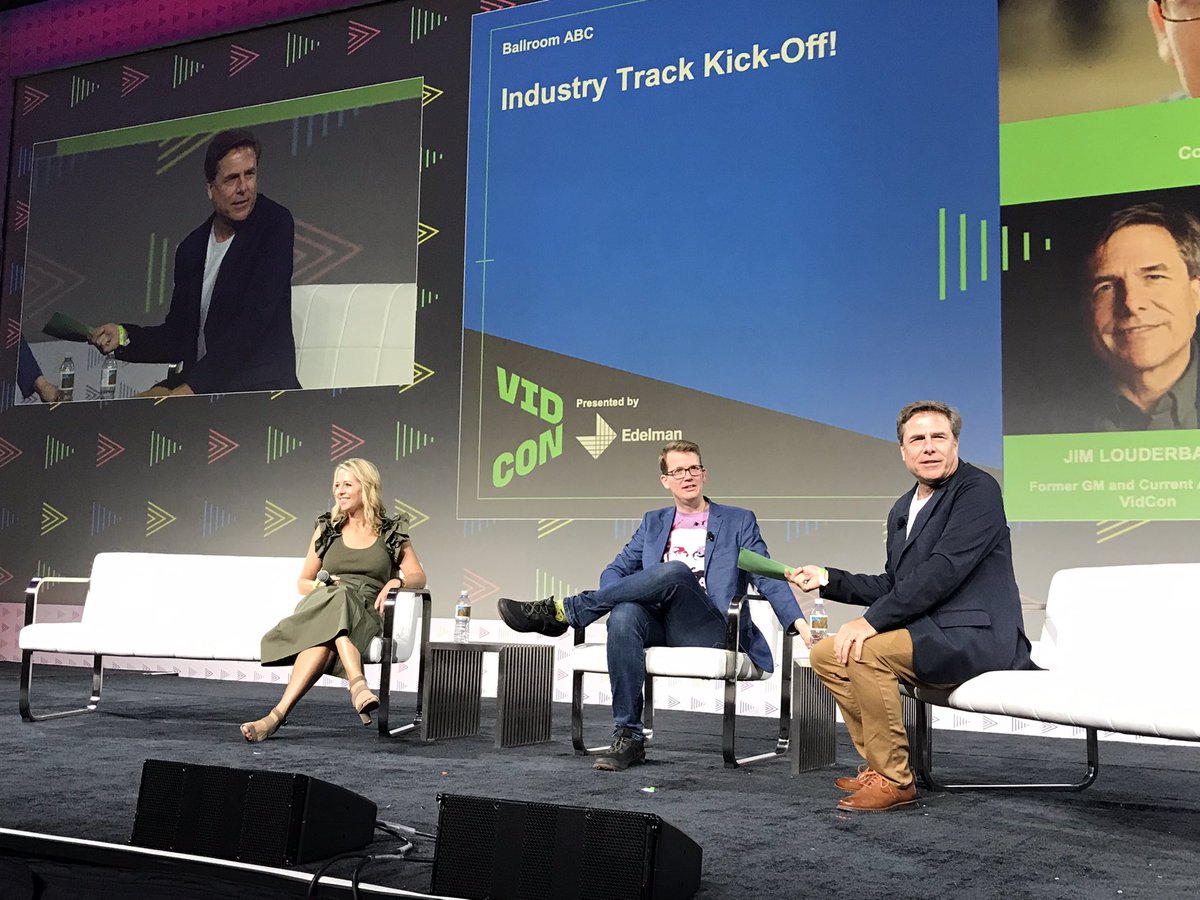 Web3 direct-to-consumer lets creators own and monetize their own content IP, their relationship with their fans, and their data. Creators can ask fans to participate in their content creation. – Falon CEO of Fireside
TikTok Dance Dance Evolution
: TikTok has made dancing mainstream. Derek Hough (Dancing with the Stars) said TikTok has opened doors for male dancers. He said 5-10 years ago, Hollywood didn't know what to do with a male dancer. Now, TikTok dancing teen creators and everyday guys are dancing. Derek added: Keep your feed upbeat and positive. If someone is negative or getting you down, unfollow. Other tips:
RonyBoyy said: When you do a trending dance, add your own personal twist. Merrick Hanna said he likes to add VFX when he dances. Do good: Nia Sioux did a Facebook disability dance show.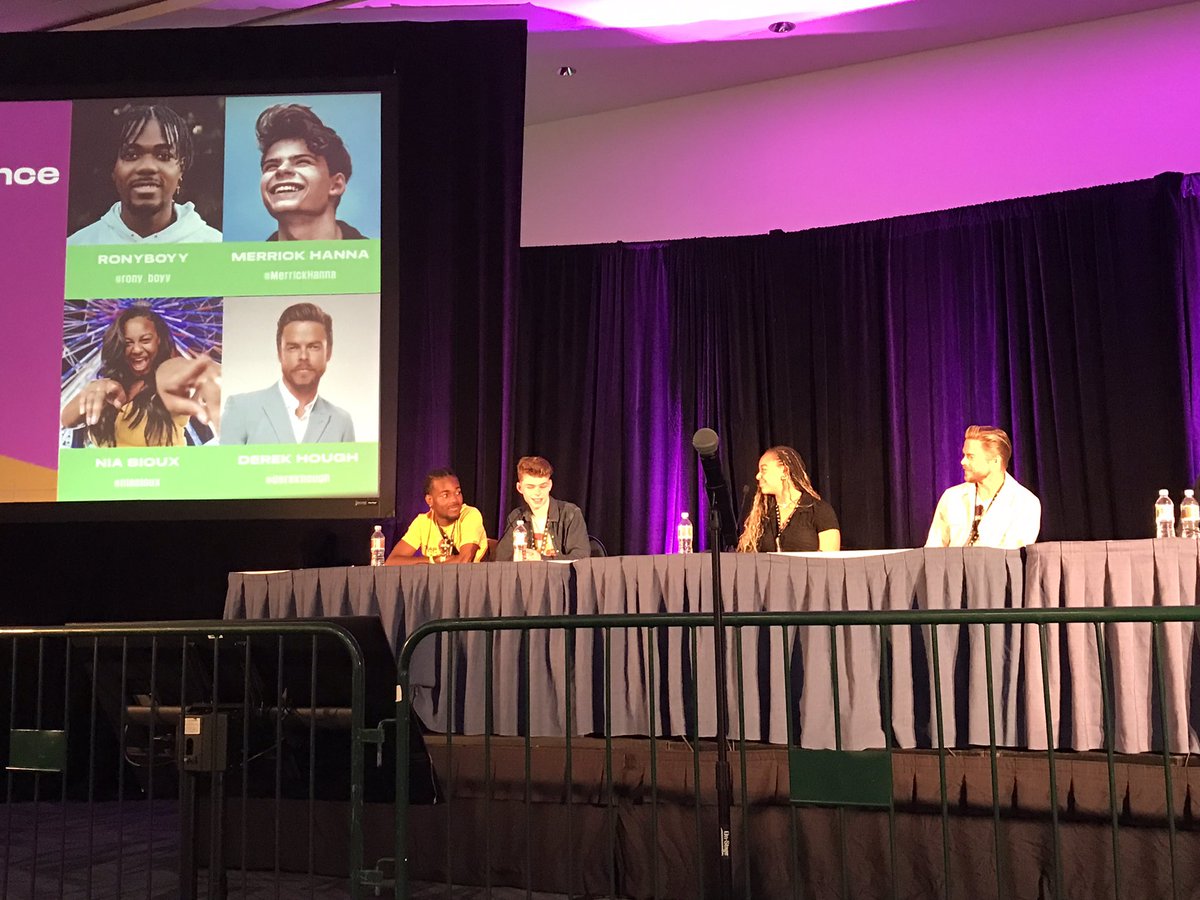 TikTok Brand Tips. Speakers from Tiktok for Good, Aquarium of the Pacific and the NFL gave tips on working with creators on TikTok campaigns: 
Research creators, hashtags, trends to work with. Experiment, try different approaches, repeat what works.  If a vid flops, just try again. Find a story, tell it.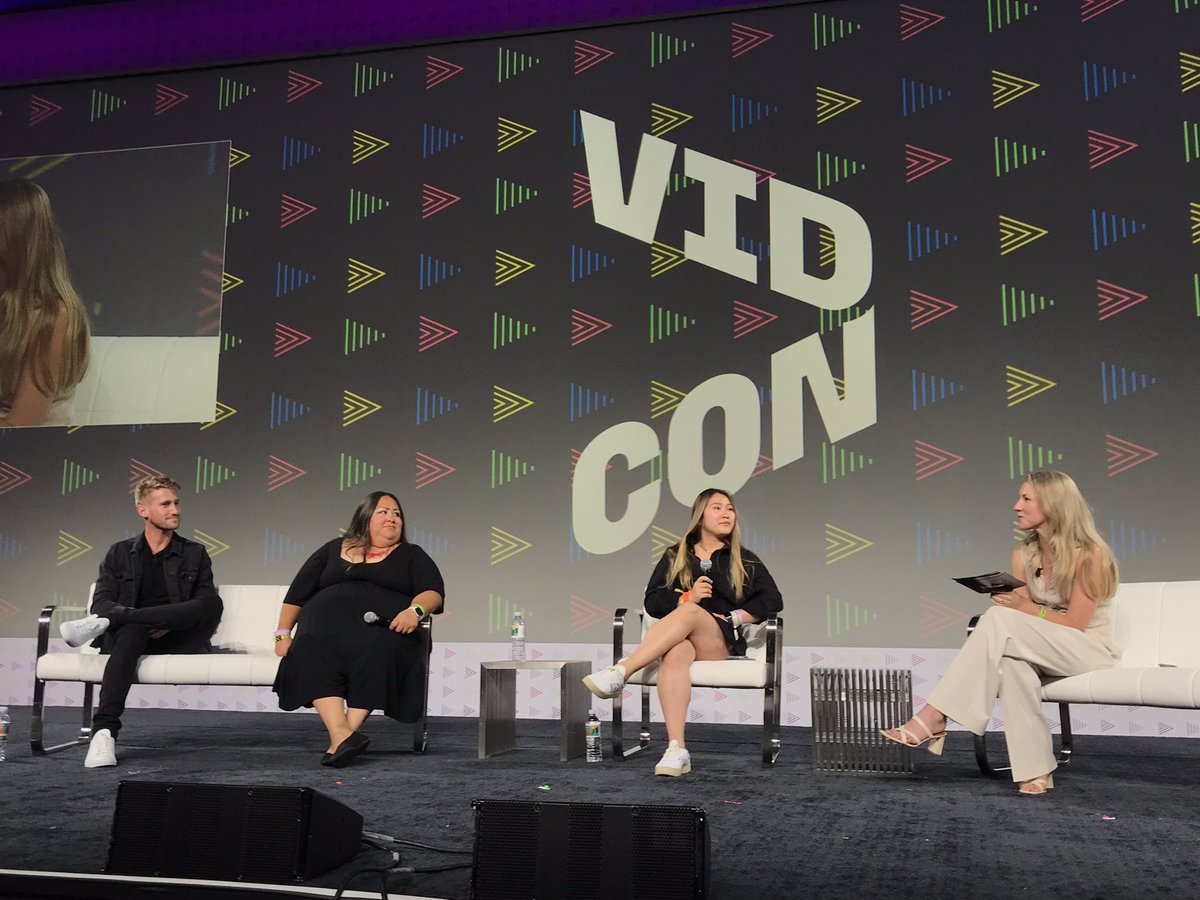 Diversity in Podcasting. RoosterTeeth presented diverse podcasters who shared tips on podcasting. Ask: How is your podcast diff. from others; what is unique? Tips: Must be passionate about topic. Don't do a podcast just to do a podcast. Plan 5 episodes ahead to make sure you have enough ideas for your podcast. Create clippable vids of you and your podcast guests to promote on TikTok / Reels for discovery and drive traffic to your podcast.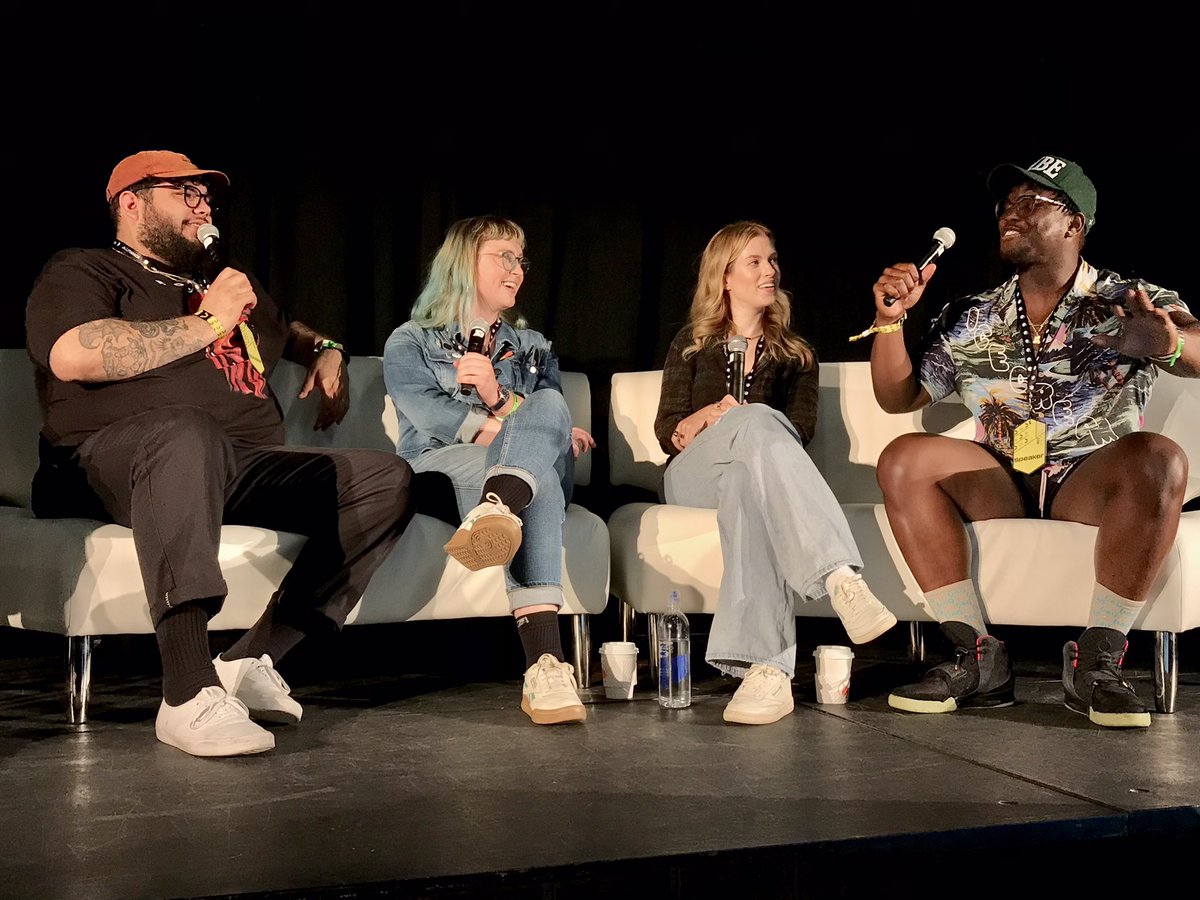 Discord: Cultivating Communities. Discord creators discussed creating community on their servers. Andy Nguyen activated his community to support a charity stream.  HannahxxRose said her community helps make her content better with their tips, jokes, and keeps her up to date on the latest memes. Bao the Whale said it's important to be yourself so your community can relate to you better, not a perfect image of yourself. Kaivo said her community has influenced her, more than she being the influencer.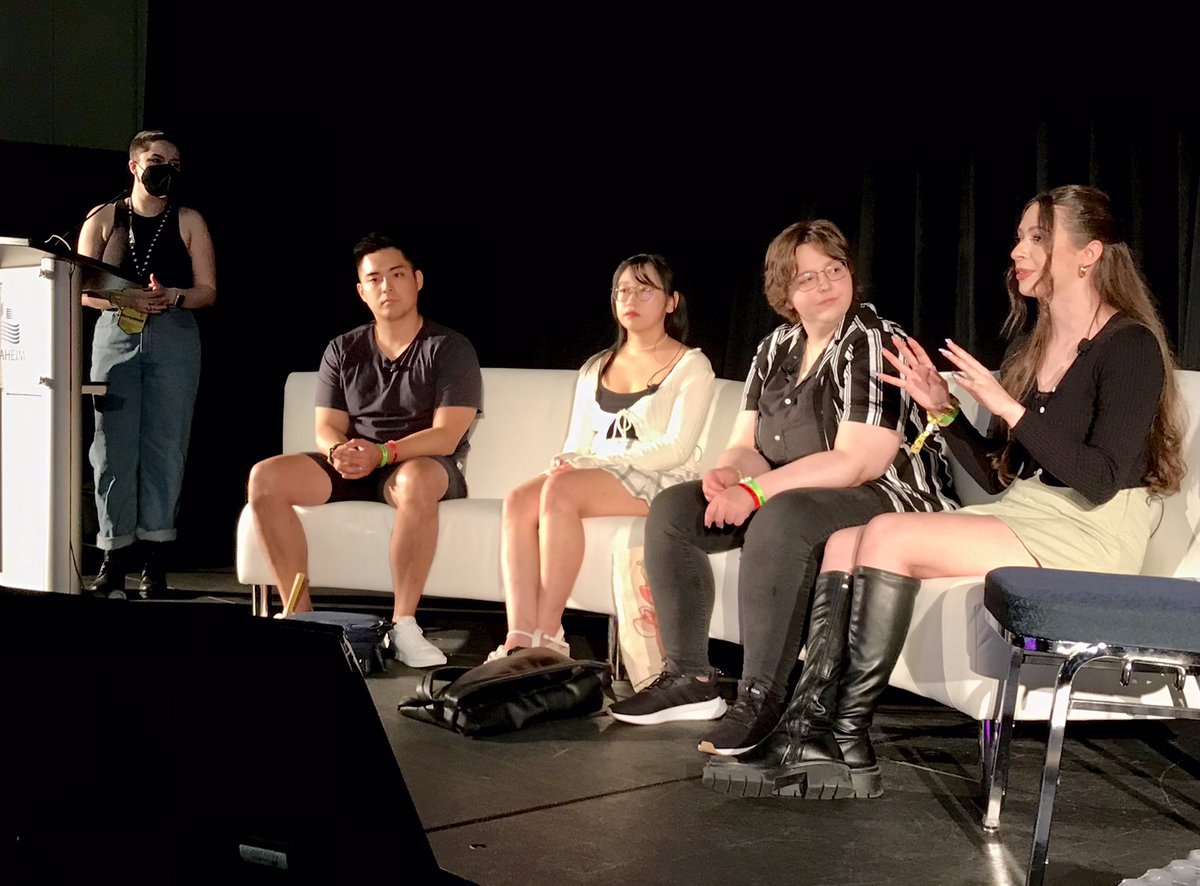 Candle Media: Building Next Gen Media Company. Brent Weinstein of Candle Media (and formerly UTA – VidCon consultant) moderated a panel with Liz Jenkins of Hello Sunshine and Andy Yeatman of Moonbug Entertainment who described how they build entertainment franchises. Yeatman said Moonbug has grown rapidly via 13 kids content acquisitions over the past four yrs. When evaluating kid IP, they are looking for: Views, Values, 5-yr Growth projections, and brands where they feel they can grow it at at least 3 times.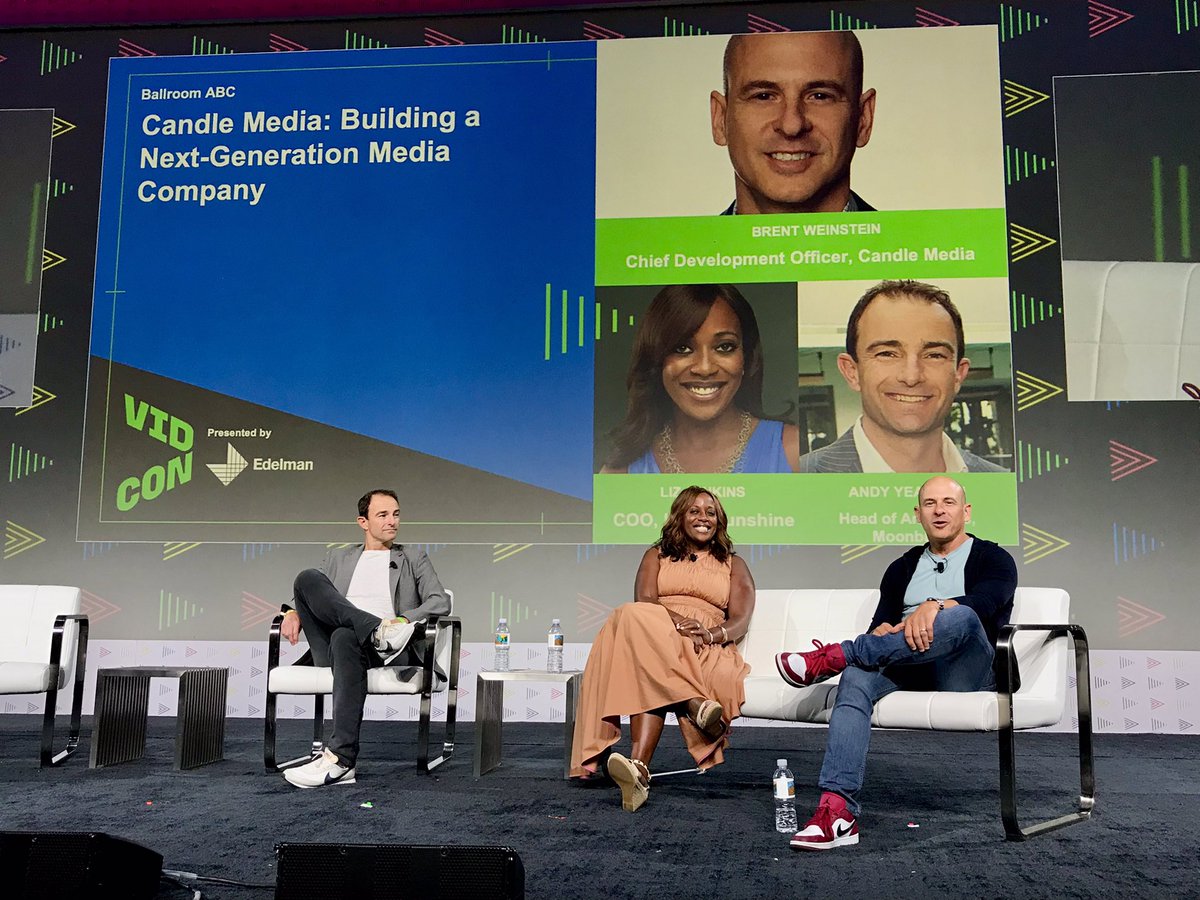 ACTIVATIONS
YouTube Shorts Drive-Thru: try snacks branded w 18 YouTube creators. Order snacks via the video menu, drive a golf-cart, pick up snacks.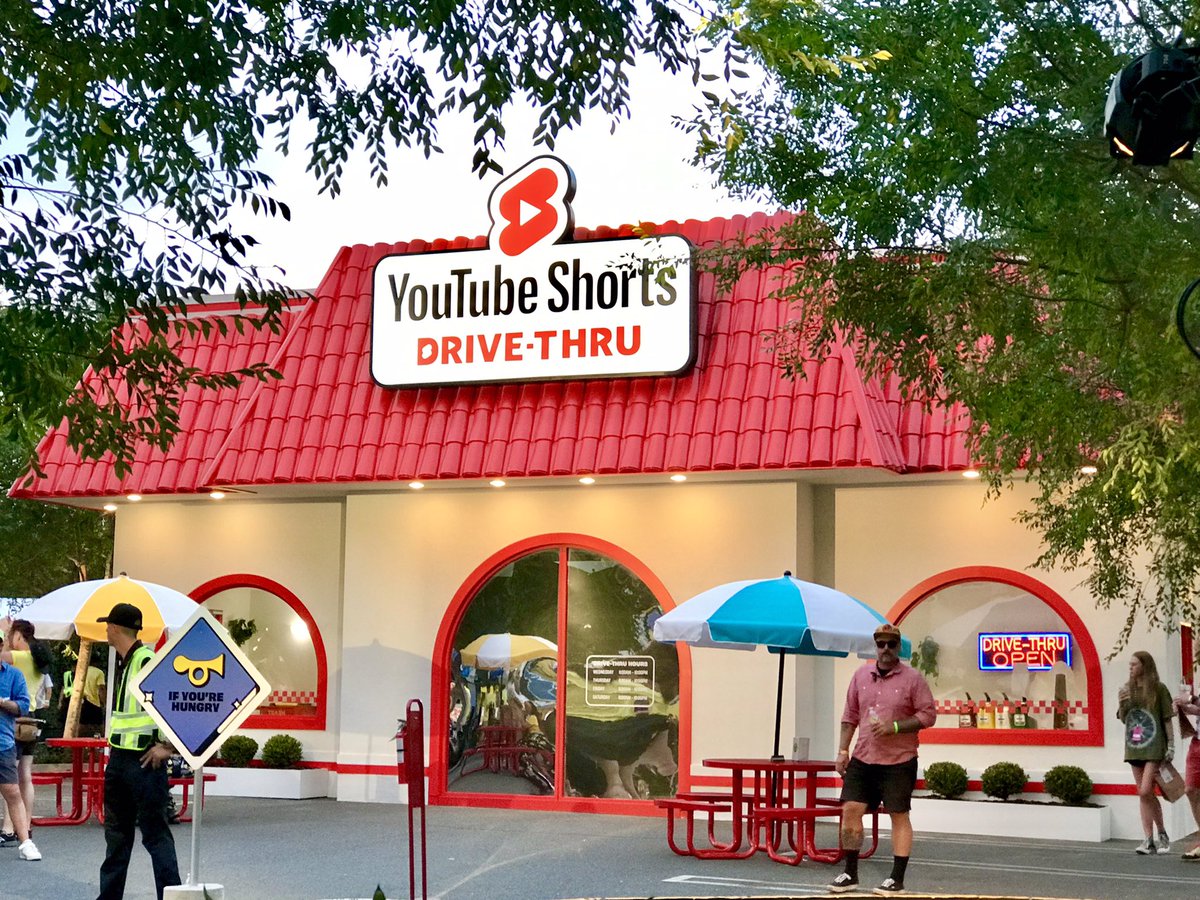 Paramount+ At the Paramount booth on the show floor, attendees could take a photo or gif actually in the Paramount mountain logo set, complete with periodic snow flurries. Attendees could also spin the wheel to win a free Firestick, two months free of Paramount+, mug, and other prizes.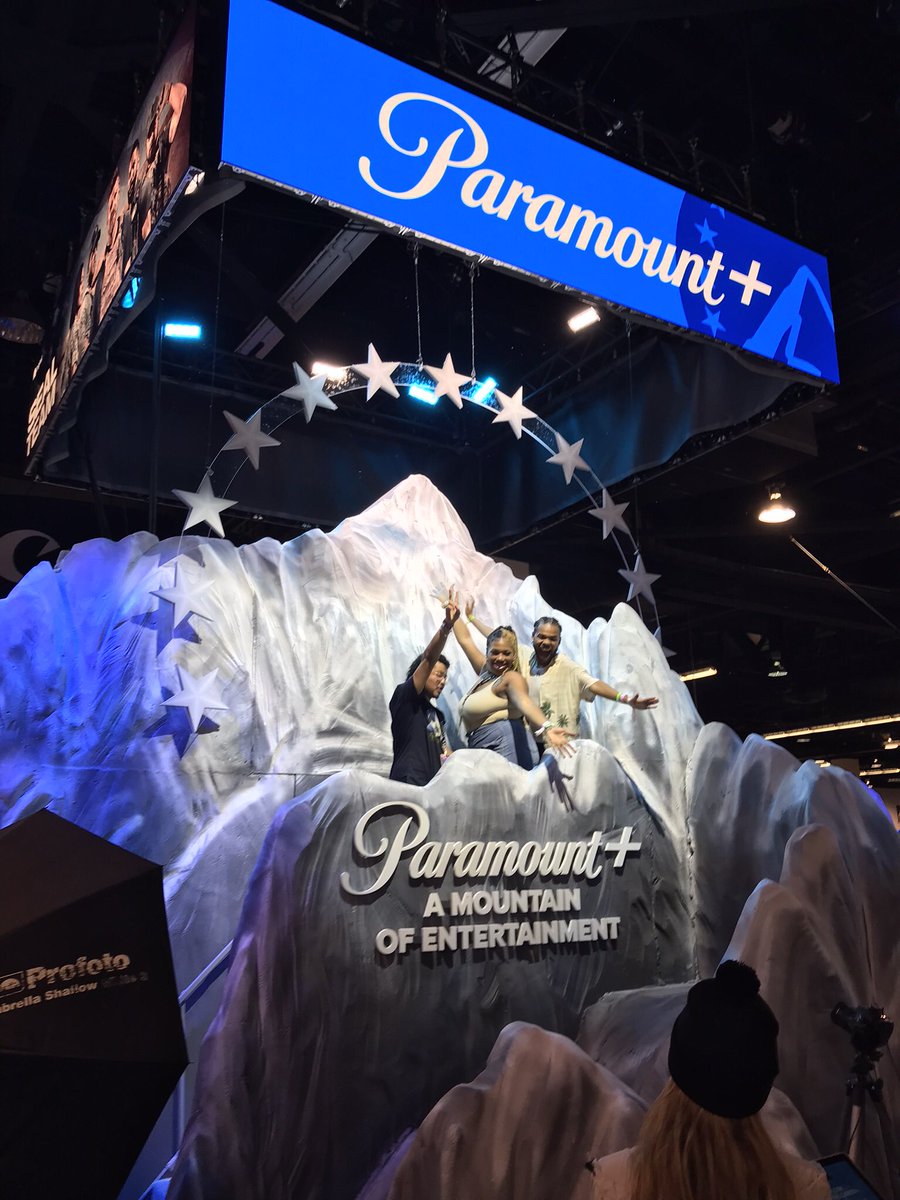 Invisalign jumbo gumball candy machine returned right in front of the convention center, so attendees could grab a quick candy sugar boost before going into ACC halls.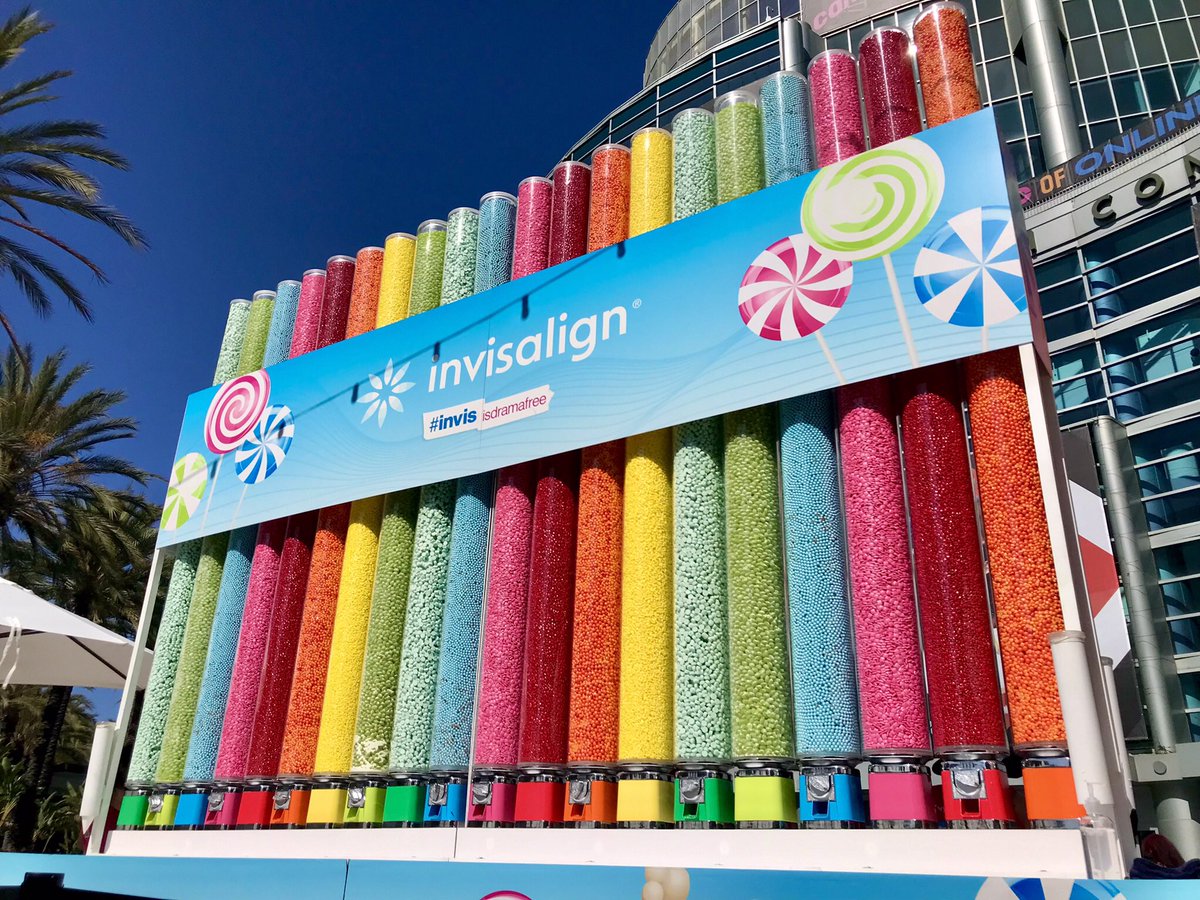 CREATOR LOUNGES
Creators could relax, mingle and meet each other at the Hyatt creator hotel, which required special creator red wristband access to prevent fans from trying to take selfies. Creator lounges included TikTok Creator Lounge, Meta lounge and pool party, YouTube Shorts lounge, Discord, Amazon Prime Video, JellySmack, BooHoo, and several others.
Meta Pool Party took over the Hyatt pool area with food, ice cream, DJs, swing set, and overall chill vibes.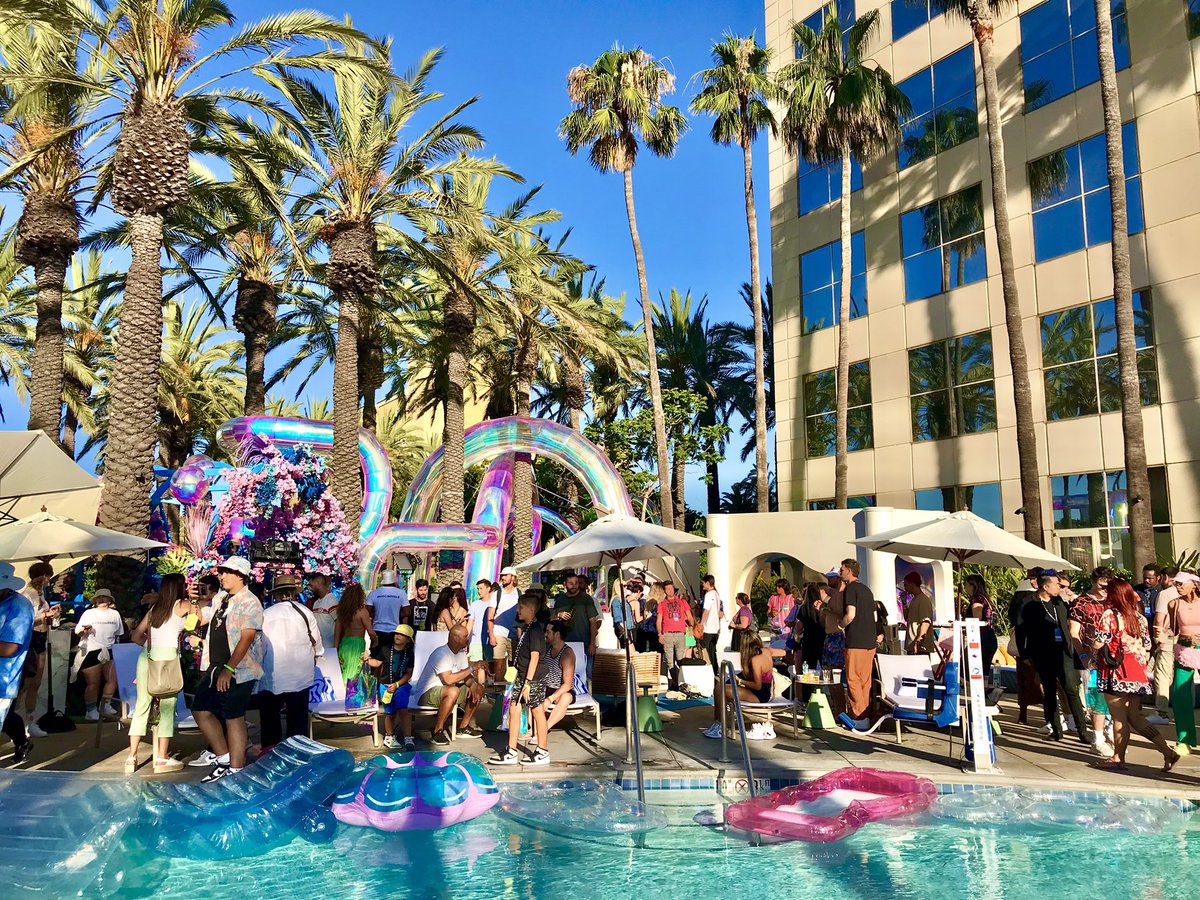 YouTube Shorts: Creators could put their face on foam art, create videos at photo booths, customize T-shirts, and play ping pong and basketball outside.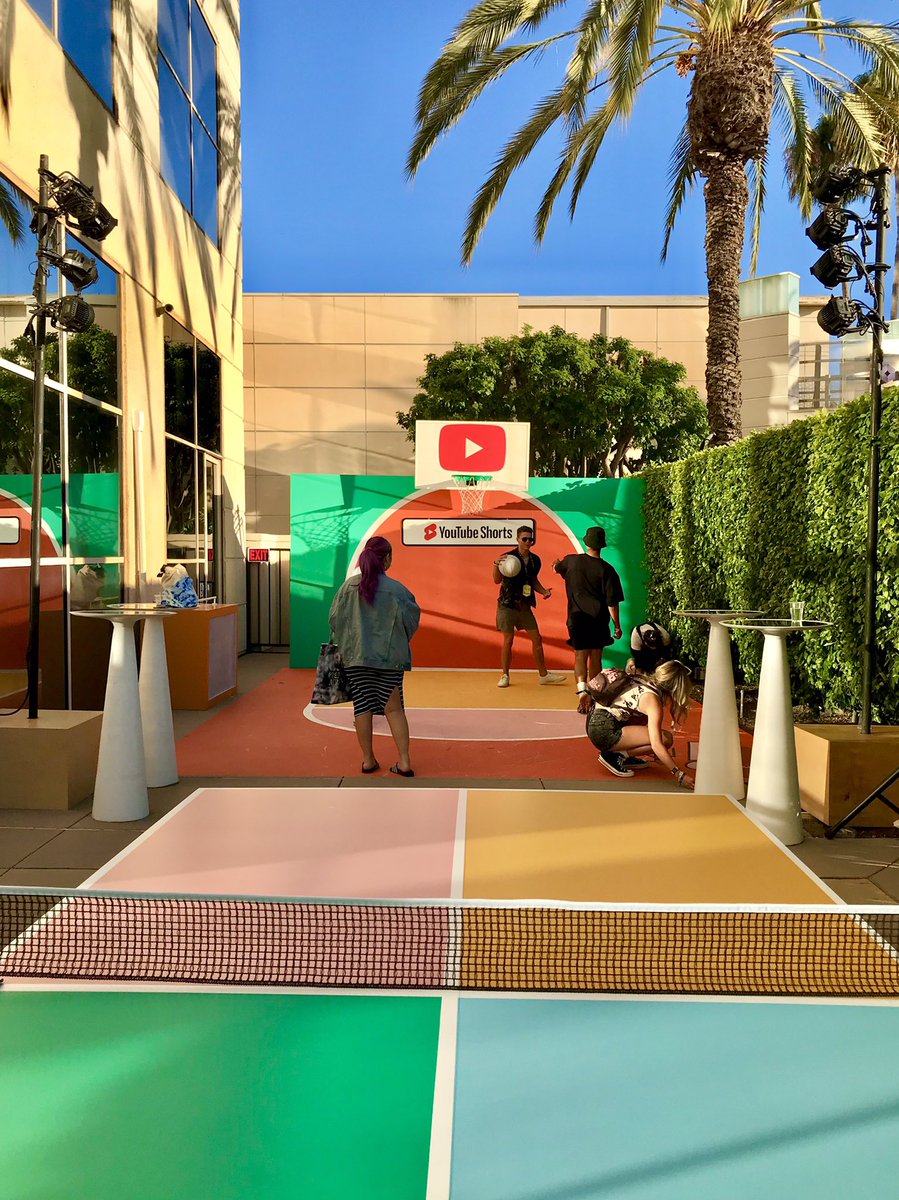 Amazon Prime Video lounge featured round-the-clock food, photo ops areas, customized merch and pool table.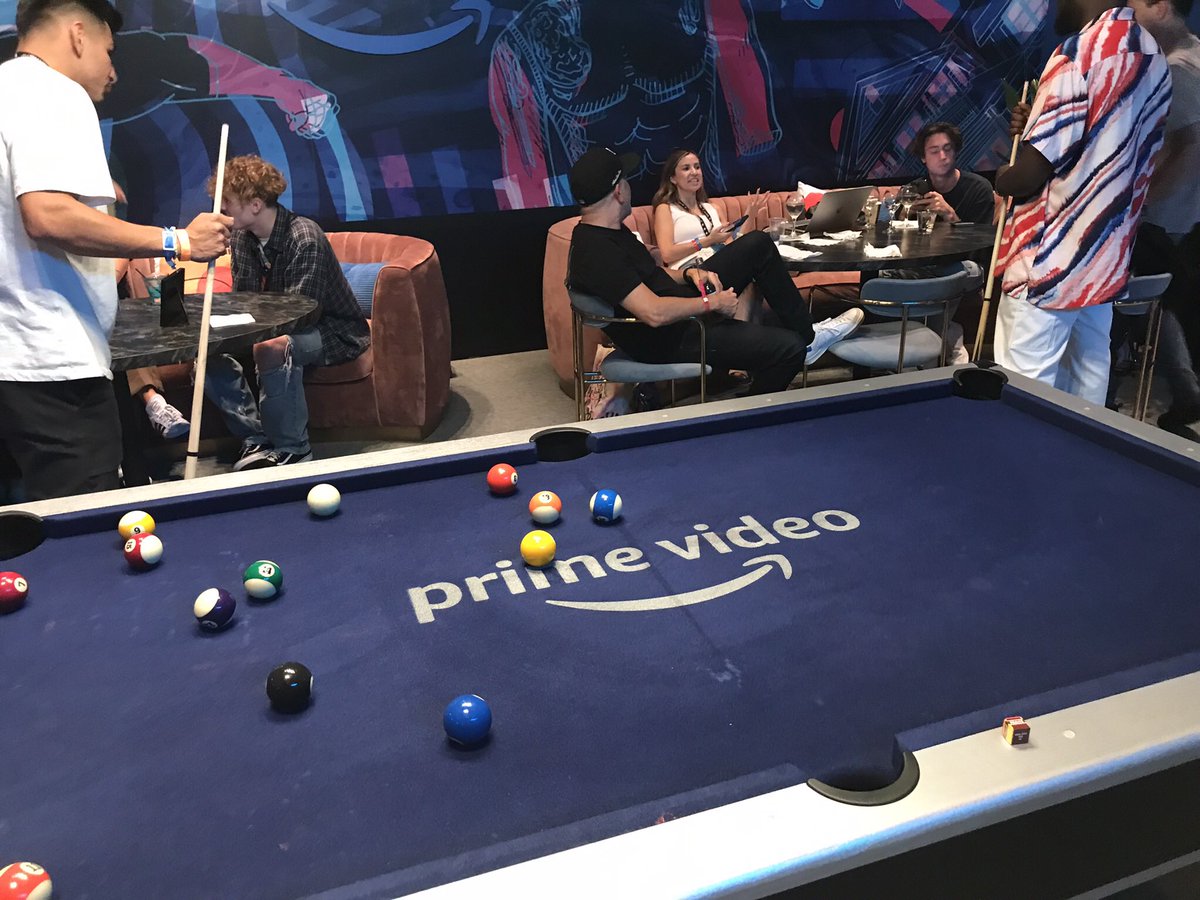 PARTIES
Wednesday Night: Tubefilter's annual pre-VidCon party packed attendees at the
Thursday night. TikTok House Party kicked things off with a party at actual house, with performers on the roof.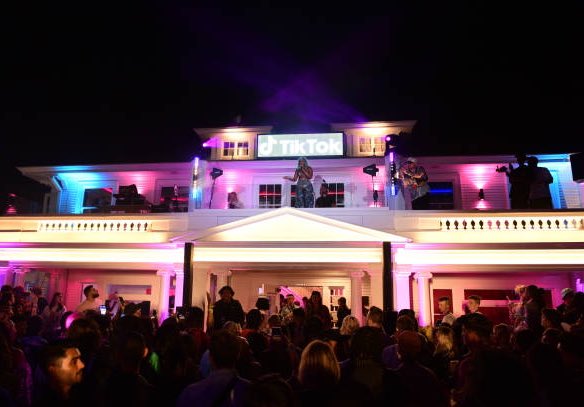 Friday Night parties
Instagram Party. Latto performed at the Instagram #VidConReels party at a Brazilian steakhouse at the Anaheim GardenWalk. Attendees were encouraged to post video to #VidConReels (that's what the Latto screenshot below is from!) A few days later, Latto won the best New Artist at the BET Awards.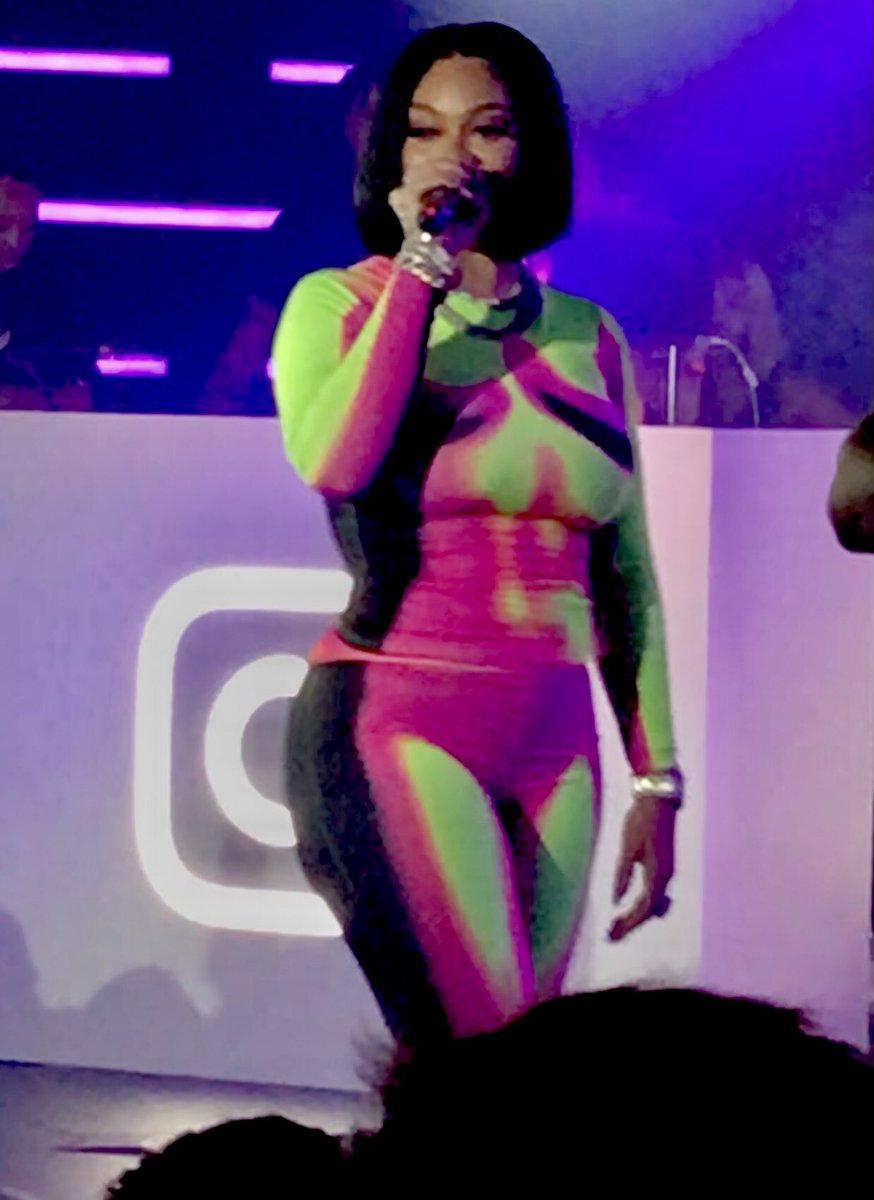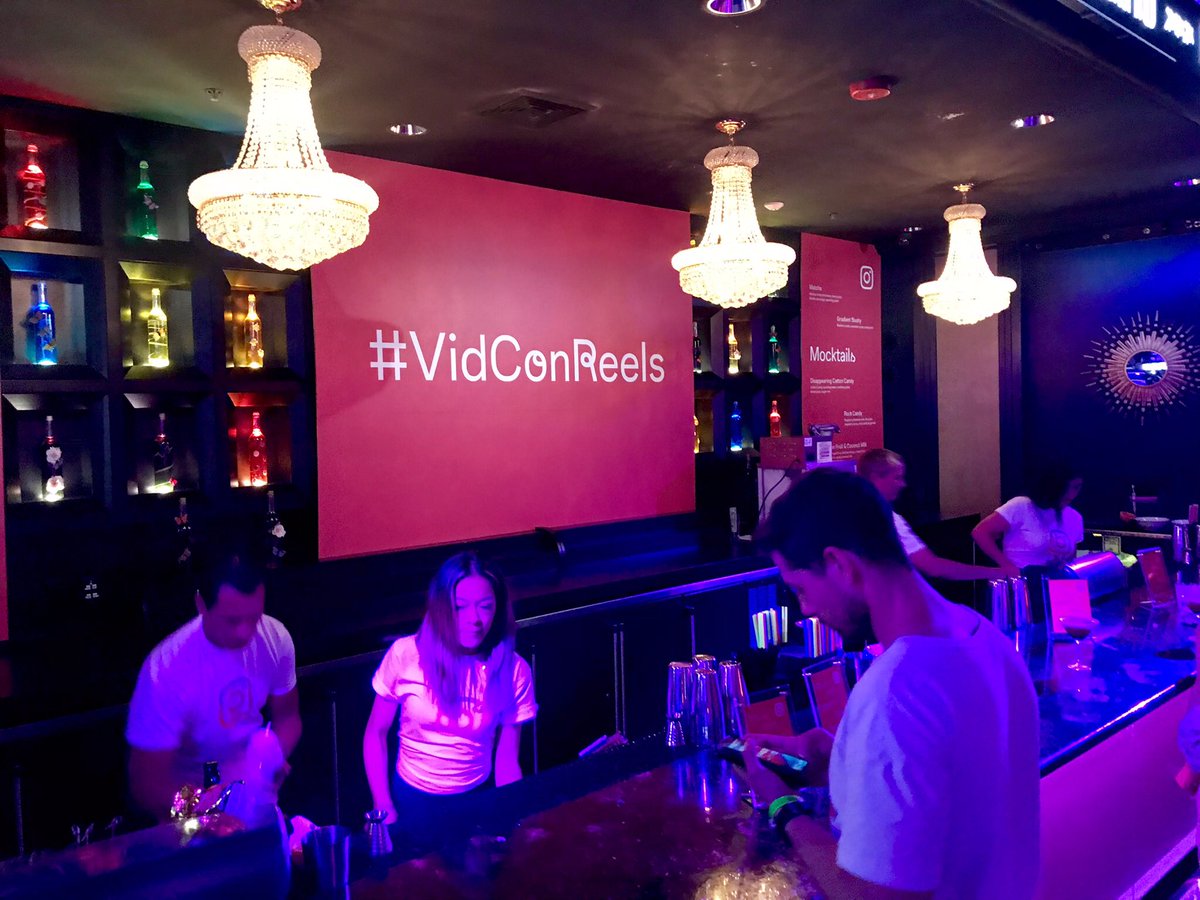 Creators walked the red carpet, with hashtags encouraging video posts #VidConReels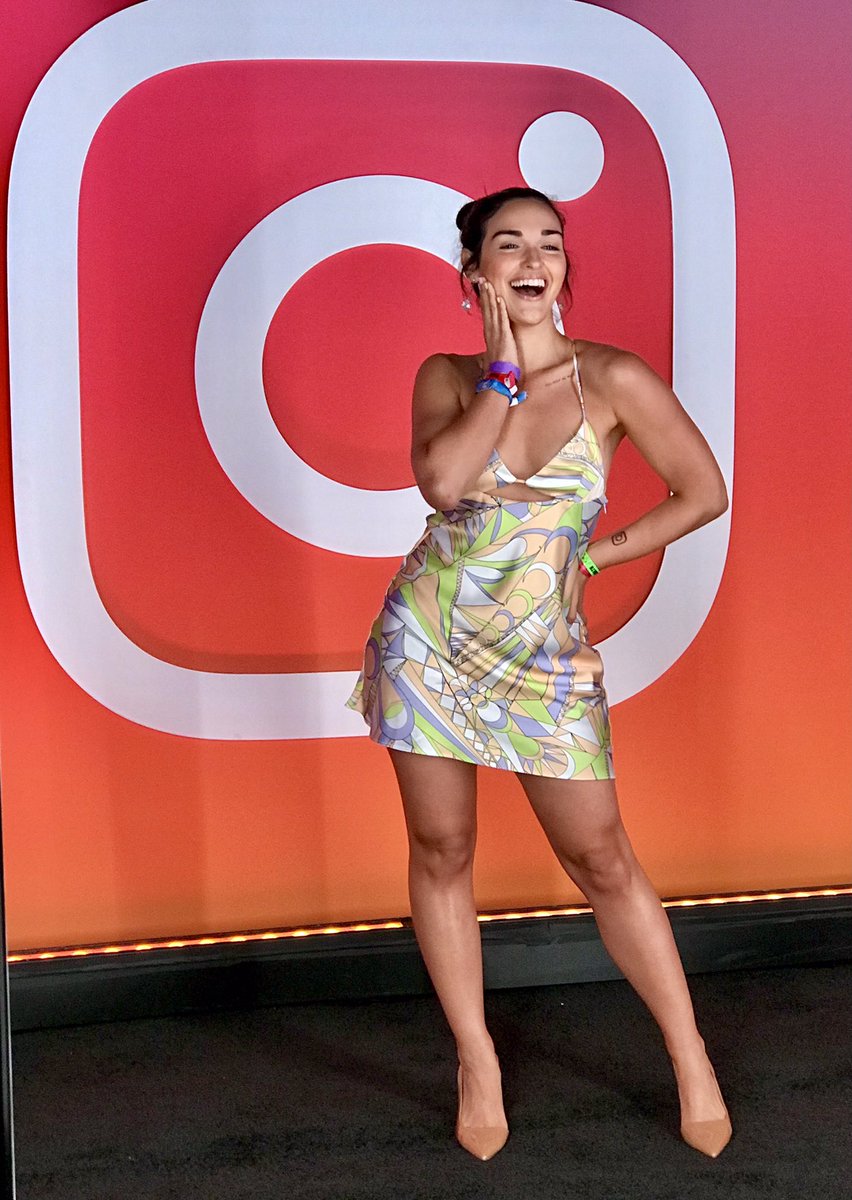 Amazon Prime Video. Chainsmokers rocked the house at House of Blues Anaheim.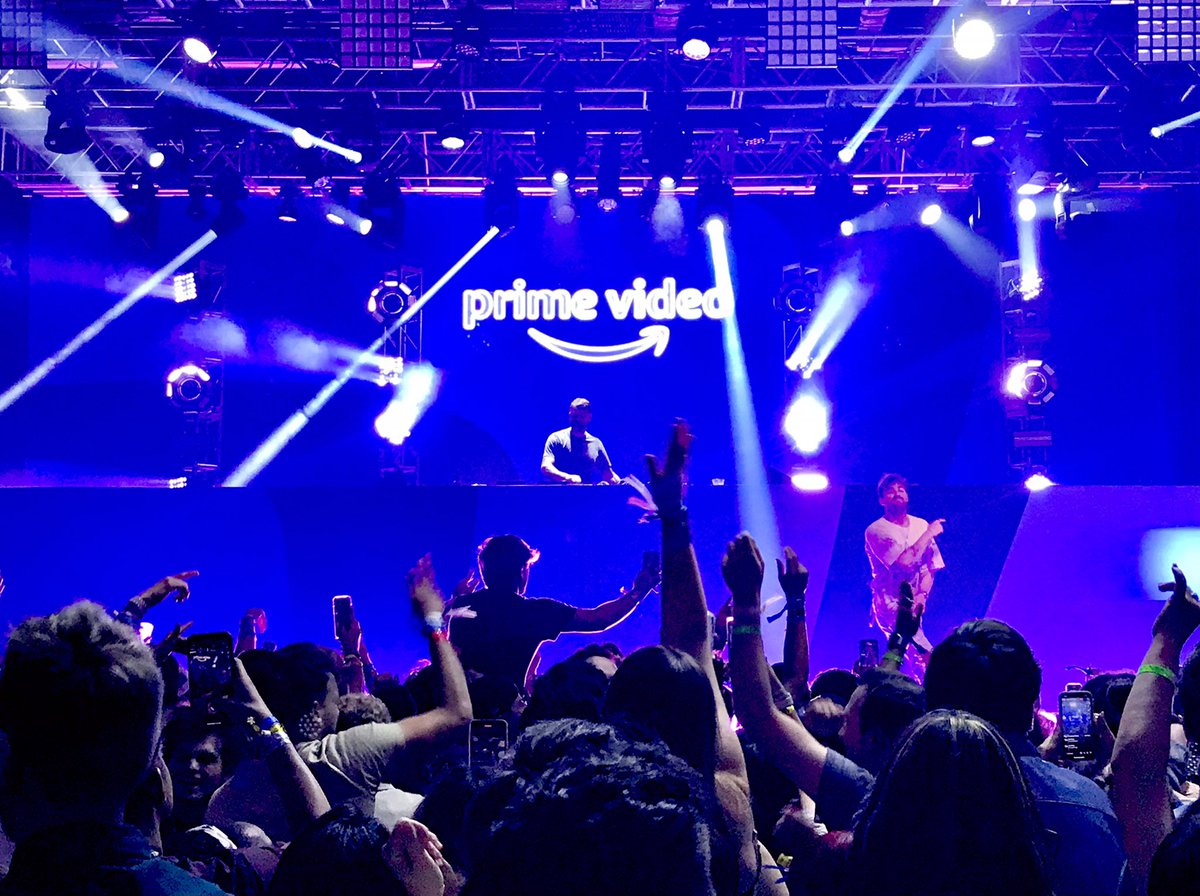 Saturday Night Parties.
Spotify took over Disney California Adventure's Pixar Pier on Saturday night for its creator party awash in green theme. Creators were given Spotify green hoodies to match the green lights on the Incredicoaster, and green lampposts around the pier. Attendees rode the IncrediCoaster, Toy Story Midway Mania, wheel and other rides in Paradise Pier. A DJ performed on the coaster stage. More than a dozen food and bar stands, and Spotify photo/video opps lined the pier.