Experts in events and virtual events described top 10 keys to successful virtual events at our Digital LA – Virtual Events in Pandemic and Beyond, presented by Cross Campus panel, which was itself virtual via Zoom on May 13.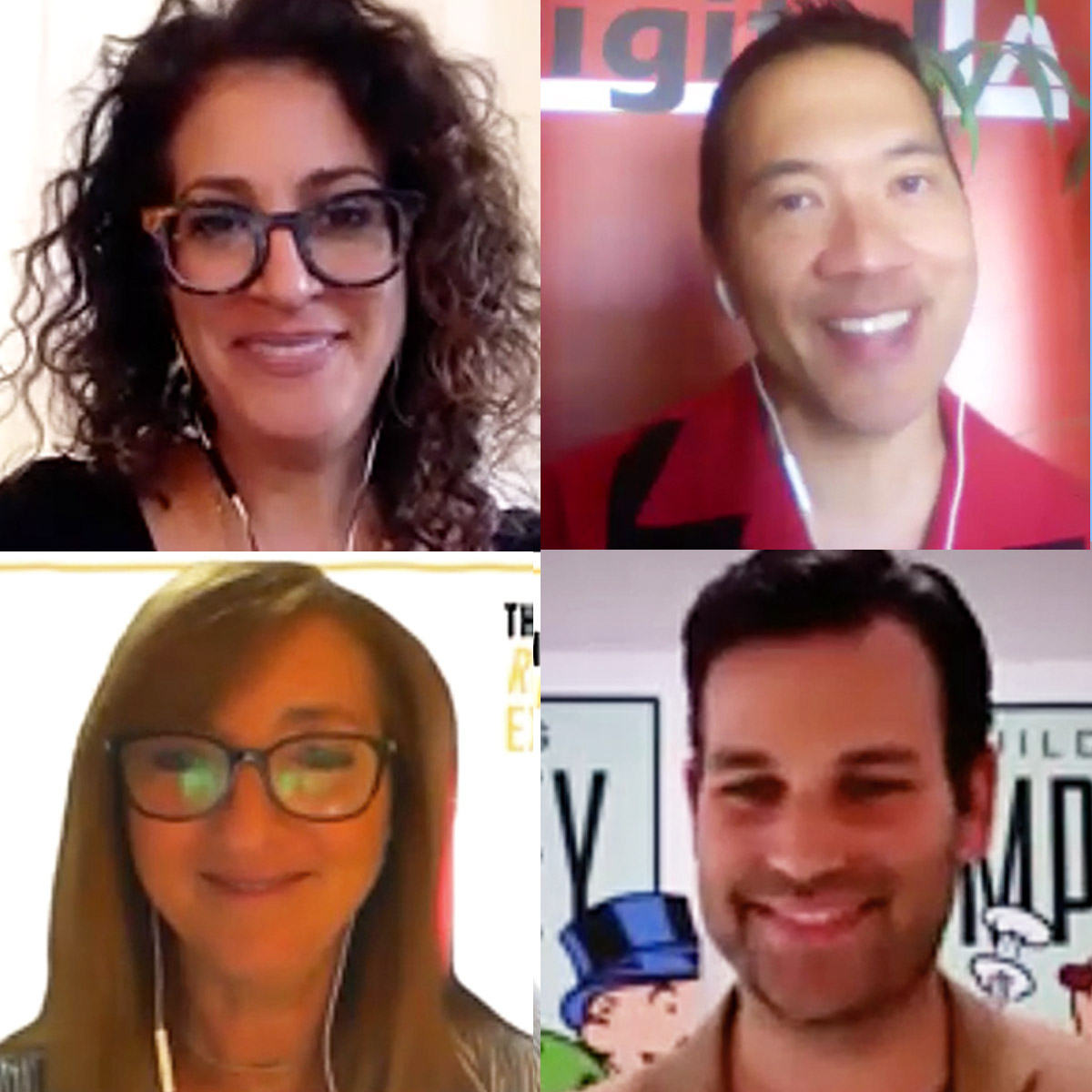 Speakers included:
– Eyal Simko of the One Up Group, who has worked with ABC, MAC Cosmetics, Equinox, Bacardi, Ipsy Cosmetics and many more on event fabrication, design, production and entertainment;
– Kathi Sharpe-Ross, who has consulted with CBS Entertainment, Coca Cola, National Geographic, Dick Clark Productions and many more on strategic marketing and branding;
– Kim Koury of Spin PR which produces dozens of Santa Monica based community events and festival, and Cross Campus Events
– Digital LA founder Kevin Winston, who has organized dozens of virtual events from panels to happy hours and hackathons.
10 Tips to Successful Virtual Events
PANELS AND MEETINGS
1. Don't Cancel Your Event! Consider bringing it online via live group or livestream platform. It likely will be less expensive, and you'll be able to reach more speakers and audience members virtually.
2. Pick Your Platform. Choose a platform that meets your needs
Zoom: In a few months, Zoom has become the leader in live group because it's inexpensive, and easy to get a meeting up and running. Plus you don't have to have Zoom installed or the app downloaded (although it's much better if you do, and most people have it by now). Zoom Meetings, where all attendees can see each other, are free for the first 40 minutes, and with Zoom Pro $15 / month, you get unlimited time. Zoom Webinars, provide more control and only the Speakers are visible, are an additional $40 month. Zoom is good for meetings where one person is speaking at time. It's not great for livestreaming music performances from multiple attendees, which can be laggy. Just try singing Happy Birthday on a Zoom call and you'll see! If you have paid Zoom, you can livestream from your Zoom to a Facebook group or page you run, or YouTube.
Google Meet, formerly Google Hangouts, can work too, but can be glitchy. People report dropped sound, confusing user interface.
Microsoft Teams seem to only be used by Microsoft employees and corporate environments. It works but people say it's clunky and glitchy.
Twitch is good for livestreaming music and games, especially if you're reaching gamers. Unlike Zoom and Google Meet, which are more walled business meeting tools, Twitch is a community of gamers, and it will be easier to get a following.
Facebook Rooms is supposed to launch for free with up to 50 people in a room, who don't have to be Facebook Users.
Other Options: There are dozens of other new meeting and streaming platforms which let you customize the background and color of your online event, or add a watermark of your logo. Zoom only allows this type of customization  at the expensive corporate or educational levels requiring 10+ seats or $1500+ a year.
3. Create Your Event. Whatever platform you use, create your online event. Use a URL shortener like tinyurl or bit.ly to create a short custom URL, especially instead of sending out the ridiculously long Zoom. For Zoom events, you'll want to avoid Zoombombing, when an uninvited attendee crashes your meeting by sharing vulgar screen content, saying vulgar things, or typing vulgar things in your chat. To avoid Zoombombing, you can disable meeting features, create a password, and enable your meeting room. See more ideas in our Avoid Zoombombing panel. 
4. Prepare your Speakers / Performers. Email the speaker invite to your speakers. Ask your speakers to join the meeting 10-15 minutes beforehand to test lighting (no silhouettes, no windows), and camera angles (no up-nose, no ceiling). If your speakers aren't familiar with Zoom or the platform, do a practice call a few days before to make sure they are able to load it, and get comfortable with the controls.
5. Run Your Event. Start your event on time. It helps to have a "Zoom Runner" to run the Zoom logistics of waiting room, monitoring chat and Q&A, and turning attendees cameras on or off, or removing them if needed. An experienced event moderator can also be the Zoomrunner. Most panels and webinars should be one hour, which is people attention span, and there's usually another virtual event at the top of the next hour. If you're running a Virtual Happy Hour or social event, see our Tips for Virtual Happy Hours.
6. Engage Your Audience. Unlike in-person events, online audiences can get easily bored or click away. Engage your audiences by asking them where they are from, or what they want to get out of the event, which they can type in a Webinar or speak on cam in a meeting. During the event, ask your audience to type questions in the Q&A or chat. Run a poll or other interactive feature from your platform. Run breakout rooms to allow small groups to connect. Answer questions ongoing in addition to at the end. Overall, online must be more engaging because people are used to quick reactions and comments watching online streams. Leave at least a third of the time for Q&A, instead of 10 minutes at the end.
7. Be Creative. Cross Campus eventually plans to run in-person events with a few speakers and small number of attendees at the Cross Campus locations, and livestream to larger audiences. Use your platform tools to try to do new things online. Digital LA's Kevin Winston ran a COVID Hackathon using Zoom breakout rooms, where attendees developed their ideas and worked on pitch decks, and then met in the main room to present to a judge.
CONFERENCES, FESTIVALS and BIGGER EVENTS
You can also creatively take your larger events online, said experts Eyal Simko of the One Up Group, and Kathi Sharpe-Ross, which helps large corporate clients move their events online.
8. Add Entertainment. For larger events, consider adding entertainment, from a single performer, like a comedian or dancer, to a produced stage event at a social distanced production studio or other location. Eyal Simko helps clients think of out-of-the box entertainment.
9. Send a Branded Package. Conferences and other events are experimenting with sending attendees a package or gift box of materials via mail or pick up locations before the event. A gift box can include sponsor swag, event T-shirt, or some other materials that attendees can use or show on screen at the event. For example, Kathi said she has helped a cooking / food event send ingredients to participants beforehand, so they can cook at home along with the livestream. Allocate enough time to prepare and send out packages, and budget for packaging, shipping, handling, and customer support in case people don't get their packages for some reason.
10. Think Out of the Box. Eyal is helping some clients do movie screenings or red carpets in cars. Attendees drive through a real life activation in their cars, or watch a movie screening or concert at a drive-in theater or other venue. These offline events should also have a livestream or social media component for marketing and branding. For example, the event can livestream the experience itself, with opportunities for social media photos, like a car selfie. Especially good for car brands!
Watch the panel on our Digital LA group.
THANKS AMAZING SPEAKERS! You can contact them via their sites below.
Eyal Simko, CEO of the One Up Group. The One Up Group has worked with ABC, MAC Cosmetics, Equinox, Bacardi, Ipsy Cosmetics and many more on event fabrication, design, production, entertainment and audiovisual https://theoneupgroup.com/
Kathi Sharpe-Ross, CEO of THE SHARPE ALLIANCE. The Sharpe Alliance has worked with clients such as CBS Entertainment, Coca Cola, National Geographic, Smashbox, Dick Clark Productions and many more on marketing, event consulting and strategic branding. Author of RE:INVENT YOUR LIFE! WHAT ARE YOU WAITING FOR?
Kim Koury, President, Spin PR Group/ Cross Campus Events. Spin PR Group is a marketing and events firm that manages the events program for Cross Campus 5 locations around Los Angeles and produces events and festivals such as the Santa Monica Pride Festival, Off the Hook Seafood Festival on the Santa Monica Pier, Mainopoly Taste of Main Street, Santa Monica Pub Crawl and more. Cross Campus is hosting a virtual membership during pandemic with virtual coworking and free access to Digital LA's online events. Info at http://crosscamp.us
Moderator: Kevin Winston, Digital LA, CEO and Founder. Digital LA has shifted its weekly events entirely online via Zoom panels and virtual happy hours.
Thanks to our partner Cross Campus. Cross Campus is hosting a virtual membership during pandemic with virtual coworking and free access to Digital LA's online events. Info at http://crosscamp.us