Most VR/AR and esports are seeing increased usage during pandemic, said experts at our Digital LA – VR/AR Esports panel via Zoom.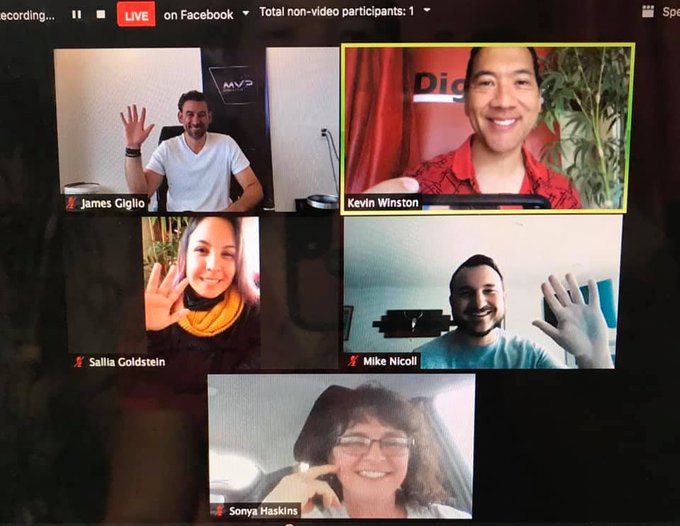 Current Quarantine
Esports has increased, as existing users spend more time at home, seeking to play games and connect with their friends in online games, said Sonya Haskins, VR esports journalist and award-winning VR esports player.
Home VR is mixed. Home usage appears to be up among existing headset owners, who are jumping into virtual world while at home. However, there doesn't seem to be new purchase of headsets due to broken supply chain, and consumers saving their disposable income during the pandemic.
Location Venue VR is shut down. Location based VR venues have all been shut down, along with movie theater, malls, and other non-essential venues nationwide. In the LA area, closed VR venues include: the three VOID locations (Santa Monica, Burbank, Anaheim Downtown Disney), Dreamscape at Westfield Century City, and Two Bit Circus in Downtown LA.
During Quarantine
Brands will experiment with more AR filters on Instagram, Facebook and TikTok, as people are spending more time on these platforms at home to communicate with friends, and dance on TikTok. Sallia Goldstein works with brands on AR overlay filters at venues like aquariums and sports teams. While venues are shut down, they may experiment with other AR overlays. Mike Nicoll of Blnk also works with brands.
Sports teams, venues, and professionals athletes aren't playing as sports events are shut down. Some teams and players are going on line with livestream conversations with fans. Some of them will start to create AR filters and games to engage sports fans during quarantine, said James Giglio of MVP Interactive, livestreaming from Philadelphia. James works with sports industry on innovative campaigns.
Post-Quarantine Projections
Speakers shared their thoughts and what would happen in these areas as we emerge from lockdown.
Most speakers agreed it would be "a while" before they felt comfortable enough to put on a headset at a location based VR, whether a demo at a conferences or a VR venue. Sonya Haskins said that VR sanitization wipes and sprays after each user – which had been used before – will be even more diligent. She said some venues may use UV disinfection machines like Cleanbox, which says it's "independently lab tested to kill 99.99% of bacteria, virus and fungi in one minute."
Thanks Speakers!
– Sonya Haskins is a respected voice and leading journalist in the field of VR esports. As a consultant, she advises those involved in the industry – from players with questions to sponsors and investors seeking insight. Her writing credits include eight books and thousands of articles – over 200 of those focusing on virtual reality, particularly VR esports. Sonya has been in numerous countries promoting virtual reality and speaking at conferences. She was the only seated player and the only female player to qualify for VR League Season 1 NA Nationals.
– Sallia Goldstein, AR Developer of AR filters on Instagram, Snapchat, and Tiktok. She was nominated for a Shorty Award for Snapchatter of the Year. She worked with Pixar to snap photos and draw in dinosaur illustrations as a marketing campaign for The Good Dinosaur.
– James Giglio, CEO, MVP Interactive, an a consumer engagement technology company that enhances brand experiences through custom software, product design and social media. Our products integrate touchscreens, gesture technology, augmented reality, virtual reality, facial recognition, and social media platforms to give consumers unique access to their favorite brands.
– Mike Nicoll, Founder & Creative Director at Blnk, a creative studio that builds the daily social media content that great brands share. Specialized in Social AR Production – Snapchat / Instagram / Facebook. Clients include Interscope Records, Capitol Records, Republic Records, Warner Records & Atlantic Records for artists like Selena Gomez, Migos, The Beatles, Katy Perry and Eminem. He's created & managed over 100+ Social AR experiences for todays leading talent and has been featured in Billboard Magazine, AdAge & CNN.