LOS ANGELES – VR Games are uniquely different from both games and VR experiences, said speakers from Survios (Raw Data), Emmy-winning Secret Location, Square Enix, and award-winning composers and audio experts at our first Digital LA – VR Games panel at CTRL Collective Playa Vista.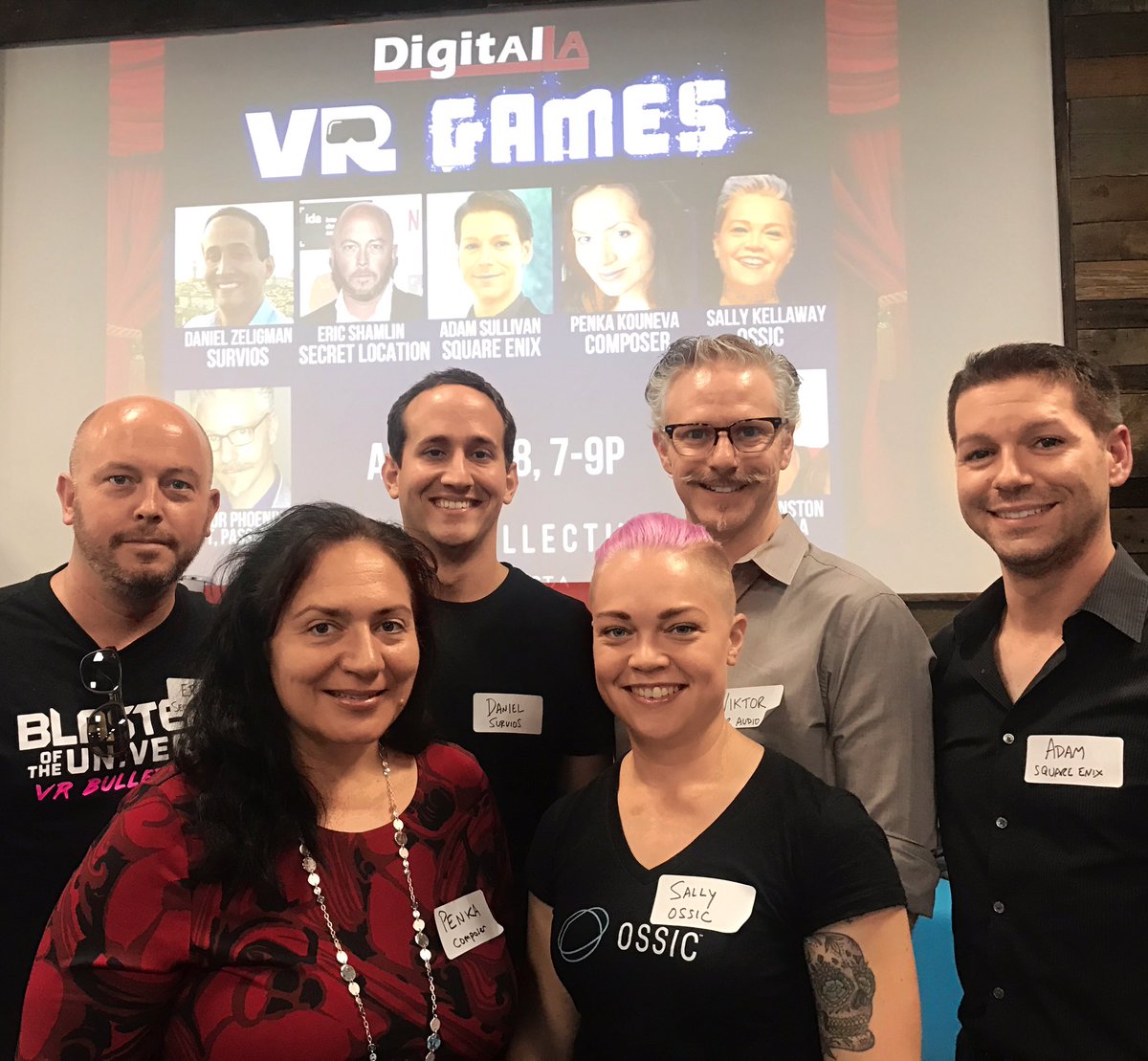 This panel is the first in the LA area to focus on VR and Games. LA is a leader in VR Games. Survios award-winning Raw Data robot-snooter game is based in Culver City. Marvel Powers United VR team is based in Burbank. Disney Accelerator hosts Utah-based The VOID in its fourth accelerator class this summer. And dozens of studios around LA are working on VFX for other VR games.
Watch: Speakers shared their top trends, predictions and wish list for the future of VR games in this video.
12 Things You Need to Know about VR Games
1. VR Game vs VR Experience. "VR games have rules," said Daniel Zeligman, Survios lead engineer, just like regular video games. VR games also have goals, and usually some interactivity, like video games.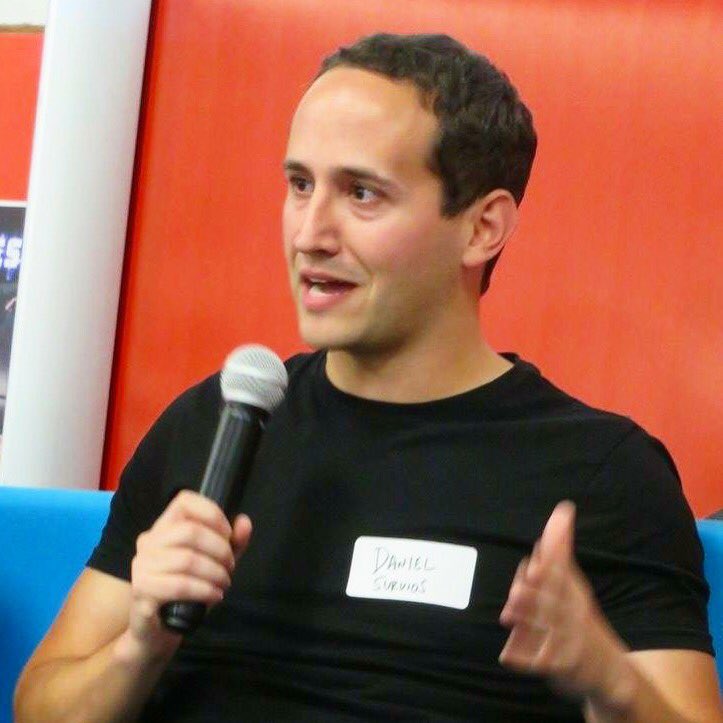 The difference: "In VR, interactivity could be just looking at something," said Sally Kellaway, creative director at San Diego based Ossic sound VR company.
Many VR experiences are not games because you are looking around at an environment, but there isn't a particular objective or goal, or interactivity.
If you want to create a VR game, ask: Why is this in VR vs a regular game? What additionally storytelling is possible in VR?
"Why are you telling the story in VR?" said Penka Kouneva, composer on the Mummy VR.
2. VR games genres: Shooter, Horror, Explorer: VR games tend to work well for certain genres. First person shooting games, like Survios Raw Data, work well because you're in the environment shooting robots or zombies coming at you.
Secret Location, which won the first Emmy for its Headless Horseman VR work on Sleepy Hollow in 2015, decided to shift into games, said Eric Shamlin, Secret Location, SVP Managing Director (photo below). This lets Secret Location own its own IP, rather than only doing contract work for studios. Secret Location decided that its first game should be a wave shooter: Blasters of the Universe. Players instinctively know what to do in a VR shooter. Blasters releases on August 30. Attendees played Blasters at our event.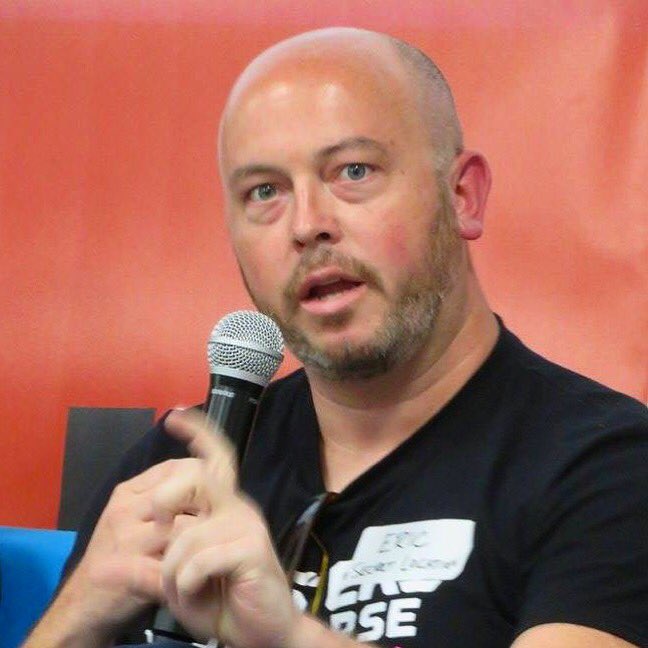 Horror VR games work well to immerse you in a scary environment with surprise monsters coming at you. The Starbreeze Walking Dead VR experience lets you shoot zombies that eventually overtake you (because that's how all VR zombie experiences end).
Open world exploration games or puzzle games can also work well, and are the next wave of VR games coming in the future.
3. Branded VR Games. VR based on existing IP are popular. Marvel has created Powers United VR game where you become favorite Marvel superheroes. The VOID created VR experiences for Ghostbusters and is working on a Star Wars VR game that will debut at Downtown Disney in Anaheim this winter.
Square Enix has created VR experience and games based on Tomb Raider, and other properties, said Adam Sullivan of Square Enix. They are not full-on VR game play, but a small VR game or experience based on the world / IP.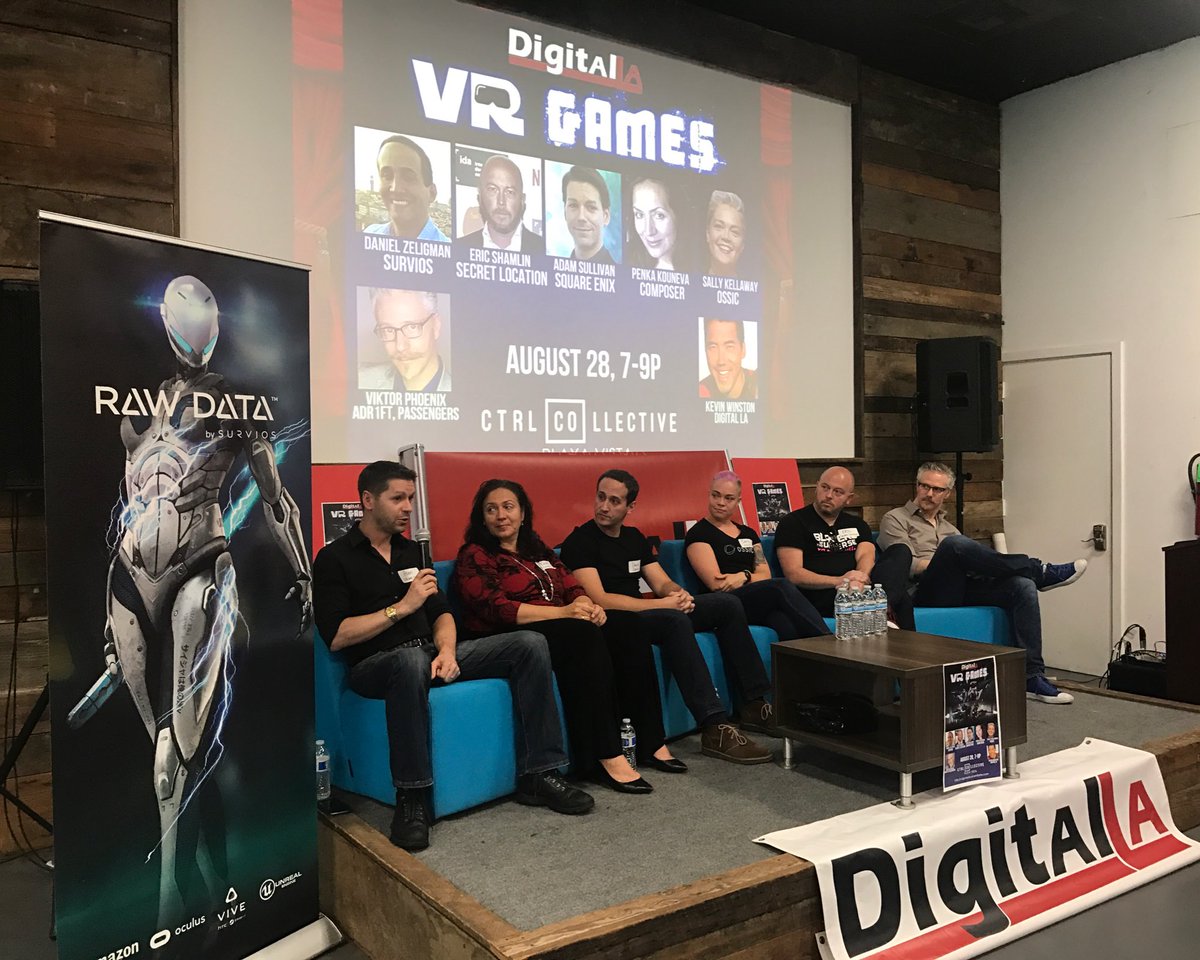 4. Brainstorm Gameplay. VR games can really let you do anything: jump, duck, run, shoot, etc. Your game development team should brainstorm what actions are possible in your game based on game style, genre, objectives, mechanics, and what's technically possible.
For example, in Survios Raw Data, game designers thought that you should have several ways to attack the robots that are coming at you from all sides. You can use different gestures with the controllers to shoot explosive arrows from a bow, pump a shotgun, swing your light katana and even punch the robots. You can move around with traditional joystick based artificial locomotion, or use the game controller buttons to teleshift (teleport several feet).
Meanwhile in Survios Sprint Vector game, you move around by swinging your arms in a running motion. Since people run differently swinging their arms from side to side, up and down, etc, the game must interpolate a range of controller movement as running and then make the character in the game run, said Daniel Zeligman, Survios lead engineer.
Most important: what should your user feel at certain points in the game? Caution, victory, fear, etc. It's not just the action, what are the emotional arcs you want the character to feel in the game?
What feedback will you give the user so they know their actions are working – visual, sound, both? For example, if you turn your shields on, how will that look via visuals or sound via audio or both?
What VFX and music will help accentuate the game and storytelling?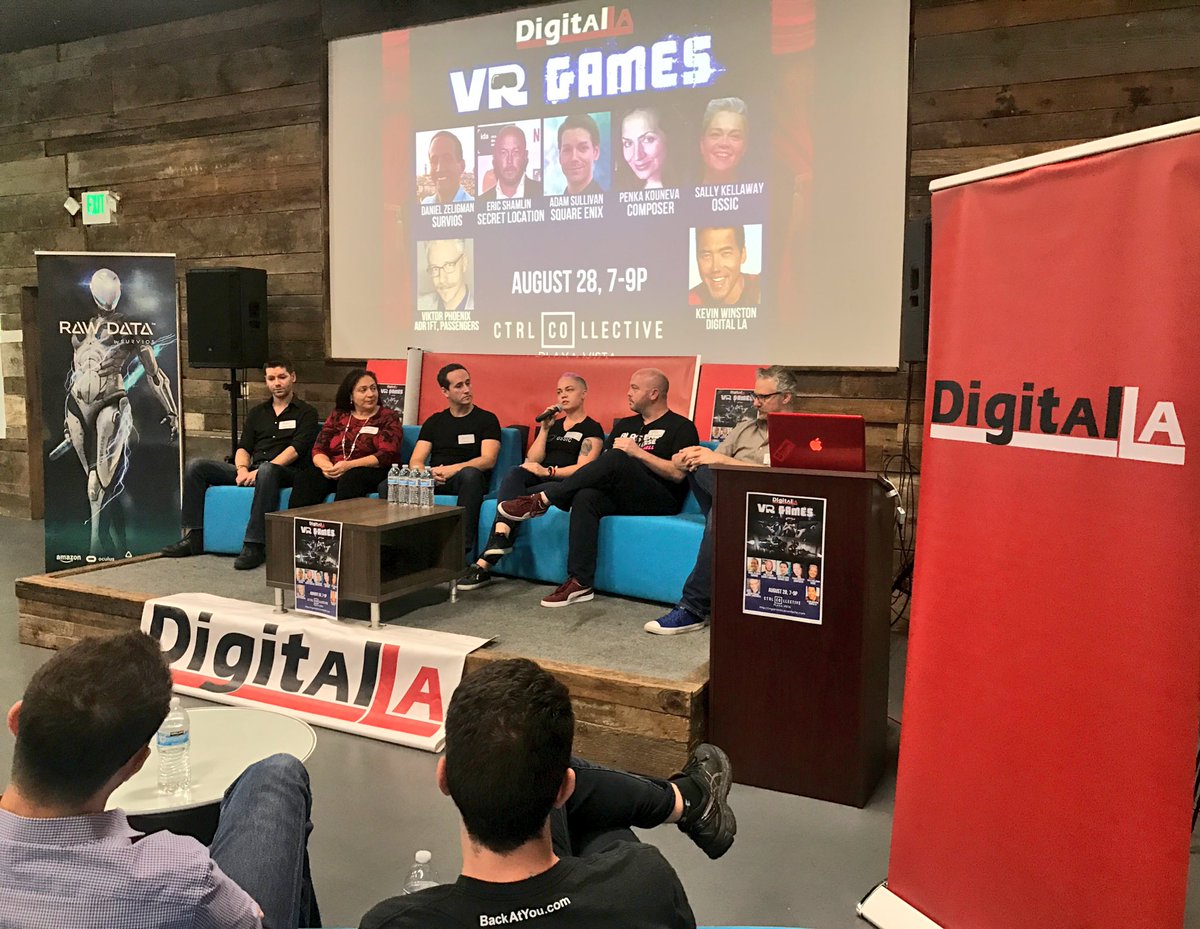 5. Immersive Sound
VR games are immersive, so sound and music are key to help immerse the player in the world, alert them where to look, and what to feel, speakers said.
"Investment in good sound is the best ROI," said Viktor Phoenix, who did sound on the Passengers Awakening VR game and ADR1FT game.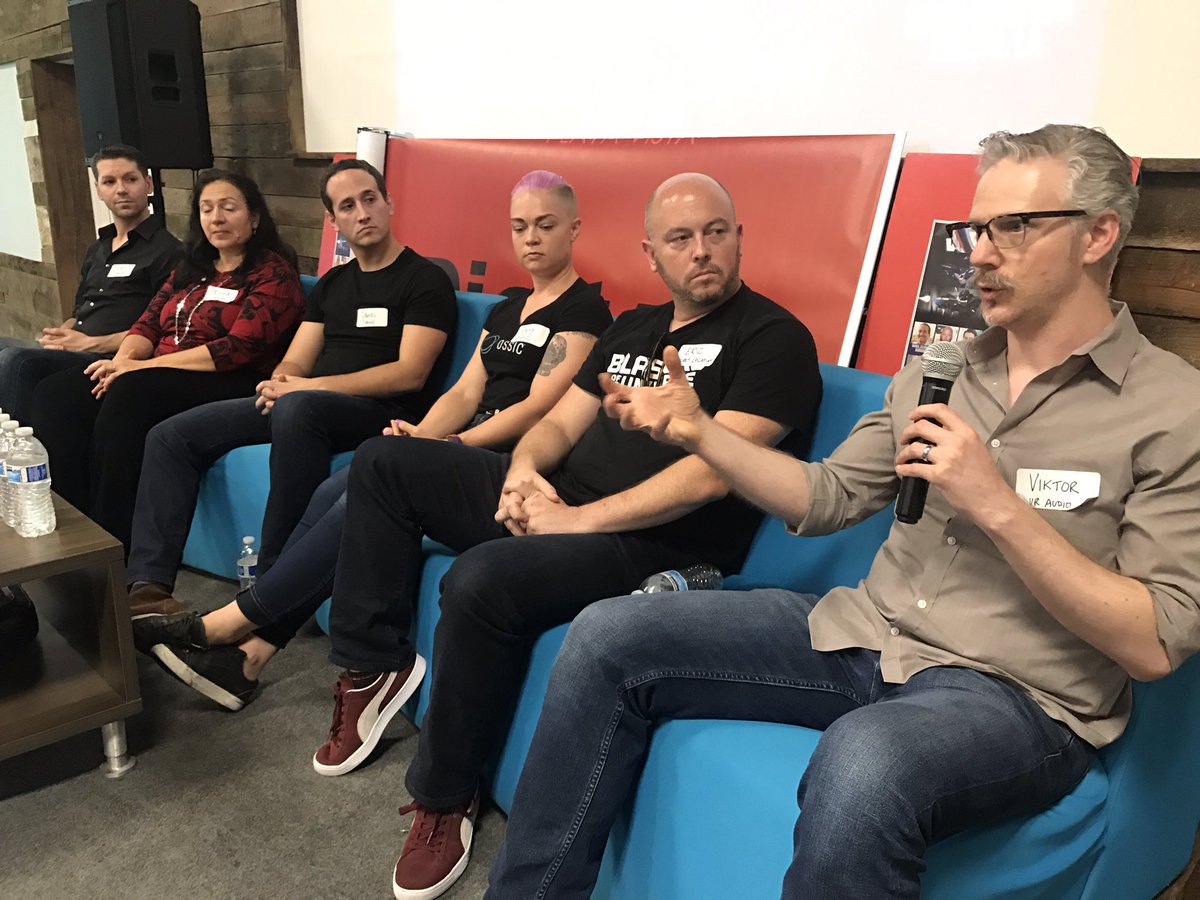 Sound cues can help let the player know an enemy is approaching and from what direction so they know where to look, said Sally Kellaway of Ossic.
VR sound should not be thought of as theatre sound with sound coming from 3-7 points around the player. Instead, sound should be coming from each object in the world, like in the real world. The sound gets louder if you get closer to the object. In VR, the sound can also get louder if you're looking at an object.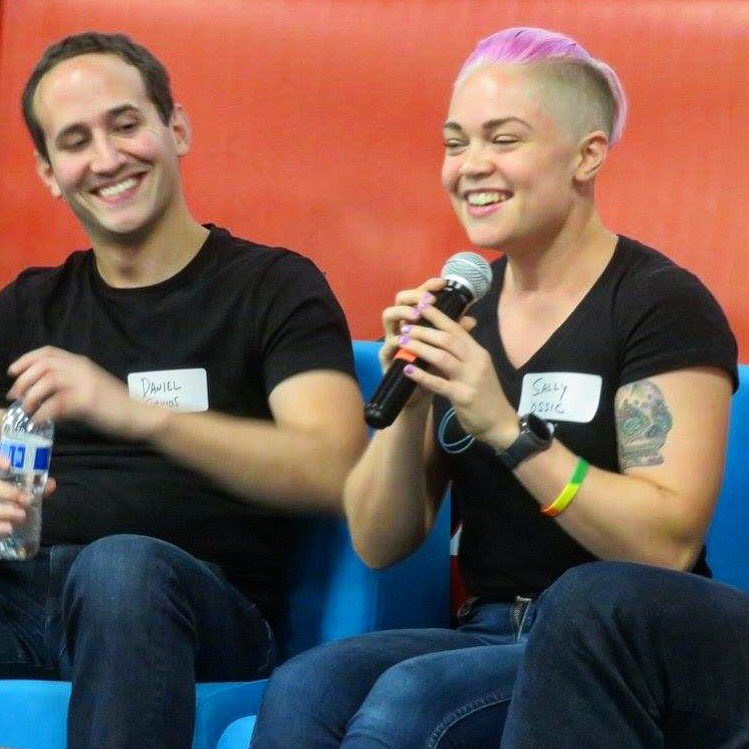 6. Music Sets Mood. Music for VR games are different from film and games. The score must be more subtle, and set a mood, rather than bombastic or triumphant melodies, said Penka Kouneva, award-winning composer on the Mummy VR, Prince of Persia game, and a NASA VR experience. This is because sound is used to communicate so many other things in VR (where to look, objects to interact with etc.) that the score must be more subtle.
"For the Mummy, there are machines guns and helicopters," Penka said. "The music can't be too rhythmic or interfere with these other sounds." She picked different sound frequencies from the guns and helicopters.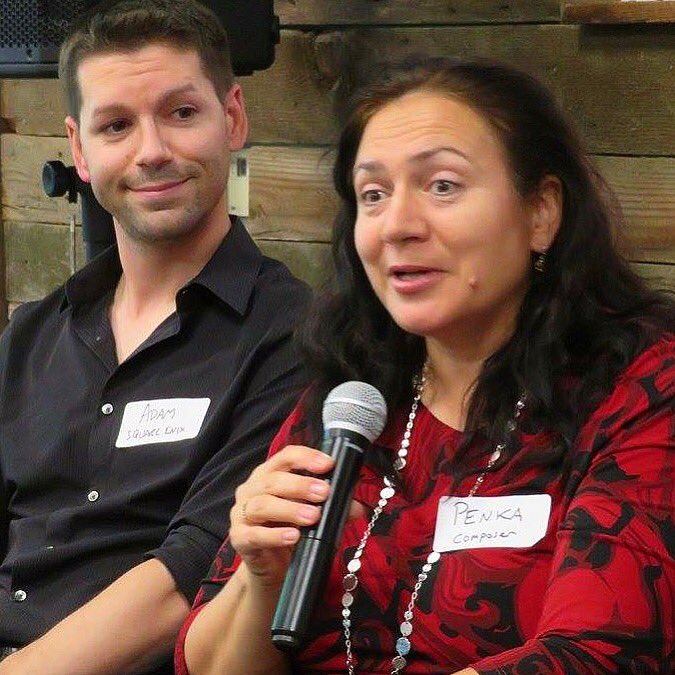 Penka also advised the composer must play the VR game, even an early demo version, to understand the game play, sound design, map, mechanics, and mood.
"For the Mummy VR, I did the VR experience before I even composed a single note," Penka said.
7. Get Social. VR games are trending to social interaction with other players, which makes games more interesting, less lonely, and increases the amount of time you can spend in the game. In both Survios Raw Data and Sprint Vector, you can see and talk to another player in the game.
In the VOID's Ghostbusters VR, you can talk to up to 3 other Ghostbuster players to battle ghosts and the Stay Puff Marshmallow man. See our review of Ghostbusters VR
In Marvel Powers United VR, you can play as Hulk, Deadpool, Rocket or Captain Marvel, and other characters, interacting with each other in the game, and shouting out commands to other players in real life.
8. Beta Test. As you're developing the game, test it with VR fans, game fans, genre fans, and people who've never done VR, so you can see what they are responding to. Testing can tell you to make game controls more simple, less dizzying, etc. so more people can enjoy it.
9. Access. Access to VR games is key to growing the market. You need an expensive HTC Vive, Oculus Rift, Google Daydream or other VR goggle to play most games. PlayStation's VR grows the audience as well.
For most people who don't have a VR game set up at home, you can play at VR game venues.
10. Venues: Arcades. In LA, two VR venues have opened with VR games.
IMAX VR lets you play Raw Data, a Star Wars VR game, and other games and experiences for $10-15 for a 10-15 minute game. IMAX VR is located across the street from the Grove and Farmers Market. Our review of IMAX VR when it opened in early summer 2017.
Mummy VR just opened at Hollywood and Highland in Hollywood. You sit in swivel chairs allowing you to spin around as you view on screen (see photo). Universal Pictures worked with Starbreeze to create the Mummy VR. It's Starbreeze's first location based VR arcade experience, announced more than a year ago.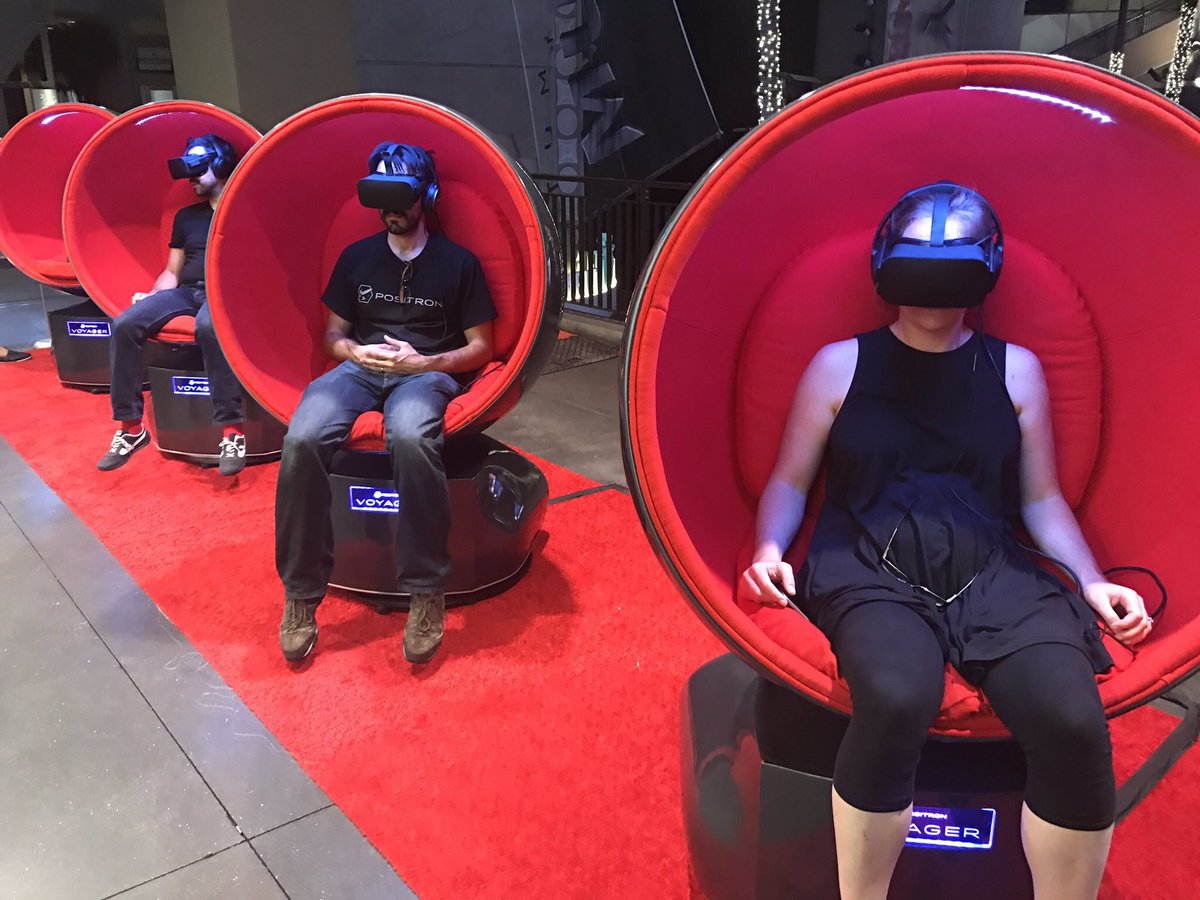 Also, Westfield Century City will have a VR arcade when the remodeled section opens laster this year.
11. Revenue Model. Most VR games are pay to download on a VR game platform. Revenue models for game companies include: users pays to play, own or rent a game, revenue share, and licensing.
12. VR esports is coming. In the future, we will have VR esports, where for example, you can watch Raw Data players from around the world play for a grand prize. You will even be able to put on VR goggles to watch the players within the game as if you were there. However, the VR install base must grow so more players can get good enough at the games to compete. Also, server bandwidth for multiplayer VR needs to increase to allow smooth gameplay.
Thanks to CTRL Collective Playa Vista for hosting!
Thanks Secret Location for bringing Blasters of the Universe to demo.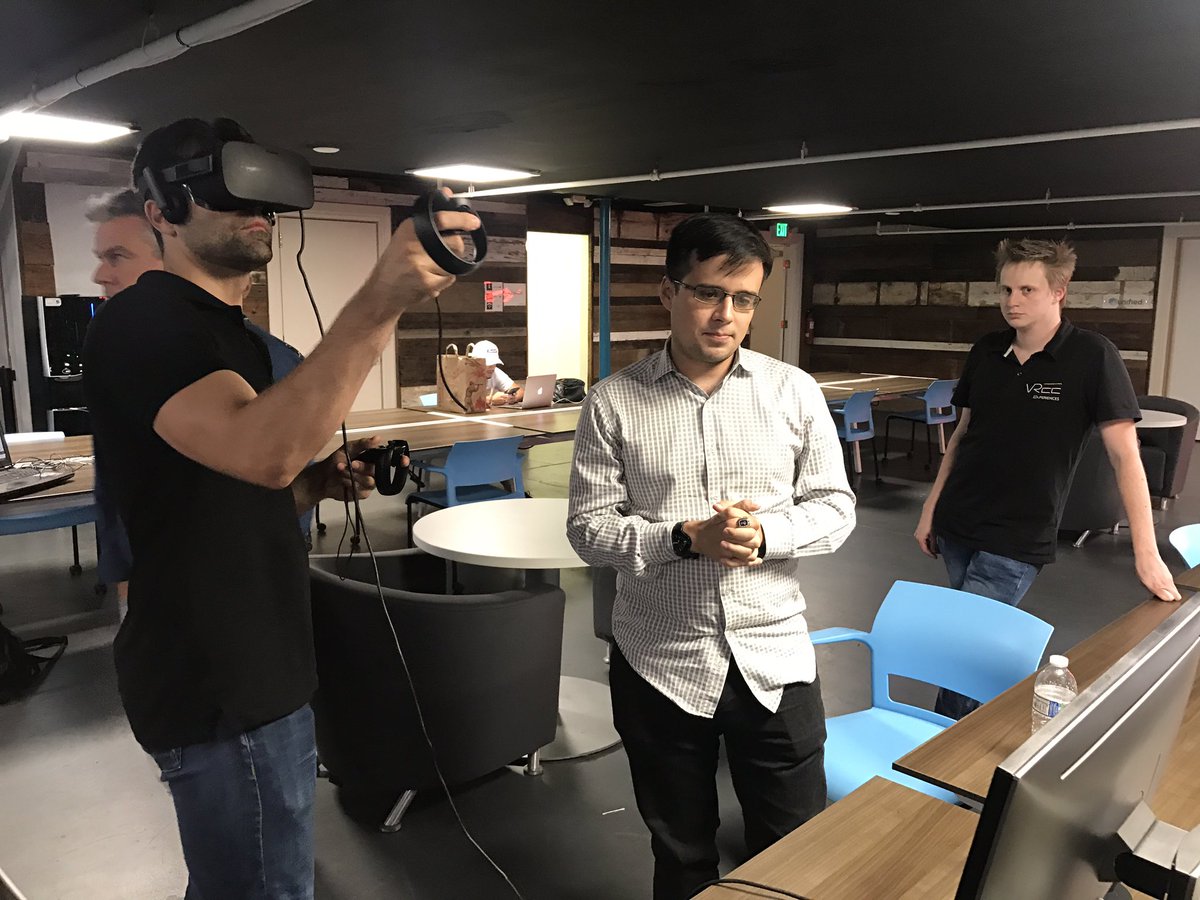 Thanks to our Speakers!
Daniel Zeligman, Survios, Lead Engineer. Daniel oversees the implementation of Raw Data, the critically acclaimed virtual reality title that was the first VR-exclusive game to hit #1 on Steam's Global Best Seller list. Prior to working in VR, Zeligman developed games at several AAA studios, including Activision Blizzard, Electronic Arts, and Disney Interactive. Zeligman is a gameplay generalist possesses a design-driven skillset across multiple genres. @survios
Eric W. Shamlin, Secret Location, SVP Managing Director. Secret Location is a recognized pioneer in emerging mediums having recently won the first Emmy for VR, the first Peabody for VR and launching the first-ever VR/TV hybrid series. Prior to Secret Location, Eric spent the last two decades delivering creative and technical innovation across a range of mediums. From visual effects to virtual reality, manhunts to the Olympics, and ABC News to Apple, Eric's work has been honored with a list of Emmys, Lions, and patents. Eric has keynoted the Beijing Global Innovators Summit, spoken at Unity VR summits, Digital Hollywood, CES and the Variety Entertainment Summit, and does regular lecture engagements at UCLA & USC. @secretlocation @ericshamlin
Adam Sullivan, Square Enix, Director, Head of Business and Legal Affairs. Square Enix is publisher of fan favorite games inclding Final Fantasy, Kingdom Hearts, Tomb Raider, Hitman, Space Invaders, and more. Square Enix has created VR experience based on its popular franchises inclulding FF and Tomb Raider, and ported Hitman Go to Oculus Rift.
Penka Kouneva, Composer, The Mummy VR game. Award-winning composer Penka Kouneva scored The Mummy VR game, Ubisoft's PRINCE OF PERSIA: FORGOTTEN SANDS, and a $30 multimedia NASA exhibit HEROES AND LEGENDS at the Kennedy Space Center. She also composed on Activision's TRANSFORMERS: REVENGE OF THE FALLEN games. Penka's composer awards include: SUNDANCE Composer Fellowship, two Ovation Awards, The Copland Award, Hollywood Music in Media Award, among many others. Penka is on the Advisory Board of Game Developers Conference and Game Audio Network Guild. She is also a Universal Music-released artist with THE WOMAN ASTRONAUT, 2015, which received worldwide acclaim as a "21st-century masterpiece" (NPR). @penkakouneva
Sally Kellaway, OSSIC, Creative Director. Sal is the biggest technical audio nerd you'll ever meet. She makes games for location-based VR with Zero Latency, and brings an industry-leading level of understanding of the technology behind audio for games to VR and AR. Sally presents at conferences worldwide about the role of Audio in Virtual Reality and Game Development, as well as research conducted from her Masters course in Audio and Acoustics and Diversity in STEAM fields. Sal has been named as one of MCV Pacific's Most Influential Women in Games, and in the MCV Pacific, and the Develop 30 Under 30 and is on the Audio Engineering Society's Technical Committee for Audio for Games. @OssicVR
Viktor Phoenix, Passengers: Awakening, Sound Supervisor for VR with expertise in sound design, 3D audio, and interactive audio for immersive media. VR projects include 'Passengers: Awakening' (MPC/Sony), 'Wonder Buffalo' VR (ETC@USC), 'Major Crimes' (TNT), 'Giant VR' (Milica Zec), 'The Click Effect' (VRSE/New York Times), 'ADR1FT' (Three One Zero/505), 'The Gallery' (Cloudhead Games), and 'Insurgent VR' (Kite & Lightning/Lionsgate). @viktorphoenix
Thanks attendees for great questions!