VR games experts from Survios, Hologate, HP and indie game companies described how to create good content, work with Hollywood brands, engage communities, and maximize  influencer marketing at our Digital LA – VR Games panel at Phase Two coworking space October 28 in Culver City, LA.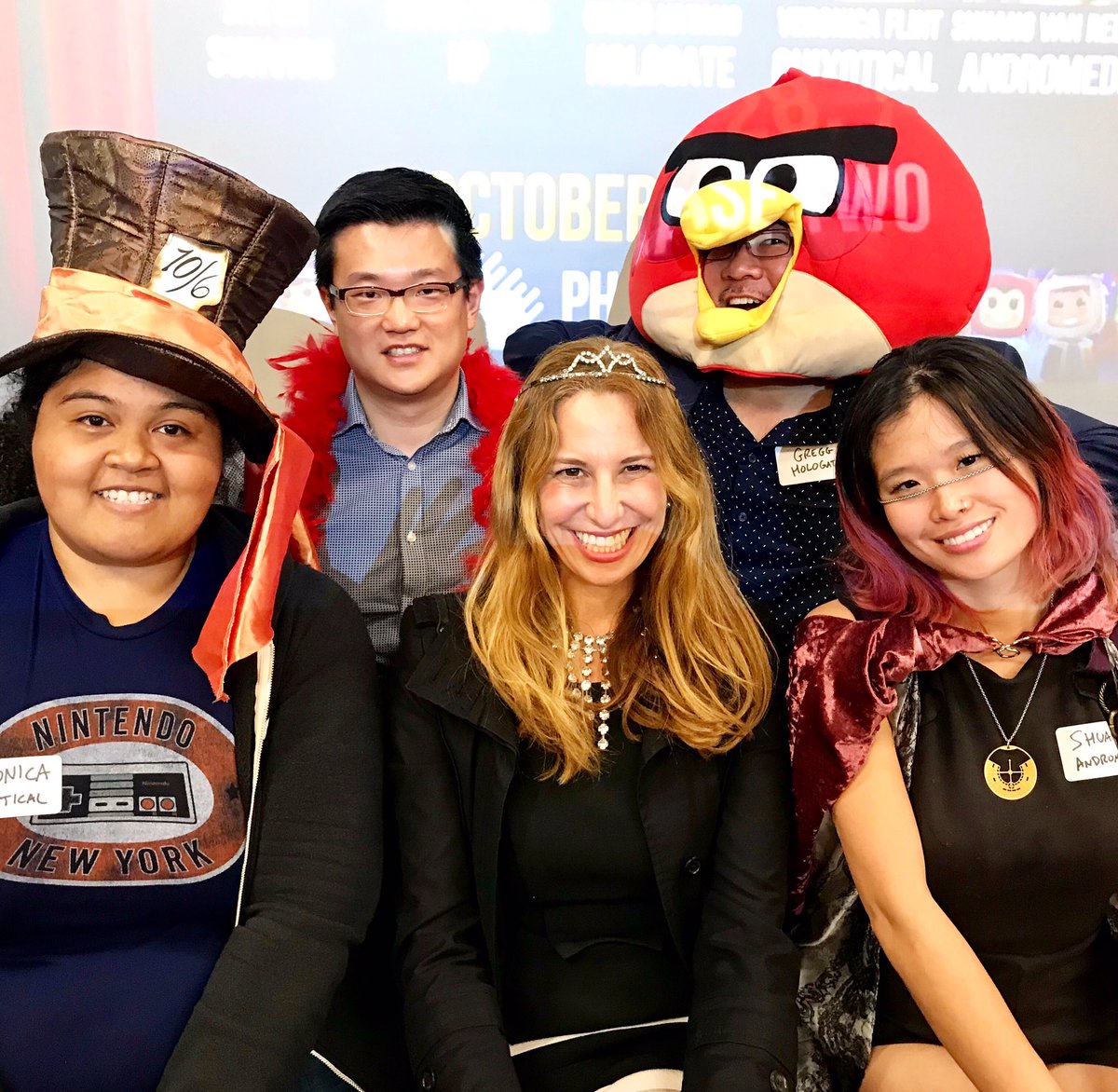 Speakers summarized what you need to know about VR Games in our Facebook live video.
HIGHLIGHTS
CONTENT
VR games have shifted from zombie / shooters of the earlier VR games3-4 years ago, to experiences that are purposeful and do some good, speakers said. For example, VR dancing games to increase fitness, and mindfulness games.
Survios, which launched with the popular Raw Data shooter game, has added fitness games like Creed: Rise to Glory boxing game (yes, you sweat!) and Electronauts music DJ game (yes you dance).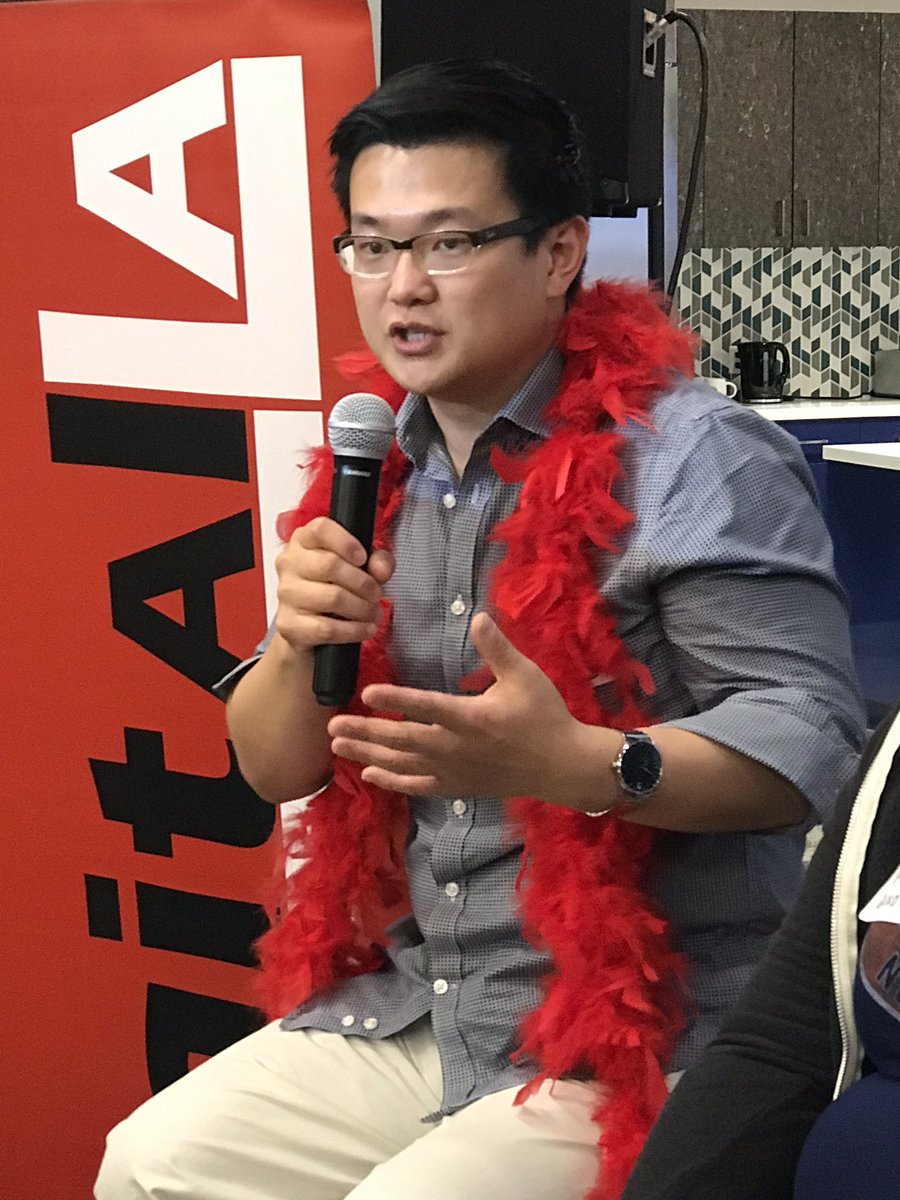 Survios also surveys customers to see what they value and incorporatse these themes to their upcoming games, said Ziye Lin, of Survios.
MARKETING and INFLUENCERS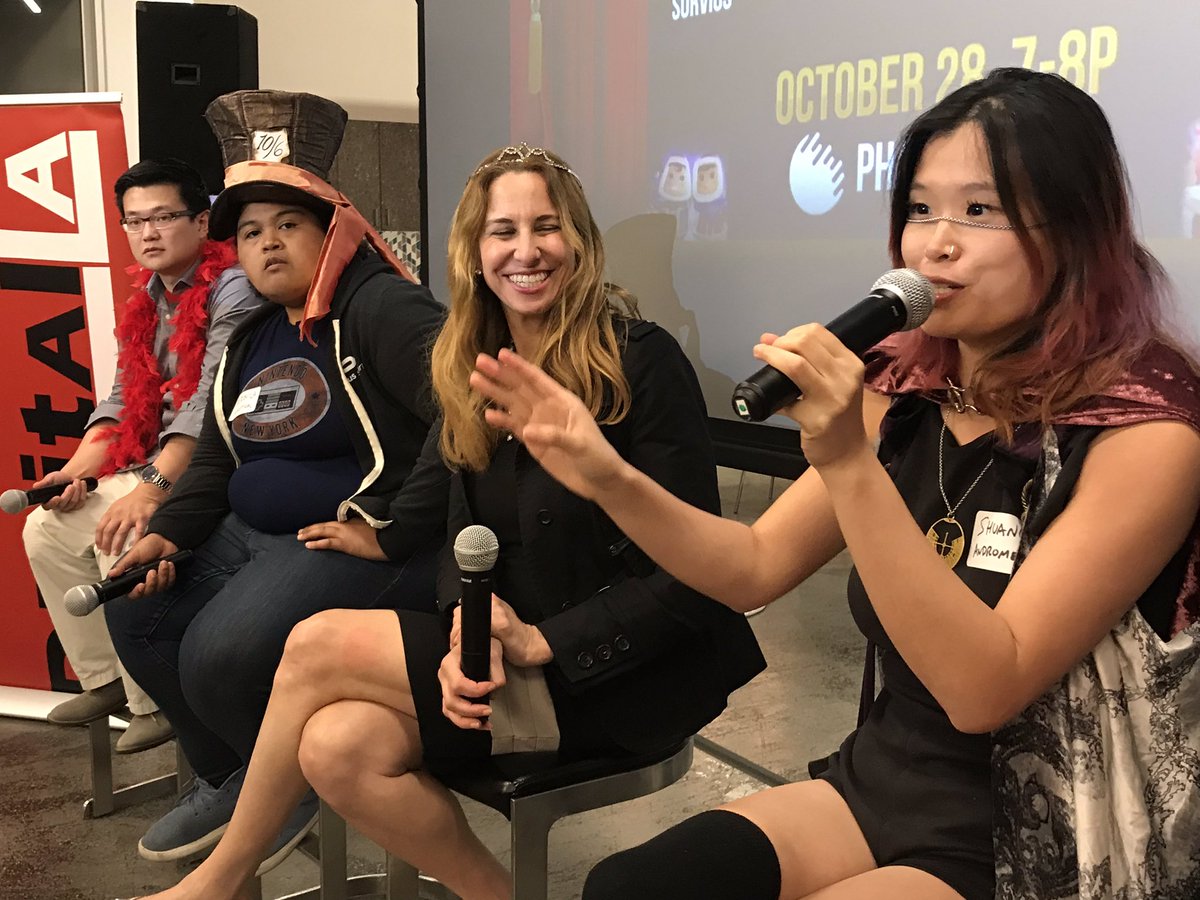 Engage with VR communities that already exist to promote your game among because they're likely to be interested. Understand your demo and reach out to them, A/B test, said Shuang van Reizen of Andromeda.
You're not making a game for yourself, you're making a game for people to play. Ask what they want and build it for your community, Shuang added. For example, on her previous projects, she has created a Discord chat to talk about game content, and get feedback.  When games releases, members are more engaged to play and share.
Marketing and promoting your game: show videos of actual game play is the most engaging to get people to want to try it, said Veronica Flint of Quixotical. Also: screenshots, behind-the-scenes photos or videos.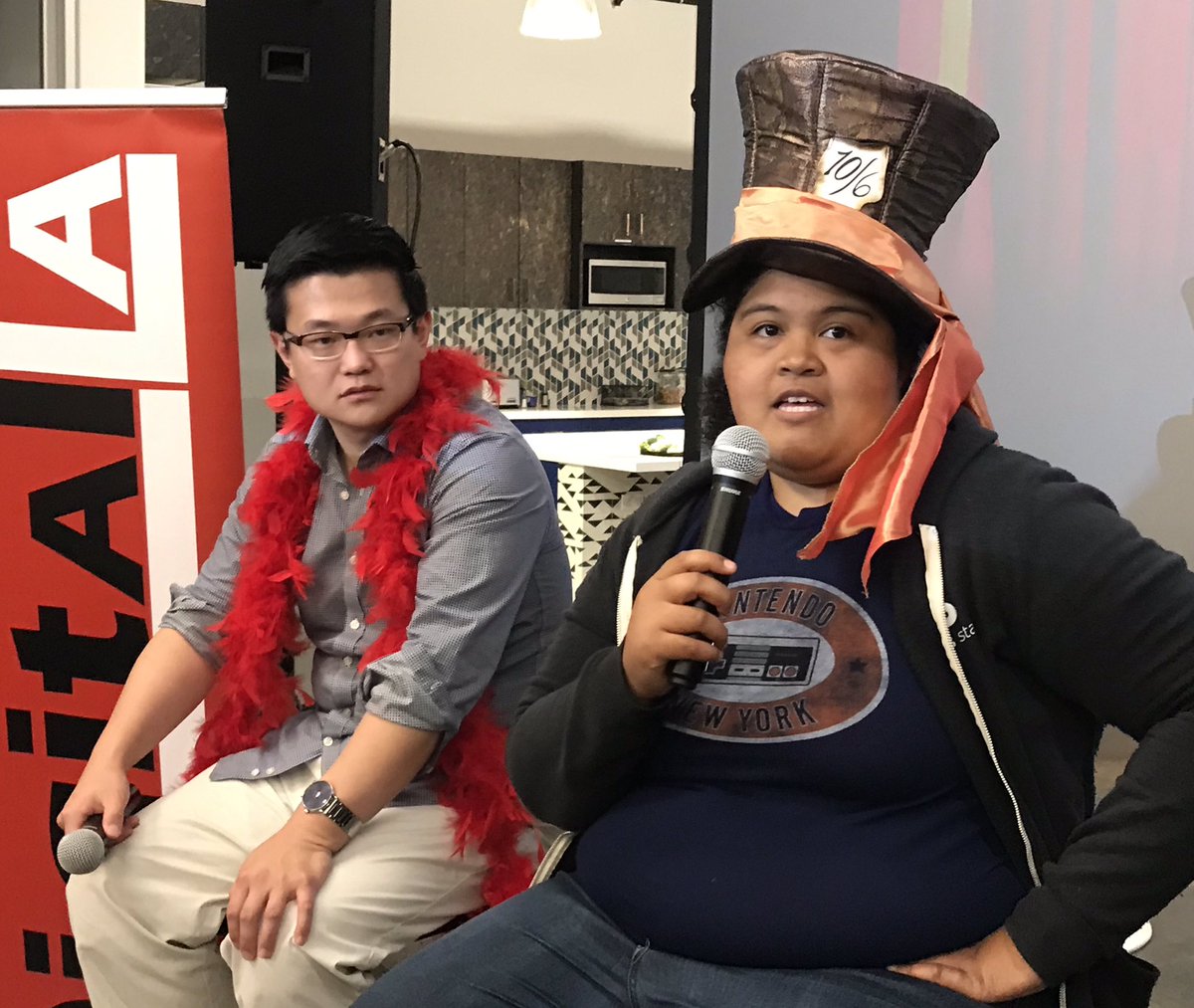 And when you want game influencers to play a game, send a polished demo. And make it LIV compatible, Shaung said. LIV is a mixed reality startup platform (and Techstars LA alum) that lets people create video of them in real life superimposed into playing the game, so you can see what someone sees as they are moving in real life. Shuang crated a "If you want to ESCAPE with me" video of herself playing Beat Saber, which went viral and has more than 7.5M views. It helped popularize Beat Saber, which has grown to become THE breakout hit of VR games, and the biggest original IP VR game.
Shang said that game companies approach her now asking her to help make their game go viral. But it doesn't exactly work that way.
WORKING WITH BRANDS, HOLLYWOOD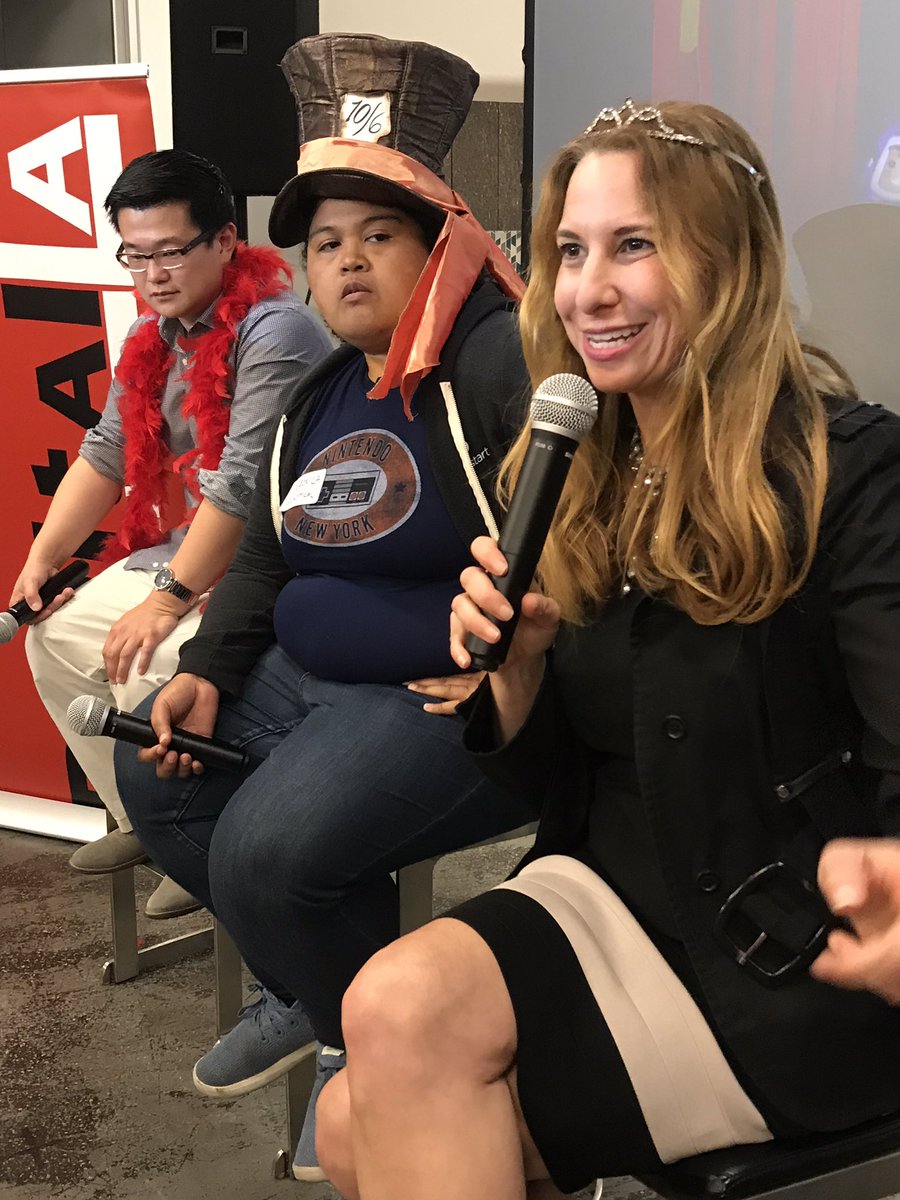 HP works on branded Entertainment with brands and VR companies in two categories, said Joanna Popper of HP VR.
– Marketing / promotional VR experiences like How to Train Your Dragon and Spider-Man
– Revenue generating VR experiences for Dreamscape, etc.
Hologate wanted a game that appeals to wide kids to adults audience around the world, said Gregg Katano of Hologate. So Hologate worked with Rovio from Helsinki and SONY Pictures to create an Angry Birds VR game in the world of the Angry Birds 2 movie.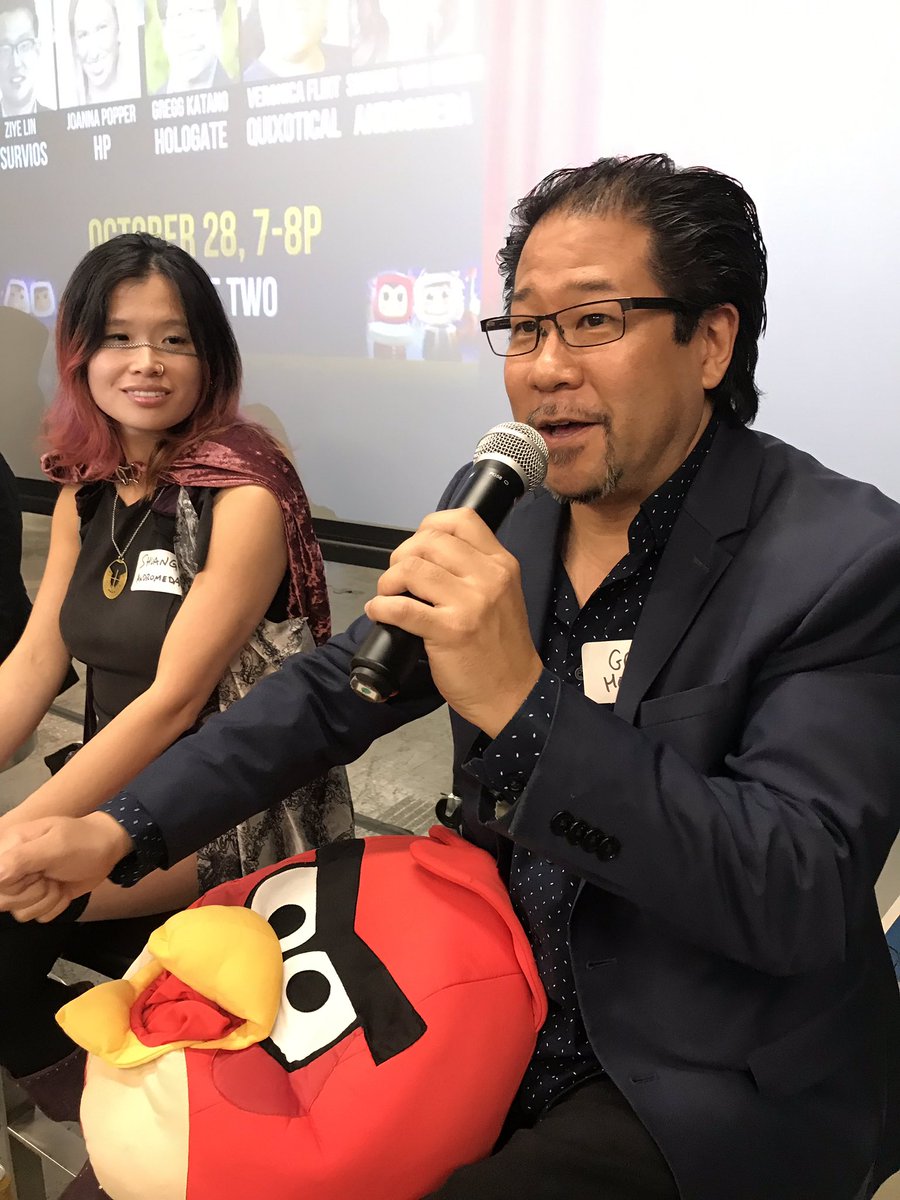 In the game, there are no guns or shooting, because it's a family friendly game. Instead: you use slingshots to fling pineapples, coconuts and bowling balls at those pesky green pigs.
During the panel, Gregg wore an Angry Birds hat, as the VR Games panel kicked off our Halloween party, where we played Hologate's Angry Birds game.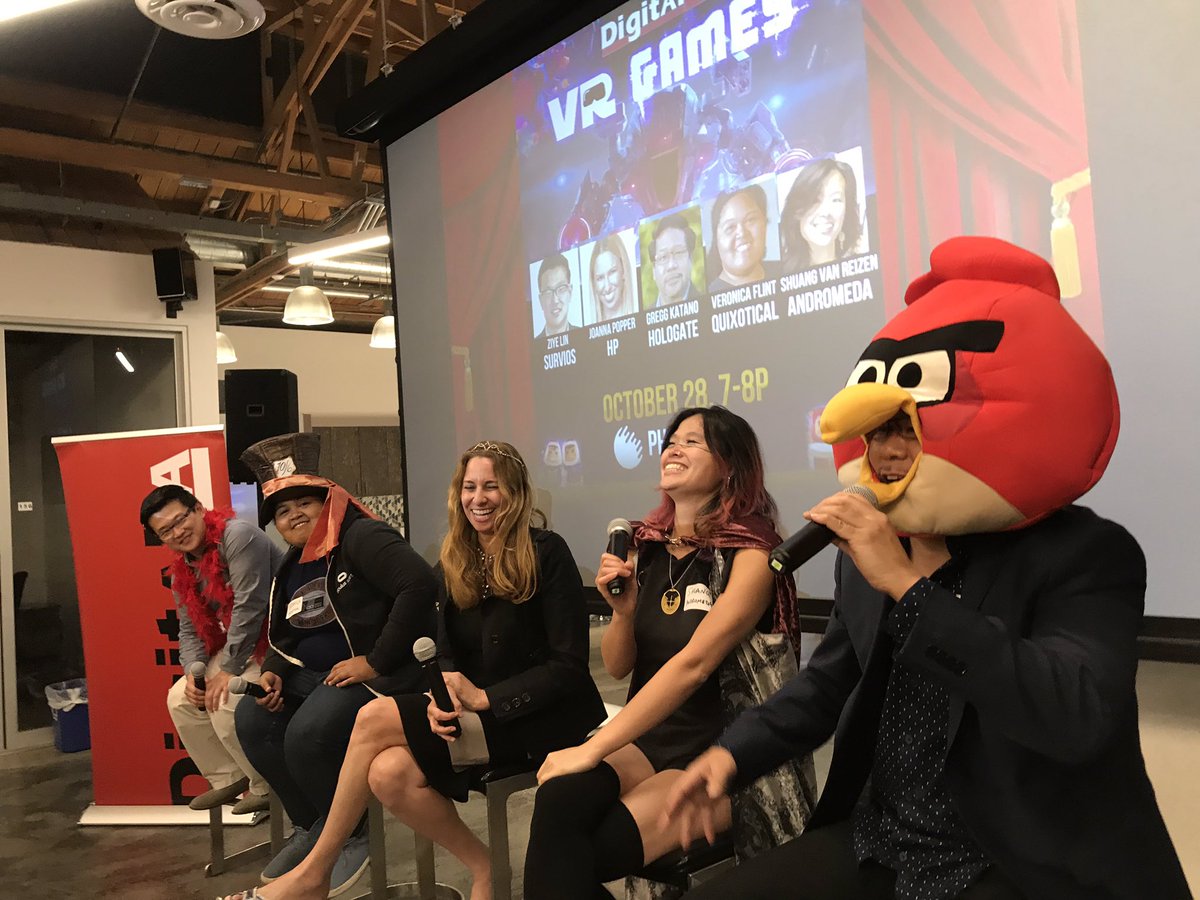 Thanks to Phase Two coworking space for hosting us. If you're interested in joining Phase Two or having a tour, visit http://phasetwospace.com
Thanks to attendees for awesome questions!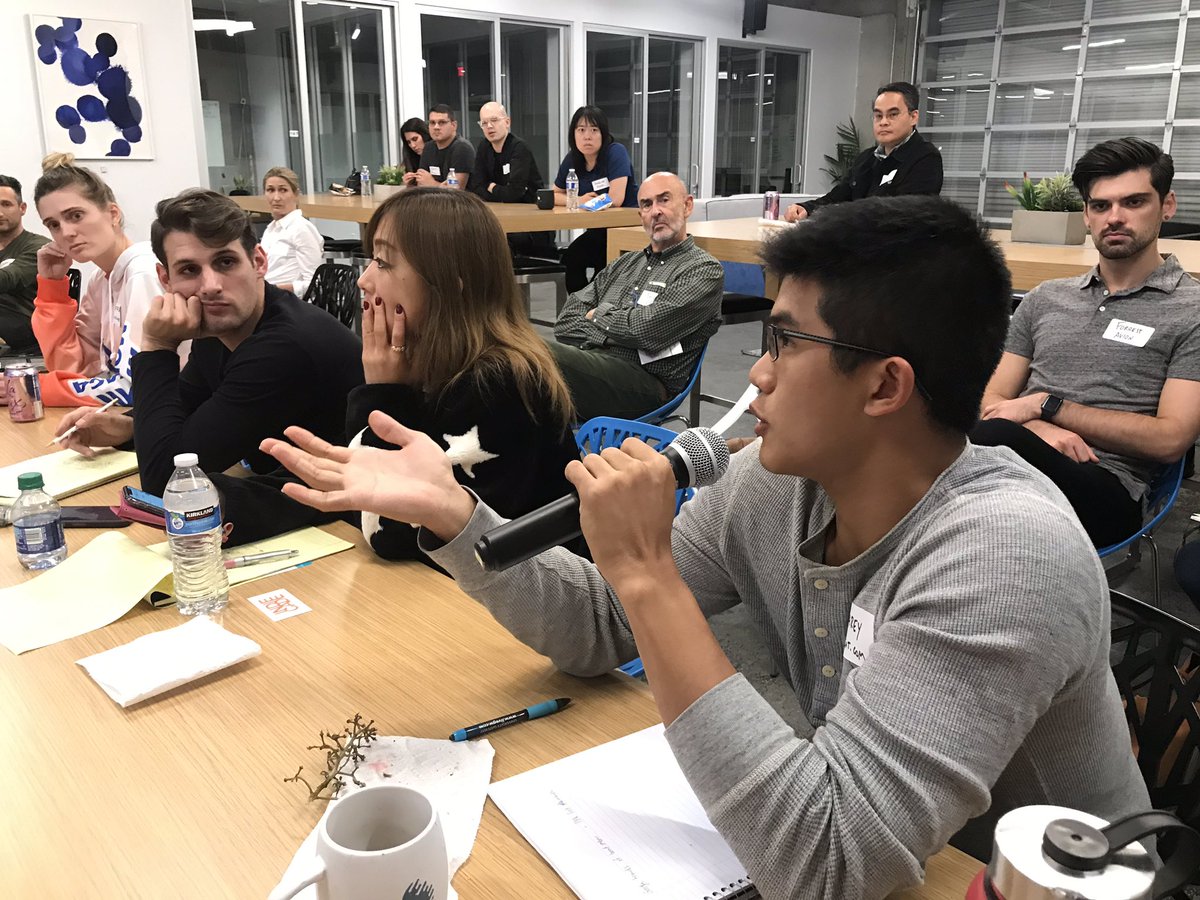 Thanks to our amazing speakers!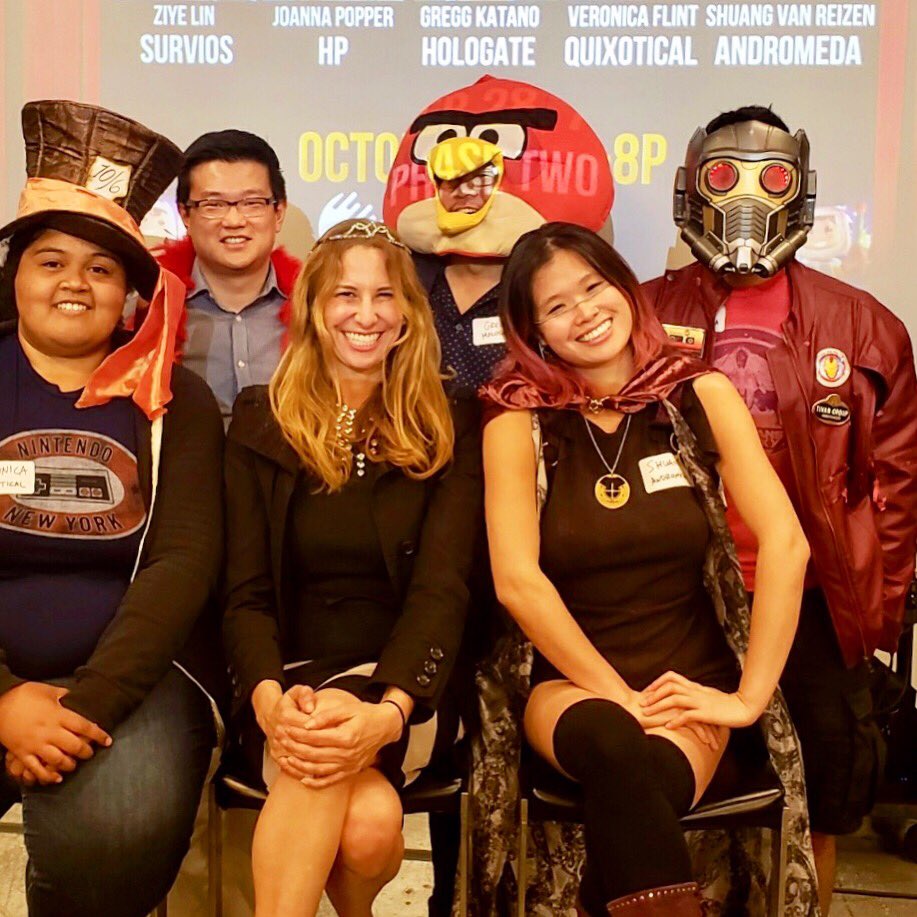 – Ziye Lin, Survios, Growth, Business Development, Strategy, and Marketing wi discuss product development and ame design. Survios publishes top VR games Raw Data, Sprint Vector, Electronauts, Creed Rise to Glory, Walking Dead and more. Survios launched a VR arcade at Del Amo Fashion Center Torrance last year.
– Gregg Katano, Hologate, Partner, VP Strategy and Growth. Hologate is an award winning 4-player VR location-baed game platform and game publisher, with games including Angry Birds, Zombyte, Cold Crush, and more. Hologate has reached over 3,000,000 players to-date, over 350 systems installed, and spanning over 26 countries.
– Joanna Popper, HP, Global Head of Virtual Reality for Location Based Entertainment. HP's VR LBE group partners with game publishers, platforms, and locations.
– Veronica Flint, Quixotical. Veronica's VR/AR projects have been showcased at a variety of top festivals including Sundance and Tribeca. Recently showcased an immersive reality experience, The Chimerical Era at Infinity Film Festival which one won the award from the XR Alliance competition. Veronica got her start in the immersive field working with Nonny De La Pena as a VR Technical Director.
– Shuang van Reizen, Andromeda, Swan VR. Shuang is a creative consultant on mixed reality content creation, digital marketing, and community management. Her recent project "If You Want to ESCAPE with Me" Beat Saber video went viral to over 100 million views. She collaborates with other developers and creators in creating compelling videos to engage new people not familiar with VR.