Experts from LA's top location-baed VR said that we need more VR content that is diverse, social, and branded, which work well at their venues, at our Digital LA – VR Venues panel at Phase Two cowork space in Culver City, Los Angeles.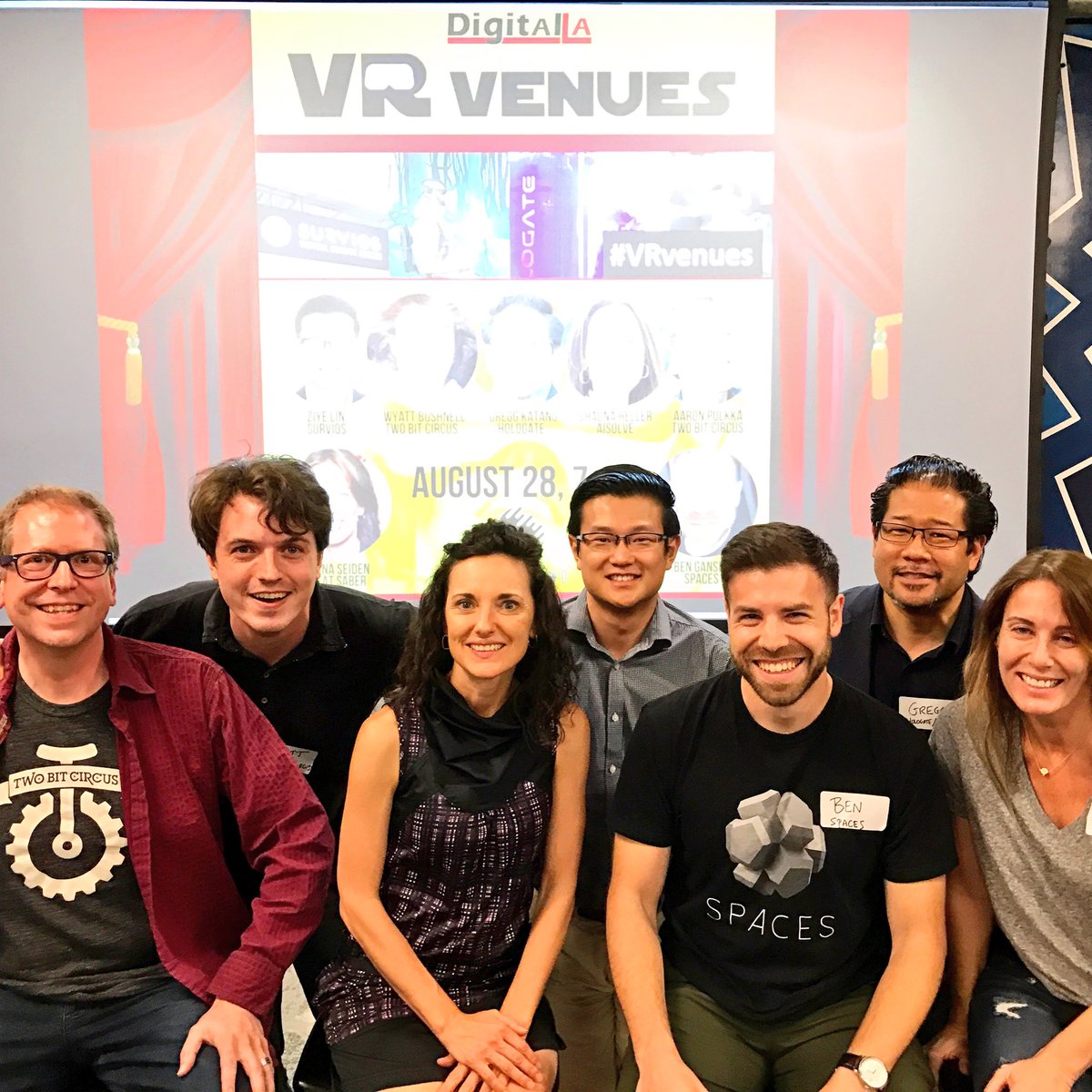 When the recent VR excitement started about four years ago, VR venues were the mythical holy grail that would help increase access and awareness of VR to the mainstream audiences. Now, there are more than a dozen VR venues that have opened around malls and tourist destinations in LA. See our directory where we have reviewed several VR venues, including IMAX VR near the Grove, Star Wars VOID VR at Anaheim, Survios' VR Arcade in Torrance, and Two Bit Circus which opens Sept 7. See our LA VR Venues Directory and Two Bit Circus preview article.
Speakers described their top location-based VR trend to watch in our Facebook livestream video.
We invited speakers from several of these top VR Venues to share insights and best practices at our VR Veneus panel, the first VR Venue panel in LA focusing on actual venues operations, rather than the idea of venues.
10 Secrets to VR Success
CONTENT
1. Content must be include easy to play titles, with things you can't do in real life, that get people easily hooked in the first few minutes (and not dizzy).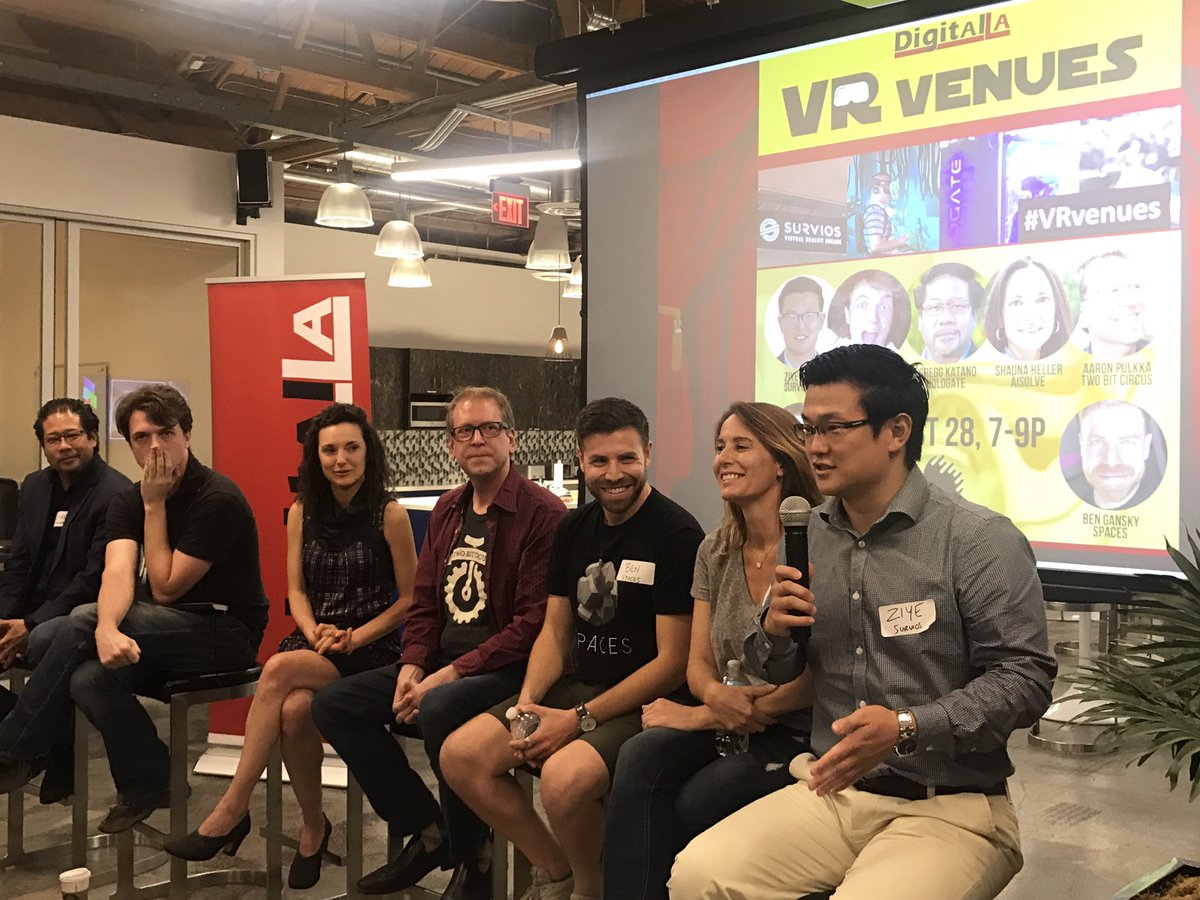 2. Content library for arcades should include a range of titles, including easy-to-play games, advanced titles for hard-core gamers.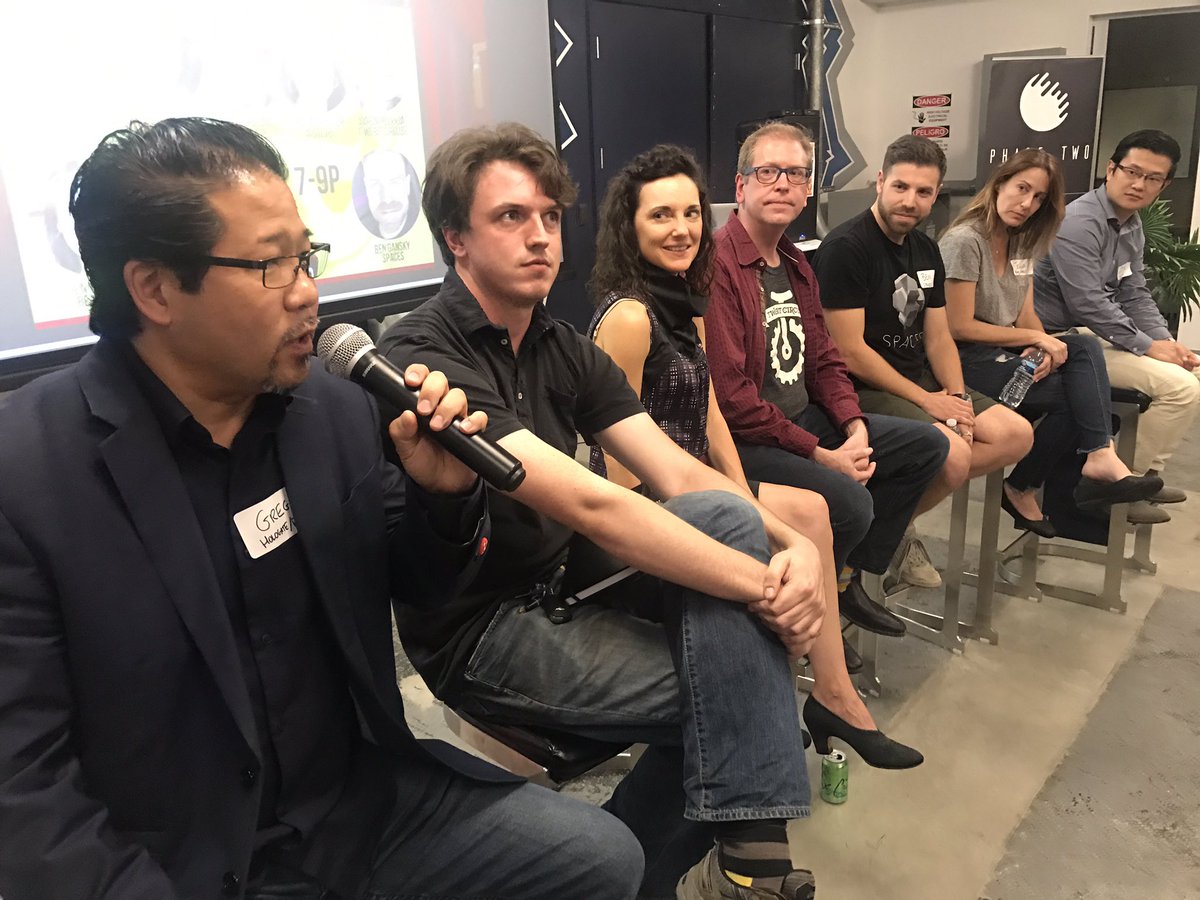 3. International Content: International audiences tend to go to VR arcades as a family event, so you should especially have titles that are the whole family can play together, like a puzzle or adventure VR. Audiences in the Middle East and some Asian audiences prefer puzzle and adventure cooperative games, over competitive games like zombie shooters, said Wyatt Bushnell of Two Bit Circus, who said he's an expert an international games, especially in Dubai and the Middle East.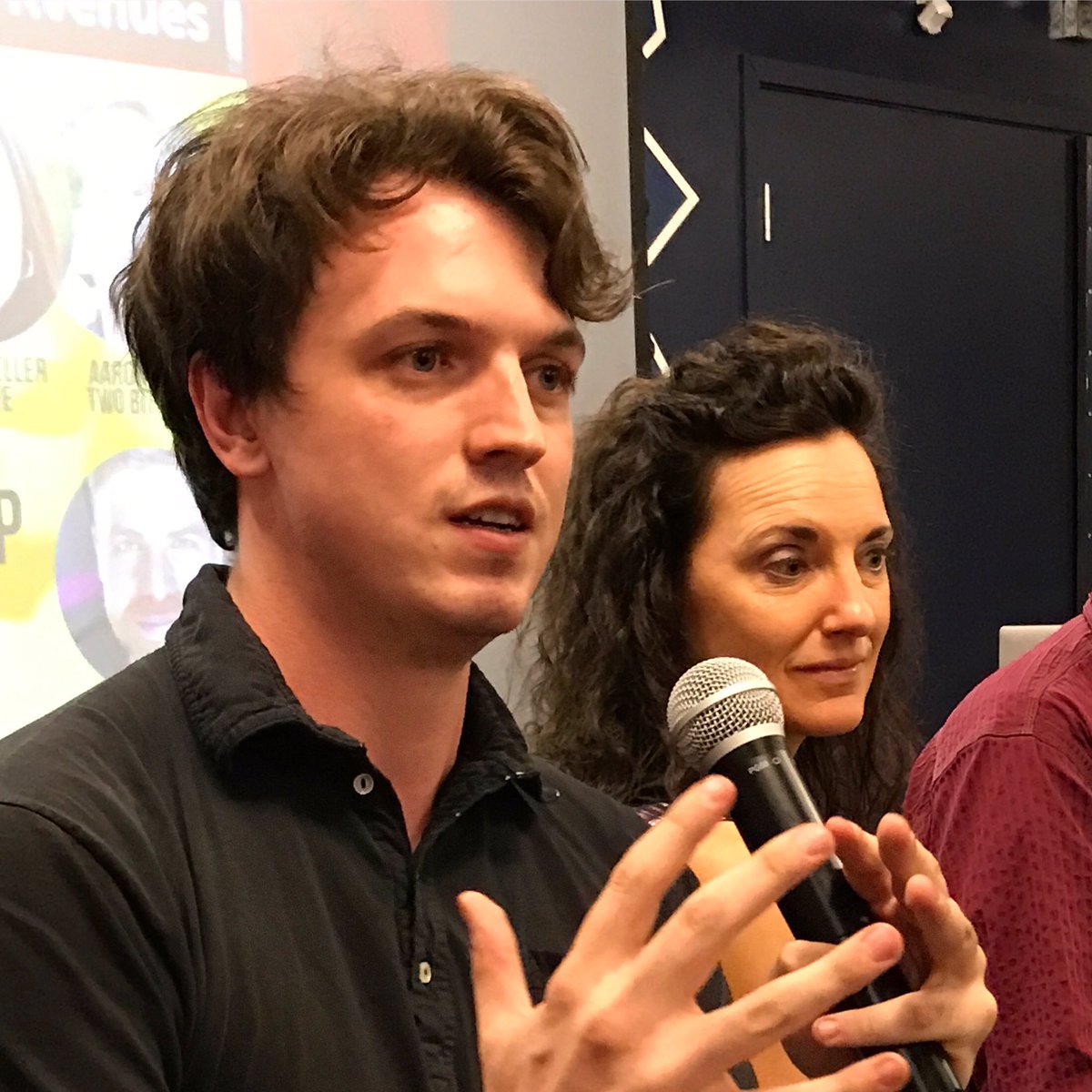 OPERATIONS
4. Pricing depends on type of content. Most VR arcades is priced at about $1 per minute. Typical $5-10 for 5-10 minute session. More immersive VR experiences that put you in the world with pre-post immersion can charge $35-$40 per session, with upsells available for photos and videos.
5. Experience Matches VR. The user experience and layout of your VR venue should relate to your content. Arcades with multiple games tend to be more open, so people can see other people having fun. More immersive experiences tend to have separate areas to build excitement for the experience and draw users into the story. There is a waiting area, debriefing/ suiting up room, the actual VR room /experience, and a VR gear removal room. The signage and flow of customers at your VR should match the type of VR as well.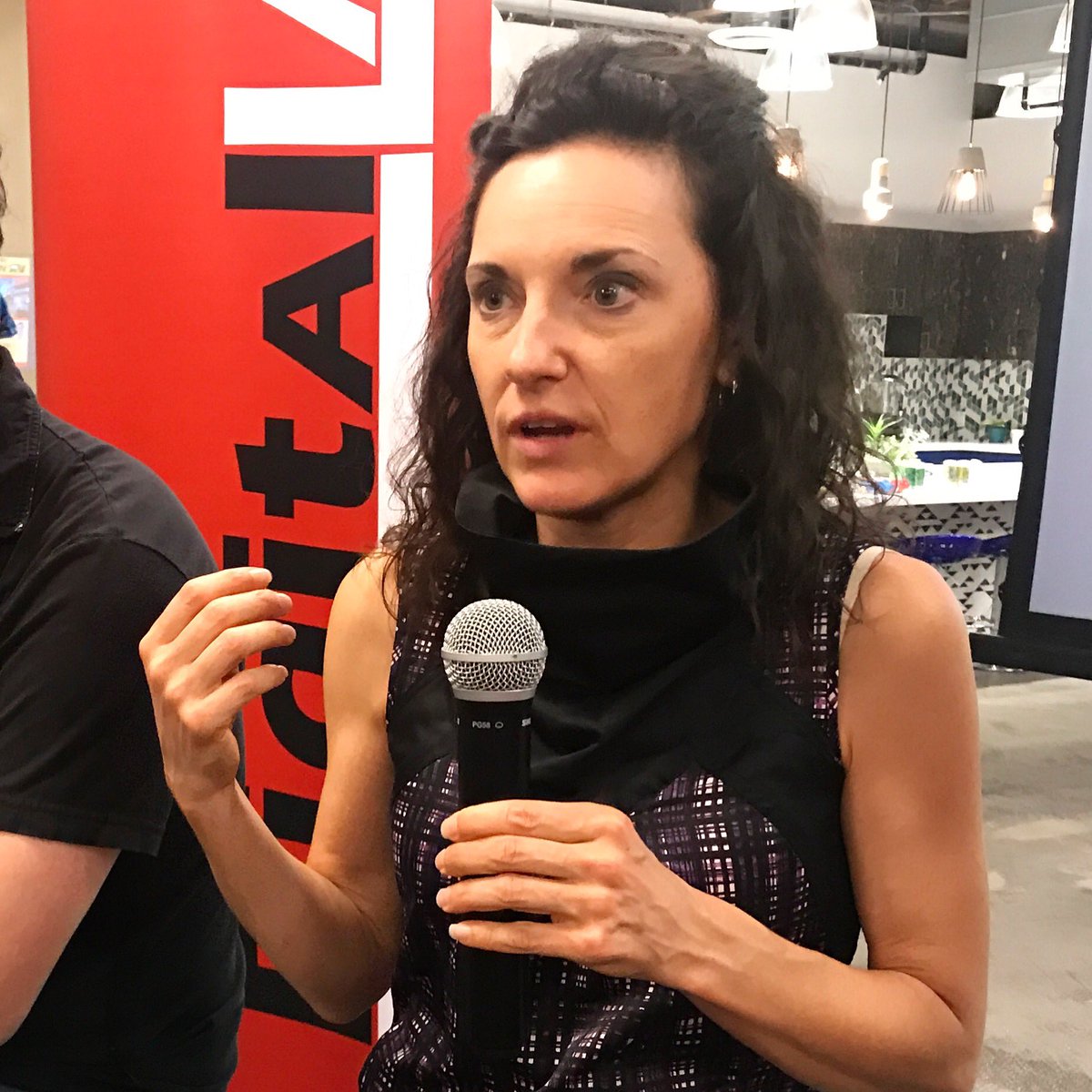 6. Track Game / Revenue Stats. The average Dave & Busters makes about $20 per square foot per week, said Wyatt Bushnell of Two Bit Circus. Your VR arcade can use that as a guideline to determine if space per game is profitable.Feature profitable games more prominently, and phase out your bottom 10% games every few months. Game developers and arcades should think about their splits for different types of content, said Jenna Seiden with Beat Saber.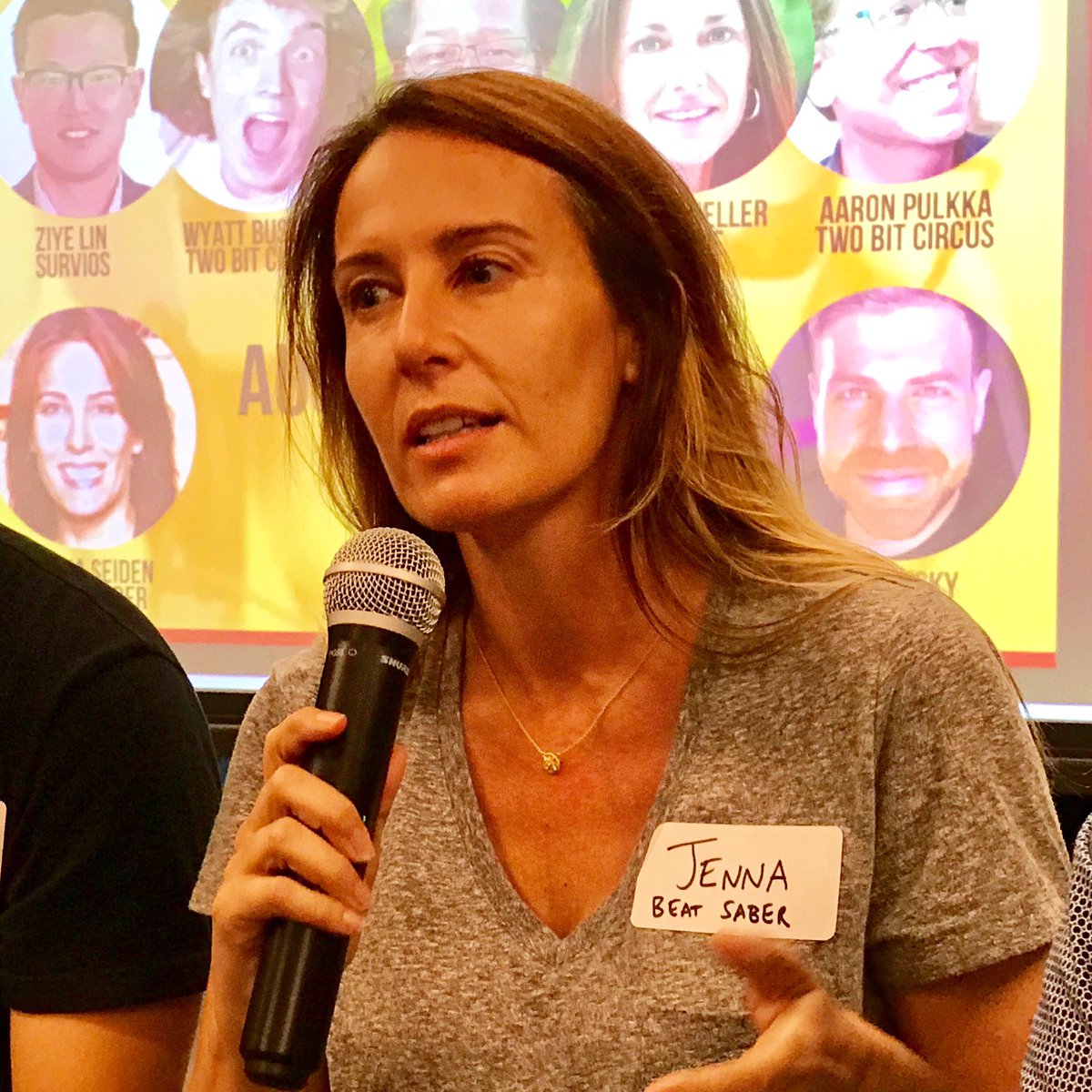 REPEAT VISITS
7. Show Scores. Get users to come back to play, just by giving a score in the game, said Aaron Pulkka of Two Bit Circus. Show scores for each session, hour, day, week or month on a real time scoreboard displayed in your venue. Guest will want to play again immediately or later to try to get a higher score and bragging rights among their friends.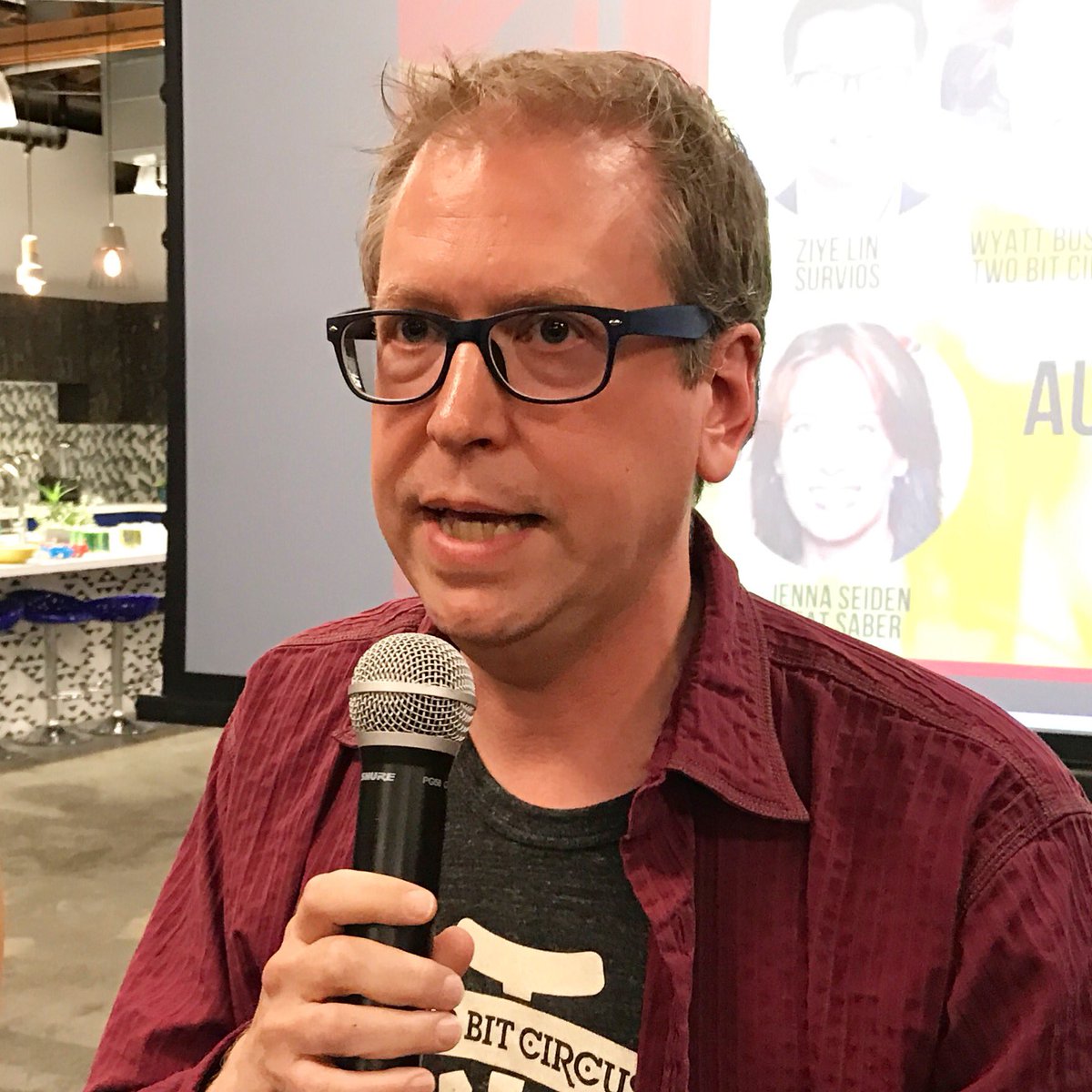 8. Subscription/ Membership. Offer monthly subscription that gives members perks, while subscriptions are recurring revenue each month. For example, Survios first VR arcade at the Del Amo Fashion Mall in Torrance lets members get unlimited play during certain hours, and they get invitations to play new games or attend other events at the store, said Ziye Lin of Survios.
SOCIAL MEDIA
9. Social Sharable Content. Make sure there are a few areas for good photo opps with your logo or characters from the game, to give people something unique to share on social media. Give users social-media friendly digitally sharable content so they can post photos and videos of their VR experience on their Facebook, Twitter, Instagram, etc.
At Spaces' Terminator VR group VR experience in Irvine, you take a digital picture at the beginning of the experience, that is mapped onto your avatar in the game. At the end of the experience, you can take home a photo of you and your friends with your faces mapped on to your avatar, said Ben Gansky of Spaces VR. Users share these photos on their social, increasing awareness and are free marketing.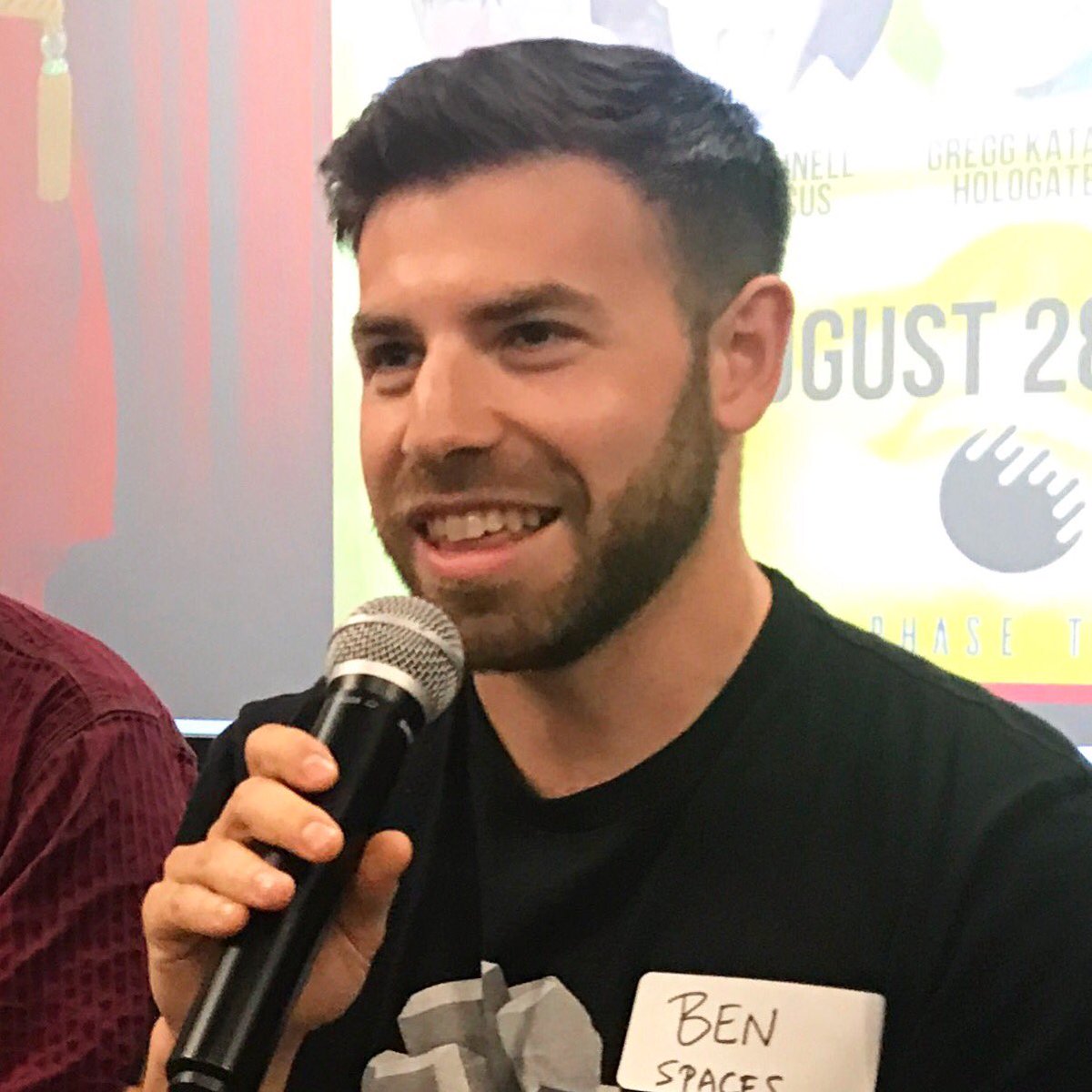 10. Influencers. Invite game or other influencers to your venue to help increase awareness and marketing.
FUTURE TRENDS
11. Esports: More VR venues will start to host VR esports to bring in new customers and help foster community.
12. Merchandise. More VR venues will offer march like T-shirts, for additional revenue streams.
At the end of the event, attendees shot robots and zombies in the four-person Hologate VR installation at Phase Two.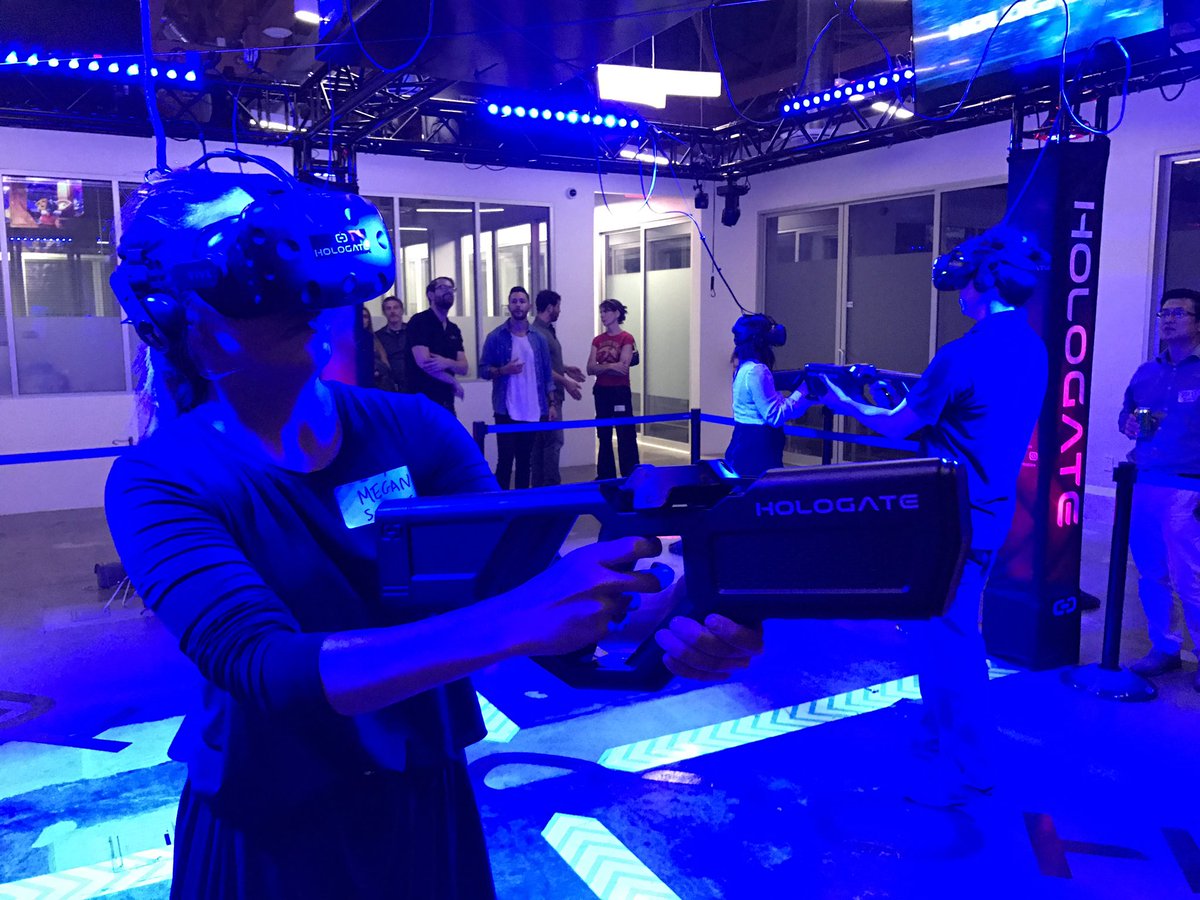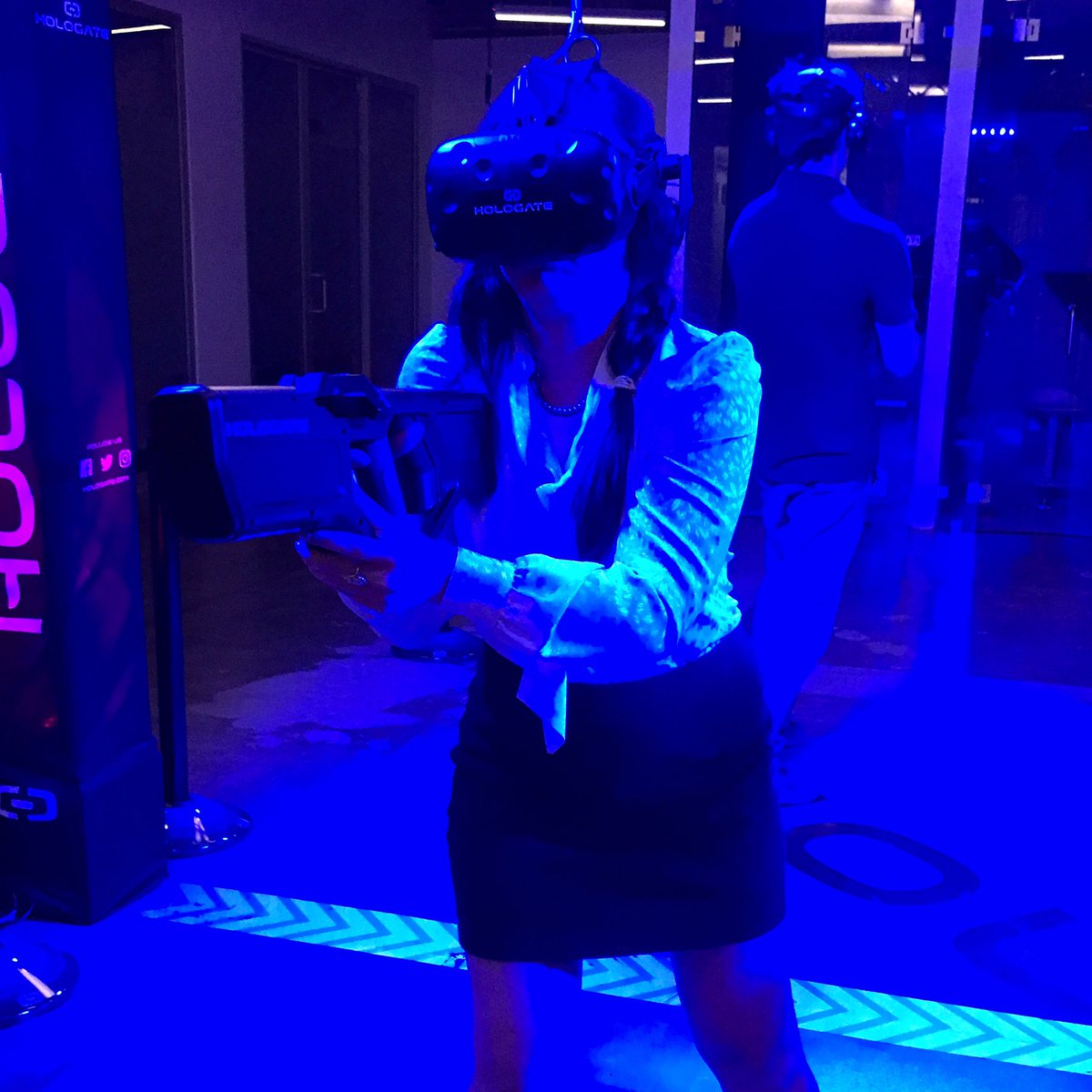 Thanks to Phase Two coworking space for hosting!
Thanks to our speakers!
Ziye Lin, Surivos, Strategy and Operations. Leads strategy and execution and oversee P&L of new Location-Based Entertainment business unit inclding manage team of over 10 in marketing, operations, sales staff, and consultant; lead monetization strategy, including pricing and retention/loyalty programs. Doubled the number of revenue streams over 2 months. Ziye also manages direct marketing strategy, including digital advertising campaigns, email, and events & activations. @survios
Wyatt Bushnell, Two Bit Circus. Wyatt has helped concept several of the VR experiences at the new Two Bit Circus location opening in downtown LA on Sep 7. @twobitcircus
Gregg Katano, Hologate, Partner/VP US Operations. Gregg leads the U.S. operations, business strategy, and marketing execution for the world's leading distributor of multi-user immersive media platforms for location-based entertainment. Over 180 systems sold in less than year. He has spoken recently about Venue VR at San Diego Comic-Con, and conferences in Dubai and Germany. Gregg is also Phase Two, VP Business Development and General Manager of the new coworking space in Culver City. @greggkatano
Shauna Heller, AiSolve, President, North America. AiSolve is a UK-based virtual reality company that uses artificial intelligence to create VR and MR applications across leisure and simulation training. Their products include WePlayVR, a turn-key single player VR attraction for theme parks, family entertainment centers and leisure destinations. WePlayVR has gone live in 22 global locations to date with lots of data coming in. Turn-key and free-roaming, WePlayVR features a haptic floor that showcases custom adventure-based puzzle games especially well suited to a global, multi-generational audience. Prior to assuming joining AiSolve, Heller was the founder of Clay Park, an advisory firm for institutions, corporations and developers exploring VR and prior to that Heller worked in immersive at Oculus, where she was the developer relations specialist managing VR development across enterprise, education and location based entertainment. @hellergeeksout @aisolve
Aaron Pulkka, Two Bit Circus, Head of Production & Attractions, driving the development of games, story rooms, robotic bartender, VR/XR, and more mind-blowing entertainment for the Two Bit Circus next-generation micro-amusement park opening Sep 7. @twobitcicrcus
Jenna Seiden, Beat Saber. Jenna's manages VR LBE for Beat Saber as well as consults for Springboard VR, Exit Reality VR and other VRentities.
Ben Gansky, Spaces, Guest Experiences. Manages all guest-facing components of SPACES virtual reality location-based attractions including attractions operations lead and installation and deployment of SPACES Centers, inclding Irvine location.
Moderator: Kevin Winston, Digital LA, Founder CEO
Watch the entire panel livestream by Phase Two cowork space below.