More than a dozen VR venues have opened in LA, finally bringing VR to mainstream audiences. This VR directory reviews the major venues, with links to our articles reviewing them.
If you have a VR venue you'd like us to review and add to this list, email info@digitalla.net with VR as subject.
Venue VR, also called Location Based Entertainment, finally brings VR to mass audiences so they can try and experience the magic of VR. Before venue VR, only tech conference attendees could try it. Now, these VR venues are at high-traffic malls and shopping areas.
VOID Santa Monica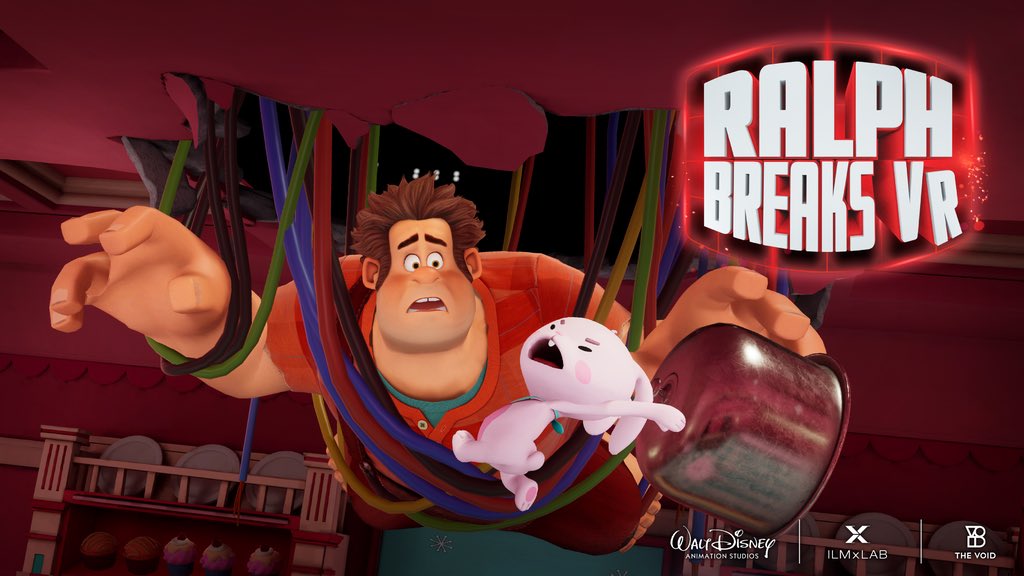 Location: Third Street Promenade
Key Titles: Ralph Breaks VR, Star Wars: Secrets of the Empire, Nicodemus.
Cost: $32-35 for 10-20 minutes
Opened: December 28, 2018
Ralph Breaks VR transports you into the Internet world portrayed in Ralph Breaks The Internet (Wreck-It Ralph 2). The digital portrayal of the Internet. After a brief introductory video with Ralph and Vanellope, you put on your VR headgear, goggles, and backpack vest, and step into VR to see the world of the Internet. You appear as a Netizen avatar, just like everyday humans do in the film. Ralph and Vanellope greet you and guide you through the VR experience's three mini-games: button mash, Space Invaders, and pancake-milkshake shooter, with a scoreboard.
Also: Star Wars: Secret of the Empire and Nicodemus.
---
Dreamscape Interactive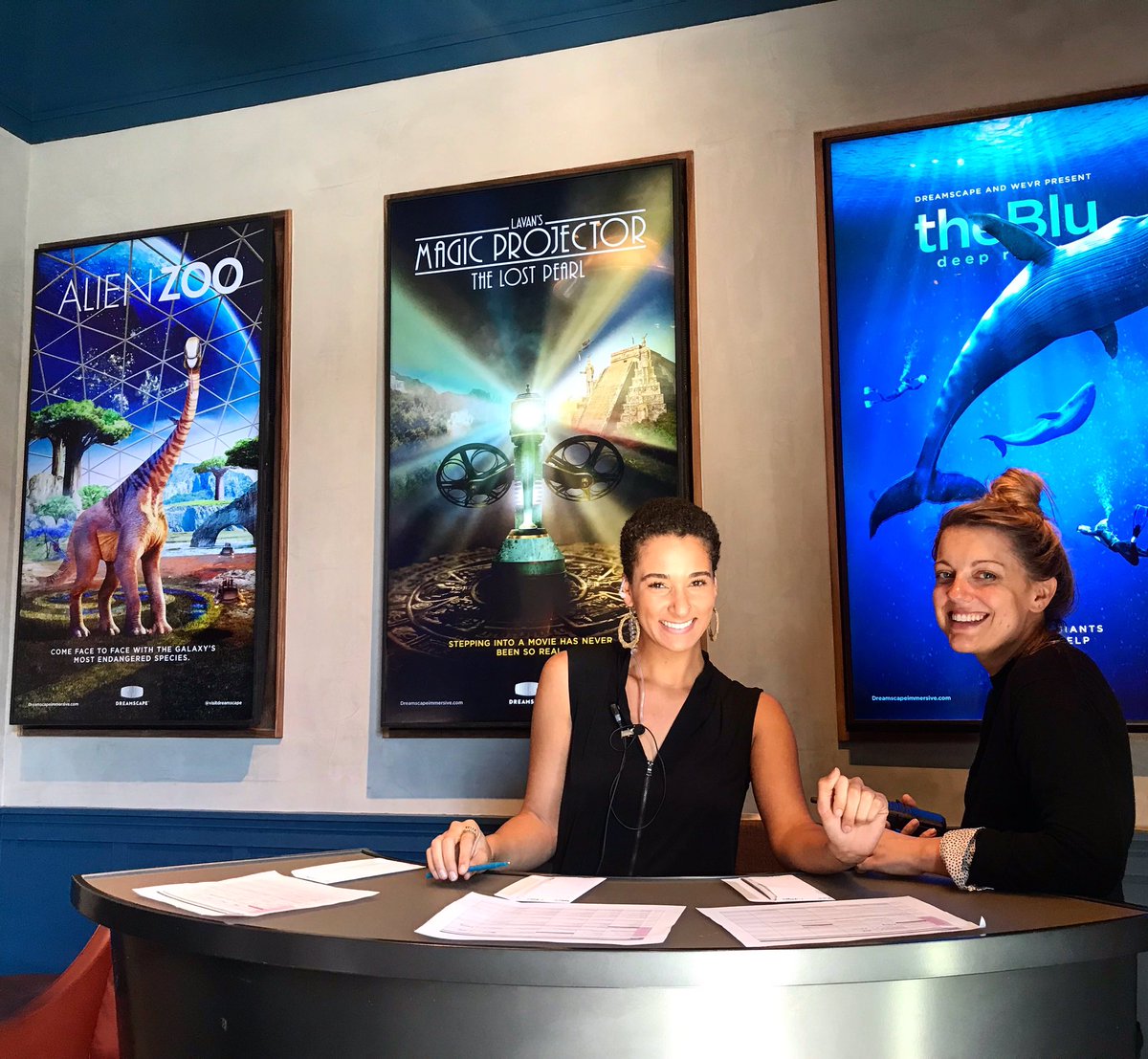 Location: Westfield Century City
Key Titles: Alien Zoo, Magic Projector: Lost Pearl, The Blu
Cost: $20 for 10 minutes
Opened: December 14, 2018
You can swim with whales, explore alien planets, and ride a mine coaster at the new Dreamscape venue VR at Westfield Century City in Los Angeles. The VR experiences are social, tactile, and focus on a sense of wonder and storytelling.
Walter Parkes, co-founder of Dreamscape described why he's getting into VR to tell immersive stories in our video interview. Parkes is former head of DreamWorks, and producer of more than 50 films including Men in Black, WarGames, and more.
Dreamscape is located nearly the Eataly on the second floor. Dreamscape's Alien Zoo pop up location is rolled into this venue.
---
Virtual Room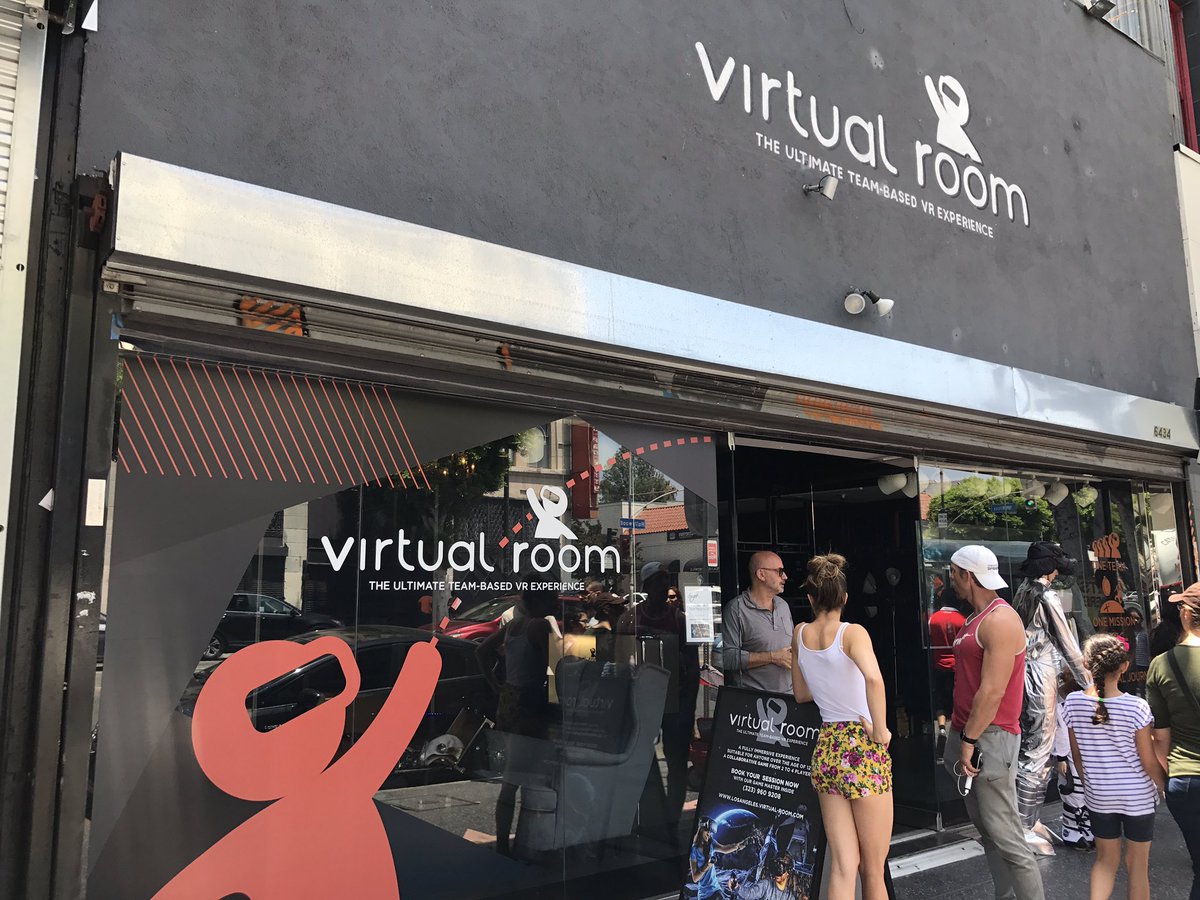 Location: 6434 Hollywood Blvd. (at Wilcox)
Key Titles: Mission 1, Mission 2
Cost: Off-peak $29, Peak $37
Opened: Early 2018
Our Digital LA VR crew time-traveled from the future to the prehistoric, medieval, ancient Egyptian, and interplanetary time periods to solve escape room puzzles to save the planet at the new Virtual Room in Hollywood.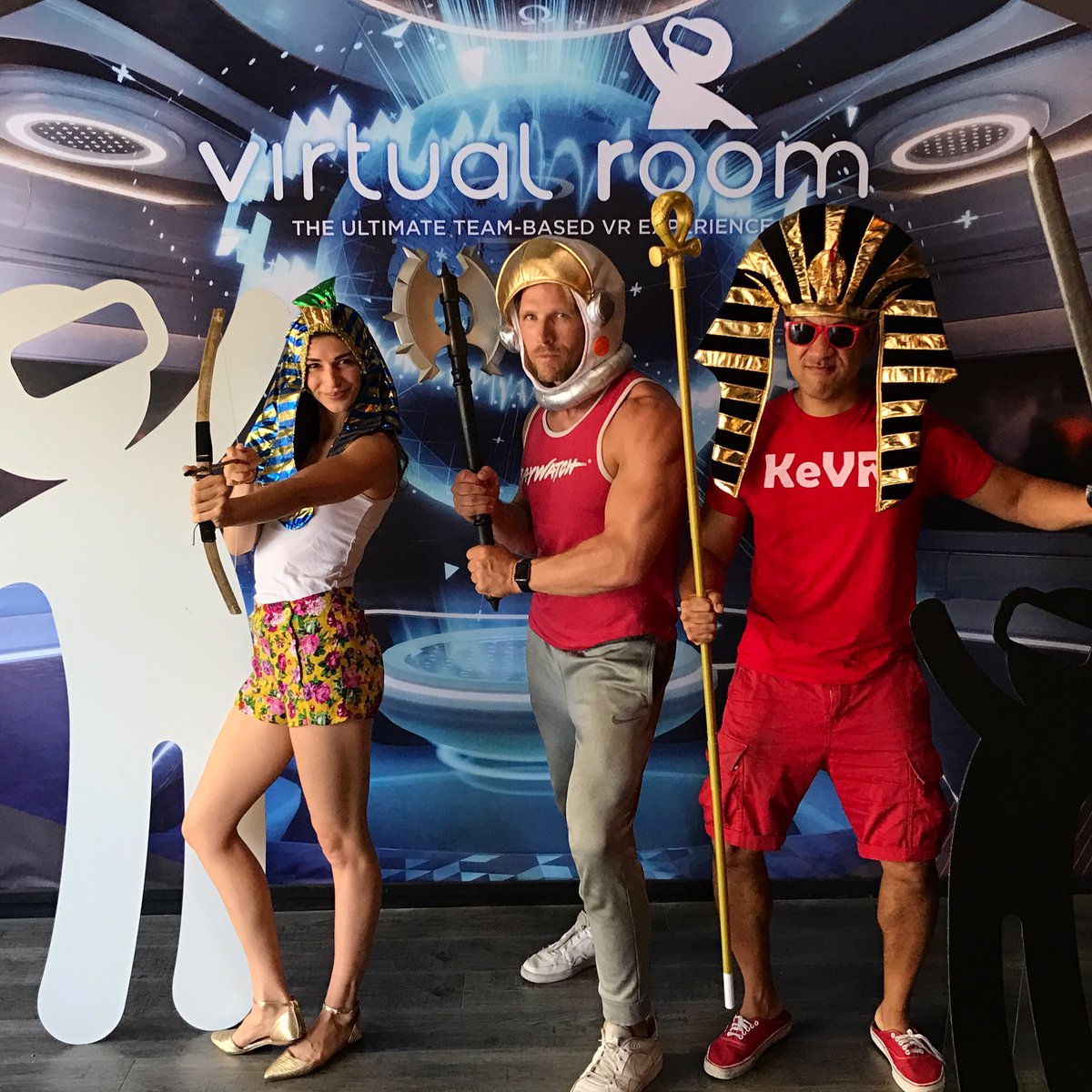 The Virtual Room currently has two VR games, Mission 1 and Mission 2, which can be played with groups of two-four people. Players but on VR headsets and grab hand controllers, They can talk via mic built into the headset, and virtually interact with each other, even though they play in separate rooms.
You start in a futuristic pristine white room that looks like something out of Cloud City or Starfleet Academy. Except when you look out the windows, it looks like Mustafar or Blade Runner. A computer narrator instructs that you must use gloves and a device to travel to five different time periods to solve mysteries that will help fix the past and save the planet.
You must work together with the other people in your group of up to four people to unlock puzzles in each of five time periods, and then get the time code to teleport to the next time period. You travel from the future to the medieval times, then to the moon, ancient Egypt, and a prehistoric canyon. See our full review article.
---
Survios VR Arcade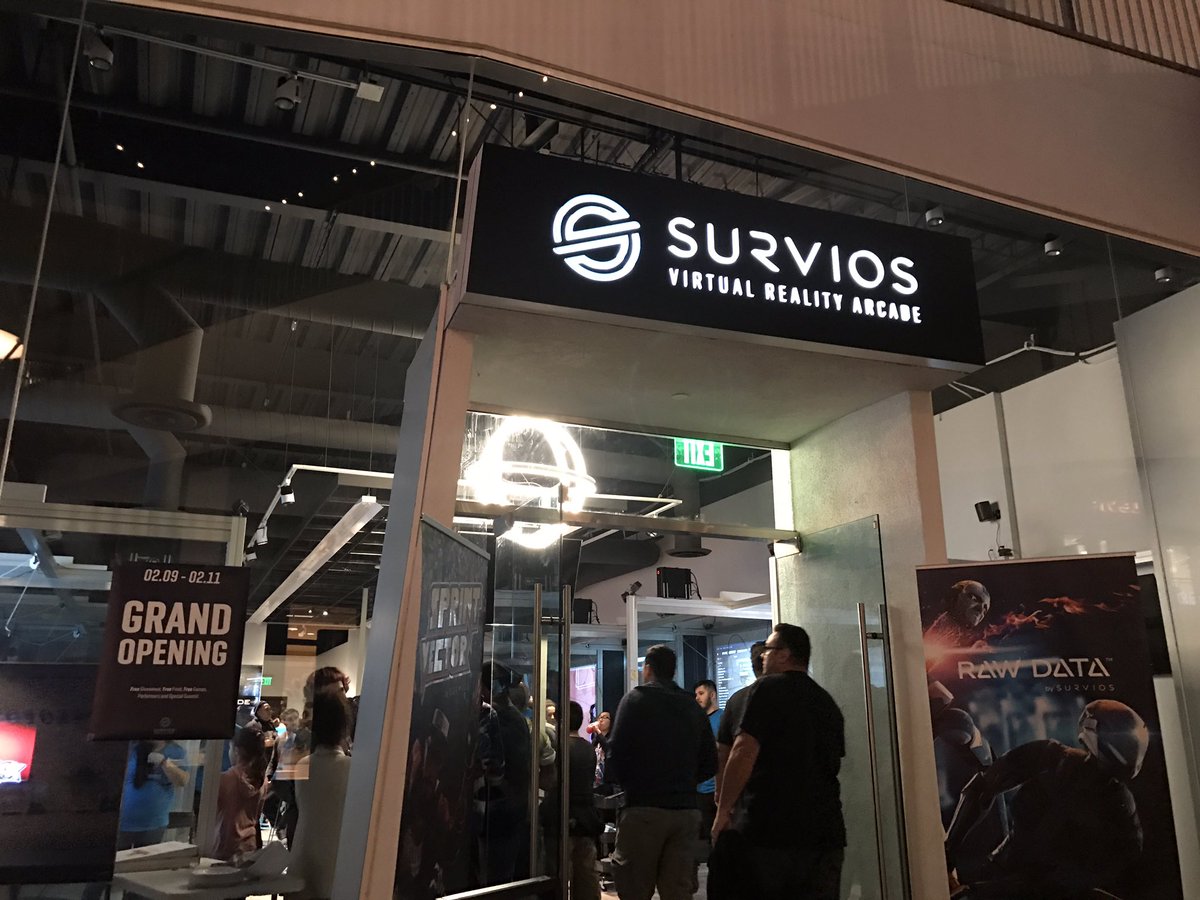 Location: Del Amo Fashion Center
Key Titles: Raw Data, Sprint Vector, Electronauts VR DJ, Creed boxing
Cost: $9 for 15 minutes
Opened: Feb 9, 2018
Survios first VR Arcade opened on February 9 at the Del Amo Fashion Center. The VR Arace features eight glass pods, where anyone can come in and play games $9 for 15 minutes. Games offered include Survios two big active-VR (good exercise!) games Raw Data (robot shooting) and Sprint Vector (runner).
Survios started as a VR game idea at USC a few years ago. Since then, it opened up its headquarters in Culver City. It has built up its consumer outreach strategy with booths at E3, San Diego Comic-Con, and Long Beach Comic-Con over the past year. This physical location is the next step for Survios to grow its fan base, and help make VR more accessible to all.
At its grand opening wknd Feb 9-11, fans enjoy half price games ($4.50/15 min) with DJ, free Bai drinks and pizza, and occasionally, a glow hula hooper.
Several Survios execs have spoke on our VR panels before.
See our Survios article.
---
The VOID: Star Wars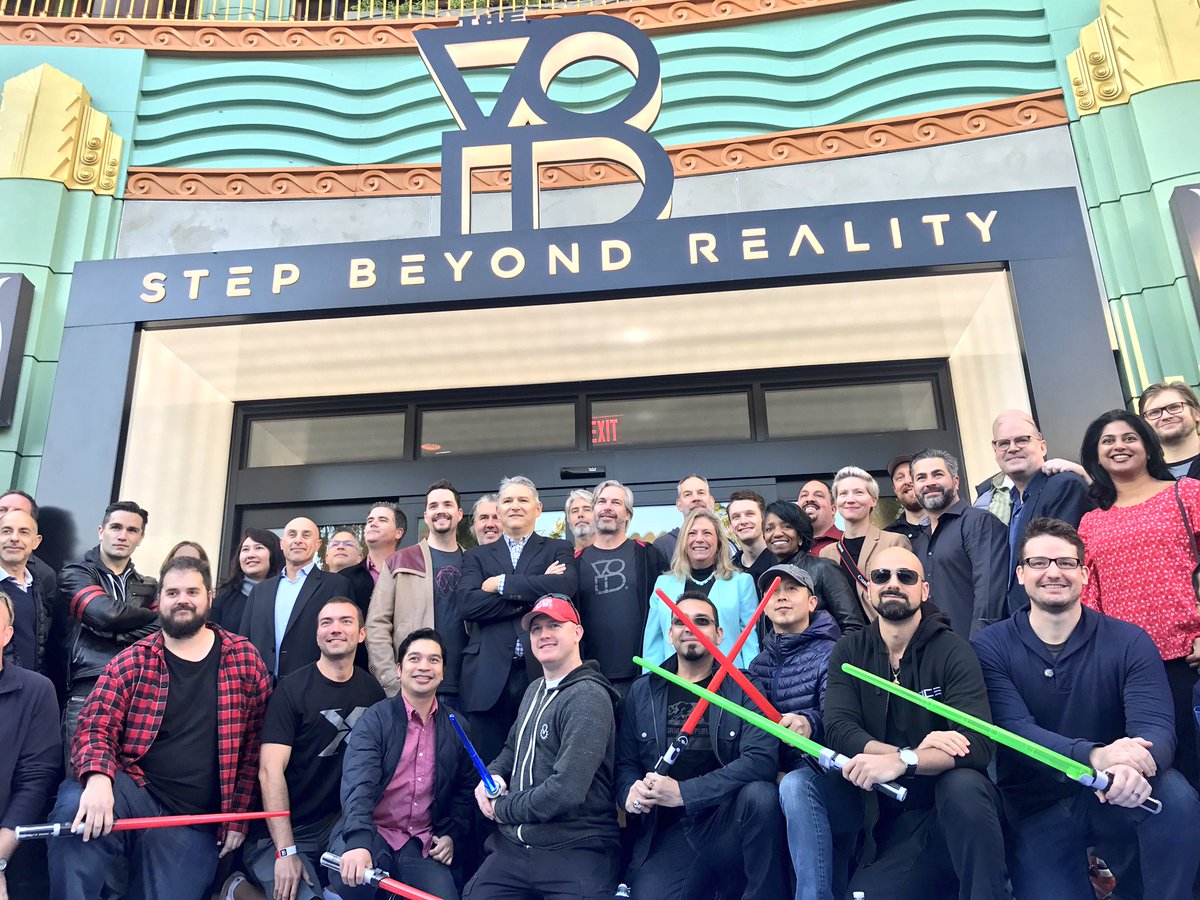 Location: Downtown Disney, Anaheim, and second location at Glendale Galleria.
Key Title: Star Wars: Secrets of the Empire
Cost: $23 for 20 minutes (10 min game, 10 min prep)
Opened: January 2018 (Anaheim)
You can disguise as a Stormtrooper to infiltrate the Empire in the VOID's new Star Wars: Secrets of the Empire VR experience, which held its grand opening today at Downtown Disney. The VOID's partnership with Disney's Star Wars IP content finally brings VR firmly into the mainstream. The VOID recently graduated the Disney Accelerator program, which partners startups and emerging tech companies with Disney resources and mentors.
In the 20-minute VR experience, you put on VR goggles, backpack, and grab a blaster. Then you enter in teams of four people disguised as stormtroopers to shoot Empire stormtroopers and lava monsters to discover the secret contents hidden in an Empire cargo container hidden on an Empire base in Mustafar.
"At the VOID, it's our vision to inspire everyone to explore fully immersive virtual worlds," said Cliff Plummer, CEO of The VOID. "In Star Wars, you get to be in the Star Wars galaxy and be part of the story. So we're excited to be able to launch this today.
Get a complete walkthrough in our article. 
---

IMAX VR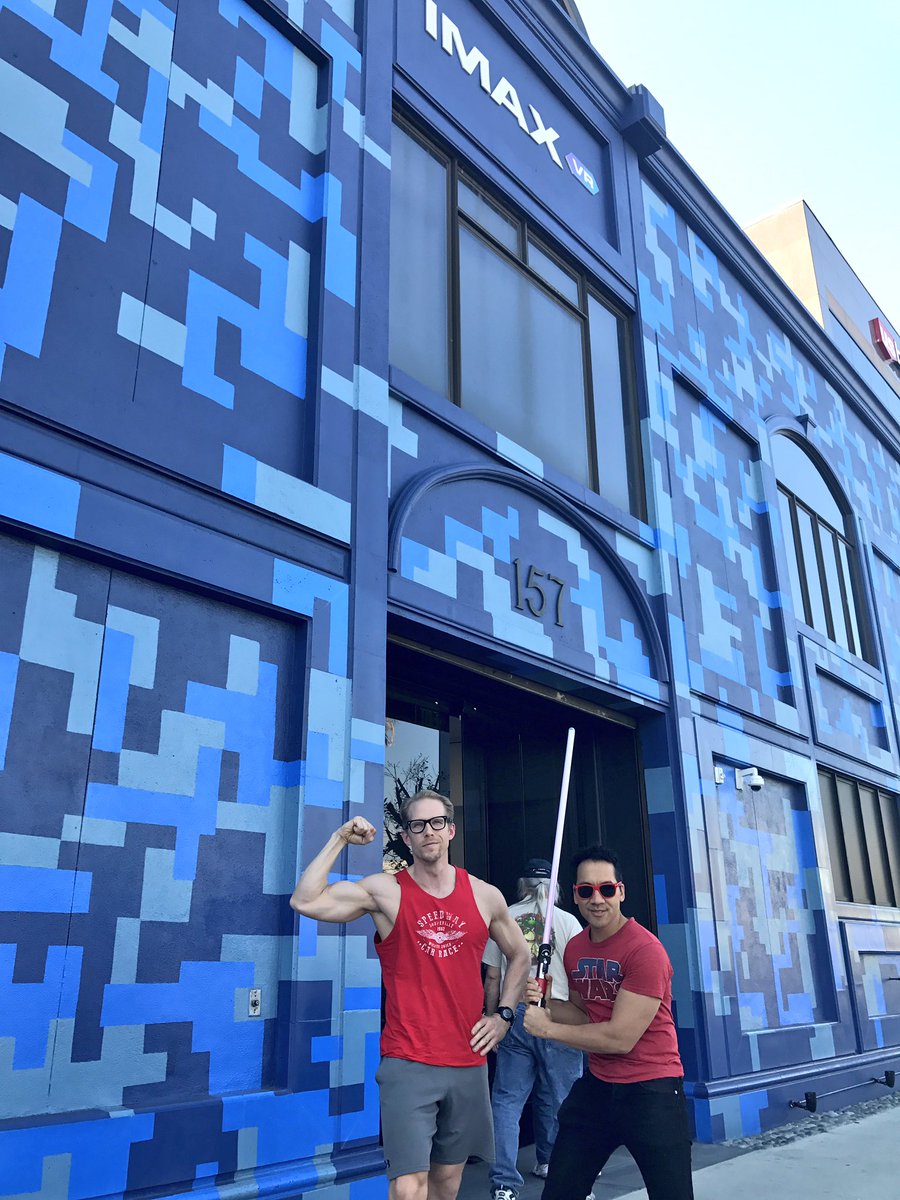 Location: Fairfax, across the street form the Grove and Farmers Market
Key titles: Star Wars: Trials of Tatooine, John Wick 2, rotating
Cost: $7-10 per game, usually 10-15 minutes
Opened: March, 2017
Web site: http://imaxvr.imax.com
IMAX VR wass the first venue based VR in Los Angeles, where anybody (over 13) can go buy a ticket to try a VR experience, similar to a regular theater. Chose from Star Wars: Trials of Tatooine, John Wick 2, boxing, or more. Ticket prices are $7-10 for a 10-15 minute movie. The sampler lets you choose from a dozen different VR experiences and is $25 for 30 minutes.
The VR is not shown on IMAX screens. Rather IMAX VR refers to this being an IMAX-owned VR theater.
Go online in advance to register and buy a ticket beforehand. The registration process and ticket selection website is a bit clunky, so if you are frustrated, you can just show up to register and buy ticket but you may have to wait 15 min to an hour. VR showtimes are available every 15-20 minutes.
See our article: http://digitalla.net/imaxvr
NO LONGER EXISTS

Star VR: The Mummy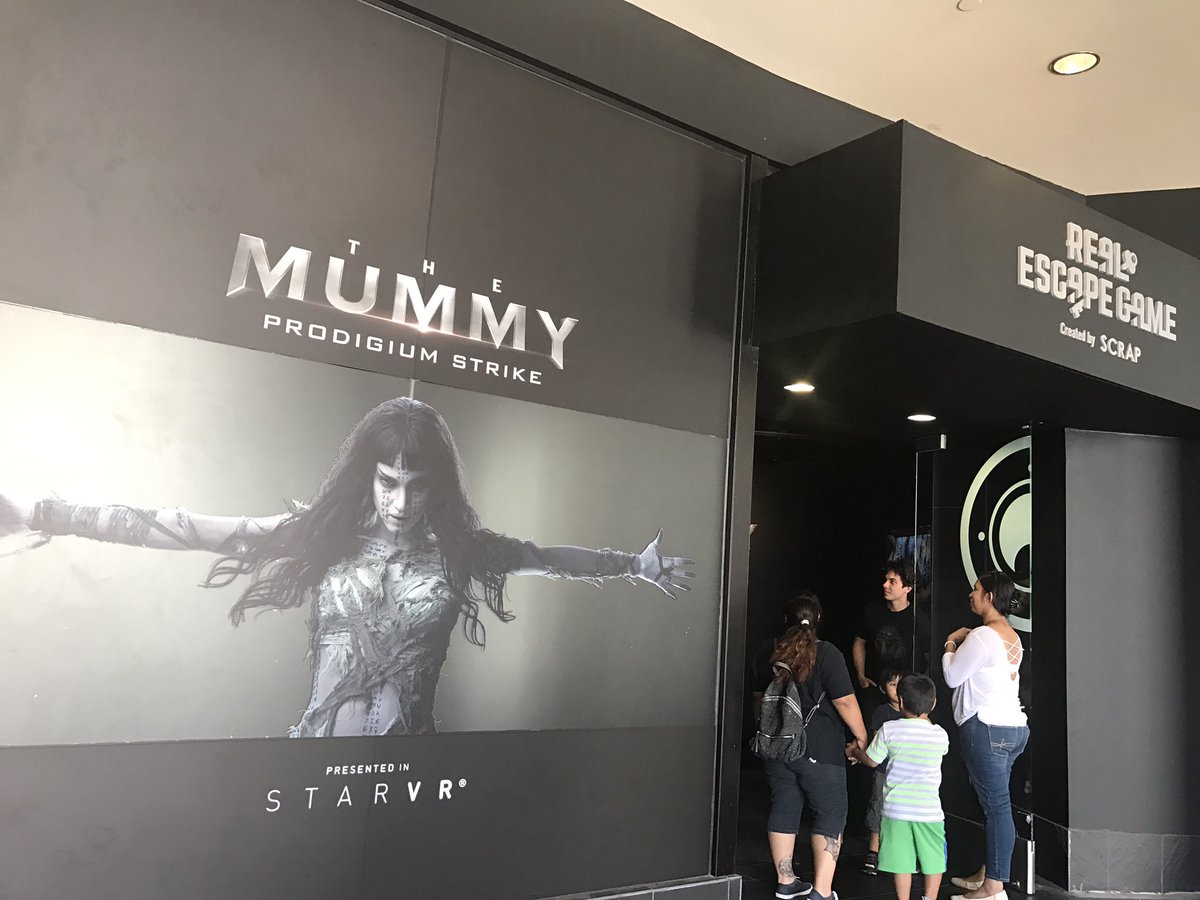 Location: Hollywood and Highland
Key Title: The Mummy: Prodigal Strike
The Mummy Prodigal Strike is a VR escape game that was released after The Mummy release.
Alien Zoo (pop-up no longer exists, see Dreamscape)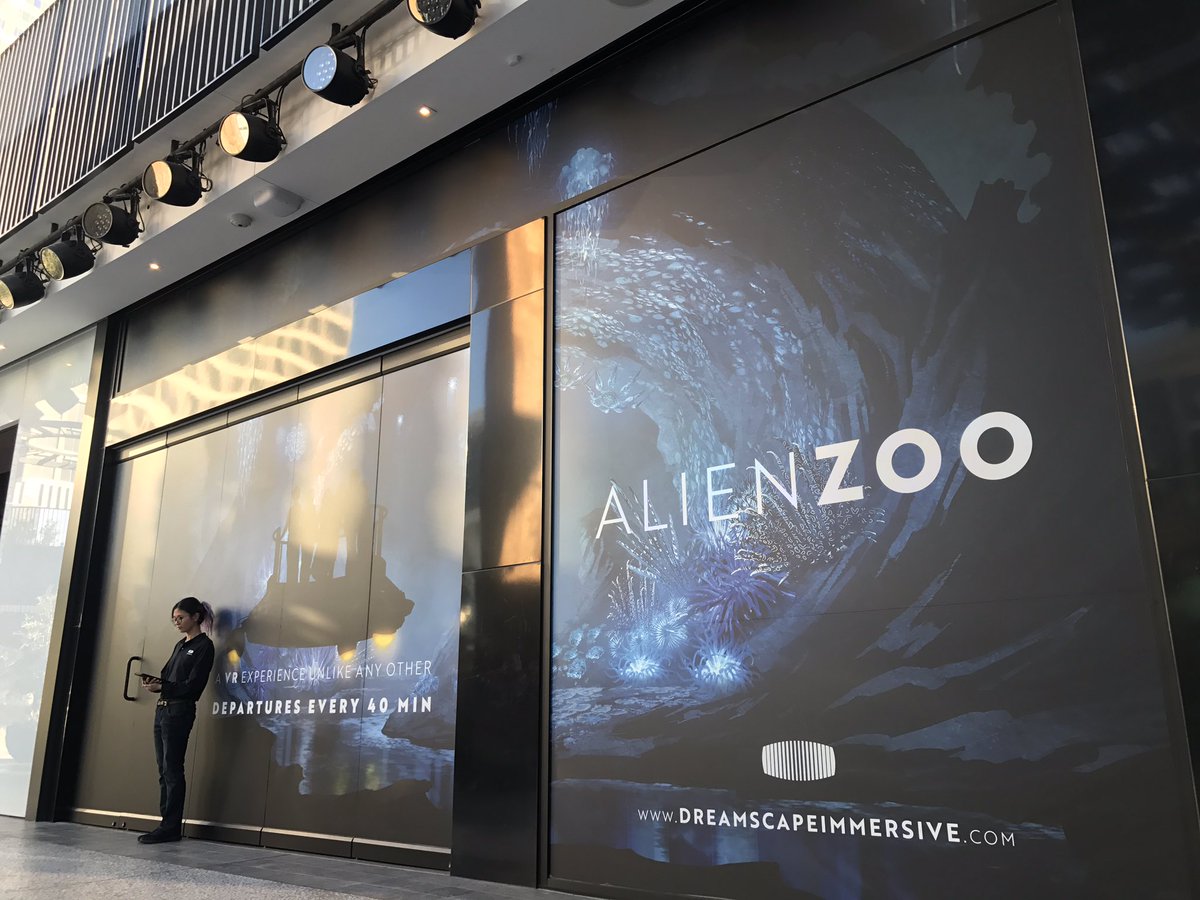 Location: Westfield Century City
Key Title: Alien Zoo
Cost: $20 for 20 minutes (including suiting up)
Limited Pop-up Feb 9-March 2
The 6-person VR experience takes you to a planet much like Avatar, which roaming alien creatures, dense foliage, and dark caves to explore. You can pet cute Elqui and avoid getting trampled by Magodae alien creatures. The experience is interactive with in-game VR actions corresponding to the physical world, like the VOID VR. For example, in Alien Zoo, you can pet a creature in the VR, and feel a creature's snout in real life.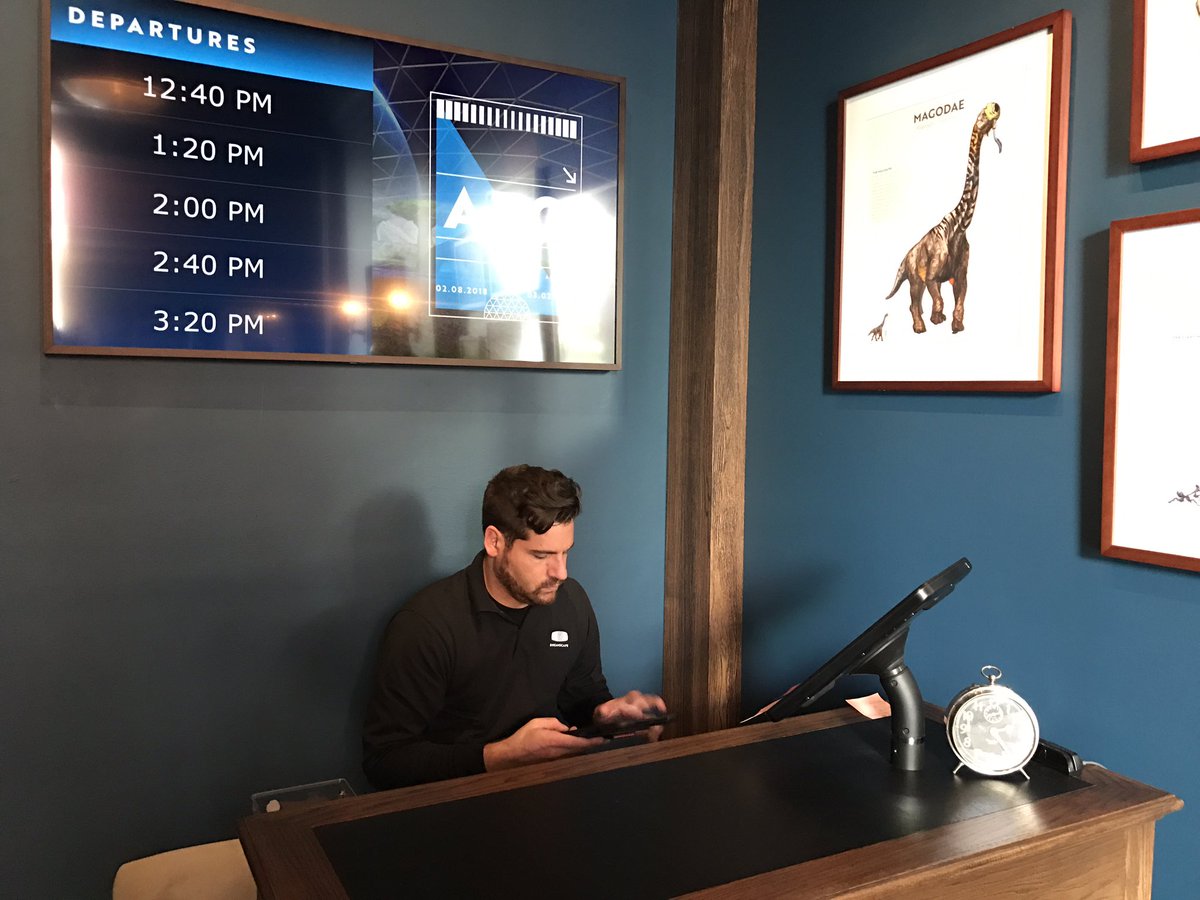 Alien Zoo costs $20 for 15-20 minute experience. Departures leave every 40 minutes several times per day. The remainder of the times were sold out when we checked last, but check back for cancellations or some new times which may be added.