Startup founders, CEOs, and digital content creators gave advice on how to start and grow your entertainment startup or company at our Digital LA – Digital Women in Entertainment panel. The panel features Silicon Beach startups and entertainment companies that work with Hollywood Studios, filmmakers and brands to create digital and VR content.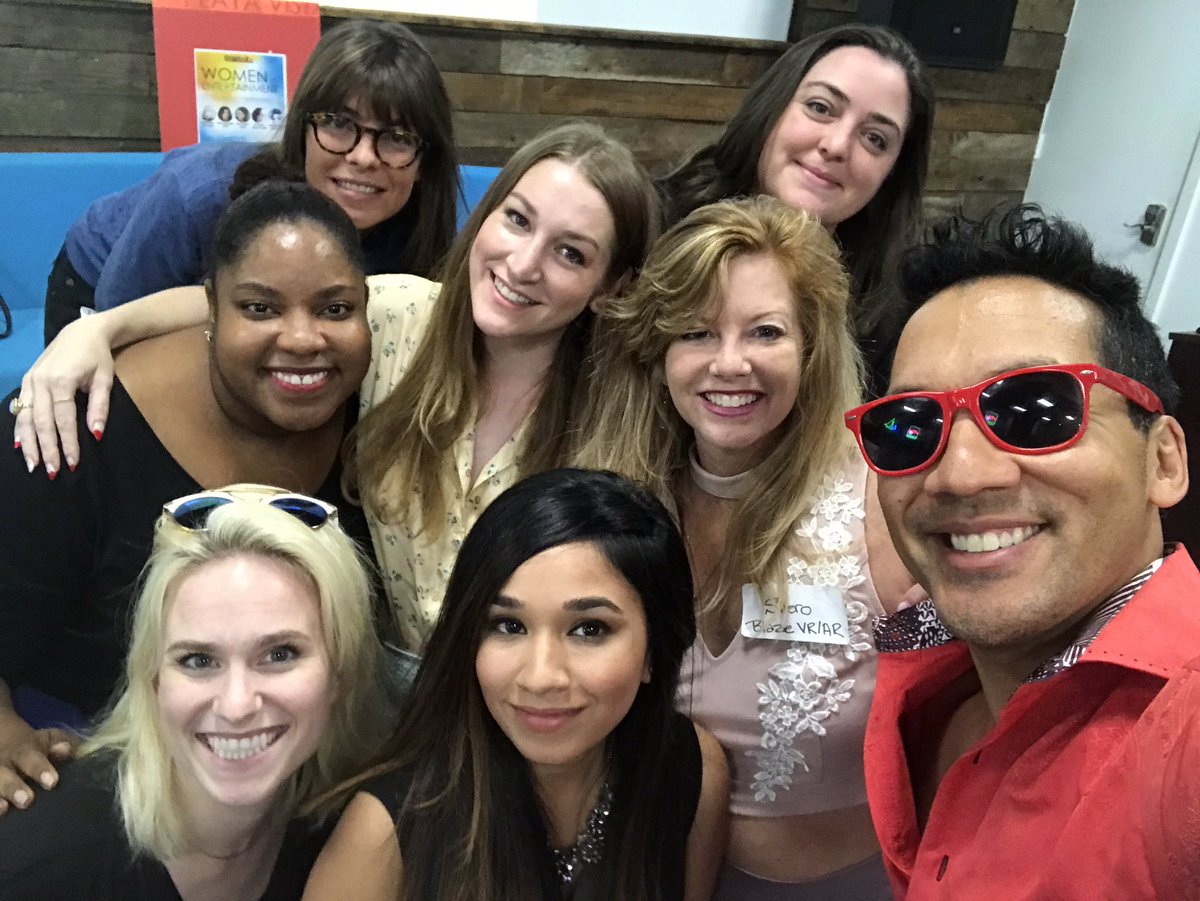 See video with their advice!

7 Startup Tips 
1. Do your research and really learn about what you're doing before you start. Get feedback and then go for it. Talk to as many people that would be your customers and find out if you are going to have customers before you jump into it. – Rumala Sheikhani, CEO of Castifi app which lets casting directors and managers find and coordinate talent, and manage talent payroll.
2. Passion passion passion. Do something that you love….because it comes from your heart. Practice your elevator pitch. Have a great pitch deck. Be ready to present in 30 seconds. – Shero Robertson, founder of Blaze AR/VR which creates immersive VR content.
3. You need to lean the rules like a pro to break them like an artist. You have to know how the machine works to be able to re-jigger it. – Denise Hewett, CEO and founder of Scriptd, a script database for the entertainment industry.
4. Know your business. It's one thing to have a passion for it. But you need to KNOW your business. Really know it. Once you know your business, be persistent about why it matters. You need to be able to explain that to any and everyone you come across. – Alia Daniels, co-founcer and COO of REVRY, a "Netflix for LGBTQ" content
5. Build the best co-founder team. Surround yourself by key advisors and mentors that will help you take  your business to the next level. –  Louise-Marie Marguet, EmoJam, Founder /CEO, animated emoji with music.
6. Do what you say you are going to do. Be kind to people. Follow-through and reputation are everything in this town. Relationships lead you to every opportunity you are going to have. Be good. – Kate Grady, executive director at Adaptive Studios, which brings underused Hollywood IP to digital platforms and audiences.
7. Don't be afraid to ask for help and delegate. – Lauren Tracey, founder of Blue Fever, which is a "Netflix for Women." Blue Fever texts millennial women series in short videos on their phone.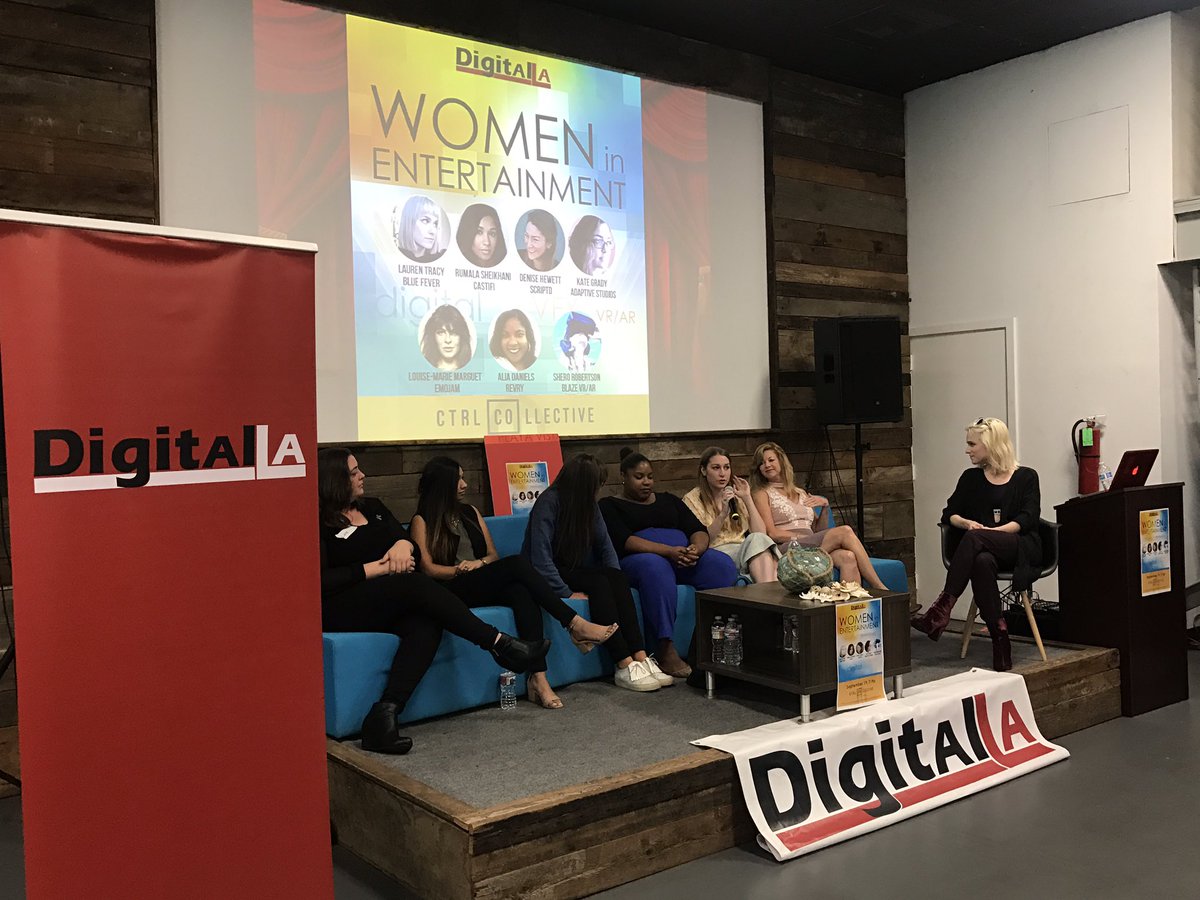 Thanks to our speakers for sharing great advice!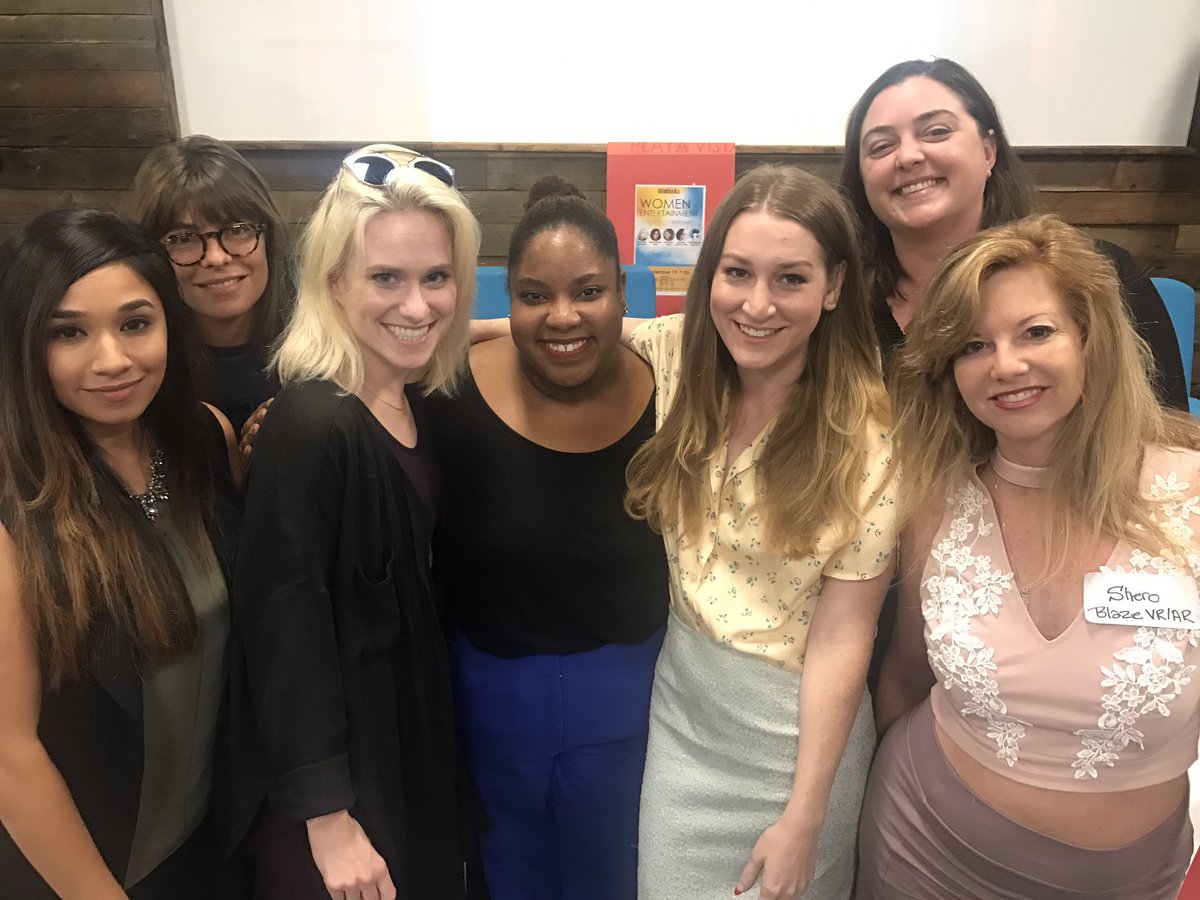 Lauren Tracy, Blue Fever, CEO; Filmmaker. Recently accepted into Techstars LA inaugural class, Blue Fever is a 'Netflix for millennial women.' Since mainstream Hollywood serves women only 15% of the time, Blue Fever fills this market gap by providing the high-quality women-focused movies and series (short and long-form). @BlueFevr
Alia Daniels, REVRY, Co-Founder and COO. REVRY is like a Netflix for LGBT content, curating and distributing short films, shows, live events like LA Pride, and more. @REVRYTV
Rumala Sheikhani, Castifi, CEO. Castifi is a digital platform creates a streamlined, paperless process to find, hire, manage, and pay talent. The mobile-friendly software allows productions to save hours of time, money, and errors through the use of digital time cards and up to the minute spending reports. Customers include CBS Studios, Adaptive Studios, Complex, NowThis, Project Greenlight, Matt Damon & Ben Affleck, and many more. @castifiapp
Denise Hewett, Scriptd, CEO/ Founder. Scriptd is a script database for the entertainment industry (google for scripts if you will) that is a true pipeline for diversity and content discovery. We are also creating script culture like book culture so the public can pay to read scripts for the first time ever (like e-books) and upvote them on the site. This allows us to tap into audience bases, capture the data behind them and make better buys and bets to achieve greater commercial success. @scriptdinc
Louise-Marie Marguet, EmoJam, Founder /CEO. EmoJam enriches emojis with music, the ultimate language of emotions. Bonus: those musical and video emojis are transactional: you'll be redirected to marketplaces where you can shop whatever is linked to the artist.  EmoJam brings artists and brands into people's day to day conversations in an organic way. @EmoJamapp
Kate Grady, Adaptive Studios, Executive Director, Physical Production. Adaptive identifyies and acquires undervalued IP, and adapt it to new digital content on various digital platforms for new audiences. Adaptive has worked with a variety of partners that include HBO, Facebook, Verizon, Netflix, Samsung, Barnes & Noble, Stylehaul, Gunpowder & Sky, Matt Damon & Ben Affleck and many others. @adaptivestudios
Shero Robertson, Blaze VR/AR, Founder. Shero Robertson, Blaze VR/AR, Founder. Sherrie is a traditional filmmaker who has ventured into VR/AR/MR over the past 2.5 years. Past clients in traditional film include Red Bull, Body Mints, Triple Crown of Surfing. She recently won several awards for her ViR storytelling/producing workincluding "Best in Show" at the SFVR hackathon and Google's Project Tango hackathon. Dramatic feature script, Juke Box Hero, is a two-time Sundance Feature Film Lab finalist currently in post-production. She was offered Panavision's New Filmmaker grant as well.
Thanks to CTRL Collective for hosting.