WonderCon assembled superheroes, cosplayers, and pop culture fans, triumphantly returning after three years April 1-3 a the Anaheim Convention Center.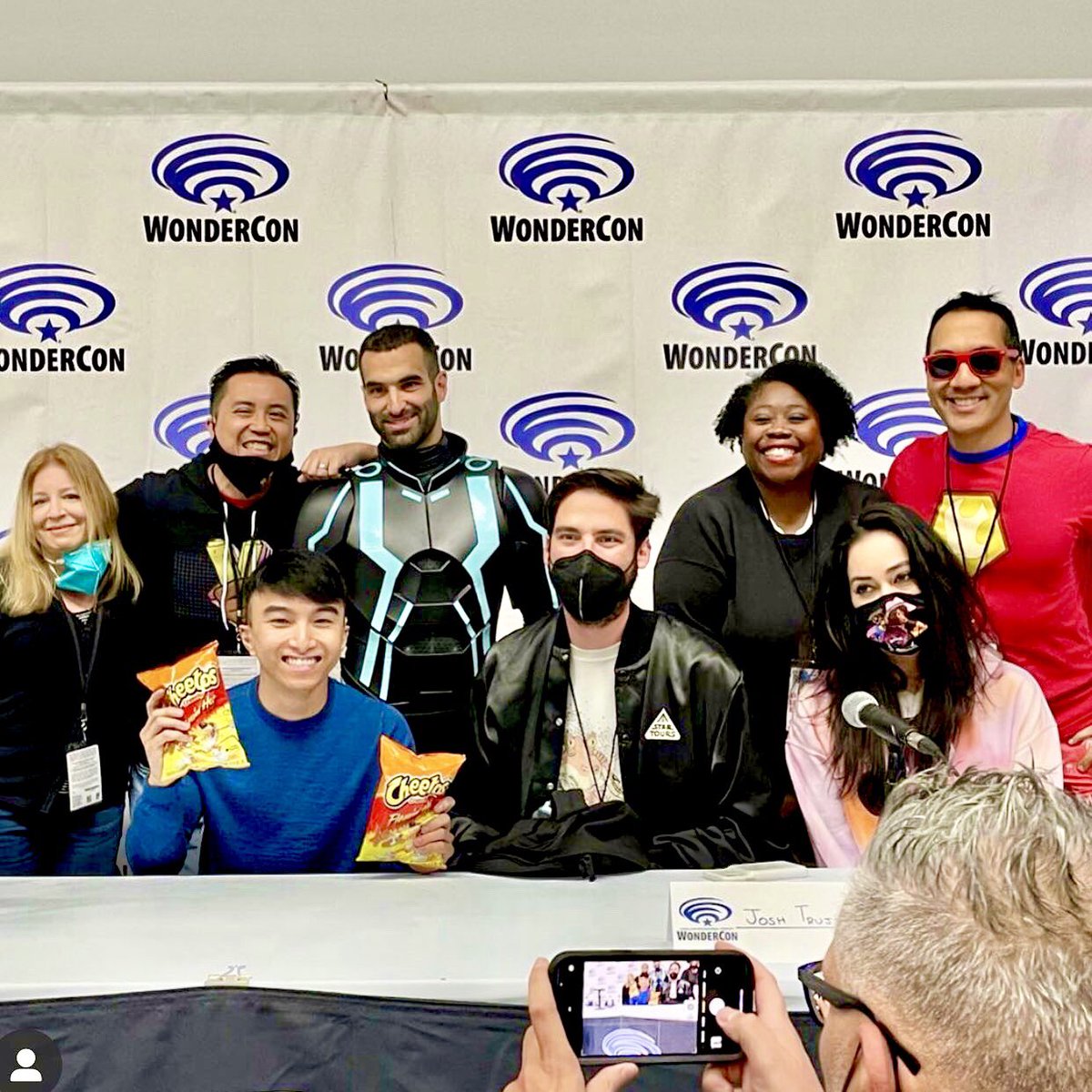 Like most of the returning cons, WonderCon's return was like a retro return to a decade ago, focusing more on indie creators and fandom, less on big Hollywood panels and stars. There were no big movie and TV panels in the arena, nor show floor exhibitors. Funko and Bandai were the biggest brands on the show floor.
But attendees didn't seem to mind. Most were just happy and appreciative to be able to come together to celebrate their fandoms in person, after three years. The last WonderCon was in 2019.
This year's WonderCon focused on fandom via panel discussions, cosplay, and indies on the show floor.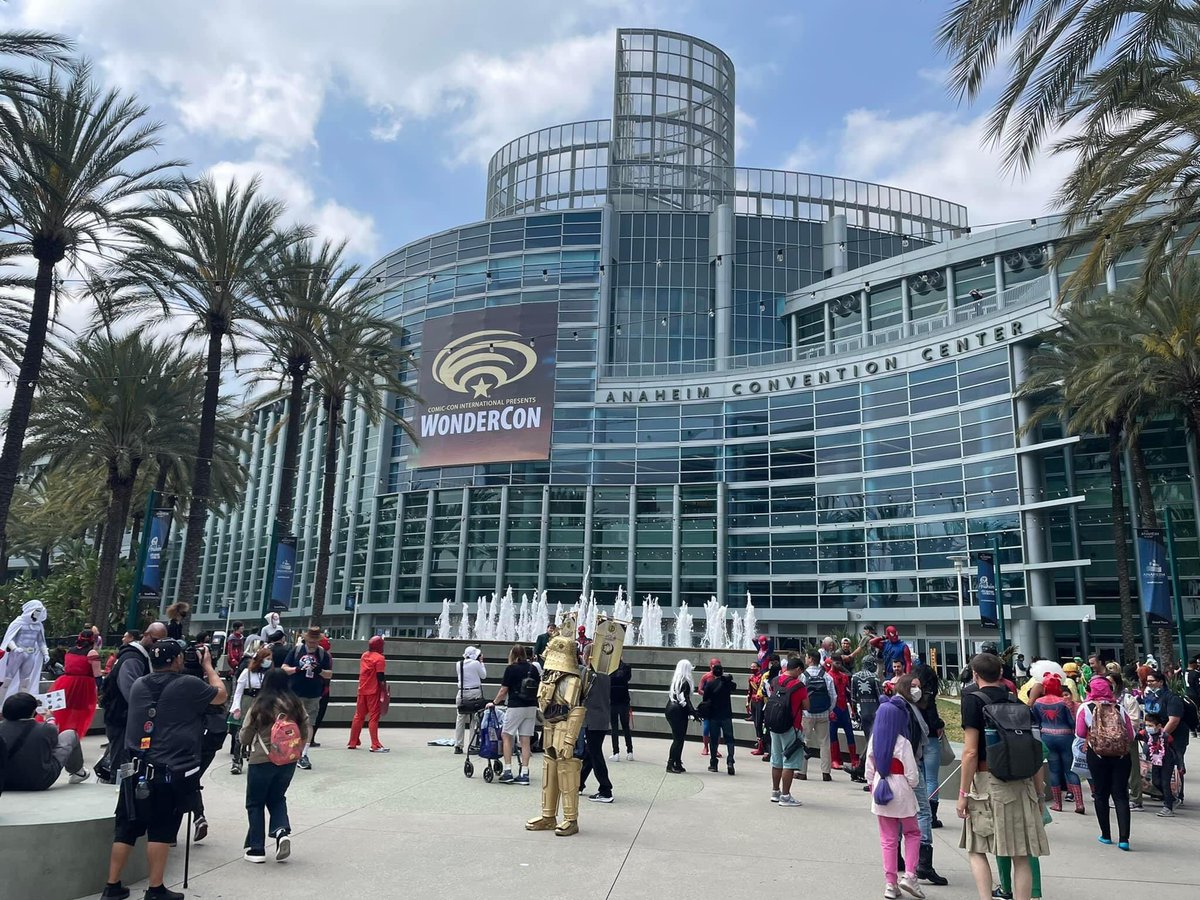 PANELS
Most panels focused on fandom discussions about pop culture. A few included the casts of Woke, and several other TV shows.
Diversity in Comics, TV, Movies and Games: How YOU Can Help! Our Digital LA founder Kevin Winston organized and moderate this panel with speaker from comics, TV, movies and games describing how they have contributed to diversity in entertainment. Then speakers and attendees brainstormed action steps attendees can do to help increase diversity, defined as gender (women), ethnicity, LGBTQ+, and more.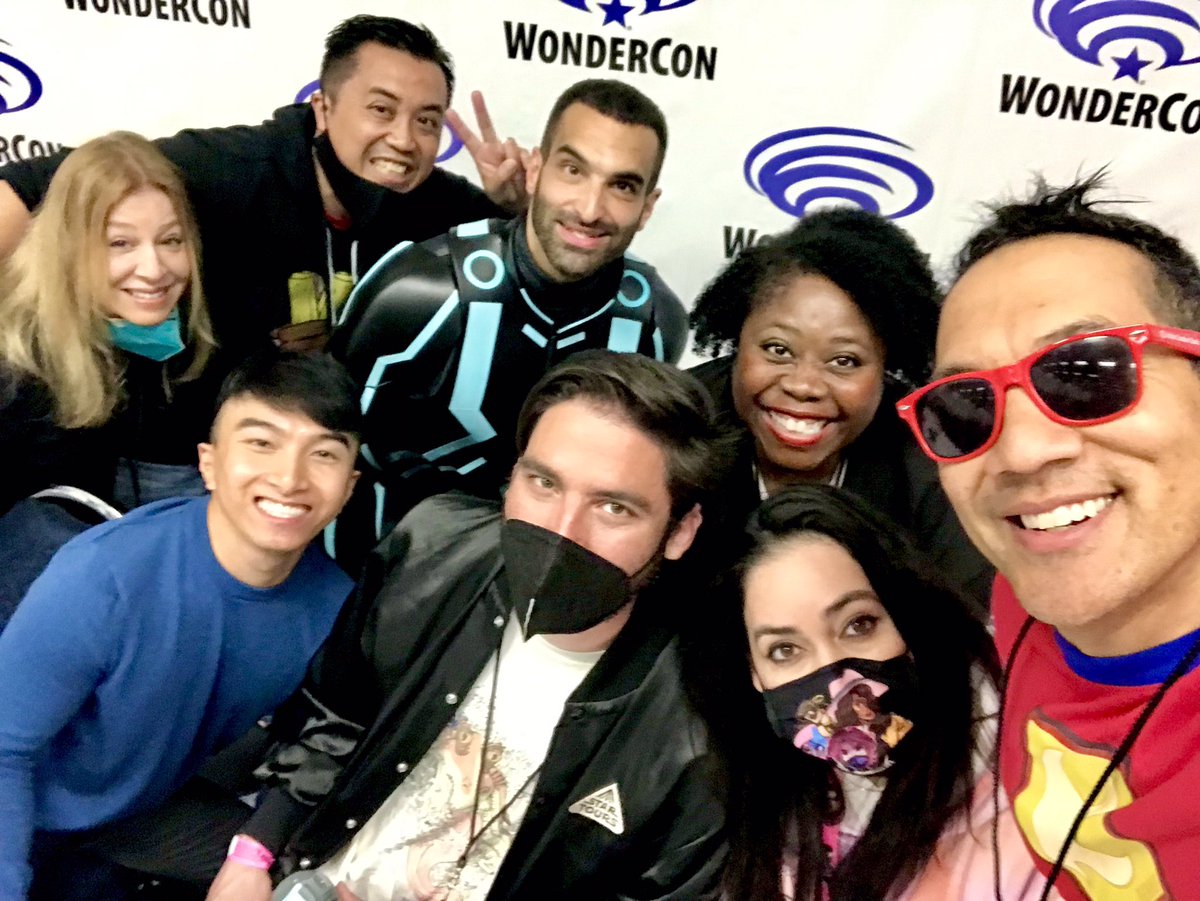 Speakers included: Nhut Le, actor who plays JudoMaster on Peacemaker; Josh Trujillo, writer on Hulkling & Wiccan, and Captain America; Joelle Sellner, writer on DC Superhero Girls, Patricio Ginelsa, director of Lumpia and Lumpia 2 movies starting Filipino casts; Kayden Phoenix, creator of Latina Superheroes; Cherry Davis, host of AfterBuzz TV; and Jason Aulicino, X-Men and Marvel cosplayer.
Speakers shared inspirational stories of how they got into the industry, including their 'big break' they feel got them in. Then speakers described what they've personally done to help increase diversity in entertainment.
Nhut Le, who plays the popular Flaming Hot Cheetos eating JudoMaster on PeaceMaker, shared his inspirational story getting into Hollywood. He said that after several years of acting in LA, he was about to give up on acting and leave LA. When he got the JudoMaster audition, he decided to go all in and embrace his identity. And he got the role. He said that he visited the Funko Pop booth on the show floor, to see and sign Funko Pop versions of himself.
Josh Trujillo wrote an issue of Hulkling and Wiccan, one of Marvel's favorite gay couples. He also wrote the gay Captain America character Aaron Fischer in The United States of Captain America limited series that debuted during Pride Month in June 2021. Aaron is a gay teen from the South who decides to take up the Captain America mantle in to protect the railways and unhoused. Unhoused LGBTQ+ youth who are unsupported by their families is a growing social issue.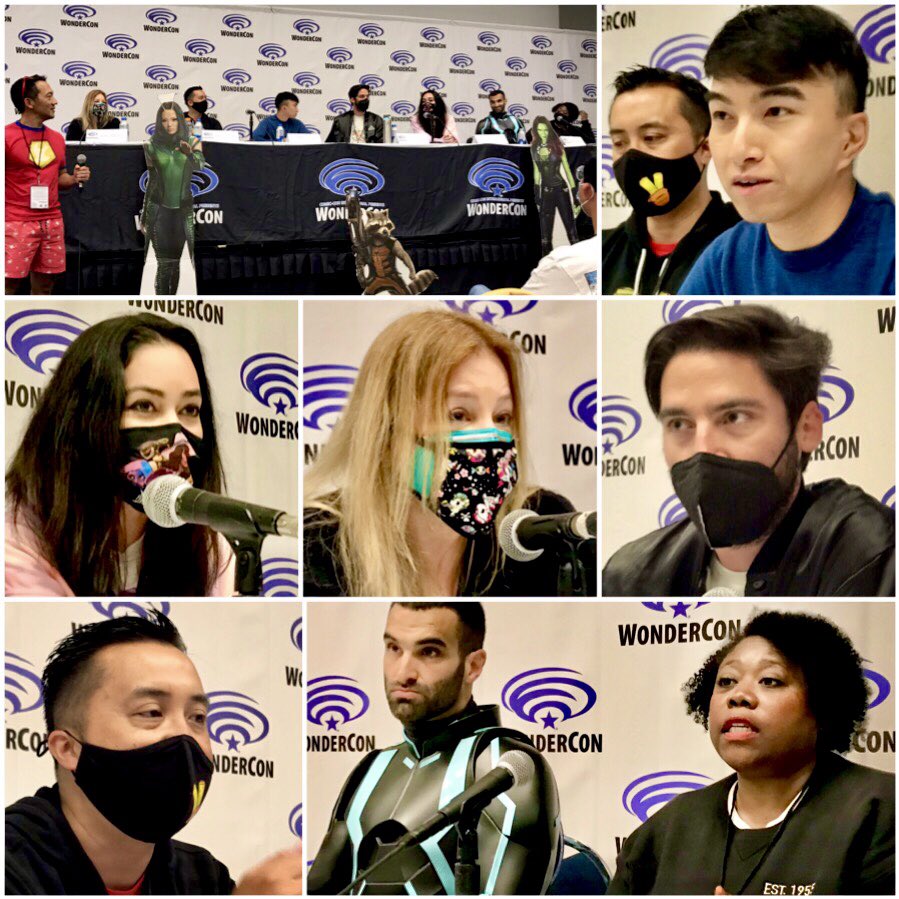 Patricio Ginelsa noticed that Filipino Americans rarely appear in pop culture. So he created and directed the Lumpia comedy action movie a few years ago. The film did so well and attracted an immediate following, so he produced Lumpia 2: With a Vengeance, which had a fantastic premiere at WonderCon the next day.
Kayden Phoenix said she didn't see enough Latina or lesbian characters in comics, so she started her own Latina Superheroes comics.
Jason Aulicino represents by cosplaying as X-Men, Marvel, and other characters as a gay man of color. He said that when he dressed up as a Superman character, he got some hater critics online saying he didn't match Superman's look exactly, He said it's important to support cosplay inclusion – anyone can dress up as anyone, doesn't have to be the same ethnicity, gender, etc. He said it helps to support people who are cosplaying on social media.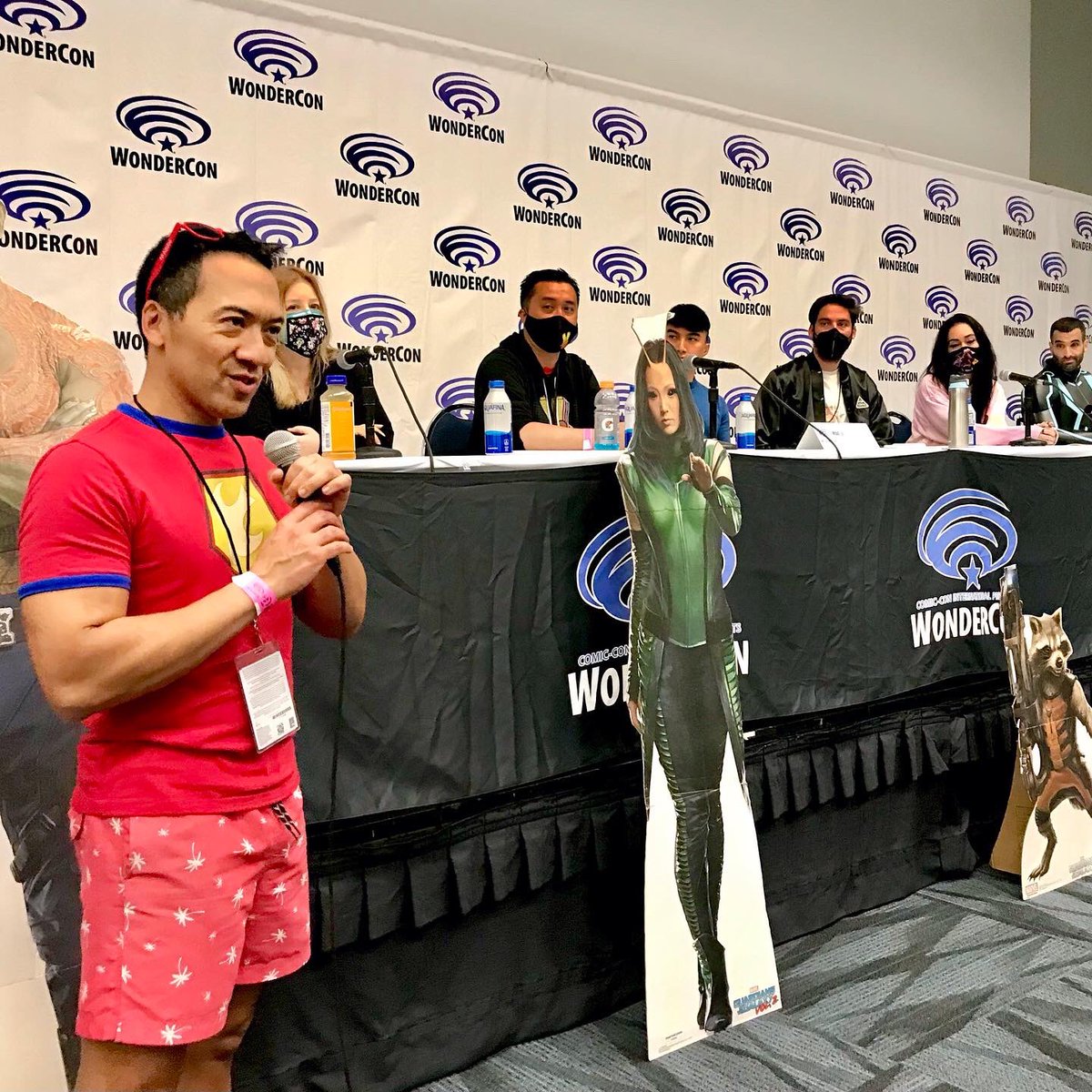 Action Steps:
Panelists and attendees brainstormed action steps people can to to increase diversity:
Buy/Watch/Play Content with Diverse Characters. Buy comic books with diverse characters, including mainstream comes, and indie comics. Buy the Marvel and DC annual anthologies featuring stories about and by diverse creators. Marvel Voices titles include Women of Marvel (women), Pride (LGBTQ+), Identity (Asian-American), Heritage (Native American). DC has released anthologies featuring LGBTQ, Asian-American heroes, and more. Watch TV shows and movies starring diverse characters. Play games with diverse characters.
Social Support Content with Diverse Characters: Let people know you're watching, reading and playing diverse content on social media. Before and after you consume something, let people know on social media to increase awareness.
Create Your Own Content: Diverse creators can just start creating their own content featuring diverse characters, like many of the speakers have done. Creators can use digital tools to crowd fund their projects, find talent, create content, digitally distribute, and use digital and social media marketing to help promote.
After the panel, attendees took photos with speakers, and ate Flaming Hot Cheetos in honor of JudoMaster's favorite snack on PeaceMaker.
This panel was written up in several articles, including an excellent panel summary in ComicsBeat, and two CBR articles about Nhut Le's Funko Pop reaction, and how his Judomaster audition unlocked his potential.
SHOW FLOOR
Major brands included Funko and Bandai, with indie comics, signins, artist alley, and more.
Funko's booths featured a beach theme, with special character exclusives for PeaceMaker and more.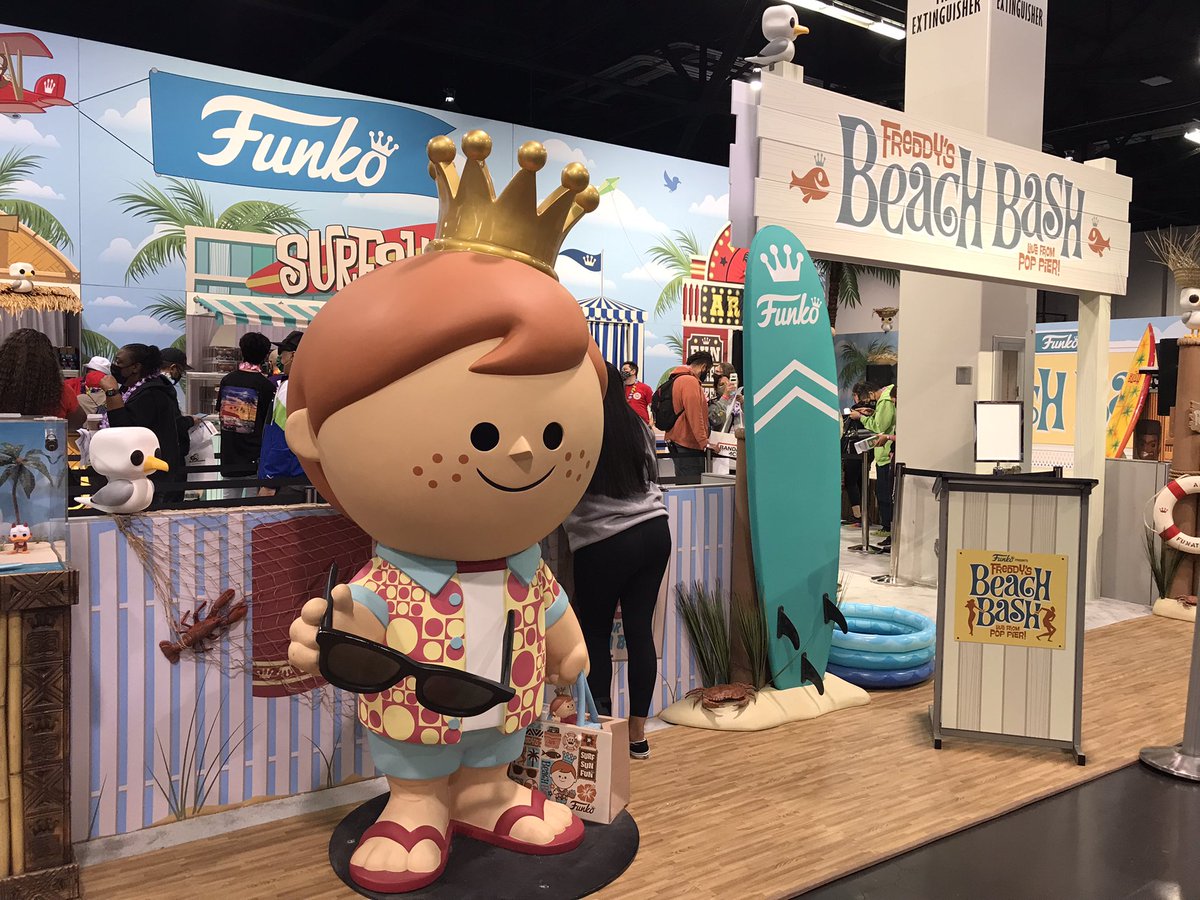 The Comic-Con Museum booth promoted membership and exhibits at the new museum that opened at San Diego's Balboa Park during the San Diego Comic-Con special edition last November. Opening soon: a new Spider-Man exhibit.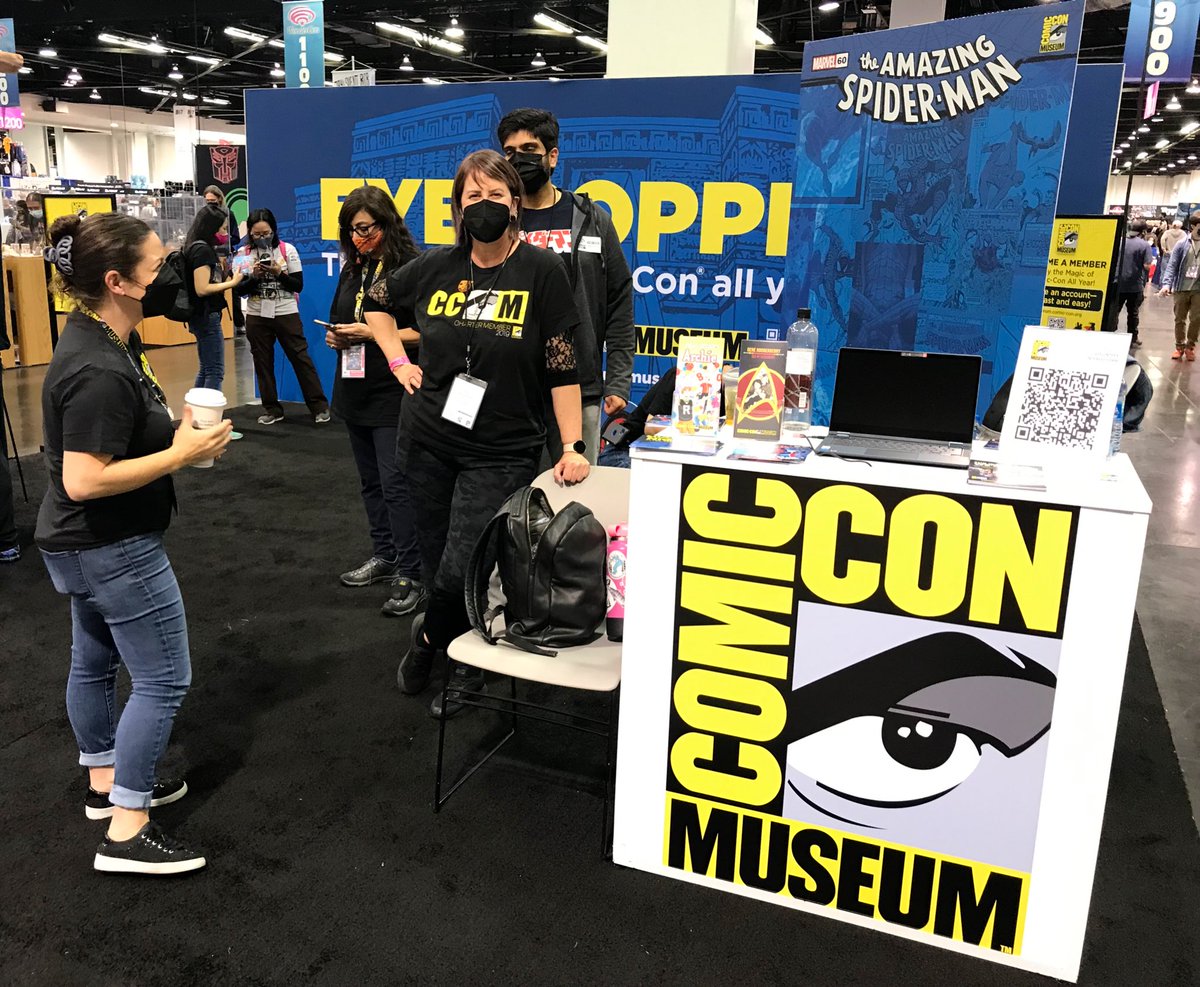 From the Comic-Con Museum site: "Visitors will be able to explore interactive installations and expansive set pieces, learn about the many creators who have contributed to the Spider-Man mythos, and discover a number of priceless artifacts from the past six decades, including original comic art, animation materials, and film production elements celebrating the wall-crawler's rich legacy while looking ahead to the future, all within a space that combines traditional museum displays with cutting-edge technology."
Ashley Eckstein did signings at her booth.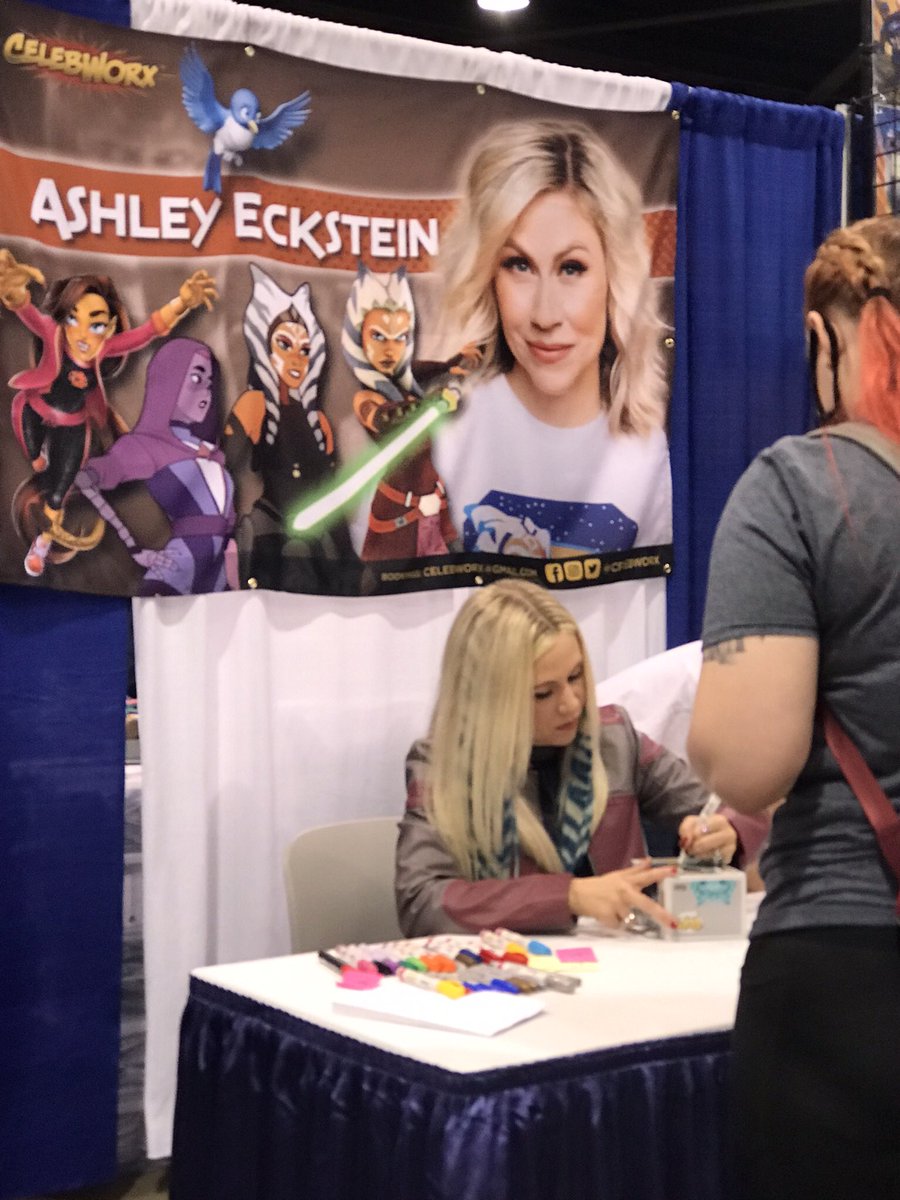 COSPLAY
Cosplayers attended in full force, with cosplay they've had a few years in pandemic to focus on. The large themed photo meet ups returned on the fountain steps in front of the Convention Center, including Spider-Man, Marvel, DC, and more.
Wanda and Doctor Strange costumes were popular, in anticipation of the upcoming Doctor Strange: Multiverse of Madness film in several weeks.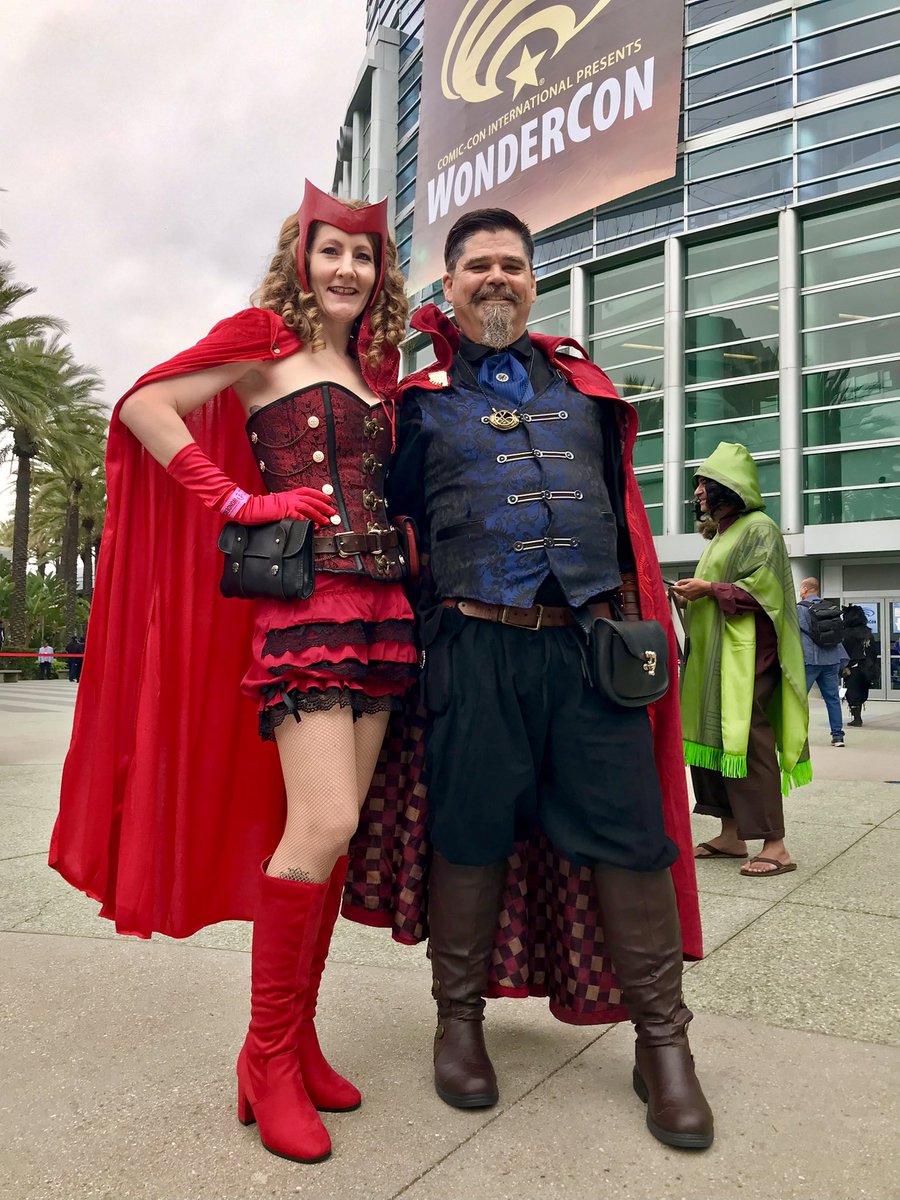 Vi from Arcane, Riot Games' award-winning animated series based on the its League of Legends game. Arcane swept several awards at this year's Annie Awards.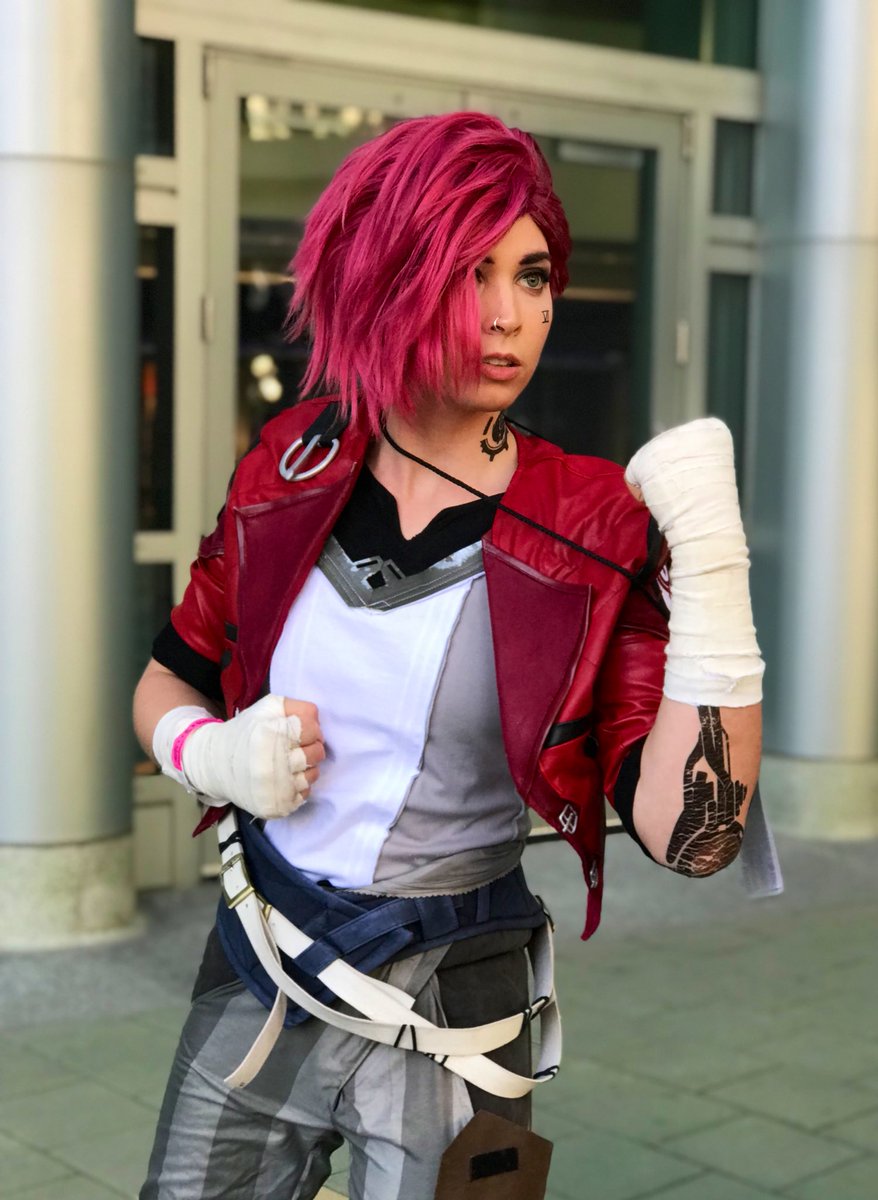 Moon Knight cosplay, thanks to the Disney+ show having debuted a few weeks before.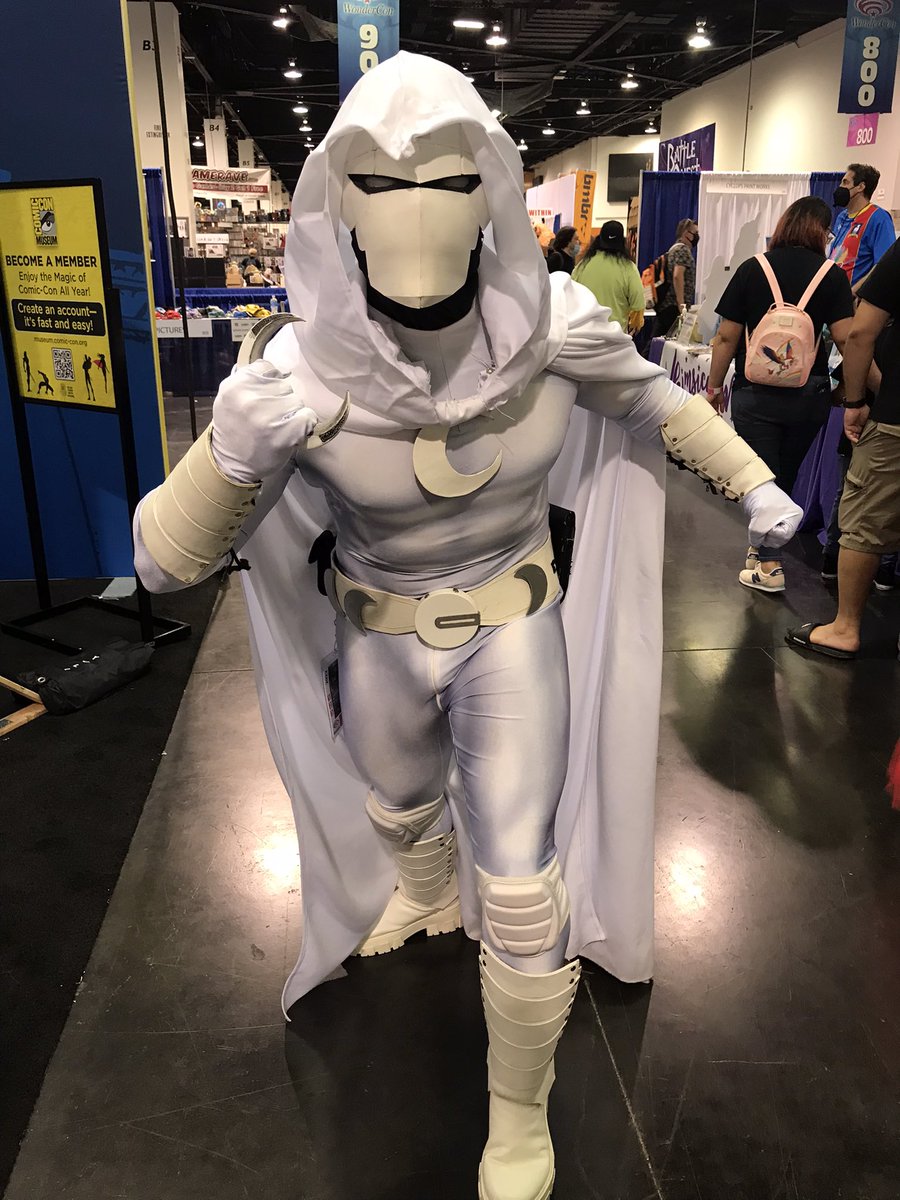 The stars of the first Marvel and first Star Wars series on Disney+ Wanda and Mandalorian!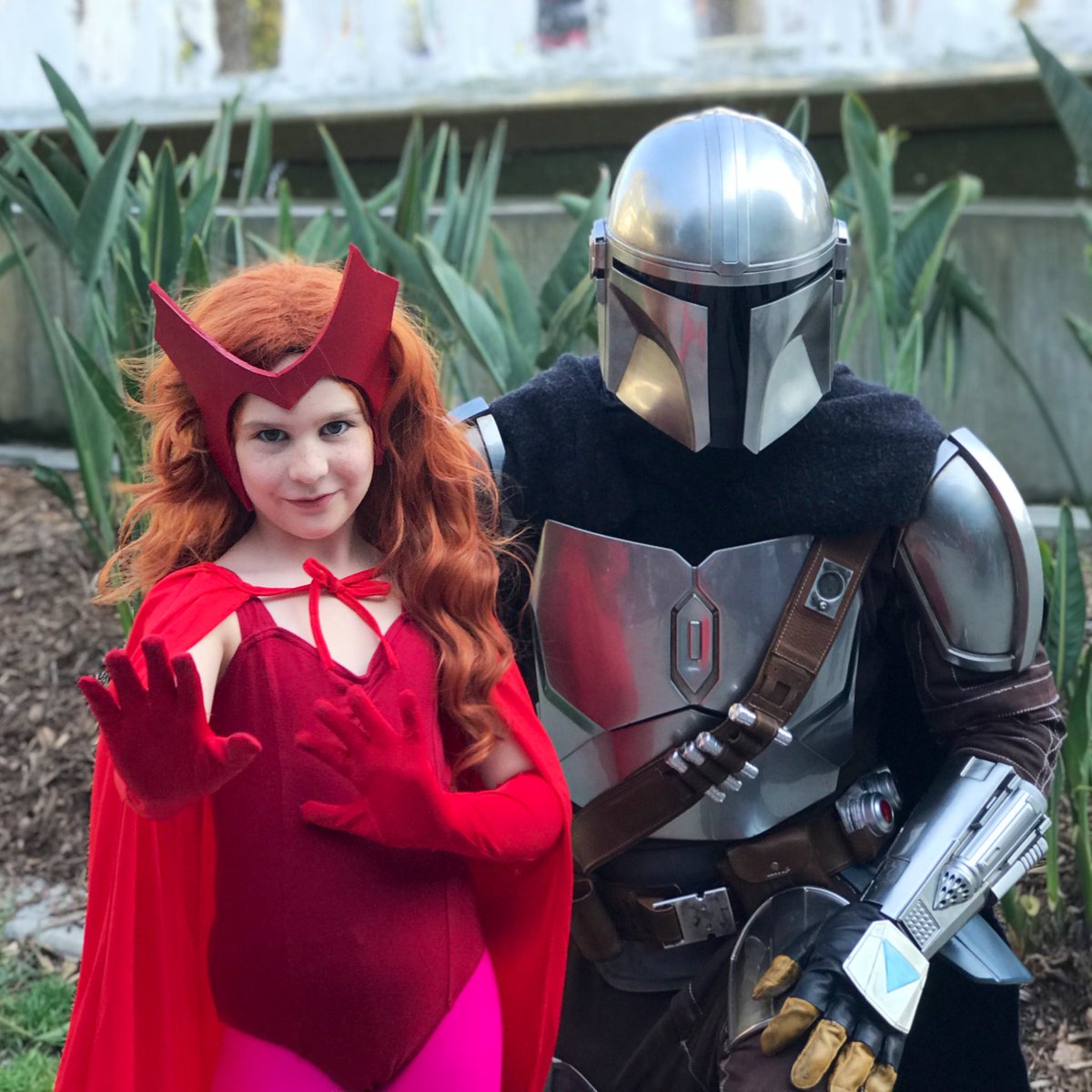 Spidey and MJ take a break by the fountain.